The Plain of Six Glaciers hike which ends near the Plain of Six Glaciers Teahouse above Lake Louise is a beauty. But the crowds are there unless you pick your times – early mornings, late afternoons or in the fall when the crowds have dispersed. It's an interesting hike because of the views it affords of Lake Louise from a different angle and the glorious glaciers near the end point.
The Plain of Six Glaciers hike to the Teahouse starts on the path by the turquoise-coloured waters of Lake Louise. Initially you have to cut and duck through the tourists to get anywhere. If you can get over that then you'll be treated to the sights of Mt. Lefroy and Mt. Victoria along with six glaciers – some of which look like they could break off into pieces at any time. There are wildflowers around too – not in copious quantities but enough to add some colour to the hike.
This post includes some affiliate links. If you make a qualifying purchase through one of these links, I will receive a small percentage of the sale at no extra cost to you. Thank you very much for your support.
Plain of Six Glaciers Hike summary
Distance: 13.8 km return or 8.6 miles
Elevation gain: 380 m or 1,245 feet
Time needed: 3 – 4.5 hours
Level of Difficulty: Easy if you're a regular hiker
Trailhead: The trail to the Plain of Six Glaciers starts on the Fairmont Chateau Lake Louise side of the lake. See below for getting to the trailhead.
Dogs allowed: Yes, on a leash
If you're not a hiker: It seems you can get up to the Plain of Six Glaciers Teahouse on horseback. So do it. This is one spectacular part of Banff National Park that is well worth a visit.
An option from the tea house: Hike a further 1.3 km past the Plain of Six Glaciers Teahouse to arrive at the Abbot Pass viewpoint. It will add another 50 m of elevation gain to the day and you need an extra hour to do the out and back.
More hiking options: From the Plain of Six Glaciers trail you can add in a loop that allows you to visit the Lake Agnes Teahouse too.
Don't forget: Even though it's a busy hike, I'd recommend packing easy to access bear spray. Put it in a bear spray holster so you don't set it off accidentally.
Getting to the Plain of Six Glaciers trailhead
A few years ago, getting to the trailhead for the Plain of Six Glaciers hike wasn't issue. Drive up to the parking lot. Park. Hike to Lake Louise and start walking. Those days are over. Try one of the following ways to get to Lake Louise.
Stay at Deer Lodge or the Fairmont Chateau Lake Louise
If you spend a night at one of these hotels, both of which are just a few minute's walk from the trailhead, then you'll have easy access to the Plain of Six Glaciers hike. You still have to pay for parking at the Fairmont but the parking is complimentary at Deer Lodge.
Park at Lake Louise
It's a 4 km one way drive from Lake Louise Village to the Lake Louise public parking lot via Lake Louise Drive. However, the parking lot fills early, often by 8 AM so plan to get there as early as you can or opt for a 4 PM start if it's the height of the summer. Avoid weekends. Overnight parking is not permitted.
From June until October you have to pay to park at the Lake Louise parking lot. It's $12.25 per day. You must pay between 7 AM and 7 PM.
Book a Parks Canada shuttle
Reserve a Parks Canada shuttle that operates between May 19th and October 9th, 2023. (Reservations will open in spring 2023.) Park your vehicle at the Park and Ride at Lake Louise Ski Resort. The park will release additional seats via a rolling window, at 8 a.m. two days prior to your chosen departure day. Tickets are good for a one hour window. Your ticket includes "return shuttle service from either Lake Louise or Moraine Lake back to the Park and Ride when you are ready."
The shuttle runs every 20 minutes between 6:30 AM and 6 PM. The final return bus from Lake Louise Lakeshore to the Park and Ride is at 7:30 PM.
Use ROAM transit
You can also take ROAM transit from Banff to the Lake Louise Lakeshore. You must reserve your seat on this bus too. Fares in each direction are approximately $10 per adult, $5 per senior and youth aged 13 – 18.
The hike to the Plain of Six Glaciers Tea House
The trail to the Plain of Six Glaciers Tea House is well signed. Start by heading on the paved path to the right of Lake Louise – if you're facing the lake. The trail hugs Lake Louise for the first 2 km.
When you reach the cliffs at the end of the lake you're likely to see some climbers. It's fun to stop and watch them for a while.
There are a few intersections on the trail – all signed – so as long as you can read you're fine. Basically you climb straight up the valley. For much of the Plain of Six Glaciers hike you continue to see Lake Louise and even the Fairmont Chateau Lake Louise looking more and more miniscule the higher you go. You may also see black dots on the lake. They're the canoes you can rent.
There is one section on the hike with a slight drop-off – hence the reason for the metal cables, but really it's wide enough that all hikers should be able to handle it. Just take your time.
Near the end of the hike, you'll reach a set of switchbacks that are steeper than anything else you've hiked. But that also means you're almost at the end of the main trail!
Plain of Six Glaciers Teahouse
The Plain of Six Glaciers Teahouse doesn't come into view until you round a bend by a largish stream – 5.5 km from the start of the trail. If you don't have your heart set on eating at the Teahouse then bring a picnic lunch and park yourself on one of the nearby benches and admire the sights.
From the Teahouse it's reportedly another 1.6 km to the high viewpoint. The last half kilometre or so was closed when I did it with a sign saying that the slope was unstable. I'll respect that.
Keep in mind the following for the teahouse:
The Plain of Six Glaciers Teahouse only operates on a seasonal basis beginning sometime between mid-June and early July depending on snow conditions and running through to Thanksgiving weekend in mid-October.
Because of staffing issues, they may only be able to offer "to go" food but that can vary from day to day.
The teahouse serves light lunches, desserts, and beverages.
They prefer Canadian cash – and you can get some at the ATM in the Fairmont Chateau. They now accept a credit card using Square but charge $4 per transaction.
In July and August they are open from 9 AM – 6 Pm and in June, September and October from 9 Am to 5 PM.
You can often see avalanches from where you sit at the Plain of the Six Glaciers Teahouse.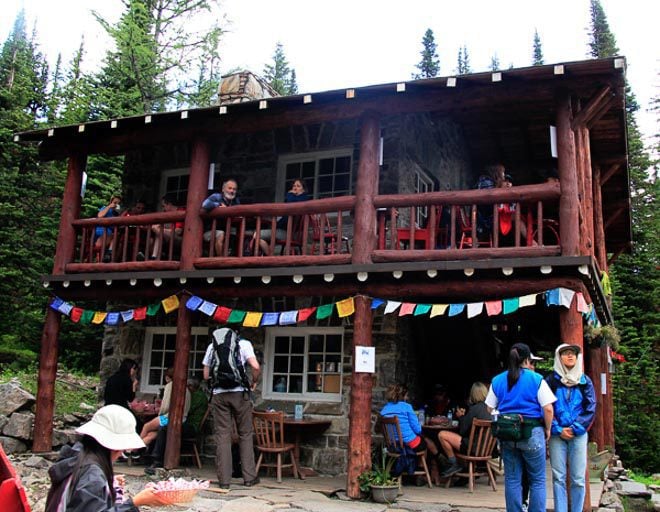 Animals you might see on the hike
The most common animals you'll see are hoary marmots, pikas, chipmunks, and ground squirrels. Occasionally you might see a mountain goat on the mountain cliffs as you get close to the tea house. If the trail is busy you won't likely see a grizzly bear but you might see their scat. If it's steaming, it mens its close by so get together with other hikers, and make a lot of noise. Chances are high the bear will take off.
Recommended reading: Tips for Staying Safe in Bear Country
Location map of the Plain of Six Glaciers hike
Where to stay in the Lake Louise area
If you want to avoid shuttle altogether there are a couple of options – the upscale Fairmont Chateau Lake Louise and walking distance away, Deer Lodge. If you want to stay on Moraine Lake, then the Moraine Lake Lodge is your only option.
If you don't mind taking the shuttle or you have horseshoes and manage to snag a parking spot then there are many more options. Paradise Lodge & Bungalows would be a great choice and not far from the lake. Or try the Baker Creek by Basecamp near Johnston Canyon.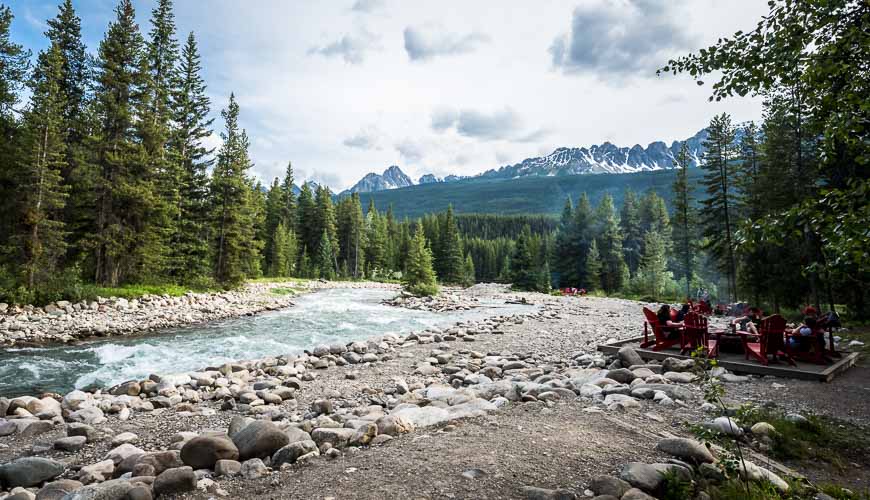 More Banff National Park hikes you're sure to love
Click on the photo to bookmark to your Pinterest boards.