The day did not start well. Chock that up to a longer than anticipated drive to Lake Louise from Calgary, the longest lines I've ever seen to get into Banff National Park (I have a yearly pass but our guests did not and spent 30 minutes waiting for one), unbelievable crowds at Lake Louise and parking nightmares. But there was a reward for our troubles – the Lake Agnes Tea House hike above Lake Louise.
You'll have company on the Lake Agnes Tea House hike unless you do it really early or late in the day. But I love it for the lake itself and the additional hikes you can do in the area (Little Beehive hike, Big Beehive hike, Mt. Saint Piran, Devil's Thumb and even the Plain of Six Glaciers.)
This post includes some affiliate links. If you make a qualifying purchase through one of these links, I may receive a small percentage of the sale at no extra cost to you. Thank you very much for your support.
Lake Agnes Tea House hike summary
Distance: 7.0 km (4.3 miles) return from Lake Louise
Elevation gain: 396 m or 1,299 feet
Level of difficulty: Easy to moderate depending on your fitness level
Time needed: 2.5 – 3 hours
Dogs allowed: Yes, on a leash.
Best time to hike: Mid – June until mid-October or whenever the snow starts to stick. Go as early as you can so you beat the crowds if you want to sit down at the Lake Agnes Tea House.
Options: Once you've done the hike to Lake Agnes Tea House, you'll find there are many options to extend the day before returning to Lake Louise.
You will need a Parks Canada pass to do the Lake Agnes Tea House hike. You can purchase one on the way into the park, but to save time on busy summer weekends, I would recommend buying a park pass online.
This hike can get very busy so aim to go early or late in the day, especially if you're one of the lucky ones spending a night up near Lake Louise.
The Lake Agnes hike is a busy one so the chances of running into a grizzly bear are slim. Still, I would recommend taking bear spray – in a

bear spray holster

so you don't set it off accidentally.
Check the weather forecast before you start off on your hike.
Check trail conditions in Banff National Park before you start the hike.
There is another option to get to the Lake Agnes Tea House – via a horseback ride. Book through Timberline Stables in Lake Louise.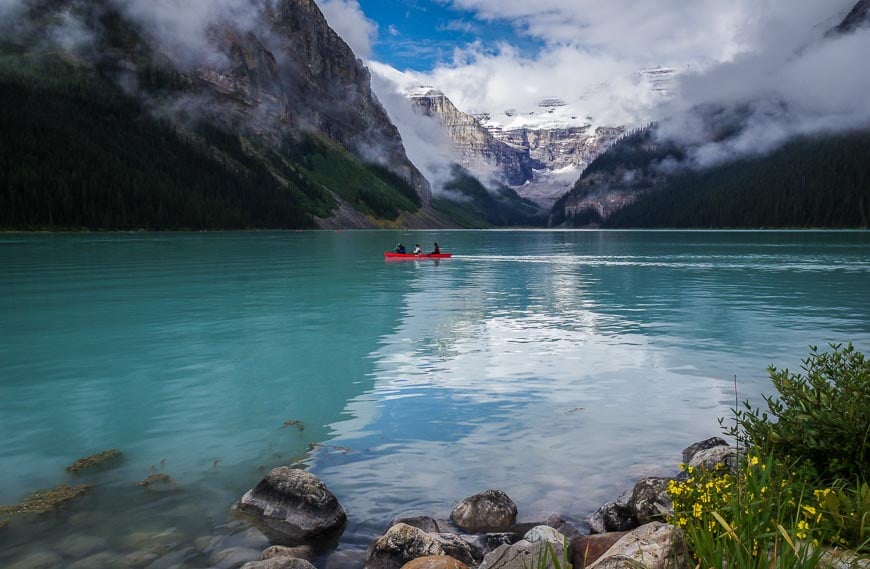 Getting to Lake Louise
Drive up the hill from Lake Louise Village to reach a large parking lot at Lake Louise itself – but it's usually full by 8 AM and you have to pay for it. Parking personnel will turn you around if it's full and won't let you wait for a space to open up.
There is an option to book a shuttle from the Lake Louise Ski Hill to Lake Louise. Reservations open on April 13, 2023 at 8 AM MST on the Parks Canada website. The shuttle is available from May 19 – October 9, 2023.
Another option is to use Roam Transit from Banff to Lake Louise. Reservations for the summer open in May.
Finding the trailhead for the Lake Agnes Tea House hike
Assuming you actually made it to Lake Louise, the crux of the hike to the Lake Agnes Tea House, then all you have to do is walk to Lake Louise, and get on the obvious trail that goes counter clockwise past the grounds of the Fairmont Chateau Lake Louise. Just past the hotel you'll see signage pointing to the Lake Agnes Tea House and from there it's very straight forward.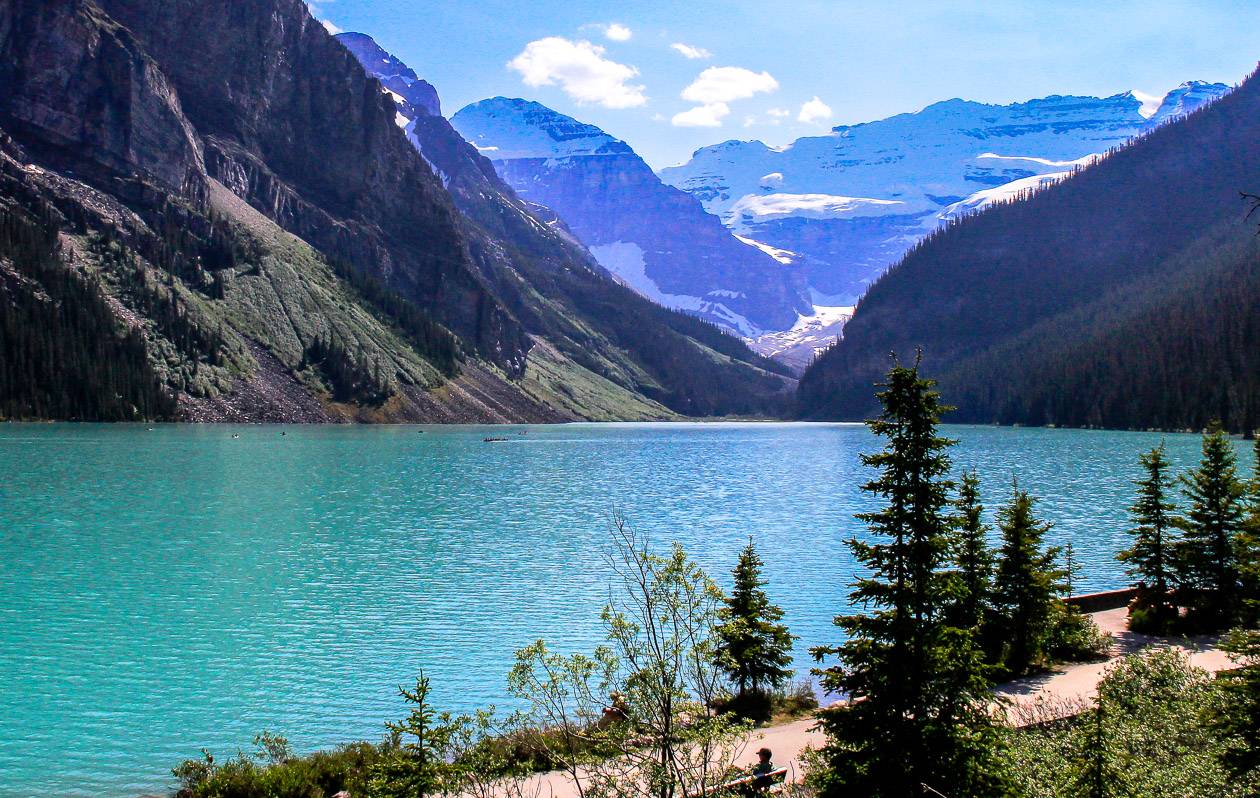 The hike from Lake Louise to Mirror Lake
The hike to the Lake Agnes Tea House is on a well-signed, wide dirt trail through the forest. It starts on the shores of gorgeous Lake Louise, just beyond the Fairmont Chateau Lake Louise. The forest is thick with trees so don't count on many views as you hike up steadily towards Mirror Lake. After a few kilometres of mostly easy hiking the views begin thanks to occasional break in the trees – first of the turquoise waters of Lake Louise hundreds of feet below, and then of the distant mountain peaks and glaciers.
Once you reach Mirror Lake, at about the 3 km point, you can actually see the Lake Agnes Tea House if you look up. Mirror Lake is a nice place for a stop to catch your breath and drink some water. Later in the summer, we have been here when Mirror Lake has all but dried up.
On another time when we were at Mirror Lake, skimpily clad girls were busy screaming and making much ado about their swim. This is frigid water and despite the 27°C temperatures I'm not sure I would want to make the dive in.
Mirror Lake on route to the Lake Agnes Teahouse
From Mirror Lake, follow the signs to the Lake Agnes Tea House, just 0.8 km away. After about 10 minutes of steady hiking from Mirror Lake you will reach a set of steep stairs that will take you to Lake Agnes and the tea house.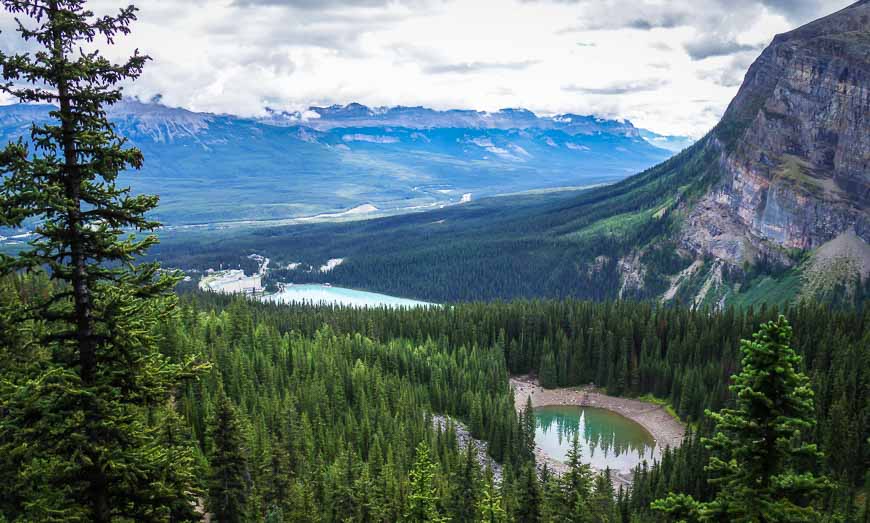 Lake Agnes
Lake Agnes is breathtakingly beautiful – even with summer crowds. If you're still keen to hike, you can continue along the trail that takes you to the far end of the lake and then steeply switchbacks its way up to the Big Beehive Hut – about 1.7 km away. You'll lose the crowds once you're past the Lake Agnes Tea House.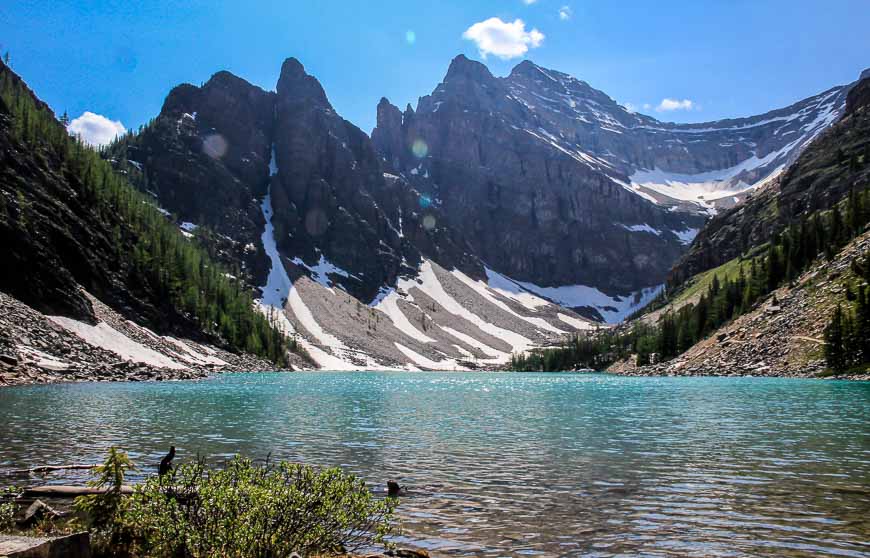 Lake Agnes Tea House
Lake Agnes Tea House was named for Canada's original first lady – Lady Agnes MacDonald. She was the wife of Canada's first Prime Minister – John A. MacDonald. She was wowed by the beauty of the lake way back in 1886.
The Tea House was built for the Canadian Pacific Railway in 1901 and in 1905 it began serving tea. Now it serves food – sandwiches, teas and more but as a sit down service only.
I'm not sure why you can't just get a drink to go – perhaps a garbage issue – so as an alternative be sure to bring your own food and drink and sit by the lake.
Lake Agnes Tea House is open from June 4th until Canadian Thanksgiving from 8 AM – 5 PM. They take Canadian and US cash but no credit cards. And from what I understand they don't provide an exchange rate on US dollars – simply taking them at par.
The return hike from Lake Agnes Tea House
The hike down from the Lake Agnes Tea House is equally delightful and goes by quickly. Once back at Lake Louise you can always take the trail that wanders part way around the lake or rent a canoe and extend your visit.
You could also hike to the Plain of Six Glaciers Teahouse starting from the far end of Lake Louise.
This is a terrific hike and one I highly recommend. It's a rare hike that delivers this calibre of scenery for the time and effort required. But if you can, hike it on a weekday or early in the day.
Options for more hiking from Lake Agnes Tea House
If you get a copy of Gem Trek Best of Lake Louise map then all the trails I mention below and their location will be put into perspective and you'll see how easy it is to knock off several hikes in a day.
There are several hiking options from the Lake Agnes Tea House. Continue around Lake Agnes to the far end of the lake. Switchback up a short but steep hill to reach a trail to the Big Beehive. Go left and hike for about 7 minutes – and enjoy superlative views of Lake Louise from above. Don't do the hike around Lake Agnes if there is any amount of snow as there is considerable avalanche risk.
There is also the option to go right at the top of the steep hill at the end of Lake Agnes and hike up Devil's Thumb – though it's a harder hike. And you can go down the backside and end up on the Highline Trail which will take you to the Plain of Six Glaciers Tea House.
Another option is to head northeast from the Lake Agnes Tea House on a trail to Little Beehive – where again there are excellent views looking down to Lake Louise and over to Big Beehive.
For those of you wanting a longer hike, you can also climb Mt. St. Piran. The hike takes off from the trail going to Little Beehive.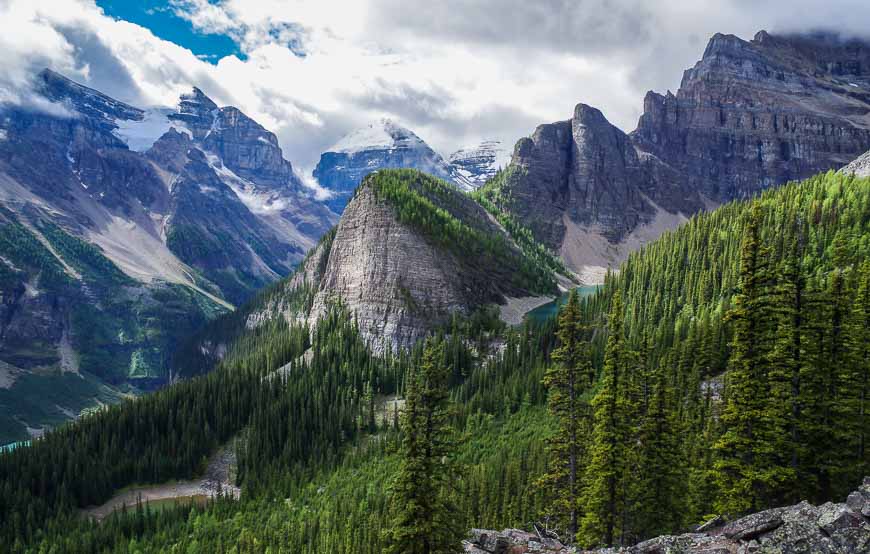 Where to stay in Lake Louise
Lake Louise is pricey and fills fast. There is camping too for tents (open June 1 – September 24) and RV's or hard-sided (open year round). You can make a campsite reservation online.
The Fairmont Chateau Lake Louise enjoys the best views of the lake and you're just a few minute's walk from the trails. A stay here comes with a price.
Deer Lodge is a short walk away from Lake Louise – is more affordable, has great food and their updated rooms are quite good.
Paradise Lodge & Bungalows – which you pass on the way up to Lake Louise look very nice. And you could walk to the trailhead from them.
Baker Creek by Basecamp offers cozy log cabins. Or check out the reasonably-priced hostel option in Lake Louise.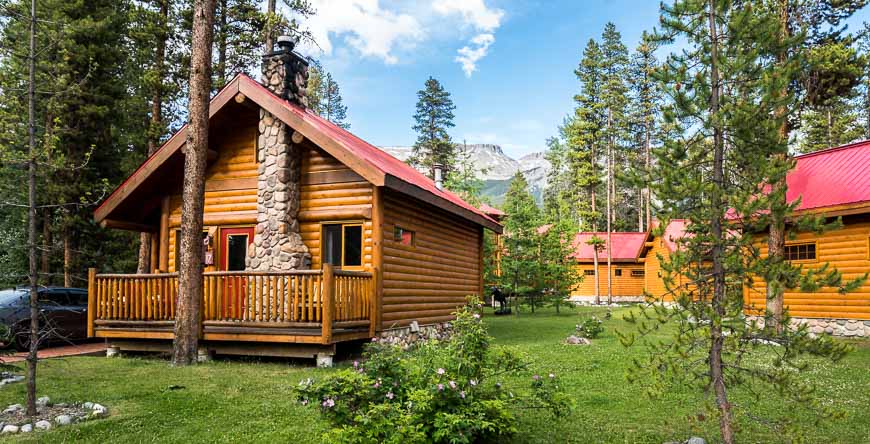 More hikes you might like to do in Banff and Yoho National Parks
Click on the photo to bookmark to your Pinterest boards.