Yoho National Park in British Columbia isn't very big compared to its next-door neighbour – Banff National Park. But the park is one I'd highly recommend visiting if you're doing any kind of cross-Canada road trip or even the popular Vancouver to Calgary drive because what it lacks in size, it makes up for in mountain splendour! In fact, Yoho National Park hikes are some of the most beautiful in the country!
Yoho National Park is one of four Canadian Rocky Mountain Parks known for their incomparable mountain scenery. That in itself nets them a UNESCO designation. But Yoho is also home to the Burgess Shale fossils – which are also included as part of the UNESCO site. On top of that, 28 mountain peaks over 3,000 metres grace the skyline.
There's more. Takakkaw Falls, the second highest waterfall in Canada, is easily accessible. And some of the prettiest lakes in the most alluring colours in the world can be found in Yoho National Park. So what? Well if you're into hiking, this is nirvana. There are loads of stunning Yoho National Park hikes and almost all are easily accessible to fit day hikers. The park is also accessible as a day trip from Calgary, Banff, Lake Louise, and Golden.
If you love hiking, backpacking and nature, then Yoho National Park needs to be on your must-visit list. Described below are 10 superlative Yoho National Park hikes. These run the gamut from easy to difficult hikes. Some are short; some will take a full day. All will blow you away with their beauty. There are more hikes in Yoho National Park than I am describing but they're in the worthwhile – and not the amazing category.
This post includes some affiliate links. If you make a qualifying purchase through one of these links, I may receive a small percentage of the sale at no extra cost to you. Thank you very much for your support.
Yoho National Park hikes summary
You will need a national park pass to visit. The Discovery Pass, good for a year, is your best bet if you're planning multiple visits to Canada's national parks.
To aid in trip planning – and before you start hiking, I highly recommend purchasing the Gem Trek Lake Louise – Yoho map and the Lake O'Hara Map & Trail Guide.
The 10 best Yoho National Park hikes include the Emerald Lake Loop, Paget Lookout and Paget Peak, the Iceline Trail, Lake Osea, Twin Falls and Whaleback Ridge, Lake McArthur, Lake O'Hara alpine circuit, Burgess Shale hike, and President Range trails.
Leashed dogs are permitted on most trails. Exceptions include Burgess Shale, and any of the hikes in the Lake O'Hara area.
Always carry the 10 hiking essentials.
Pack bear spray that is easily accessible. Consider putting it in a bear spray holster so you don't let it off by accident.
Location map for the best Yoho National Park hikes
Emerald Lake Circuit hike
The Emerald Lake hike is a family-friendly 5.2 km circuit with negligible elevation gain. What I love about this hike – one of the easiest Yoho National Park hikes, is the ever-changing vistas, including a variety of views of Emerald Lake itself, the majestic mountains ringing the lake and the Emerald Glacier. Even the forest is pretty, especially in fall when its awash with colour.
Allow 1 – 2 hours depending on your pace and the number of photo stops.
From Emerald Lake you can hike up to the Emerald Basin or do the Emerald Triangle – another loop hike, but it's about a 6-hour hike.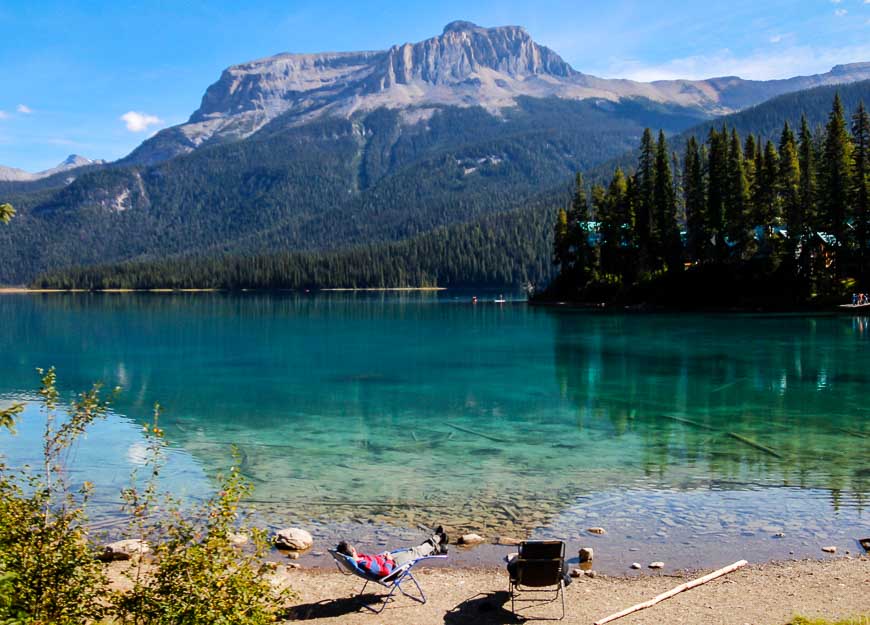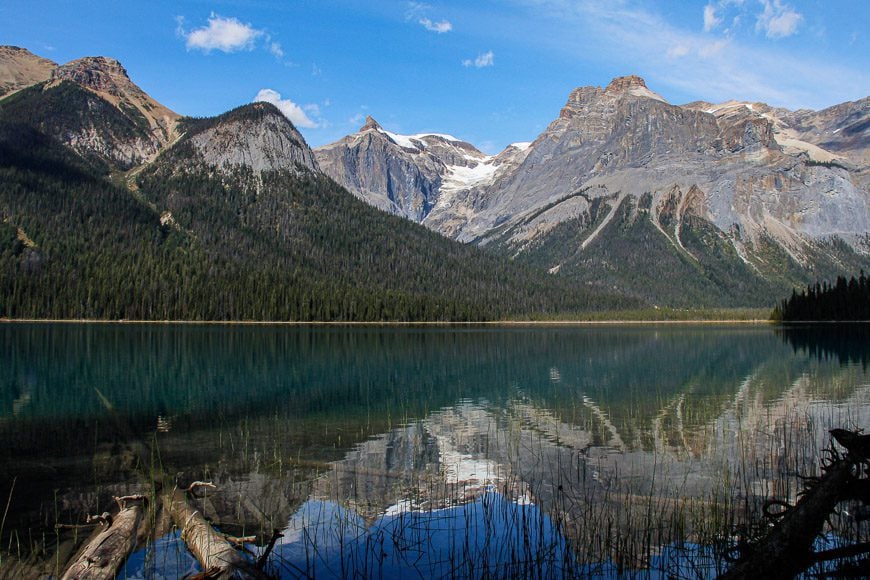 Paget Lookout and Paget Peak hike
Less than 15 minutes from Lake Louise is the trailhead for several hikes including- Paget Lookout and Paget Peak, Sherbrooke Lake and Niles Meadow. We hadn't planned to hike up Paget Peak but in July, it can be a pain to get parking at Lake Louise, so after coming up short on a parking space we made our way to Yoho National Park and activated our Plan B hike.
What a delight these Yoho National Park hikes are! The hike up to Paget Lookout is only 7.8 km return but it does boast an elevation gain of 520 m (1706 feet), so you need about three hours to do the out and back hike. It would be a good one to do with the hike to Sherbrooke Lake – as both are family-friendly if your kids are regular hikers – and neither is too difficult. Paget Lookout is an old fire tower so there's some shelter if the skies open. If not, sit out on one of the benches and take in the view down the valley towards Field.
The hike up Paget Peak from the lookout is a whole other "kettle of fish". It's another 2.8 km return to hike up Paget Peak. That comes with a 446 m climb and descent. Not only is it steep, but much of the hike is on scree. If you're new to scree, you might want to try something easier.
On the bright side, the views from the top are soul-stirring, especially on a bluebird day.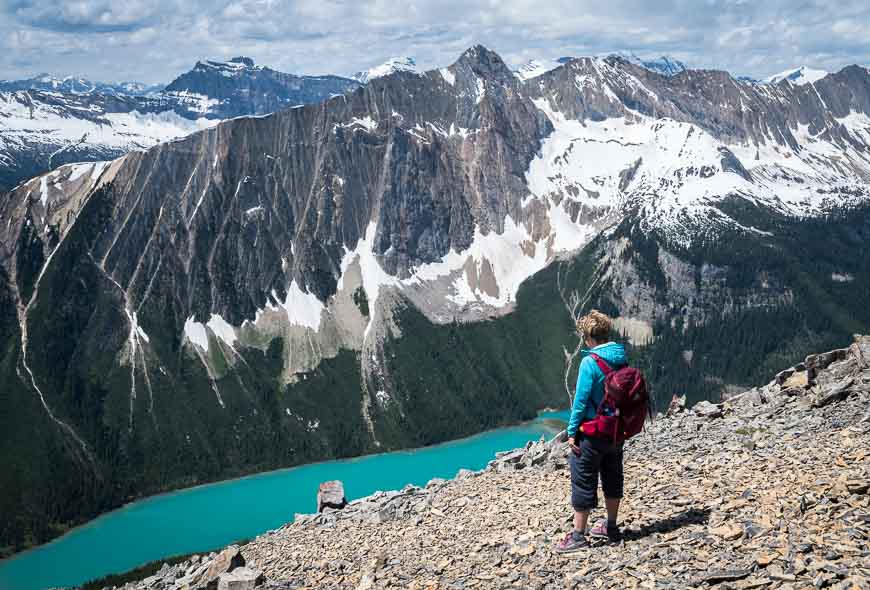 Yoho National Park hikes – Abbott Pass Hut
As of spring 2022 the Abbott Pass Hut is closed permanently because of erosion. It was a scenic 915 m climb to the hut, with about two thirds of the climb on a gnarly scree slope. This hike wasn't for the faint of heart. I suspect true mountaineers will still be heading up the scree slope so they can access Mount Victoria. But for the rest of us, and for those who had hoped to go to Abbott Pass Hut, those days are gone forever.
In 2023, there is talk of rebuilding the hut. Stay tuned – but this could take some time.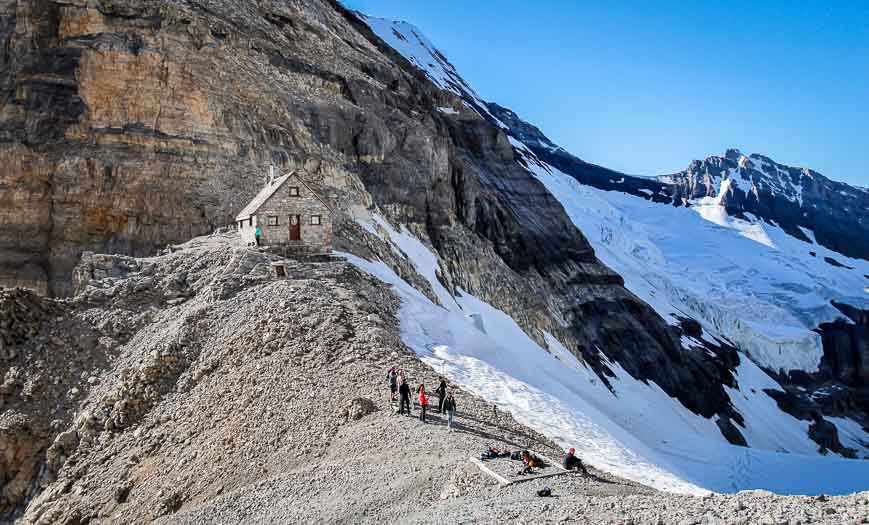 Twin Falls and the Whaleback Ridge Hike, one of the premier Yoho National Park hikes
One of the Yoho National Park hikes that plunks you into an area of waterfalls, is the combo of the hike to Twin Falls and the Whaleback Ridge. It's a full day hike of about 21 km if you do what we did. There is the option to continue into the little-traveled Waterfall Valley from the bridge spanning Twin Falls Creek. If you add that, allow an additional 90 minutes to two hours for the return hike.
Start at the Takkakaw Falls parking lot and follow the trail past Laughing Falls to reach the Twin Falls Campground at 6.7 km. Be sure to check out the trails around Twin Falls Chalet for great views of Twin Falls. Then there's a climb of a couple of hundred metres to reach the airy vista at the top of Twin Falls. Shortly after the climb, reach the Whaleback North junction at 8.0 km. This area is a scenic spot for lunch.
From the junction there are several kilometres of delightful walking – called the "scenic highlight of the Yoho Valley" by Graeme Pole, probably because up to 11 mountain peaks can be seen in this section on a clear day! Before the steep descent to the Yoho Valley trail, continue a short distance for a view of the Iceline Trail, pictured at the top of this post.
At the bottom of the descent through an avalanche gully, turn left onto the Little Yoho Trail and follow it to reach a junction at Laughing Falls. Then turn right onto the Yoho Valley trail and continue 4.4 km to reach the parking lot. At the end of the day it feels much longer than that. There are several campgrounds on this route if you want to break up the hike and do more exploring.
Lake O'Hara Alpine circuit hike – one of the Yoho National Park hikes that's difficult to access
The Lake O'Hara alpine circuit is one of the premier hikes in Canada.
The alpine circuit connects seven trails to create a loop. You can hike it in any direction – and you can exit it at numerous locations if bad weather rolls in. Don't attempt it until the snow melts in mid-July either.
Over the 9.8 – 12.4 km route, depending on what sections you do, expect to encounter phenomenal alpine scenery, high plateaus, turquoise-coloured, glacier-fed lakes, catwalks and ledges, meadows, wildflowers – and yellow larch trees if you hike in the fall.
Allow a full day to do the loop – and to savour the hiking experience. Read the Lake O'Hara Alpine Circuit in Yoho National Park for a full description of the hike and how to get permits for either the Lake O'Hara Campground or the bus.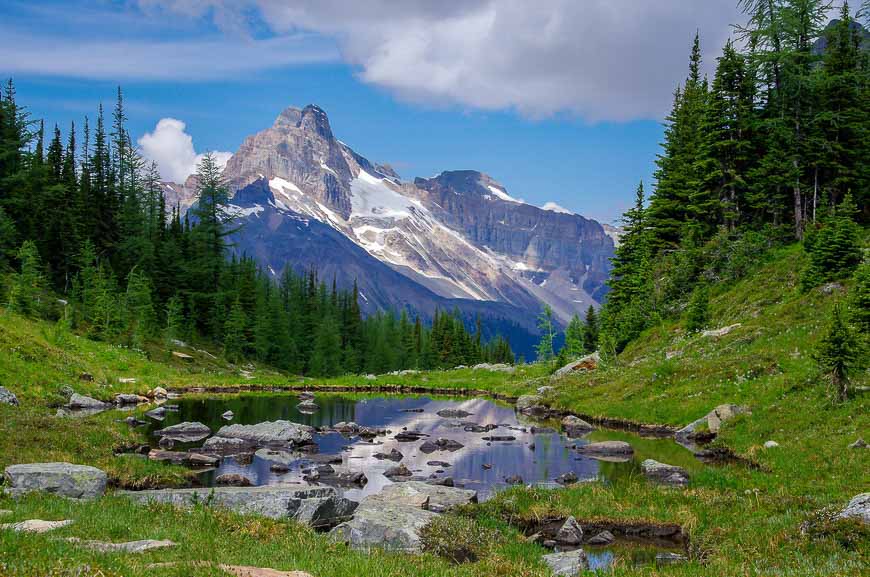 Burgess Shale hike – one of the Yoho National Park hikes you must do with a guide
The Burgess Shale hike can only be done as an 11-hour guided hike. That's not a typo. You need to be prepared to commit – as they go rain or shine.
The hike starts at 7 AM. Over the next 11 hours you hike about 21 km and climb 825 m. You also learn a lot about what makes the Burgess Shale fossils so special, and enjoy scenic stops, usually with one heck of a view. Once you reach the Walcott Quarry, you get about an hour to look for fossils – and trust me, everyone will find something.
The hike starts off with a quick climb and a great view of Takkakaw Falls. The next stop is beautiful Yoho Lake where you get a chance to catch your breath and enjoy a red chair moment. From there the grade moderates and the views open as you can see in the photo below. Eventually, you end up with a panoramic view of Emerald Lake and all the mountains around it.
On the final climb to the quarry, keep an eye out for mountain goats. We saw about 40 of them, and from what I understand, they usually hang out here.
This hike is popular but obviously you do need to be in some sort of physical shape. Reserve well in advance to avoid disappointment by visiting this website.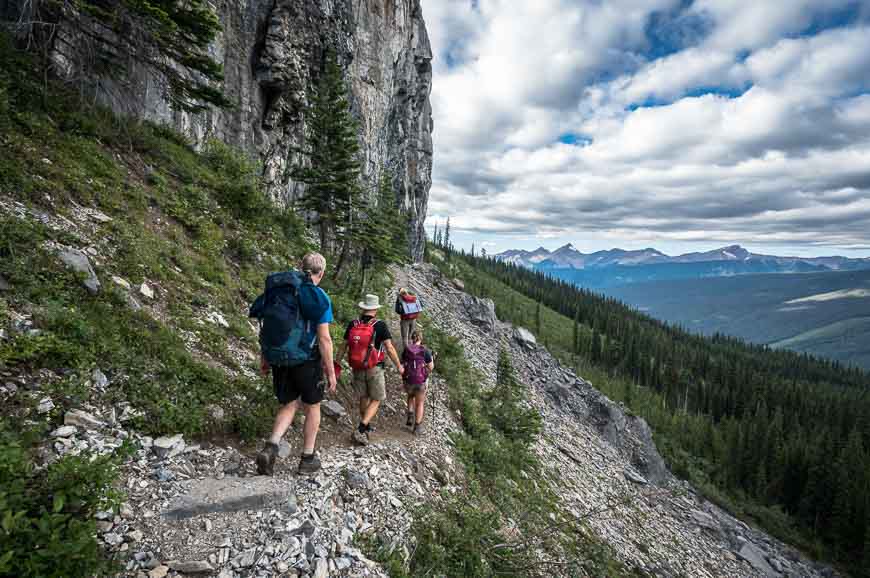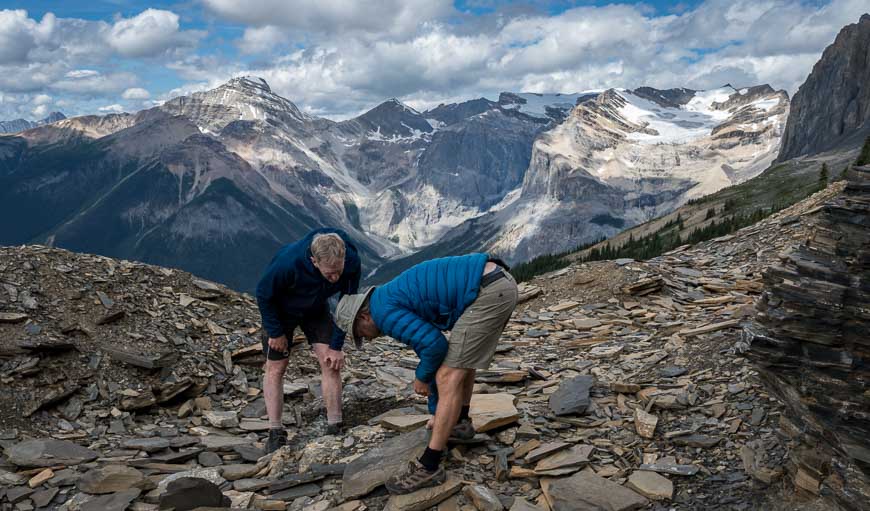 Iceline Trail hike – one of BC's best hikes
The popular Iceline Trail is one of the premiere Yoho National Park hikes. Do the hike for take-your-breath away views of the Yoho Valley, Emerald Glacier along with views of the Vice President, Whaleback and Isolated Peak – if you hike to the high point on the trail.
The trail climbs 690 m from the Takakkaw Falls parking lot. But the route you choose is up to you so the mileage will vary from 12.8 km to 21.1 km for the day. Do the hike as a loop, an up and back or go the back way and climb to it after a night at Stanley Mitchell Hut. No matter what way you hike it, you'll revel in the picture-postcard scenery.
Lake McArthur hike in Yoho National Park
The 6.3 km hike to Lake McArthur boasts an elevation gain of only 413 m so it shouldn't take you more than a few hours to complete. This is big time grizzly country so be sure to carry an accessible can of bear spray with you – and know how to use it.
The hike starts near the warden cabin, and in short order passes Elizabeth Parker hut on route to Schaffer Lake. Enjoy pretty hiking through larch forest from Schaffer Lake to Lake McArthur, especially in the fall.
When you reach the spectacularly coloured Lake McArthur, the deepest one in the park at 85 metres, you will have passed the high point on the hike. Descend to the lake and finish the loop at Schaffer Lake. From there, either retrace your steps – though once back at the ACC Hut you could add in a loop to visit Morning Glory Lakes.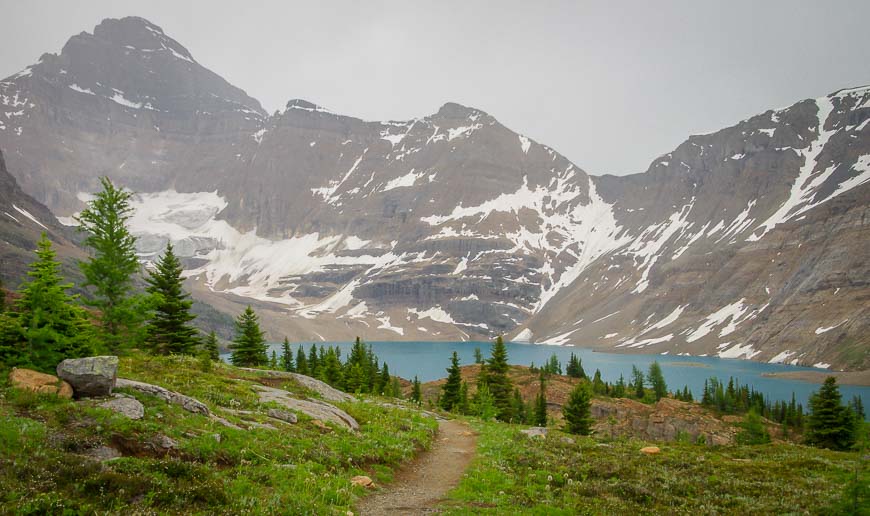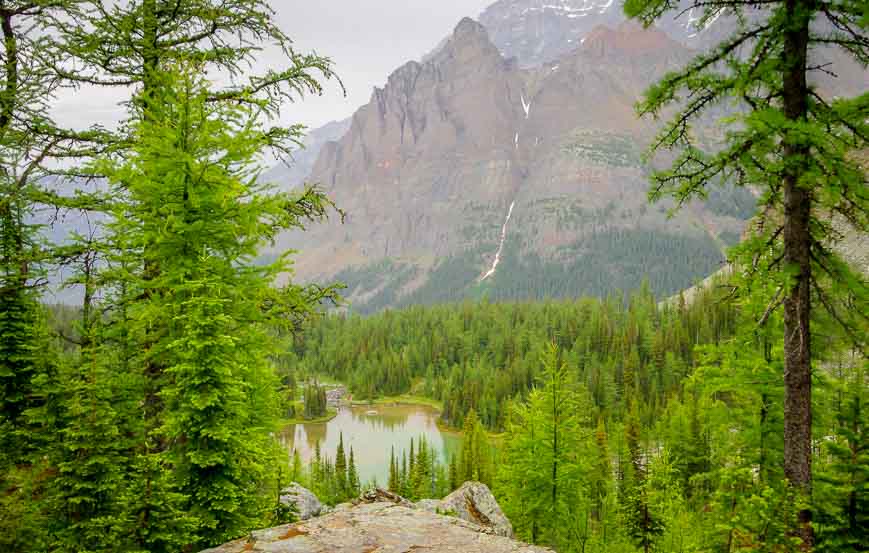 Lake Oesa hike
If you're visiting the Lake O'Hara region with a young family, the hike to Lake Oesa would be a great choice. It's just 6.6 km return with 240 m of elevation gain. You could certainly do an out and back in 3 hours, but this lake is one where I'd recommend lingering over a long lunch.
The route to Lake Oesa is well-signed and the trail is beautifully built. Pick it up by Lake O'Hara's bridged outlet stream.
There is the option to make the hike into a loop if you're up for the Yukness Ledges and the Opabin Plateau. I'd highly recommend this providing you don't have young kids or frail parents with you, as the scenery is astounding on this section and the hiking is fun.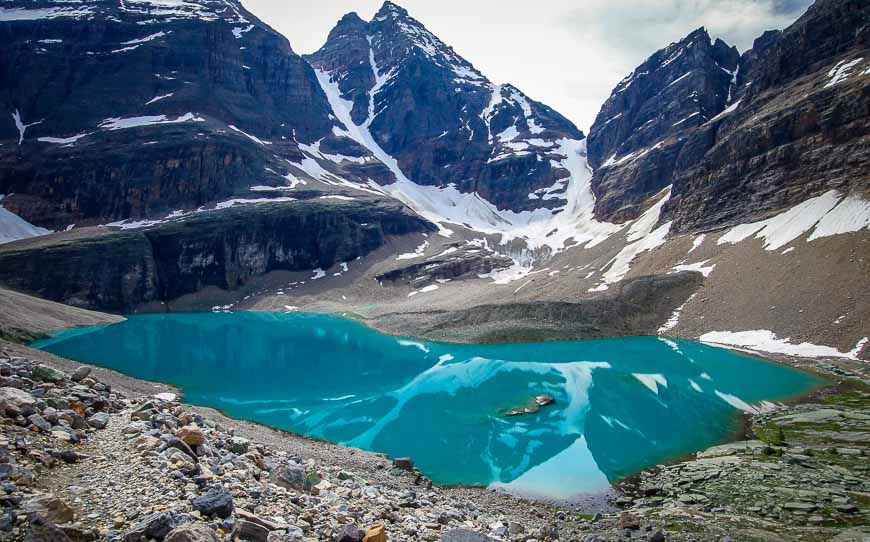 President Range hike and exploration – one of the little known Yoho National Park hikes
The President Range trails aren't marked. They're for people who like to explore and don't mind following their instincts and not trail signs. The President Range is best explored with either a night in the Stanley Mitchell Hut or at the nearby Little Yoho Campground. Otherwise, you'll be pressed for time and you won't see much of anything.
Over the course of several hours, including some time trying to cross a swollen creek to go to Kiwetinok Pass before giving up, we followed streams, clambered up small rock faces and generally made our way over to some massive glaciers in the President Range. It was worth the hike to see the cooked-up rocks in a variety of colours and to get up-close with a glacier.
What to take on the best hikes in Yoho National Park
I highly recommend compeed for blisters. I have found it to be way better for fast healing than anything else I've used and worth every penny.
Don't forget water purification tablets or a water bottle with a built in filter in case you're down to your last drop.
I like something comfortable to sit on at lunch time. While it can be as something as simple as your coat, I swear by my inflatable seat cushion.
I like using hiking poles, especially when a stream crossing or a steep descent is involved. Invest in a collapsible pair.
I always pack a buff as it's got so many purposes – neck warmer, keeps hair off your face, good in dust or smoke, dip it in water to cool your neck, and a 100 other things.
Another nice addition for those of you who love wildflowers is the book Popular Wildflowers of Alberta and the Canadian Rockies.
Where to stay in Yoho National Park
Camping in the park
John and I stayed in the Takakkaw Falls walk-in campsite accessed from the Takakkaw Falls parking lot for a couple of the hikes I mentioned. You can't reserve the walk-in campsite. Fortunately, even in August that didn't seem to be a problem. Some campsites come with a fire pit and a view. All are private. Pit toilets, potable water and even large wheelbarrow-like contraptions for moving your gear are all part of the campground. You self-register at a kiosk and pay with cash or a credit card.
Close to Cathedral Mountain Lodge are two campgrounds – the non-reservable, first come, first served Monarch Campground and the reservable Kicking Horse Campground.
If you don't mind hiking, there are many choices including the pretty Yoho Lake Campground – which could be used for the Iceline Trail. Also consider Little Yoho Campground for the Iceline and President Range Trails.
For the Twin Falls – Whaleback Loop, you could also stay at Laughing Falls or Twin Falls Campgrounds. Both are quite lovely.
In the Lake O'Hara area there is one campground only and it's a bear to get a reservation.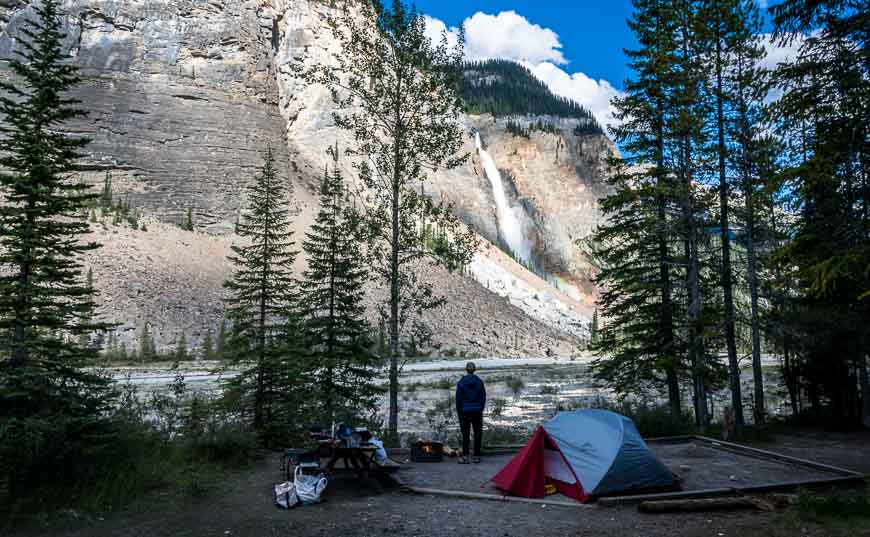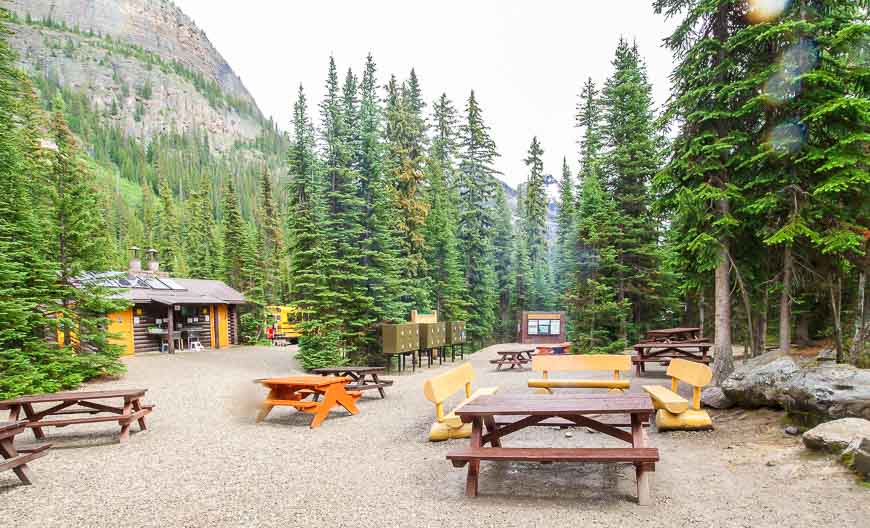 Roofed accommodation in Yoho National Park
Looking for a roof over your head? The Whiskey Jack Wilderness Hostel is just a few minutes' walk from the Takakkaw Falls parking lot but it comes with dorm rooms.
Cathedral Mountain Lodge, is a 25 minute drive away from the Takakkaw Falls parking lot and is a lovely spot to spend a night or two.
I'd also recommend a stay in Emerald Lake Lodge, a 30-minute drive away. Many of the rooms overlook Emerald Lake.
The town of Field is also a short drive away. It offers an assortment of B&B's.
Click on the photo to bookmark to your Pinterest boards.