The hike to magnificent Lake Oesa from Lake O'Hara in Yoho National Park is short, easy and family-friendly. It rewards with incredible mountain scenery and a turquoise-coloured lake in a spectacular mountain setting.
It's a straight forward 6.6 km (4.1 mile) round trip hike to Lake Oesa with only 240 m of elevation gain – providing of course you start at Lake O'Hara and you haven't had to walk in from the parking lot. But that's another story.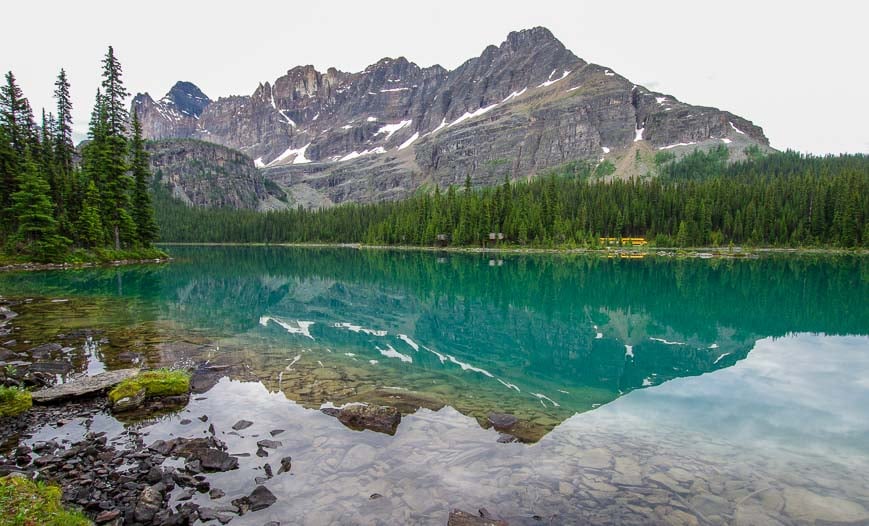 The hike to Lake Oesa
The trail to Lake Oesa is very well-signed. And the trail itself is beautifully constructed. In places, huge slabs of flat rock have been carefully laid to provide a fantastic surface for walking on. Despite it being one of those most beautiful hikes in the Rockies, you won't find throngs of tourists.
When you finish the hike pick up cold drinks, ice cream bars and other snack food items at a small concession where by the bus stop. Bring cash.
The crux of the hike is getting to the trailhead. Here's what you have to do if you want to hike to the lake or on any of the other outstanding trails around Lake O'Hara.
If you have the money – and that's only part of the equation – then try and snag a room or cabin at Lake O'Hara Lodge. It's best if you're very flexible. Request a booking six months out or phone them for a last minute cancellation.
Book a bunk at the Elizabeth Parker Hut. You are encouraged to apply by lottery beginning at the end of October for the following summer. In mid-December bookings that haven't been confirmed are available on a first come first served basis. Get on the phone the second they're open!
Planning your hike to Lake Oesa
Doing any hike at all in the Lake O'Hara region takes some planning. If you're planning to camp the following is important as the rules changed in 2020 .
On January 24, 2020 beginning at 8:00 a.m. MST all Lake O'Hara camping reservations are now offered on the Parks Canada Reservation Service. It's a first come, first served basis. Camping is possible from June 19 – October 3, 2020.
To access the reservation service click on this page.
The Parks Canada website says you can also call one of these two numbers. They recommend creating an account beforehand to save time. Reservations are expected to be booked completely on opening day – January 24th!!
1-877-RESERVE (1-877-737-3783).
International: 1-519-826-5391
How to get a seat on the bus to Lake O'Hara (no overnight)
As of 2020 the rules for booking buses have also changed in Yoho National Park.
Fill out an application online between February 1 -29, 2020. It's a $10 non-refundable fee per application but on each application you can choose 6 different days and up to 6 bus seats. Applications are drawn at random and you'll have two weeks to confirm.
Click on this website for all the bus details.
Other hikes in Yoho National Park you might enjoy
Click on the photo to bookmark to your Pinterest boards.