Driving from Vancouver to Calgary is a 10 – 12 hour, 1,000 km road-trip if you stick to the Trans-Canada Highway. But you could easily spend a week stopping at small towns along the way and taking advantage of all the hiking, biking and adventurous activities if you're into slow travel.
If you're not in a rush and you want to maximize the scenic factor and do a deeper dive than most tourists, then consider driving from Vancouver to Calgary via Whistler and the Sea to Sky Highway and then continue east from Kamloops. On a sunny day, the drive offers extraordinary mountain scenery.
This post includes some affiliate links. If you make a qualifying purchase through one of these links, I will receive a small percentage of the sale at no extra cost to you. Thank you very much for your support.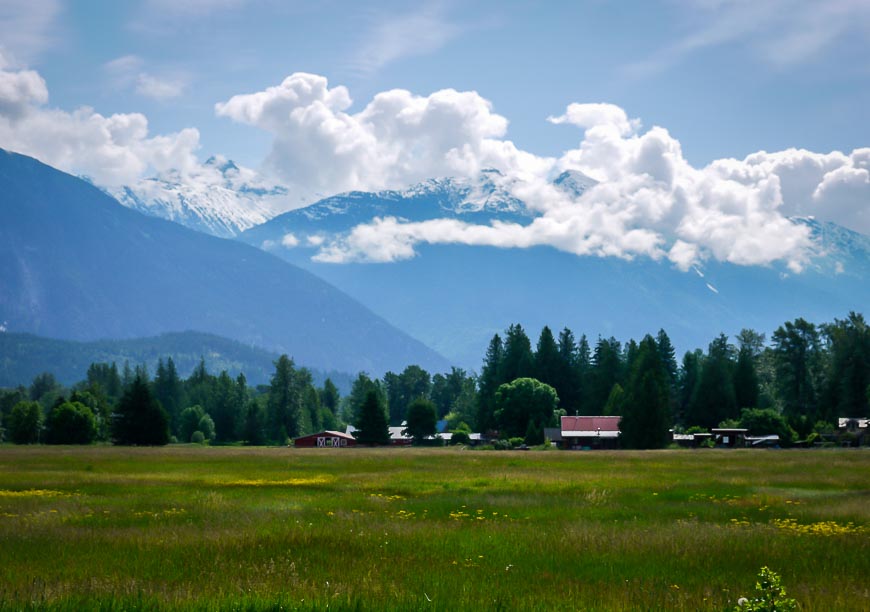 Location map of the Vancouver to Calgary road trip
Driving Vancouver to Calgary
Described are 10 stops while driving from Vancouver to Calgary – or from west to east, but you could do the exact same thing in reverse. Before you head out on the Vancouver to Calgary road trip, make sure your car is in good working order, especially in winter.
Pack extra water and snacks – as these days you never know when a road might get closed due to fire, smoke or construction. Keep yourself informed by visiting DriveBC Road Conditions and 511 Alberta for road reports.
Stop #1 driving Vancouver to Calgay – Elfin Lakes in Garibaldi Provincial Park
Driving distance and mileage: 64 km and about an hour to Squamish. Add 19 km and 30 minutes of drive time to reach the Elfin Lakes trailhead.
For a hike close to Squamish, drive 16 km east on the Mamquam Road to the trailhead for the Elfin Lakes in Garibaldi Provincial Park (no dogs allowed).
The hike to Elfin Lakes is 11 km one way – with even more hikes and even overnight trips possible out from there. The reward is first rate mountain scenery, along with meadows, ponds, cinder cones, and even glaciers if you continue far enough.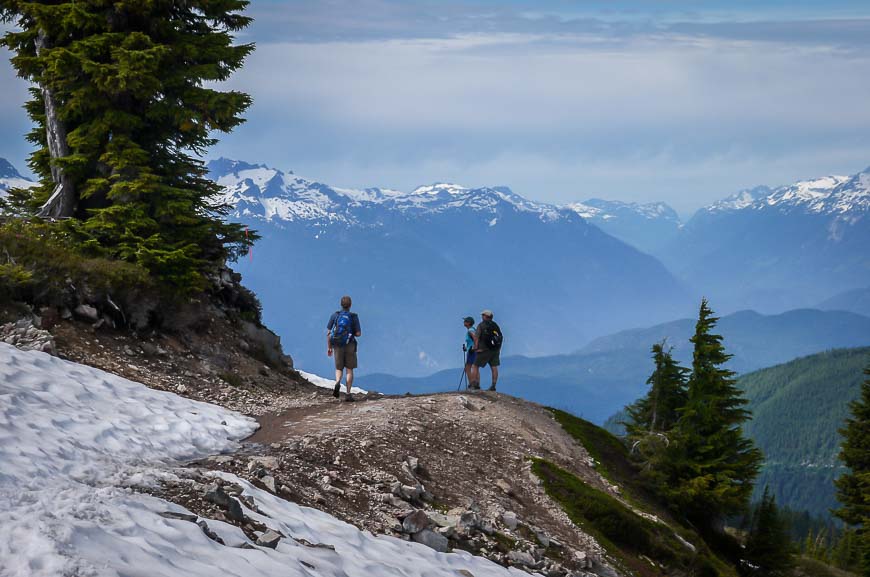 Where to stay in Squamish
Check out the Squamish Adventure Inn if you like a hostel setting. The Sandman Hotel and Suites in Squamish gets a very good rating.
If you venture to Brackendale, famous for bald eagles in winter and just a short drive from Squamish, check out the Sunwolf Riverside Cabins.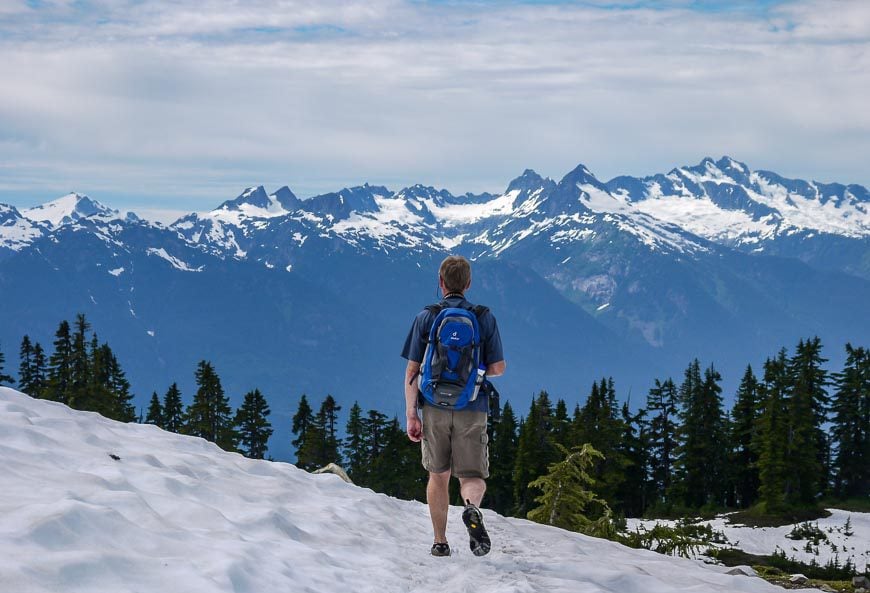 Stop #2 Driving Vancouver to Calgary – Whistler
Driving time: From Squamish to Whistler allow 47 minutes to drive the 60 km.
You can spend a week hiking, biking and even canoeing in the Whistler area in summer. If you only have a half day sign up and canoe the River of Golden Dreams.
But if you're looking for an epic one day hike that's 29 km return with 1,735 m of elevation gain then you must do the hike to the Black Tusk. Starting from the Rubble Creek parking lot, it will take you 8 – 10 hours. Do it for the high alpine meadows, the sight of Garibaldi Lake and high mountain views. The black tusk itself is a spectacular sight up close.
Another slightly shorter option – but still excellent would be the up and back hike to Garibaldi Lake.
Where to stay in Whistler
Canada's first pod hotel offers an excellent option in the heart of the village. Its ideal for young people.
For a high end full service hotel, the Pan Pacific Whistler Mountainside is a great choice. Over the years I enjoyed many stays with my family at the Summit Lodge Boutique Hotel.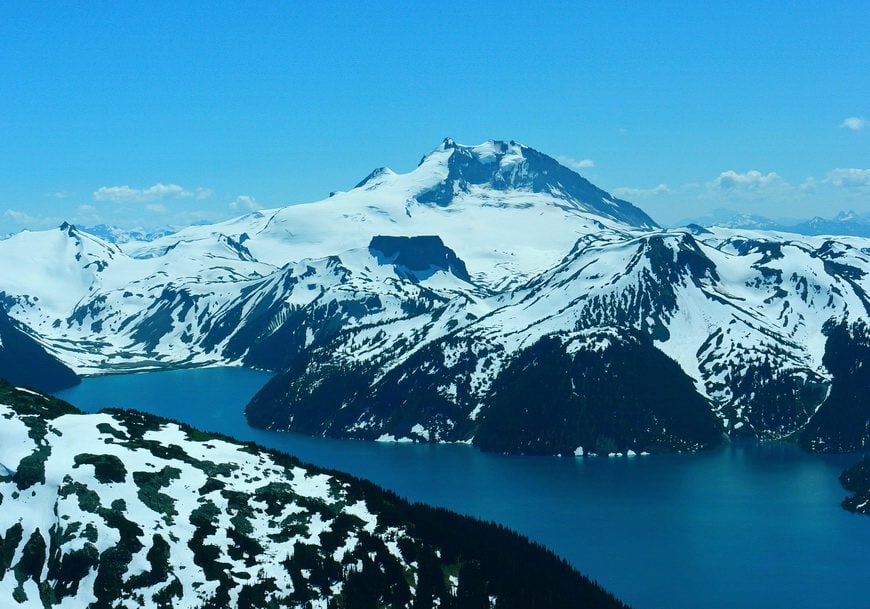 Stop #3
Driving Vancouver to Calgary – Joffre Lakes
Driving distance: It's 60 km to reach the Joffre Lakes trailhead from Whistler. After Joffe Lakes continue 70 km to reach Lillooet. From Lillooet to Cache Creek it's 89 km and another 86 km to Kamloops. From Kamloops to Salmon Arm it's 109 km for a total distance of 406 km.
Continue past Whistler and Pemberton on Highway 99 (also called Duffy Lake Road) to get to Lillooet, Cache Creek, Kamloops and ultimately Salmon Arm. Along the way plan to stop and do the hike to the Joffre Lakes.
It's a 4 – 5 hour, 6 km one-way hike to turquoise-coloured Upper Joffre Lake. Views of the Matier Glacier and the Joffre Group Mountains are spectacular. It is possible to camp overnight at Middle Joffre Lake and on the west side of the Upper Lake but you'll need a coveted backcountry reservation.
You now need a day use pass to visit Joffre Lakes Provincial Park so be sure to organize that before your drive. You cannot take dogs on this trail.
Where to stay in Cache Creek
Bear's Claw Lodge, featuring a restaurant is rated as very good.
Destination Inn Cache Creek is rated superb.
Where to stay in Kamloops
The Fairfield Inn & Suites by Marriott is rated fabulous.
If you're a fan of B&B's, the Overlander Inn is rated as exceptional.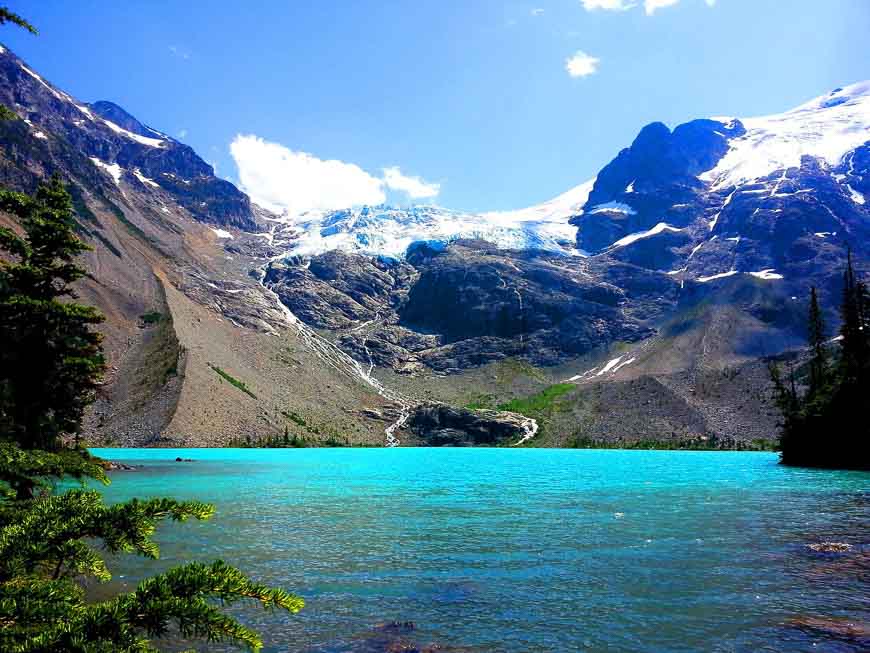 Stop #4 Driving from Vancouver to Calgary – Salmon Arm
The town of Salmon Arm is at approximately the half way point if you are driving directly through to Calgary on the Trans-Canada Highway. Located on Shuswap Lake, it is a boater's paradise and in fact probably the top place in all of Canada for houseboating.
The Salmon Arm area is also a fantastic place for both road and mountain biking. The North Okanagan – Shuswap area, encompassing seven towns, is home to over 675 km of cycling trails.
You can rent bikes in Salmon Arm from Skookum Bike and Ski. Pick up a set of maps and then plan your day around your interests. Look for wineries, beaches, parks and birding opportunities.
If you're in need of great coffee and a piece of pie stop in at the Shuswap Pie Company.
Where to stay in Salmon Arm
Salmon Arm is a great place to stay to break up the drive. Mostly you'll find a lot of chain hotels and B&B's.
The Prestige Harbourfront Resort comes highly rated.
The Inn at the Ninth Hole Bed & Breakfast is rated superb. It's only four kilometres from downtown.
Tiny Home fans should check out Woodland Cabins Micro Resort in nearby Sorrento.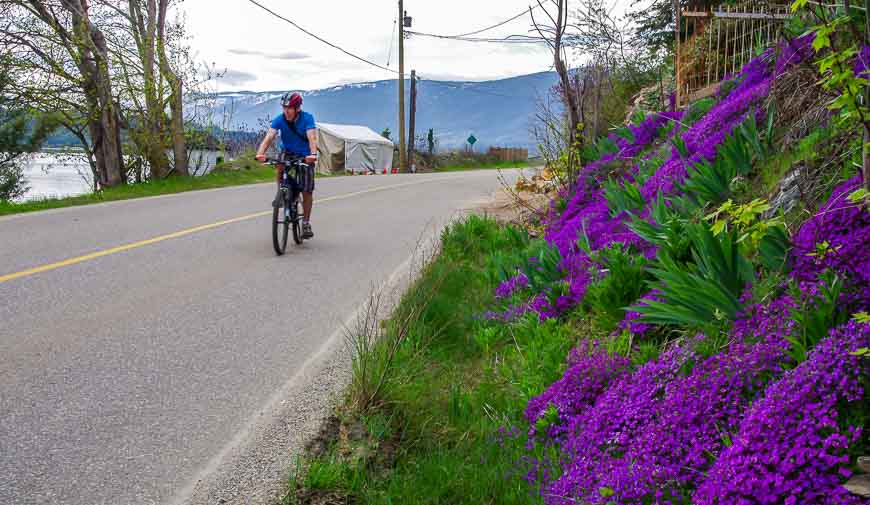 Stop #5 driving Vancouver to Calgary: Mount Revelstoke National Park
Driving distance: It's 104 km between Salmon Arm and Revelstoke. To get to the trailheads in Mount Revelstoke National Park continue for another 30 km, of which 26 km is in the national park.
The town of Revelstoke is about an hour's drive past Salmon Arm. And just past Revelstoke is Mount Revelstoke National Park. For a stellar day hike, drive 26 km to the end of the Meadows in the Sky Parkway by Balsam Lake.
Take the shuttle or start hiking from here. The 12 – 14 km return hike (depending in whether you shuttle) to Eva Lake is a standout for wildflowers in season, mountain vistas and the area around Eva Lake itself.
Where to stay in Revelstoke
You're spoiled for choice in Revelstoke with lots of chain and boutique hotels, B&B's and even accommodation on the mountain.
The Eleven Revelstoke Lodge, the first boutique hotel in town is close to downtown Revelstoke. It's in a renovated 1911 building with a private rooftop lounge.
On Revelstoke Mountain be sure to check out the Sutton Place Hotel Revelstoke Mountain Resort. It offers condominium style accommodation.
For a B&B check out The Courthouse Inn, rated superb.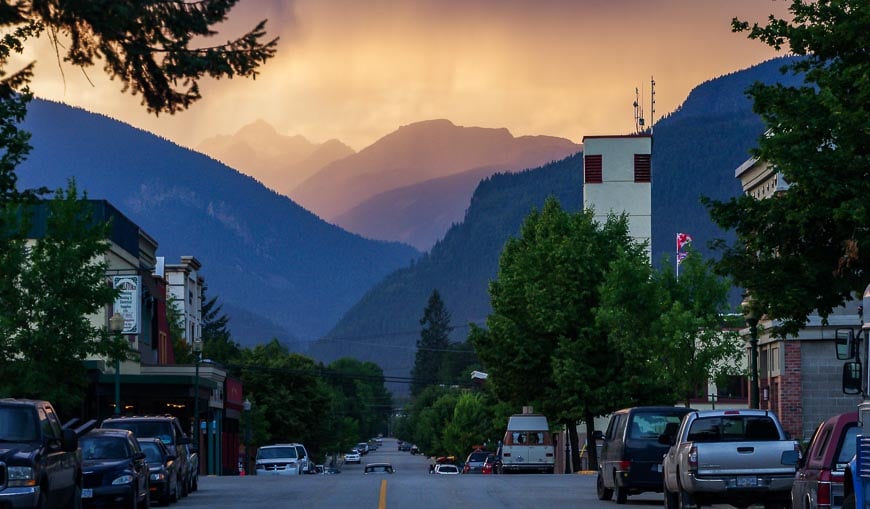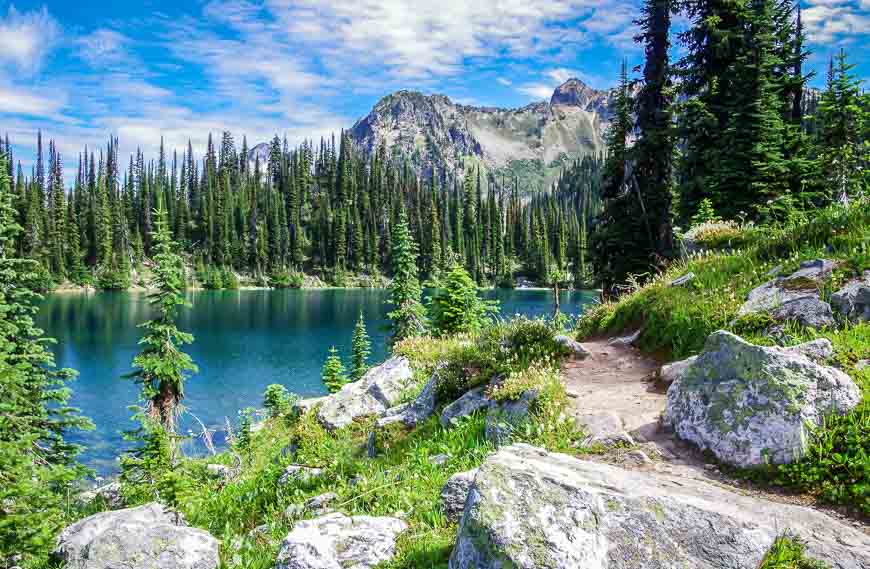 Stop and do a hike in Glacier National Park
The drive east from the park up to Rogers Pass is very beautiful. Look for short hikes accessible from the highway in Glacier National Park. I highly recommend the Hermit Trail hike. Though very steep it's worth it for superlative views. Another excellent hike in the park, especially if you're after close-up glacier views is the Glacier Crest Trail.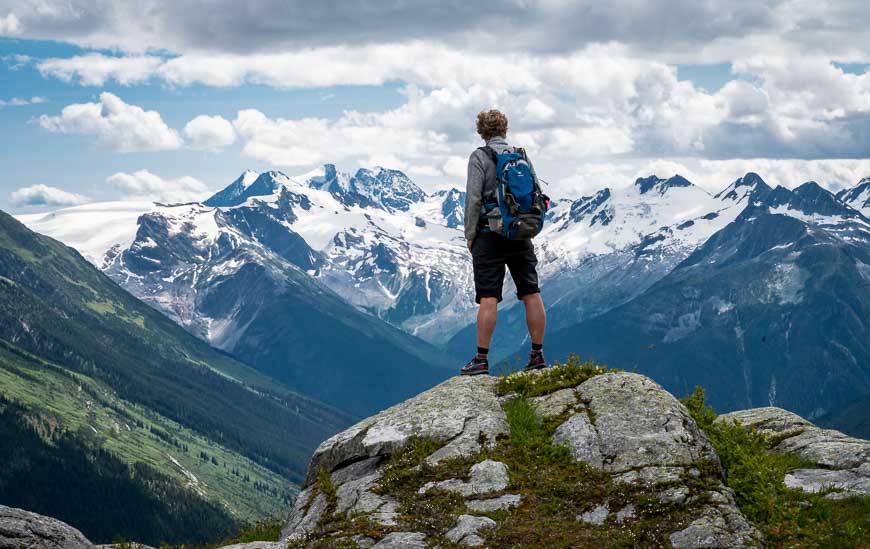 Stop on the way to Golden
If you'd like to stay somewhere before you reach Golden, I recommend Heather Mountain Lodge. In summer you can also just stop in for drinks or dinner.
From Roger's Pass it's about an hour to Golden. The time change from Pacific to Mountain time happens at the top of Roger's Pass so by the time you reach Golden you'll need to move your clock ahead an hour.
You might want to stop in at the Northern Lights Wolf Centre in Golden for a tour and some education about wolves or to actually go out on a walk with the wolves.
Read: The Most Unforgettable Walk You'll Do – in Golden, BC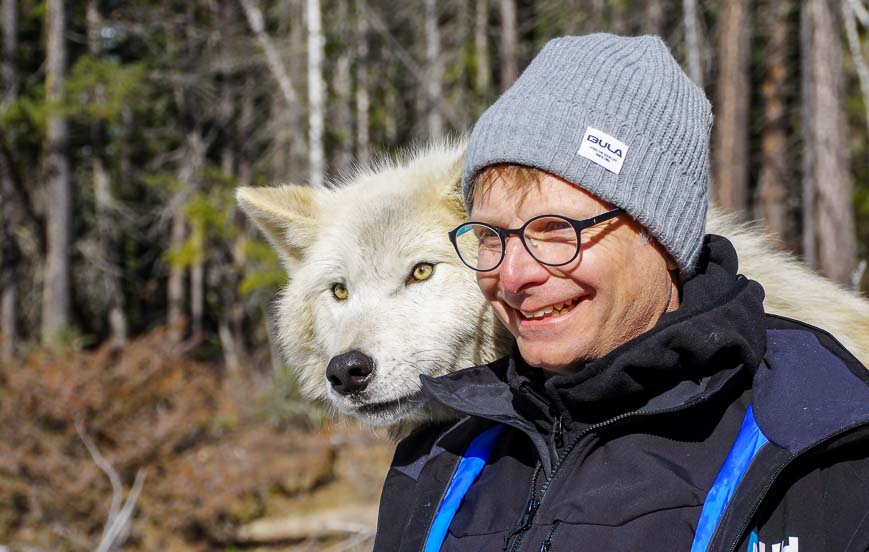 Where to stay in Golden
Golden doesn't offer the boutique hotel experience but there are loads of chain hotels like the Prestige Inn near the gasoline alley strip. (I stayed here and while not fancy it was more than adequate.)
Also check out the Basecamp Lodge Golden, located near the Kicking Horse River.
It takes three hours to drive from Golden to Calgary and two of those hours are on beautiful highways through Yoho and Banff National Parks. You do not need to buy a Parks Canada pass if you are driving through without stopping.
Stop #6 driving Vancouver to Calgary: Yoho National Park for a hike or two
Yoho National Park is a beauty. There are loads of excellent hikes in Yoho – with the 10 best Yoho National Park hikes described in this blog. One of the best of the best is the Iceline Trail. On it, you are treated to superb views of Takakkaw Falls as well as the mountains and glaciers of the Yoho Valley. If you don't hike the Iceline, I still recommend you visit Takakkaw Falls.
There is only one small town in Yoho National Park – called Field. The Truffle Pigs Bistro is definitely the place for a meal – but you may have to wait some time for a seat unless you're staying at the attached hotel.
Where to stay in Yoho National Park
There are many excellent options in the park, including camping.
In Field the Truffle Pigs Bistro & Lodge is a great choice for lunch, dinner and overnight. Otherwise choose from one of the many B&B's in town. Charlie's Guesthouse gets superb reviews. An adults only lodge – Canadian Rockies Inn, would also be a good choice.
Emerald Lake Lodge is a real treat to stay at any time of the year.
Just up the road from Field is Cathedral Mountain Lodge, though it's only open seasonally.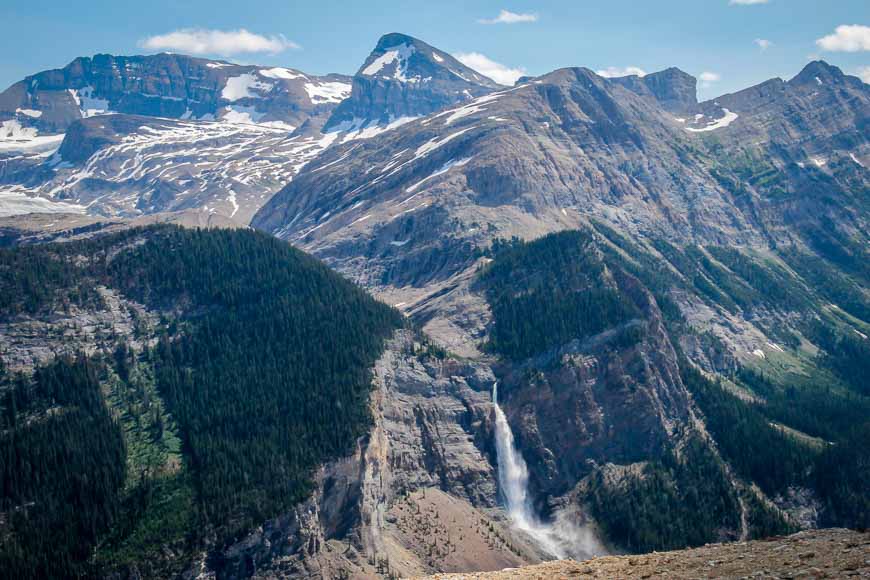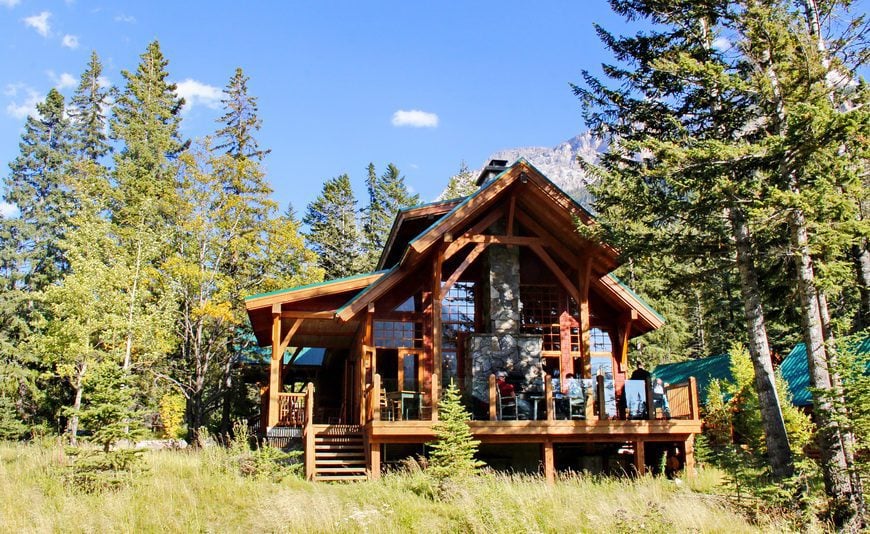 Stop #7 Driving Vancouver to Calgary – Lake O'Hara Area, Yoho National Park
Driving distance: From Field to the Lake O'Hara parking lot it's only a 15 km drive.
You need to plan ahead if you want to visit the Lake O'Hara area. Truly some of the best mountain scenery in Canada is in this small area. But there is a problem. Access is restricted and there are only a few places to stay – all of which fill quickly.
You must book either the Elizabeth Parker Hut, a campsite or a night in Lake O'Hara Lodge as well as a seat on the bus so you don't waste your time and energy walking a non-descript 11 km road. Once you're there, you won't go wrong with any hike.
Lake Oesa and Lake McArthur are two easy hikes. The High Alpine Circuit is more difficult but the scenery is sublime.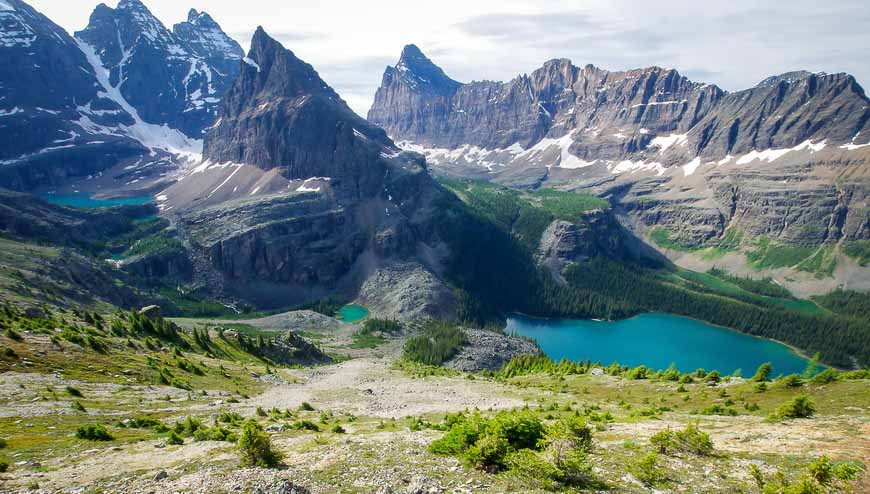 Stop #8 – Plain of the Six Glaciers, Lake Louise Area
Driving distance: From Lake O'Hara to Lake Louise it's only 14.7 km.
Lake Louise is famous so despite the crowds you should visit but you'll have to arrive by 7:30 AM to get a parking spot at Lake Louise – something you now pay for. If not you'll need to book a Parks Canada shuttle.
By getting an early start you'll avoid the crowds on the Hike to the Plain of Six Glaciers Tea House. It starts right beside Lake Louise and continues up a valley affording grand vistas back to where you started.
You can stop and enjoy something to eat or drink at the Lake Louise Tea House, 5.5 km from the start. The grand glacier scenery is only about a kilometre away.
Where to stay near Lake Louise
The Fairmont Chateau Lake Louise enjoys the best views of the lake – with a price.
Deer Lodge is a very short walk away from Lake Louise. Their updated rooms are great. Excellent food.
Baker Creek by Basecamp offers log cabins in various configurations.
For an affordable hostel option the one in Lake Louise should do the trick.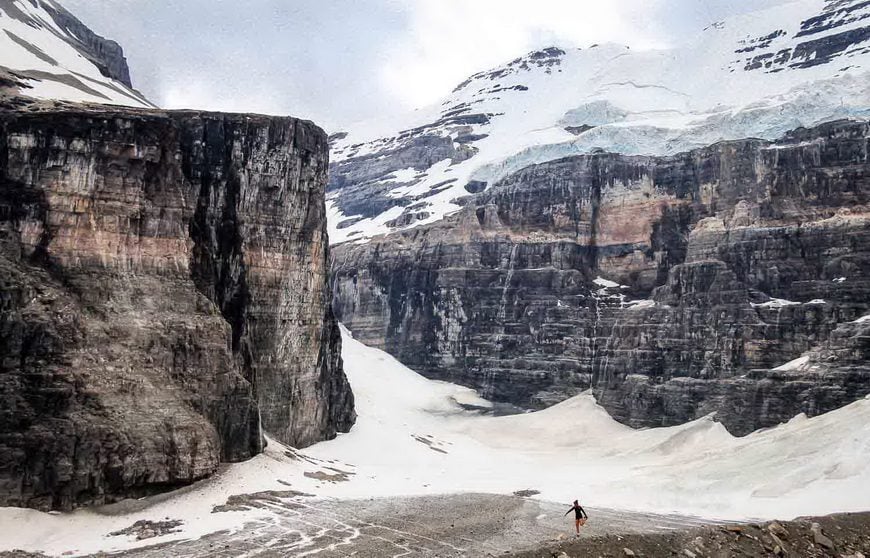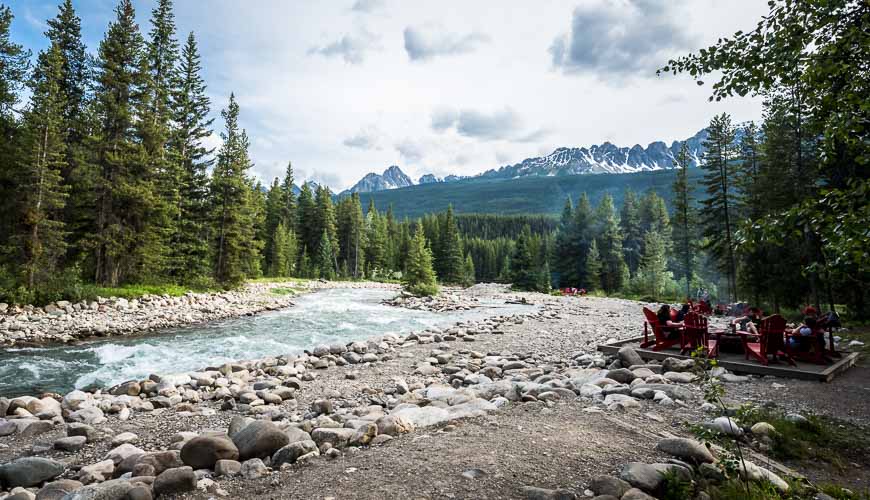 9th stop driving Vancouver to Calgary: Moraine Lake + Sentinel Pass hike
Moraine Lake is almost as famous as Lake Louise. It's so popular now that you can't drive the road and must pick one of the shuttle options.
Assuming you've made it to Moraine Lake you're in for a treat. Sentinel Pass – Larch Valley is one of the most impressive hikes in Banff National Park. Allow 4 – 5 hours to do the 11.6 km return hike. It's an extraordinary place to visit in late September when the larches turn golden yellow.
Another fantastic option is the less busy hike to Eiffel Lake.
Stop #10
Driving Vancouver to Calgary – Cycle the Legacy Trail between Canmore and Banff
Driving distance: From Lake Louise to Banff it's 58km and it will take you about 40 minutes.
Built in 2010 to commemorate the 125th anniversary of Parks Canada, the 26 km (one way) Legacy Trail is a super way to see the scenery between Canmore and Banff. There is now a station to do a bike repair near the start of the trail in Canmore, across from the Travel Alberta Welcome Centre. Bikes can be rented in both Banff and Canmore.
There is free parking in Banff at the Banff train station – for up to 9 hours.
There's a bit more climbing on the way to Banff, so it's a pretty mellow ride back to Canmore. You can add on additional mileage by continuing to Highway 1A, riding around Lake Minnewanka or riding to Tunnel Mountain.
Where to stay in Banff
For a treat book in at the Fairmont Banff Springs Hotel.
If you don't want to be in the thick Banff craziness in summer I'd suggest The Juniper Hotel & Bistro. They also have an excellent restaurant.
The Buffalo Mountain Lodge boasts an awesome outdoor hot tub and a great restaurant too. Plus free bikes in summer.
On the main street I like the Moose Hotel. If you're traveling as a family and you're cool with bunkbeds then the cheerful Canalta Hotel is a great choice. If you're after the hostel experience check out Samesun Banff.
Heading to Calgary
Driving distance: It's 25 km to drive to Canmore from Banff and another 119 km to get to the Calgary International Airport.
The drive along the Trans-Canada Highway is actually quite interesting. If you have a few hours to spare, I highly recommend driving south on Highway 40 to get a taste of Kananaskis. Stop in at Lorette Ponds and do the easy but lovely hike to Troll Falls.
You can grab a bite to eat to eat at the Kananaskis Mountain Lodge (or stay a night) before returning to Calgary.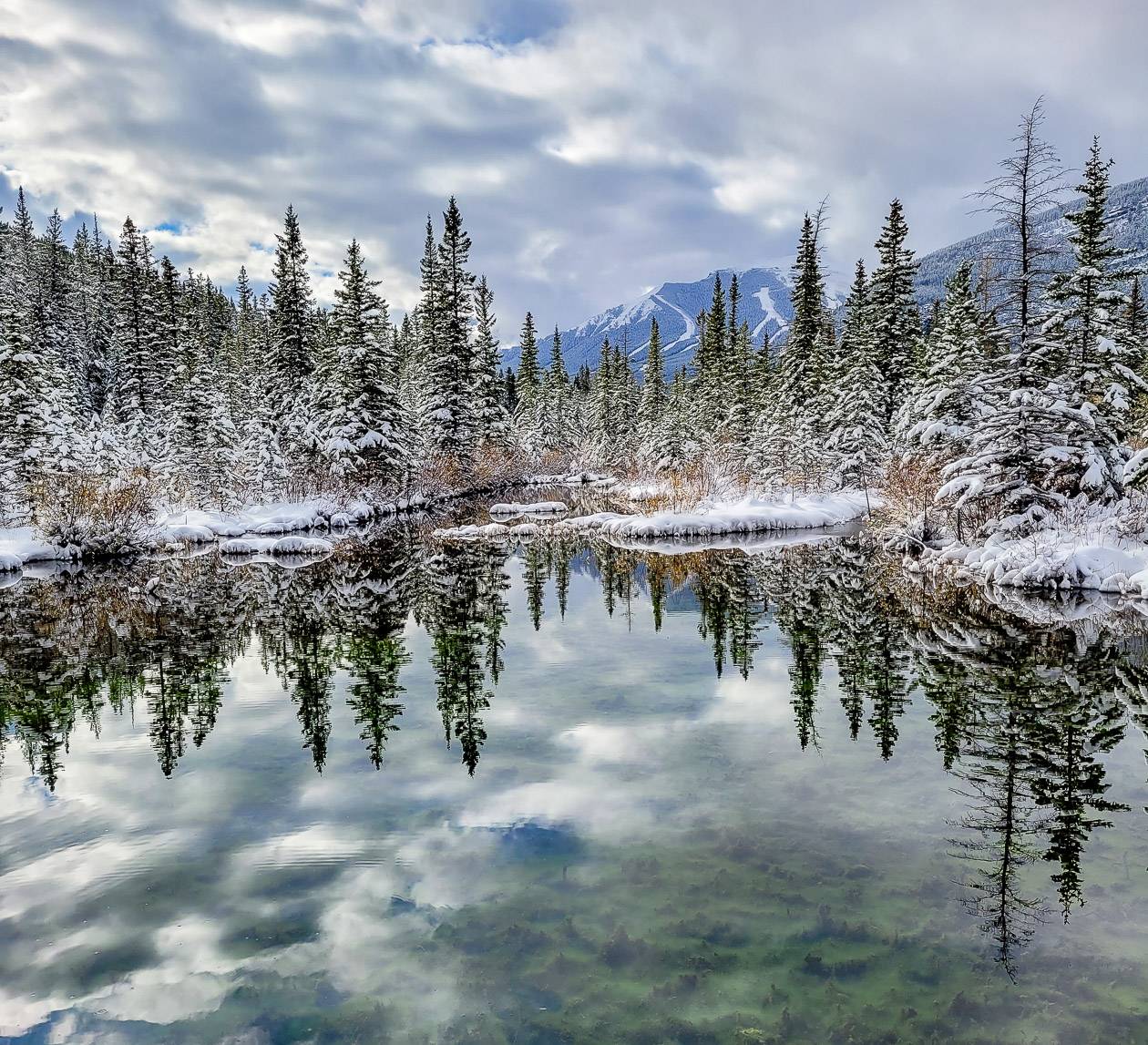 Where to stay in Calgary
If you want to be close to downtown I highly recommend Hotel Arts on 12th Ave SW. Their Kensington location would also be a good choice.
For a more affordable alternative try the Calgary City Centre Hostel.
At the airport the Marriot In-Terminal Hotel is excellent.
If you have suggestions
Hope you've enjoyed these suggestions for driving between Vancouver and Calgary – and if you have others I'd love to hear about them in the comments.
And if you're planning a drive across Canada – you'll find some great info in this blog – 40 Places You Shouldn't Miss including more information on some of the best things to do in BC based on my experiences.
Further reading on things to do in British Columbia and Alberta
Visit the Hello BC and Travel Alberta websites for more trip planning information.
Click on the photo to bookmark to your Pinterest boards.