Parksville is a city of 12,000 people nestled on Vancouver Island's sheltered east coast best known for its large sandy beaches and warm swimming waters – warm by coastal B.C. standards anyway. There are a fantastic number of things to do in Parksville as Emma Gilchrist explains in this post.
It's also one of those places many Vancouver Islanders drive through several times before realizing it's worth stopping. I recently visited for a girls' weekend and discovered the Parksville-Qualicum Beach region offers loads of outdoor adventures, top-notch dining, an award-winning spa — and some quirkiness to boot. In other words: it's got all the trappings of a perfect weekend.
Updated January 2021. This post includes some affiliate links. If you make a purchase via one of these links, I may receive a small commission at no extra cost to you.
Ocean-front Luxury in Parksville
We start by checking in to a one-bedroom condo at the Beach Club Resort. This place is so close to the water that my friend Haley visiting from Alberta exclaims: "When I'm standing at the sink looking out the window, I feel like I'm on a boat."
There are panoramic ocean and mountain views from every window, a spacious balcony, a full kitchen, plus two bathrooms — including one with a gorgeous deep tub. At $199 a night for the whole kit and kaboodle it's a great value.
The Grotto Spa
We're so comfortable it's hard to leave for the first item on our itinerary: the Grotto Spa at Tigh-Na-Mara resort, but this spa was named the No. 1 spa in B.C. by Spas of America, so we tear ourselves away. Soon we're floating in the mineral pool designed to emulate a natural stone grotto.
After our dip, we are whisked upstairs to indulge in the "Endless Tapas" experience in a small dining room reserved only for robed guests. At first we feel a little weird about eating in robes, but we're quickly distracted once the food and wine starts to arrive.
Endless Tapas showcases a 16-course menu, any of which can be re-ordered. At one point, I have four courses in front of me: a baked oyster, a warmed brassica salad with winterberries, fall squash soup and potato gnocchi in butternut squash cream sauce. We couldn't say no to any of it.
How can you turn down dishes like scallops with grilled chorizo, smoked paprika and fire-roasted red pepper? Mmmm.
The kitchen did a fabulous job of catering to Haley's gluten-free diet and at $55 per person, it's one heckuva good deal. We retire to the hotel, bellies full and souls uplifted.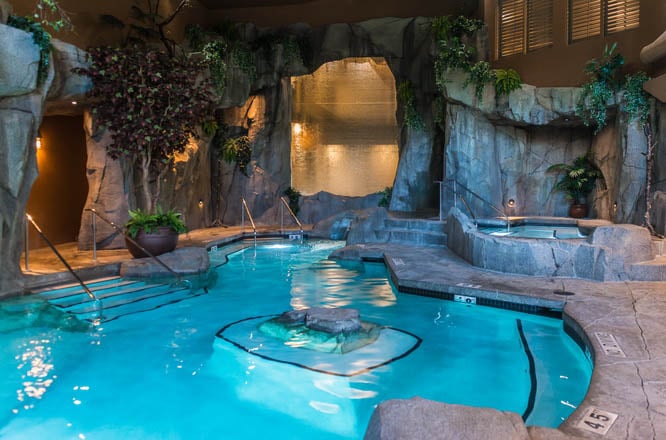 Horne Lake Caves – one of "the" top things to do in Parksville
The next morning we're up and at 'em, driving 40 minutes northwest of town toward Horne Lake Caves Provincial Park.
After winding down a gravel road for about 20 minutes, we arrive at a parking lot where we're outfitted with helmets and headlamps before we set off on a hike through the forest.
As we walk, our guide Myles Fullmer of Horne Lake Caves & Outdoor Centre explains how Vancouver Island is home to more caves than the rest of Canada combined. About 1,600 have been discovered, but it's suspected that there are up to 3,000. The limestone-rich landscape was brought here from California through the magic of plate tectonics.
As he points to some exposed limestone on the hillside, he looks to the kids in the group and says: "It tastes like dead sea creatures. I've convinced many children to try it."
Limestone is the key to caves because it dissolves in water. Thus spotting limestone above ground is one of the telltale signs there may be caves beneath.
"You can never know what can be under you," Fulmer told the group with trademark enthusiasm. "It can be spectacular."
And it was spectacular. During our three-hour winter wet and wild adventure, we visited three different caves, climbed ladders and a waterfall and descended slides to avoid touching the delicate cave walls.
At one point, Fullmer has us all turn out our headlamps in Riverbend Cave and I can't see my own hand in front of my face because we're so deep underground.
In a nutshell: it is little wonder Horne Lake Caves Provincial Park & Outdoor Centre was recently given the "Remarkable Experience" award by Destination BC.
Fine dining at Pacific Prime
We're a bit chilly and tired after that grand adventure, so we retire to the Beach Club Resort to enjoy that fabulous bathtub and view and prepare for our dinner at the hotel's restaurant Pacific Prime.
This beachfront restaurant won Wine Spectator's Award of Excellence in 2015 and we quickly understand why as our waiter — a qualified sommelier — leads us through the extensive wine list.
The restaurant works with the Vancouver Aquarium's Ocean Wise program and local suppliers to offer ocean-friendly seafood, so it's only fitting that we begin with the Galliano prawn flambé, which showcases tiger prawns in a vanilla cream sauce. I loved it so much that I vowed to figure out how to make it at home (still working on that …).
We're so spoiled for choice on the main menu that we decide to get our two favourite dishes and share them: Haley orders the Australian rack of lamb and I order the catch of the day, Arctic char, with a lobster tail. I could go on and on about it, but let's just say Pacific Prime immediately became one of my favourite restaurants on Vancouver Island.
Biking … and more food
The next morning we take advantage of the resort's complimentary bikes for a quick ride down the boardwalk (very quick, because the boardwalk is only about 500 metres long).
Then we're off to check out Island SodaWorks — which turns into a tiny gluten-free taco shack on the weekends.
Located in the farmland of Errington, this soda distillery has been named by CBC as one of Vancouver Island's top foodie destinations for its "20-mile tacos" and fermented sodas.
Mandolyn Jonasson, the mastermind behind the whole operation, talks a mile a minute, telling us about how she makes everything with a crockpot and a $40 grill.
"I'm working out of quite literally a shack," Mandolyn chuckles as she makes our tacos.
She's doing a brisk business on the Sunday we visit, with her GMO-free corn tortillas topped with house-made cheese, local farmers' market greens and local chicken flying out the door. We tuck into the delish tacos, bone broth soup and sample all of the sodas (my favourite is Salal & Ginger) before we hit the road back toward Victoria full yet again.
Driving south I realize that for a place I'd driven through so many times without stopping, Parksville sure had a ton to offer — and I begin plotting my next trip.
Further reading on things to do in British Columbia
Click on the photo to bookmark to your Pinterest boards.
This post was kindly written by Emma Gilchrist; her trip was arranged by Parksville Qualicum Beach Tourism Association.