Tofino's growing popularity has spurned a huge increase in people making the Nanaimo to Tofino drive. Even though you can fly into Tofino, it can be expensive and car rentals once you're in Tofino are often an issue. The drive makes sense for the majority of people heading to the west coast of Vancouver Island and driving gives you the ultimate in flexibility.
I have done the Nanaimo to Tofino drive at least a half dozen times. Most of the time, I've been highly focused and have wanted to get to Tofino as quickly as possible. Granted I have done the obligatory stop at Cathedral Grove on almost every drive, but recently John and I stopped anywhere that looked interesting.
In theory, you can do the Nanaimo to Tofino drive in just over three hours, starting from the Departure Bay Ferry Terminal. Unfortunately, there is a massive construction project at Kennedy Hill that is a year or two behind schedule. You're going to get held up here – no matter how good your timing is so BE SURE to check the BC Travel Advisory for Highway 4. It is updated daily so can figure out how to minimize your wait time.
Now for some good news.
The Nanaimo to Tofino drive is quite wonderful. There are loads of stops to make, starting in Nanaimo itself. Perhaps make a couple of stops on the drive to Tofino and another few stops on the drive back – or take a long day and do them all.
Location map of stops on the Nanaimo to Tofino drive
This post includes some affiliate links. If you make a qualifying purchase through one of these links, I will receive a small percentage of the sale at no extra cost to you. Thank you for your support.
13 Stops to Make on the Nanaimo to Tofino Drive
1. Enjoy an easy hike in Nanaimo's Pipers Lagoon Park
If you need to stretch your legs after a ride on the ferry, I highly recommend a scenic walk in Pipers Lagoon Park, called one of "Nanaimo's famous waterfront parks."
The park, built on an isthmus that encompasses a rocky headland, features gorgeous trails with numerous ocean viewpoints. Some of the trails are flat but others require a bit of rock scrambling to get to the headland. From the headland, you can see out to historic Shack Island and the southern point of Neck Point Park.
Shack Island, with its colourful cabins, that can only be passed down to family members, has an interesting history you can read about here.
The park is perfect if you're into birding. Over an hour long walk, my husband saw oystercatchers, numerous types of gulls and ducks and a towhee. Its a park where you can usually find sandpipers, loons, kingfishers, and horned grebes as well. If you're not into birds, you might enjoy beachcombing or even a brisk swim on a hot summer's day.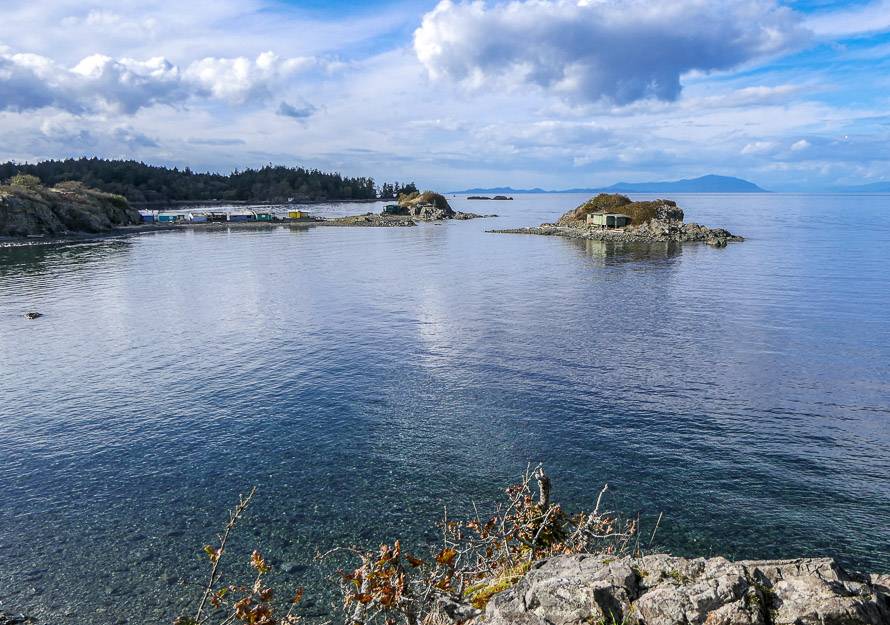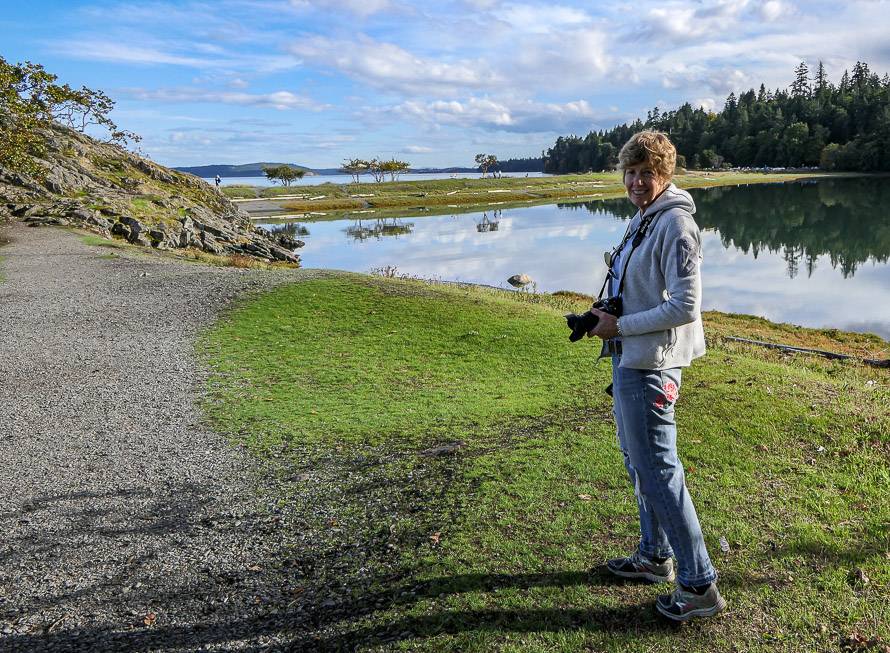 2. Take a hike in Moorecroft Regional Park
Most people are not going to go out of their way to stop at Moorecroft Regional Park on the Nanaimo to Tofino drive BUT if you have time to kill it's a lovely, quiet oasis on the ocean. In fact, it's managed by the Nature Conservancy of Canada.
There is a network of trails in this park, the site of a former youth camp. The one I suggest you take goes around Arab Cove to Vesper Point. Look for Garry oak trees and coastal Douglas fir trees. Then find a log and enjoy a picnic while enjoying views of the Salish Sea and Coast Mountains.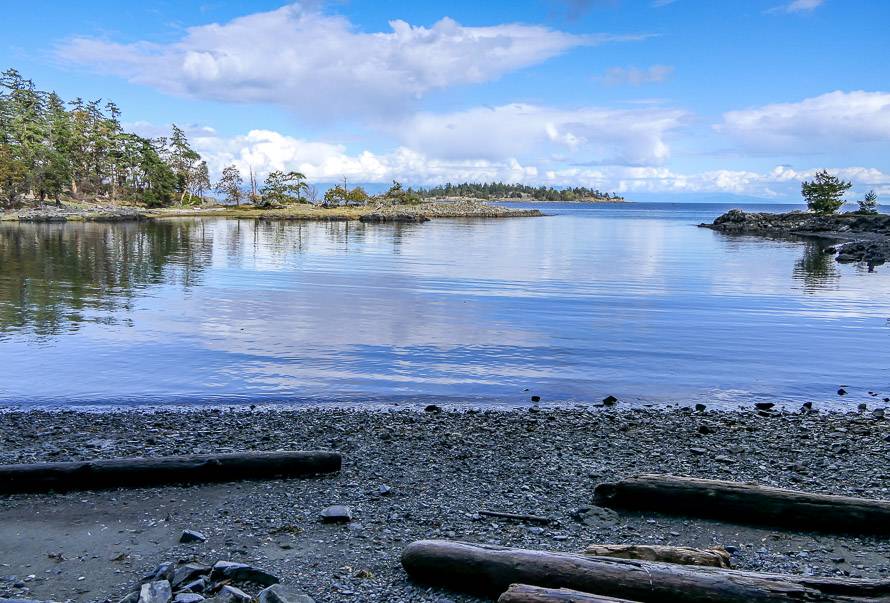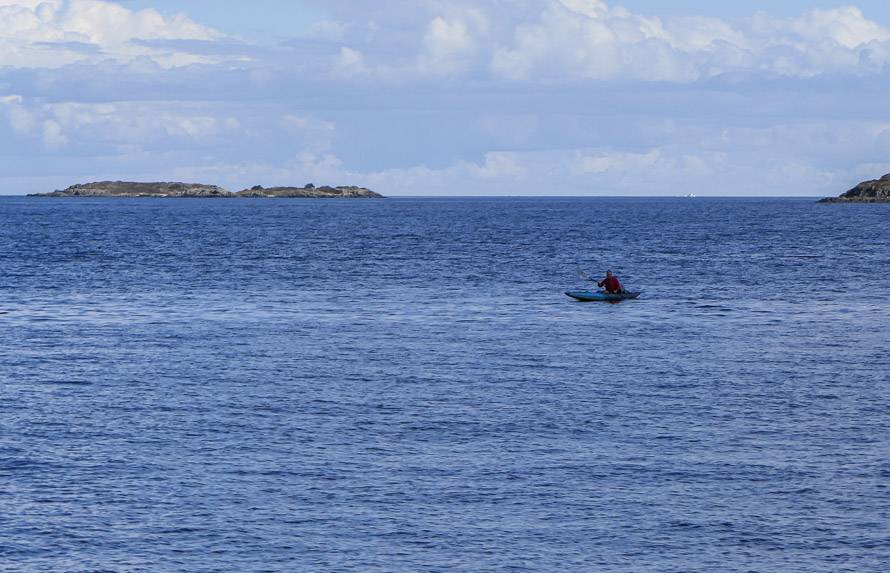 3. Stop in Coombs for goats and gifts
Coombs is a popular stop on the Nanaimo to Tofino drive on account of a family of goats you can catch grazing on the grassy rooftop of the Coombs Old Country Market. I have stopped here on numerous occasions for lunch and to purchase food items but in September 2021, it was so busy that there was nowhere even nearby to park.
If you're traveling in the off-season or at a quiet time of day, it is worth the visit. You can usually see the goats on the roof, even if you don't stop.
4. Explore Little Qualicum Falls Provincial Park
You'll find Little Qualicum Falls Provincial Park just 45 minutes outside of Nanaimo. The park was established in 1940 to protect old growth forest. It's very much worth a stop as there's a lovely 2 kilometre walk with a myriad of viewpoints to enjoy the sight of the impressive Little Qualicum Falls coursing through a rocky gorge. I'd recommend doing the loop hike from the upper falls to the lower falls (or vice versa).
Allow about an hour so you can get your shots and soak in the splendour of the landscape. Expect to share the trails as this is a popular destination, especially for families.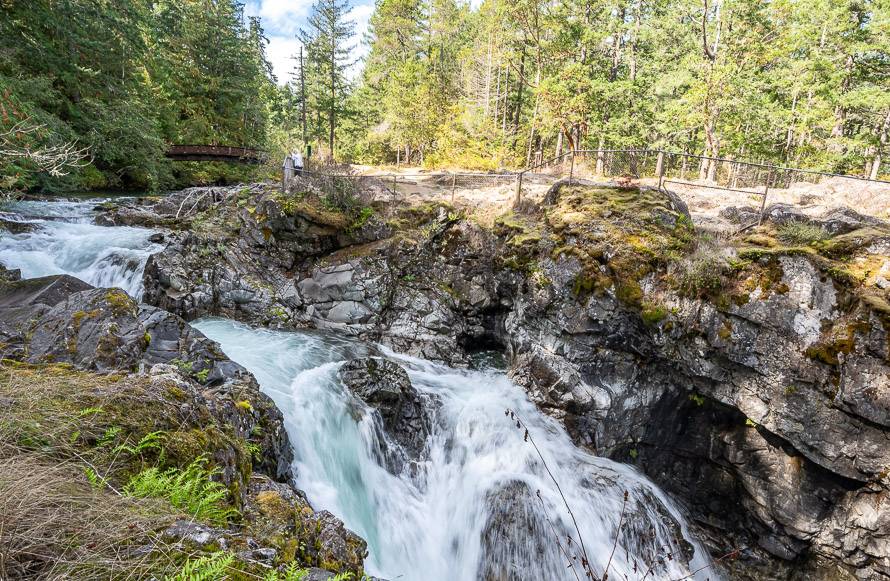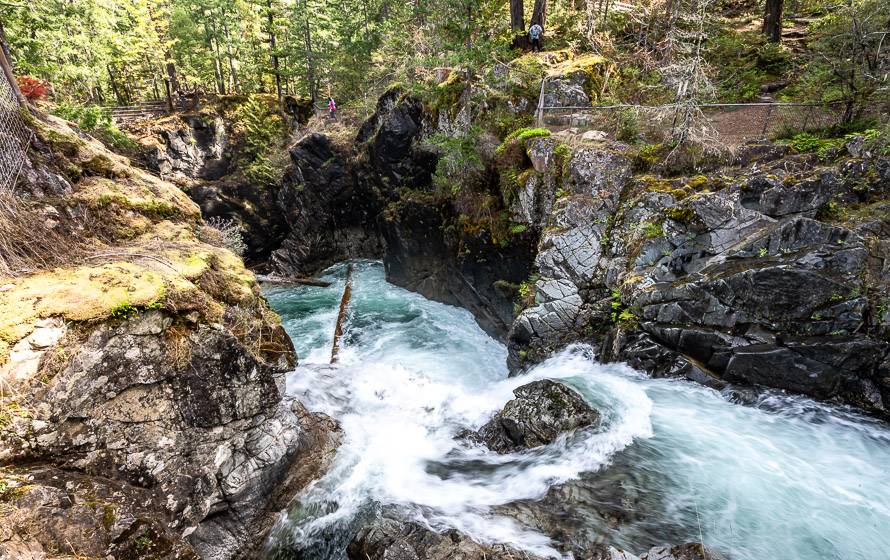 5. Stop at Cameron Lake's Beaufort Picnic Site for a picnic and swim
Cameron Lake is a great place for a stop. On a hot day, cool off with a swim. Enjoy a picnic with cooling breezes and stretch your legs on the beach.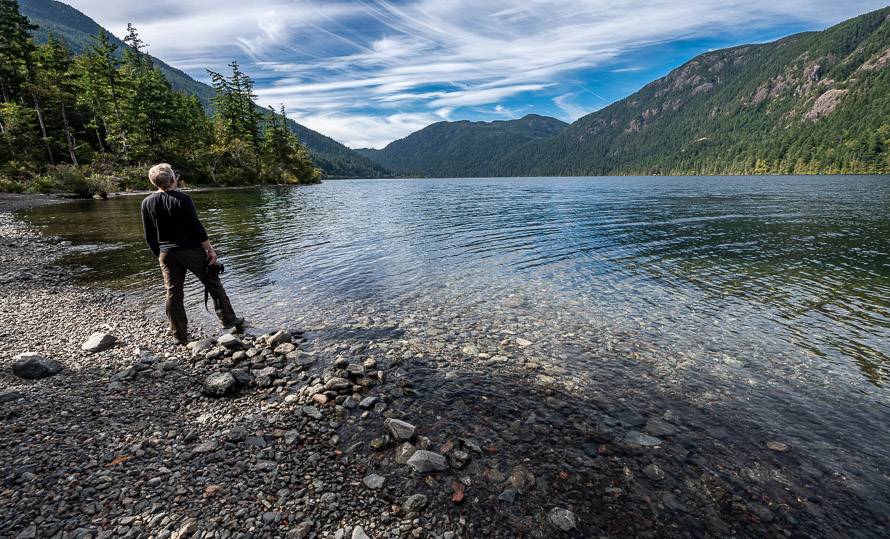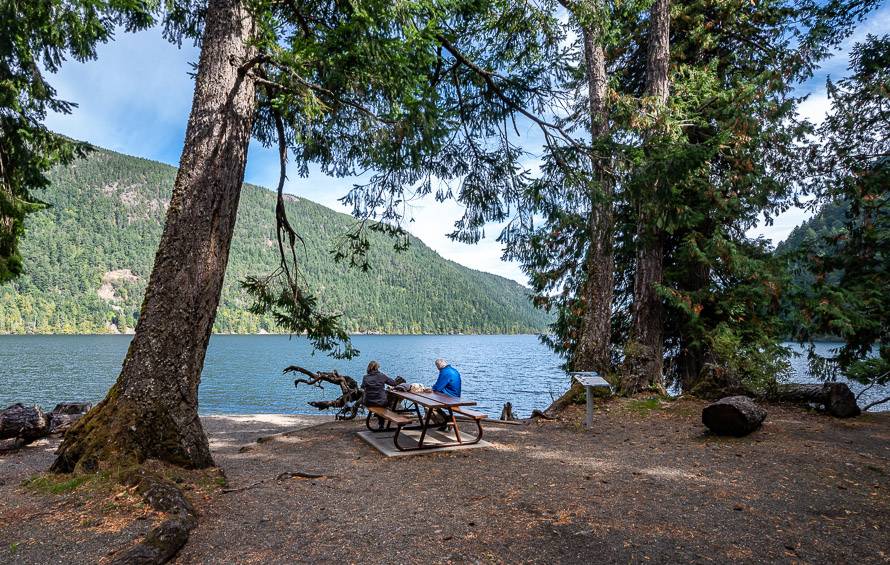 6. Gawk at giant trees in Cathedral Grove – a must stop of the Nanaimo to Tofino drive
If you only make one stop on the Nanaimo to Tofino drive, make it Cathedral Grove in MacMillan Provincial Park. It's almost a religious experience walking among the giant trees in the grove, some of which are almost 800 years old.
The downside is just how busy the area is now. While there is lots of parking, you have to be so careful as people are backing up, kids are running around, and Cathedral Grove is immediately adjacent to Highway 4 – so there are impatient drivers that aren't always paying attention.
There are trails on both sides of the highway – and both are worth walking. The largest Douglas fir trees, including one that measures more than nine metres in circumference is on the south side of the highway. Groves of ancient Western red cedar can be seen on the north side of the highway.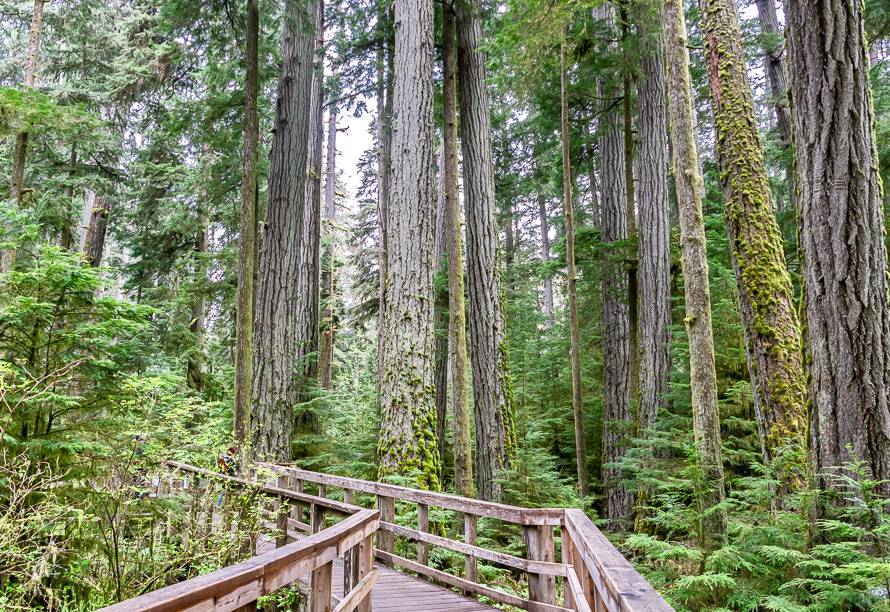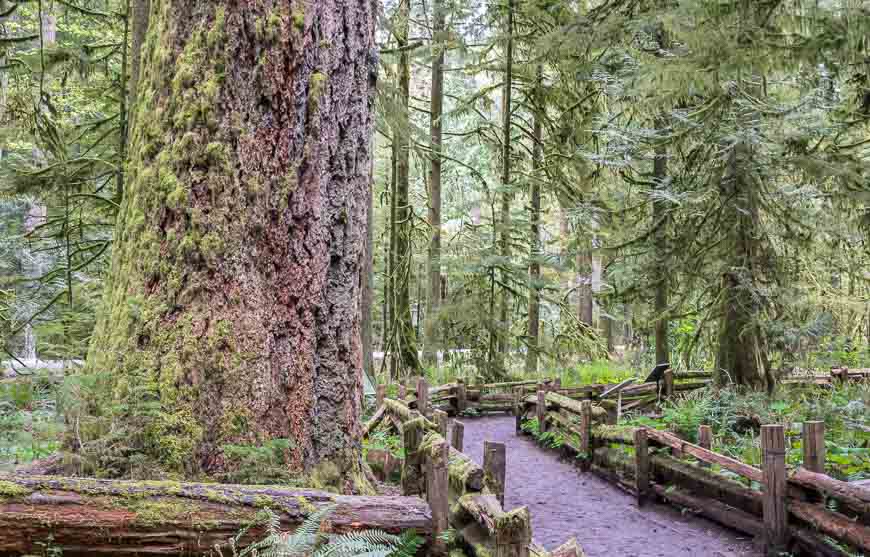 7. Hike the Hole in the Wall Trail in Port Alberni
The one sight we missed on the Nanaimo to Tofino drive was the Hole in the Wall Trail on the outskirts of Port Alberni. The trailhead is directly across the highway from Coombs Country Candy but there is room for only three or four cars. Alternatively, park in a lot next to the candy store.
The short hike (10 -15 minutes one way) on the Hole in the Wall Trail will take you through forest and deliver you at the Hole in the Wall, a man-made structure used at one point for a pipeline. When the pipeline was removed, the creek flowed again into the crystal-clear pool below.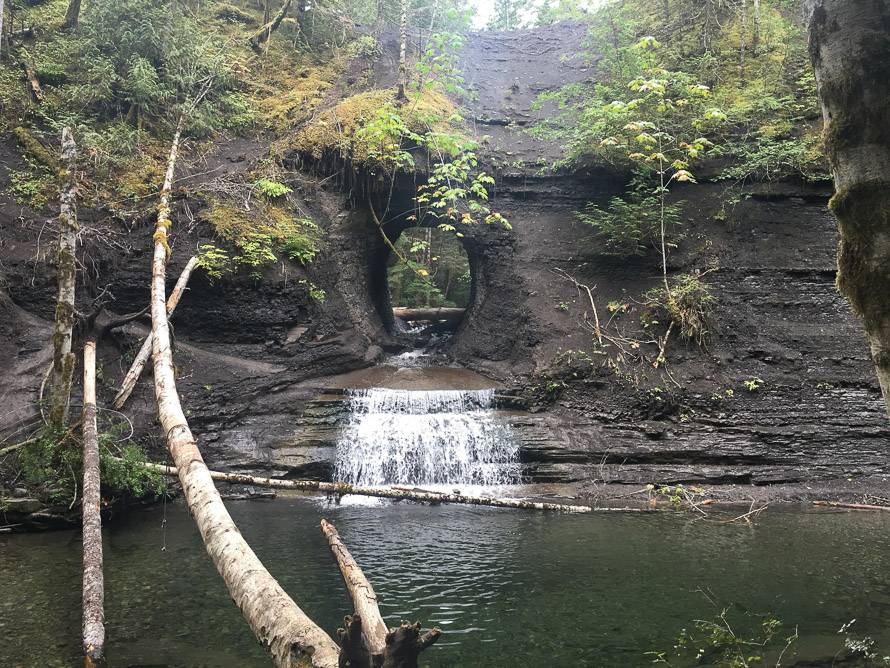 8. Visit the Sproat Lake Petroglyphs
The Sproat Lake petroglyphs or K'aka'win are a rock art site on a slab of vertical rock on the shores of Sproat Lake in Sproat Lake Provincial Park. Reportedly these are some of the best examples of rock art in British Columbia but unfortunately part of the rock face has been defaced.
Access to see them is by a floating dock. You get close enough to see details, but also far enough away to make them hard to touch.
There's an easy walking trail parallel to Sproat Lake to get to the petroglyphs. You'll find signage pointing the way if you head down towards the lake from the parking lot. You can do the return walk with a stop to admire the mystical figures in 30 – 45 minutes, but if its a nice day I would also suggest a swim in the lake.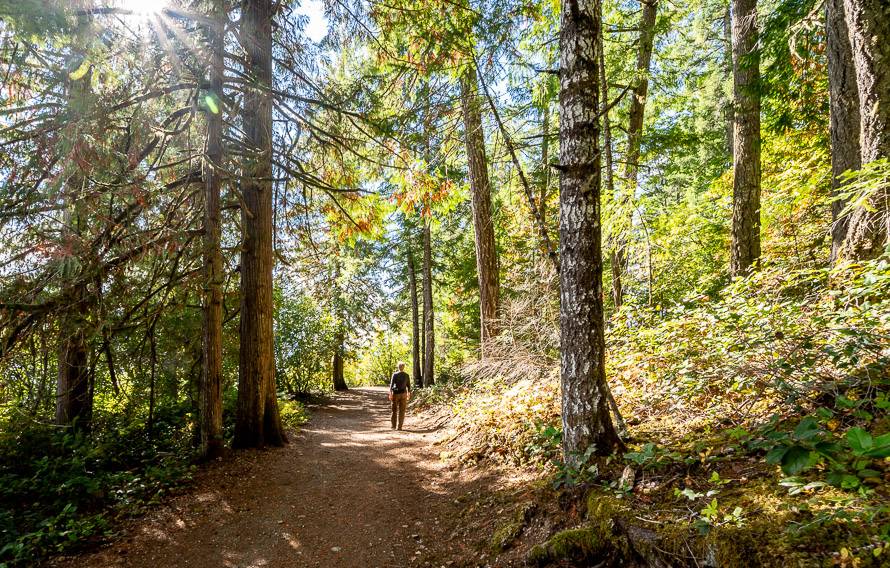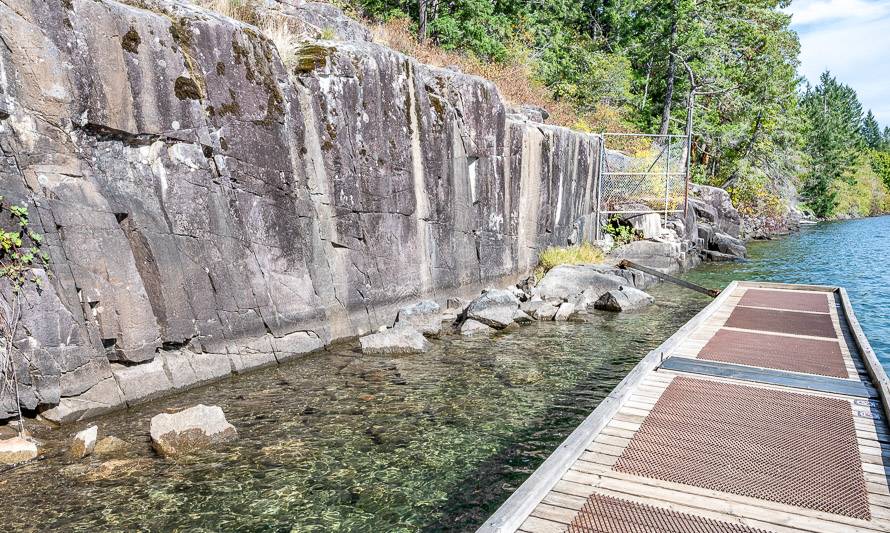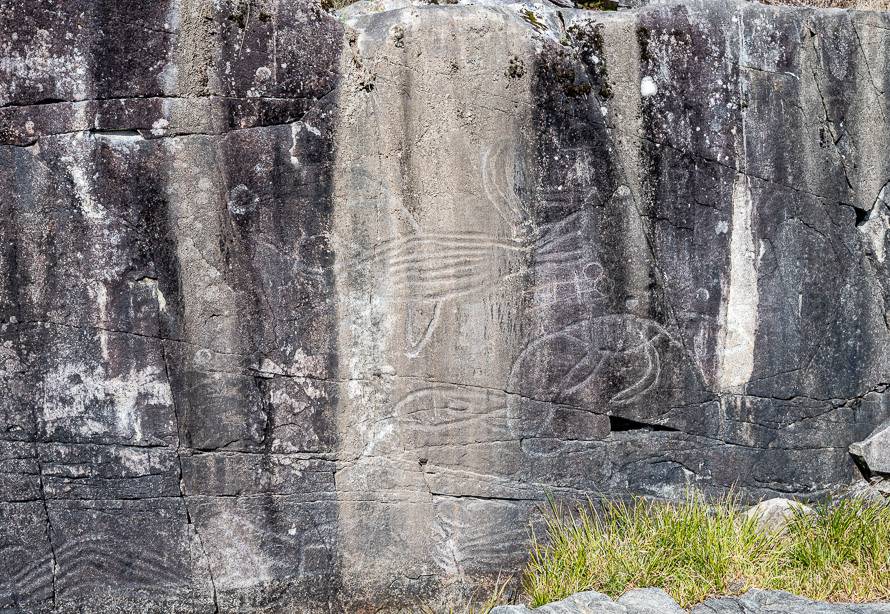 9. Hike the Giant Cedar Trail
If you're looking for big trees, a short hike and no people then do the short Giant Cedar Trail between Port Alberni and Pacific Rim National Park.
When John and I did it in late September, we didn't see a soul. It's not a well kept up trail – so you could expect to get wet if it rained recently as you walk by ferns, under mossy branches and right beside small trees. It will take you about 10 minutes to get to the first of the big trees. And by big, I mean huge, crane your neck to see the top type of trees. I misplaced almost all my photos of this area so I'm not able to showcase just how beautiful and peaceful the hike is.
But do it – and enjoy the serenity of the forest. We did it as a loop and ended up on the highway about a half a kilometre from the car. I'd say just retrace your steps once you've passed the last of the giant trees.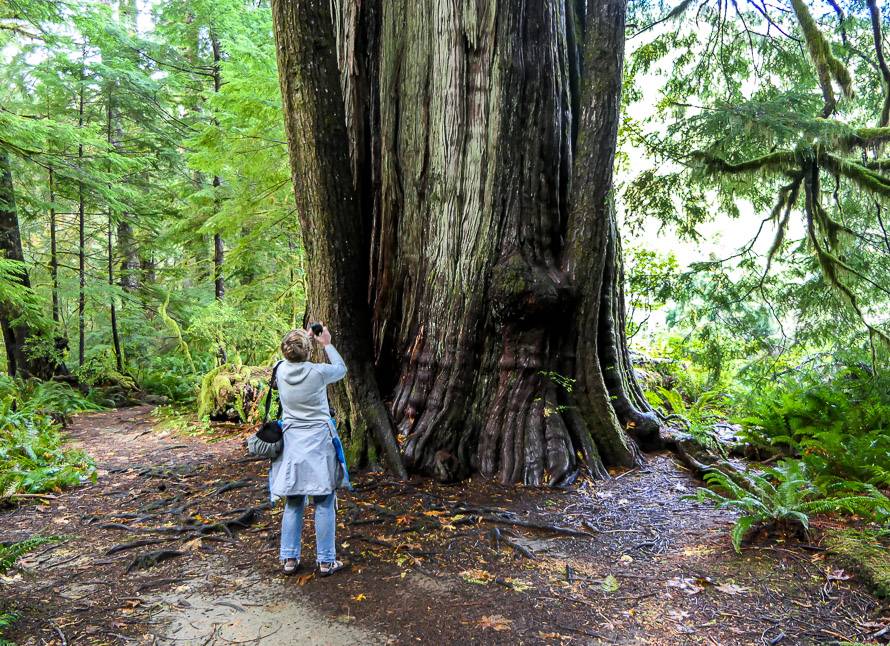 10. Check out the Ucluelet Aquarium
The Ucluelet Aquarium is not like most you visit. First it features local creatures from Barkley and Clayoqut Sounds and secondly it is a collect-and-release aquarium. Displays change constantly and are dependent upon what life there is in tidepools, kelp forests and eelgrass beds.
The aquarium says they can never guarantee what they'll have but you may see octopuses, jellyfish, sea cucumbers, squat lobsters, and grunt sculpins.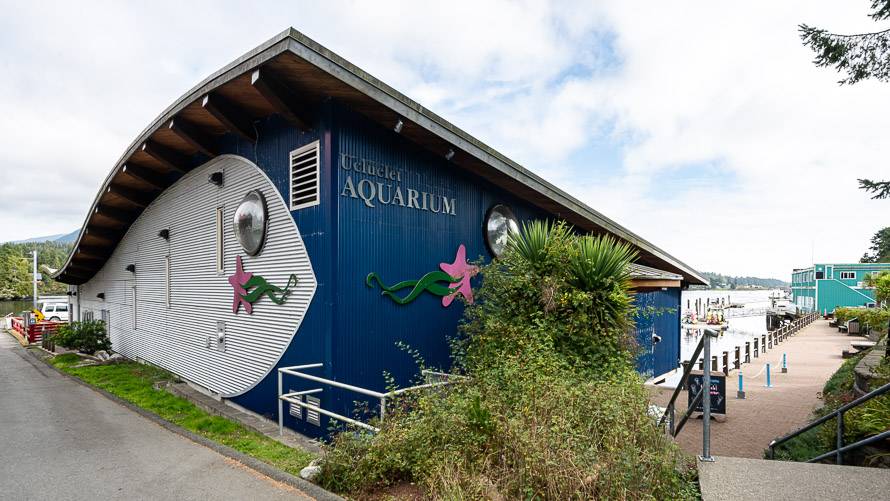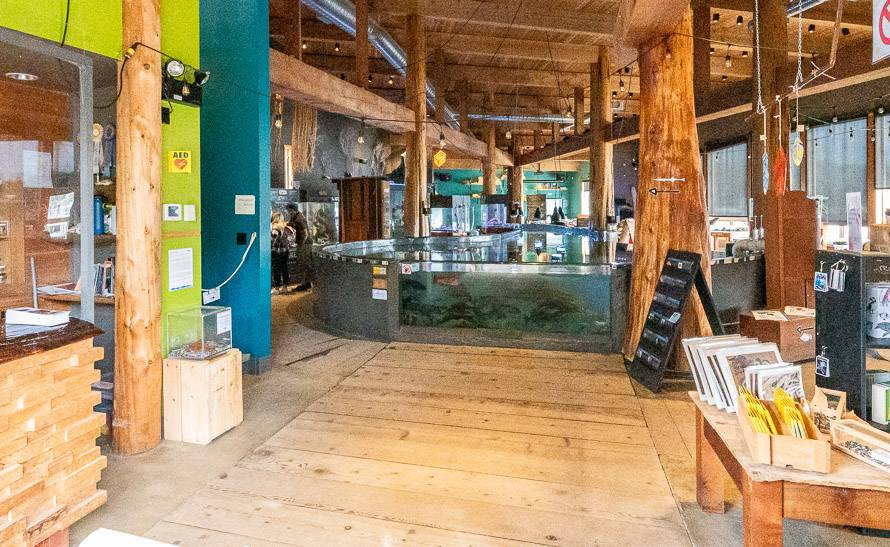 11. Walk the Ancient Cedars Loop Trail in Ucluelet
The Ancient Cedars Loop Trail in Ucluelet packs a punch considering it will only take you 15 minutes to hike – without stops. The trail features western hemlock, giant red cedars, and old-growth Sitka spruce. There are a couple of giant trees to behold, with one about 800 years old, measuring more than 12 metres in circumference.
According to a local website these old trees have withstood "gale-force winds, lightning strikes and perhaps even the local tsunami 300 years ago."
There is one fantastic lookout where you can watch the waves roll and then crash into shore, just off the trail. Other highlights of the old-growth rainforest include mosses, lichens, beautiful ferns, and giant nurse-logs.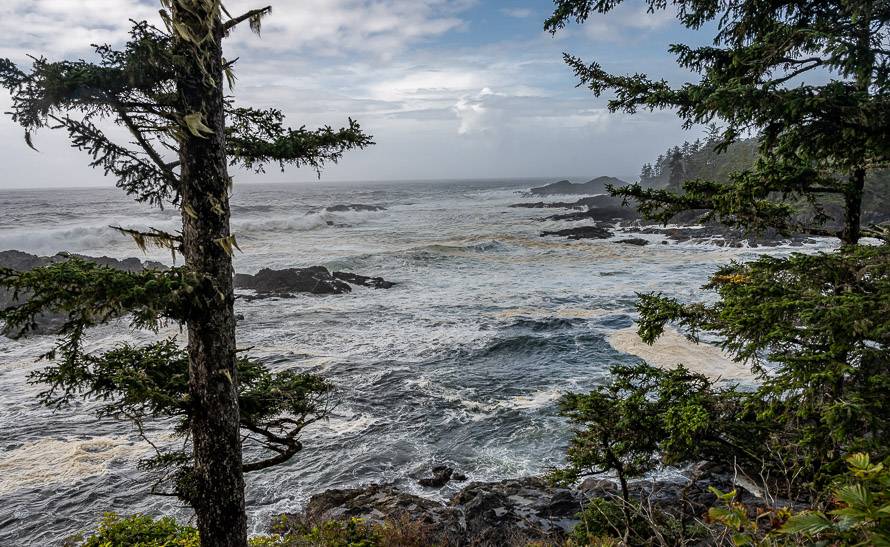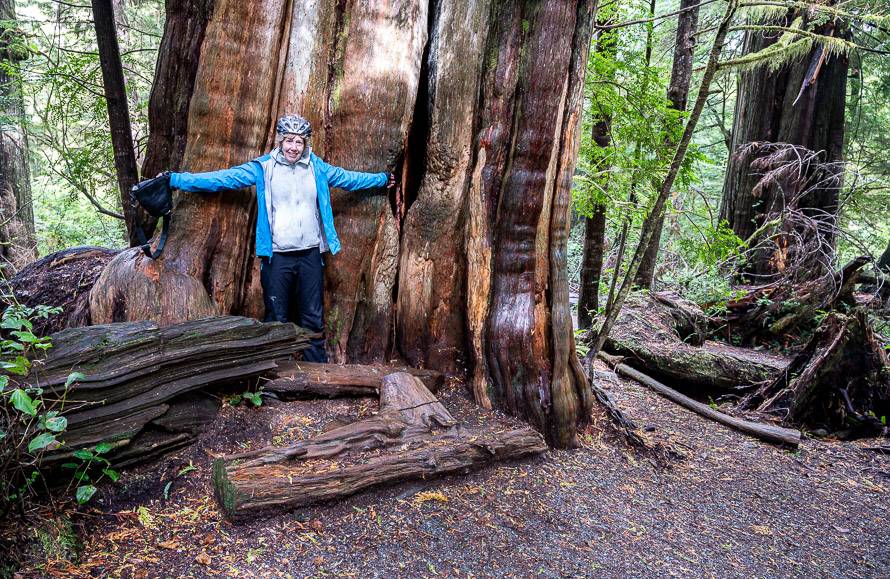 12. Enjoy an easy walk on the Ucluelet Lighthouse Loop
The Lighthouse Loop hike is a 2.6 km section of the Wild Pacific Trail that is ideal if you want a taste of what the wild west coast of Vancouver Island can offer. Enjoy spectacular ocean views, massive trees with stories to tell, the squat Amphitrite Point Lighthouse, beachcombing, monster wave viewing, especially in storm season and the lovely bog interpretive loop.
You only need 45 – 60 minutes to walk the loop. It's mostly stroller friendly and its certainly family friendly. There are some steep sets of stairs to get down to the ocean, but they can be easily bypassed.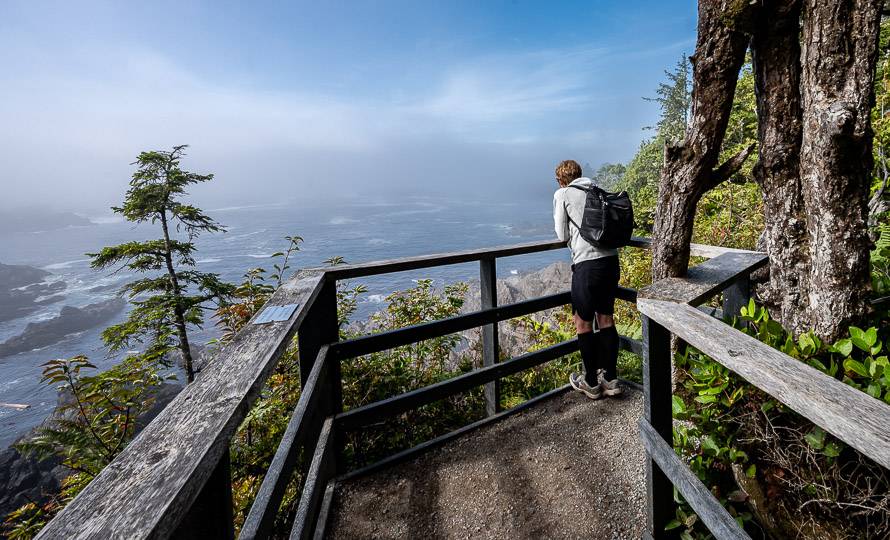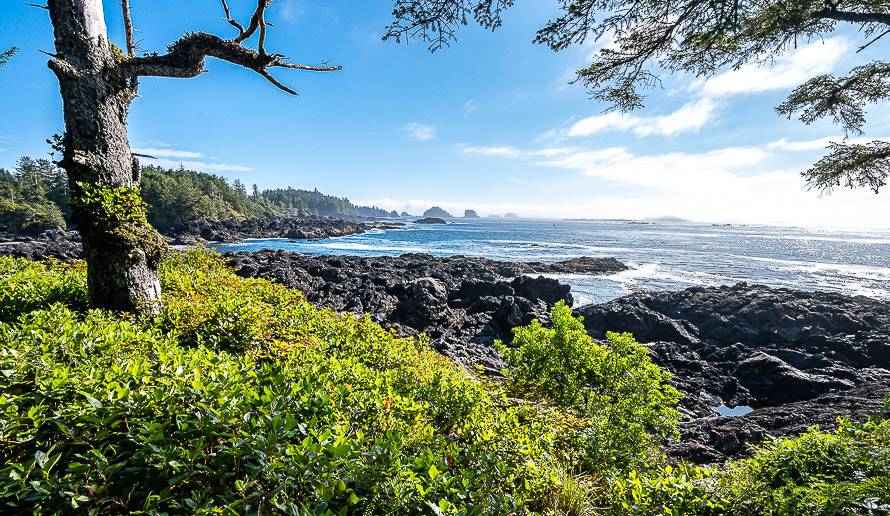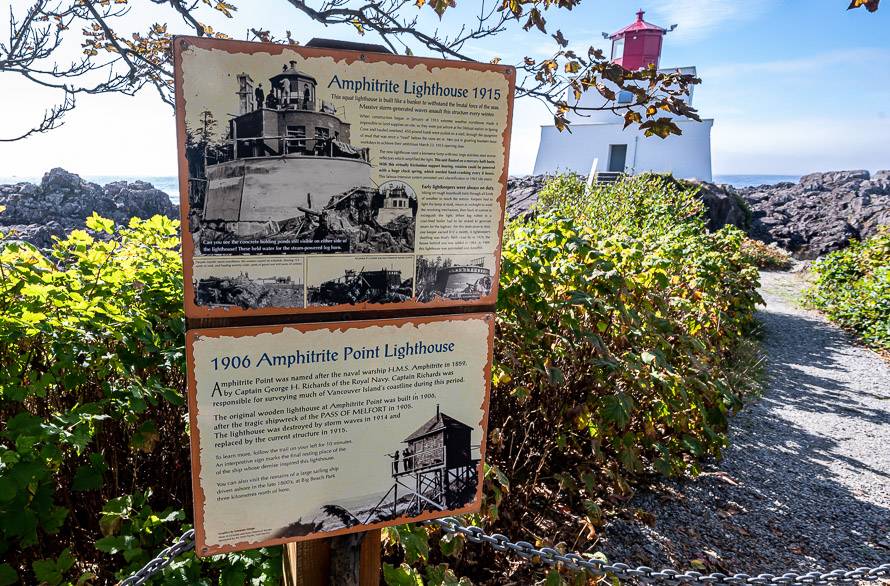 13. Walk Long Beach in Pacific Rim National Park
Long Beach owes its name to the fact that it is the longest sand beach on the west coast of Vancouver Island. There's room for everyone to do their thing – whether it be simply walking the beach, swimming, building sandcastles, surfing or kayaking. Don't forget snacks and a picnic. It's a great place to watch the sun go down while you stare into the embers of a beach fire. When was the last time you were allowed to have one of those?
If you don't stop on the drive to Tofino, consider visiting by bike. There's a new lovely multi-use path that you can cycle right from Tofino (and continue all the way to Ucluelet if you're so inclined). Just don't forget the bike lock.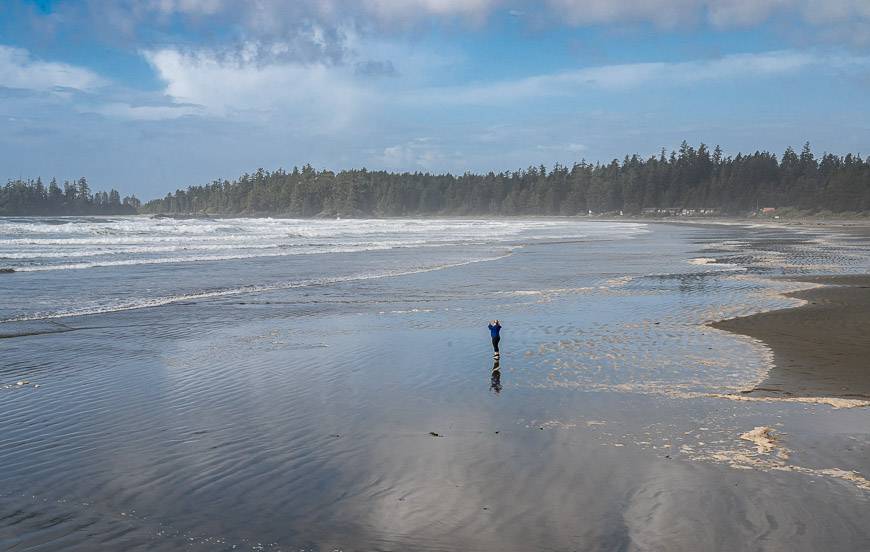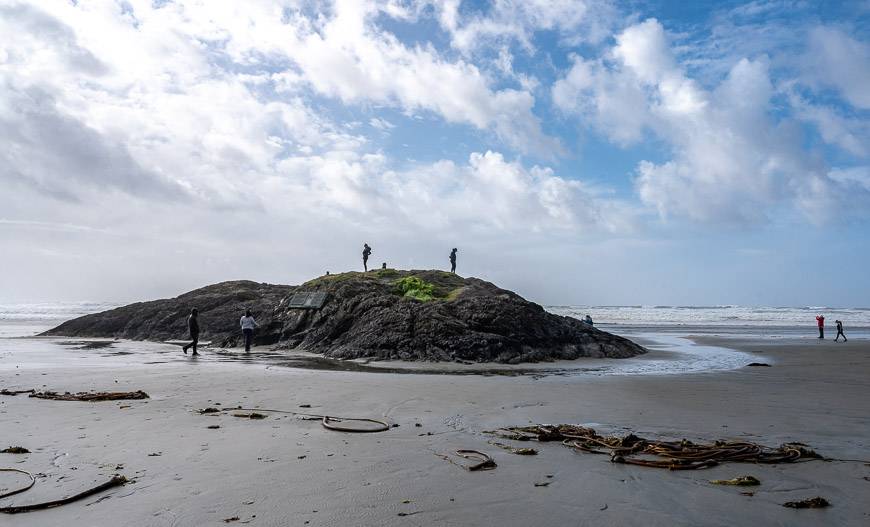 Where to stay in Tofino
On our most recent trip we stayed at Middle Beach Lodge. I've always enjoyed the vibe there – and now they have treehouses too.
I also love Long Beach Lodge Resort and Pacific Sands Beach Resort, both of which offer easy beach access.
More ideas of things to do on Vancouver Island
Click on the photo to bookmark to your Pinterest boards.