Botanical Beach on Vancouver Island's wild west coast is an incredible destination if you like exploring tide pools. It also provides a taste of quintessential west coast scenery. And in winter it's a superb place for storm watching but be very careful whenever you visit and keep an eye out for rogue waves. Access is excellent with the trailhead only about a 5 – 10 minute drive from Port Renfrew. It's a two hour drive from Victoria so it can be done as a day trip.
Botanical Beach summary
Botanical Beach is a great destination – especially as a day trip from Victoria. Picnic, hike, and explore the beach looking for intertidal marine creatures.
The beach is a great destination for all ages though you will need to keep small children close by when you're the beach itself.
Botanical Beach is at the north end of the well-known Juan de Fuca hiking trail.
The hike from the parking lot to Botany Bay is 0.7 km one way.
Dogs are allowed on Botanical Beach, but they must be leashed.
Hundreds of species of plants and animals live at Botanical Beach.
Be hyper aware of the tide – and try to plan your visit around a falling tide.
The rocks at Botanical Beach are super slippery so be sure to wear the proper footwear. A pair of thongs doesn't cut it here. Always be on the lookout for rogue waves.
Occasionally Botanical Beach is closed because of bear activity.
Botanical Beach is open year round, save for the odd closure due to bears. It's a great area for storm watching in the winter months.
There is no potable water at the beach so if you're planning a full day be sure to pack some along with the hiking essentials.
This post includes some affiliate links. If you make a qualifying purchase through one of these links, I will receive a small percentage of the sale at no extra cost to you. Thank you for your support.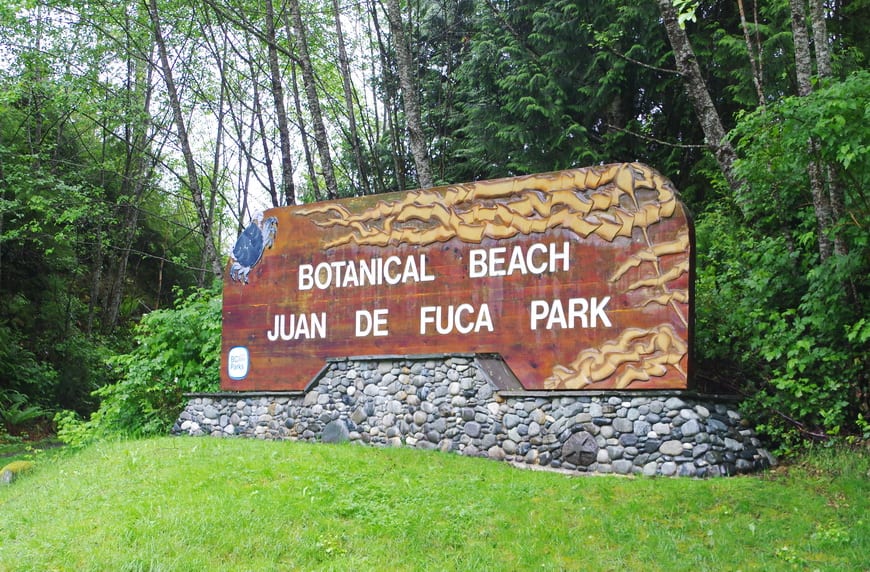 Getting to Botanical Beach
Leave Sooke and drive the winding, narrow Highway 14. Allow 75-minutes to do it. When you get to Port Renfrew, drive through town and look for the signs pointing the way to the beach.
But before you make the turnoff, I highly recommend picking up picnic supplies at the Coastal Kitchen Café – but note that it's closed in winter. There's a big parking lot at the end of the road when you reach Botanical Beach.
The hike to Botanical Beach
Botanical Beach is the end point – or starting point – for the Juan de Fuca Trail, a 47 km cousin of the famous West Coast Trail, that lies just a little further north so you may see backpackers coming or going if it's spring, summer, or fall.
There are two ways to get to Botanical Beach – the beach to beach trail for experienced hikers at low tide only!! or the 2.7 km loop trail which is well-signed and good for everyone.
The loop trail is the popular way to get to Botanical Beach. Over its length, enjoy spectacular ocean views, some muddy sections if its rained recently, beautiful sections of rainforest walking, Botany Beach, and then Botanical Beach. If you've timed your arrival with low tide, head first to Botanical Beach and visit Botany Beach on the way back.
The Beach to Beach trail should only be attempted at low tide. Check the Tide Chart. From the beach at Botany Bay you can hike south to Botanical Beach BUT you have to deal with rocks and a bit of rock scrambling and you need to watch for rogue waves. It is best done by experienced hikers .
Read: What to do on a Trip to Port Renfrew, British Columbia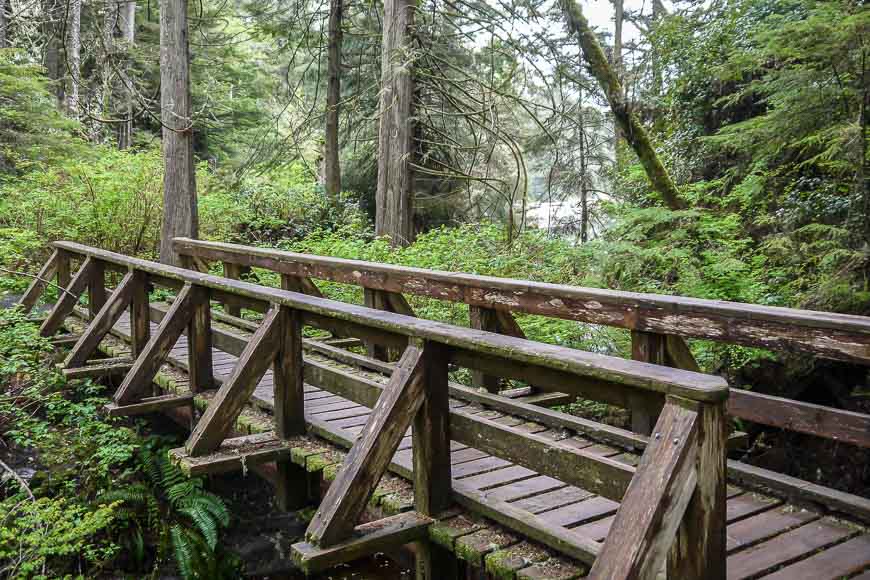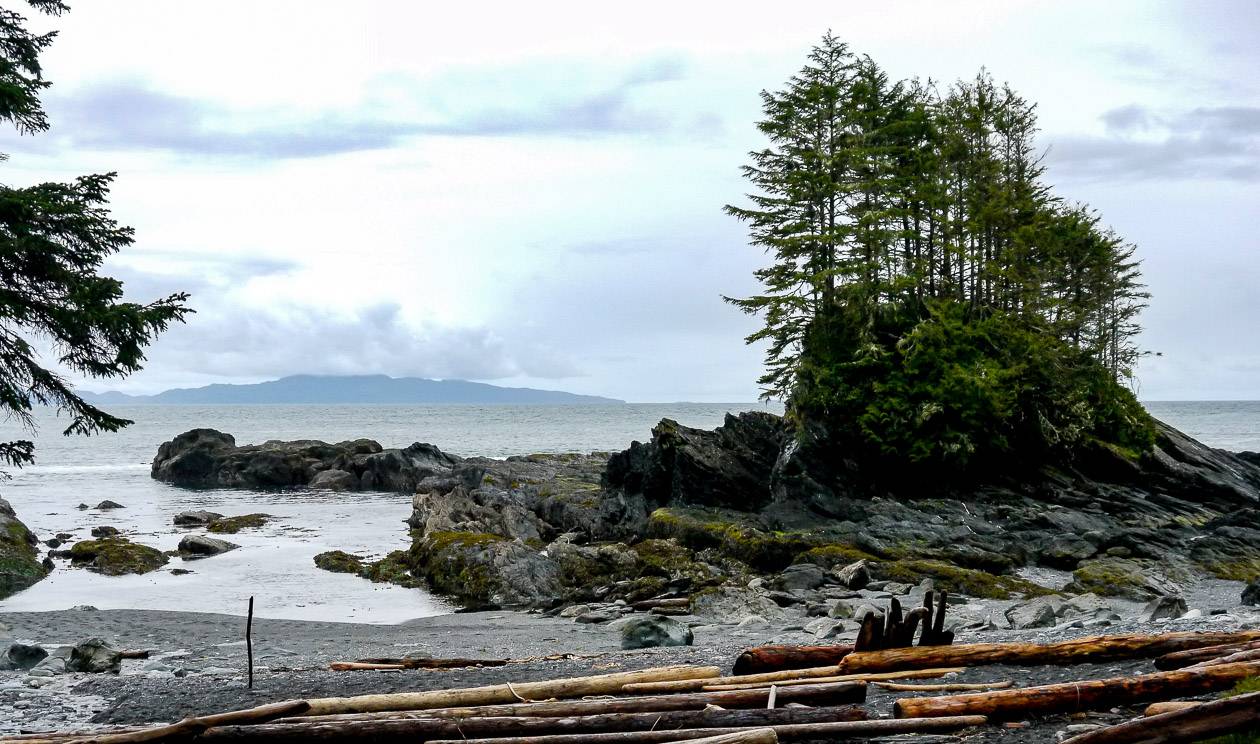 Visit Botanical Beach on a falling tide
The tide pools must be explored at very low tide – ideally on a falling tide – and all because you need to get out on the reef shelf to see the pools. Check out the tide charts for the day you want to go beforehand.
The tide pools contain all sorts of animal life – multi-coloured sea urchins, starfish, blue mussels, sea cucumbers, purple stone crabs, shore crabs and hermit crabs, octopus if you're lucky, black katy chitons, limpets, sculpins, white goose-neck barnacles, periwinkles, coralline algae, and green sea anemones. See one of the photos below as a guide.
I'd recommend picking up a copy of the British Columbia Seashore Guide Pocket Naturalist. Knowing what you're looking at makes the visit to Botanical Beach that much more interesting.
You can spend many hours exploring the tide pools and enjoying a picnic – perhaps on the sandy beach at Botany Bay. Always be careful of where you stand. Avoid crushing any wildlife, falling into the pools or getting swept away by a rogue wave.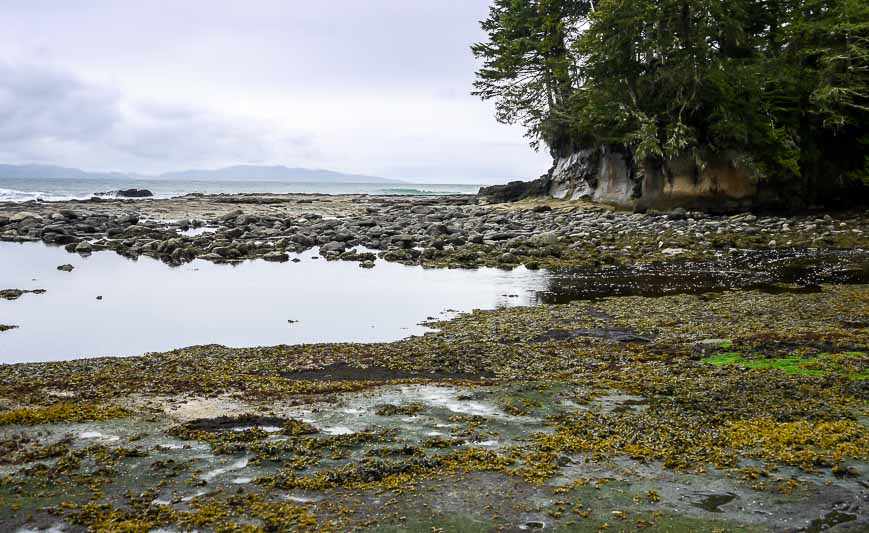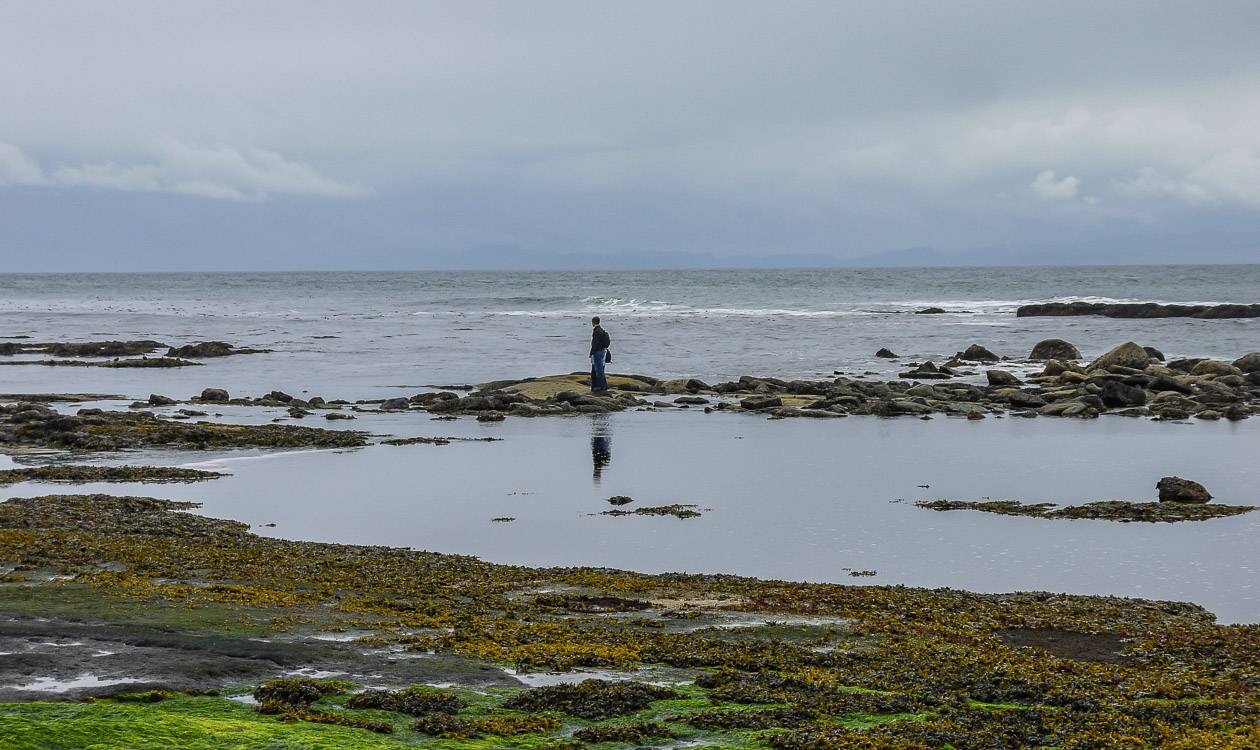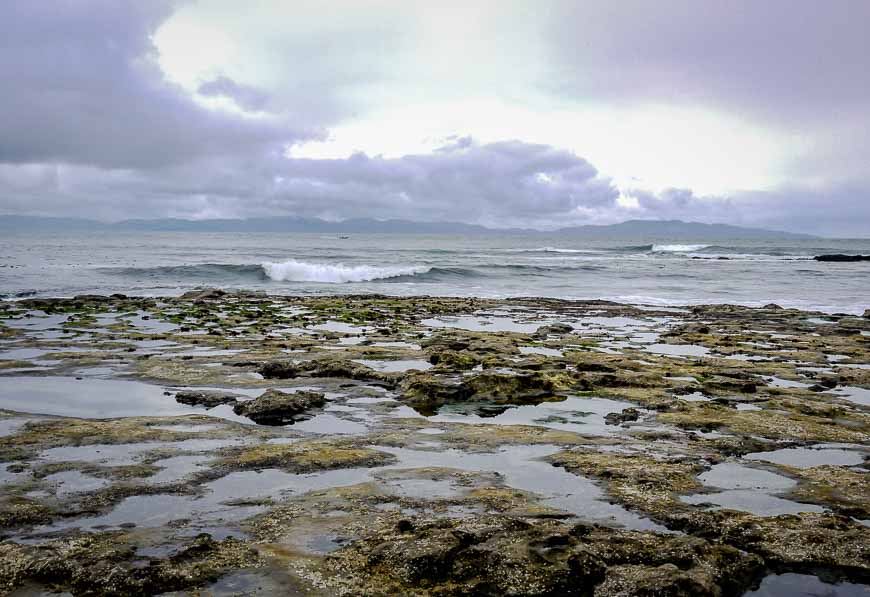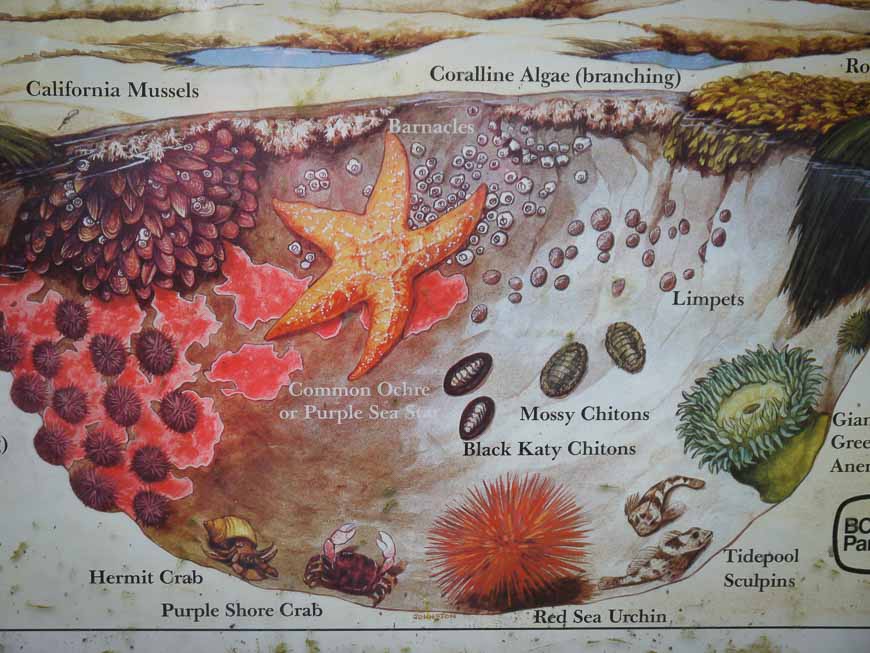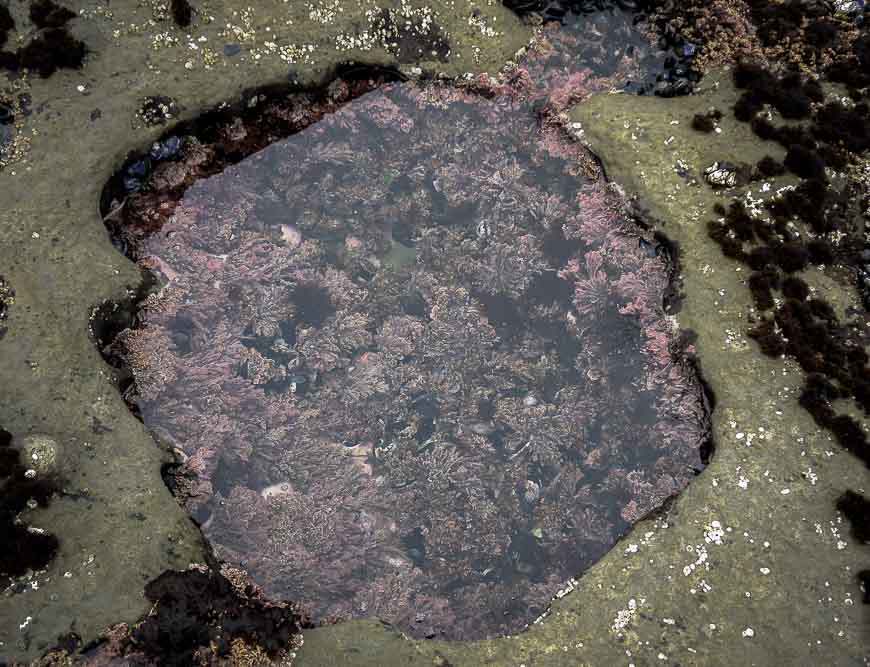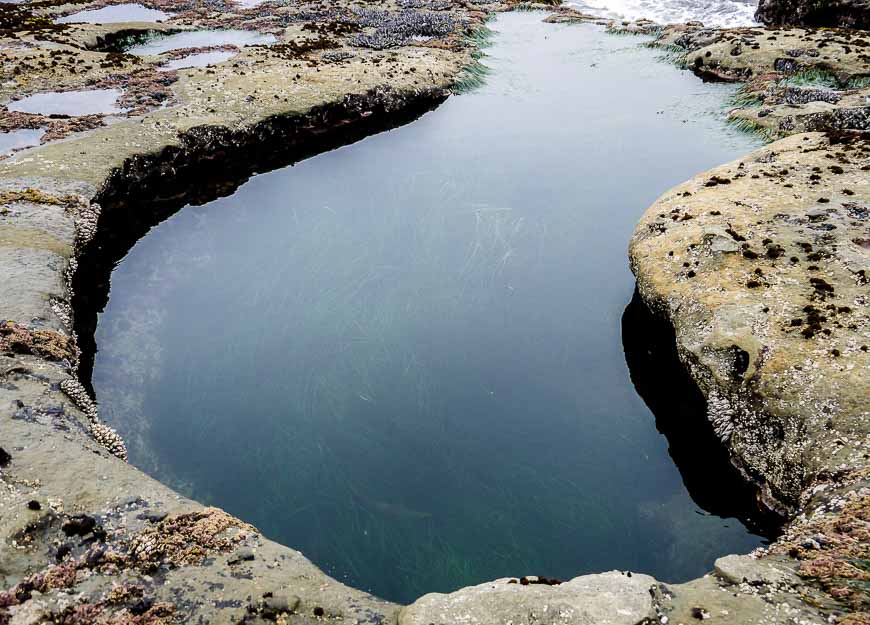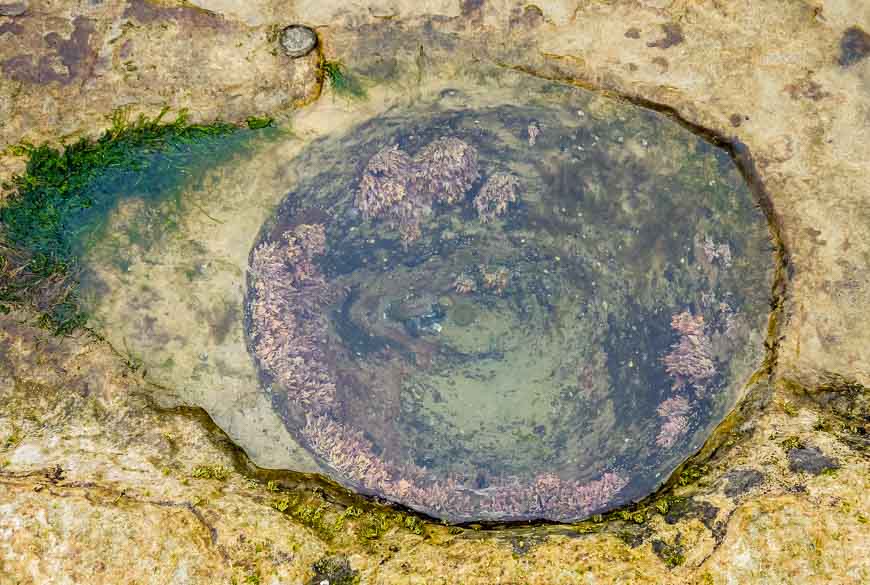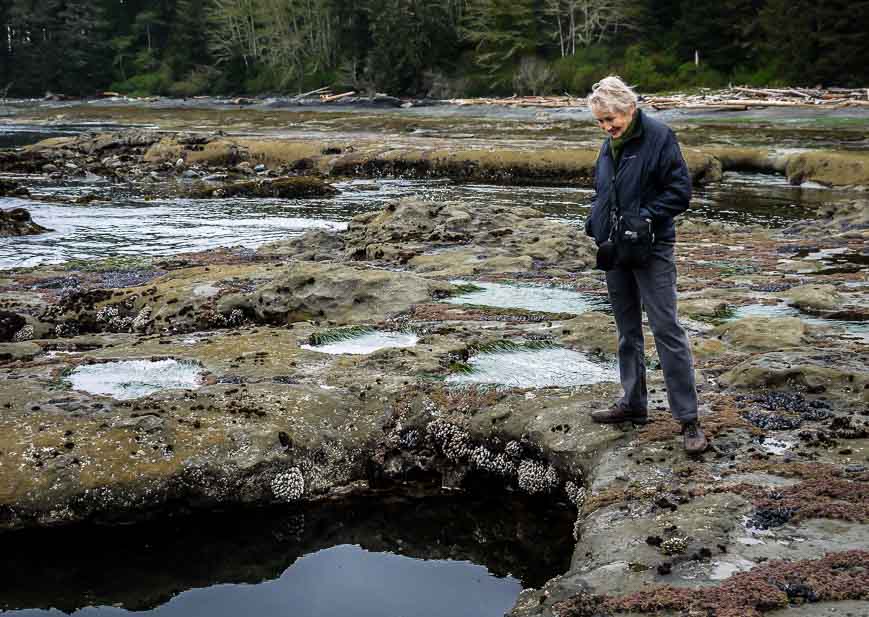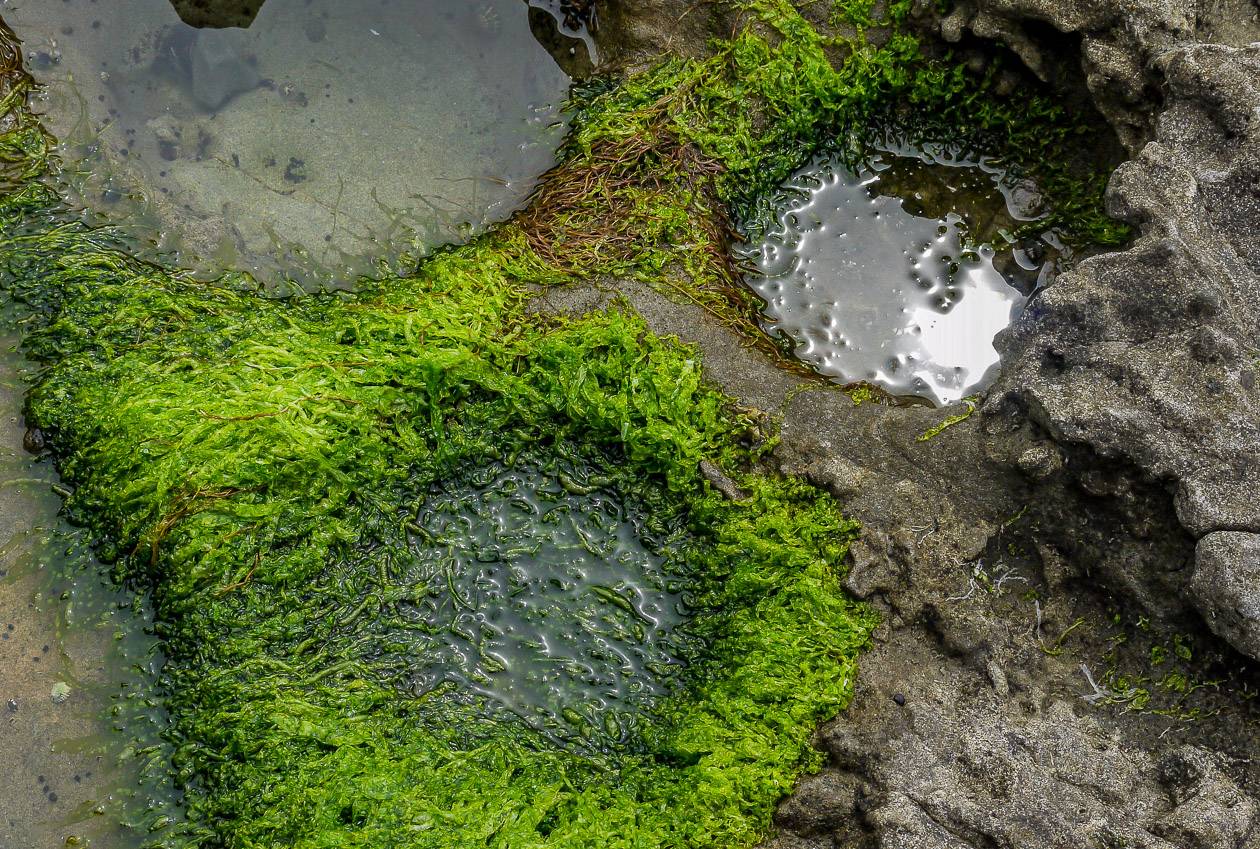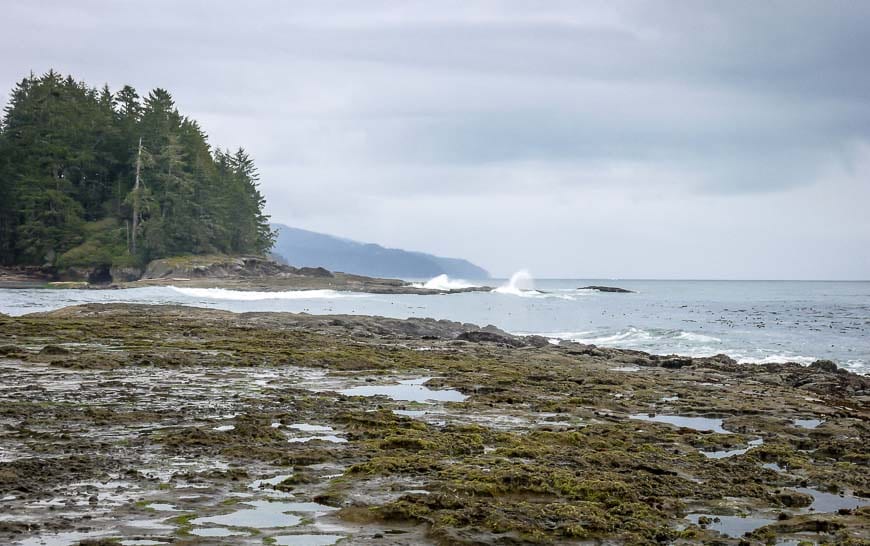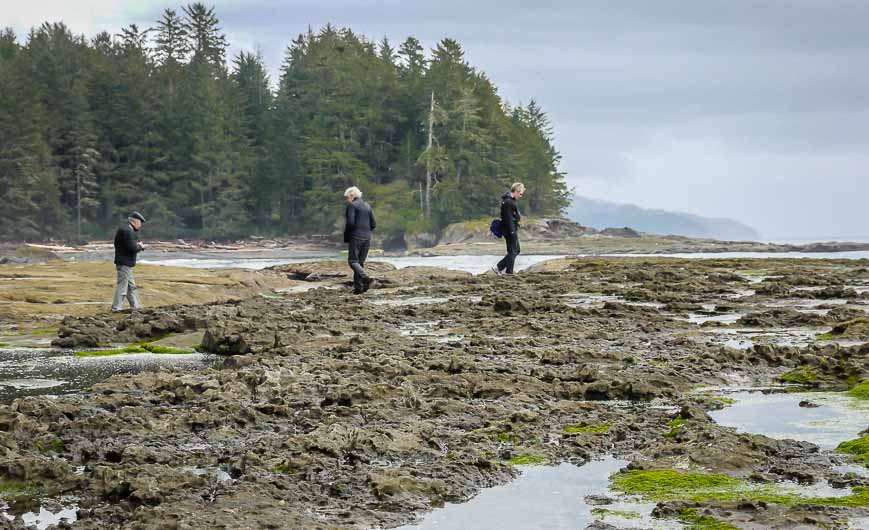 Other animals to look for at the beach
There are other animals you might see including killer whales and gray whales – which we saw blowing just off shore in April. March and April are typically the best time to see the gray whales as they migrate from the Mexican coast to Alaska. Look for both California and Stellar sea lions from late August through March as they follow the fish, and keep an eye out for harbour seals too.
This is black bear country so even on the walk to the beach you could in theory run into a bear. Be sure to carry bear spray. We did see a lone black bear on the drive to the beach but not in the woods.
Cougars are occasionally sighted too. I have yet to see a cougar in the wild but reportedly sightings are not uncommon.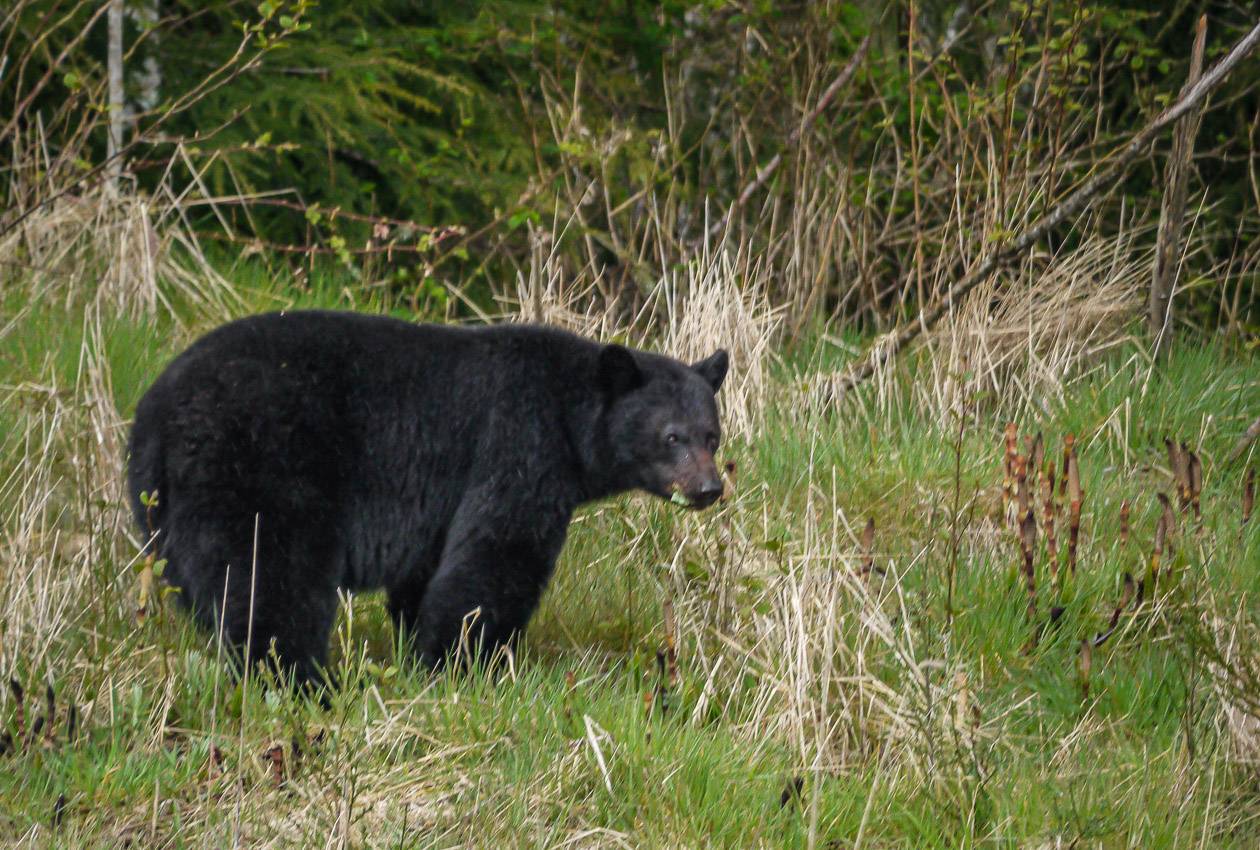 Where to stay near Port Renfrew
There are lots of cottage type properties for rent including the popular Handsome Dan's, the Sandy Feet 2 bedroom holiday home and Fish Tales Cottage for pet-friendly accommodation.
Another great place to stay in Port Renfrew is the Soule Creek Lodge – with the option to stay in a beautiful yurt.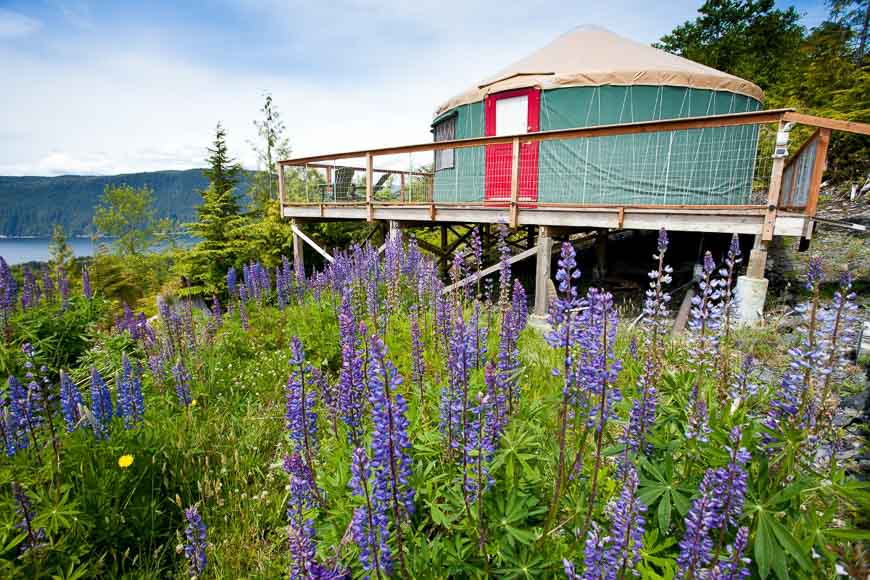 Further reading on things to do on Vancouver Island
Location map
Click on the photo to bookmark to your Pinterest board.