Travelers to Vancouver Island who are looking for a chilled out time surfing and wandering through the rainforest almost always make a beeline for Tofino. But just 110 km from Victoria, the tiny town of Port Renfrew has plenty of surf, giant trees and incredible hiking — without the crowds. It's the type of place you'll thank your lucky stars you found before everyone else did.
This post includes some affiliate links. If you make a qualifying purchase through one of these links, I may receive a small percentage of the sale at no extra cost to you. Thank you very much for your support.
Things to do in Port Renfrew
Port Renfrew, home to just 200 people, is a former logging town located a two-hour drive west of Victoria along Vancouver Island's rugged west coast.
Long known as the starting point for Canada's famous 75-km West Coast Trail, Renfrew is more than a one-trick pony, with several surf breaks in the area, world-class salmon and halibut fishing, Botanical Beach's spectacular tide pools, the Juan de Fuca hiking trail and the town's new claim to fame: giant trees.
In 2009, the Ancient Forest Alliance discovered a large grove of old-growth trees near Port Renfrew, which it dubbed "Avatar Grove." Since then, Renfrew has become known more for preserving its trees than for cutting them down.
Avatar Grove is home to ancient red cedars as large as 13 metres around. When Captain James Cook first set foot on Vancouver Island in 1778, these trees would have already been 250 years old.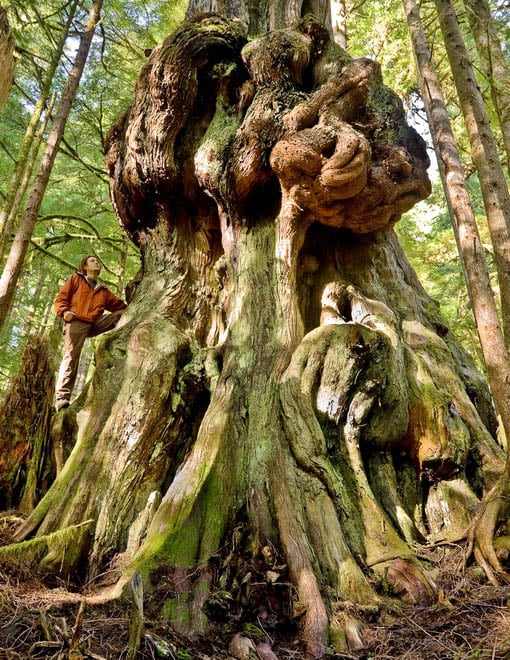 Visit the gnarliest tree in Canada
"Canada's Gnarliest Tree" — a massive red cedar with a bulbous, three-metre burl and serpent-like roots — has helped earn Port Renfrew the title of "Big Tree Capital of Canada." Even the town's music festival plays off the tree theme.
Each June, 3,000 festival- goers descend upon Port Renfrew for the eclectic three-day Tall Tree Music Festival atop Browns Mountain.
The Port Renfrew area is also home to the Harris Creek Spruce and the San Juan Spruce, Canada's largest Sitka spruce tree, standing taller than the Leaning Tower of Pisa at 62.5 m.
Visitors can pick up a map of the area's largest trees from Coastal Kitchen Cafe before setting out to explore.
Hiking in Port Renfrew
After getting your fill of giant trees, head to Botanical Beach, the end point of the Juan de Fuca Marine Trail, a 47 km long coastal trail. Most of the trail is designed for multi-day hiking/camping, but there are some moderate day hiking opportunities from the four trailheads: China Beach, Sombrio Beach, Parkinson Creek and Botanical Beach.
At Botanical Beach, you can do an easy 3 km loop trail and dilly-dally on the beach exploring the tide pools (watch for starfish, sea anemones and urchins) and sandstone outcroppings. Just be careful of rogue waves and try to visit on a falling tide.
If you're looking to catch some waves, you're most likely going to be out of luck in the summer. But in the winter, there are three consistent breaks at Sombrio Beach, about 30 minutes outside of Port Renfrew.
Where to eat in Port Renfrew
The go-to place for breakfast and lunch in Port Renfrew is the Coastal Kitchen Café, open between May and October. The fresh local fish and chips are a crowd favourite.
Another good option for breakfast or lunch is Tomi's Home Cooking. For dinner, head to the Renfrew Pub. Be warned: this is a town of 200 people and there aren't a ton of dining options. If you have the choice to have dinner where you're staying, say yes.
Where to stay in Port Renfrew
Speaking of which, Soule Creek Lodge cooks up delicious three-course meals for its guests, who have the option to stay in luxury yurts overlooking the area's ocean and mountains.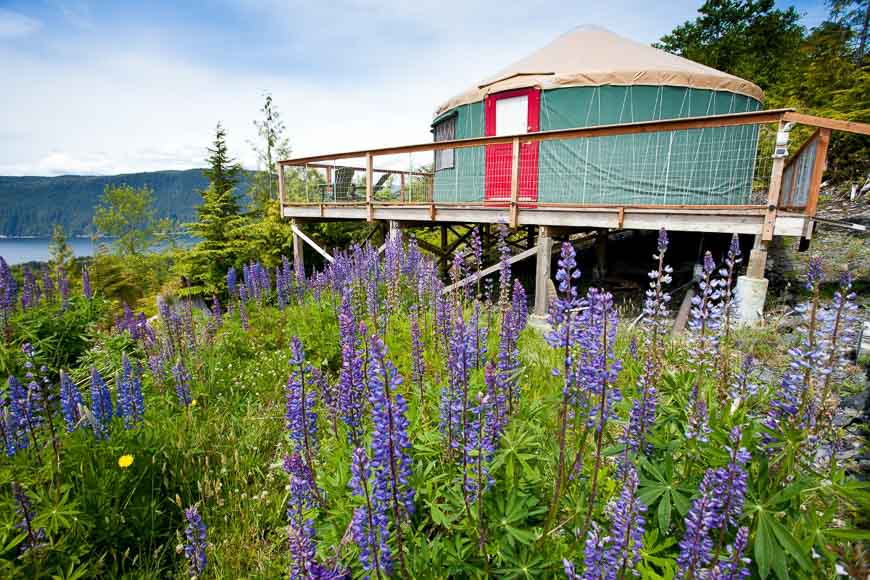 If you want a holiday home with a patio and mountain views, check out the Remote Renfrew Oceanfront Retreat, rated exceptional.
A Shack in the Woods, rated fabulous, offers pet-friendly accommodation.
Wild Renfrew Seaside Cottages, facing the beachfront in Port Renfrew, is rated superb.
For a tiny town at the end of an old logging road, Port Renfrew has an impressive array of outdoor adventures to keep you busy. And the best part of all? No cellphone reception.
This guest post was written by Emma Gilchrist a journalist and citizen engagement specialist based in Victoria, B.C. Emma has worked as a reporter and editor in Canada and the U.K., including stints at the Calgary Sun, Calgary Herald, Cambridge Evening News and BBC Essex. Her writing has appeared in the Globe and Mail, WestJet Magazine, the Calgary Herald and the National Post.
Further reading on Vancouver Island
Click on the photo to bookmark to your Pinterest boards.