If you need a nature fix, Vancouver Island and the Discovery Islands off its east coast are an ideal destination. The ocean here is known for its wild currents, whirlpools and standing waves. It's also an area that is spectacularly good for viewing seabirds and marine life like whales, seals and sea lions.
A half day Campbell River wildlife tour will deliver nature up close. You can't help but me mesmerized by the sight of a whale spouting or even a bald eagle checking you out from a perch in the tree. Both adults and kids will enjoy seeing so much wildlife in action.
What you'll see n 3 hours on a Campbell River Wildlife Tour
I highly recommend the three hour wildlife tour run by Painter's Lodge. It takes you from Campbell River down the length of Quadra Island through the Penn Islands. Then the boat heads north to Sonora Island before turning back towards Campbell River via the area that once was home to the infamous Ripple Rock.
(In 1958 it was the site of the largest non-nuclear explosion in the world when a large submerged outcrop was blasted to smithereens to make the passage through the waters less treacherous.)
The humpback whale is the star of the tour
There are a number of stops along the way, with the humpback whale decidedly the star of the show.
Humpback whales can show up at any time – or not at all. On our three hour outing we saw them in a couple of different spots.
Never did they breach but they certainly made their presence known. I'm thrilled that they are back in the Discovery Islands because the last time I kayaked here in 2008 there were none. Now there are close to a dozen whales and as we were told by our guide Robin Pears, "they just started making a comeback about five years ago."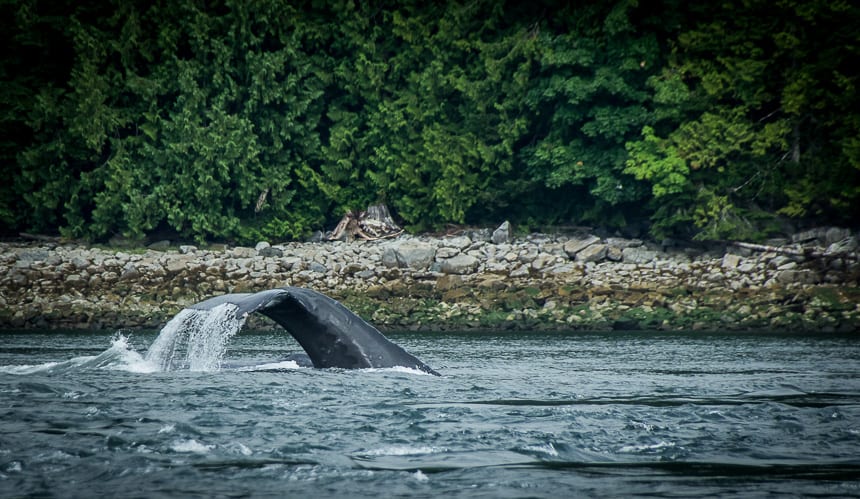 In between whale sightings we're happy to get close to bald eagles especially around Jimmy Judd Island. The fishing is obviously very good here as there are bald eagles in what looks like every second tree.
It's in this area we also see 100 plus seals hanging out on an island across from the high-end Sonora Resort.
Amazing seabirds on the Campbell River nature tour
Although the focus of the wildlife tour was not on seabirds, they were certainly in abundance especially the handsome Bonaparte's gull. I also saw pigeon guillemots, mergansers and a great blue heron.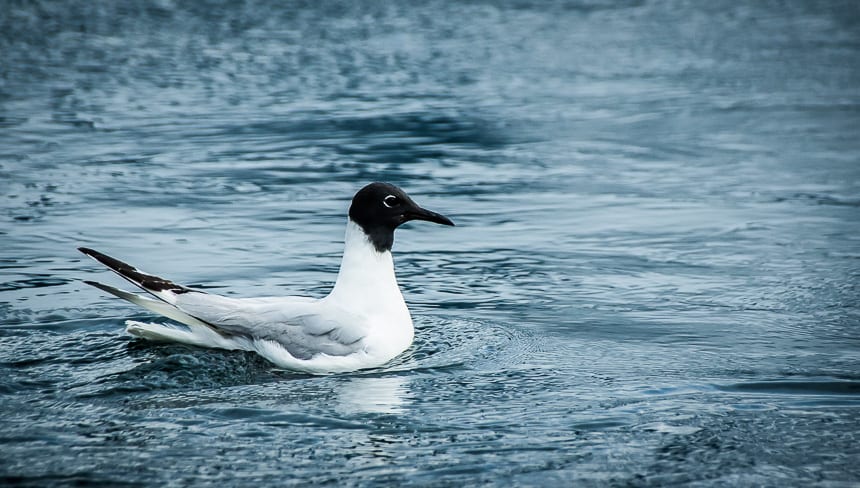 We did see a couple of sea lions and I for one was happy to observe them from a distance. I've seen how aggressive they can get from the seat of a kayak and appreciate their 500 plus pounds from a distance.
Although I didn't see the Pacific white-sided dolphin on the wildlife tour, I did the next day when I was out fishing,
It's always a thrill to see nature in the wild. In three hours we got a big dose of it – comfortably as we were all suited up in dry suits that kept us warm, even in a light drizzle.
As a kayaker I particularly enjoyed exploring waters I would never venture into without tide charts and a tremendous amount of planning.
Where to stay in Campbell River
This post includes some affiliate links. If you make a qualifying purchase through one of these links, I may receive a small percentage of the sale at no extra cost to you.
Stay at Painter's Lodge, if you want to be outside of Campbell River proper. It's in a lovely location on the water. If you're into fishing or nature, it would be an excellent choice as tours leave right from its docks. There is a sister property about a 15 minute boat ride away on Quadra Island. While April Point Resort & Spa is a bit more rustic – I liked the ambiance and the first-rate views.
The Coast Discovery Inn in Campbell River where I've stayed on several occasions is predictable, and fine for a night or two.
Further reading on things to do on Vancouver Island
Click on the photo to bookmark to your Pinterest boards.
This is a sponsored post written by me on behalf of Tourism Vancouver Island. All opinions as always are my own.