It's that time of year when the 2023 spring outdoor lover's gear guide comes out showcasing new products that have hit the market just in time for summer. Every year I'm lucky to have companies reach out to me to try and test their latest offerings.
In 2023, there are some wonderful backpacks, a pair of ergonomic slippers that transition well to office and shopping, rain gear that's easy on the budget, a patch hat with cool logos out of Ottawa, the lightest t-shirt you could ever want, a super-light, soft as silk hoodie shirt, one of Fjällräven's lovely fleece Ovik hoodies, a must-have camp tote organizer and of course a few of my favourite books and things I consider necessities.
This post includes some affiliate links. If you make a qualifying purchase through one of these links, I will receive a small percentage of the sale at no extra cost to you. Thank you very much for your support.
Six Moons Wy'east Ultralight Daypack
John and I have put the Six Moons Wy'east Ultralight Daypack through its paces over the last few months. It has been cross-country skiing, snowshoeing, hiking, and cycling. I love the pack for a lot of reasons.
Let's start with the colour. I love the blue – the only colour it comes in. I feel like it matches the sky here in the Rockies. On a more practical level, I love how lightweight the pack is. It's a 30 L daypack that weights just 25 ounces. Each feature of the bag has been carefully thought through.
There's a main compartment that easily holds my padded computer (when I'm traveling), clothes, a book, toiletries, etc. It's roomy but you can still squeeze it under an airline seat which we've done several times now.
Within the main compartment is another small pocket that is perfect for a passport or other papers you want to access if you're using it for travel. The pack is deep so it's great for the bulky items you're carrying. There are enough side pockets and top pockets, that I still feel you can keep everything organized. There are built-in pockets on the shoulder straps that can accommodate bars, snacks and even a pair of sunglasses or your phone.
The two angled mesh side pockets are deep and stretchy, so they comfortably fit 1-litre water bottles. Often, I'll just take one water bottle so I like having the other extra deep pocket for hats and mitts in winter and sunscreen and bug repellent in the summer. The top pocket comes with a glove hook that you can attach your keys to and it's big enough that it will fit your snacks and a small first aid kit.
The daypack has been put through its paces. I strapped it on the back of our bike when we cycled the Great Allegheny Passage and C&O Canal Footpath from Pittsburgh to DC. One day on the C&O we cycled for three hours through puddles and mud. Amazingly, the stuff inside was still dry though the pack was filthy. It washed up quickly at the B&B we stayed in and looks like new again.
The pack is rugged – made with a tough nylon. Apparently, the back panel can double as a sit-pad but I haven't tried that yet.
I honestly think this is an amazing pack. You can buy it directly from the company in the US for $US155.
Fjällräven Ovik Fleece Hoody
I have a new favourite piece of outdoor clothing – the Fjällräven Ovik fleece hoody that I anticipate wearing till it gives out on me – or me on it, as the case may be. Like all of the Fjällräven line, the hoody is made for a lifetime of use. One of the reasons I like it so much is because of the colour ( I can't lie), the long body, good sized pockets, and the little details like the leather ends of the drawstrings on the hoody which makes it feel like the quality product it is. It's warm and cozy with a nice soft brushed feel inside.
I also love the tact the Fjällräven brand is taking in making sustainability a top priority. To that end, they have a new limited edition collection of clothing and equipment called the Samlaren Project. As much leftover product as can be salvaged is getting a new lease on life as one-of-a-kind designs with eclectic colour combinations. Check out the Samlaren Project and see all the cool products they've come up including jackets for women and men, shorts and shirts for men, and dungaree shorts for women. July 6th is the launch date for the Samlaren Project's totebags and the beloved Kånken.
As they say "the leftover products have already met the strict requirements for sustainability and durability" so it's a great way to turn leftovers into something functional that will have a long lifetime.
Mave & Chez slippers
If you're after a stylish but ergonomically built slipper, then the Mave & Chez line out of Toronto is for you. They are perfect for someone like me who goes in and out of the house multiple times a day for at least six months of the year. They transition well as they have a anti-slip rubber sole, but that doesn't mean they aren't comfortable. There is arch support (and you can swap out insoles for orthotics if need be) so your feet won't tire. The roomy toe box has breathable shearling, so your feet are cozy but not hot. The insole is hand washable and the upper is made of genuine suede.
From the sustainable perspective, you'll be happy to know the insoles are made with a recyclable, renewable material – Brazilian sugarcane.
The Maya Backlass Mule is stylish enough to hop in the car and do errands. How often do you buy a slipper that can have another life as a casual shoe? I usually wear a size 8.5 but they only come in full sizes. With my wide foot, size 9 works well. I love these slippers and the passion of the founders. Go check them out.
Icebreaker Merino Hike Short Sleeve Top
If you're an outdoorsy person, chances are high you've got some Icebreaker clothing in your closet. I certainly do and have loved the brand for the long lasting, soft feeling merino wool – and especially for its anti-stink properties on long backpacking trips.
I had the pleasure of trying the women's Merino Hike Short Sleeve Top, featuring a merino-cotton jersey body so the shirt moves with you and a double layer back yoke so the shirt performs well with a backpack on. The shirt is also a great choice for sunny days as the collar helps keep the sun off your neck. I really liked the short sleeves – and never had any problem with them causing friction. Another huge plus in my books is that the shirt is on the longer side so it doesn't ride up on your back when you've got a backpack on – something that drives me crazy.
I also loved the colour – a nice change from my heavily black wardrobe.
For sizing I answered the questions on the Icebreaker website and it suggested a large short sleeve top. However, I'd say a medium would fit me better and would give me a slightly less baggy fit. Really think about how you want the shirt to feel on you and pick your size from there suggestions. (I guess I must have said baggier.) I find the Icebreaker clothing lasts for a very long time – so consider this short sleeve top as a longer term investment and not a frivolous once off t-shirt for summer 2023.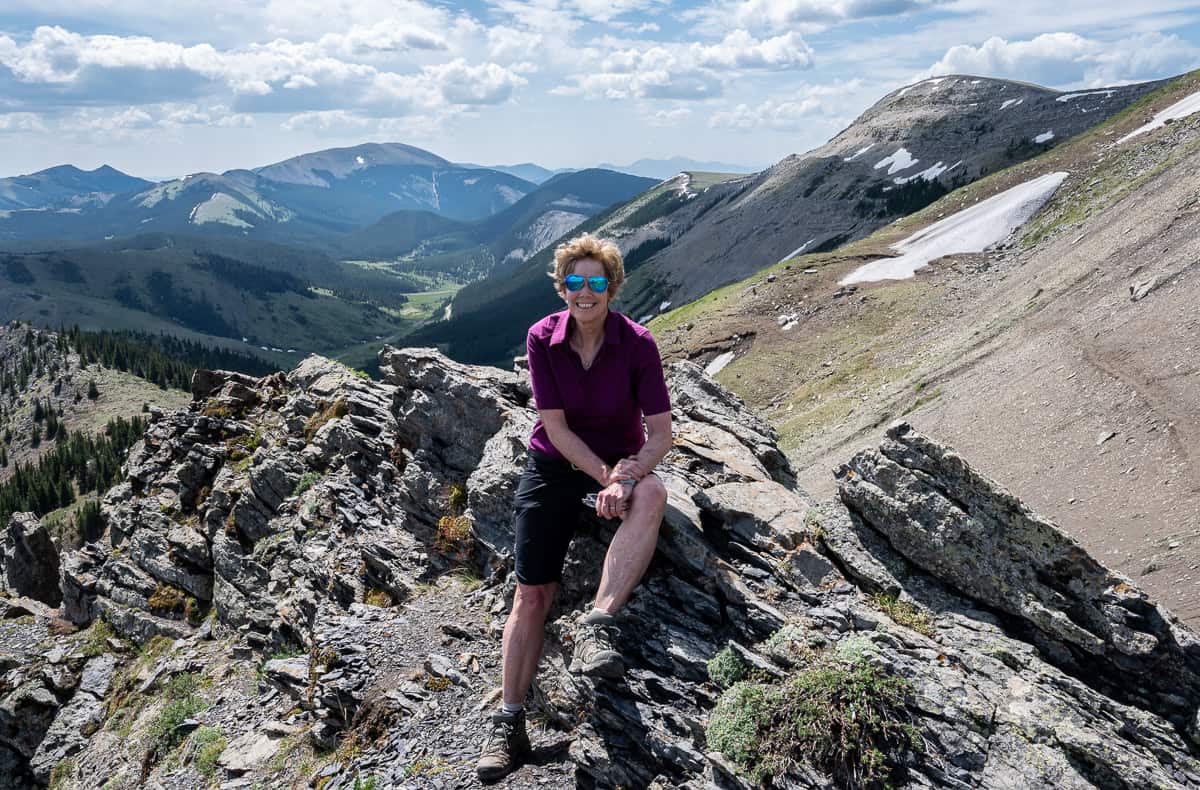 Leather Patch Hats
If you're a hat – ballcap kind of person, then I think you'll like the leather patch hats by Byward Outfitters out of Ottawa.
I love the mountain-themed patch on the hat but there are lots of other choices – like stellar night, winding wilderness, scenic sunrise, and grillmaster. They'd make a great Father's Day gift.
I like my patch hat because it's lightweight with a mesh design at the back, and it fits and doesn't make me look weird – at least in my eyes, and too many hats just don't work for me.
At $40 a pop, and a real leather handmade patch – that you can custom design if you're interested, they are a great deal. You can buy directly from Byward Outfitters.
Bicycling with Butterflies:
My 10,201-Mile Journey Following the Monarch Migration

by Sara Dykman

Kudos to Sara Dykman for embarking on a 10,201-mile journey from Mexico to Canada and back – following the monarch butterfly migration. The book is a standout as she weaves adventure with science. You'll learn a lot about the epic journey of the monarch butterflies but plenty about nature too. She fuelled a desire in me to start adding a lot more native plants to my garden – even though we never see monarchs in Calgary.

I think it's a wonderful read. I couldn't put the book down. You can buy it on Amazon here – and I'm sure you could order it through your local bookstore.
MEC Core Train Short Sleeve T-Shirt
If weight matters and you need a quick dry t-shirt at a great price, this is the shirt for you. I tested the MEC Core Train short-sleeve t-shirt on my bike trip – where I worked up a sweat. It didn't smell even after two days of wearing it. I loved the airy feel when the afternoons got hot.
The shirt weighs all of 93 g – about the weight of two Luna bars to put it in perspective. It's a fantastic, airy, non-stinky lightweight shirt in a couple of good colours. It's also not too form-fitting but nor do you feel like you're wearing a bag.
The t-shirt is normally $44.95 but is on sale until May 24th for $33.71 – a steal of a deal. This would be an amazing t-shirt for backpacking when every ounce counts.
Aquanator Jacket and Aquantor Rain Pants from MEC
If you want to play outdoors, you need the right gear. I have lots of fancy gear from big name brands that I love, but I give high marks to Mountain Equipment Company (MEC) for their Aquanator line of raingear. I tried the Aquanator jacket and Aquanator pants on the week-long biking trip on the Great Allegheny Way in Pennsylvania.
It rained on two occasions and was cool and cloudy on one. On the first day I wore the Aquanator jacket more as a wind shell and it worked well. But it also pulled through for me under some trying conditions. Over three hours one day, John and I cycled muddy tracks, walked our heavy bikes up a muddy trail over a tunnel and continued for many more hours. I was wet on the outside but stayed warm and dry on the inside. When we got to the B&B we hosed everything down and the mud came off, so the pants and jacket almost looked new.
The Aquanator jacket features a waterproof-breathable shell, a fleece-lined chin guard when you have it fully zipped up, two roomy zippered pockets, a shockcord adjustable hem, that is lower in the back than the front and cuffs with Velcro. The Aquanator Jacket normally sells for $129.95 but is on sale until May 24th for $97.45. It comes in a good range of colours for women – dark raspberry, plum perfect, deep navy, black, and Sea Ice – the colour I'm wearing. There is also a men's version here – in five colours at the same price.
The Aquanator rain pants are lightweight with fully taped seams so water doesn't get in. They sport an elastic waist so you might not be as stylish in them, but they sure serve the purpose of being waterproof. They are also at a good price point – $89.95 and on sale till May 24th at $67.46.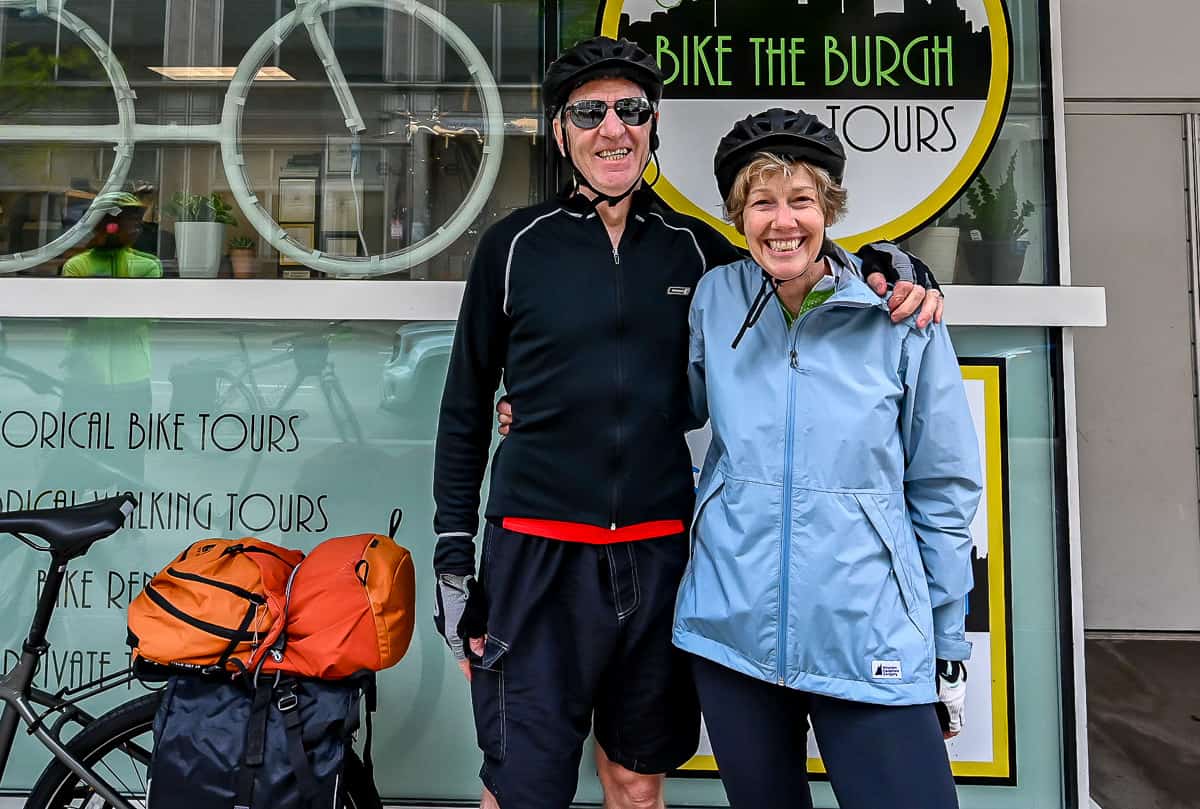 Beyond the Trees: A Journey Alone Across Canada's Arctic by Adam Shoalts
Called one of Canada's greatest living explorers, Adam Shoalts journeys solo 4,000 km from Eagle Plains, Yukon Territory to Baker Lake, Nunavut. The book is about his remarkable 2017 adventure that reads like fiction. You can't believe one man can do and endure what he did.
The obstacles he encountered would send a normal human being running back to civilization – but not Shoalts. He travels west to east, paddling upstream on famous rivers like the Mackenzie and Coppermine. He portages through difficult territory filled with biting insects that whose numbers would make most people crazy. He never stops unless his safety is at risk – and that's a higher bar than most of us will reach.
The bottom line – I couldn't put down the book. I loved how much I learned from the geography perspective and appreciated his frequent references to the types of birds and animals he encountered.
If you've got a long plane trip – Beyond the Trees: A Journey Alone Across the Arctic will keep you engrossed from start to finish – even on a 10-hour flight. Enjoy.
The Camp Tough Tote
If you want to go camping on the fly, Mountain Hardwear has just the tote for you. The Camp Tough™Tote Bag made with recycled polyester is ideal for those of you who picnic or car-camp a lot. Pack it up so it's always ready to go.
The tote has got a great big washable main compartment, deep pockets at each end of the bag and four large side pockets. The main compartment is padded and there is an internal key clip.
I was able to stuff to camp chairs, plates, mugs, a bottle of wine, a washable tablecloth for picnic tables, a picnic blanket, my camping stove and fuel along with some snack type food. This is one of those things you'll pull out every summer and use for the next few decades. You can buy directly through the company online.
Women's Crater Lake Active Hoody by Mountain Hardware
Mountain Hardware's Crater Lake Active Hoody is another great top that fits into the superlight category. It's ideal for backpacking, hiking, camping, and running. It's got a hoody that looks a bit like a scuba diving shirt and thumbholes in the sleeves. It's made with UPF 50+ fabric, so there's no chance of getting burned.
For the days you want coverage on your arms – but not too much, this is the perfect shirt. I also like the fact it's quite long and the fabric has a great feel to it. It's also available at Altitude Sports. Right now, it's $60.00.
Mountain Hardware Field Day 28 L Pack
My husband John loves the Mountain Hardware Field Day 28 litre pack. He traveled with it – using it as a backpack on the plane and in between the hours he cycled with it.
He's a stickler for organization so he was crazy about all the pockets. In the main compartment there's a padded pocket that's big enough to fit his computer but still leaves room for bulkier items. The top pocket is ideal if you're traveling for a passport and wallet – ad perhaps a few bars. It's got two exterior pockets for water bottles that are stretchy and big enough for 1 L bottles. The bottles are secure too, so you don't have to worry about them falling out.
There is a stretchy woven front dump pocket with a bucket to close it, that is ideal for your coat or fleece when the day warms up.
There is yet another set of internal pockets, one of which is zippered, so it's perfect for keys. It's big enough to hold your lunch on the trail and your hiking essentials. There are a couple of straps on the shoulder straps and webbing with buckles above the water bottles.
It's made with a recycled, lightweight ripstop shell that is very durable. The nylon used in the bag is also recycled. I can attest to the durability as it was on the back of John's bike for a week. It got covered in mud and rain – and it cleaned up in minutes with a hose. The pack dried quickly too and stood up to rain.
Although the pack hasn't been tested on a hiking trail per se, it's had two weeks of use under sometimes harsh conditions. I would highly recommend it as well. The Mountain Hardware Field Day 28 litre pack retails for $185 but is 25% off as of the May long weekend.
The MEC 15-in-1 Folding Tool
The one tool I would not leave home without now is the MEC 15-in-1 folding tool. The reason I love it so much as it's got a chain tool on it which allows you to fix your bike when there is no bike shop around. On our C&C Canal Towpath bike rode, John's chain broke the last night. That put us into a panic with 55 miles to go, but thanks to the kindness of strangers, and the fact that a fellow biker we met at a coffee shop had one of these, we were able to repair it and get on the road. For $27.95, it's worth every penny.
More reading on things to do in your new 2023 gear
Click on the photo to bookmark to your Pinterest boards.