Looking for the newest gear, perhaps even a high quality waterproof musical instrument or the latest in outdoor clothing? I've had numerous companies reach out to me with a selection of their re-imagined outdoor clothing along with gear for outside use in the last few months. Here's a sampling of what I've really liked so far in 2022.
What I'd like to also point out is all the clothing I'm featuring in the 2022 outdoor lovers spring product guide are pieces that you can use for years and not months – slow fashion versus fast fashion! There is a massive problem with clothing waste – and these pieces are ones you'll get tired of, long before they die. And they are all made ethically and sustainably.
This post includes some affiliate links. If you make a qualifying purchase through one of these links, I will receive a small percentage of the sale at no extra cost to you. Thank you for your support.
LifeStraw Peak Collection Water Filters
I tried two of the latest products from the new LifeStraw Peak Collection. One was the 650 ml LifeStraw Peak Series Collapsible Squeeze Bottle Filter and the other the 3 litre LifeStraw Peak Series Gravity Filter System.
The LifeStraw Peak Series Collapsible Squeeze Bottle Filter comes in two sizes – 650 ml and 1 L. It's lightweight – 3.6 ounces or 102 grams (for the 560 ml size) when empty and incredibly fast and easy to use. Simply dip in water screw in the filter, then the lid, and start drinking. With a pore size of 0.2 microns, it is able to remove 99.999% of E. Coli bacteria, parasites like Giardia and Cryptosporidium, and microplastics. It's made of a durable material; its leak proof and it comes with a backwash syringe.
My favourite features are the flow rate and the fact it collapses into a very small volume. Interestingly the filter can be used as a straw – though I didn't try that.
You can purchase it through MEC here or via Amazon.
I am late to the party when it comes to the gravity filtration systems. On every backpacking trip I do, I see more and more people using some version of the system. My friend Ted and I tried out the 3 L LifeStraw Peak Series Gravity Filter System – and found it to be incredibly fast and easy to use. It' weighs in at only 8.1 ounces or 228 grams. It shares the same specs for filter size and what it removes with the squeeze bottle system.
All you must do is fill the container with water from a stream, river or lake. Attach the filter to a tree branch or have someone simply hold it. The water flows quickly but there is a clip to stop the flow on the hose. It comes with a backwash syringe. I particularly like the gravity system as you can fill the bag, leave it in a tree near your campsite and use the water as needed. It also comes with a carry strap.
It can also be purchased online at MEC or on Amazon.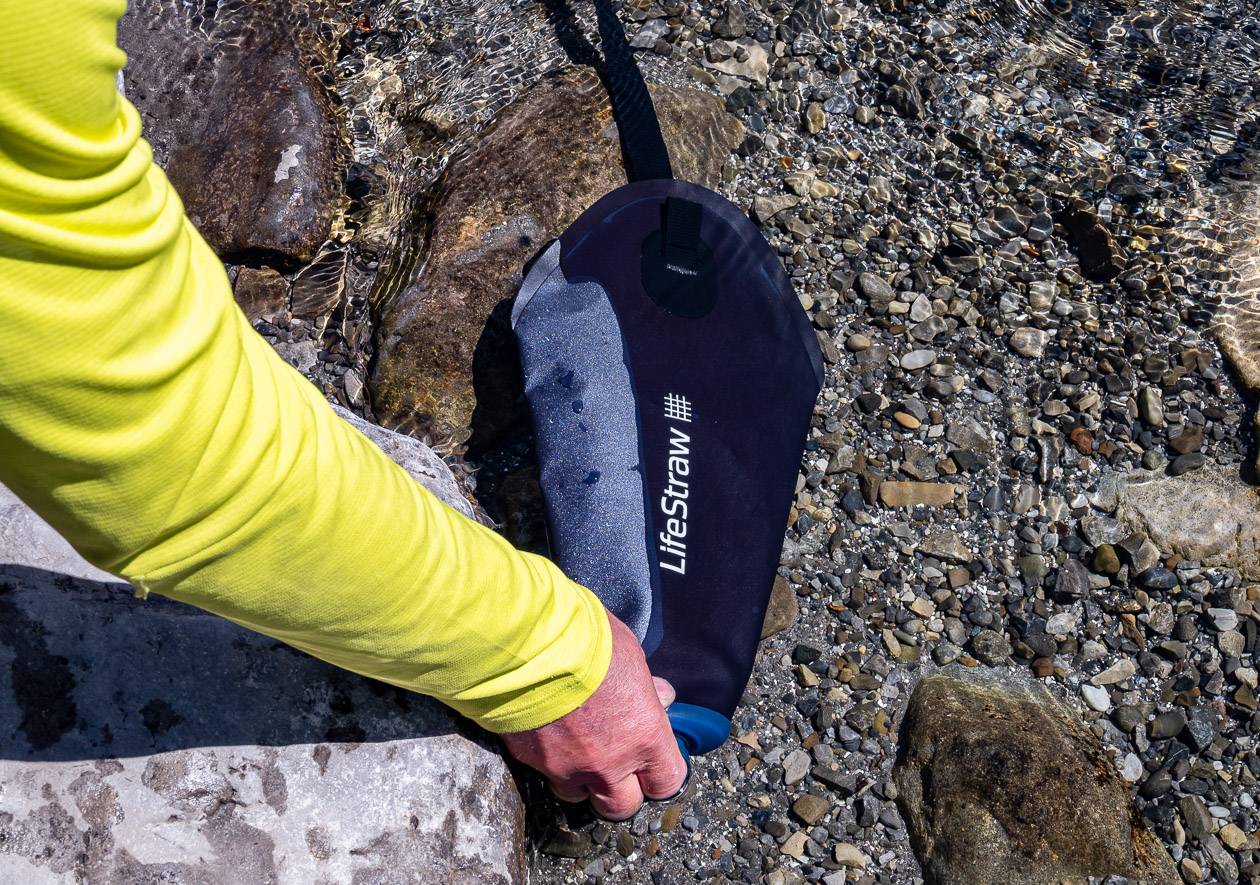 Ankle Deck Boots From XTRATUF
Who says utilitarian boots must be ugly? These boots from XTRATUF were designed by the Salmon Sisters in Alaska. The design featuring Mermaid Life "was inspired by the stories of the ocean told for generations by fishermen and other watermen across the globe."
You don't have to be into fishing to enjoy these boots. In fact, I think they're ideal for the garden and of course on any rainy days. They fit true to size. I have wide feet and find them very comfortable. The pull-on tabs are helpful.
They are available on Amazon but they are less expensive if your purchase them directly from XTRATUF. They do recommend that half sizes order up.
Kuhl's spring-friendly outfit for women (despite the snowy pic)
My husband has enjoyed Kuhl clothing for years but until recently, I have never tried a single piece.
I am a total fan. The hiking pants I was sent – the Freeflex rollup relaxed fit pants are amazing for everything from travel to gardening to going out. They are made with a lightweight softshell fabric that wicks moisture and even repels red wine. Seriously, the wine didn't even stick. They also have a quick rollup that snaps into place and works well in hotter weather. The are priced at $US89. They do run a wee bit on the larger side.
The Juniper tank top ($Cdn60) is also fantastic. It feels very soft on the skin. If you're doing something aerobic, it does an excellent job of wicking moisture and drying quickly. I also love the variety of colours it comes in. I got a medium size which was a perfect fit.
The Flight Jacket is something I'll be wearing for a long time to come. What I have loved about it over the past few months of trying it out is the styling and two-tone details, the warmth, and the fact it has a stowaway hood if you need it. It's made from 100% mid-weight Italian fleece so its super cozy and feels good over bare arms.
Weekender Bags
The unisex brown leather weekender bag from Leather NEO is perfect for a short overnight trip, or to take with you to the gym. The leather is 100% buffalo and it's very soft! It's not a huge bag but there's some give to the leather so you can really stuff it. There is an ingenious zippered pocket for shoes so you can keep everything else clean. Inside there is a multi-purpose pocket to keep your little stuff like phones and chargers organized. It would make a great gift to yourself or even for your dad on Father's Day.
The dimensions are 55 x 28 x 27 cm so it's perfect as a carry-on bag too. You'd even be able to get it under the seat. And it comes with a baggage tag. The US company will ship to Canada.
Waterproof Musical Instruments (perfect for backpacking)
Who knew you could buy a fully waterproof banjo, guitar, or ukulele that you could take backpacking? I was in Oregon recently and one of the highlights of a conference pre-trip was meeting Scott Seelye at a dinner. He is an industrial designer with one heck of a creative brain.
Several years ago, he and his wife sold the largest online skateboarding website in the US. His next project was building a waterproof ukulele – even though he had NO ties to music. Not only was I impressed with the amount of work that went into the design, but the fact that he was able to pull it off in just a couple of years despite the fact the project was considered to be "near impossible to do."
I love the see-through design and the snowflake bracing based on the 1978 Trans Am snowflake wheel. The sound was great to my ear but also to a couple of musicians at the dinner table who instantly fell in love with the instrument. So, for any of you who love the thought of taking a waterproof musical instrument on a backpacking trip (they weigh about two pounds) or anywhere for that matter, you can order online. They ship anywhere in the world from their Bend, Oregon Outdoor Ukulele office, but they only produce 12 – 16 instruments per day, so plan accordingly. The price is reasonable to my mind with ukuleles starting at $US165 and banjos at $US265. They are sold out of guitars as of today.
Fjällräven Women's Trousers
I have had the pleasure of trying out two of Fjällräven's trousers – the Keb Trousers Curved weighing in at 540 grams and the Abisko Midsummer Trousers weighing in at 285 grams, almost half that of the Keb Curved.
The Keb Trousers Curved are made with a stretch fabric with plenty of give. They have a high waist so they would be comfortable to wear with a backpack. They're also durable, water-resistant, breathable, and quick drying. Some of the features I really liked are the deep front pockets (one of which is zippered) stretchy panels that move with you, the articulated knees so bending is easy with the pants on (unlike say a pair of denim jeans) and the two zippered vents on either leg at thigh and calf level. I also love the colour combos and the two-tone look though you can get black on black.
The Keb Curved Trousers are also available from MEC.
I tried on the Abisko Midsummer Trousers and absolutely loved their weightless feel. They are ideal for hiking on hotter days or when you need a long pant during tick or mosquito season as examples. They're stretchy, highly packable, and quick drying. They also come with zippers at the side. With an articulated fit, they'll move easily with you. I can see them being my go-to pant all summer long – whereas I'd be inclined to use the Keb Curved trousers in the shoulder seasons.
I don't have any photos of the Abisko Midsummer Trousers as they are in being shortened – a service Fjällräven offers for free. They also repair clothing onsite too.
Fenix Lights
I wrote a whole blog on the Fenix headlamps and flashlights. They are truly fantastic items – with a higher price point than many – but that's a function of the number of lumens – or how brightly they shine. I am very impressed – with both the design and the fact that they are rechargeable via USB cables. I would 100% recommend buying the Fenix E-Lite for the glove compartment of your car should you ever have an emergency. The E35 flashlight is nothing short of amazing for its size and the beam of light it shines. And between the two headlamps – the HM65R and HM65R-T, there is only a 0.2-ounce difference. I loved them both and would have a hard time recommending one over the other. Maybe it just comes down to the colour of the headband – orange or red.
All flashlights and headlamps can be purchased directly from Fenix Tactical.
Short hiking gaiters
Come summer, I take short gaiters on hikes. I don't like getting sand and scree in my boots – and the short gaiters prevent that. The RENAgaiter from Kahtoola – the company that does such a great job with microspikes – are both lightweight (2.8 – 3 ounces), breathable, and ultra tough . They're made with heavy-duty, stretch woven nylon – so you'll also get some protection from light moisture. What I liked is the easy to adjust instep strap so you can get the sizing right with the boot or hiking shoe you are wearing.
They are available for purchase on their website for $US49.95. You can also buy a similar one called the INSTAgaiter at MEC for $Cdn49.95.
Point 6 Merino Wool Hoodie and Jogger
Last year I tried Merino wool socks from Point 6, a family-owned US company that uses sustainably sourced New Zealand wool and as they say, they "make conscientious decisions throughout our manufacturing process to minimize our environmental footprint."
This year I tried out their Women's Livin It Merino Hoodie. It's another one of those cozy pieces you wear over and over again – like today in the middle of May where the wind is howling and it feels like winter, and not summer is approaching again. It's got hand pockets and a big hood I pull up and wear in my freezing cold office. It's made with merino wool, and a touch of nylon and spandex for plenty of warmth.
The Women's Livin' It Merino Jogger (in Storm Navy) works well in the garden on chilly days, morning walks with the dog and of course working or just drinking coffee in my cold house. The joggers come with two deep pockets and fit true to size. The legs are tapered, ending with elasticized cuffs. They are made with a blend of merino wool, polyester, and nylon.
Vim & Vigr Compression Socks
If you're of a certain age, I think I can guarantee that you'll have zero interest in compression socks. But the older you get the more likely you are to have achy legs and you might suffer from swelling if you're sitting for long periods of time, especially if you're on a plane or even horseback riding – as I noticed last summer. The bottom line is that compression socks make your legs feel way better. They really do reduce swelling and get rid of the aches. When Vim & Vigr Compression Legwear offered me a pair in something other than basic black, I said an immediate yes.
These socks were developed in the US in partnership with vein clinics and vascular surgeons. They are offered in four fabrics – Merino wool, cotton, nylon and moisture-wick nylon. Three compression levels are also available 15-20 mm Hg (stands for Mercury), 20-30 mm HG and 30-40 mm Hg. The ones I received are made of merino wool. I love the fact that there are a huge range of styles – and colours. I am a huge believer in compression socks now – for the times I know I'm not active. If you've never tried them before, choose the lower level of compression, as they can take some getting used to.
Spirits in the Sky: Northern Lights Photography by Paul Zizka
I have been a huge fan of Banff photographer Paul Zizka for years. His latest book, Spirits in the Sky: Northern Lights Photography is a stunning collection of photographs taken across northern latitudes over the last decade – including in Greenland, Labrador, Yukon, Iceland, Nunavik, the Northwest Territories and of course across the Canadian Rockies. It would make a great gift.