Four Fenix products were provided to me to test. They included two Fenix headlamps – the HM65R (a dual light source magnesium headlamp) and the HM65R-T (a high performance trail running Fenix headlamp), an E-Lite (a multi-purpose super mini light) and the E35 – a super high performance EDC (everyday carry) flashlight. Described in some detail are the features of each flashlight and head lamp.
What are lumens
Lumens are a unit of brightness. One lumen is equivalent to the brightness of one candle. The higher the number of lumens, the brighter the light. Many traditional headlamps that you would use for camping offer somewhere between 200 to 800 lumens. Generally the higher the number of lumens, the higher the price of the headlamp. I was shocked at how many lumens the headlamps had – coming in at 1300 and 1400 in the turbo or high output mode!
The Fenix E-Lite
Weighing in at just 18 grams or 0.6 ounces is the rechargeable Fenix E-lite. It's all of 5.1 cm (or 2 inches) long and just under an inch or 2.3 centimetres wide. It's a simple everyday keychain flashlight that comes with the option to clip it onto a pack, belt, ball cap, bike, or a purse strap.
For a small package it has a lot of features including three modes for the white LED and two each for the red and blue LED's. The maximum lumen output is 150 with a beam distance of 40 metres.
The crux of getting the light up and running was breaking into the packaging. I had to get the scissors out to get it open. The package contained an instruction sheet (I usually read them after I've muddled through), a warranty card, a key ring, and a short USB A to C charging cable. I charged this light off my phone cable. Their notes suggest that it takes 90 minutes to get a full charge – and a stored light should be recharged every four months.
The features I like are the simplicity and intuitiveness of the white and red modes. It took me a while to get to the blue mode – used more as a signal or beacon perhaps for dog walking at night. The red light is ideal for preserving your night vision. I was pleasantly surprised at how powerful the light was – and how fast it was to toggle through the different levels.
Here are the things that matter to me. At a medium intensity of 45 lumens, the run time is 4 hours and 20 minutes – more than what I would ever use on a backpacking trip. Both red and blue lights can run for 8 hours.
I like the safety features built into all the lights so if they get too hot (which they can in high mode if used for a long time) then the light will automatically step down in lumens to reduce the temperature.
I also like the easy to see battery level indicator. The battery is full when the green light is on. By the time you see red, you're down to 20-50% battery of battery power, and it's time to recharge. All the headlamps and flashlights use the same system.
Expect to pay approximately $Cdn27.33.
Fenix E35 flashlight
I don't know about you but calling a flashlight E35 is not the least bit descriptive for the public. Naming aside – this is one awesome high-performance flashlight that weighs in at 2.4 ounces or 67 grams, excluding the battery. In your hand, it feels solid – and on the heavy side, especially considering it is just over 4.5 inches long by 1 inch wide (118 X 26.5 mm).
I 100% loved this flashlight. It will be my go-to for around the house or on a road trip. For a small flashlight its reach, power and portability are impressive. Maximum output is 3000 lumens, so this isn't a light you want your kids to play with.
When you've got the flashlight on turbo (3000 lumens) you can see 240 metres – but only for up to 75 minutes. So, use the maximum output only when you need it. Other levels include 1200 lumens (2 hours, 40 minutes), 450 lumens (7 hours), 150 lumens (20 hours) and an eco setting at 50 lumens that should last for 50 hours. There's also a 3000-lumen strobe feature that is something else!!
The flashlight offers intelligent memory, memorizing the last output – save for the strobe function – so when you turn it on again, that's where you start. My bet is most people are in low or medium node so you should be able to get 7 to 20 hours before needing a recharge.
The E35 flashlight comes with a detailed guide – which I didn't read until well after the fact. I did have problems finding the charging port – because I didn't read the guide, so I went to find my husband. Interestingly, he found the charging port in the 5000 mAh lithium-ion battery itself. Neither he nor I had seen this direct charge to a battery before.
There are a few warnings related to the battery. Heat can be a problem if the light is kept on high or turbo mode for an extended period. If it hits a temperature of 60°C, it will back off automatically on the lumen output. You are also warned to treat the battery with caution – and to only use batteries with circuit protection.
The flashlight comes with a battery indicator level just like the Fenix E-Lite. In the package, you get a full guide, warranty card, a short Type C charging cable, a lanyard, spare O-ring, along with the flashlight and lithium-ion battery. It retails for $Cdn109.53.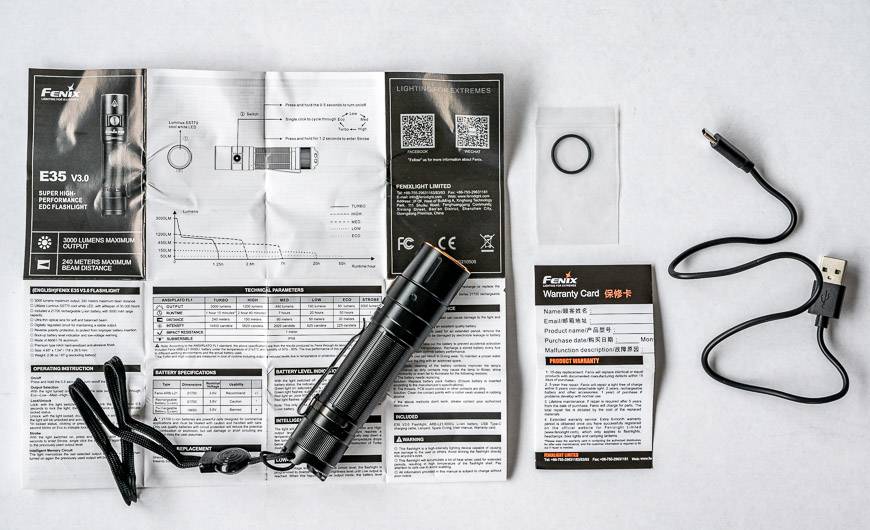 Fenix headlamps – the HM65R and HM65R-T
Who knew it was possible to get excited by a headlamp? When I tested both Fenix headlamps on a chilly, spring night in Calgary, I was blown away by how much I could see.
Then I thought back to a time when I was hiking the Coastal Trail in Pukaskwa National Park with two friends on a late September night in inky darkness. Granted we had on headlamps, but I can tell you right now they weren't nearly as powerful as the Fenix headlamps. By 9:30 PM we had to wild camp and pitch our tent on a flattish piece of ground – hoping that the next four days would be easier going. If we'd had either of these headlamps, my friend would have seen where she was going – and wouldn't have hurt her leg.
I'm torn over which headlamp I prefer. They weigh within 0.2 ounces of each other coming in at 3.21 and 3.42 ounces respectively. The HM65R-T (a trail running headlamp though I'll use it backpacking) is a tad more powerful, boasting up to 1500 lumens, whereas the HM65R tops out at 1400 lumens if using dual spotlight and floodlight mode. (The website and the user manual differ here.) They both offer 400 lumens and 130 lumens in spotlight mode – but the HM65R offers a 50-lumen spotlight mode that can last up to 90 hours. The maximum light distance is 170 metres for the HM65R-T versus 163 metres for the HM65R. Both Fenix headlamps also have a floodlit mode in 400, 130 and 8 lumens for the HM65R versus 400, 70 and 5 lumens for the HM65R-T version.
Overall, the trail running model is slightly more powerful, has a slightly longer range and the battery life at high output is similar.
The headband assembly is quite different for each headlamp. The HM65R-T boasts what is called a hollow headband. You can adjust a knob at the back of your head, turning it with one hand to shorten or lengthen the headband with some thin parachute type looking cord, a feature I like. The headband of the HM65R is more traditional though it offers a headband both around and over your head – and both are adjustable so you can get a good fit.
Both headlamps offer the option to use two CR123A batteries. and can be easily recharged with the provided type C charging cable. Allow about three hours to fully recharge for both models if the lamps are switched off.
Here's a full look at the specs of the HM65R-T. It retails for $Cdn143.78 and comes with a limited lifetime warranty and a 5-year free repair. The specs for the HM65R are here. It retails for $Cdn136.93 and comes with a 5-year free repair.
Interested in purchasing Fenix headlamps and flashlights?
If you are interested in buying any of the Fenix lights, visit their website. They ship same day and sell in both US and Canadian dollars. They have a whole lot of other lights that might be of interest including bike lights, outdoor lights including lanterns that would be ideal for camping, work lights, and even super long range lights.
Backpacking trips where the Fenix headlamps would be great
I would happily use either of the Fenix headlamps on a backpacking trip. For reading in a tent, you wouldn't need many lumens, but if you heard something outside your tent door, it would be really lovely to be able to see a huge area clearly – especially if there was a bear!