Summertime means camping season! And while most people think of sunny skies and roasting marshmallows when they think of camping, sometimes Mother Nature has different plans. And some of those plans are not that sunny and dry. So, if you find yourself stuck camping in the rain, don't despair! With a little preparation, you can still have a great time. Planning and packing the right equipment or clothing will go a long way toward making your trip more comfortable.
No one ever said that camping was easy, but it's especially difficult when the rain starts pouring down. If you're not prepared, your trip can quickly turn into a disaster. Don't let the rain dampen your spirits. With these simple but highly effective tips for camping in the rain, along with a positive mental attitude, you can still have a great time.
This post includes some affiliate links. If you make a qualifying purchase through one of these links, I will receive a small percentage of the sale at no extra cost to you. Thank you for your support.
Watch the weather forecast and watch the environment
Well… that applies to every camping trip. While planning your next camping adventure, make it a habit to check the weather forecast for the region you will be hiking or camping in. This information will allow you to pack accordingly and be prepared for whatever comes your way.
Anyone who has ever gone camping knows that the weather can be unpredictable. One minute it may be sunny and warm, and the next minute a thunderstorm can roll in. Therefore it is always important to check the weather forecast before heading out on a camping trip. In Canada, the most accurate forecasts are the ones from Environment Canada – though they don't always cover the more remote areas. In that case use an app like AccuWeather to get the weather forecast in the area you're visiting. You might also want to check out the terrain of the trail on Google Earth.
By knowing what the weather is going to be like, campers can be prepared for anything. You can pack the appropriate clothing and gear – and plan your activities accordingly. If high winds are in the forecast as an example, you should of course choose a campsite that is sheltered as much as possible from the wind.
But if the forecast calls for rain, campers should bring along a couple of tarps – one to set up over their tent and one to cover an eating area where you might be able to enjoy a fire – if there aren't any fire bans in place. (Don't forget to pack the rope for tying off the tarps too!) This tarp from MEC is big enough to do both.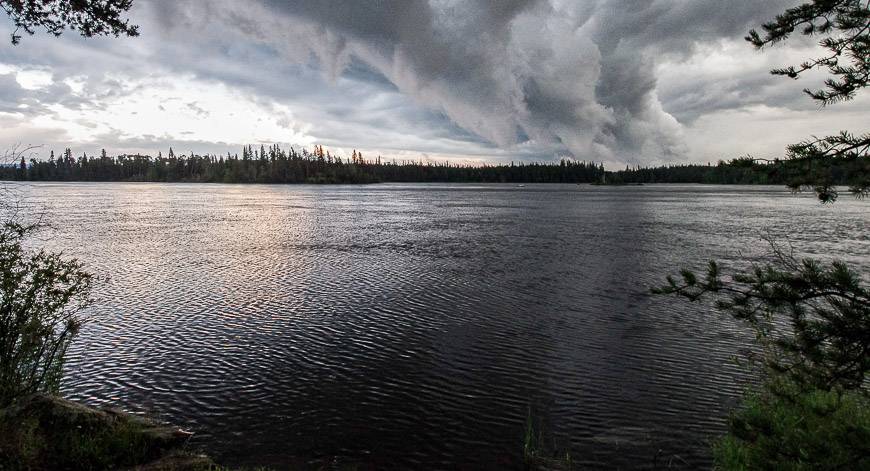 Choose the correct location for your tent and campsite
Camping is a great way to enjoy the outdoors, but it's important to choose your campsite carefully to avoid getting soaked by rain. So, if there's a chance of rain, you'll want to make sure you pick a campsite that's sheltered from the elements. The last thing most people want is to be stuck in a tent all day, listening to the rain pattering on the canvas.
There are a few things to look for when choosing a campsite that will help keep you dry during rain. First, try to find a spot that's on higher ground. This will help ensure that any runoff from the surrounding area doesn't flood your campsite.
Second, look for trees or other obstacles that can provide natural shelter from the rain. However, if the forecast suggests windstorms or heavy winds then maybe ditch the trees to avoid any accident, thanks to branches or trees falling.
Lastly, keep a reasonable distance from a body of water … in case it overflows. This is especially important around streams and rivers. With a little careful planning, you can make sure your next camping trip is dry and comfortable.
Keep your gear dry
Any seasoned camper knows that one of the most important things to do while camping in the rain is to keep your gear dry. After all, there's nothing worse than waking up to a soggy sleeping bag or tent.
But how do you keep your gear dry when it's raining cats and dogs outside? Here are a few tips:
First, make sure to weatherproof your gear before you head out, especially if you've used it for a couple of seasons. This means applying a waterproofing spray or sealant like Scotchgard to items like your tent, and tarp. Sometimes older rain pants and coats need a waterproofing application too. Nikwax is a popular choice – and is safe for waterproof, breathable fabrics.
Pack smart! Put heavier items like sleeping bags (in a waterproof bag) and tents at the bottom of your pack, and put lighter items on top like clothing but in their own waterproof bags. Always make sure you have a dry change of clothes and socks to change into!
Pack all of your electronics in properly-sized waterproof bags. You don't want your phone or camera getting ruined by the rain. This also includes your battery-powered heater for camping. More on that later!
Use a tarp or ground cloth under your tent to help keep moisture from seeping in.
While everyone is trying to reduce their reliance on plastic grocery bags and Ziplock bags, they do come in handy on camping trips. Also consider reusable plastic containers – or metal ones like the HydroFlask food jar – if you're car camping.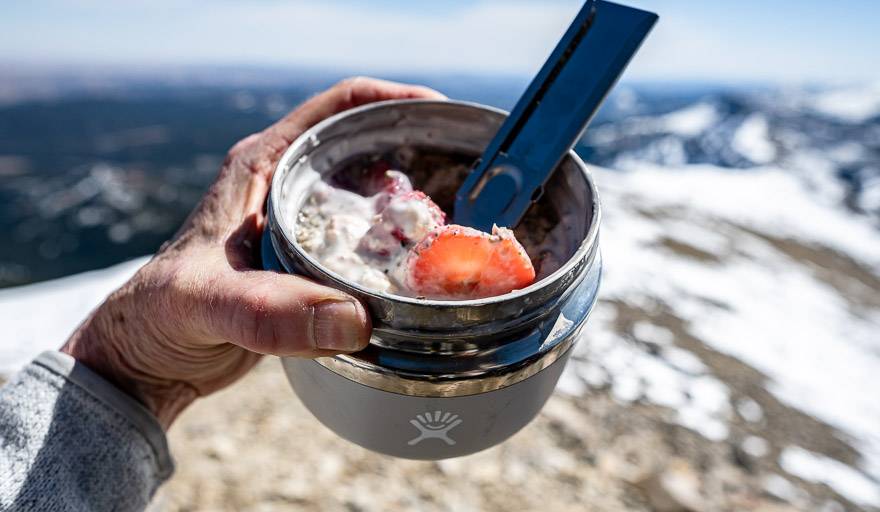 Layering and staying warm when wet
There's nothing quite like camping in the rain. The sound of the raindrops hitting the tent, the smell of wet leaves and earth, and the feeling of being one with nature. But while there's nothing quite like it, there are a few things you need to keep in mind to stay safe and comfortable.
First and foremost, layering is key when it comes to clothing. You want to make sure you have a waterproof outer layer, an insulating middle layer, and a wicking base layer next to your skin. This will help you to stay dry and warm even if you get wet.

Another important tip is to avoid cotton. Cotton absorbs water and will make you colder once it gets wet. Instead, opt for waterproof and synthetic fabrics to avoid feeling cold, clammy, and uncomfortable. We suggest polypropylene, polyester, merino wool, nylon, and bamboo.

Don't forget a waterproof hat – or at the very least a ball cap with a hooded rain coat. Having a rim to keep rain off your face is huge!
Another way to keep warm during the rain is to use an external source of heat. Sometimes, woolen and synthetic fabrics are not enough to keep the core temperature of your body normal. In that case, we suggest using a space heater such as this little buddy from Mr. Heater that uses propane as fuel and runs for 5 to 6 hours.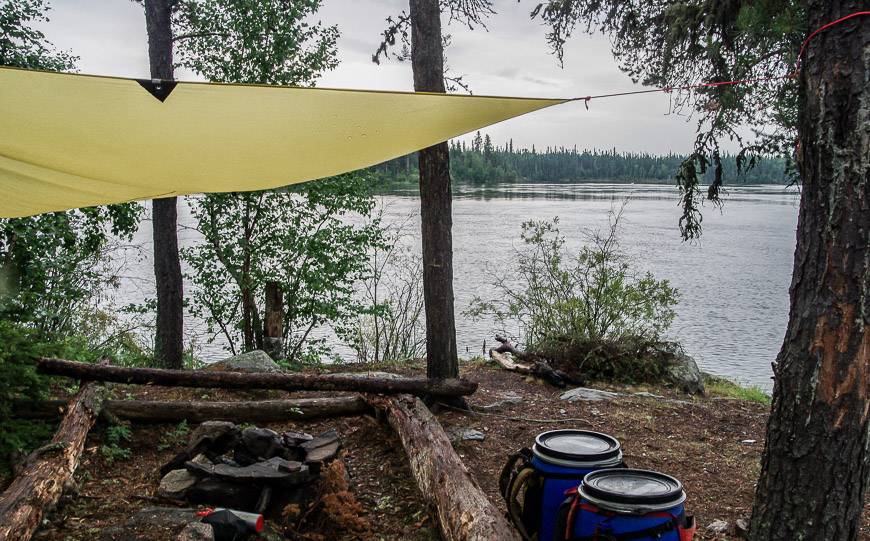 Creating a campfire in the rain
Well… if by some unfortunate circumstances you don't have access to a heater to keep your tent warm (and how many people do??) then starting a small fire is the best way to go. Fire in rain? Sounds a bit unusual, right? But it is not impossible!
If you find yourself in a situation where you need to start a fire but it's raining, here are a few tips to help you out.
First, gather some tinder and kindling and place it under an overturned log or in the driest spot you can find. Then, light a small fire on top of the tinder, being sure to keep it sheltered from the rain. If everything is soaked, you can try using newspaper or other dry paper products as fuel. If you've got a white gas stove, a little of the gas goes a long way to getting a fire going too. I also recommend traveling with fire starter, even something as simple as a candle or dryer lint.
Once the fire is going strong, slowly add larger pieces of wood to build it up. And there you have it – starting a fire in the rain! Usually, I cover the fire with a tarp (at standing height or a little bit more) so it doesn't go out and I can enjoy warmth without getting wetter.
With a little careful planning and effort, you can succeed in getting your campfire going despite less-than-ideal conditions.
Eat warm and nutritious food
When camping in the rain, it's important to make sure you have the right food to stay fueled and energized. While s'mores and hot dogs are always a classic choice, they might not be the best option when it's cold and wet outside.
Instead, opt for foods that will warm you up and give you energy to power through the day. A hearty soup or stew is a great option, as is a hot cup of coffee or tea. We suggest, packing some instant ramen cups, or stock bars. Just heat some water and pour it into the cup. Cover and let it sit for 5-7 minutes. Voila! a warm cup of soupy noodles that will keep you warm and as well as stuffed.
Don't forget to pack some snacks to keep your energy levels up… granola bars, nuts, and dried fruit are all perfect choices. By consuming high caloric food, you will be able to keep your energy levels up and your body warm.
Pack the right shoes
Packing the right shoes for camping in rain is important for several reasons. No one wants to be stuck slogging through the mud in a flimsy pair of boots, running shoes or even sandals.
First, wet feet are cold feet, and no one wants to be cold on their camping trip. Second, wet feet are also more susceptible to blisters and other ailments. Third, wet shoes can be very uncomfortable to walk in, especially if they're not the right size or fit. And finally, wet shoes can ruin your camping trip if they get your sleeping bag or tent all muddy.
So how do you choose the right shoes for camping in rain? Well, first of all, make sure they're made of waterproof materials like Gore-Tex or rubber. Second, make sure they're comfortable and fit well. And third, make sure they have good traction to avoid slipping on muddy trails. A hiking pole might come in handy if its been raining for days and you're dealing with a mud like you find on the West Coast Trail.
Use a sleeping pad
When you're planning a camping trip, one of the most important items on your checklist should be a good sleeping pad. A sleeping pad can provide essential insulation against the cold ground, as well as cushioning to prevent you from feeling rocks and roots underneath you. The thicker the pad, the more comfortable you'll be – though on a longer backpacking type trip, most people will opt for the smallest package with a decent thickness.
Sleeping pads are also crucial for keeping you dry while camping in rain. Without a sleeping pad, moisture from the ground will seep up through the tent floor, possibly into your sleeping bag, leaving you cold and wet. In addition, a sleeping pad will help to keep your body heat from dissipating into the ground, and instead will reflect it back to keep you warm.
Cover your tent
When it comes to camping, there are a few essentials that you can't go without. Water, food, and shelter are all key ingredients for a successful trip. However, there is one item that is often overlooked but can make a big difference in your camping experience: a tarp.
A tarp can help keep your tent dry by providing an extra layer of protection against the rain. Not only will it keep you drier, but it will also help to keep your tent floor clean and mud-free. In addition, a tarp can provide welcome shade on hot days and provide extra warmth on cold nights.
So next time you're packing for a camping trip, don't forget to bring along a tarp! It just might save your trip.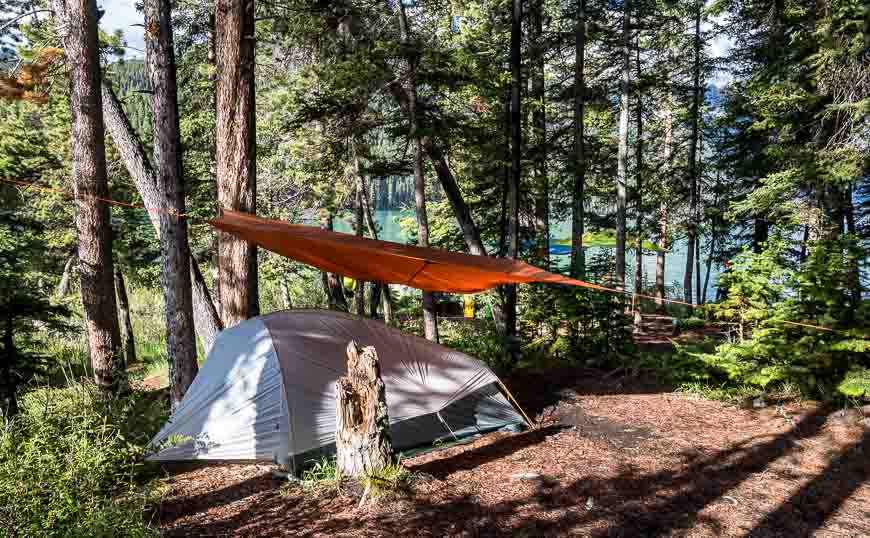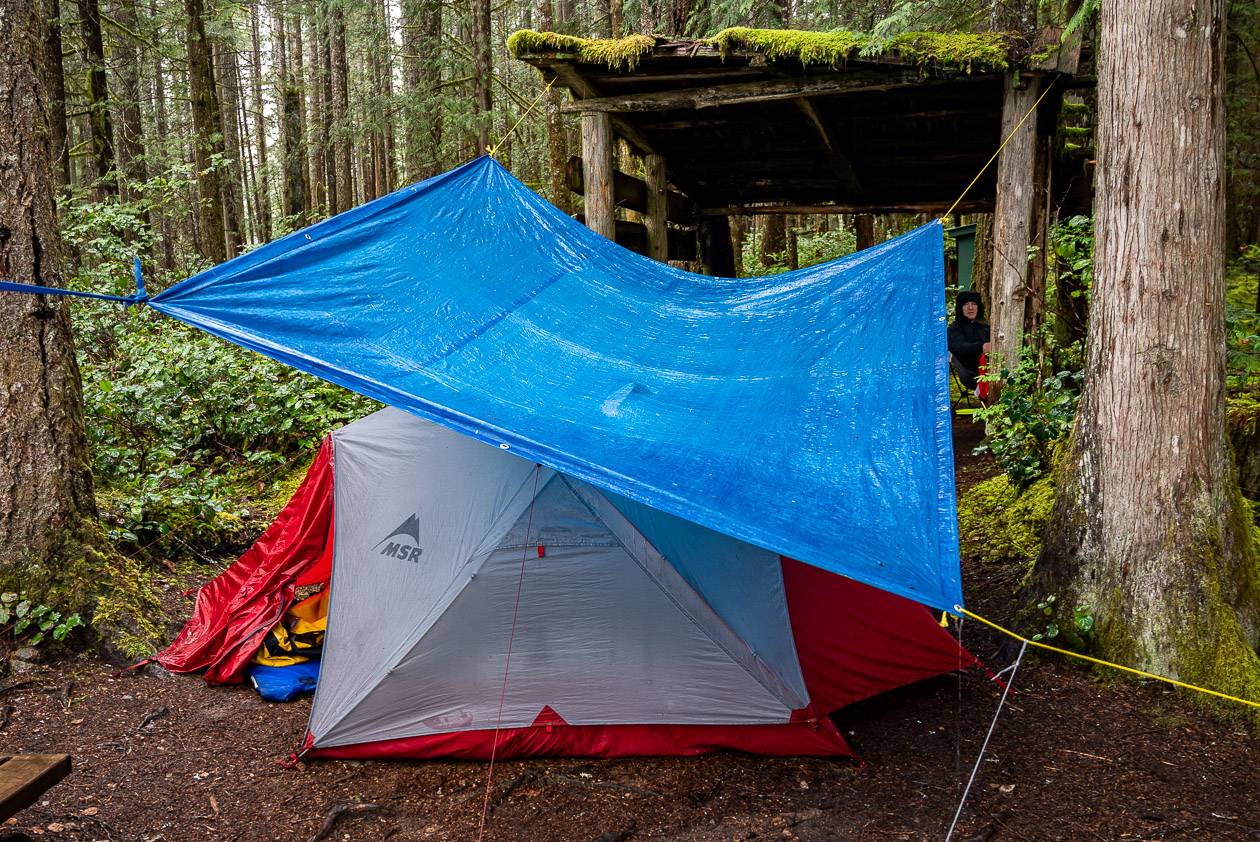 Camping in the rain doesn't have to be a negative experience
Being caught in the rain can be a pain, but that doesn't mean you can't have fun with it! The next time you find yourself getting soaked, try one of these activities to make the most of the situation.
For starters, why not take a page out of Charlie Chaplin's playbook and do a little rain dance? You can also try splashing in puddles like a kid again or use the rain as an excuse to get closer to that special someone.
On the other hand, if you feel like staying in the tent, then use the weather as an excuse to cozy up with a good book or perhaps a mini board game. Make yourself some hot cocoa, coffee, or tea, and snuggle into your sleeping bag.
If you're feeling adventurous, you could even go for a swim in a nearby lake or river – as long as there isn't an active thunderstorm. Just remember to stay safe and have fun!
Further reading about camping
About the author
Hussain Alasfoor from hikersneeds.com is a passionate hiker and traveler that loves the outdoors and enjoys what nature has to give, whenever he can he loves to write and give tips & honest reviews to help others get outdoors and just seek more unforgettable experiences. You can find him on Pinterest as well.
Click on the photo to bookmark to your Pinterest boards.