I hate driving in winter – especially on snowy days in the mountains. I feel like I'm always courting death especially when massive semi-trailers rumble by, dousing my entire car in a snowy mixture that leaves me blinded for a few seconds. Here are lessons I learned on how to survive a winter drive from years of close calls and near misses. I penned this post after our experience on a drive to to Silver Star Mountain Resort near Vernon, BC.
The easiest way to get there from Calgary is via the Trans-Canada Highway over Rogers Pass to Revelstoke and then in on Highway 97A to Vernon and on up to Silver Star. I'd checked the forecast several times before leaving and fortunately it looked good.
On our climb out of Golden, on route to Rogers Pass we were waved down by a fellow at the side of the road. I admit that we don't always stop but the person looked older (not dodgy) and the temperature was -8°C, not terrible but that's without the windchill factored in. We also weren't in a rush so we turned around to see what we could do.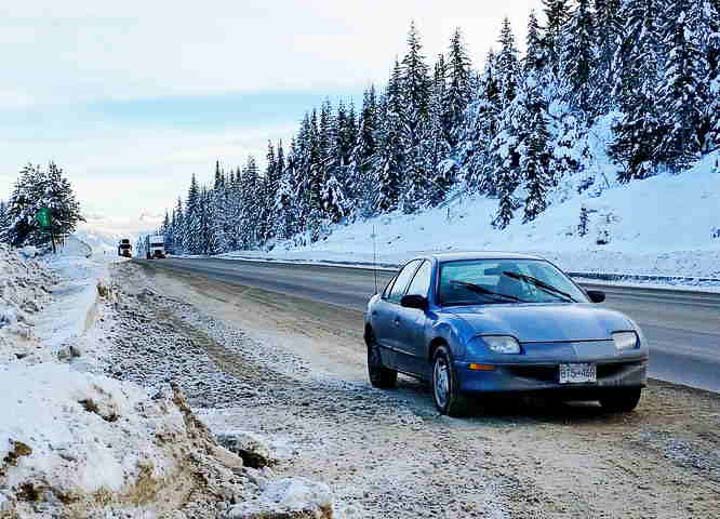 This post includes some affiliate links. If you make a qualifying purchase through one of these links, I may receive a small percentage of the sale at no extra cost to you. Thank you for your support.
The man, Darius had left Golden in a car he was "hoping" would make it to Vancouver. He'd been outside of the car trying to flag someone down for at least 30 minutes so by the time we reached him he was shivering hard. That wasn't a surprise as he was dressed in jeans and a light coat with no hat.
John tried his car – and the engine didn't so much as turn over. Then as men must do, he looked under the hood, fiddled but saw nothing amiss.
Fortunately we did have cell service so I called a towing place in Golden to get info and got the okay from Darius to go ahead. (It was about $180 to get towed the 25 km back to Golden) Although Darius had a cellphone, his judgement was already going because of hypothermia and his precarious situation stranded on a busy highway. He hadn't even thought to call a tow truck.
There is a happy ending to this story. We got Darius bundled into our car and warmed up while we waited 30 minutes for the tow truck to arrive. We left him knowing he'd get to Golden in one piece.
There were many lessons that came out of this close call. Everyone must go prepared on any winter drive – an especially on one through the mountains.
Survive a winter drive with these travel safety tips
#1 – If at all possible, drive during the daylight hours. Visibility can be such an issue at night, especially in snowy conditions.
#2 – On a big drive get your car checked out beforehand. If there's been something nagging you about the car, look after it. Make sure your battery is fully charged. Check the pressure of your spare tire.
#3 – Top up your windshield fluid before you leave home. Carry an extra container of windshield fluid as well. Replace your windshield blades if they streak.
#4 – Make sure you have four matching winter tires with good tread. Don't even contemplate driving in the mountains without good quality tires.
#5 – Check the weather forecast before you go. Change your plans in the event of an approaching blizzard or ice storm.
#6 – Beware of black ice – found on bridges, overpasses or shaded sections of road when the temperature is between 4°C and -4°C. According to the Canadian Automobile Association snow and ice is more slippery at 0°C than at minus 20°C.
#7 – Slow down and keep your distance when road conditions deteriorate. Be prepared to pull off, preferably at a rest area if they get really bad. You may have to get a room for a night under some conditions.
#8 – Avoid cruise control and overdrive in bad conditions.
#9 – Practice getting out of a skid so it becomes second nature.
#9 – Carry a survival kit on a winter drive
It should include the following – snow shovel, road flares or warning light, sand and/or traction mats, reflective safety vest, extra food and drinks (carry a thermos of something hot to drink), booster cables, flashlight, survival candle, ice scraper, first aid kit, warm blankets or a warm sleeping bag, a charged cellphone, maps and fuel line antifreeze.
#10 – If you pull over and stop, immediately put on warmer clothes especially a hat. Hand warmers are a great idea to include as well.
#11 – Before you head anywhere, always ensure all snow and ice has been cleared off the car. Don't forget to wipe your headlights – a major factor to survive a winter drive.
#12 – Should you get trapped in a snowbank, stay calm. Then clear the tailpipe of any snow so carbon monoxide doesn't become a silent killer. Crack the window so you have a touch of fresh air. Set up warning flares. And throw on those warm clothes. Move your limbs so you stay warm. Stay in you car once you've set up flares and cleared the tailpipe.
#13 – John and I disagree on this but I say wear shoes to for driving so you have more of a feel for the brake and gas pedal. Bring a pair of warm winter boots if you have to get out. Some accidents have been caused by a boot getting caught behind a brake pedal. (Thoughts on this one??)
#14 – Thinking distance is important
The other major issue is "thinking distance." Your reaction time is slowed because of tiredness, drinking, age, distractions … and that will have a huge effect on how safely you drive a car.
#15 – The breaking distance of the car is a function of its weight, the condition of the tires and brakes and road conditions. STOPPING DISTANCES on ICE SHOULD BE MULTIPLIED by 10 COMPARED to DRY CONDITIONS and SHOULD BE DOUBLED FOR RAINY CONDITIONS.
On our return from Silver Star we started in rain but by the time we hit Revelstoke we were into snow. Some of the highway was in great shape, some poor but doing it in daylight made all the difference.
Then after filling up in Golden we ran into problems. One of our light bulbs burned out so only the high beams gave us good light. If I was alone I would have pulled off in Field for the night but John figured he could make it safely home – and we did but I hated that part of the drive. So consider carrying an extra lightbulb – just know how to put it in as it's very hard to change in some vehicles.
I love winter and all the outdoor adventures you can do but I sure hate the driving. It was good to be reminded on our last trip on how prepared one should be.
Further reading on things to do in winter in the mountains
Click on the photo to bookmark to your Pinterest boards.