I wouldn't call myself a creature of routine. I thrive on change and new experiences. But there are exceptions and a winter ski trip into Sundance Lodge in Banff National Park is one of those exceptions.
I first learned about Sundance Lodge through a blog a number of years ago but for the most part this place remains a secret in winter. Few people have heard about it or even know that its open in winter – and yet the parent company, Banff Trail Riders, is well-known for its summer horseback rides and overnight excursions into the lodge.
This post includes some affiliate links. If you make a qualifying purchase through one of these links, I will receive a small percentage of the sale at no extra cost to you. Thank you for your support.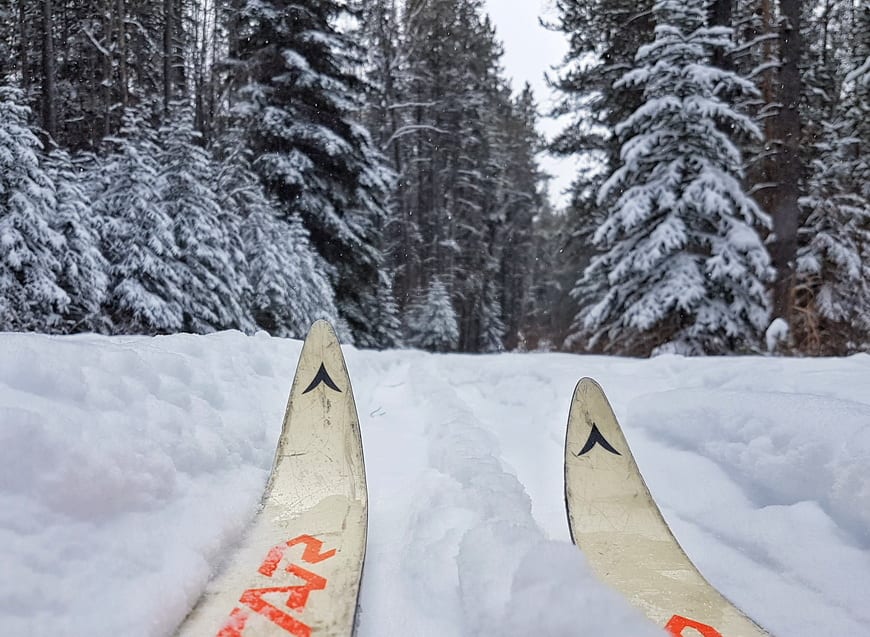 Why I'm such a fan of Sundance Lodge
I love Sundance Lodge for a lot of reasons. Getting there via a 13 km cross-country ski in makes me feel alive and well-exercised.
I'm not sure a group of four John and I met from France who rode up on fat bikes would be quite so enthusiastic – especially as one of the woman hadn't been on a bike in over a year. It was a slog for them in fresh snow but a delight on skis. (Still they too loved the lodge!)
There's an ambiance about the lodge that keeps me coming back. Unlike most backcountry lodges I've visited, hot showers and indoor plumbing is available. That sure beats a frigid walk outside to a smelly outhouse in the middle of the night!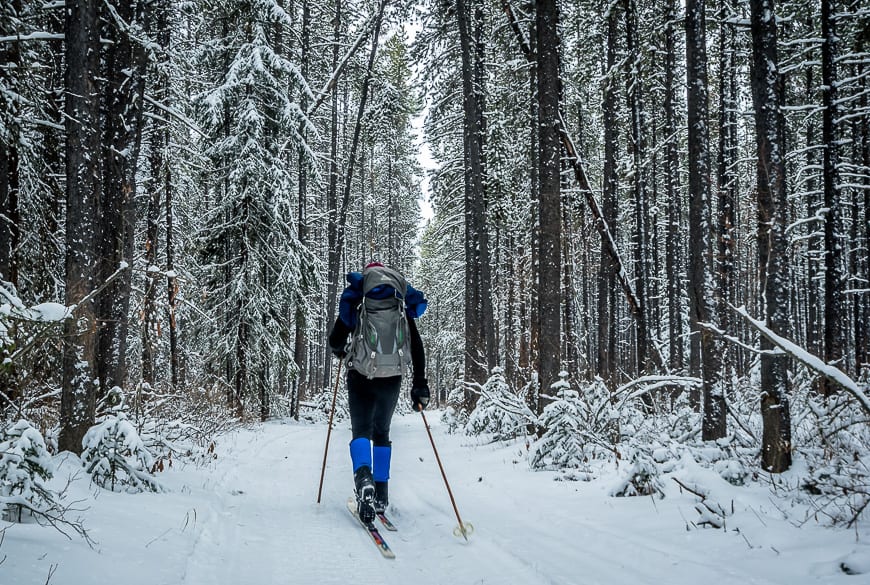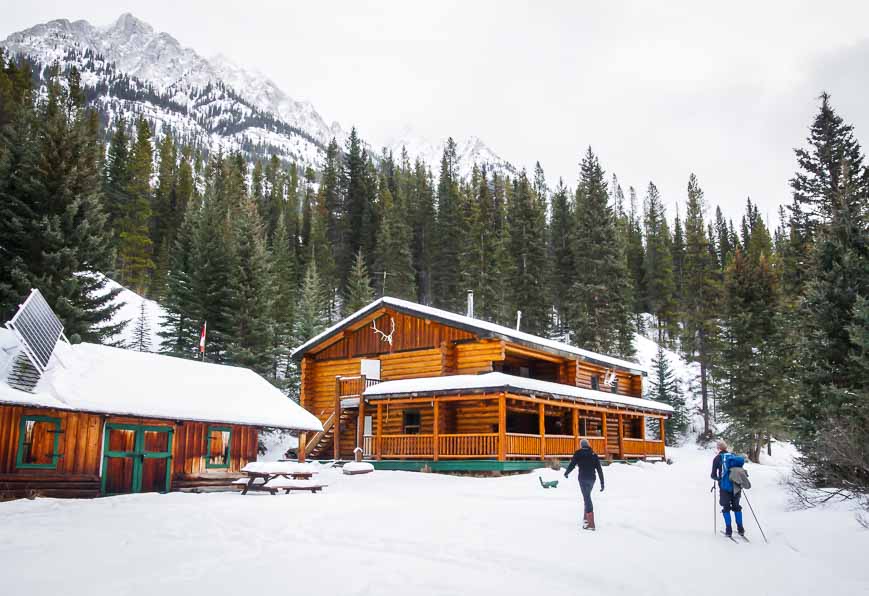 Getting to Sundance Lodge
Sundance Lodge is in Banff National Park. The trail most people take begins at the Cave and Basin National Historic Area – the birthplace of Canadian national parks. It's also an area with natural thermal springs, so don't be surprised if you get a whiff of rotten egg as you head out.
Accessed from the Cave and Basin area on the outskirts of Banff or the Healey Creek Trailhead off the Sunshine Valley Road, it takes the average guest 2½ – 4 hours to cross-country ski to the lodge, 13.5 km from the trailhead.
Although it's not a difficult ski in, it does get the blood flowing especially on the long but gentle hill on the final turn-off to the lodge (signed for Allenby Pass).With light fading by 4 PM in late December, you really should plan to arrive by 3 PM so that no one has to come looking for you via snowmobile.
The trail follows the Bow River, past the turnoff to Sulfur Mountain. There's another turnoff to Sundance Canyon you want to avoid – unless you have extra time as it adds 1.6 kilometres round trip.
About 5 kilometres into the trip, you reach another junction with signage pointing in the direction of Sundance Lodge. Typically the snow gets better at this point as you start to climb.
The total elevation gain to the lodge is 400 metres (1,310 feet).
Most of the time you're skiing in the trees but occasionally there are peek-a-boo views. There is one section that was badly flooded in 2013, but new bridges make the area easy to navigate. From here, you're less than 30 minutes to the lodge.
It took us three hours to ski to Sundance Lodge and 2.5 hours to ski out.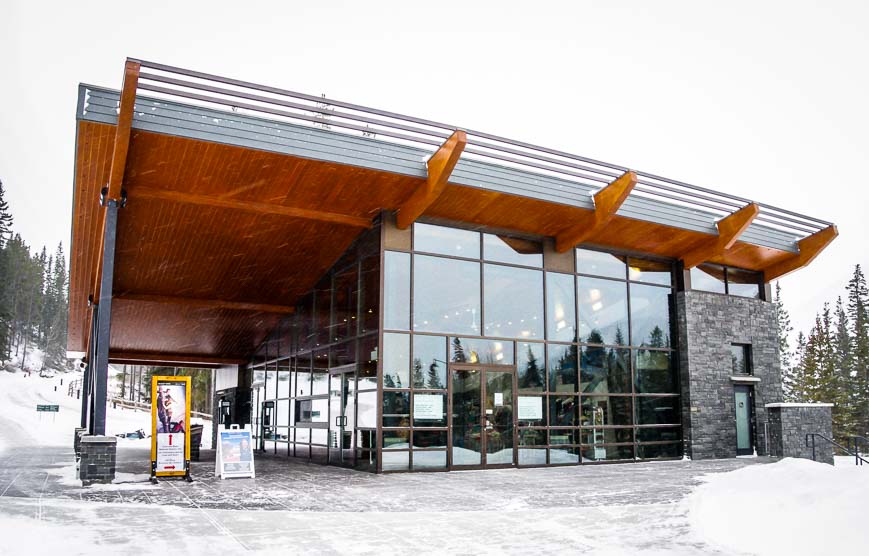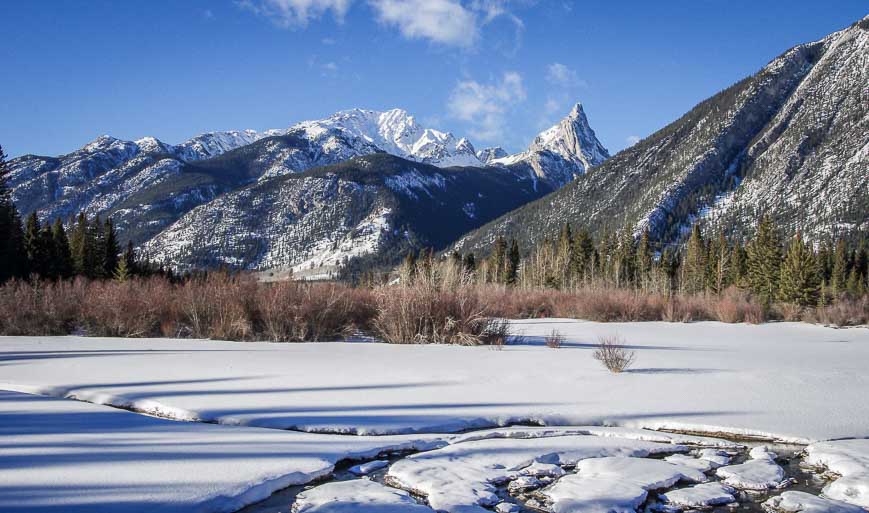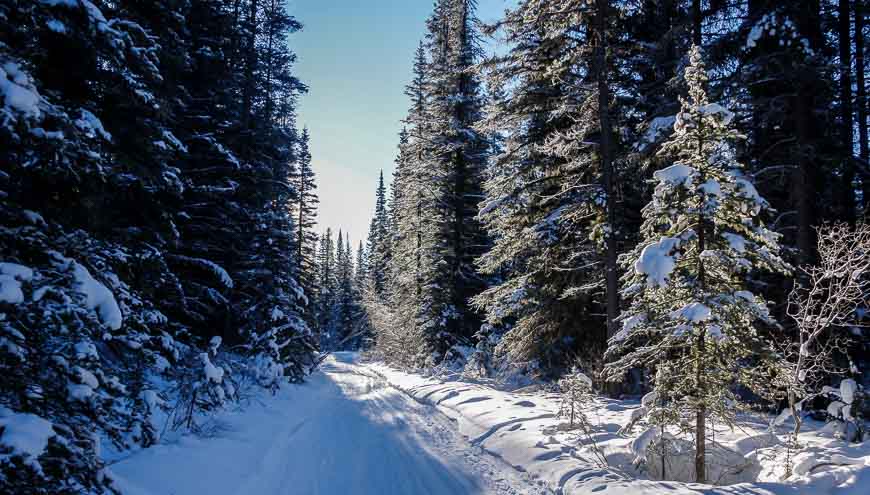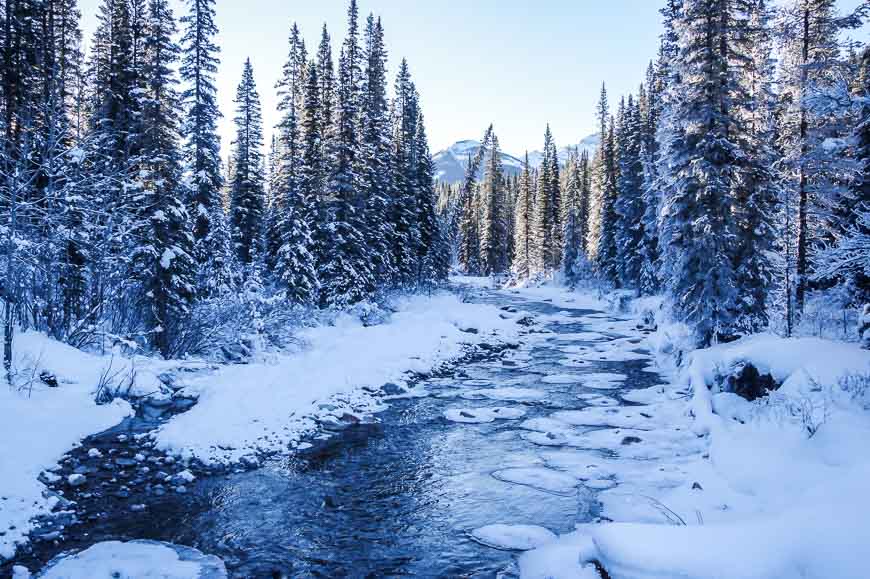 Sundance is well-appointed and quiet
Well-appointed cowboy themed private rooms, in my experience, have been quiet. I've never heard my neighbour one room over snoring.
The main living area – adorned again with all things cowboy related like horseshoe candle holders, horseshoe wood holders, brightly coloured blankets, a couple of mounted deer heads and a handful of funny signs, is cozy with a wood burning stove and lots of seating.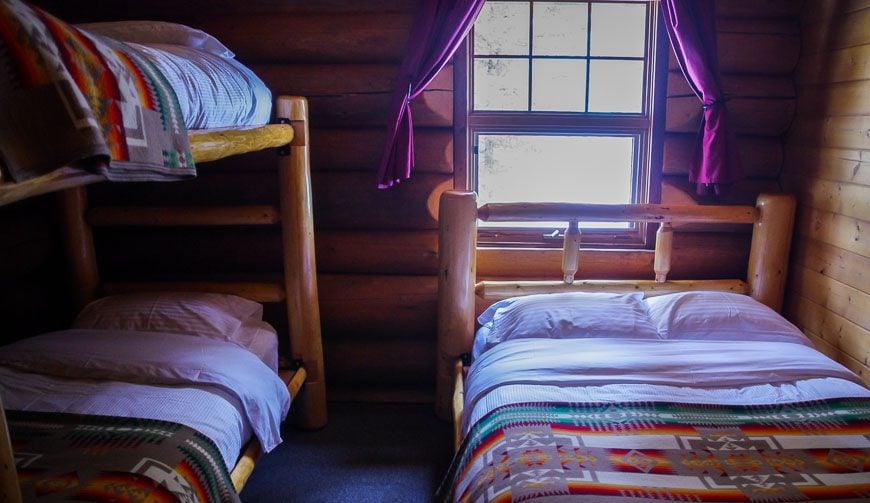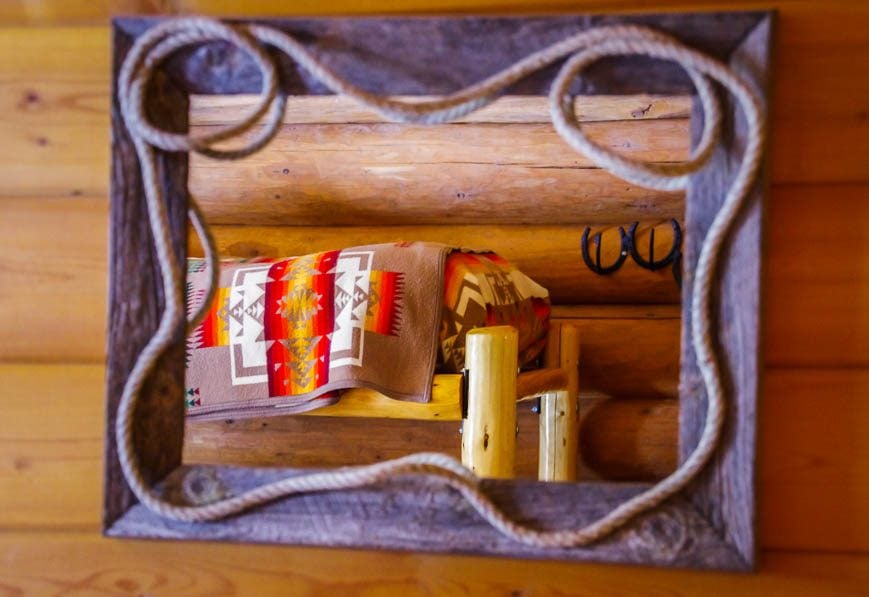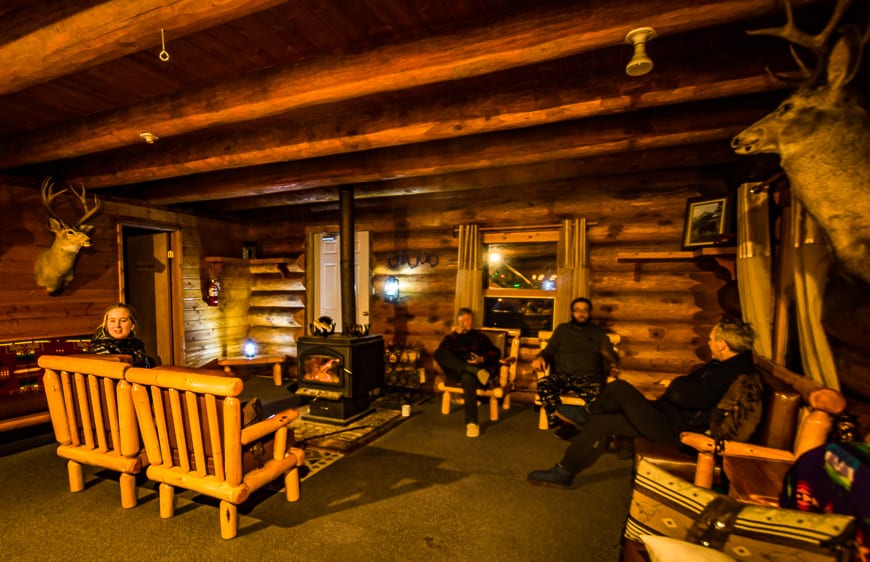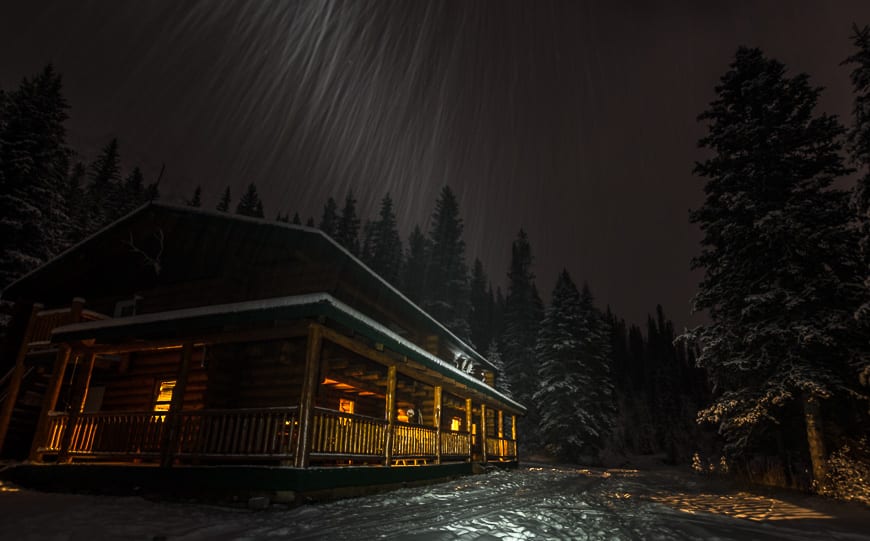 Eating at Sundance Lodge
And then there's the food. This year Skye Jackson is the cook and she's the best I've encountered at the lodge so far. Here's a sampling of what we enjoyed.
Freshly baked cookies and a hot drink on arrival; dinner on the first night included cedar planked salmon, rice pilaf, veges, salad and fresh pie.
On the second night BBQ beef brisket replaced the salmon and a homemade Black Forest cake the fresh pie. Breakfast both days offered a choice of fruit, yogurt and granola as a starter. Main courses included breakfast sausages or bacon along with an egg frittata or pancakes.
Skye also whipped up crispy potato fritters along with fresh baked muffins. Really I could go on but suffice to say there's lots of choice, she works around allergies and dislikes and you definitely won't leave the table hungry!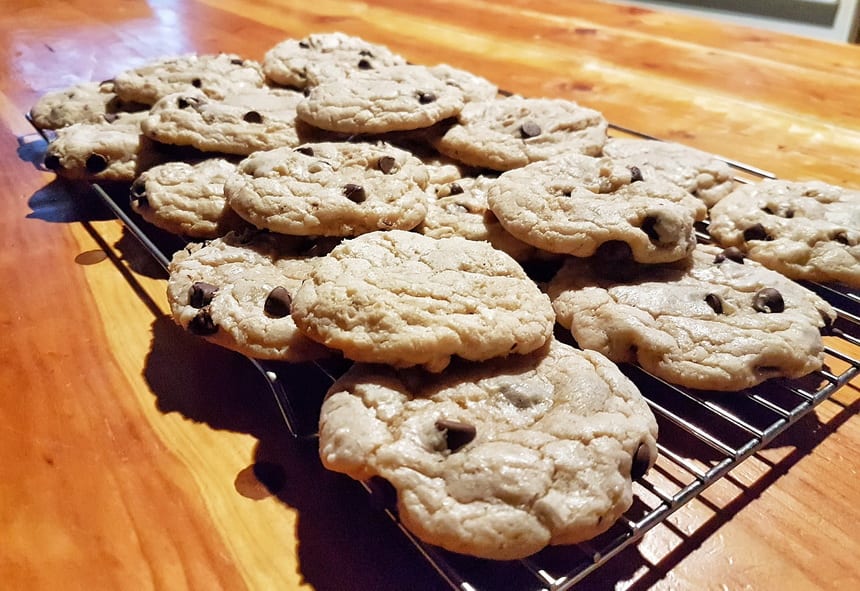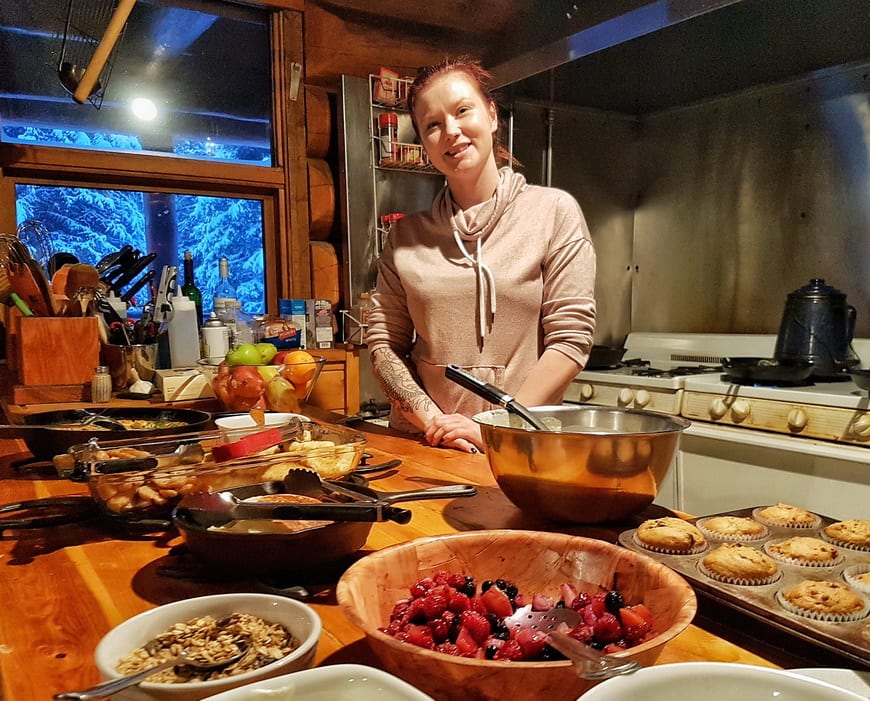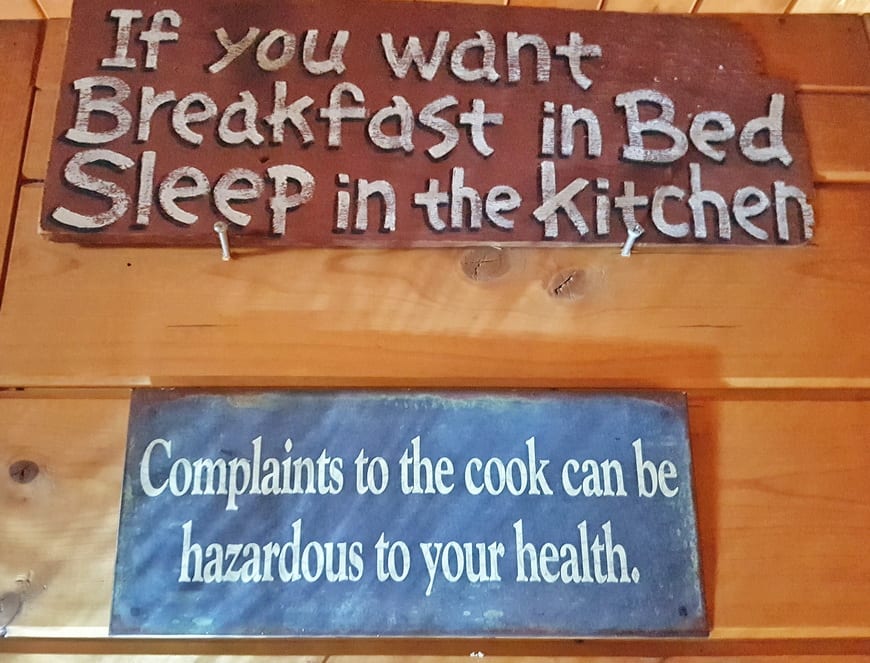 What can you do if you stay two nights?
Sundance Lodge is the only backcountry lodge I'm aware of in the Rockies where there isn't always a two night minimum stay. (There are rare exceptions to fill rooms.)
On our other trips to the lodge we've only stayed a night and have always left right after breakfast. This time we had two nights which made it all that much more relaxing.
We lingered over breakfast and drank copious quantities of coffee. We curled up with a good book by the fire and enjoyed some down time reading. And eventually we got our proverbial butts off the couch, packed up a lunch and headed out for several hours of cross-country skiing beyond the lodge.
As it was early in the season, few people had ventured out past the lodge, though we did have some partially filled cross-country tracks to follow for the first couple of kilometres. It's possible to ski up the trail as far as Halfway Hut (10 miles or 16 km past the lodge), an overnight facility the company uses on their summer trail rides located below Allenby Pass.
Please note that although we only skied a fraction of the distance to Halfway Hut, there is a section that crosses avalanche terrain so you should be well-equipped if you plan to go all the way.
The skiing past the lodge is truly delightful. While overall you are skiing up, the grade is minimal. There are several bluffs offering views that would be fabulous on a bluebird day. We skied a total of about 8 kilometres – enough to feel like we got some exercise and a sense of the landscape beyond the lodge.
For much of the trail we followed day old cougar tracks. While that might scare some people I think it would be a thrill to see one in the wild. No such luck!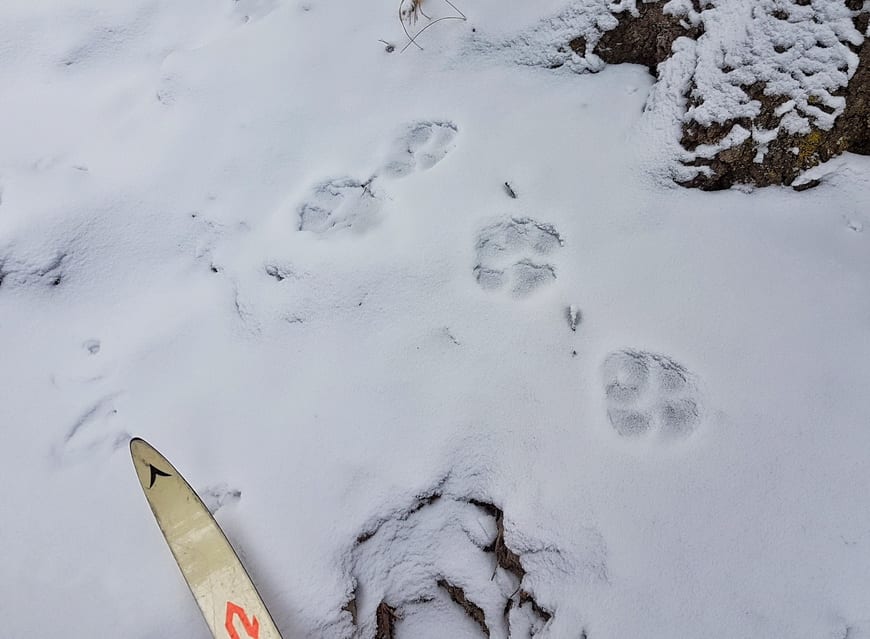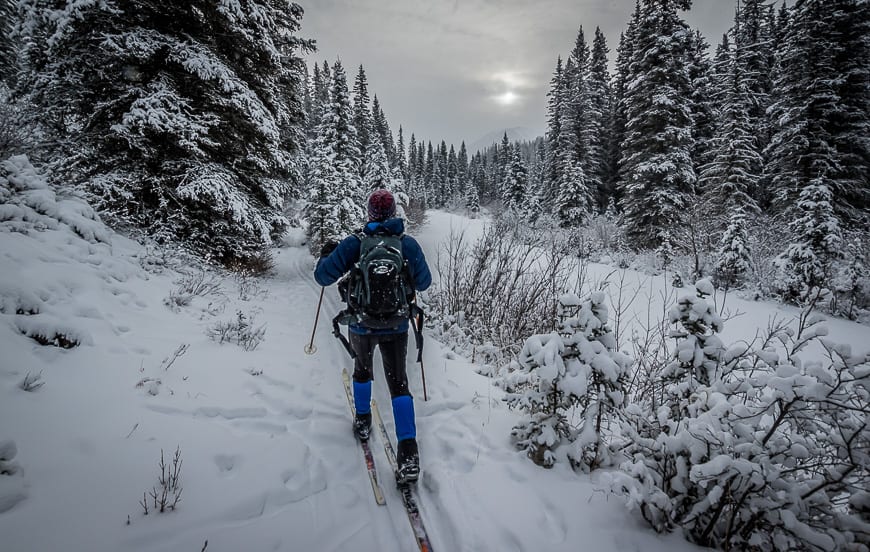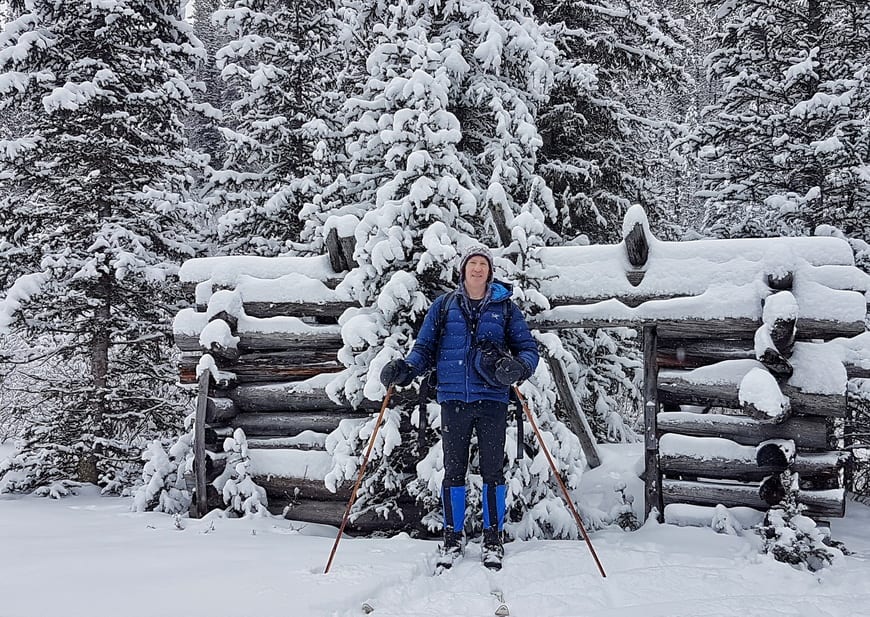 Look for the northern lights
Photographers, whether you're visiting for one night or two, bring a tripod as some nights you can catch the northern lights dancing above the lodge. It was snowy and very cold (-25°C) when we were there but still very beautiful to go out and wander around.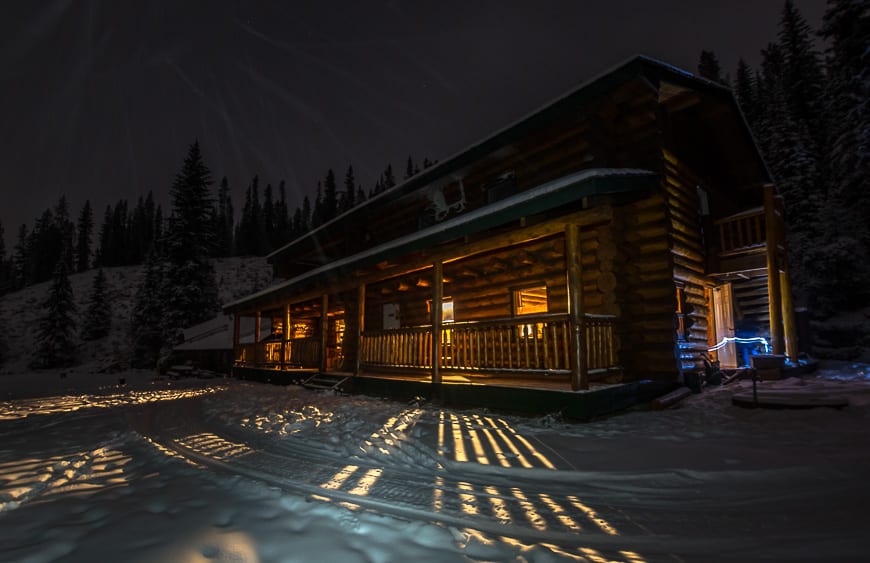 Wildlife sightings from the lodge
I asked about wildlife sightings when I was at the lodge. Both employees broke into broad smiles. Just four days earlier, they had heard the howling and barking of wolves – four of them as it turned out, within a stone's throw of the lodge at night time. Apparently, the wolves had taken down a deer and were battling over the carcass. You can still see clumps of wolf hair from the orgy of eating and fighting.
Typically though, you'll be lucky to see a pine marten – so don't give the wolves a second thought on your ski in! They also mentioned they had caught sight of an owl with a squirrel in its clutch, but alas we didn't see a single animal.
Do you have to ski into Sundance Lodge?
Most people elect to cross-country ski into the lodge. The shortest option leaves from Healey Creek off the Sunshine Road. From there it's 9.3 km in.
If you start at the Cave and Basin area you'll have a 13 km ski in and you can expect it to take you anywhere from three to five hours. Most people do it in about 3.5 hours. From the Banff townsite there's approximately 1,000 feet of vertical gain.
Snowshoeing is also an option as is fat biking. Fat biking is fine if there isn't any snow in the forecast and the trail is well packed. Otherwise it will be a "grunt" going both up and down.
A fabulous winter weekend trip
If you're looking for a tranquil winter getaway whether it be for one night or two, plan a weekend trip. Route-finding is easy!! And a few days of exercise, great food and delightful company will do a lot for your soul.
A few things to take on your trip to Sundance
Go prepared because if anything goes wrong its never pretty. Take extra high energy food, along with lots of hot drinks. You might even want to bring a wide mouth thermos so you can enjoy some hearty soup.
Everyone should have a headlamp. It comes on handy at the lodge too, as the lighting in the bedrooms isn't very strong.
Consider bringing some extra clothes. Layering is always a great idea. I like a lightweight down jacket for instant warmth. Always take an extra pair of dry socks never ever wear cotton or you'll freeze.
If you want to sit down, it's way more comfortable and you won't lose as much heat if you have an insulated sitting pad like this one.
Location map of Sundance Lodge
Further reading on how to make winter fun in Alberta
Check out this blog on winter in Banff if you need more ideas of what to do and how to make the most of the long winter.
If you're in Banff do the Tunnel Mountain hike, no matter what time of the year it is.
For ideas on what to do in Kananaskis Country in winter, read this blog.
Visit their website to make reservations.
Click on the photo to bookmark to your Pinterest boards.
A huge thank you to Sundance for making our trip possible. Truly, this is a lodge you want to visit.