Those of us who live in Calgary are lucky to have easy access to Kananaskis Country. The area is truly a winter adventure playground. All of the things to do in Kananaskis Country mentioned below can be done as a day trip but it's a real treat if you can spend a weekend up at the Pomeroy Kananaskis Mountain Lodge. The hotel is perfectly situated with skating, snowshoeing, cross-country skiing and fat tire biking literally right outside the front door.
All the other things to do in Kananaskis are just a short drive away. Over a weekend in early December John and I took advantage of the hotel's great location and burned ourselves out on some of the following adventures.
Since Canmore and Kananaskis are often visited together, you might like Things to Do in Canmore on a 2-Day Winter Visit.
Summary of what to do in Kananaskis in winter
You will need a Kananaskis Conservation Pass to visit.
Check Alberta Parks trail reports if you plan on a winter hike, a snowshoeing outing, or you plan to cross-country ski.
You are responsible for your own safety if you head into avalanche country. Check avalanche reports before you go.
Go prepared for your winter activity. Carry the essentials for outdoors.
The winter driving in Kananaskis can be quite awful so read How to Survive a Winter Drive: 15 Tips for Safety.
Some of the top things you'll want to do in Kananaskis Country in winter include snowshoeing, both downhill and cross-country skiing, cat skiing at Fortress Mountain, fat tire biking, star gazing, dogsledding, skating and hiking to Troll Falls. After all the fresh air, book a visit to the Kananaskis Nordic Spa.
Location map of things to do in Kananaskis in winter
Go cross-country skiing in Kananaskis
Fantastic cross-country skiing is available in Kananaskis Country. You could head south on Highway 40 about 30 minutes to Peter Lougheed Provincial Park – known for its great dumps of snow and superb trails but you can also ski right out the front door of the hotel.
John and I tried one of the valley trails called the Bill Milne Trail. We stopped two kilometres short of Wedge Pond but nonetheless skied 16 kilometres door to door – with 90% of it easy, though icy on the day we were there.
Another standout is the trail to Skogan Pass. It's a real workout but offers great views over to Canmore and an exhilarating ski back to the car. Some of the trails around nearby Ribbon Creek are also suitable for Nordic skiers.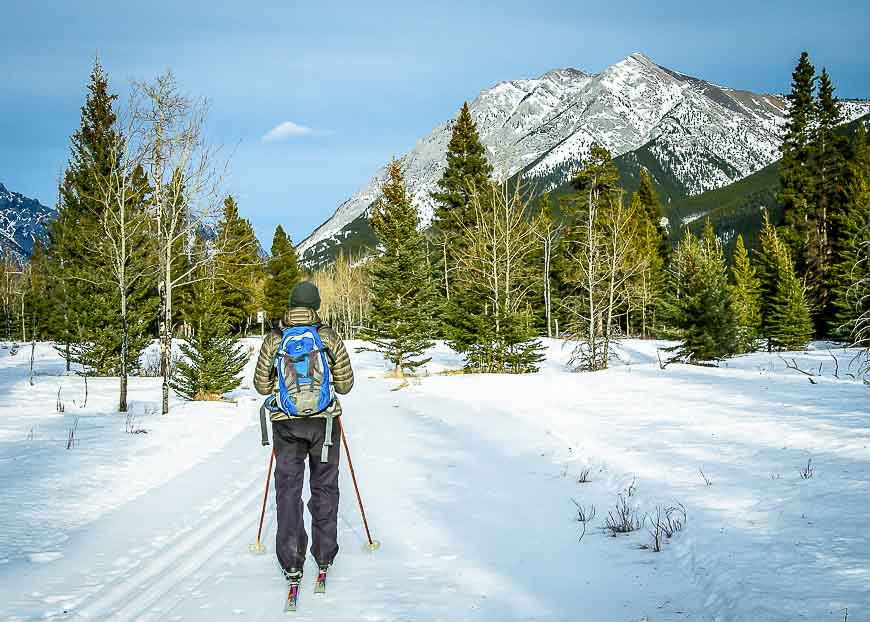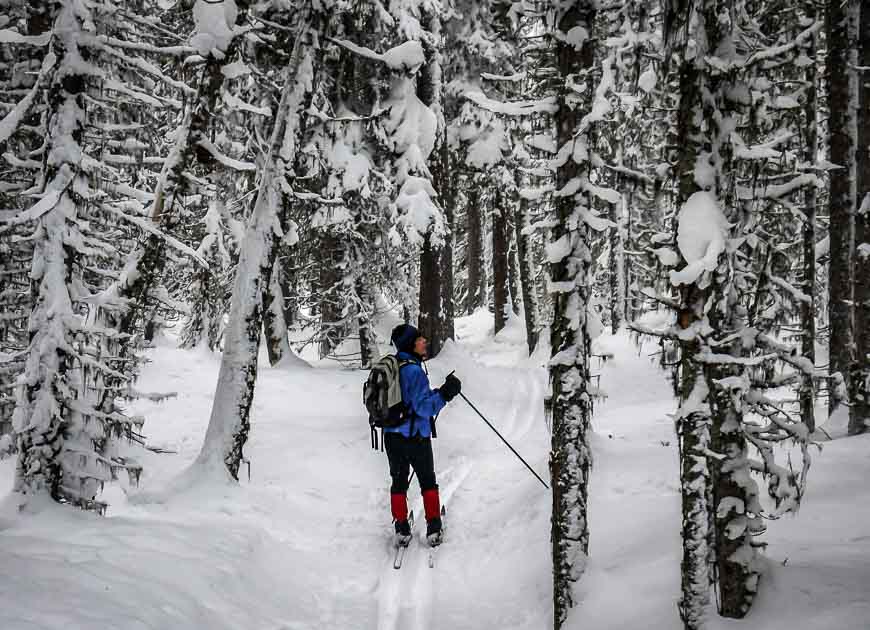 Try some downhill skiing on Olympic runs at Nakiska Ski Area
Nakiska Ski Area wins as a family-friendly destination that's close to Calgary. Built for the 1988 Calgary Olympics for the alpine ski events, the ski hill is known for its groomed runs, friendly ski school, and long season – lasting into April.
In a spectacular mountain setting you can enjoy a real mix of terrain and 3.3 km of uninterrupted skiing on the Gold Road to Lower Homesteader run.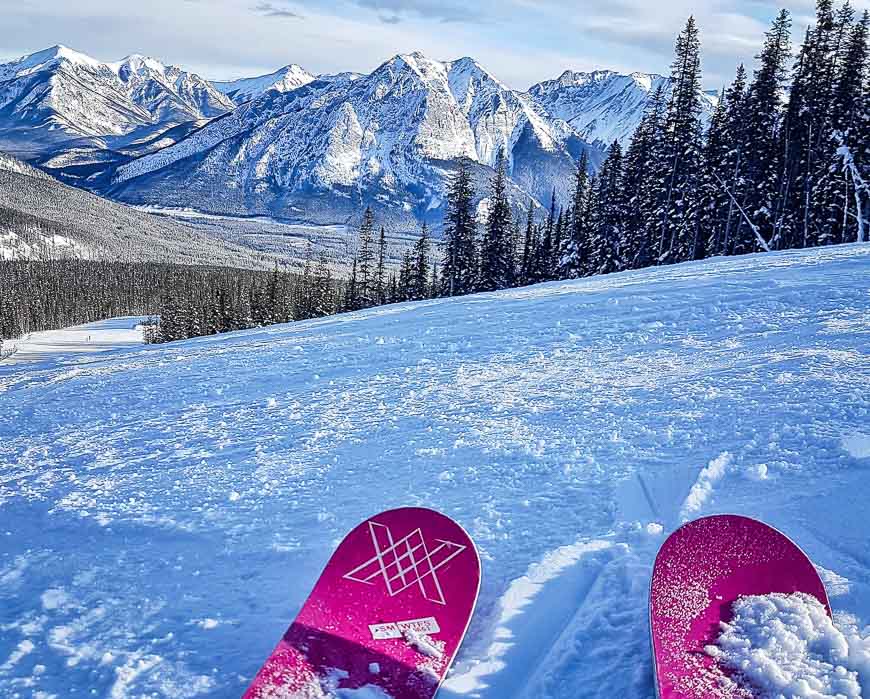 Sign up for a dogsledding tour
Dogsledding is exploding in popularity – I think in large part because it makes you feel so happy. It's a great activity to do as a family but it's equally wonderful as a couple. Dogsledding in Kananaskis is a great mix of dogs, fun, mountains and winter. And it's only an hour's easy drive from Calgary to get to the start of the tour. in Kananaskis Country.
The tour I did with Mad Dogs & Englishmen at Boundary Ranch was quite short and ideal for families with younger kids. The couple who joined us both lamented the fact it was over too soon. If you love the outdoors you'd probably enjoy a longer tour and those are only available in the Spray Lakes area in Kananaskis Country.
Try fat tire biking in winter
Fat tire biking has arrived in Kananaskis Country and the trails are outstanding. Even better you can wander over to Kananaskis Outfitters, about 150 feet from the dining room at the Pomeroy Kananaskis Mountain Lodge to rent a bike, get a trail map and load up on advice on where to go.
John and I spent a few hours exploring two areas. The first took us up and down Ribbon Creek with a couple of good hills that put our conditioning program to the test; I walked part way up. From there we made our way to the Skogan Pass Trail and beautiful Troll Falls. Fat tire biking is still new so we got a lot of attention from people in this area – all positive. We are very cognizant of staying out of any cross-country ski trails! It's a lot of fun and there are plenty of easy trails for first time riders to try.
Do the family-friendly hike to Troll Falls
Although we cycled to Troll Falls most people hike or snowshoe. It's a very easy stroll in from the parking lot and the reward is a winter wonderland and a frozen waterfall. It's perfect for people of all ages and it's a dog friendly trail as well. You can add on mileage by starting at the hotel or by including the Hay Meadow Trail.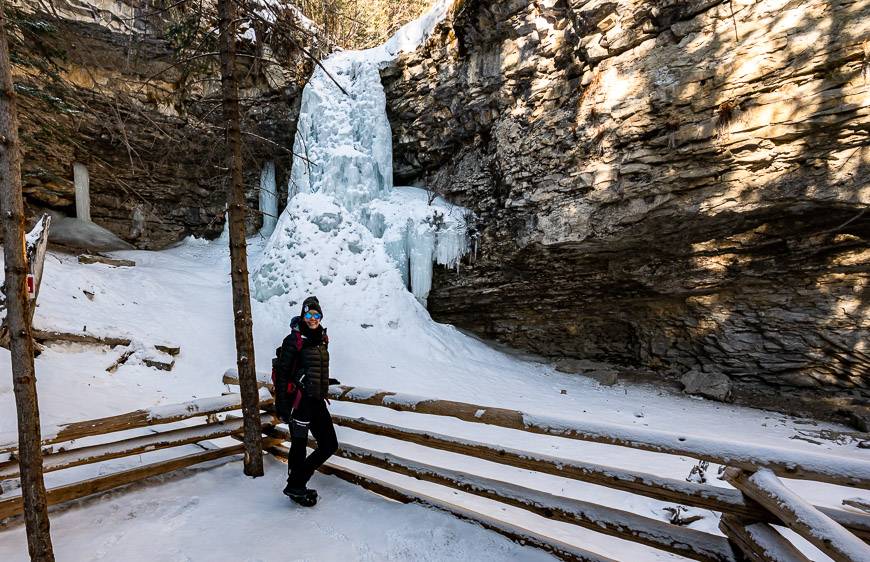 Go skating at Kananaskis Mountain Lodge
The skating wasn't available when we were at the resort but I know John will always take advantage of any rink at his disposal. There is a natural pond that is available as well as a larger rink. Just imagine skating under a starry sky in a magical, mountain setting. The public is welcome to use the rinks. Skate rentals are $10.
Go cat skiing at Fortress Mountain
If you've always wanted to try cat skiing, book a visit to beautiful Fortress Mountain, about a 40-minute drive south of the Pomeroy Marriott. Annual snowfall here is between 7 -9 metres so you should have no problem with the help of your guide finding fresh tracks.
Go stargazing on snowshoes with Kananaskis Outfitters
Try to time a visit to the hotel with a snowshoe tour offered by Kananaskis Outfitters. Two tours are offered – a stargazing and a full moon tour. We took advantage of the two-hour stargazing tour. All participants are provided with headlamps, snowshoes, and a hiking pole if desired. Maps of the night skies are handed around so in theory you'll know what you're looking at.
The snowshoe tour starts with a climb through the woods. Claude, the owner, would stop along the way to point out interesting sights – animal prints, claw marks made by a bear and the winter home of squirrels – in the snow.
The destination is a meadow where the night sky is best viewed. Claude has a passion for stars and is happy to point out the constellations. I thought the best way to view the night sky was by lying in the snow so I didn't have to strain my neck. Dress warmly if you want to do that.
Near the end of the tour we were particularly lucky to see a flaming star that split into two separate fireballs. It was truly memorable and the timing couldn't have been better. Don't have dessert before the tour. At the end the reward is a bowl of chocolate fondue around a fire inside. The tour is perfect for couples and families if your kids are able to stay outside for a few hours.
Explore the trails on snowshoes
Kananaskis is one of the top places to visit in winter for snowshoeing. There are trails to suit all abilities and on some of them you can bring your dog. One of my favourites is Rawson Lake located in Peter Lougheed Provincial Park though you'll do some climbing. But there are others like Hogarth Lake and Evan Thomas Waterfall that are fun for kids. For more ideas read Snowshoeing in Kananaskis – 9 Trails to Explore.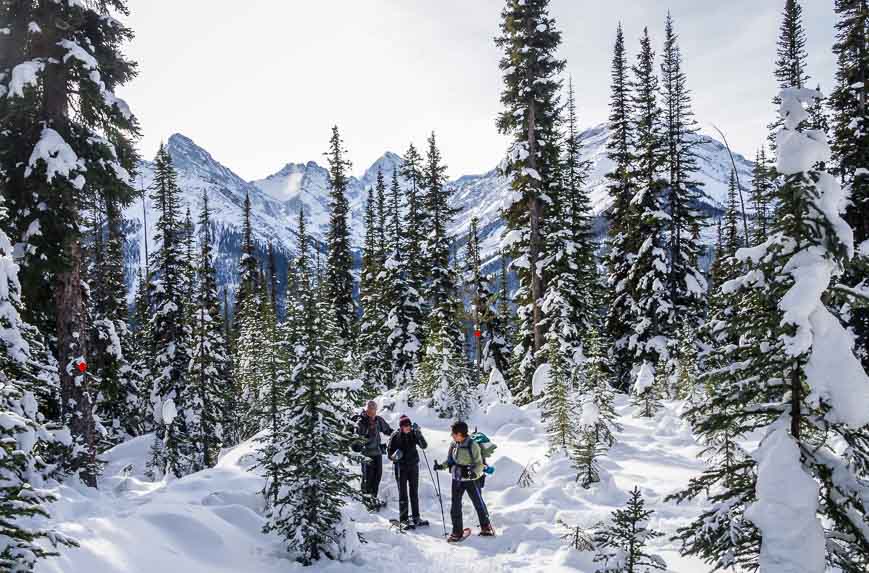 Go tobogganing and tubing at Nakiska
As you head to Troll Falls you pass an area that is perfect for tobogganing. The hill is small and will appeal to families with young kids. Everyone else will want to try the tubing at Nakiska. To participate you must be 3 years old or 42 inches tall. Pricing is based on your age. The tube park is open from 10:30 AM until 4 PM with tickets valid for two hours from when they are first scanned.
Relax at the Kananaskis Nordic Spa
An instant hit since the doors opened in 2018, the Kananaskis Nordic Spa deserves to be on your must do list. The spa will both stimulate your senses with temperature changes in a variety of pools and relax you, especially with its beautiful mountain backdrop.
I do recommend making reservations well in advance of your visit so you aren't disappointed.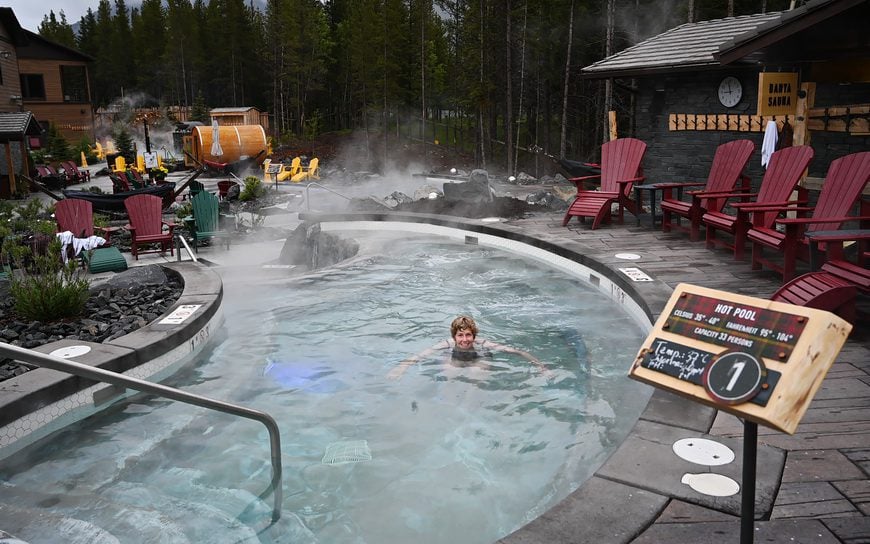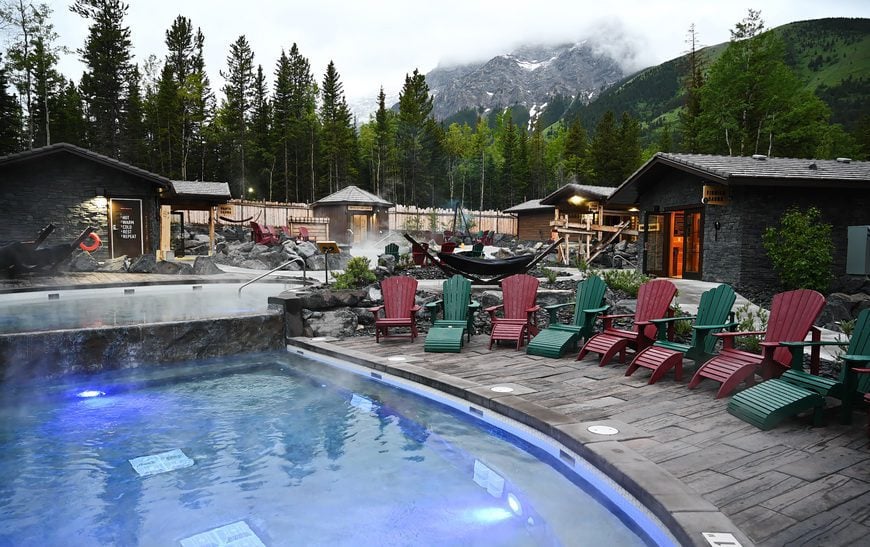 Click on the photo to bookmark to your Pinterest boards.
A big thank you to Travel Alberta for making this post possible. The Kananaskis region truly is one of Alberta's prettiest areas to explore.