With a sunny weekend in the forecast it was time to do some skiing in Kananaskis Country. Our goal was to ski to Skogan Pass from the trailhead for Troll Falls. We'd almost made it to Skogan Pass a few weeks before from the Dead Man's Flats trailhead and relished another chance to actually reach the pass. It's a lot more challenging skiing to the pass from Dead Man's Flats – as snow cover is generally thinner at the bottom and the trail isn't nearly as wide.
Read: Skiing to Skogan Pass from Dead Man's Flats
Affiliate links ahead, which means I receive a small percentage if you purchase anything through them at no extra cost to you. This helps me provide free content on this site.
We were slow to get going and didn't actually start skiing until 10:45 AM. But as this was a spring trip we knew we had lots of daylight and our friend Carol who was joining us had actually done it the day before. She figured we could be on top in three hours. And she was right.
You might find a map helpful for the ski up to Skogan Pass. The one to get is Gem Trek Canmore and Kananaskis Village.
Ribbon Creek to Skogan Pass – the route from the parking lot near Nakiska
The trail starts off flat, for all of about 100 m. Then you climb 625 m (2,050 feet) over the next 10.4 km (6.4 miles) though the signage now suggests 13 km to reach Skogan Pass.
The grade is gentle – especially when I compare it to the steep climbing we did from Dead Man's Flats. On that trail I needed skins. On this one I just had to wax up a few more times.
The trail is easy to follow, especially considering the maze of trails at lower elevations. At every junction there is a sign with mileage markers so you know exactly how far you have to go.
The trail is often track-set
The trails in early season can be dodgy but when conditions permit it gets track-set. Early on the trail was covered by sheer ice in a couple of places, probably because of a nearby spring.
Often snow cover is thin near the bottom, but overall the trail is in great shape. As it warms up in spring you may have to walk the first kilometre or two. But the higher you climb the better the snow and there's usually lots of it up high.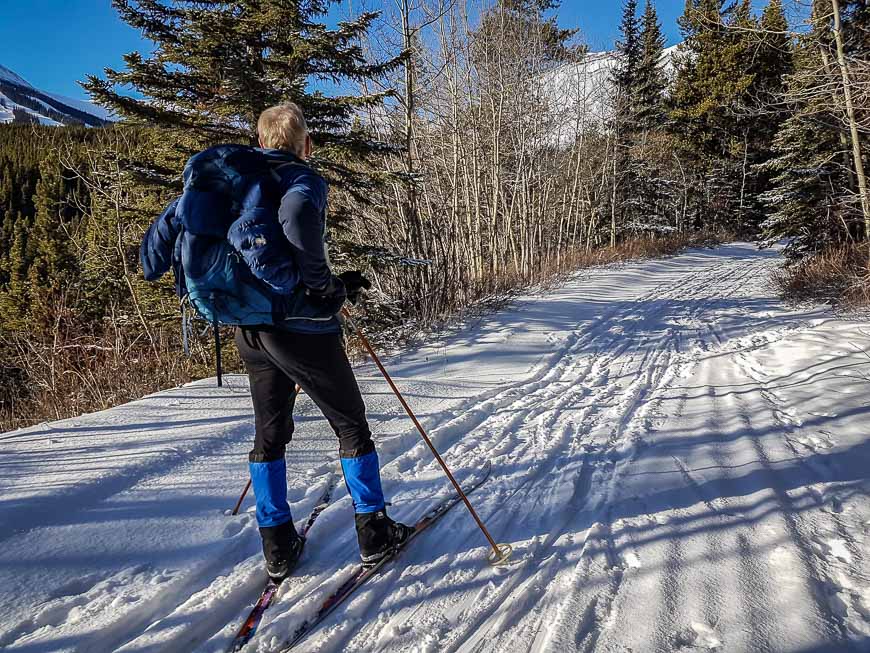 We ran into a total of nine people over 4.5 hours. So basically you have the trails to yourself which I find amazing when you have a glorious blue sky kind of day. Perhaps everyone was off skiing in Peter Lougheed Provincial Park – but the trailhead for Skogan is just one hour from Calgary!
We stopped for water, food and waxing sessions on the way up but still made it to the pass in just over three hours.
The return is fast and FUN! We were down in just over an hour.
This ski isn't one that novice cross-country skiers are going to enjoy.
We started skiing from the parking lot that is signed for Troll Falls. After you've turn off for Nakiska Mountain Resort look out for a road heading down to your right, about a kilometre in from the highway. There's a big parking lot and a trail map there.
It is a much easier ski to Skogan Pass from Ribbon Creek than it is from Dead Man's Flat. But I liked the challenge of skiing from Dead Man's Flat and would recommend it after it's got some fresh snow. The next time I do this trip I think I'll string the two routes together with a car shuttle.
An option to ski to the Hummingbird Plume Cabin
On the way up to Skogan Pass, you'll see a turnoff on the right to the Sunburst Trail, It takes you to the former site of the Hummingbird Plume Fire Lookout. Now there are only ruins – and a good view if it's a sunny day.
You can retrace your steps to meet up with the trail to Skogan Pass or from the lookout, take the right trail at the first intersection. It's called the High Level Trail and will also take you back to Skogan Pass but will leave you higher on the trail.
The third option is to ski to the Humminbird Cabin on either Sunburst or High Level and to return on the other. Then forgo the ski up to Skogan Pass altogether and ski back down to the parking lot.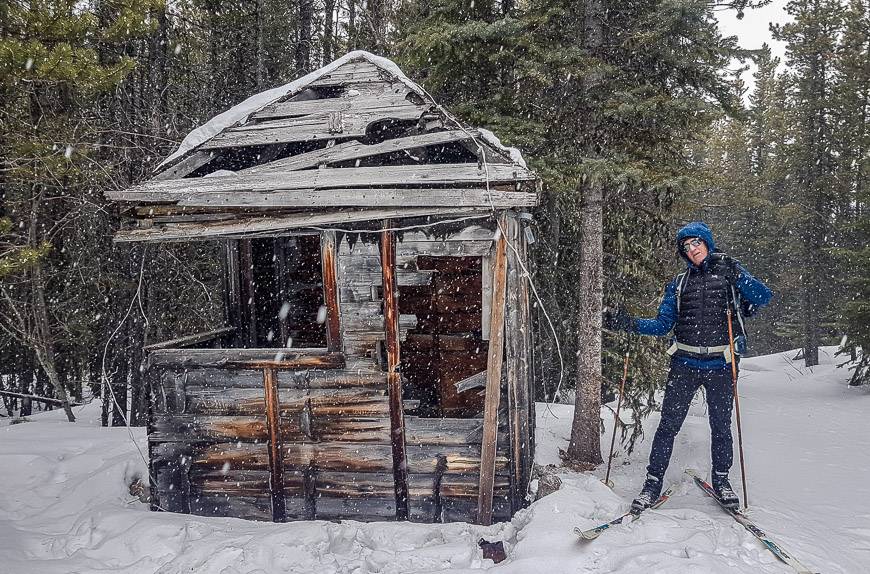 Further reading on cross-country skiing in Alberta
And if you're looking for more ideas on where to cross-country ski in Alberta I highly recommend the book – Ski Trails in the Canadian Rockies.
Click on the photo to bookmark to your Pinterest board.