I don't think many people think about cross-country skiing to Skogan Pass from the Dead Man's Flat area. But one weekend that's exactly what John and I set out to do. We wanted a trail that was reasonably close to home and this one fit the bill. Access is via an easy one hour drive from Calgary. The trailhead itself is just a kilometre up the road from the Dead Man's Flat exit off the Trans-Canada Highway, near the Banff Gate Mountain Resort – and before you get to Canmore.
I didn't read much of the route description until after the fact. Stupidly we'd left the trail guide in the car and didn't have a map either. But fortunately the trail to Skogan Pass is a snap to follow. What I hadn't appreciated is that the guide did say to allow a full day. Starting at 11 AM doesn't exactly allow for that.
It was a glorious spring like day and there was a touch of fresh snow on the ground – luckily as this trail has a reputation for thin snow cover.
Updated: April 2021
Read: Skiing in Kananaskis: Ribbon Creek to Skogan Pass
Location map of Skogan Pass
The ski up to Skogan Pass
The trail took off from the far end of the parking lot. It started easily enough with a few hundred metres of flat skiing through the trees. Then you reach the powerline. Look up.
That's where you're going.
The trail weaves its way under the powerline and into the trees for a total of roughly 4.5 km. Then it turns sharply left and continues to climb – but away from the powerline. I chose to skin up here as my wax wasn't behaving.
After three long switchbacks you break out of the woods into a meadow. The views from here are superb. All the huffing and puffing was worthwhile.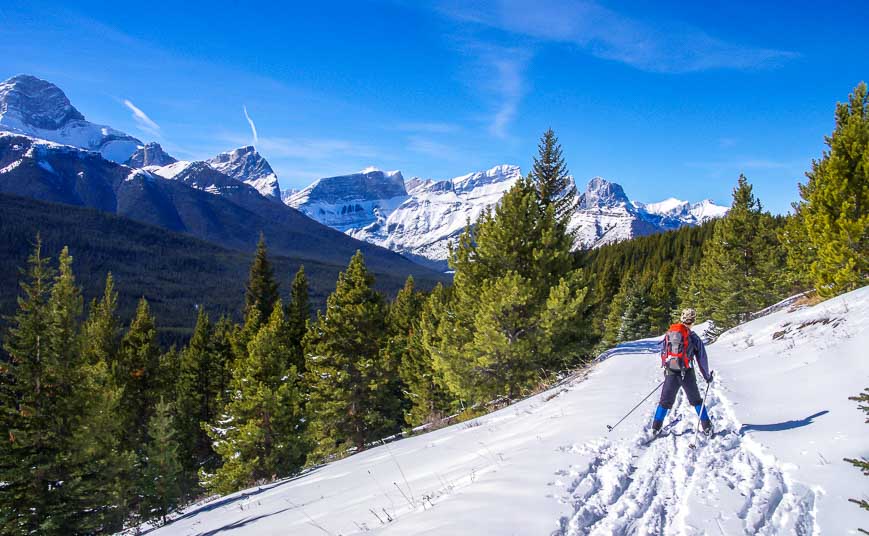 Breaking trail part of the way to the pass
It took another 30 or 40 minutes of climbing to put us at the spot where the group of Japanese skiers we bumped into stopped for lunch. By then we'd climbed for 2.5 solid hours. The views from here were so incredible that I was tempted to just call it a day.
But John was keen to continue. And so we did. From here on in it was back into the trees with some peek a boo views to the distant peaks. It was much slower going as we had to break trail and the snow was DEEP – but the grade was far more gentle then it had been all day.
We continued for about another hour but still didn't reach the pass. We were close, perhaps a kilometre away but I figured it would take us quite a while to ski back down and voted to turn around.
Once out of the woods on the return, we were greeted with this view. The drop-off suggested a small waterfall come the summer.
The descent was far faster and easier than I anticipated.
I put skins on for part of the descent to slow me down. John didn't but he's a more accomplished skier than I am. It took us only 90 minutes – including a late lunch break on the way out – to ski back down to the parking lot.
We'd had the trail to ourselves for most of the day. The only people we'd seen were the group of about 10 Japanese skiers. Once down and back in the car I had a look at the guidebook. It turns out you can ski to the pass from the Ribbon Creek area over in Kananaskis – and as one friend later told me that's what most people do.
Despite skiing under an ugly powerline for a good hour, I loved this trail and the views it offered. It's not often that you get a trail to yourself for most of the day so close to home, especially when it's a blue sky kind of day.
In total we skied for five hours – 3.5 hours up and 1.5 hours down. If we'd made it to Skogan Pass we would have skied 19 km in total. I figure we did about 17 km and climbed about 610 m (2,000 feet).
Have you cross-country skied to the pass from Dead Man's Flat?
For more information on winter activities in Alberta visit the Travel Alberta website.
Further reading on cross-country skiing in Alberta
Click on the photo to bookmark to your Pinterest boards.