The San Juan Islands are America's answer to Canada's Gulf Islands. What you'll find is an archipelago of 172 islands on the Pacific coast, north and west of Seattle and just south of the Canadian border. They lie in the rain shadow of the Olympic Mountains and receive only half the rainfall of Seattle. In fact, they boast that the sun shines 247 days of the year here and temperatures are rarely extreme making these islands a perfect place to bike, kayak, hike and relax.
Here are a sampling of things to do in the San Juan Islands in Washington State.
Updated April 2021. This post includes some affiliate links. If you make a purchase via one of these links, I may receive a small commission at no extra cost to you.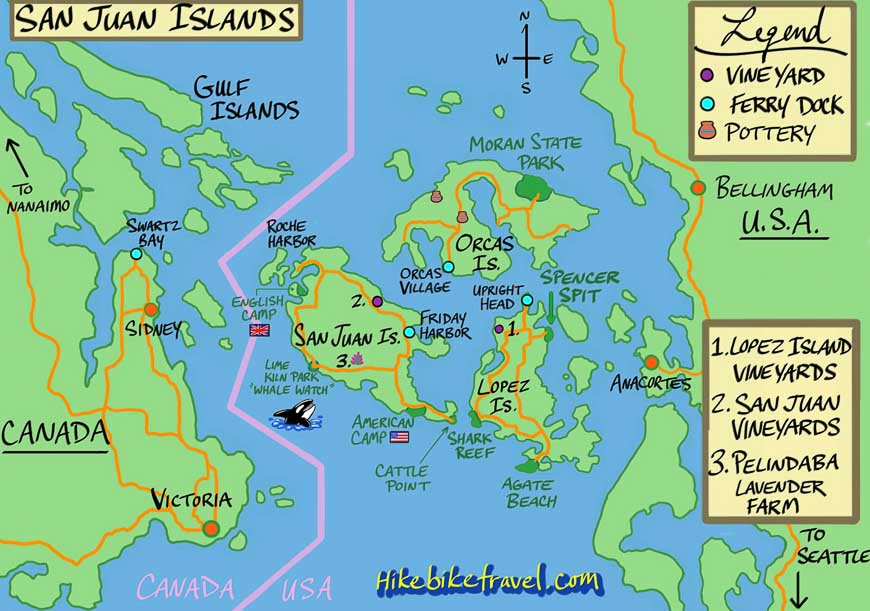 Three San Juan Islands are geared to the visitor – Lopez, Orcas and San Juan Island
The total population of all the islands is just over 16,000 with close to half of the people on San Juan Island. San Juan and Orcas Island are of a similar size while Lopez Island is almost half the land mass.
In the busy season of July and August, call for ferry and hotel reservations to avoid disappointment. The balance of the year is quieter except for holiday long weekends so spontaneous trips are possible.
Things to do in the San Juan Islands
If you're a cyclist take your bike with you on the ferry and explore each island – allowing a day or two per island. Lopez Island is quiet with super friendly locals. Look for big hills on Orcas Islands and a mixture of hills, farmland and coastal riding on San Juan Island.
Orcas Island
Orcas Island is horseshoe shaped with Eastsound Village at the top of the horseshoe being the geographic and social center of the island. Here you can find the greatest variety of accommodation and restaurants. Shops and galleries are also plentiful and from May until September there is a Saturday farmer's market. Count on a ride of nine miles from the ferry to Eastsound Village if you book accommodation there.
Orcas Island is the largest of all the San Juan Islands though there are 2,000 fewer people living on it as compared to San Juan Island. The highest point of all the islands, 2409 foot Mount Constitution is near Moran State Park.
In the eastern section of the horseshoe you can swim in Cascade or Mountain Lake, access trails to climb to the mountain or cycle the 11 miles to the end of the road at Doe Bay. It will be almost another five and a half miles to cycle to the top of Mt. Constitution and nine miles to get you back to Eastsound Village.
The western section of the horseshoe will have you cycling 11 miles from Eastsound to check out the Deer Harbor area. On the way there are two pottery studios worth visiting representing over 90 artists in total. It likely won't be hard to find something you fancy though the transportation of the object of your desire might prove difficult on a bike.
In Deer Harbor you can take advantage of whale watching and wildlife tours or if you've done that already consider joining a guided tour by sea kayak.
Moran State Park on Orcas Island
Visit Moran State Park on Orcas Island and explore its network of hiking trails that lead to lakes and waterfalls. Climb 2,409 foot Mount Constitution, the highest point in the San Juan Islands. The stone observation tower at the summit offers views on a clear day of Mt. Rainier, Mt. Baker, Saturna Island in Canada, and even Vancouver and Victoria, British Columbia.
San Juan Island
The quaint town of Friday Harbor is the gateway by ferry to San Juan Island. The town is filled with old wood frame buildings, art galleries, boutiques and restaurants. Don't miss the Whale Museum!
Island activities are easy to arrange from here. Aside from biking consider a whale or wildlife cruise or perhaps a guided half day or day of sea kayaking. There are bookstores to browse through, espresso shops to linger in and plenty of harbour activity to watch to while away part of a day.
There are about 40 miles of cycling possibilities around the perimeter of the island. You can sample wines at the San Juan Winery, visit historic Roche Harbor, check out the English and American Camp National Historic Parks, visit a working oyster farm or sniff your way to Pelindaba Lavender Farm which is in bloom between July and September.
Hiking, beach walking and picnicking can be enjoyable endeavours. At the southeast tip of the island, you can hike to a lighthouse and look over to Lopez Island. Close by at the American Camp there are 5 miles of beach for walking. Across from the English Camp a climb of Mount Young is a possibility.
Explore Lime Kiln Point State Park on San Juan Island. It's a small 41 acre day-use park set on a rocky bluff at the west end of San Juan Island. From May until September, depending on the salmon run, it is an amazing spot for whale-watching from land, specifically for humpback and minke whales. You can also see the 1919 vintage lighthouse and a 19th century lime kiln.
Beautiful west coast vistas (if it's sunny) greet you on the road to Cattle Point – plus miles of quiet beaches.
Roche Harbor
Have breakfast or grab a coffee at the café at Roche Harbor on San Juan Island. This is a hopping spot with boaters visiting from all over the world.
Lopez Island – the smallest of the San Juan Islands
Lopez Island is a small, friendly place with a strong pastoral feel. It is a terrific place to cycle as roads are quiet and the hills are small. There are several parks around the perimeter of the island that are perfect for a picnic and exploration on a sunny day. Our favorite was the Shark Reef Park on the west side of the island, a place where you could watch the seals, the seabirds and the fast moving water.
There are excellent restaurant choices, several small cafes selling espresso drinks, daily summer wine tastings at the local winery, sea kayaking and shopping opportunities. The island is well worth visiting for a night for two.
For cyclists
If you're interested in visiting then take advantage of my offer of a free downloadable guide for biking the San Juan Islands. Although it was written some years ago there is still loads of useful information on where to eat, a list of companies offering kayak, biking and whale watching trips. I loved my trip to the San Juan Islands but my three days wasn't enough. Go for a week so you have plenty of time to relax.
Getting to the San Juan Islands
Anacortes is the main gateway to the San Juan Islands. If you are driving to Anacortes to board a ferry for one of the San Juan Islands in the summer months then it is advisable to have a ferry reservation or you can be sitting in lines for hours. Even as a foot passenger with a bike it is advisable to be there 20 minutes ahead of time so you can be loaded first. Check the ferry schedule ahead of time online by visiting Washington State ferries or phone 1- 206-464-6400.
There are multiple daily runs from Anacortes in addition to ferry service from late March until late September from Sidney, British Columbia, Canada. Once you've paid to leave Anacortes all the rest of the ferry rides between the islands are free. Yes free.
To find the Anacortes ferry terminal take I-5 to exit 230 and follow the signs for the commercial district of Anacortes. From there follow the ferry signs to the terminal. The distance from I-5 to the ferry terminal is just over 18 miles . There is long term pay parking available (with cash or a credit card) for very reasonable rates.
Accommodation in the San Juan Islands
On Lopez Island I'd recommend the Edenwild Boutique Inn. For a beachfront property check out 20 Peninsula House.
On San Juan Island I highly recommend Friday Harbour House next door to the Whale Museum. The Bird Rock Hotel would be another great choice.
On Orcas Island try the Landmark Orcas Island or Otter's Pond Bed & Breakfast set on a protected nature reserve.
Further reading on things to do in the western US
Click on the photo to bookmark to your Pinterest boards.