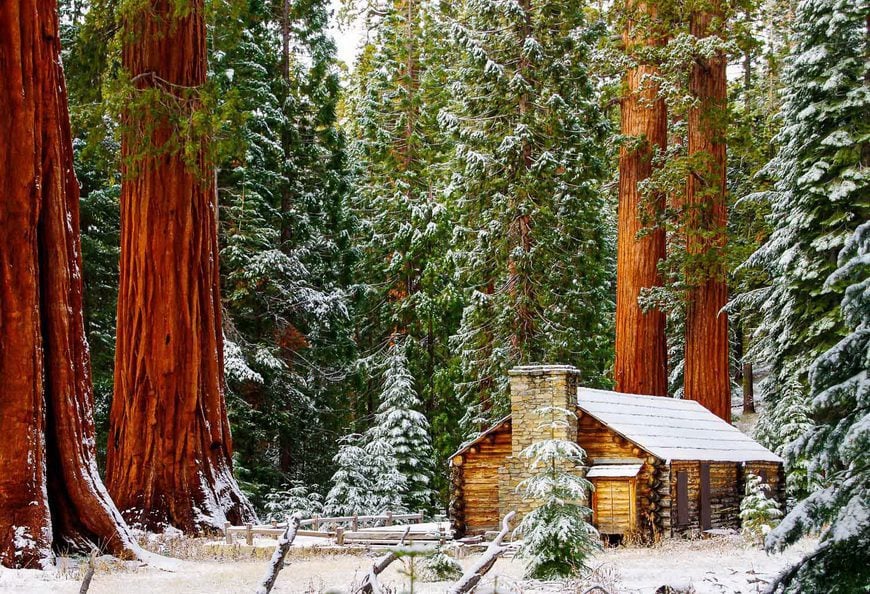 Sequoia Trees in Yosemite – A Magical Experience
A trip to see the giant sequoias in Yosemite National Park is bucket list worthy. While I have seen some big trees in my time – Cathedral Grove on the way to Tofino on Vancouver Island, Muir Woods near San Francisco and true virgin forest in northwestern Ontario where few people have ever trod, the giant sequoias in Yosemite are nothing short of mind-blowing.
Spend a few hours wandering through Mariposa Grove and you'll feel like you've entered a magic kingdom – and it's not the Disney version. I've never seen a place quite like it.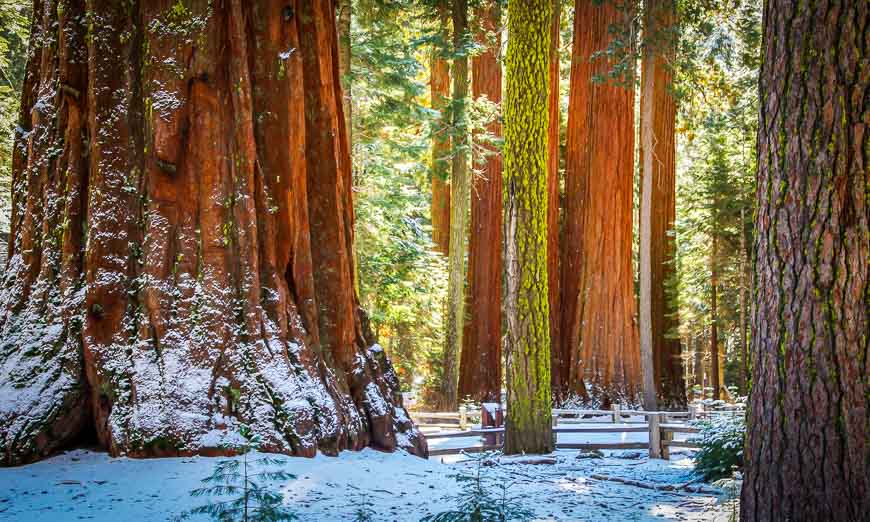 Giant sequoias in Yosemite – Mariposa Grove
The giant sequoias are the star of the Mariposa Grove in Yosemite National Park. You'll find about 500 of them in the grove – their presence a testament to their ability to survive.
On average, mature sequoias have endured 100 wildfires in their lifetime. They are very resistant to disease and insects too.
There are two other areas in the park that also have giant sequoias – Tuolumne and Merced groves located off California Highway 120 near Wawona though they have nowhere near the numbers of trees in Mariposa Grove.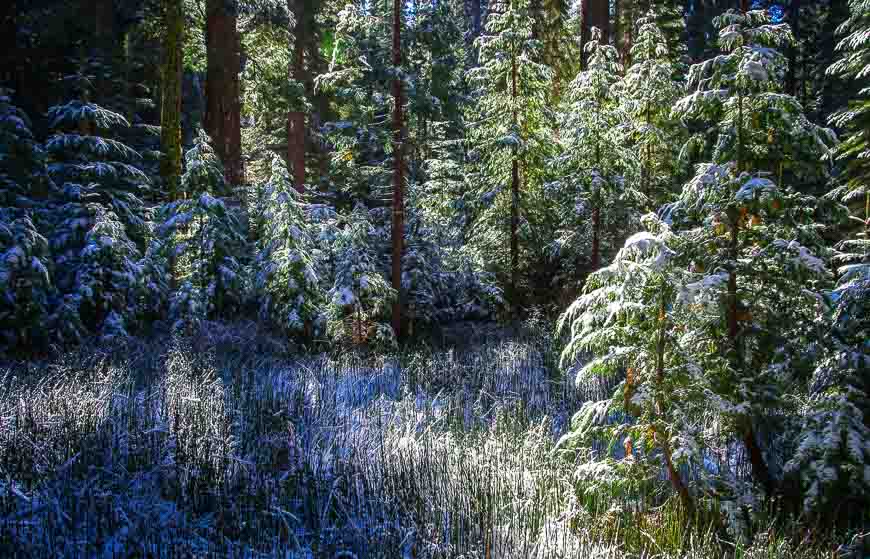 Interesting facts about the giant sequoia trees in Yosemite
Giant sequoia trees are the fastest growing trees in the world. They ONLY grow naturally in the Sierra Nevada mountain range of California.
Giant sequoias grow at elevations of around 6,500 feet
Some giant sequoias have survived upwards of 2,000 years.
The bark can be as much as four feet thick.
Coast redwood trees are taller but giant sequoias are bulkier and are the widest of all trees.
Giant sequoias need the dry heat of the mountains for the cones to open – and release their seeds. They reproduce by seed only.
It takes 20 years for a giant sequoia to mature and produce cones.
The largest tree in the world is a giant sequoia that goes by the name of General Sherman. At 275 feet tall, it weighs 2.7 million pounds.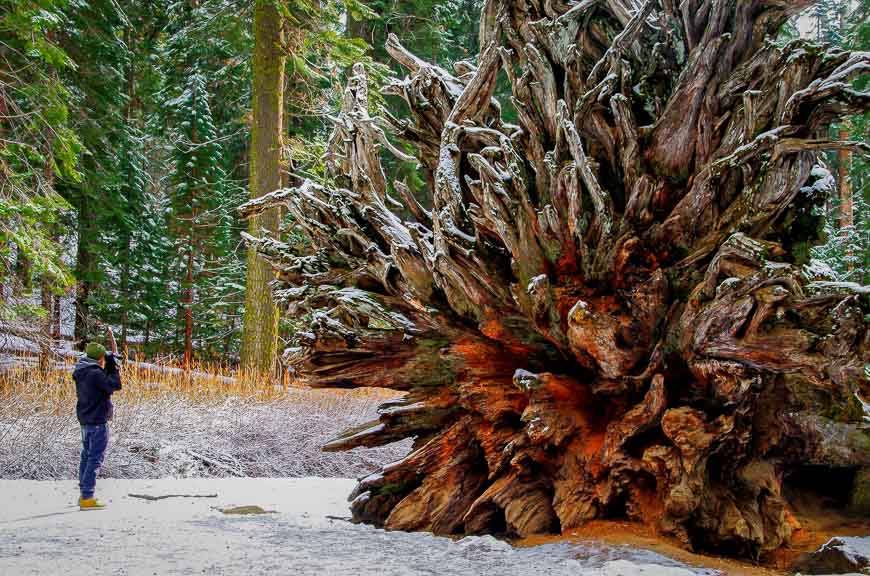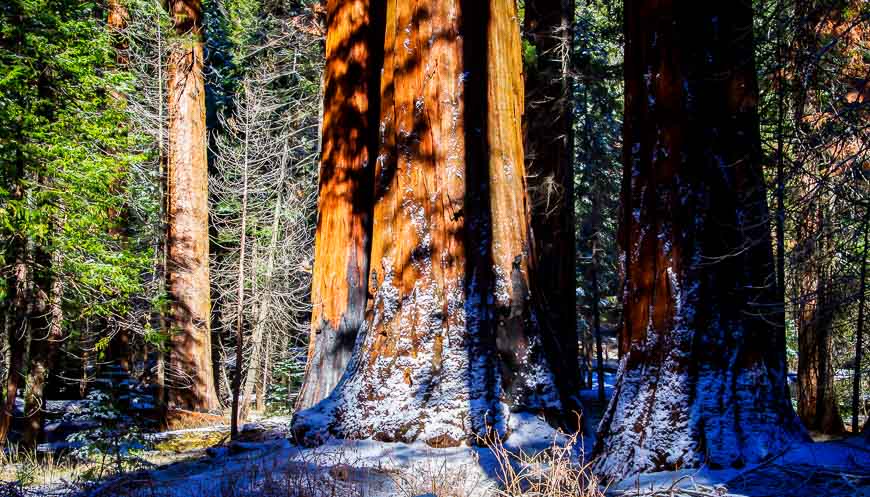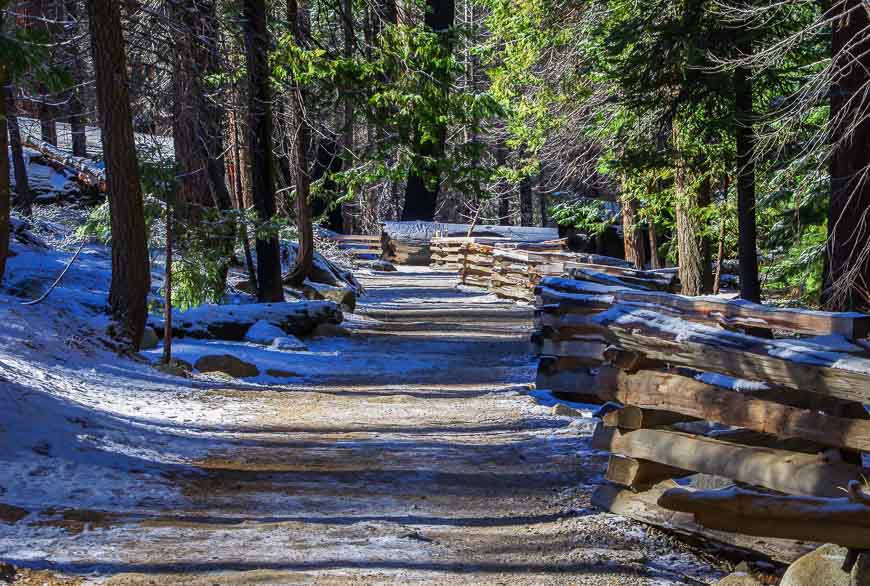 There are some very famous sequoia trees in Yosemite National Park
The California Tunnel Tree was cut in 1895 to allow stagecoaches to drive through it. It is still alive.
The Grizzly Giant is one of the biggest trees in the park with limbs that boast a seven foot circumference. It is considered to be the 25th largest tree in the world standing 210 feet tall with a circumference at the base of 92 feet.
The Columbia Tree, a 285 foot tree located near the museum, is the tallest in the park.
It's possible to walk inside the still living Telescope Tree and look up to the sky through the tree's trunk.
The Wawona Tunnel Tree is no longer standing but until 1968 it was considered to be the most photographed tree in the world. Unfortunately it fell over with a heavy snowfall.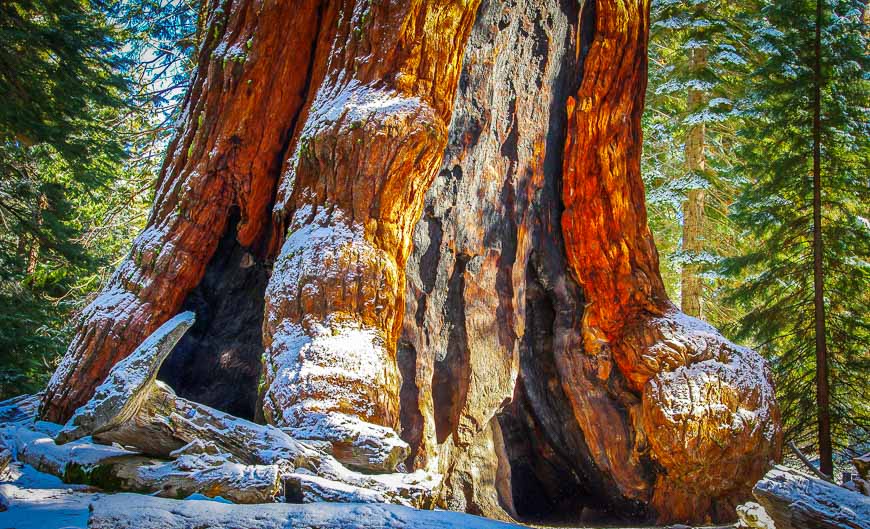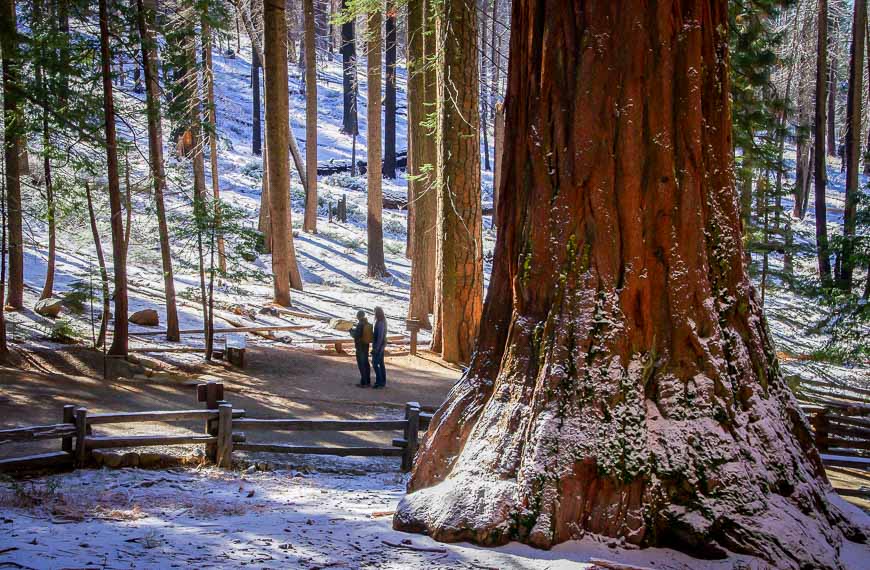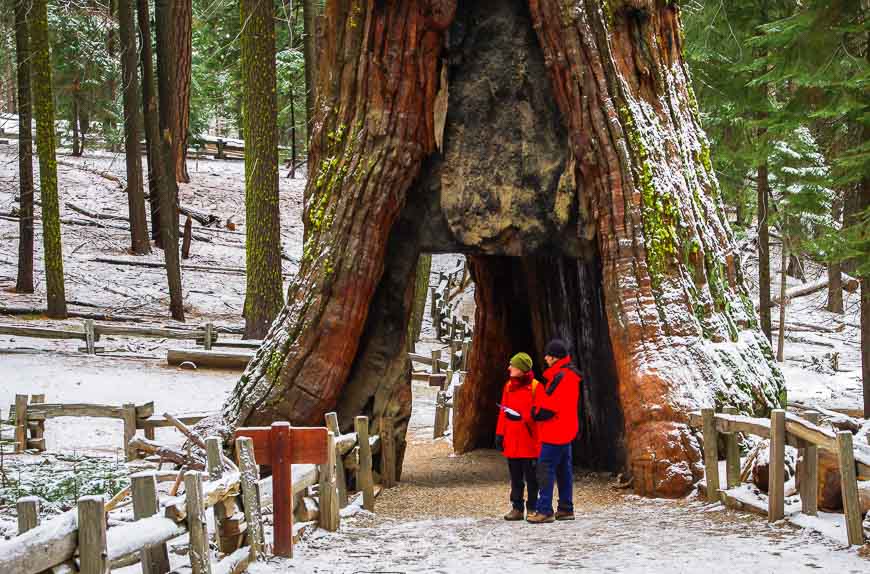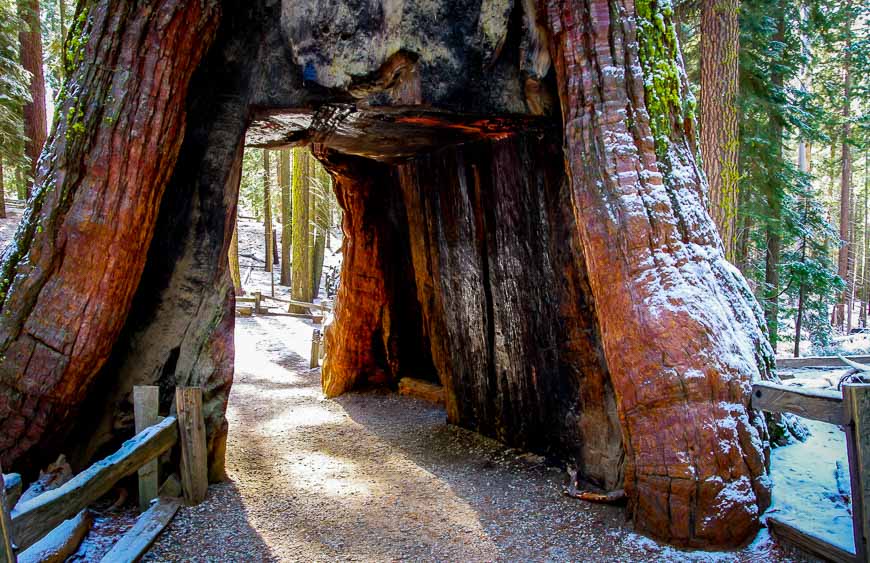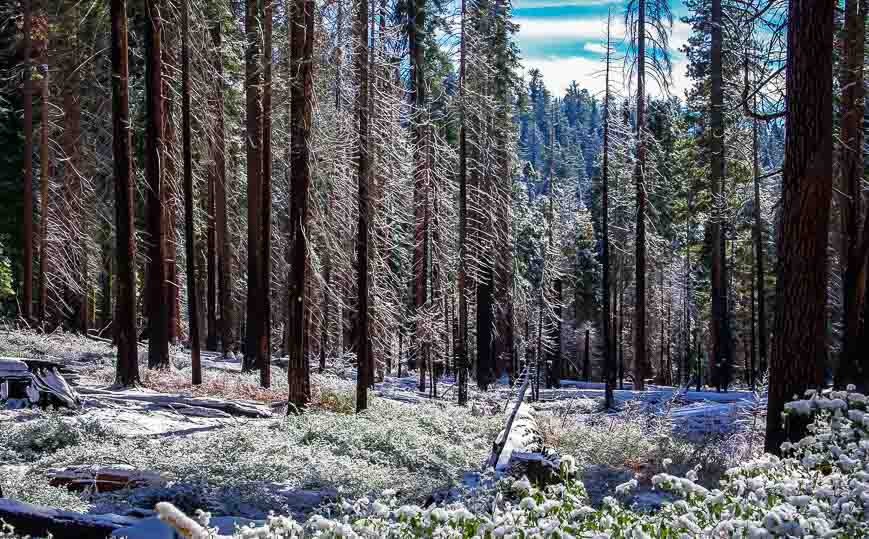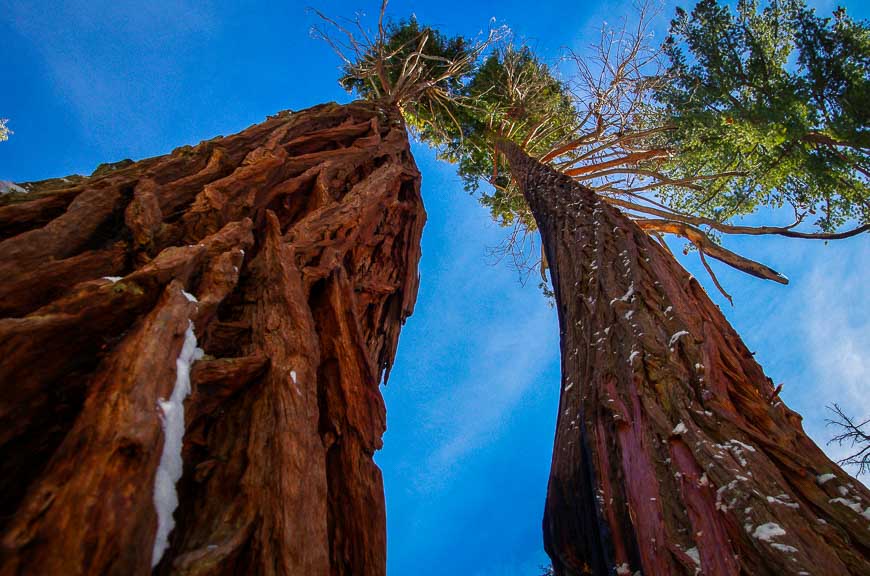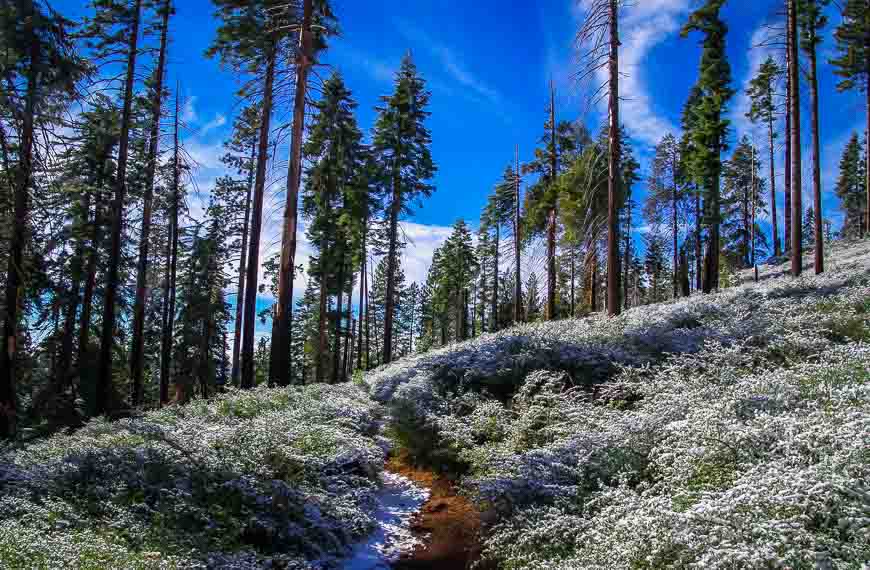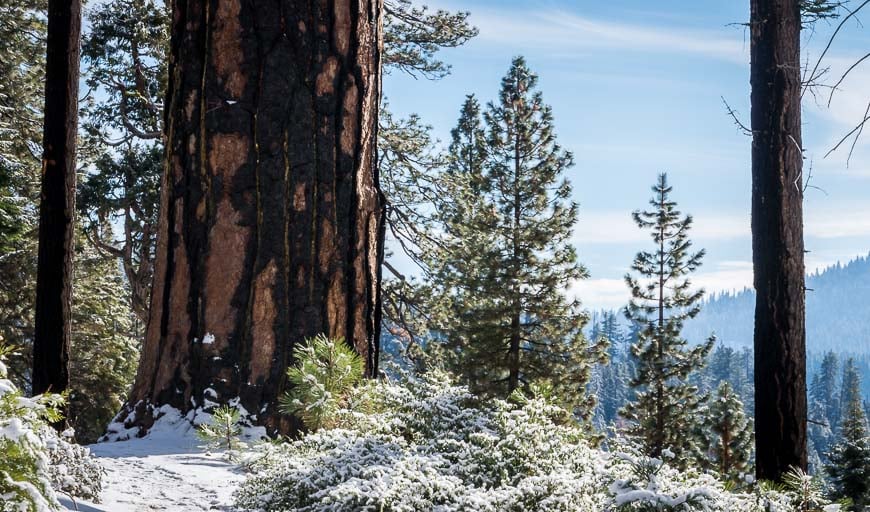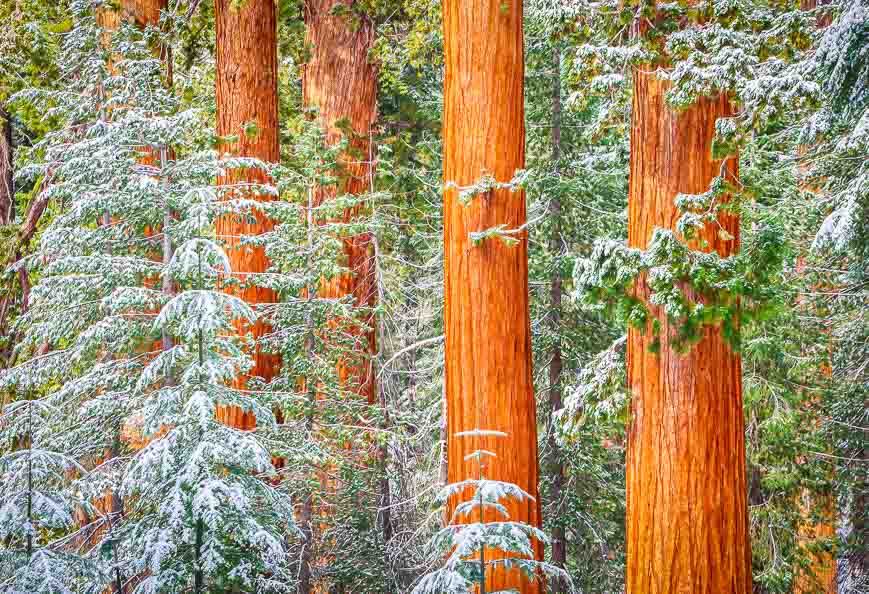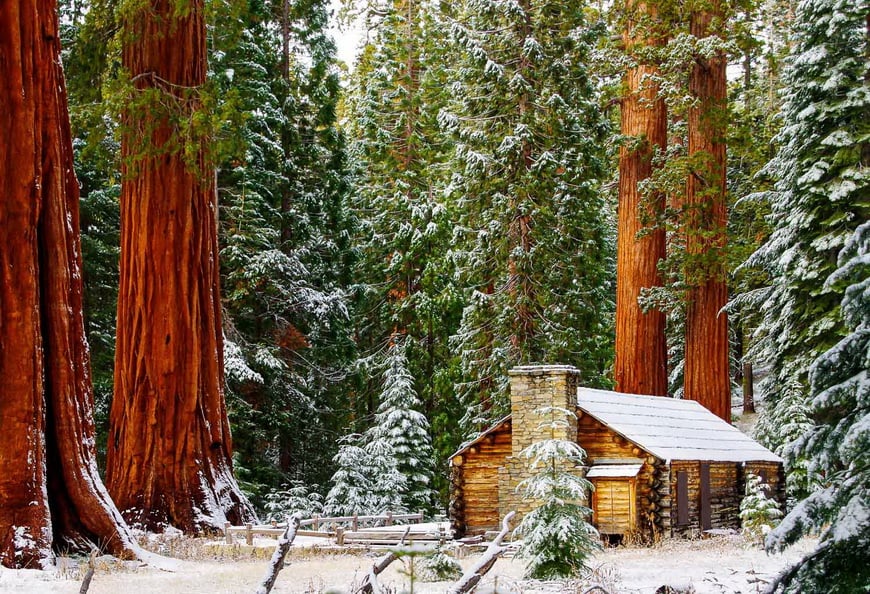 Useful Mariposa Grove information
Allow at least two hours for a visit.
There is an entrance fee of $35 per car and the pass is good for a week.
In winter the road to Mariposa Grove is closed. You can ski or snowshoe into the Grove and then up on the trails to see the trees.
The museum is closed in the off season.
There are a couple of nearby towns to stay in including Oakhurst and Mariposa. Mariposa is also a good town to position yourself for entrance to the Yosemite Valley.
More ideas here for what to do in Yosemite in winter.
Hiking in Yosemite
I did my trip to Mariposa Grove in early December but Yosemite National Park is one where you'll want to come back in summer to take advantage of all the incredible hiking. Check out this great post to get the lowdown on day hikes (without the crowds) and activities in Yosemite along with some ideas of where to stay, including cabins, glamping tents, RV parks and grand historic hotels.
Further reading on things to do in California
Click on the photo to bookmark to your Pinterest boards.