Hiking in Palm Springs and in the nearby area is fabulous – no matter what the season. It's actually possible to find hikes at cooler elevations in the summer. There is an unbelievable amount of choice through a whole range of eco-systems.
Here are three hiking trails in Palm Springs I have tested along with 11 other suggestions by Phillip Ferranti – author of a guidebook on hiking in Palm Springs.
If you visit Palm Springs in fall or winter
Palm Springs in late fall and winter is a welcoming spot. You walk off the airline into an open air terminal with sunshine pouring in. Chances are you'll immediately start stripping since if you live in Canada or the northern US, you haven't felt such intense sun for many months. And you're likely dressed in black. Keep your sunglasses handy. You'll need them immediately.
Updated January 2022. This post includes some affiliate links. If you make a purchase via one of these links, I may receive a small commission at no extra cost to you.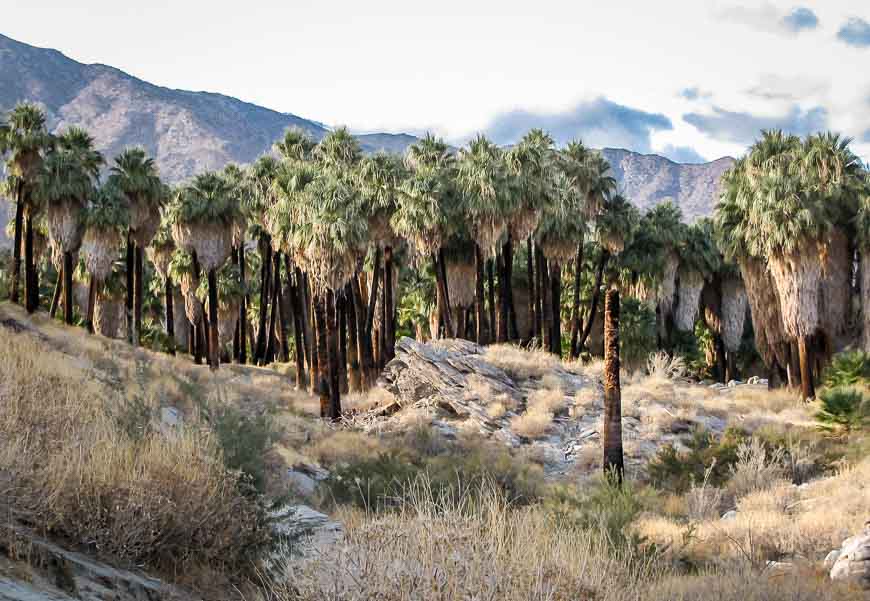 Lots of choice when it comes to hiking in Palm Springs
There are 140 hikes within a 70 mile radius of Palm Springs. These hikes range from 1 mile to 22 mile outings and in fact the hike with the biggest one day vertical in the United States is probably here.
It's "The Cactus to Clouds" hike with an elevation gain of 10,400′ over 22 miles. Try to include a visit to Joshua Tree National Park. It's here that you can admire other worldly boulder formations and high mountain desert plants….and it's just over an hour's drive away.
Here are three must do hikes in the Palm Springs area
1. The Mirage Trail aka The Bump and Grind
The Bump and Grind trail is easily accessed above Rancho Mirage. It's not the prettiest hike but you'll get a good cardio workout in less than two hours and you get a great view of the Coachella Valley from the top.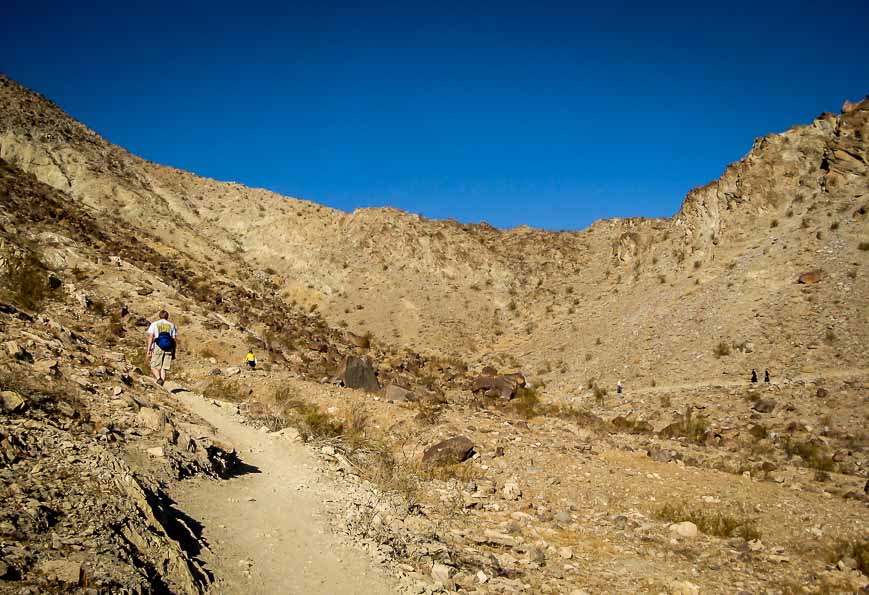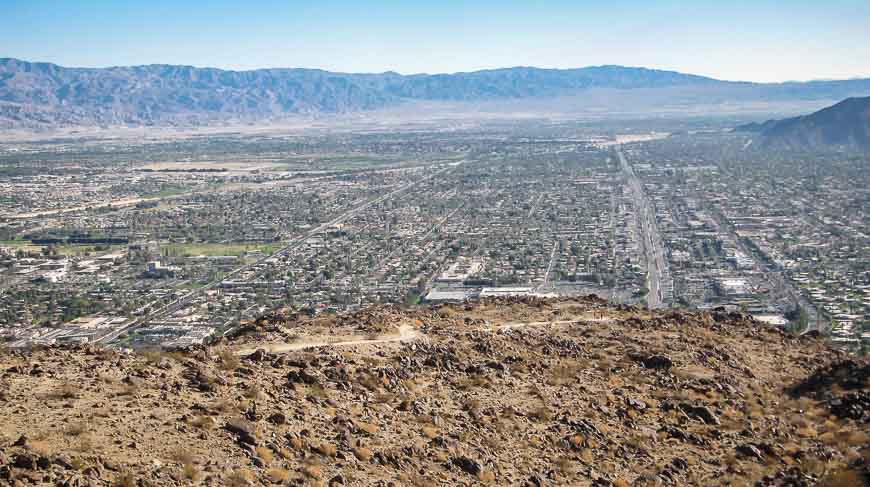 2. A circle loop in the Indian Canyons
The Indian Canyons nature preserve, on the outskirts of Palm Springs is a superb place to hike. In total there are more than 60 miles of hiking trails. There are also ranger led interpretive hikes from Friday through to Sunday.
If you can arrange a car shuttle then consider starting at the trading post and follow the West Fork Trail to the West Fork North Trail to the Murray Canyon Trail to the Andreas Canyon Trail.
Pick up your car in the Andreas and Murray Canyon parking lot. These trails are well marked, very scenic and cover about 9 miles. You will have to pay to do any hiking in the Indian Canyons ($12 per adult, $7 per senior over 62 in 2022 ) and season passes are available.
You can also join a ranger led interpretative hike. Call 760- 323-6018 for the schedule. Any and all hikes in the Indian Canyons area are scenic.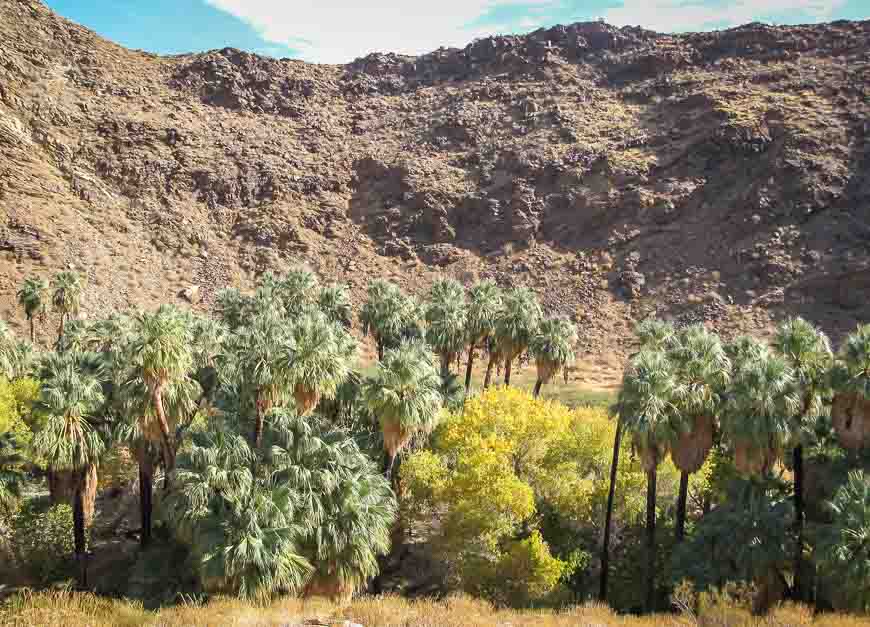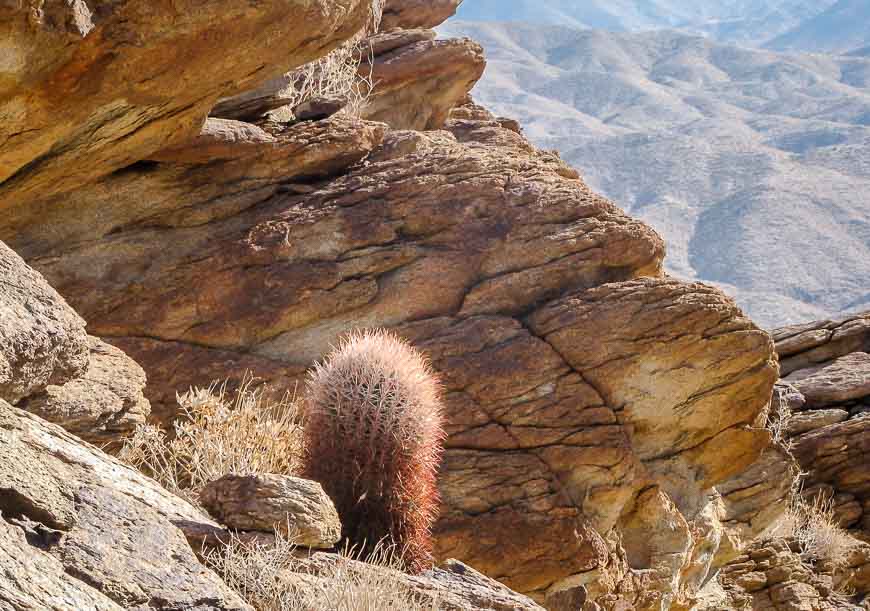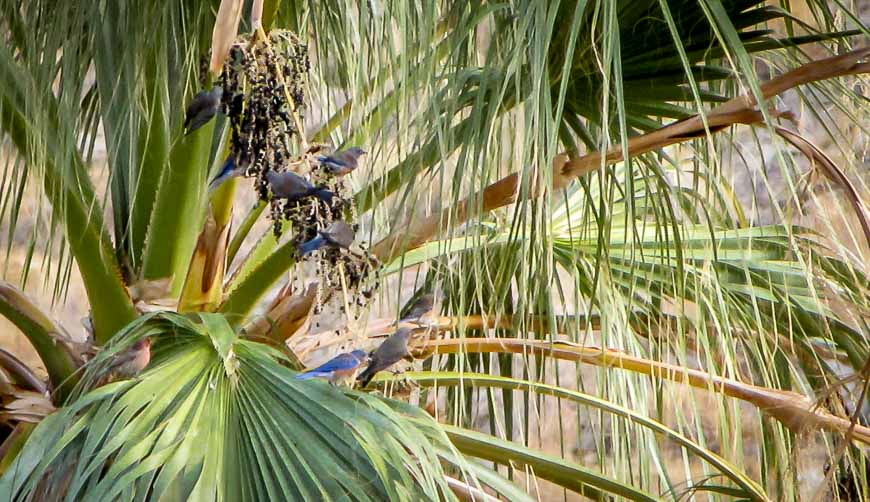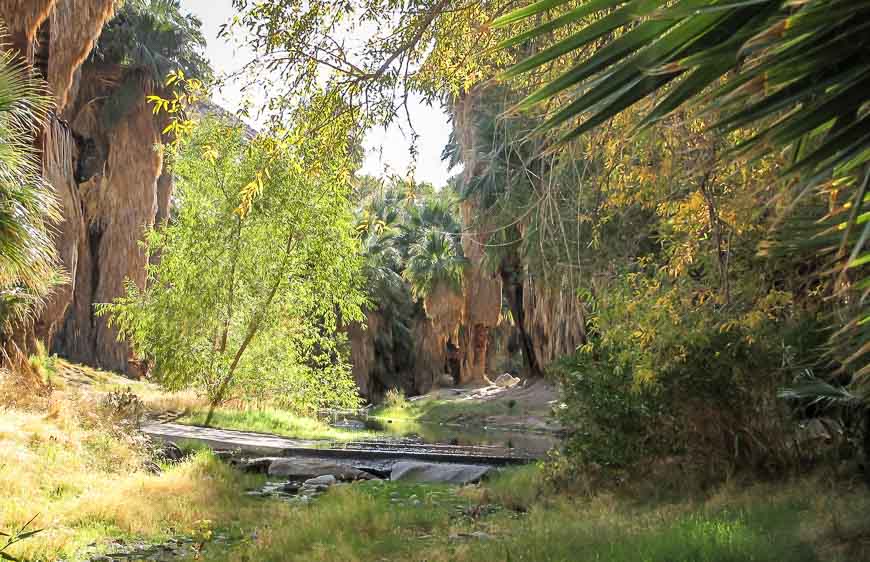 3. Little Utah Canyon in the Mecca Hills area
This is an easy two hour hike which offers views of the Salton Sea and the colourful canyons. It is so dry through here and shade is in short supply so go very prepared with lots of water, a sunhat and sunscreen. Avoid the heat of the day.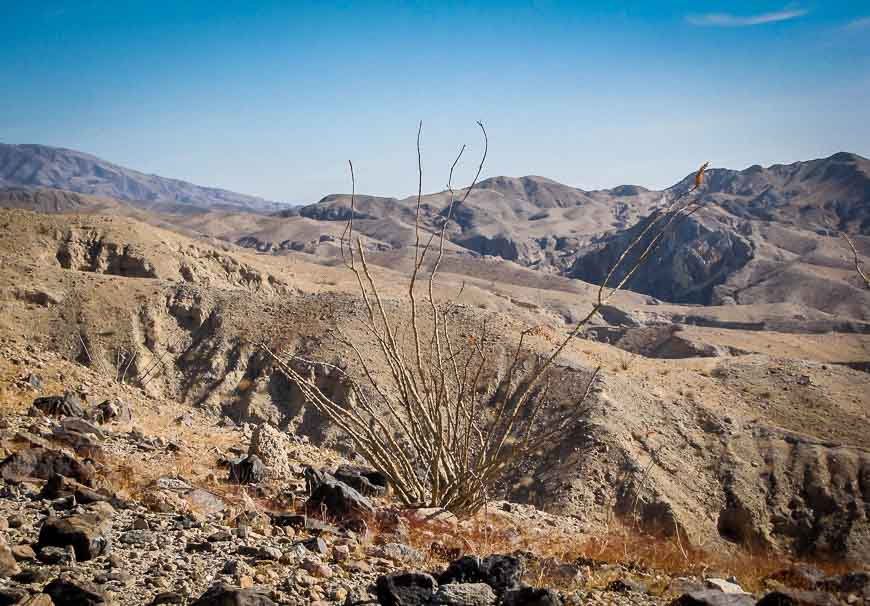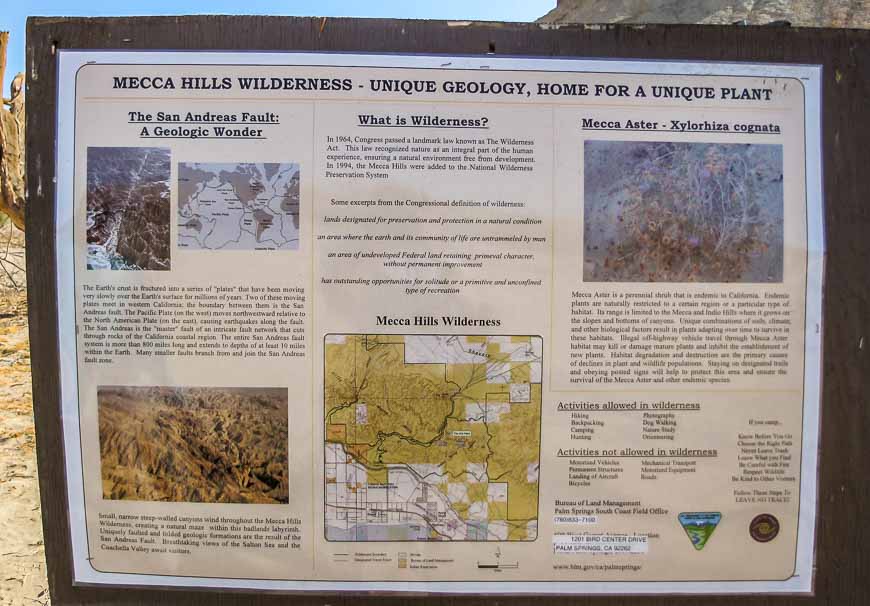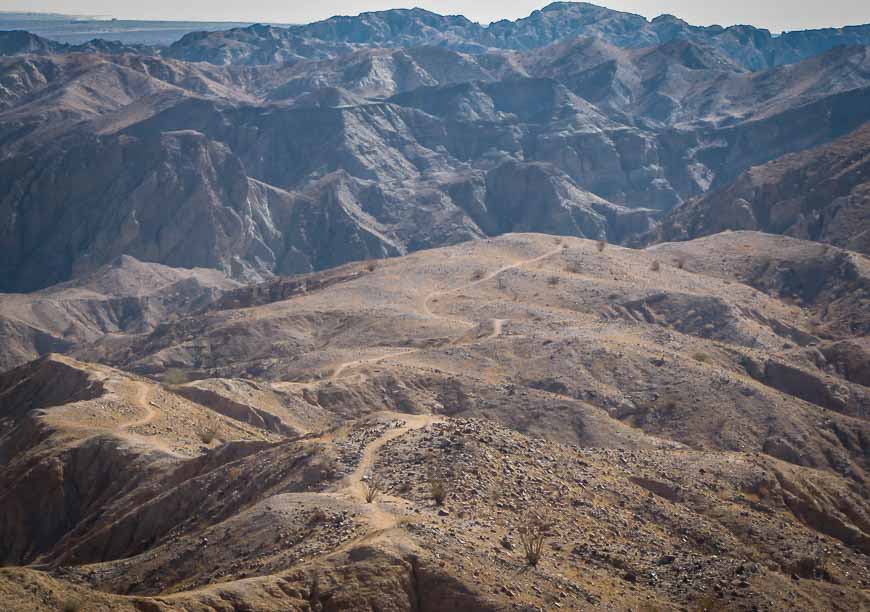 11 more suggestions for hikes in the Palm Springs area
From online research and a chat with Phillip Ferranti, the author of one of the local hiking in Palm Springs guidebooks, the following hikes also come highly recommended.
Shop: Buy Phillip's incredibly useful guidebook – 140 Hikes in and Near Palm Springs here if you plan to do any amount of hiking in the Palm Springs area.
Araby Trail – Also known as "The Trail to the Stars" since it climbs above Bob Hope and the late Steve McQueen's houses. Climb 800 feet over a six mile roundtrip hike. Close to Palm Springs.
Art Smith Trail – This is a full day hike that takes you up 1200 feet over 16 miles. There are plenty of palm oases along the route for shady breaks. Access is via Highway 74 out of Palm Desert.
Bear Creek Urban Trail – The hike takes you along the western edge of La Quinta and offers great views, especially at sunrise and before sunset on the way to an oasis. It's about 6 miles round-trip.
Big Split Rock Slot Canyon Walkabout – This is an easy 6 mile Mecca Hills hike with lots of slot canyons to explore.
Cactus to Clouds hike – This probably gives you the biggest elevation gain in one day in the entire continental US. Hike 22 miles over 10,400 feet of vertical and then take the tram down. Access the start of the hike from Palm Springs.
Clara Burgess Trail – This takes you to the top of Murray Hill. You'll get great views and a strenuous workout as you climb 1400 feet. Close to Palm Springs.
Lost Canyon via the Boo Hoff Trail – Enjoy diverse terrain and amazing views on this strenuous 8 mile, 1500 foot hike in the foothills of the Santa Rosa Mountains, accessed by driving several miles south of Indio.
South Lykken Trail – The South Lykken Trail is a favourite of many Palm Spring locals. The trail traverses the San Jacinto Mountains above Palm Springs. Hike 9 miles one way with a moderate elevation gain of 800 feet.
Palm Canyon Pines to Palms Trail – Phillip Ferranti calls this a 5 star hike. Lose 3200 feet of elevation over 16 miles as you hike through a number of ecosystems. Access this one off of Highway 74, 18 miles from Palm Desert.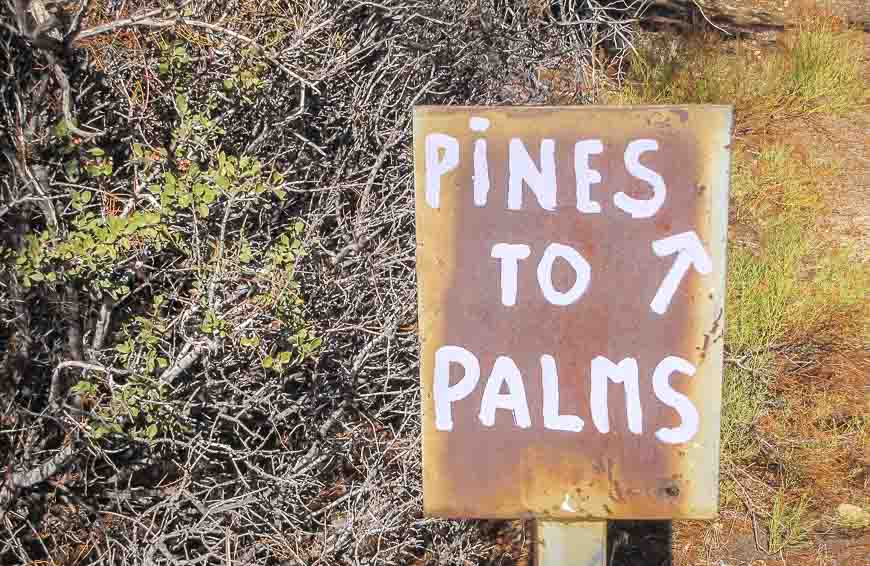 Spitler Peak Trail – Hike 10 miles and climb over 2000 feet to reach the summit. It can be done year round. Access the trailhead in the hills close to Idyllwild.
Zen Center to Red Tahquitz Overlook – Try this 12 mile hike on a very scenic section of the Pacific Coast Trail. It's about 37 miles from Palm Desert, high in the hills off of Highway 74.
Safety precautions hiking on Palm Springs area trails
The backcountry trails of the Coachella Valley are often not signed and tend to be on the remote side. Take more precautions than you would on your average well trampled National Park trail.
Don't hike alone and do communicate with someone to let them know your planned destination and your expected time of return.
Take plenty of water. Plan on consuming one litre of water per hour and when you've finished half of your water turn around.
Carry a map and a compass or GPS (but know how to use them too). Pay attention to the trails. This is particularly important in some of the canyon country where it is easy to get confused with the side canyons.
Carry sun protection – lip balm, sunscreen and sunglasses. Also carry an extra layer of clothing for when the sun goes down.
Beware of rattlesnakes. To avoid a bite be vigilant looking for them and stay on marked trails. Wear high top boots, long pants and carry a walking stick. Make noise.
Most of all enjoy the sunshine and the truly lovely hiking that few people take advantage of when they visit Palm Springs.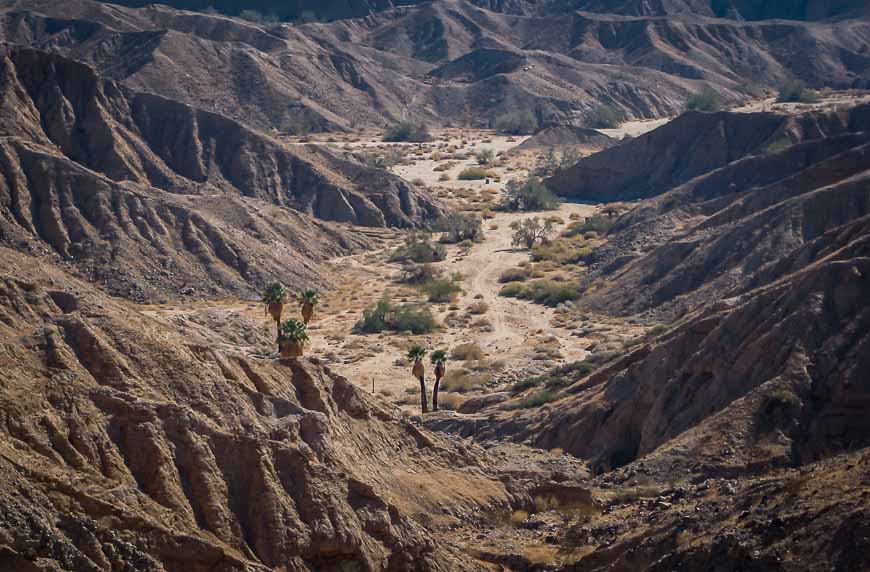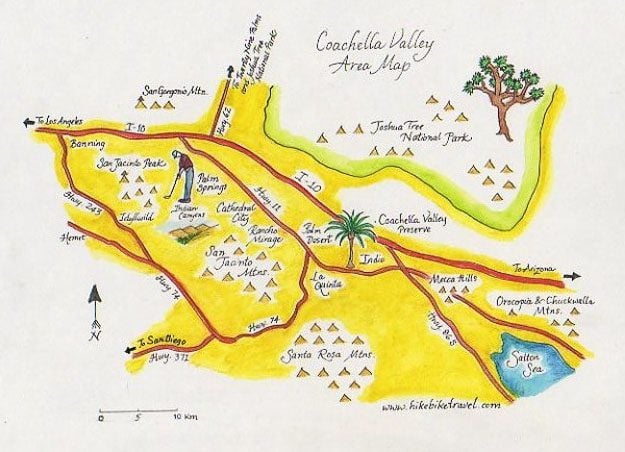 Location map of the hikes in the Palm Springs area
Further reading about hiking in the United States
Click on the photo to bookmark to your Pinterest boards.