Navajo Knobs Hike in Capitol Reef National Park
For a moderate three to five hour outing in Capitol Reef National Park you would do well to choose the Navajo Knobs hike. Over the 9 miles round-trip, you gain and lose 1,500 feet.
In the book Hiking from Here to WOW by Kathy and Craig Copeland, they suggest that the Navajo knobs hike is one of the two must do hikes in Capitol Reef National Park.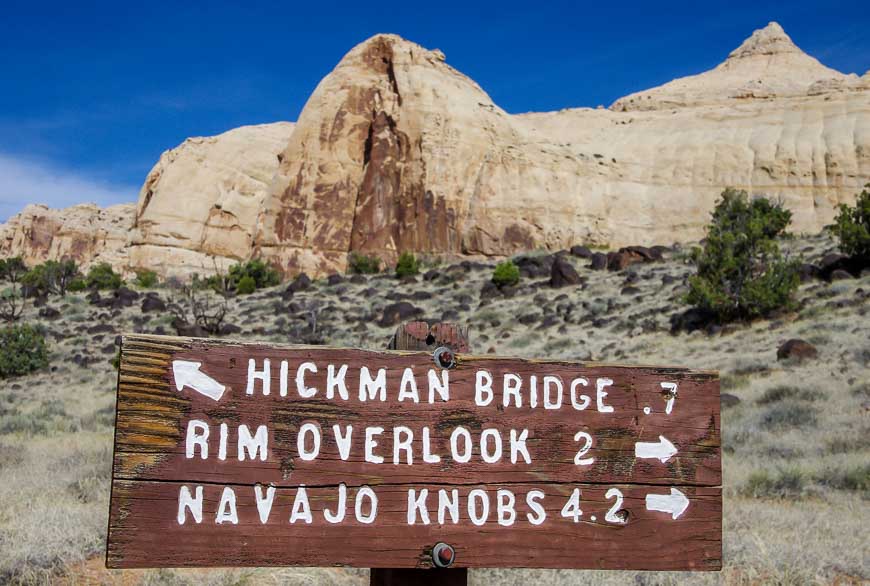 Navajo Knobs hike details
The hike starts by the Fremont River. It follows the same trail as the hike to Hickman Bridge for the first 0.3 miles. Don't be put off by the crowds.
There's also a warning sign that might scare some people. It says something to the effect – No stopping. Beware of falling rocks. It's a short section and the bottom line is – don't linger!
After you pass the trail intersection to Hickman Bridge the crowds thin – and become close to non-existent, even in high season.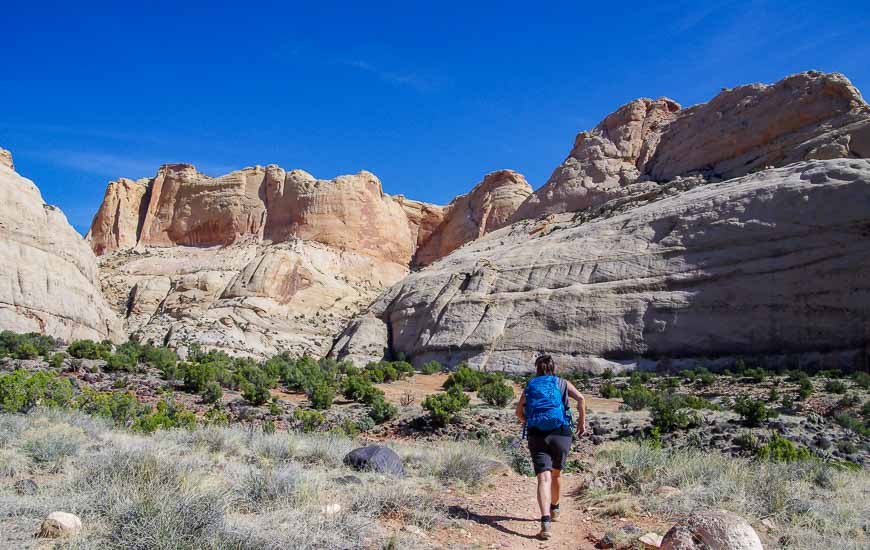 About a mile up the trail you get a fabulous view of Hickman Bridge from above. People look puny in this landscape.
The grade of the trail is never steep. In fact most of it is a gentle slope with some of it on lovely slabs of sandstone – the closest thing to a natural ramp that I've hiked. Views are superlative, every step of the way.
Great views of the Waterpocket Fold
This trail provides one of the best views of the Waterpocket Fold, a defining feature of Capitol Reef National Park. But you really need to go the top to get the full view.
The last five minutes of the hike is a little airy and requires a very minor amount of boulder scrambling. Our friend Ted who loathes heights, did it and was happy he'd made the effort, though I think he was even happier to be down.
Go prepared for hot, dry conditions
There isn't much in the way of shade on the Navajo Knobs hike and the only water you'll find is at the river at the start of the trail. Be sure to carry several litres of water – more on hot days and don't forget the sun hat and sunscreen either.
Of the four hikes we did in Capitol Reef, the Navajo Knobs hike was definitely my favourite.
For more information about Capitol Reef National Park visit their website.
Further reading on hiking in Utah
Click on the photo to bookmark to your Pinterest boards.