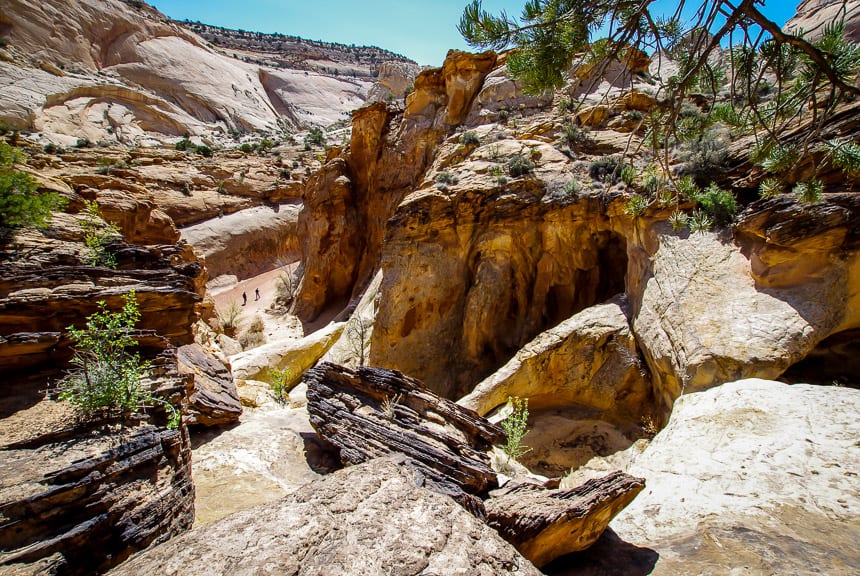 Capitol Gorge Hike in Capitol Reef National Park
The Capitol Gorge hike in Capitol Reef National Park is a popular one. You can knock it off in an hour if you really want to, ideally late in the afternoon when the light is at its best and the area glows golden. It's just a two mile round trip hike to the Tanks with an elevation gain and loss of 80 feet.
Interestingly the Capitol Gorge route was the main one through the park until 1964 when Highway 64 was constructed. The Capitol Gorge takes visitors past Petroglyph panels, a pioneer register, and the famous water tanks. Another name for the water tanks is potholes or waterpockets.
Updated January 2020
The route to the Capitol Gorge
The hike starts off following a wash – with canyon walls rising steeply at times. They provide some shade in the heat of the day and are very welcome. At the 0.6 mile mark you reach a pioneer registry with a heap of names carved in the rock in the 1800's and early 1900's.
Shortly after passing the Pioneer Registry look for signage to the Tanks pointing to the left (north) and then continue up a rocky, steep trail for just 0.2 miles. Unless the "tanks" are full of water they are a tad underwhelming but there's nothing underwhelming about the landscape.
For better views and some fun playing on the rocks continue up past the Tanks until you've had enough. Retrace your steps. I think the Capitol Gorge – Tanks hike offers a lot of visual interest considering its length.
Options from the Capitol Gorge
At the canyon's east end, surefooted hikers can continue up to the Golden Throne via a steep trail with switchbacks. That gets you near the top of the Waterpocket Fold. That adds another four miles return along with 730 feet of elevation gain. Only consider it if you've come prepared with lots of water, food and sun protection.
Here's a look at the visual treat that's in store for you on the hike.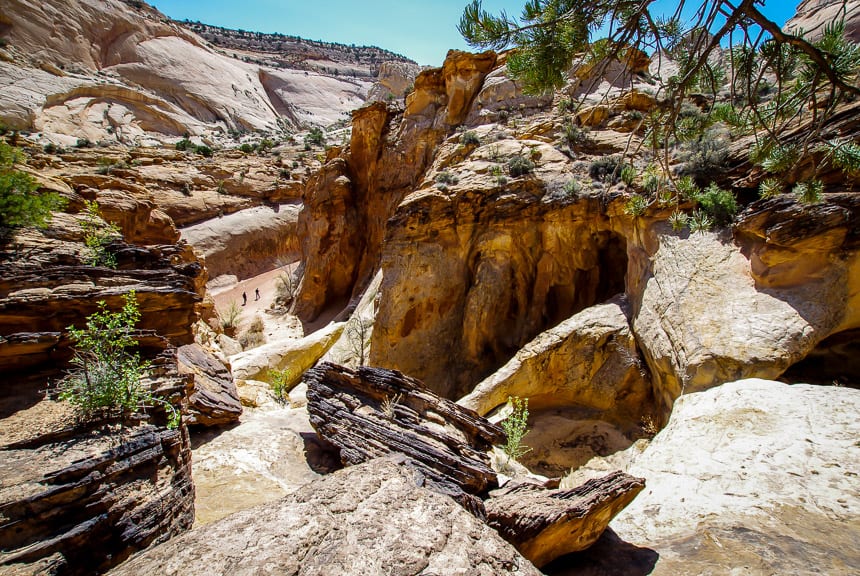 Finding the trailhead
To get to the Capitol Gorge Trailhead (which is also used to access the Golden Throne Trail) drive 4.5 miles south along Scenic Drive from the Capitol Reef Visitor Centre until it turns into dirt covered Capitol Gorge Road. Continue another 2.4 miles to a parking lot. The drive itself is spectacular.
Further reading on hiking in Utah
Click on the photo to bookmark to your Pinterest boards.