On our trip one year to Utah in late March (a perfect time of the year to visit), we took one day and drove south from Moab to the Needles District of Canyonlands National Park. The area is far less busy than the Island in the Sky part of Canyonlands, yet it's equally beautiful.
The Needles, named for colourful pinnacles of Cedar Mesa Sandstone, sit in the southeast corner of Canyonlands. With over 60 miles of hiking trails – covering all levels of difficulty, you'll easily find plenty to do in a day in Needles District Canyonlands. Once again, I wish we'd had more time.
Apart from a stop at the Newspaper Rock Archaeological Site outside the park, we spent the day hiking the Slickrock Trail, and doing three other short hikes.
Newspaper Rock State Historic Monument
If you're heading for the Needles District in Canyonlands be sure to stop at Newspaper Rock. It's 12 miles in from Highway 191 on Highway 211.
The rock, made of Wingate sandstone, is literally covered with hundreds of well-preserved petroglyphs, the first carvings of which were made about 2,000 years ago. Look for pictures of deer, buffalo and pronghorn antelope along with symbols and human figures.
Needles District Canyonlands – How to get here
Most people will be visiting from the Moab area, the nearest town of any size. Drive south out of Moab on US Highway 191 and continue for 40 miles to reach the intersection with Highway 211. Go west and follow it for 34.4 miles to reach the Visitor Centre. Allow 90 minutes one way for the drive.
Hiking in the Needles District Canyonlands
There are four short but scenic hiking trails that can be accessed along the paved scenic drive. We did all of them with pictures following the description below. We missed the 8 strenuous trails – with most requiring 4 -7 hours of hiking – or an overnight backpacking trip.
The 0.6 mile Cave Spring Trail takes you to a historic cowboy camp with prehistoric rock paintings. Climb a couple of ladders as part of the hike and enjoy great views.
Follow cairns to complete the 0.6 mile Pothole Point Trail. Enjoy interesting slickrock and views of the Needles.
The Roadside Ruin Trail is only 0.3 miles long and can be done in 10-15 minutes. This is where you'll see the food storage structure built by Indigenous peoples.
Our favourite trail was the 2.4 mile Slickrock Trail that offered superb views for its entire length as you'll see in the photos.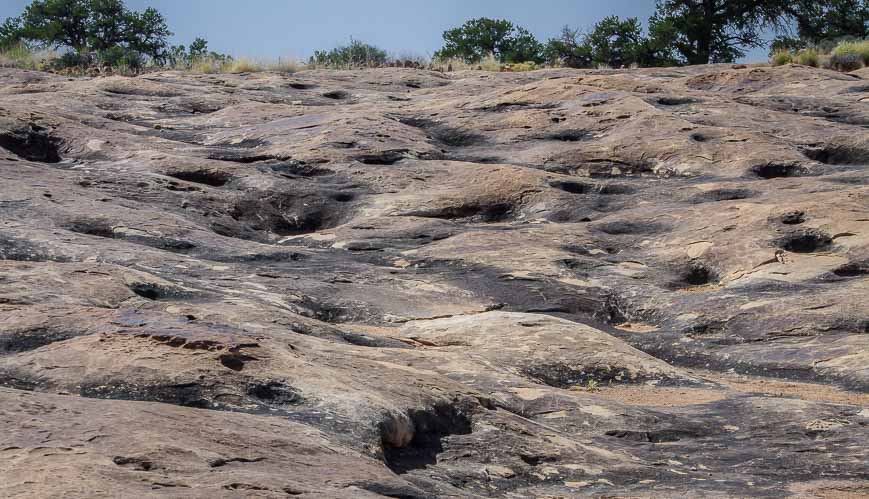 Camping in the Needles area
You'll find 26 individual campsites in the Needles Campground in addition to three group camping locations. The nightly fee in 2020 is $US20 per site. In spring and fall you can reserve individual sites, while the rest of the year it's first come, first served. It's busy in spring and fall (really the best time to visit) so plan ahead.
You'll find a fire ring, a picnic table and toilets,
For more information visit the Canyonlands National Park website.
More reading related to what you can do in Utah's national parks
Click on the photo to bookmark to your Pinterest boards.