Who's in for a sunrise visit to Dead Horse Point State Park? Three sets of hands fly up. That is until the night before. Upon reflection my husband and friend Jo, don't think it's such a great idea after all. They don't like the prospect of leaving a warm bed and driving 45 minutes from Moab at 6 AM. That's okay. Ted, my other friend is game so the two of us meet with a coffee in hand and head off.
It's almost pitch black as we drive north along Highway 191 to Dead Horse State Park. We make one wrong turn looking for Highway 313 but in no time we're back on track. By 6:30 AM there's a little light in the sky, enough that we can pick out the shape of a deer. We're both on high alert in case one bolts at the side of the road.
By 7 AM we're at Dead Horse Point State Park filling out the form and paying the $10 entrance fee. The drive through the park is pure magic at this time of day – open range and then finally glimpses of the canyon, 2000 feet below.
This post includes some affiliate links. If you make a qualifying purchase through one of these links, I will receive a small percentage of the sale at no extra cost to you. Thank you very much for your support.
Sunrise at Dead Horse Point State Park
We're certainly not alone when we pull up in the parking lot at Dead Horse Point. About a dozen photographers have claimed spots along the edge of the canyon – not that there isn't plenty of room for us.
Before the sun comes up, it's chilly so we wander back and forth along the edge trying to stay warm. But with the first touch of the sun ray's, we're peeling off jackets and staring in wonder as the scene along a gooseneck in the Colorado River unfolds.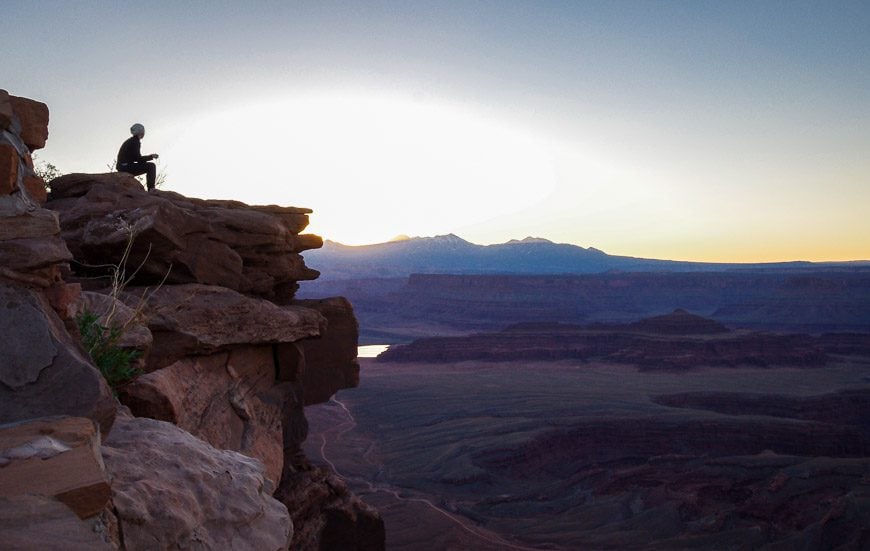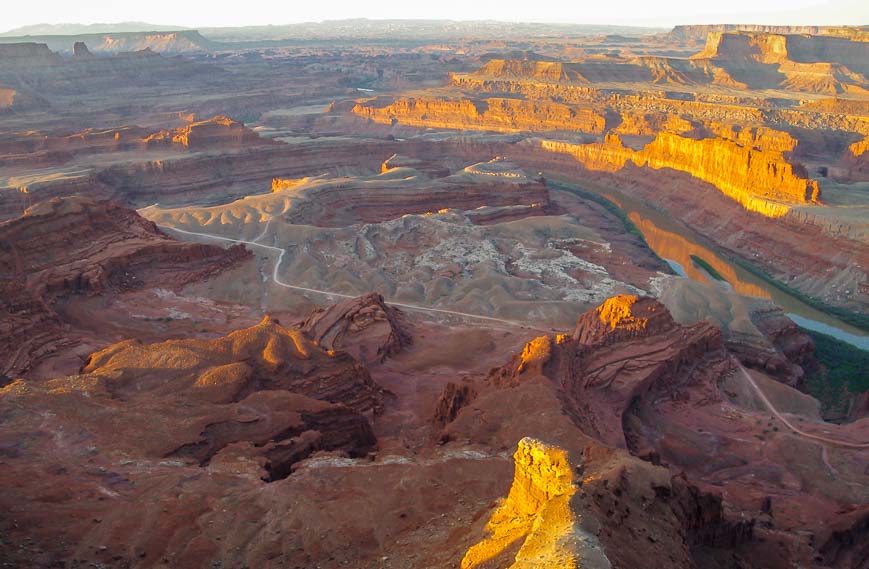 Below us we can see jeeps that look like toy cars. Of course I'm only guessing that these are jeeps but judging from the fact the Moab is hosting the 9 day Easter Jeep Safari, with jeepers coming from all over the world, I'm betting I'm right.
This may be a week you want to avoid visiting Moab as the place is literally overrun by jeeps, especially in the evening when they're back from their outings.
The sun fills the canyon in no time so we meander along the canyon edge looking for other photographic opportunities.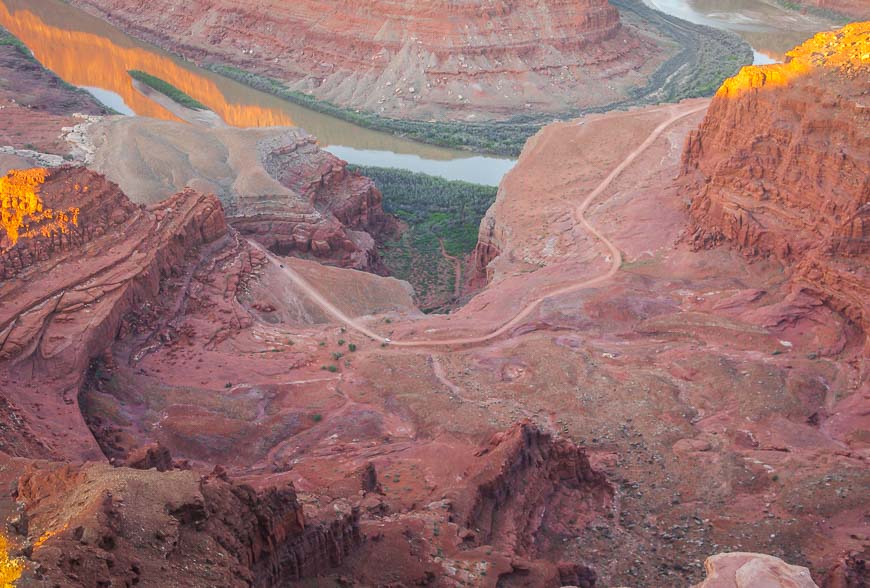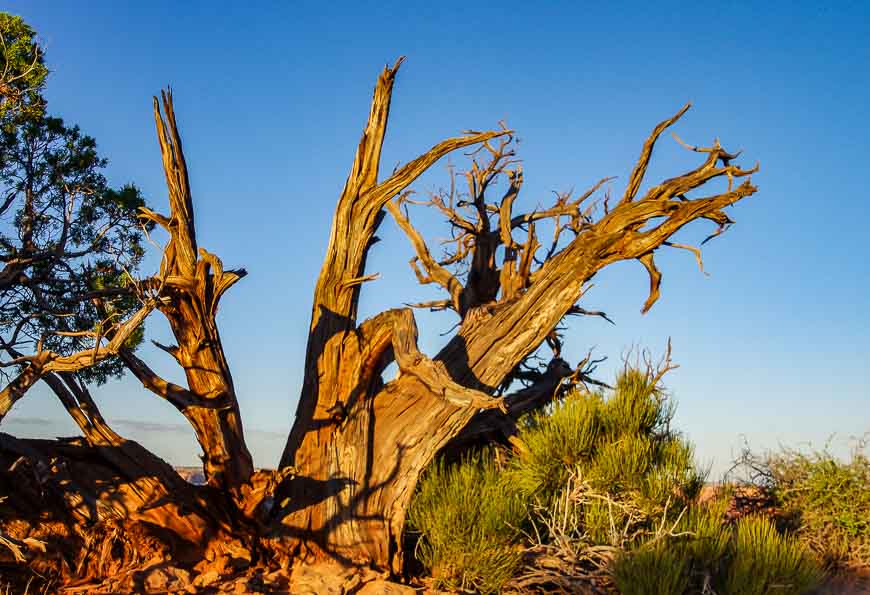 By 7:45 AM our stomachs are grumbling and we know we can make it back to the Sunflower Hill Inn in time for breakfast. (I highly recommend staying here. It's my go to place every time I visit Moab.)
On another visit I would plan to spend part of the day hiking the rim trails in Dead Horse Point State Park. If you're visiting in April show up early for the great birding opportunities as the migration is in full swing. And there is plenty of history to discover as well.
Did you know that in the late 1800's cowboys would chase wild mustangs onto Dead Horse Point?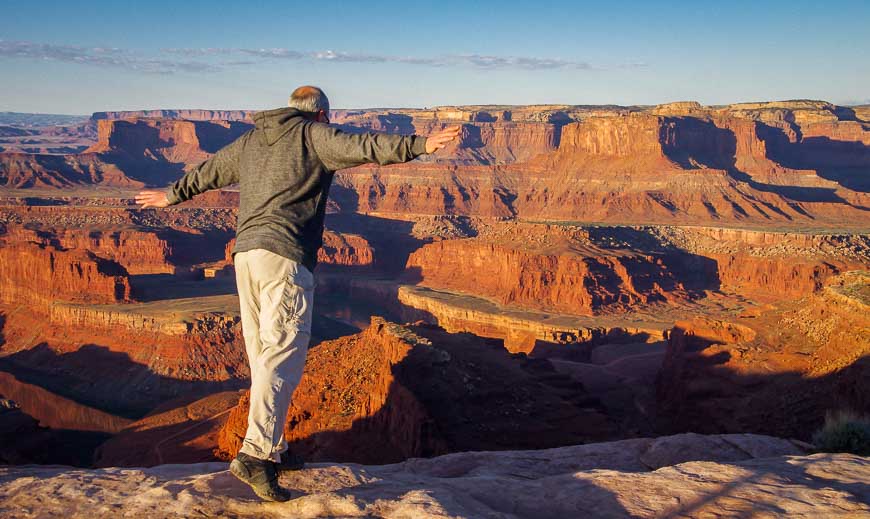 As my friend Ted says, the early morning visit to the park was one of the highlights of our eight day trip through Utah. Don't miss it!
For more information on Dead Horse State Park visit their website.
Further reading on hiking in Utah
Click on the photo to bookmark to your Pinterest boards.