If you're looking for great scenery and a peaceful, relaxing outing do the Murphy Point Canyonlands hike in the Island in the Sky area of Canyonlands National Park. It's all of 1.8 miles one way to the Murphy Point Overlook – with 150 feet of elevation gain. Once there, the views of the western end of Island in the Sky are superb. Reportedly this is a good hike for the morning when the lighting is good and of course at sunset.
I have a tendency to choose longer, harder hikes but sometimes that's not the right choice. This was one of those times. We'd already checked out the short 1.0 mile loop hike around the famous Mesa Arch so the Murphy Point hike in Canyonlands was a good place to have lunch and yet be back in time for some R&R before dinner. I had to remind myself that I was on a holiday and I didn't have to go at my usual frantic pace.
This post includes some affiliate links. If you make a qualifying purchase through one of these links, I will receive a small percentage of the sale at no extra cost to you. Thank you very much for your support.
Finding the Murphy Point trailhead
The Murphy Point Trailhead is about an hour's drive from Moab. Signage is excellent in the park so with a map, available at the Visitor's Centre, you'd have no problem finding it.
Basically you leave Moab on Highway 191. Stay on it for 11 miles to reach Utah Highway 313 West and turn left. Continue for 14.6 miles. Continue onto the Grand View Point Road – Island in the Sky Road for 15.9 miles. You'll pass the Island in the Sky Visitor Centre – which is a great place to pop in and get information about the Murphy Point trail and many others nearby.
Visit the Canyonlands National Park website for more information.
Murphy Point Canyonlands trail description
The hike is generally flat with only one small hill – so it's perfect for families as long as you keep your kids away from the edge.
Just a half mile into the hike you pass the remains of a historic corral pictured below, reportedly a remnant from an era before the national park was formed (which occurred in 1964), when the land was used for grazing cattle. You also can't help but wonder what stories these rocks could tell.
Reach a junction. If you go left you end up descending steeply to the White Rim Road, so stay right. Hike on a well-used trail admiring views as the land narrows.
On the descent to the overlook, the landscape opens up and the scenery explodes in front of you. At the edge you are treated to jaw-dropping views of Candlestick Tower, the Green River, and the White Rim Road – a popular trail for mountain biking John and I had done years ago over several days.
Enjoy some photography, off-trail exploring, and hanging out before retracing your steps back to the parking lot.
All told you need a couple of hours to do this hike – as you're going to want to spend some time at the edge just soaking in the view.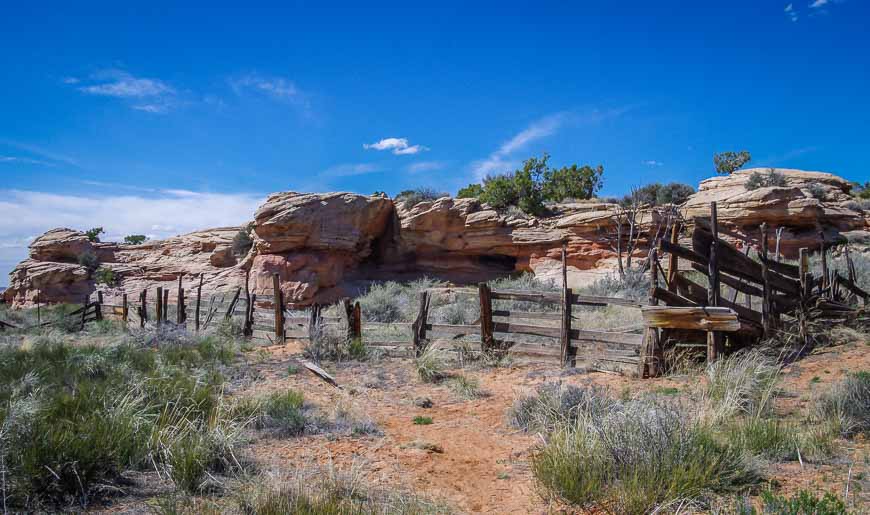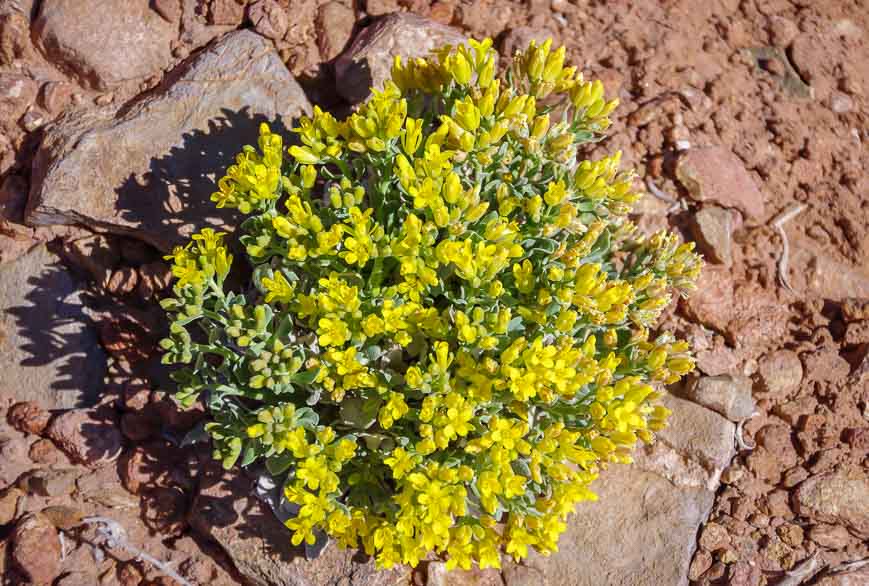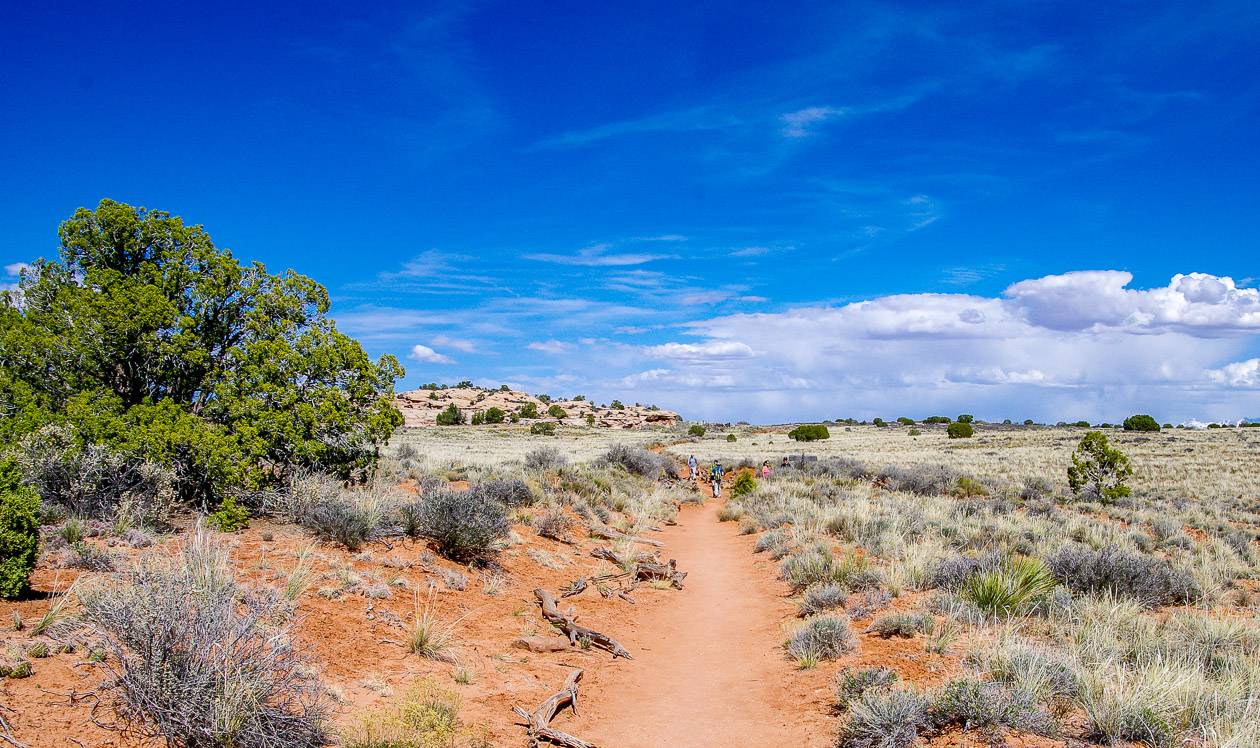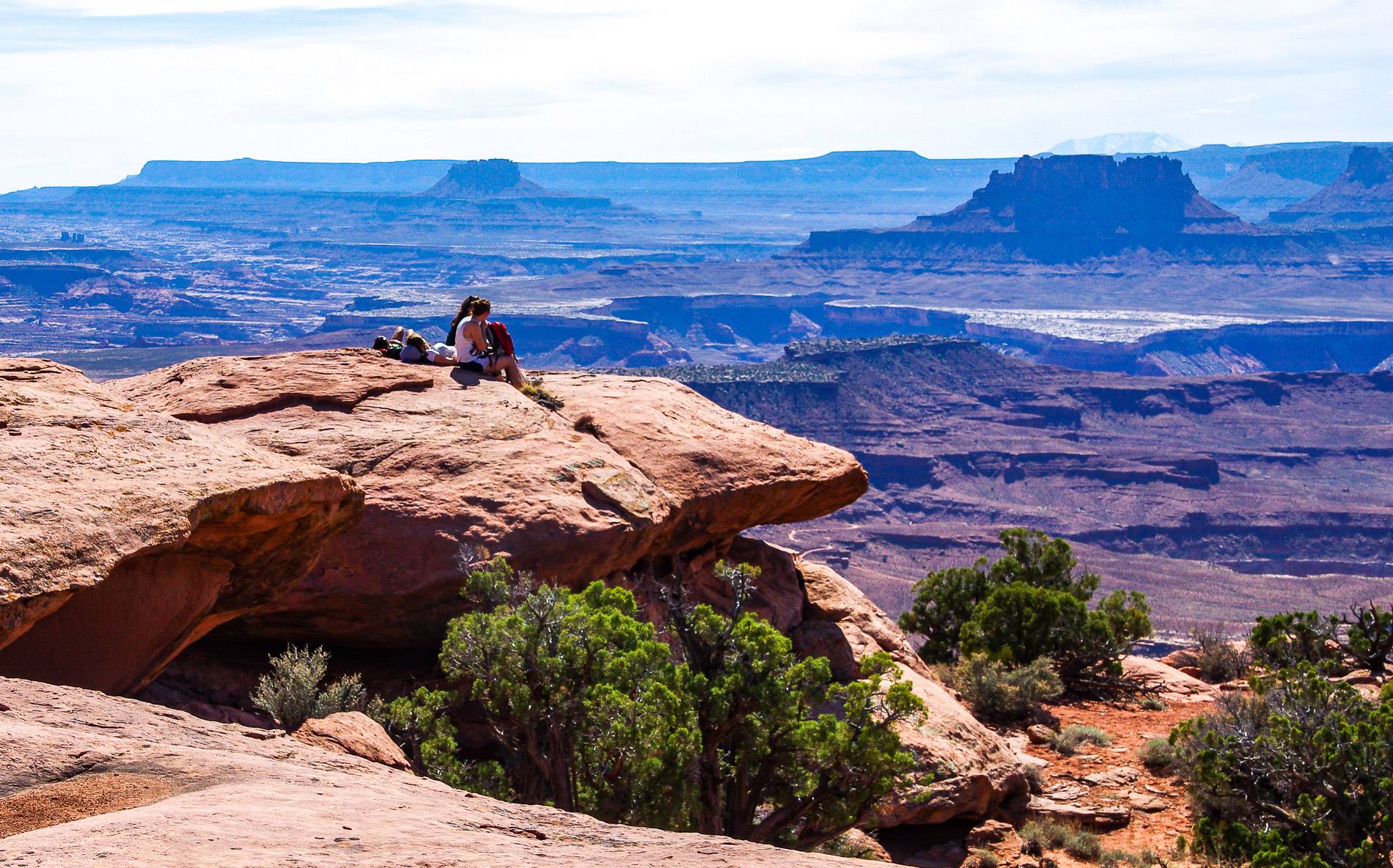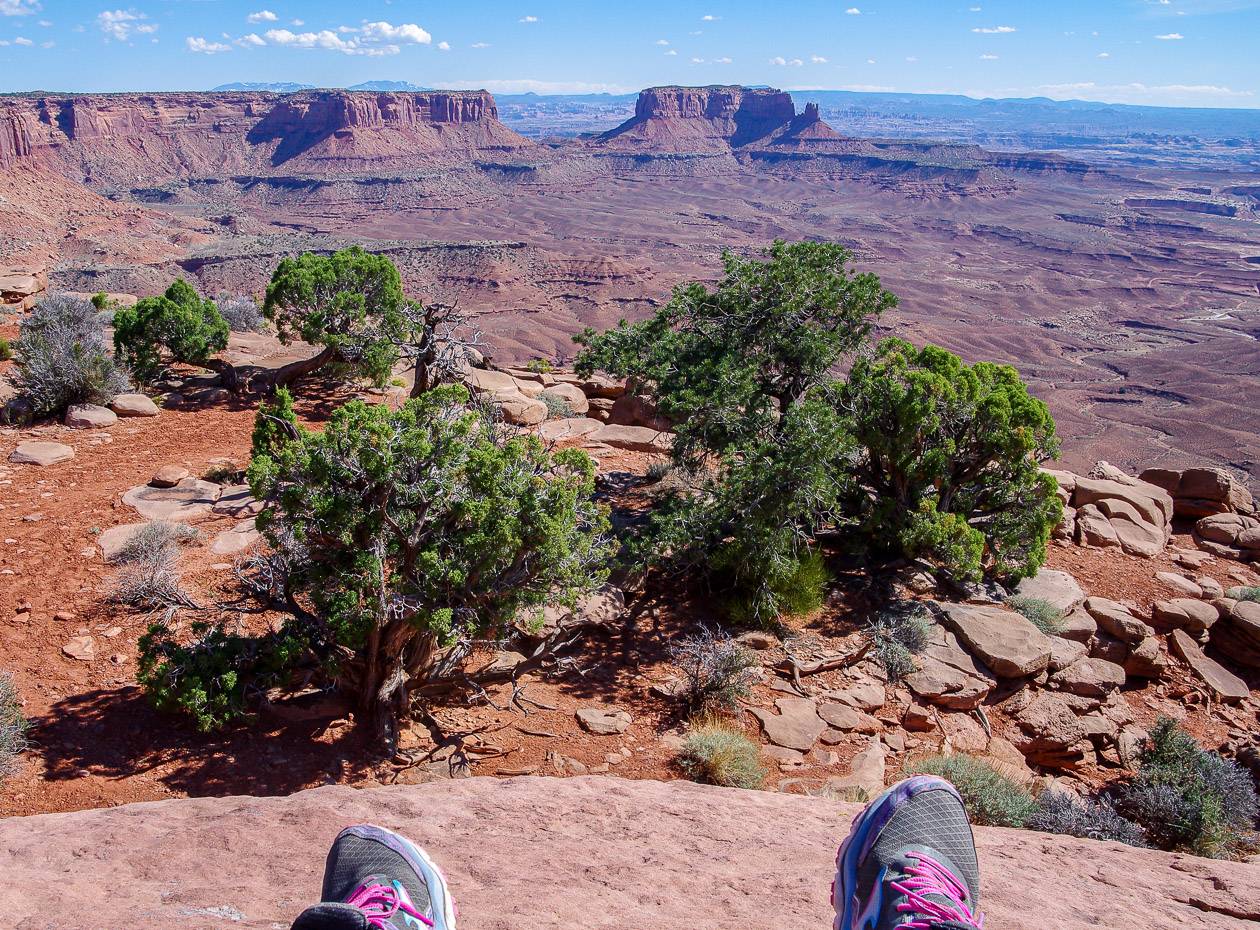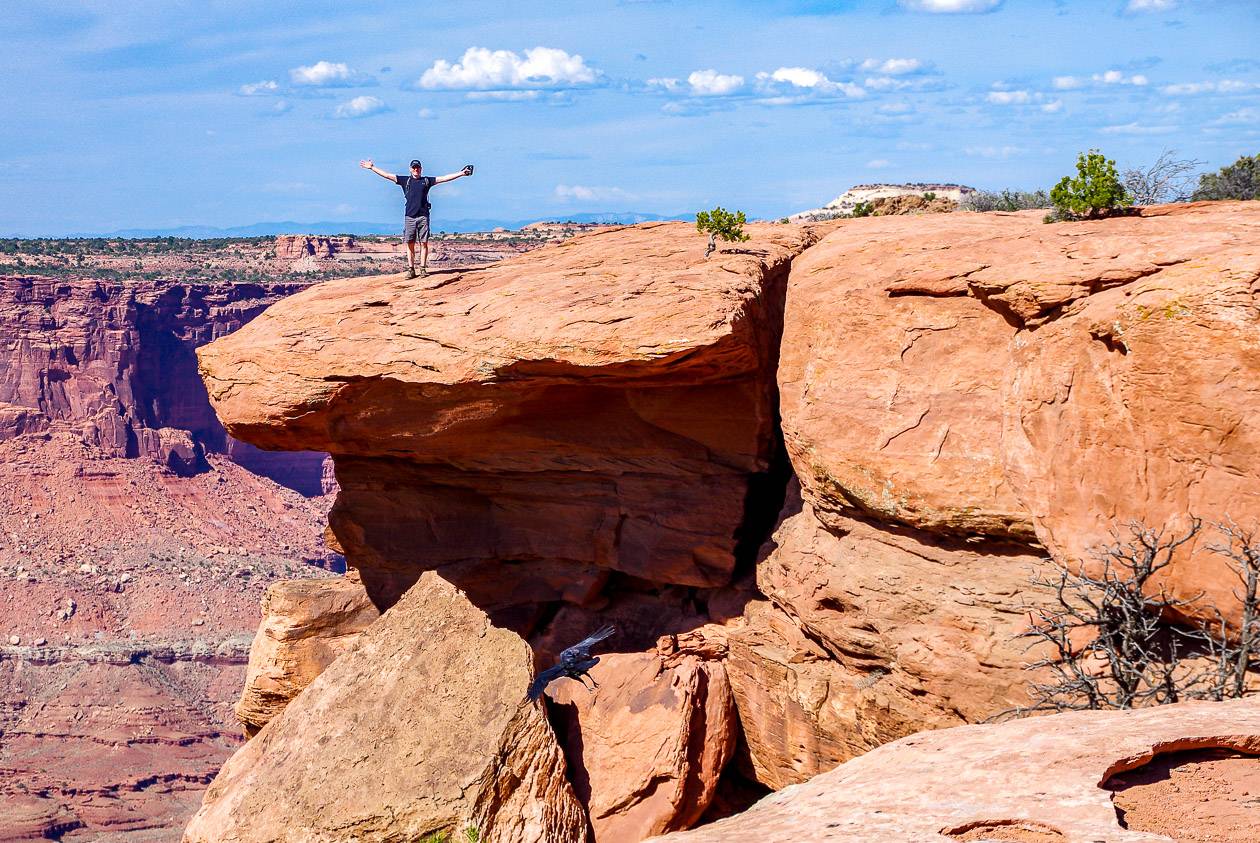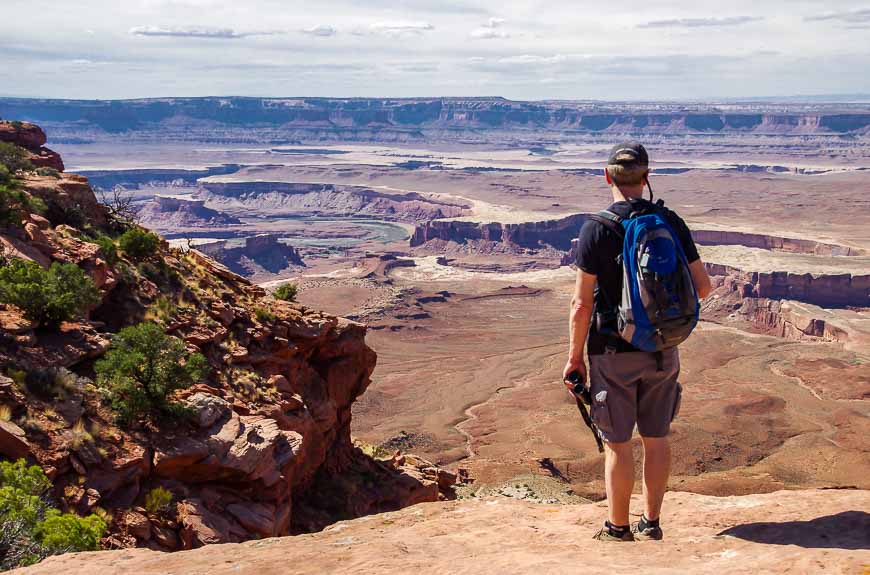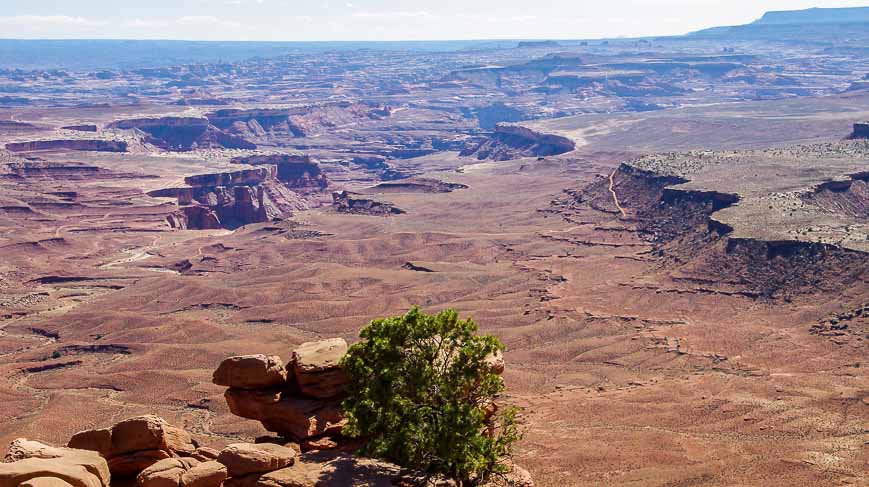 Camping at the Murphy Point Overlook
At one point one camping permit per night was given out for Murphy Point. Check at recreation.gov to see if you can find out more information. Certainly when we were there, people were camping and it is one magical spot. You would need to cart in water, but it's under 2 miles from the parking lot.
The Green River Overlook
Drive a short distance down the road and then do a quick hike (5 minutes) to the Green River Overlook. From the top at 6,000 feet you can see The White Rim Road, the Maze, the Green River, Cleopatra's Chair, Turk's Head, Ekker Butte, and even more notable rock formations.
It's definitely worth a side trip.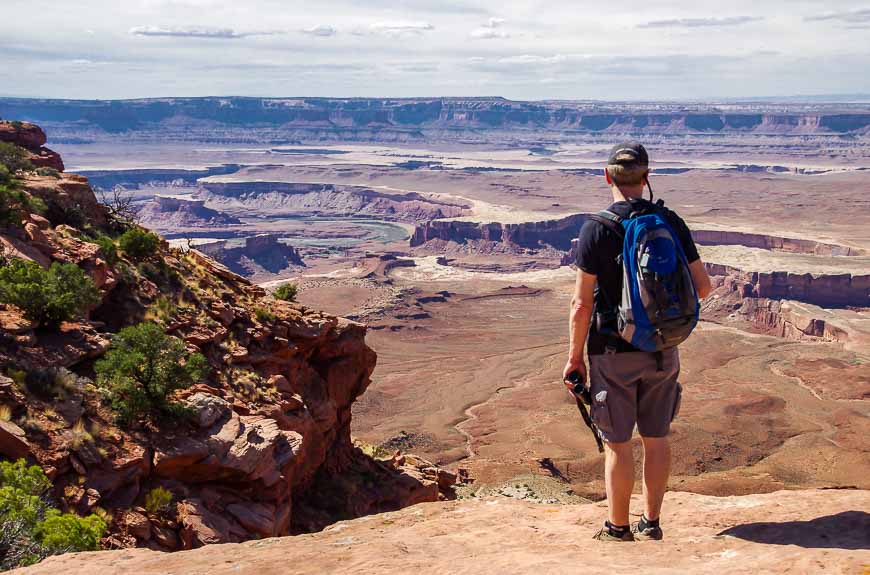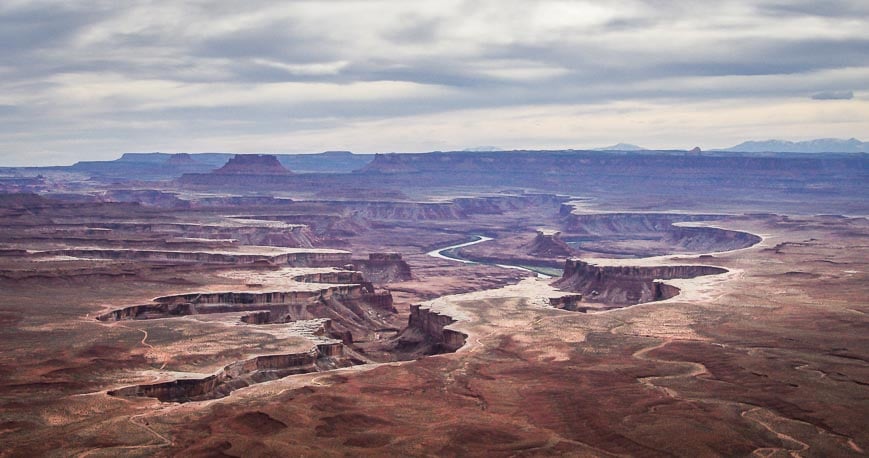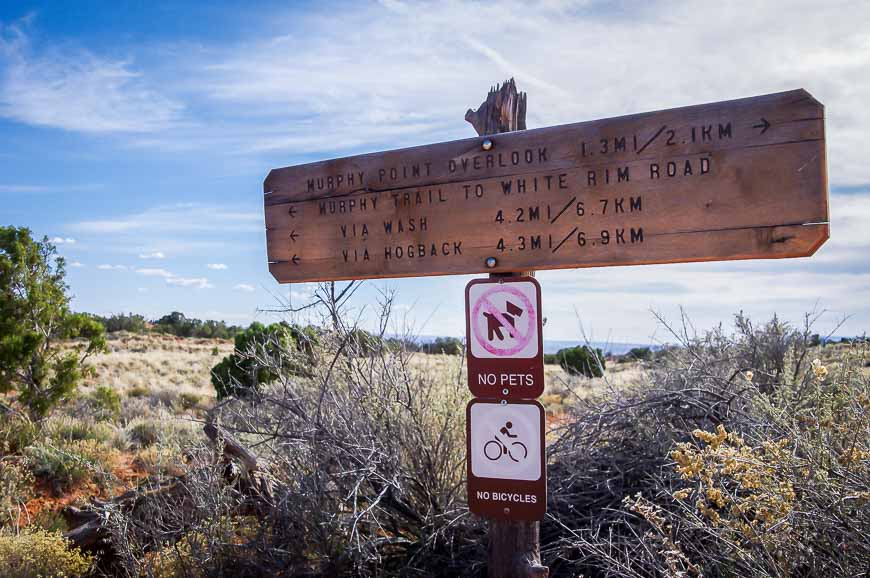 Where to stay in Moab
Unless you're camping, my recommendation would be to stay in Moab. You're well positioned then to explore Arches National Park, as well as other parts of Canyonlands National Park. It's also worthwhile to check out Deadhorse State Park, especially at sunrise.
My favourite place to stay is the Sunflower Hill Inn. I love the ambiance and their breakfasts are fantastic.
The Best Western Plus Canyonlands Inn is also a great choice.
If you don't might being a short distance out of Moab, the Red Cliffs Inn would make a fine choice. We loved a dinner there one night.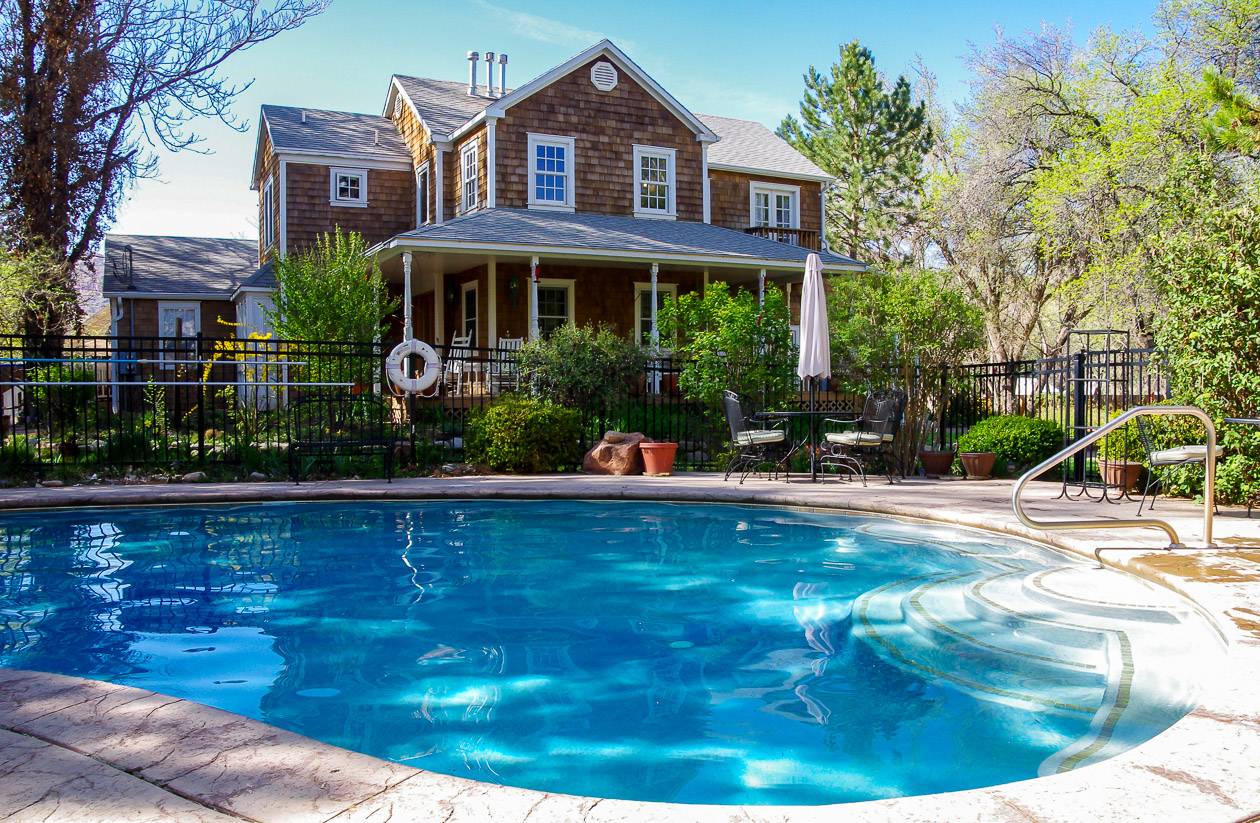 More reading on hike and travel in Utah
Arches National Park and nearby
Capitol Reef National Park
St. George – Kanab area
Click on the photo to bookmark to your Pinterest boards.