Ontario is huge. It takes a few days just to drive across the province. So needless to say there is great diversity when it comes to the landscape – and so are the opportunities for hiking. You can choose from epic, world-class backpacking trips to a gentle stroll in Point Pelee National Park.
Here are the top 10 hikes and/or backpacking trips in Ontario – mostly collected from personal experience.
Read: The 10 Hiking Essentials Everyone Should Carry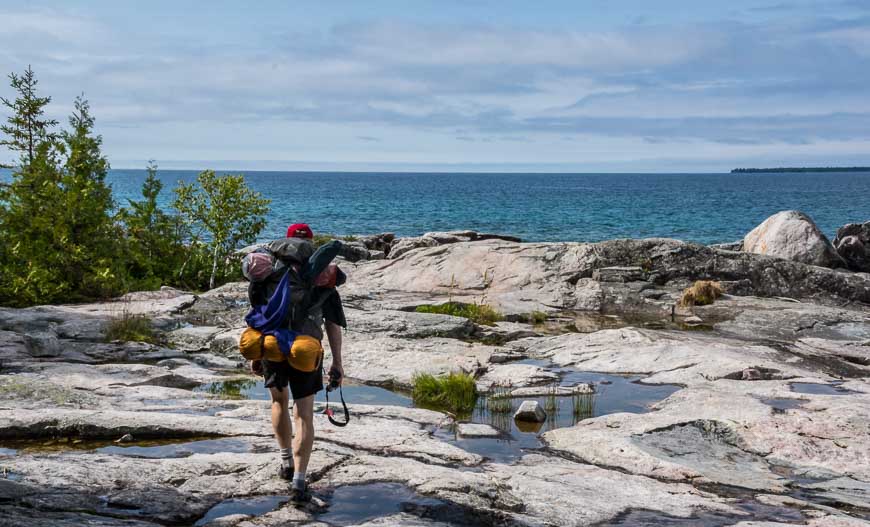 This post includes some affiliate links. If you make a qualifying purchase through one of these links, I will receive a small percentage of the sale at no extra cost to you. Thank you very much for your support.
Location map (approximate) for the top 10 hikes in Ontario
Bruce Trail, Bruce Peninsula National Park
Ontario's premier long distance trail has got to be the 800 km Bruce Trail. It follows the Niagara Escarpment from Niagara to the tip of the Bruce Peninsula. The 21 km section that jogs through Bruce Peninsula National Park is particularly scenic.
As you hike you are treated to spectacular cliff top scenery, caves, crystal clear Caribbean coloured blue water and white stone beaches. It's also a perfect place to visit for a short backpacking trip. In the summer, buses run to the park from Toronto on weekends.
Read: Hiking in Bruce Peninsula National Park, Ontario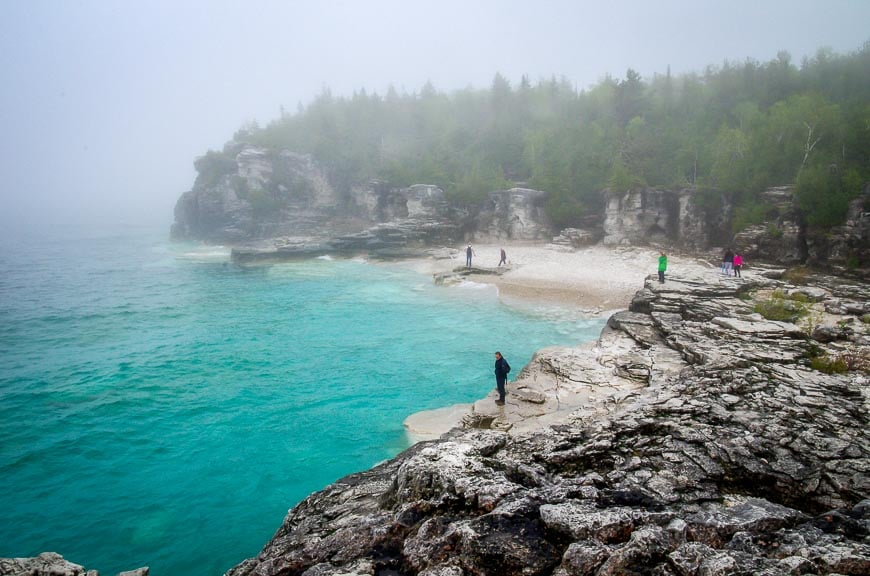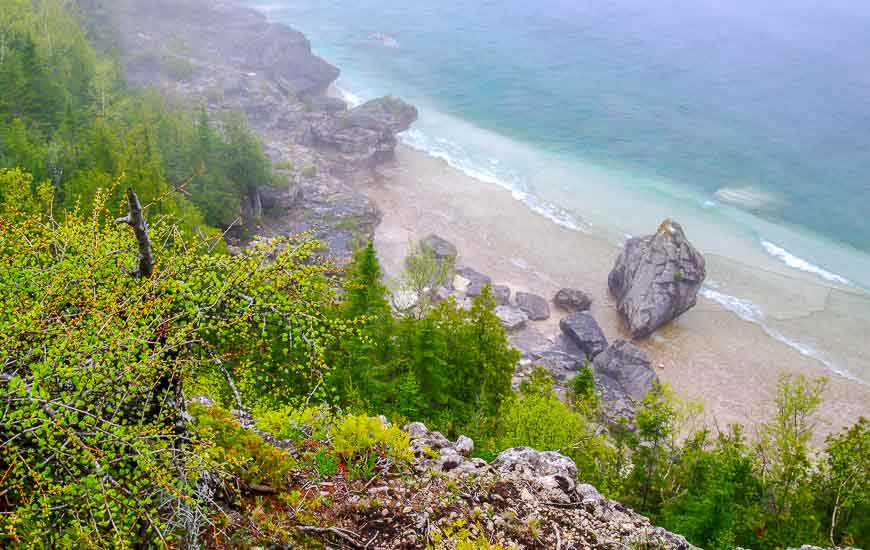 Coastal Trail, Pukaskwa National Park
If you want to experience a pristine swath of undeveloped shoreline along Lake Superior and you're prepared for five days of tough hiking then choose the Coastal Trail in Pukaskwa National Park.
Beach-side campsites are spectacular. The trail up and down the rocks of the Canadian Shield is diverse, beautiful and like nowhere else I've hiked. When wet, the lichen covered rocks are slippery.
When dry, they're a delight to hike. Bugs can be bad all the way through to September. Blueberries are downright amazing, even in mid-September. This in my mind is one of the best backpacking trips I have ever done.
Read: The Coastal Trail in Pukaskwa National Park – one of the Top 10 hikes in Ontario or Day Four Hiking the Coastal Trail in Pukaskwa National Park
Nokomis Trail, Lake Superior Provincial Park
If you're driving the Trans-Canada Highway in northern Ontario, chances are you'll go right through Lake Superior Provincial Park. It's worth a stop – ideally for several days so you can explore the myriad of trails and experience the moods of Lake Superior.
A stand-out half day hike is the Nokomis Trail. The trail follows the Old Woman River Valley and then steeply climbs to a series of viewpoints. In the fall, the colours to the east are beautiful. If you're a serious hiker, you'll also want to do the Towab Trail to Agawa Falls, perhaps as an overnight backpacking trip.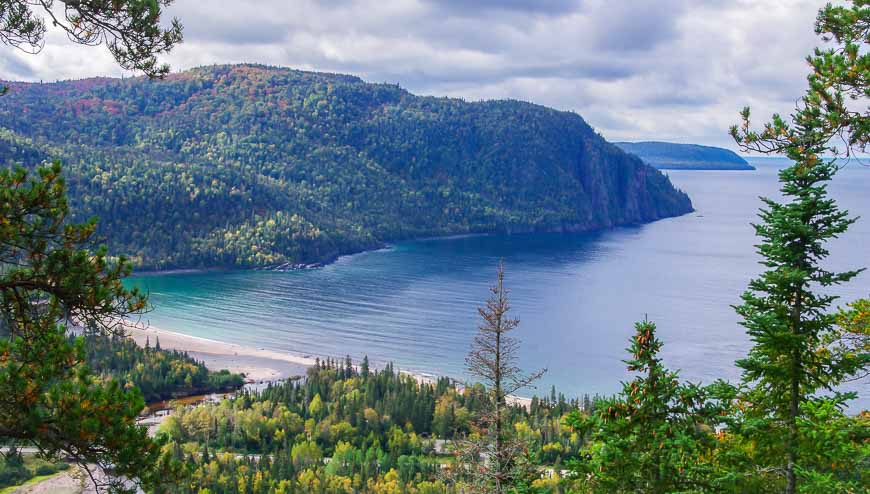 Kabeyun Trail, Sleeping Giant Provincial Park
A few years ago I tried to hike in Sleeping Giant Provincial Park but Mother Nature upset my plans. I'd flown to Thunder Bay from Toronto, rented a car and planned to hike the 40 km Kabeyun Trail. But storms had washed out a culvert so I was turned back.
But the Kabeyun Trail from all reports is a winner – offering a remote experience with rugged coastal terrain, omnipresent Lake Superior scenery, beaches, coves and plenty of ups and downs. There are loads of shorter trails if you don't have the time or inclination.
Update: I highly recommend the hike to the top of the Sleeping Giant. The views are spectacular.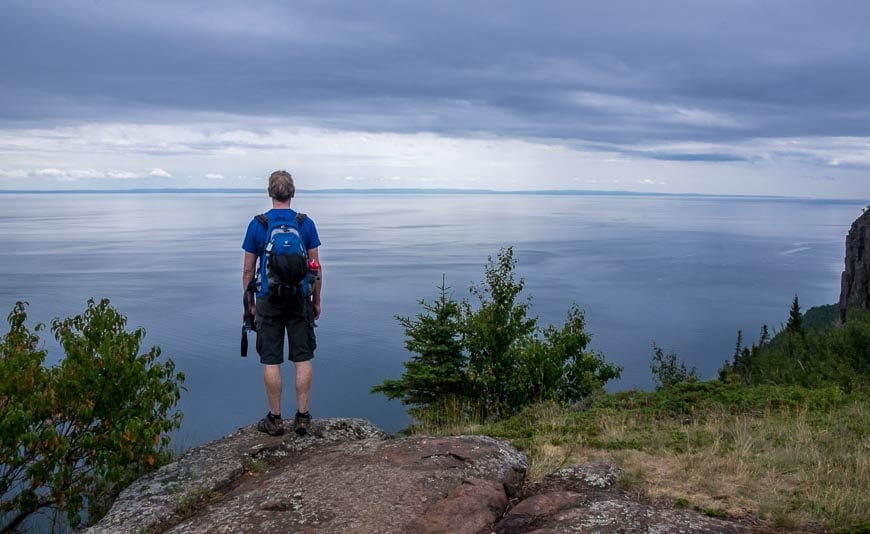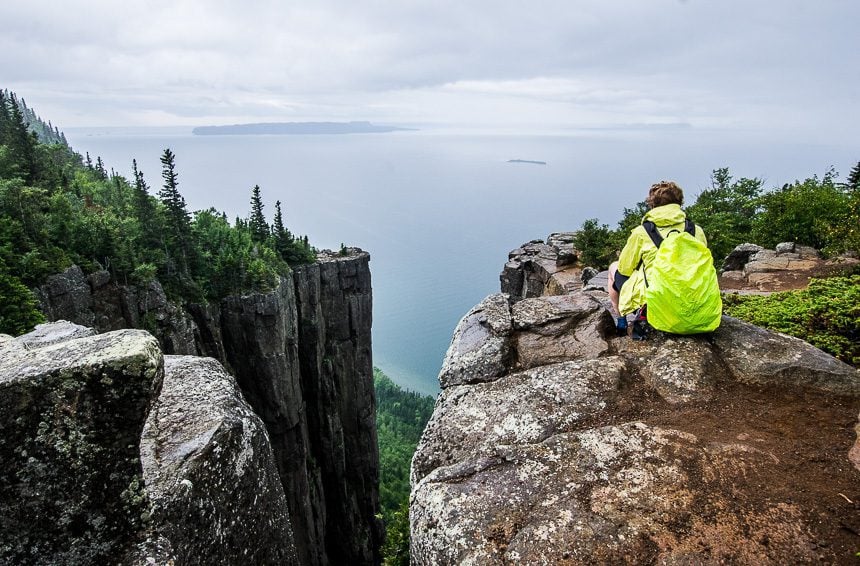 Bluff Trail, Awenda Provincial Park
You'll find Awenda Provincial Park two hours north of Toronto near Penetanguishene on the Georgian Bay. It is home to the largest stand of old growth deciduous forest in Canada.
The park is crisscrossed with 29 km of trails including the 8 km circular Bluff Trail. By no means is it a wilderness trail but it does offer an easy, family-friendly trail that delivers green like you've never seen before in spring.
Come fall it offers one of the best foliage displays in Ontario. Birding opportunities abound. And at the end of the hike, you can plunk yourself down on the beach and go for a swim.
Read: Hiking the Bluff Trail in Awenda Provincial Park, Ontario
The Ganaraska Trail
Over 400 km in length, the Ganaraska Trail connects Port Hope with the Bruce Trail near Glen Huron. If you count all the branches, there are over 500 km to do – enough to keep you busy for a solid month.
While parts of the trail traverse remote wilderness, there are many sections that can be done over a number of weekends. The Northumberland Section of the trail is particularly lovely.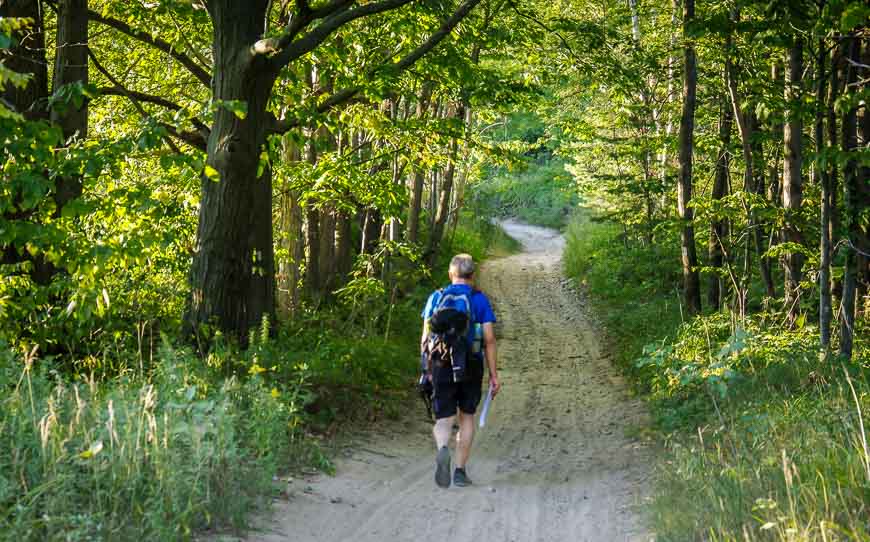 La Cloche – Silhouette Trail, Killarney Provincial Park
Killarney's Silhouette Trail is a rugged 73 km loop trail that can take you 5 – 10 days to complete. It starts and finishes in the George Lake Campground. It's also possible to do a day hike from the campground but as an out and back trip.
The hike treats you to the fabulous Group of Seven scenery that includes lakes and the white quartzite hills of the La Cloche range.
Don't underestimate your ability. Pack smart as the ups and downs along with the tough terrain is hard to negotiate with a fully loaded pack.
February 2022 update: I understand the trail is crazy busy now and the campsites need to be booked as soon as they become available.
A hike in Point Pelee National Park
You don't have to be a birder to enjoy a hike in Point Pelee National Park. It's great fun for the whole family. There are also options to bike or kayak.
If you're keen, you can hike all the trails in a day by combining loops. Don't miss the easy boardwalk trail in the marsh or the beach walk to the southernmost point in Canada.
Read: Things to Do in Point Pelee National Park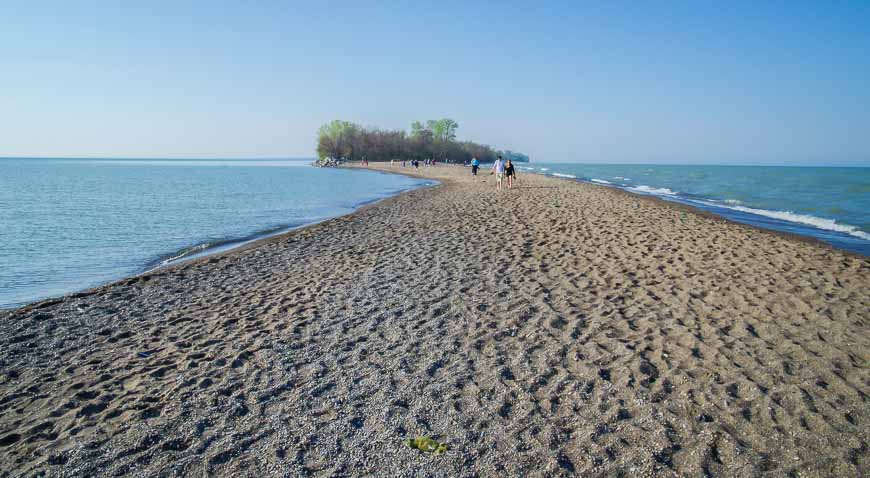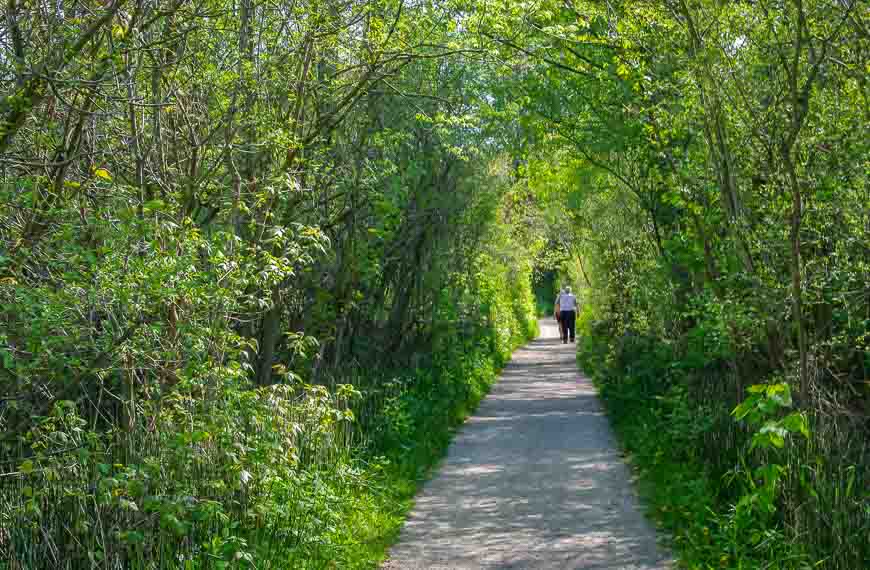 The Casque Iles Hiking Trail in Northwestern Ontario
Another winning trail in northwestern Ontario is the 53 km Casque Iles hike stretching from Terrace Bay to Rossport. Divided into five parts, it hopscotches from bay to bay along the Lake Superior shoreline.
Like other Lake Superior hikes, you'll find raised cobble beaches, remnants of ancient shorelines that can be tough going when slippery. The five sections of trail that can be done as a day hike range in length from 6 – 13 kilometres.
Update: I'd also highly recommend the hike on at least a section of the challenging Coastal Trail in Lake Superior Provincial Park. You could spend up to five days hiking its length. It's exceptionally beautiful.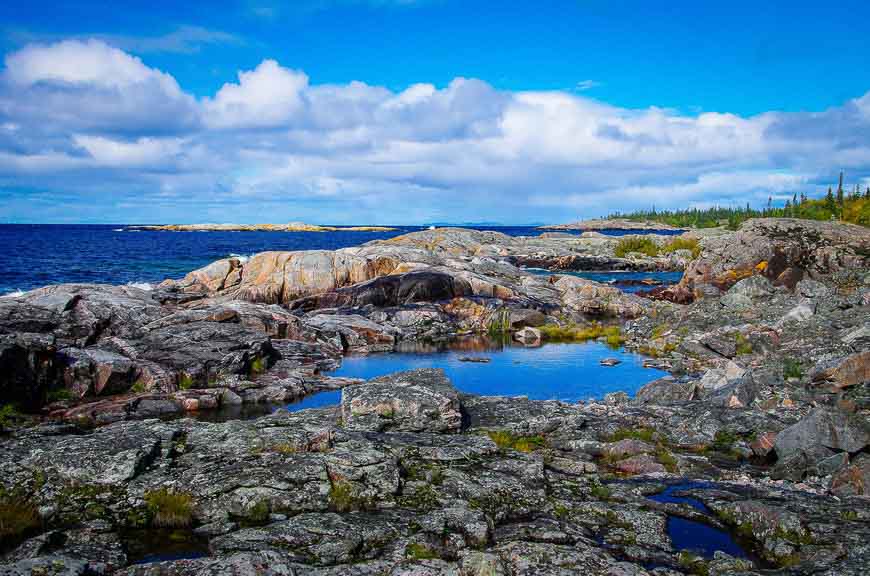 The Cliff Top Trail, Bon Echo Provincial Trail
If you want to see the views from one of the three observation decks on top of Mazinaw Rock, then be prepared for a short but stiff climb. The 1.5 km cliff top trail will get you there but the trail is only accessible by water.
Be prepared to cough up some cash for the ferry service. The rock itself is 100 metres high. Don't miss seeing the native pictographs that adorn the rock.
The 5 things that come with me on every hike
I like something soft to sit on at lunch time. It can be your mitts on a warm spring day but I swear by my almost weightless inflatable seat cushion. It helps keep my butt warm, dry and comfortable.
The older I get the more I like using hiking poles, especially so when a stream crossing is involved. Invest in a good pair that are collapsible. Even though they're expensive, carbon poles are wonderful for their weightless quality.
No matter how the day starts I always carry rain gear. And I find a ball cap or brim hat with a chin strap invaluable in the rain or on a hot, in your face sunny day.
I always pack a buff as it is so multi-purpose yet it takes up almost no room.
And while I don't pack gaiters on every trip, at some point on the hike I usually wish I had them. In summer the half gaiters are ideal for keeping pebbles, sand and even some rain out of your shoes.
Another nice addition for those of you who love wildflowers is a simple pamphlet like guide like Quick Reference to Wildflowers of Ontario & Eastern Canada.
What hike would you most like to do in Ontario? This is obviously an incomplete list so if you have suggestions or blog posts you've written please leave a comment.
Further reading on hikes in Ontario and around the world
Click on the photo to bookmark to your Pinterest boards.