Day five was our last day of backpacking in Pukaskwa on the Coastal Trail. For those of you who joined me at the beginning of the hike you might be wondering how we ever did it in five days considering the extremely slow and inauspicious start we had. Somehow we did – and this is how the last day unfolded.
It was even colder than normal, only 2°C according to my thermometer, on the last day of backpacking in Pukaskwa. I had a decidedly harder time than normal leaving the warmth of my tent. But I felt energized once I saw what a beautiful morning it was.
Getting out of the tent at the end of a multi-day hike can be hard
My friend Ted got a fire going – as he did most days – and in no time we had water boiling and a hot cup of coffee in our hands. As a side note don't forget the fire starter.
Jo on the other hand seemed loathe to leave the tent and Keeper the dog wasn't moving either. But they missed the first light and the mist rising over Lake Superior.
When we finally hit the trail it was about 9 AM and the sun had some warmth to it. It looked like it was going to be a great day.
We had 16.4 km and about 8.5 hours of hiking ahead of us
We dispatched with the first 7.6 km to Hook Falls quickly – mainly because it was easier than expected. It was also very pretty. We passed small lakes, a waterfall and then hiked a series of ridges with views of the nearby hills. If we'd been a week later the colours would have been at their peak.
Backpacking in Pukaskwa with a stop at Hook Falls on the White River
We arrived at Hook Falls on the White River for lunch – ahead of the suggested time for once. There are a few campsites here, and in fact our reservation had been for Hook Falls but I think the three of us were happy that we ended up at Willow River instead. Sometimes it pays to be slow.
I particularly enjoyed seeing the White River as my son had canoed it as a teenager. It's a far more powerful river than I anticipated especially as it narrowed toward its' end.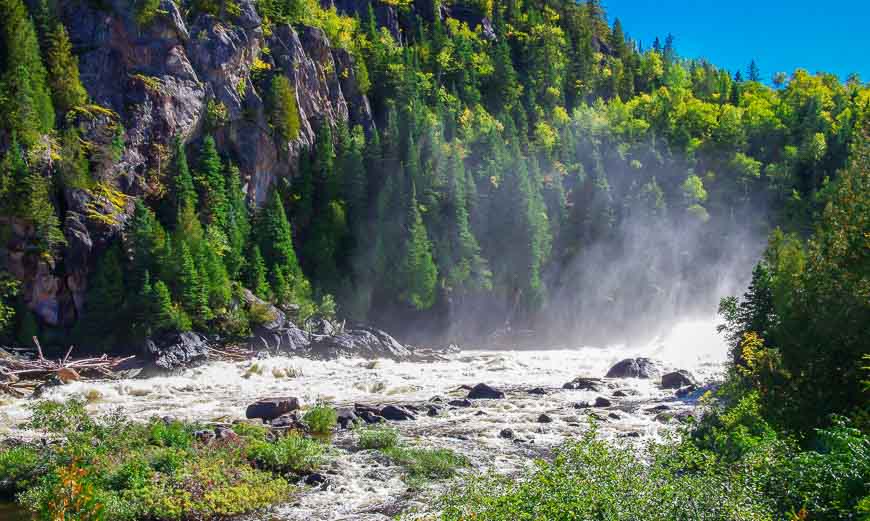 The hiking from Hook Falls all the way to the White River Suspension Bridge ended up being quite gnarly despite looking benign on the map. Sometimes contour lines don't tell much of the story. It involved a tremendous amount of up and down as well as some clambering over logs left from a period of flooding.
White River Suspension Bridge to Playter Harbour
Once we made it over the suspension bridge the hiking got noticeably easier for several kilometres. It was almost like a walk in the park.
There was only one problem.
Jo's knee started to let her know of its presence. She had pulled something on our first day when we were backpacking in the dark.
But it wasn't until we were on the homeward stretch that it really started screaming at her. To her credit, Jo found some energy and resolve deep in her soul and kept moving forward. We checked out Playter Harbour as a possibility for the night but Jo was of one mind only and that was to keep going. And so we did.
Time for some easy boardwalk hiking
Once we had reached the extensive boardwalks through the swamp at the far end of Hattie's Cove we knew we were home free. It was at most a couple of kilometres to the parking lot.
The end of the Coastal Trail in Pukaskwa National Park
We arrived at the parking lot at 6:15 PM which I though was pretty darned good considering how Jo's knee had slowed us down at the end of the day. The marching bands and flag wavers were nowhere to be seen. Instead it was an underwhelming finish. But my gosh it felt amazing to be done.
Despite the difficulty and hardships on this trail I wholeheartedly recommend it.
Dreaming of hot showers and a warm meal
But really our thoughts went like this – remove backpacks, get out of our boots and drive the two hours to Wawa for dinner. A warm meal and a comfortable seat in the car were very much on our minds. Interestingly only three cars were in the parking lot – ours and two from the group we had met on the boat on the first day.
It's now been a few weeks since we've completed the hike. I had an email from Jo the other day – who is now on crutches and awaiting an MRI – saying this:
You know reliving the pics makes me want to do the trail again; is that a weird feeling? I don't think it is. I would do this one again. The Coastal Trail is hard, gnarly, beautiful and desolate. If you ever get the chance – go!
For more information about the hike and for detailed maps (and to make backcountry reservations) visit the Pukaskwa National Park website.
Further reading about hiking in Pukaskwa National Park
Click on the photo to bookmark to your Pinterest boards.