What an unexpected treat it turned out to be hiking to the summit of Le Mont Albert in the Chic Choc Mountains of Quebec. The Chic Chocs, a narrow mountain range that forms the northern extension of the Appalachians, are located inland on Quebec's Gaspé Peninsula in Gaspé National Park. There are 25 peaks in the range over 1000 m high, but only two are of interest to me – Le Mont-Jacques-Cartier and Le Mont Albert.
Le Mont-Jacques-Cartier has a certain appeal
Le Mont-Jacques-Cartier, the tallest mountain in southern Quebec, tops out at 1,268 m. It's home to the last remaining herd of woodland caribou south of the St. Lawrence River. Chances of caribou sightings are very high compared to hiking Mont Albert. Access though is strictly controlled.
The trail to the summit is only open from June 24th until September 30th and you can only hike between 10 AM and 4 PM. Another off-putting factor is the fact you must take a shuttle to the trailhead, and that's at least a 40 minute drive from the Visitor's Center.
Mont Albert – an enormous flat-topped mountain with a super-sized summit plateau
It shares the same opening dates as Le Mont-Jacques-Cartier but you can hike it at any time of the day. It's reportedly a harder hike but the trailhead is just a walk from the Visitor's Center and it's for this reason I elected to hike it. I'm told by a fellow hiker I won't regret my decision.
And I don't!
This post includes some affiliate links. If you make a qualifying purchase through one of these links, I may receive a small percentage of the sale at no extra cost to you. Thank you for your support.
The hike to the summit of Le Mont Albert
First I had to find the trail which I eventually do. All trail signs are in French.
In total the loop hike is 17 km long. It's recommended that you allow 6 – 8 hours to do it.
I chose to hike up rather than down the steepest part of the loop. After an hour of what feels like a non-stop stair stepper workout I'm wondering what I've got myself into. I like a rigorous work-out but I'm not a fan of hikes where you see nothing but trees. And except for a few peek-a-boo views that's all it's been so far.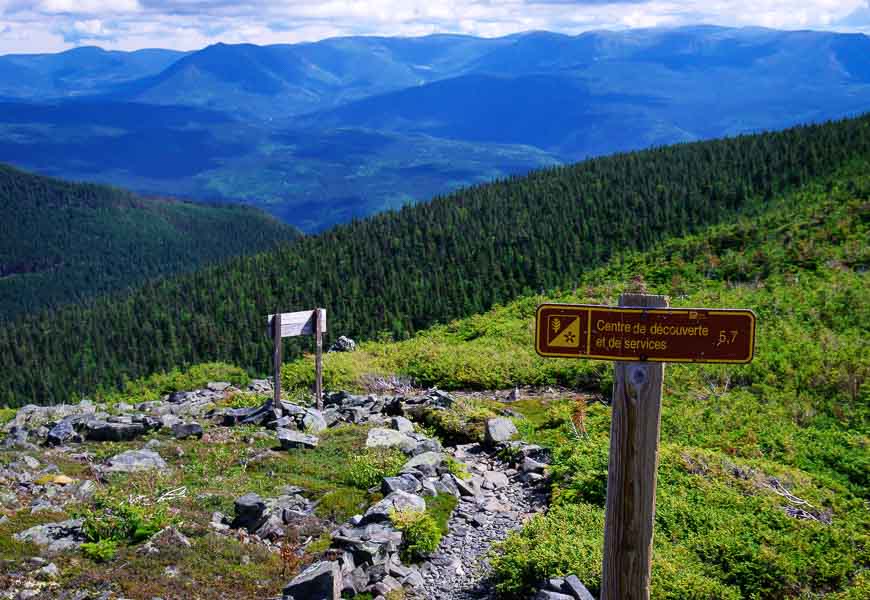 The summit of Mont Albert
After 5 km of hiking along with 885 metres of elevation gain and two solid hours of hiking, I emerge from the trees. The transition is abrupt. One minute there are trees, the next alpine tundra.
The summit is a landscape of lichen covered rock, hardy alpine flowers, stunted spruce trees and bog. But that's not all. As you ascend the last few hundred meters of trail the vistas open and one of the biggest surprises of my hiking life unfolds.
I have never seen a summit like that of this one in the Chic Chocs. Massive barely begins to describe it. Its 13 km across, over 20 square km in size and home to two summits – Albert North (1,070 m) and Albert South (1,151 m.)
Most of the summit plateau is boggy –and next to impossible to hike if you're a human but perfect if you're one of the woodland caribou that hang out here.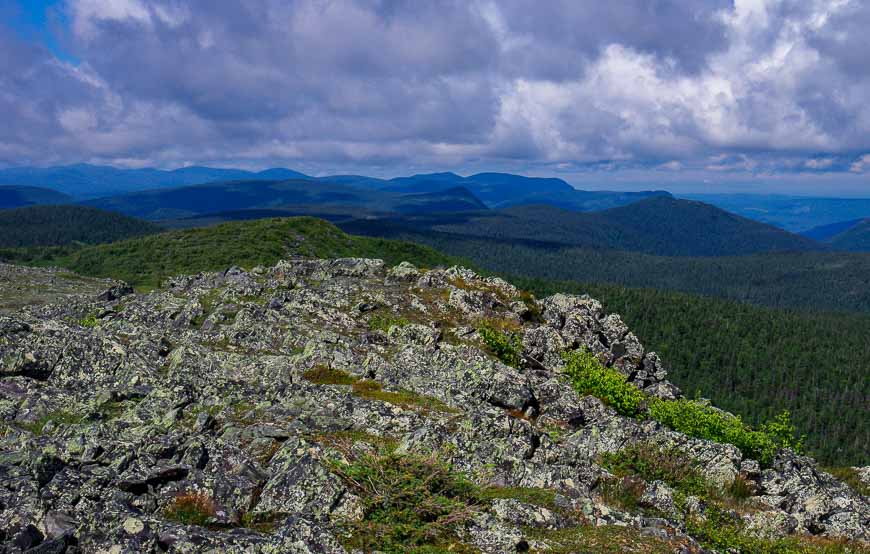 The north summit
Mont Albert North is where I've arrived at and I'm quite happy to park myself on one of the wooden benches scattered around the summit. I could sit for hours admiring the 360 degree views but threatening clouds to the north shorten my stay on top.
Just before beginning my descent I chat with some fellow hikers. They've hiked both this one and Le Mont-Jacques-Cartier and tell me I have chosen the prettier, less traveled peak.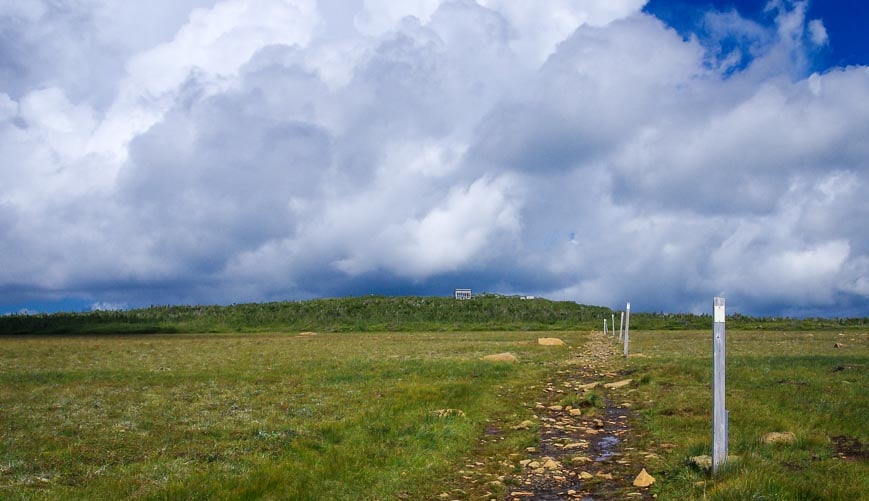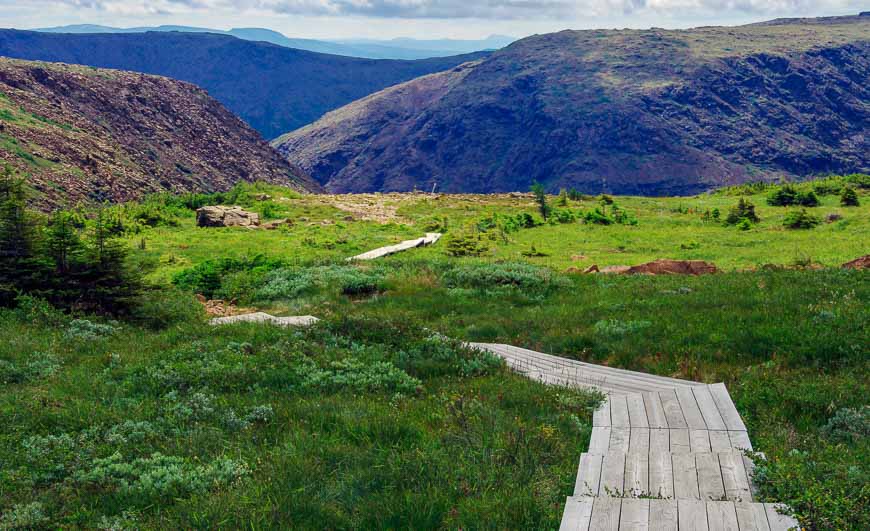 A series of boardwalks lead me across the boggy sections to the start of a section that is steep and rocky. The trail winds its' way all the way around the mountain and leads me back to the Visitor Center – with interesting views for three of the four hours it takes me to descend.
But the hiking is never easy until I'm on the home stretch. In fact there is what feels like kilometres of boulder hopping. These would be slippery and miserable to deal with if they were wet.
Hiking to the top is one of the most surprising and rewarding hikes I've ever done – and that's without a caribou sighting. But the reality is that it should only be attempted by seasoned and prepared hikers. Choose Mont-Jacques-Cartier for an easier alternative.
Where to stay close to the hike
I stayed at Gîte du Mt-Albert – the closest hotel to the trailhead.
If you want to be surrounded by hiking trails the Auberge de Montagne des Chic-Chocs in the heart of the Chic Choc Mountains would be an excellent choice.
Further reading on things to do in Quebec in summer
Click on the photo to bookmark to your Pinterest boards.