A few years ago John and I did a winter visit to the scenic Charlevoix region located less than 100 km northeast of Quebec City. On that trip we enjoyed a stunning drive, albeit a hair-raising one along Highway 381, through a dramatic landscape of lumpy mountains and frozen rivers that included Parc national des Grands-Jardins with its sub-Arctic taiga-like terrain. At that time I knew there were backcountry huts in the area used by cross-country skiers but I had no idea there was the option of a hut to hut hiking experience called the Charlevoix Traverse.
A few years later Great Canadian Trails approached me and asked if I'd be interested in checking out their latest Canadian hiking option – the Charlevoix Traverse. I'm an easy mark when it comes to hiking as I quickly said an enthusiastic yes.
This post includes some affiliate links. If you make a qualifying purchase through one of these links, I will receive a small percentage of the sale at no extra cost to you. Thank you very much for your support.
Charlevoix Traverse trailhead location
In early September, a few weeks before the main burst of fall colours, John and I along with our friend Judy arrived in Baie Saint-Paul and were immediately picked up, loaded into a vehicle and driven to St. Urbain where one gets an orientation and all the maps needed for the tour.
Before hitting the trails and driving to the trailhead we also had to sort through our pack, deciding what to leave behind and what to take – a not so onerous task considering there is a daily luggage transfer service provided that also delivers meals and fresh water.
Unbelievably our driver David will log 1,200 km to stock and move our food and luggage on a six-night hike.
Within 30 minutes of leaving the Traversé headquarters in St. Urbain we are standing on the trail, backpacks on, all smiley and ready to tackle the 105 km traverse – one small section of Canada's Great Trail.
A day by day description of the Charlevoix Traverse
Day 1 – Hike from the trailhead to Squirrel Hut (Chalet L'Écureuil)
The first day's hike on the Charlevoix Traverse to Squirrel Hut is an easy one. It's only a 4.2 km hike, with most of it along a road that took us past a few cottages and a lake to the hut.
We were inside, claiming our spots on the second floor where you sleep dorm style, in 90 minutes tops. (Just FYI – all huts are locked but you're given the combination.)
With plenty of light left in the day we elected to do the Sentier des Sommets (Trail of Summits), one of three optional hikes from the Squirrel Hut. While we only made it to the top of only one of the four summits, it was positively glorious and a true highlight of our entire week.
I'd highly recommend getting to the hut early so you can knock off all the summits.
Once back at the hut, it was time to get a fire going. It turned out to be the coldest night of the week, but with a massive pile of wood that was mostly split, we were toasty in no time – and wondering when our cabin mates would show up.
We had briefly met Yvan and Roger, two lifelong friends from Quebec at the orientation but we hadn't yet met the mysterious Mr. and Mrs. Smith. Turns out Stephen and Margaret Smith were great trail buddies.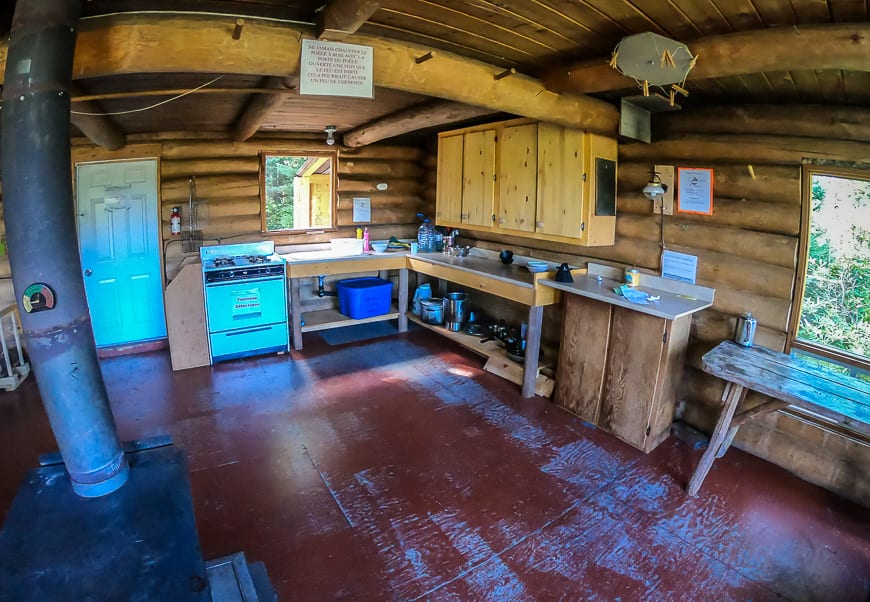 Day 2 on the Charlevoix Traverse – Squirrel Hut to Marmot Hut (Chalet Marmotte)
On the second day of the Charlevoix Traverse we planned to hike 14.4 km from the Squirrel to the Marmot Hut. While it started off chilly, it was also particularly beautiful with all the vegetation covered in hoar frost.
Most of the day was spent in the woods following the Rivière du Gouffre with little in the way of views.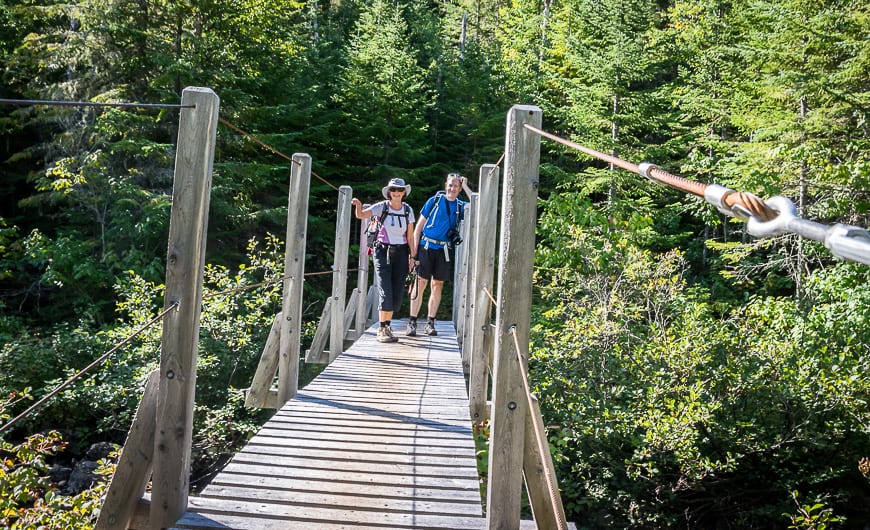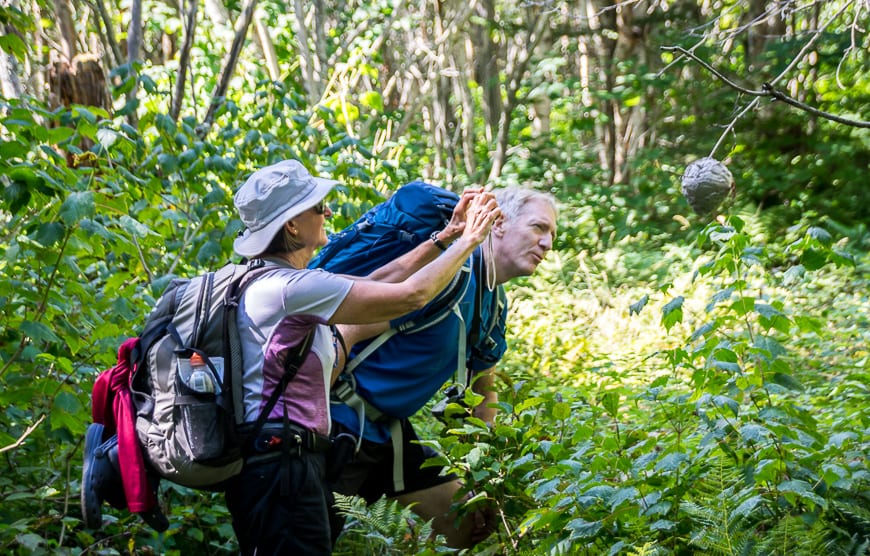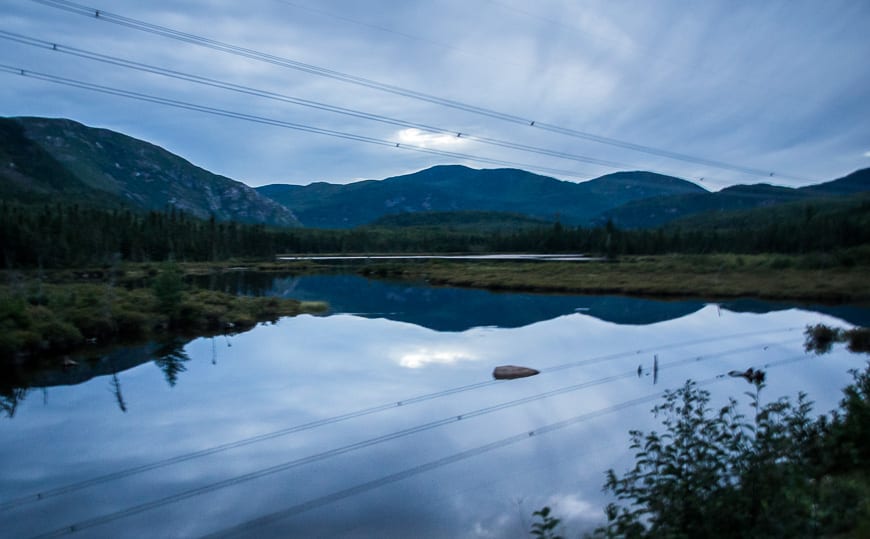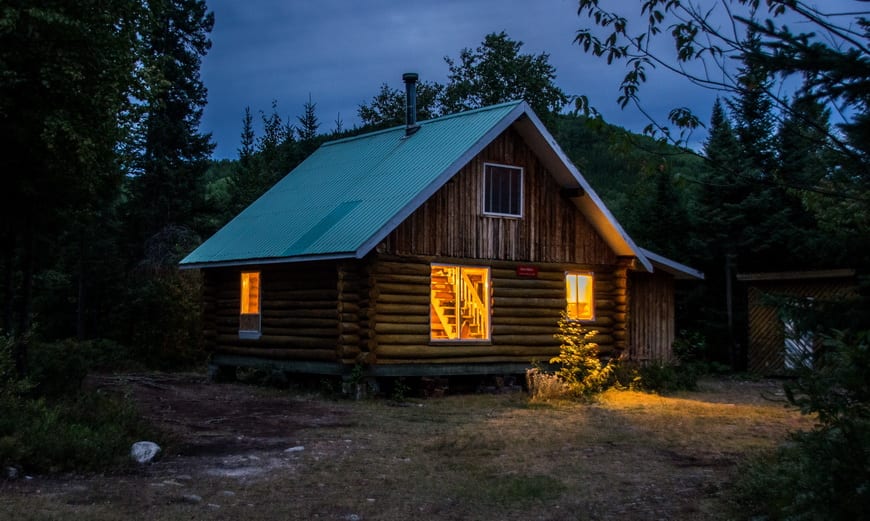 Day 3 on the Charlevoix Traverse – Marmot Hut to Owl Hut (Chalet La Chouette) hike
I hate it when the weatherperson is right. Predictions of a wet day were made about five days out and held true. While there's nothing you can do about the rain, we had been looking forward to the far-reaching views you can see from the hut on Mt. Noyee where everyone stops for lunch.
Nonetheless with some 500 m of elevation gain over our 19.4 km day, we were able to get into an eco-zone more reminiscent of the sub-Arctic taiga terrain. We also enjoyed stops to pick blueberries and some truly lovely walking through birch forests. If the weather had cooperated, this would be one of the top days on the Charlevoix Traverse.
It's on days like this that a cabin beats a tent hands down. With a fire going in short order and clotheslines already in place, it didn't actually take long to dry everything out – shoes included.
Day 4 – Owl Hut to Blue Jay Hut hike (Chalet Le Geai-Bleu)
Today's hike on what turned out to be a hot day on the Charlevoix Traverse, offered a lot of variety and an end of day bonus – the option to swim or at least get cleaned up in the Malbaie River. While the hike started off with a climb of a couple of hundred metres, most of the day's 19.6 km was on a downhill trajectory.
A pretty lake beside Bihoreau Cabin was a good place for a sip of water and a bite of a bar. The wide open area we reached mid-way through the morning had John on high alert for birds with most of the sightings in the woodpecker family.
And 4 km shy of the Blue Jay hut we reached a proper road – one where you could grab a shuttle and head into town for a touch of civilization in the summer months. We were happy to hang for a while at picnic tables beside the Malbaie River. From there it was an easy walk along the road beside the river to reach Blue Jay Hut.
It had been that we hike the road because people had heard that a number of trees were down on the last stretch of trail to the hut. (They were going to be dealt with the week after we left.) In chatting with Roger and Yvan who hiked it, we missed a particularly beautiful section of forest.
Blue Jay Hut is hands down the nicest hut – largely because it has a big deck overlooking the river and flat outcrop that you can lounge on at the front door. With inky black skies at night, the stars here are truly spectacular.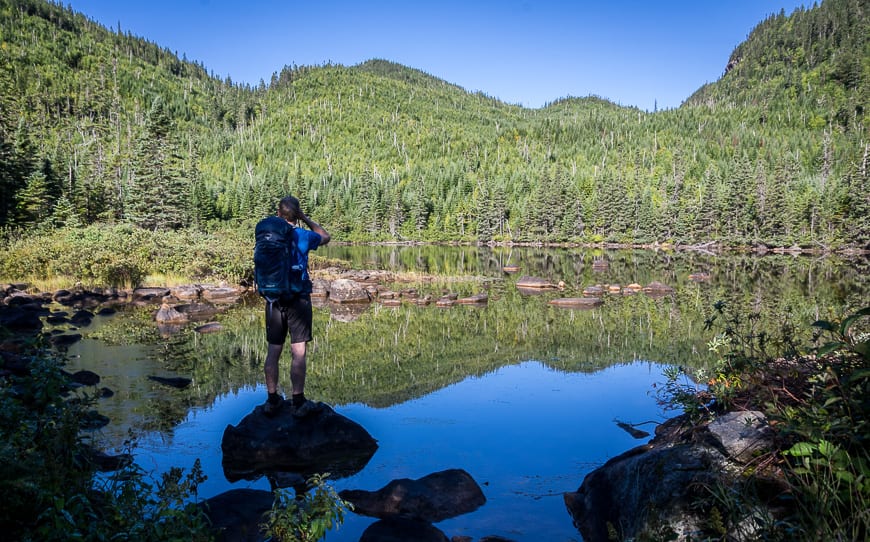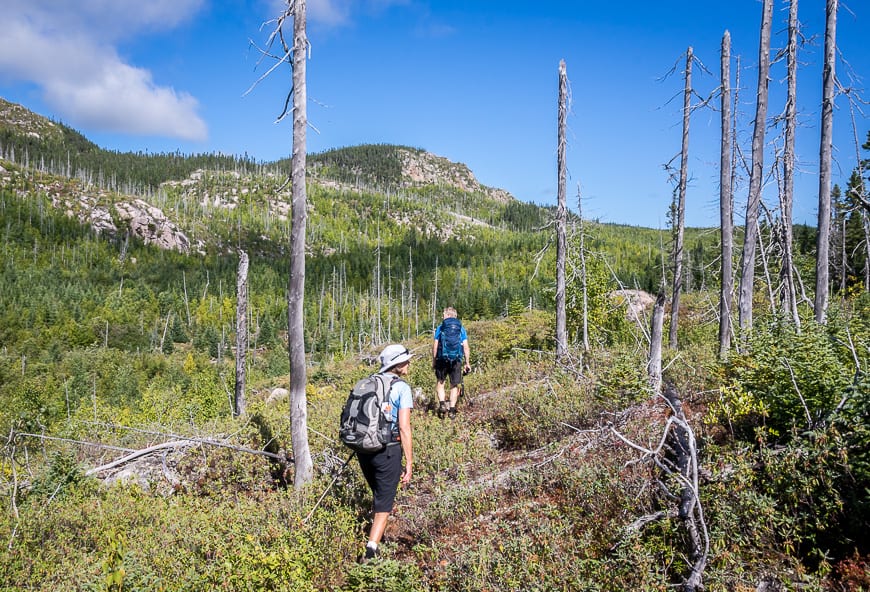 Day 5 – Blue Jay Hut to Coyote Hut hike (Chalet Le Coyote) on the Charlevoix Traverse
We knew it was going to be an easy day to get to Coyote Hut with only 15.7 km to hike so we started the day off right with a pancake breakfast and a couple of cups of coffee. It was hard to pull ourselves away from the hut, not only because of its location but because it was here that we all really bonded.
The night before Margaret had suggested wine and hors d'ouevres next door at another empty hut with even better views. Lots of laughter and great conversation forged real connections; I think all of us hope that we'll cross paths again somewhere along the road.
The first part of the day offered pretty hiking, first along the Malbaie River and then alongside the Chouinard Stream. But once that ended, the hiking at least in my opinion became less interesting.
Granted there was always something you'd find to grab your attention – whether it be a pile of animal bones, a massive mushroom or a bird, but there was also lots of scrubby woods with pencil thin trees, and not much in the way of views.
Fortunately, a good clean-up in the stream followed by a glass of wine and our now nightly group wine and hors d'ouevres went along way towards making the day a winner.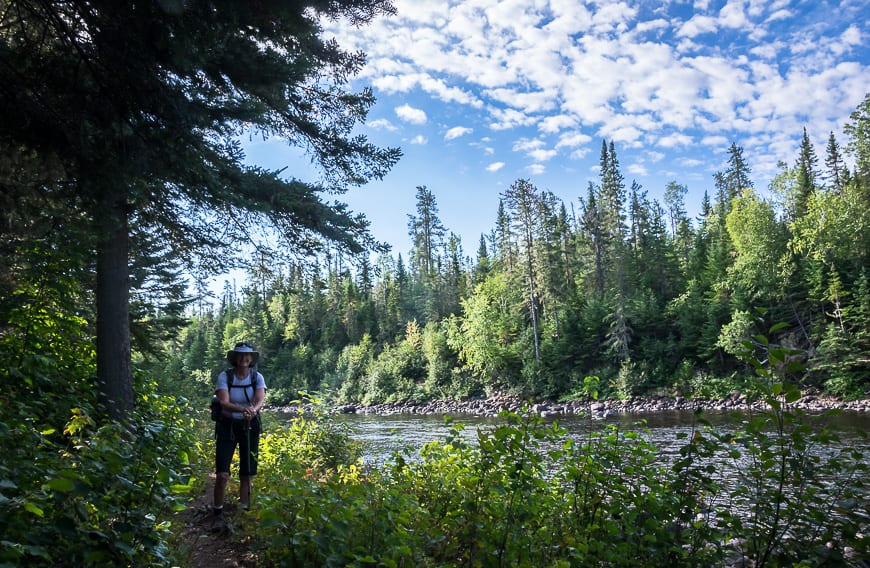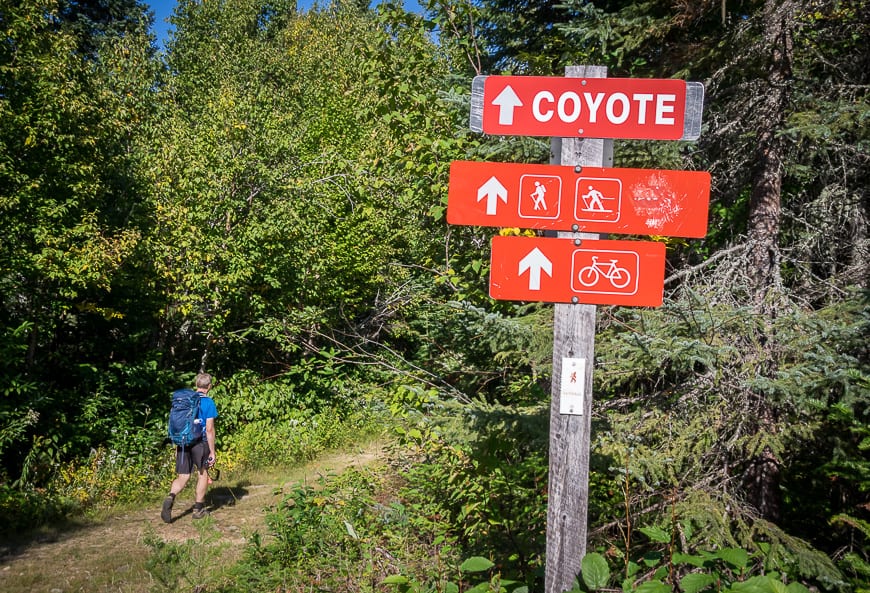 Day 6: Coyote Hut to Sparrowhawk Hut hike (Chalet L'Épervier)
The 19.7 km hike to Sparrowhawk Hut is one that would be enjoyed by people who love quiet contemplation in a forest setting. If you have a life problem to work out, save it for this stretch.
Of the seven hiking days I found this one came up short. Much of the route was on old forest or logging roads and while there are always pretty sections of birch trees, most of the trail was particularly well endowed with scrubby, not so pretty woods that I for one didn't want to linger in.
We were joined on the last night by two fellows, Matieu and Guillaume from France who were knocking off the trail on their own, in five days. They had a couple of funny animal stories to share. The first related to what they thought was a black bear sighting. They got quite excited, snapped some photos and then took off running.
We had a look at their photos and the bear was none other than a porcupine – though granted we saw one in a tree the next day and from afar could possibly be mistaken for a bear cub. Perhaps with thoughts of Instagram glory, they also dashed after a skunk trying to get a shot. It wasn't until chatting with us in the hut they realized they were lucky they hadn't been sprayed.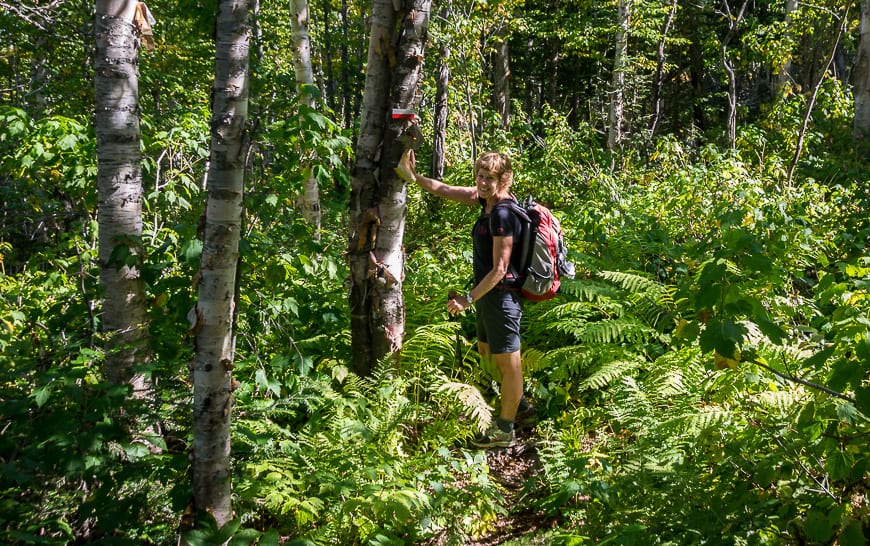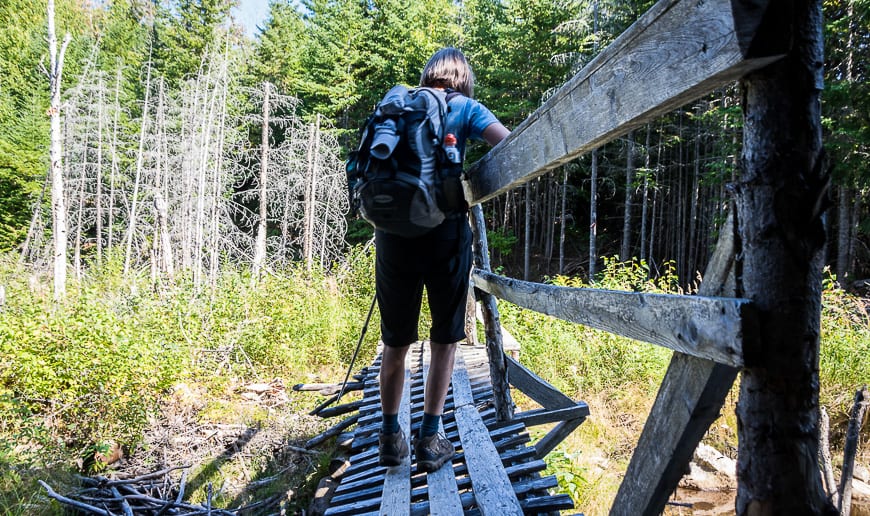 Day 7 on the Charlevoix Traverse – Sparrowhawk Hut – Mont Grand-Fonds Trailhead
Our last day was bittersweet. John, Judy and I had been living primarily on dry bagels and dehydrated meals to which boiling water is added so we had some serious food cravings we wanted addressed. But we were also sad to be saying goodbye to people that had made us laugh till we cried.
The last day is a three hour, 10.3 km hike through the woods with a few notable sections offering now colourful views. We saw our only wildlife of the week on this section – a porcupine boasting two very yellow front teeth.
Despite leaving at different times we all showed up at the Mont Grand-Fonds trailhead within five minutes of each other. One more final good-bye, some photos and it was over.
We won the lottery on the hike!
Camaraderie is a strange thing. It's so rare to throw a group together for six nights and end up with people you would like to see regularly for the rest of your life. Mr. and Mrs. Smith, less formally called Stephen and Margaret, made our mouths water every meal time. They were frequent visitors to the Charlevoix region, loving the bounty of local foods they could source and cook.
I looked at my meal one night – a couscous concoction while they feasted on duck, fresh vegetables and baby potatoes. Stephen would chuckle and I'd swig another mouthful of wine (a need – not a want on this trip) doing my best to make them feel guilty.
Our new Quebecois friends Yvan and Roger should have done stand-up comedy. I hate to think of what I missed when they got going in French – but it must have been good because John had tears in his eyes on many occasions.
These two pals, best friends for over 50 years – from the time Roger's mother marched him over to Yvan's house to apologize for breaking a truck at the age of three – talked like a couple of schoolgirls, of what I don't know but they were always smiling and animated, so it had to be good.
(Kudos to the two of you for slipping quietly downstairs early every morning and cooking on stoves you brought outside (MSR only, right Roger) so you could keep the conversation going and not bother anyone.)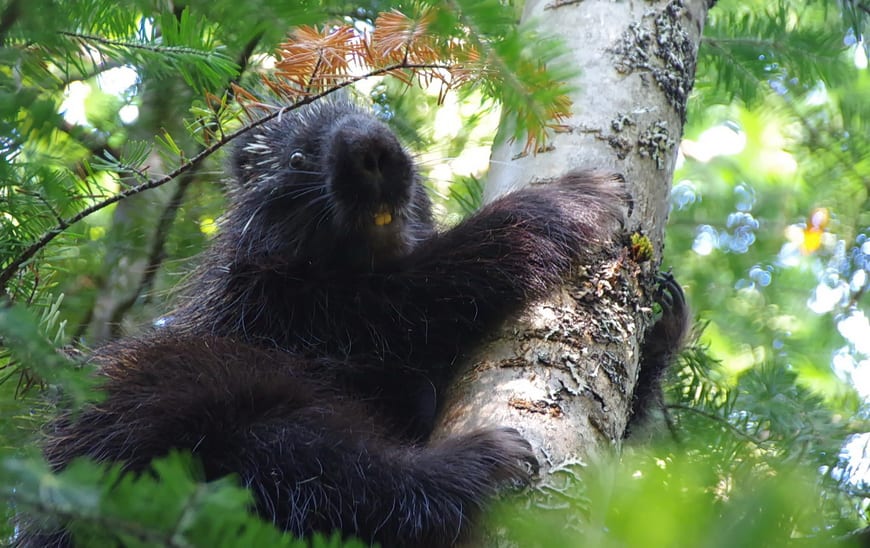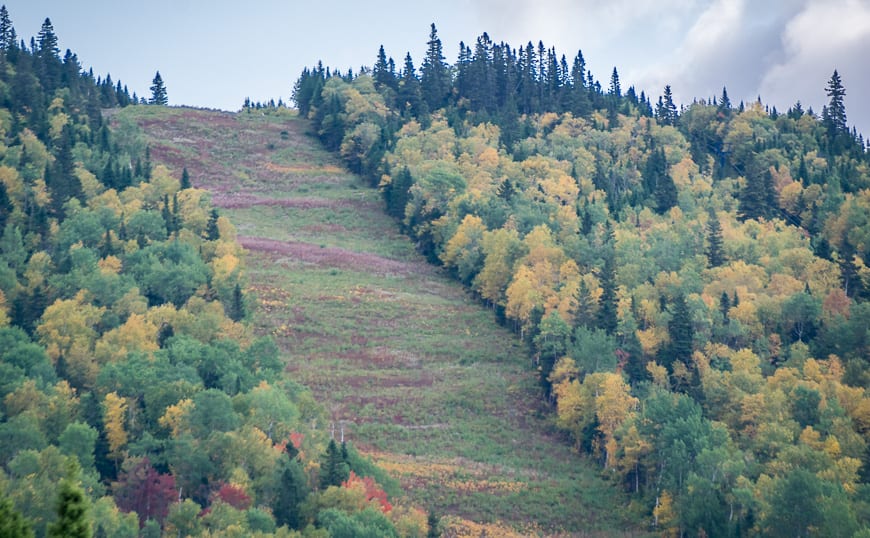 At the end of the Charlevoix Traverse hike we were presented with a signed certificate that confirmed our accomplishment. Signers included none other than Eudore Fortin, the driving force behind the building of the 105 km route back in 1978.
How to get to the start of the Charlevoix Traverse hike
There are a couple of great transportation options to get to Baie Saint Paul or La Malbaie from Quebec City. I'd personally recommend taking the Train de Charlevoix for a scenic, relaxing ride along the St. Lawrence River. Just be warned that if you're taking a taxi or UBER first thing in the morning to Gare Parc de la Chute Montmorency, it will look like you can't get through the gates but inch forward and the gate will magically lift.
There is a less expensive bus option via Busbud.You could take it either the morning you plan to start hiking or the night before in which case plan to overnight in the cute town of Baie Saint Paul.
Other useful information about the Charlevoix Traverse
Cell phones work on rare occasions only, usually under the powerlines.
You must stay in huts along the hike. No tenting is allowed.
If you are a light sleeper, ear plugs will come in handy.
Bring your own toilet paper and matches.
I brought a silk sleeping bag liner I used as a mattress cover. I put it over the mattresses in each hut and it just felt cleaner.
While there are long hiking days, you don't need heavy leather boots to do this hike. My feet were wet one day but otherwise great in running shoes. Bring a pair of Crocs for the hut.
Hunting season lasts for a few weeks at the end of September when colours are at their peak. It would be the best time to go – but wear a bright orange safety vest.
Perhaps there are bears, wolves and moose in the forest but we saw wolf scat only once, moose pellets on numerous occasions and never bear scat. If it's the height of berry season make some noise but don't let the possibility of seeing wildlife scare you off from doing this hike.
For more information on the Charlevoix area visit the Tourisme Charlevoix website.
Where to stay in Quebec City before of after the Charlevoix Traverse
We stayed at the Hôtel Chateau Laurier in Quebec City after the trip and would recommend it as it's close to all the downtown action and a strip of lively restaurants.
Further reading on multi-day hikes in Canada
Click on the photo to bookmark to your Pinterest board.