Over the years I've read the odd Globe and Mail article about the Charlevoix region of Quebec and Baie St. Paul in particular. I'd heard about the foodie scene. And knew that the former Hôtel La Ferme along with Le Massif Ski Resort was the brainchild of Cirque du Soleil co-founder Daniel Gauthier. Recently I'd seen a photo on Instagram of the area at sunrise so I had more than an inkling that the area would be beautiful. But that's where my expectations ended.
What I didn't expect was the spectacular view as you drop into Baie St. Paul as you're driving east from Quebec City. It's a stunner. And the size of the mountains was a complete shock as was the topography along the shores of the St. Lawrence River.
This post includes some affiliate links. If you make a qualifying purchase through one of these links, I may receive a small percentage of the sale at no extra cost to you. Thank you very much for your support.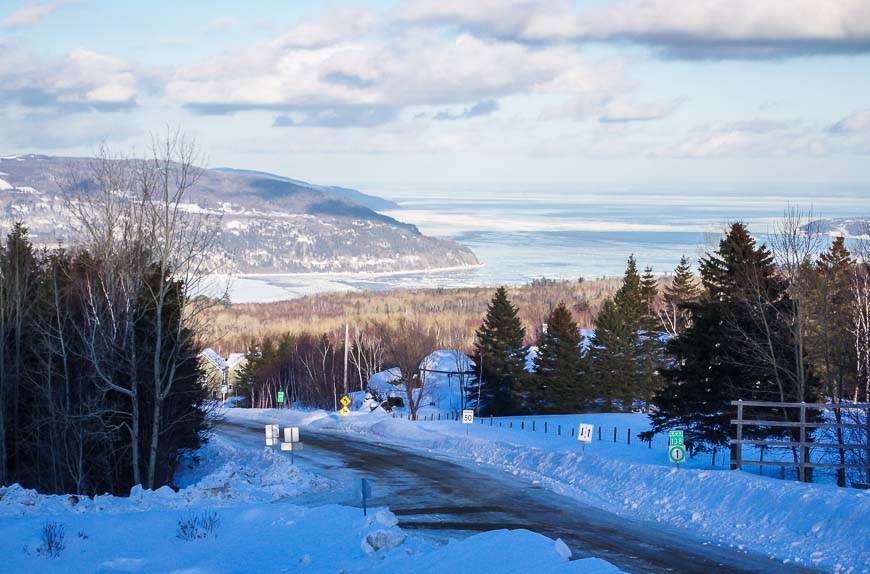 Baie St. Paul in the Charlevoix region
Baie St. Paul charms. Think old Quebec City – but more compact (only a few blocks) and without the cobblestones. Throw in some art galleries (the most per capita in Canada), museums, blocks of locally owned shops, great little restaurants, and centuries old homes.
It's an easy escape from Quebec City. Allow just over an hour to drive the scenic 95 km.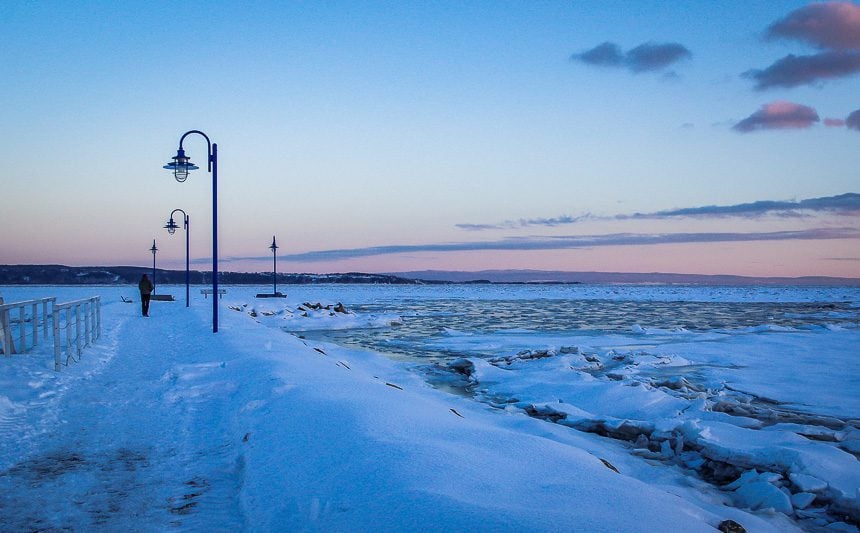 You're in for a treat eating in Baie St. Paul
For coffee and pastries or to pick up lunch supplies for a day out cross-country skiing, stop at Boulangerie à Chacun Son Pain. You'll be spoiled for choices.
For dinner try Chez Bouquet Éco-Bistro – a contemporary spot on the main street that belongs to La Muse Inn. Walls adorned with colourful paintings along with an inviting ambiance are the setting for a restaurant with a largely local, trans-fat free menu.
Look for interesting dishes like emu tartare and foie gras mousse on beet chips; you'll also find more traditional offerings like steak and frites and jumbo scallops.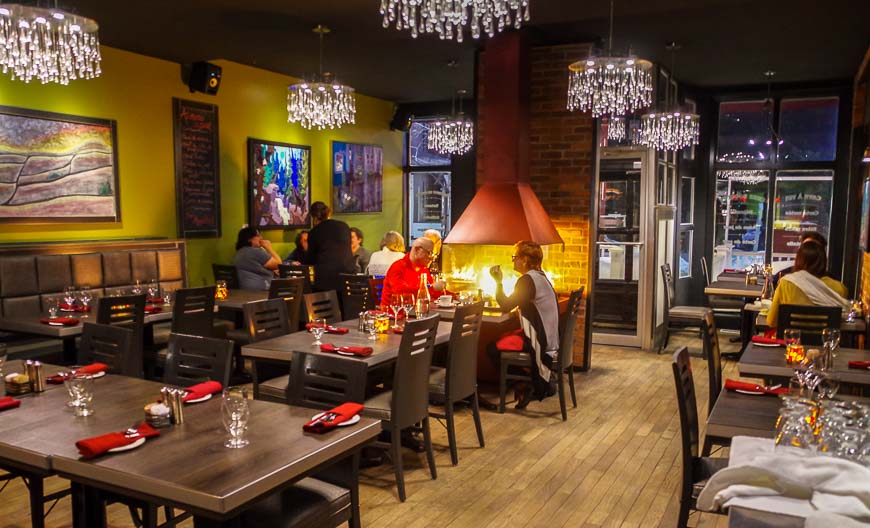 In conversation with some foodie types at Le Massif Ski Resort, I certainly got the impression that the restaurant to try is Le Mouton Noir – complete with a riverside terrace that's open in the warm season. Although I didn't eat here, I did check out the menu -and again it's full of local specialties. I wish I'd had another night in town.
L'Orange Bistro is another restaurant I tried. Housed in a beautiful building, the food gets an average rating on Trip Advisor – and I would concur. But the service is great and I loved the ambiance.
Shop and explore Baie St. Paul on foot
Sometimes it's the simple things you do when you travel that are the most rewarding. For a few hours one afternoon I took off with only my camera and checked out the neighbourhoods of Baie St. Paul – after window shopping along the main street.
Exploring and wandering around town – without a map is a great way to learn about a place. I was taken aback by the pretty storefronts, the neighbourhood bistros, a local cidery, museums, and all the homes with rickety looking spiral staircases that made me appreciate the athleticism of the occupants. This small town is stamped with character.
Don't miss an early morning or sunset walk at the marina overlooking the St. Lawrence River. At this time of year the ice-clogged bay is a place of beauty with all the reflections.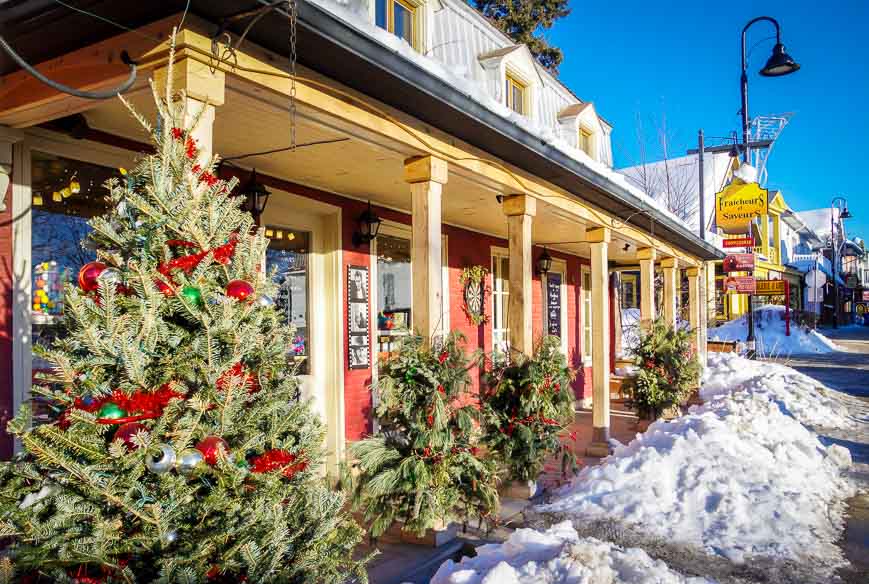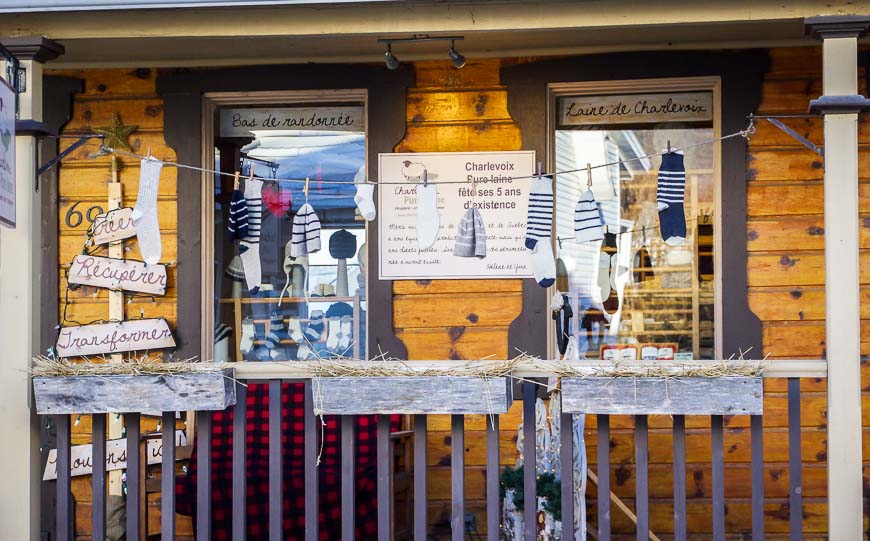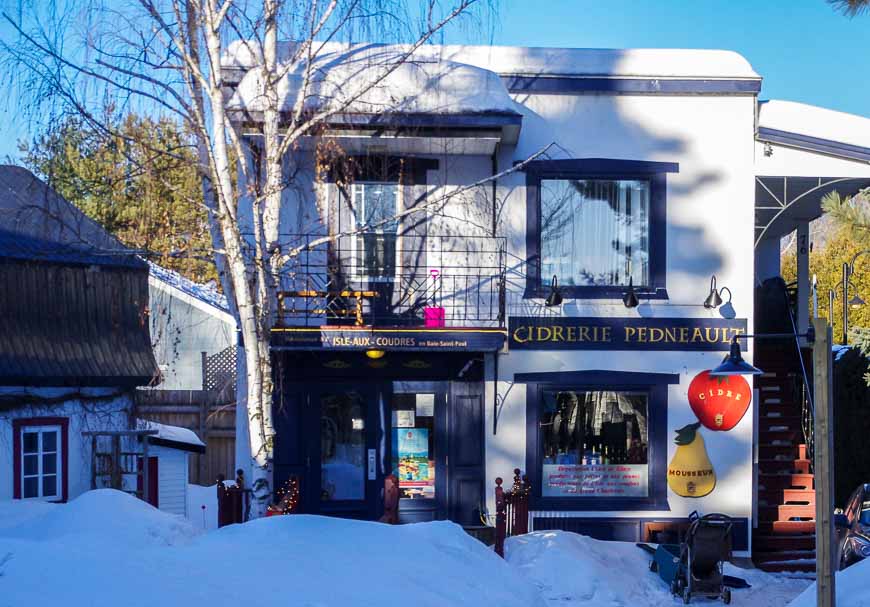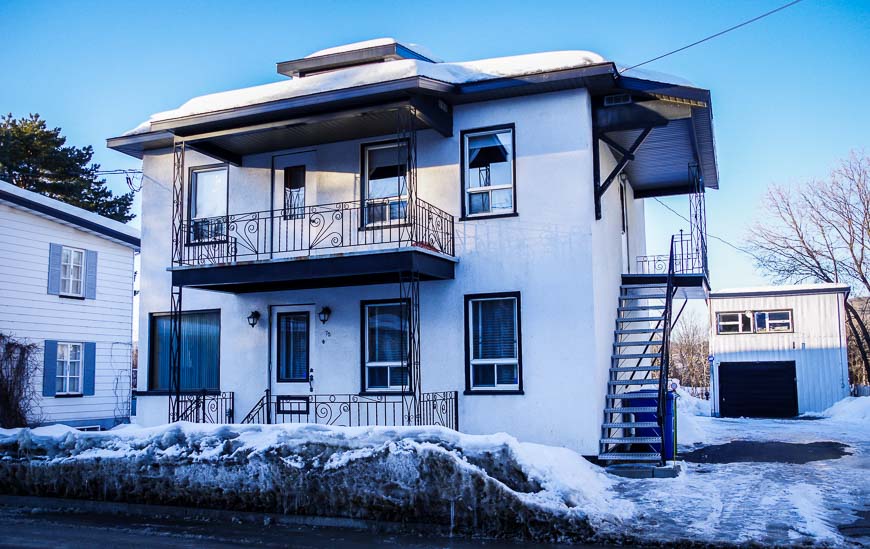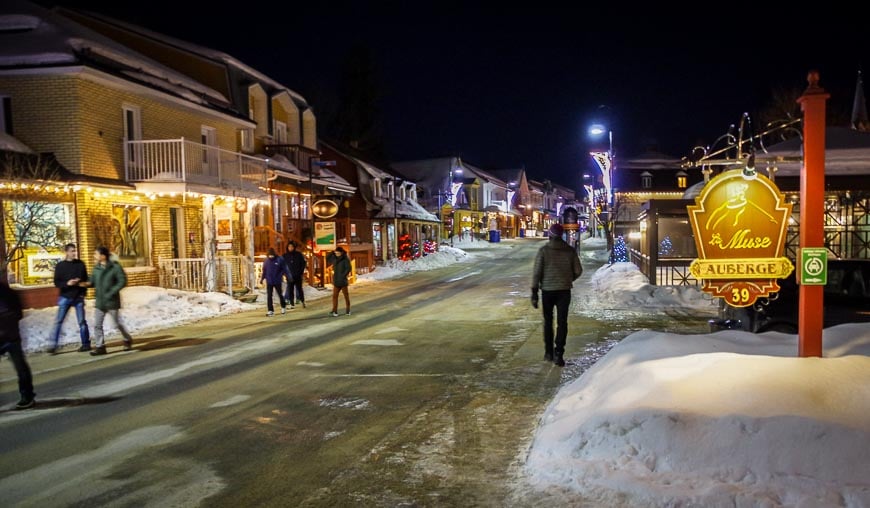 Where to stay in Baie St Paul

John and I stayed at Auberge La Grand Maison, just a short walk from all the galleries and restaurants in town. The rooms were nice with hardwood floors but the entrance to the room was a tad unusual as it was via an onsite spa.

On my next visit I'd treat myself to a stay at Le Germain Hotel Charlevoix. Much has been written about this hotel when it was called La Ferme. Known for its ultra-modern rooms spread around a central courtyard and an outdoor pool with distant views of the bay, it's the definitive place to stay in town.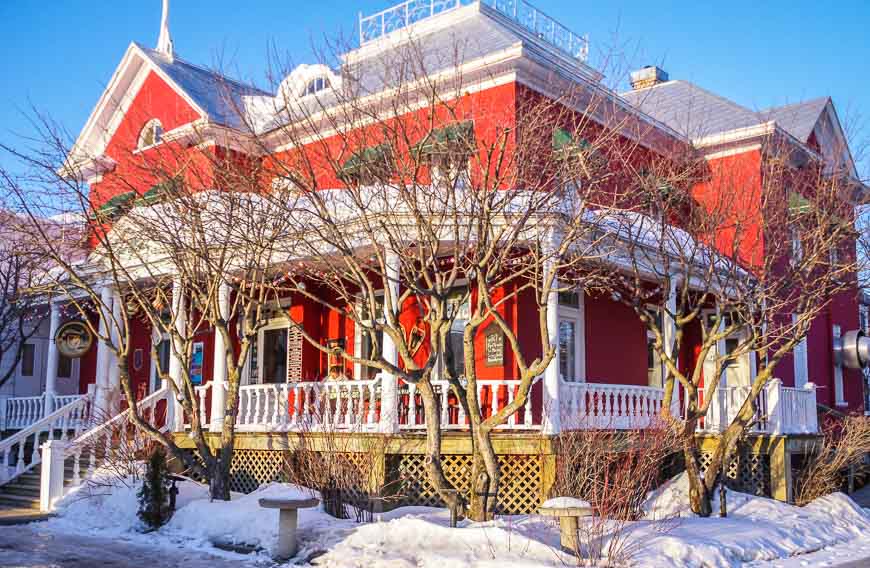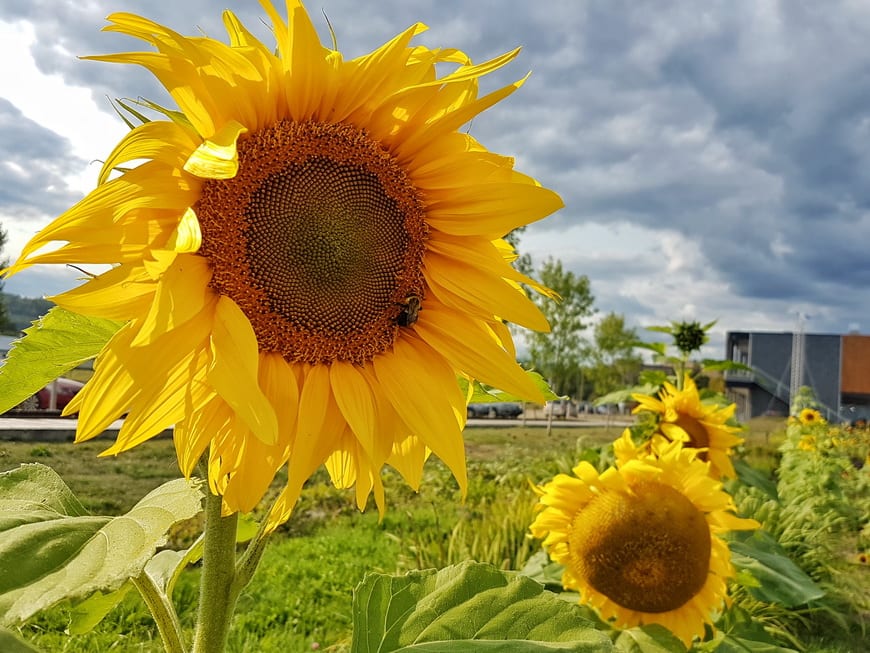 Don't miss the skiing
If you stay in Baie St. Paul, you'll only be a 15 – 20 minute drive from the very scenic Le Massif Ski Resort. Not only does this place gets a ton of snow, but it boasts the biggest vertical east of the Rockies. Read more about the downhill skiing experience here.
At Sentier des Caps there's cross-country skiing and snowshoeing though that will have to wait until the next visit. I did cross-country ski about an hour away at Mont Grand-Fonds – excellent skiing with loads of snow, 140 km of trails, nice warming cabins, and a friendly vibe.
It also offers downhill skiing though it seems most people stay in nearby Malbaie.
Final thoughts
The charming town of Baie St. Paul so close to Quebec City was an unexpected delight. I can't believe how much the town offers the visitor on so many levels – and that was in the winter. A huge thank you to Tourism Charlevoix for arranging my trip. This is an area of Quebec you'll definitely want to visit.
Location map for sights, restaurants and places to stay in Baie St. Paul
More reading on travel in Quebec
Click on the photo to bookmark to your Pinterest boards.