Quebec City in December is not traditionally a time for tourists and as such it's a great time to go. Prices are lower, there's lots to do both inside and outdoors and there's a real magic to the city – especially with so many Christmas lights and beautiful decorations. Over a December weekend you could easily fit in a visit to all of the following places. Park you car for everything but the aquarium. Quebec City is a great walking city and easy to navigate. And when you need to warm up, you'll find plenty of charming cafes and bars.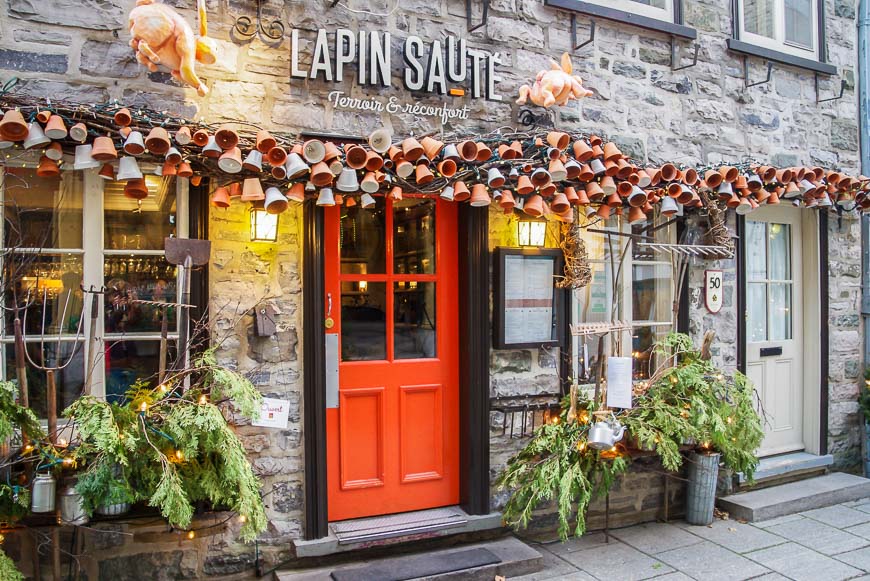 This post includes some affiliate links. If you make a qualifying purchase through one of these links, I will receive a small percentage of the sale at no extra cost to you. Thank you very much for your support.
Quebec City in December – Check out Rue de Petit Champlain
Considered to be one of the prettiest streets in Canada, Rue de Petit Champlain is at its festive best in the winter months when it's draped in garlands and covered in lights. A little snow makes it that much prettier – though this year it's late in coming.
Home to galleries, boutiques and local restaurants you'll have no problem finding lots of French onion soup and poutine – along with vin chaud and hot chocolate to warm you up.
Château Frontenac serves as a backdrop and is easily accessed via a climb on the famous breakneck staircase or via a quick ride up on the funicular.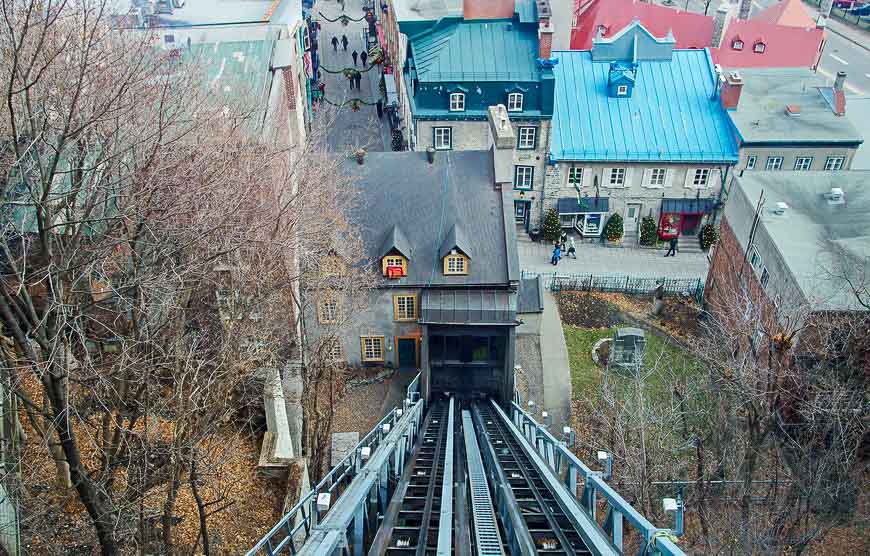 Visit the German Christmas Market in Quebec City in December
Looking for some Christmas cheer with an authentic German twist in old town Quebec City in December? Head for the German Christmas market – now going into its 16th year (2023).
Wooden kiosks sell traditional German crafts, woolen socks, cozy slippers, children's toys, local food and drinks as well as favourites like gingerbread, roasted chestnuts, churros and glühwein (a delicious hot mulled red wine) under a backdrop of holiday lights.
For a taste of real German food don't miss the food tent where you can chow down on a traditional currywurst with sauerkraut while listening to music. Check the opening times as they vary from year to year. And be prepared for some crowds as this market is hugely growing in popularity.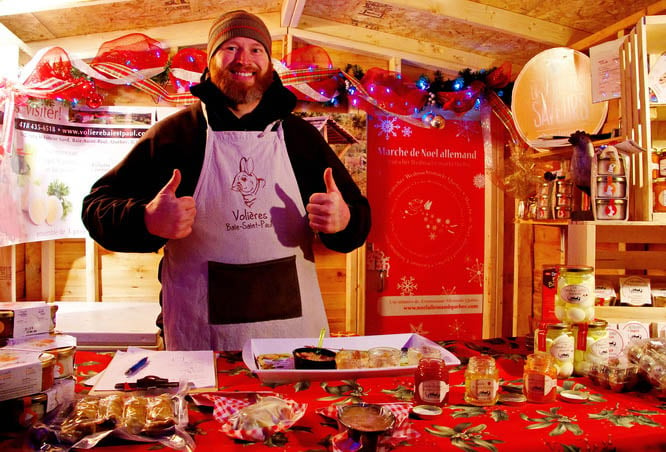 Visit Le Monastere de Augustine
When you need a break from the craziness of the holidays, whether it be for a few hours over lunch or a multi-night stay, check out Le Monastere de Augustine, in the heart of old town Quebec beside Hotel Dieu.
Transformed from a monastery to a hotel, it holds the rank as one of the top three healing hotels of the world. You feel a sense of peace and calm the minute you walk in the door. Visitors can tour the museum – an incredibly interesting space and very well presented. Or show up for a very delicious lunch with vegan options available.
If you only have a few hours, lunch is what I'd suggest. Start at the soup and salad bar where you can load up on chickpea, beet, quinoa, lentil, carrot and several other super healthy, visually appealing salads.
Fill a bowl with soup, grab a few slices of artisan bread – and then wait for your main course…and a small dessert.
Take a few hours to enjoy your lunch in this serene setting. You're only a block or two from Rue St. Jean so you can get back to shopping and sightseeing very easily.
Pop into the Quebec Aquarium in Quebec City in December
I didn't even know there was an Aquarium in Quebec City until my December visit. It was primarily filled with families but I thought it was a fun and educational place to visit.
You could easily spend two hours here checking out all the displays. There's a pavilion devoted to seahorses and jellyfish while another one is full of fish and creatures from the St. Lawrence River.
A selection of northern mammals can also be seen including seals, walruses and Arctic fox – perhaps even some polar bears but I missed that. It's decorated for Christmas, so show up after the sun goes down so you can enjoy the beauty of the light display.
Walk the Ramparts in Quebec City
In Quebec City, the Ramparts are the only fortified city walls remaining north of Mexico. The wall surrounds a good chunk of the old city.
In theory you can walk on or beside the wall for about 4 kilometres – but not as a continuous stretch. I did a beautiful section from the St. Louis gate up towards the Citadel so I could get views over the St. Lawrence River.
If you pick up a detailed city map, you'll see where you can follow the wall. It's a great walk – loaded with history and beautiful scenes.
I'm a fan of Quebec City in December – and all year round for that matter. It's a city where people embrace winter and get out to enjoy it. December is no exception. There's a real joie de vivre. People are friendly and Quebec City is full of atmosphere. And although I was a guest of Quebec City Tourism, my thoughts on the city are mine alone and I'd go back in a heartbeat.
Where to stay in Quebec City
If you want to splurge and stay in what is called the most photographed hotel in the world check out Fairmont Le Chateau Frontenac.
I can also personally recommend the Hotel Marriott Quebec Centre-Ville and Hotel Chateau Laurier near the Plains of Abraham.
We have also a very good B&B experience at a reasonable price in the downtown core at Auberge Saint-Pierre.
Further reading on things to do in Quebec
Click on the photo to bookmark to your Pinterest boards.