Fat biking is big and growing in popularity. Over the past four to six years, outdoors enthusiasts across the country have embraced the sport – partially as an alternative to cycling indoors in winter but mostly because fat biking in winter is an adventure. And while it can cost upwards of $1600 to purchase a bike, there are lots of affordable rental options so you can try the sport without breaking the bank.
I set out to discover for myself what fat biking was all about on some of the trails in Banff National Park. I certainly learned a thing or two. Fat tire mountain biking is related to mountain biking – but in a distant third cousin kind of way. In many ways its closer to cross-country skiing which may sound surprising.
As Ryan Draper, the General Manager at Rebound Cycle in Canmore said "don't judge the sport based on your first impressions. The condition of the snow greatly affects your experience."
You need a combo of the right snow and weather for fat biking
To have a good experience you really need the right snow and weather conditions. You have to plan your excursion just the way you would if you were heading out for a day on cross-country skis. Getting caught out in the backcountry poorly dressed, tired and dehydrated is not what anybody needs.
My adventure started with a stop at Soul Ski and Bike in downtown Banff to pick up a rental bike and get the latest on the local trails. They suggested my daughter and I try the Spray River trail as it was in the best shape for riding.
Fat biking in Banff on the Spray River Trail
We rode right from the store (conveniently located beside my favourite bakery in Banff – Wild Flour) over the Bow River and past the Banff Springs Hotel to the Spray River trailhead. Right off the bat I was pleased with how responsive the brakes were on the snow.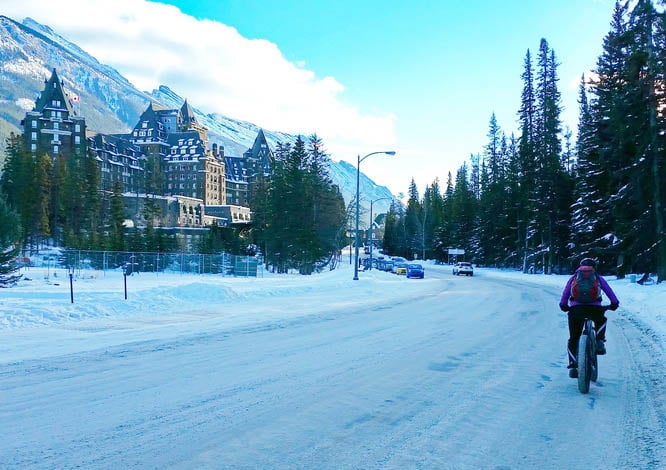 At the trailhead we learned that it would be a 12 kilometre return ride if we turned back at the bridge over the Spray River. It doesn't sound like much but as I was about to find out, biking on snow is VERY HARD WORK – especially when the trail is soft and rutted.
For the first few kilometres I felt like my whole body was in a washing machine. If you look in the picture below you can see a lot of foot imprints in the snow between the two track-set trails. They act like cobblestones, jiggling and rattling every part of your body.
But, it was a spectacular day outside – blue skies, sunshine and temperatures around the freezing mark so I was very happy just to be outdoors.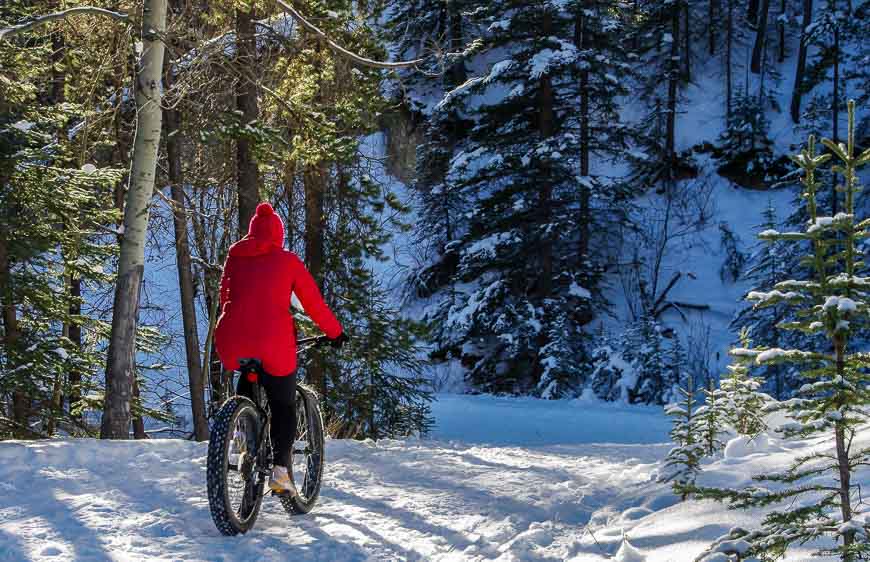 Less work equals more fun when you're fat biking
It wasn't until we hit some downhill sections that I realized what a dream it could be on these bikes. With a hard-packed surface you're not fighting the friction of the snow nearly as much as the soft stuff. Less work equals more fun.
The last kilometre to the bridge and our turnaround point was brutal. The snow was largely unpacked so a few times I just got off my bike and walked. I was also trying to be very careful not to bike into the ski tracks. We'd met a couple of grouchy ladies who were giving us a lesson in biking etiquette – despite the fact we were riding down the middle of the track.
We hadn't planned to retrace our steps but we did because of trail conditions on the other side of the river. It was mostly fluffy snow and way too energy zapping to ride.
For fat biking in Banff I'd recommend the following
Pick your day to ride. Don't plan to ride on a fresh powder day.
Be sure to wear warm socks and boots. Our feet were numb by the end of the outing.
Wear a lightweight hat or headband so you can also put on a bike helmet.
Carry water, energy bars and a layer of extra clothing along with the 10 essentials if you go into the backcountry.
Consider carrying a can of bear spray – even in December. A snowshoeing guide I know saw fresh grizzly bear tracks on a section of trail up from where we turned around.
Dress in layers. I was completely drenched at the turnaround point.
In Banff National Park there are loads of trails to explore on a fat tire bike – with trails for every level, especially in the Tunnel Bench area.
Further reading on things to do in Banff National Park in winter