Banff National Park may be quieter in the winter, but its not lacking for winter activities. In fact, locals love to visit as there's so much to do including a great assortment of winter hikes in Banff and nearby. There's something for everyone especially in the easy and moderate category. When it comes to the more difficult winter hikes in Banff, you're usually getting into a bigger elevation day, so there's likely more snow. Cue the snowshoes.
It's extremely important to be prepared if you're planning to do one of these winter hikes in Banff. I don't entirely trust weather reports but I don't leave home without looking at them either, especially the one put out by the Government of Canada as I find they're the most accurate. I always carry the 10 hiking essentials and check out the trail reports before I go, as closures can happen at any time. I avoid avalanche terrain like the plague.
You can take your dog on all the trails but consider the weather, temperature, and the type of trail. I personally would give all the ice walks a pass with a dog but would take them on the others. Be sure to carry extra water for them and a few treats.
You might want to read: 15 Expert Winter Hiking Tips to Stay Warm & Safe
This post includes some affiliate links. If you make a qualifying purchase through one of these links, I will receive a small percentage of the sale at no extra cost to you. Thank you for your support.
What to take on a winter hike in Banff
Before you head out on any of these winter hikes I highly recommend that you pack a pair of microspikes like these ones from Kahtoola. Don't forget the hiking poles. Throw in some hand warmers, warm clothing, extra socks, extra mitts, hot drinks, a charged phone, and a pair of gaiters. I always carry some energy bars too.
Trailhead map for winter hikes in Banff
Fenland Trail hike in Banff
Distance: 2.0 km with no elevation gain
Rating: Easy
Time needed: 40 minutes to an hour
Trailhead: Exit is west off Mt. Norquay Road, approximately 200 m south of the Vermilion Lakes Road exit. If you're coming from the other direction, the exit is just north of the Fenlands Banff Recreation Centre. It's here on Google maps.
The Fenland Trail is a loop. Although you hear traffic from the highway, the actual hike is lovely. Walk on a well-defined trail through old-growth spruce forest. Enjoy a scenic section along Echo Creek that I found particularly lovely. There is the option to cross a bridge and hike along Vermilion Lakes Drive – though you would have to share the road with slow-speed vehicles. You can also walk from downtown Banff and pick up this trail if you want to make it into a longer outing.
Marsh Loop Hike



Distance: 2.8 km loop with minimal elevation gain
Rating: Easy
Time needed: 45 minutes to an hour
Trailhead: Cave and Basin parking lot. From the parking lot I find it easiest to head towards the Cave and Basin National Historic Site. Continue down the hill to reach a sign that says Marsh Loop. It goes to the right and will take you back on a loop to the parking lot.
I love the easy Marsh Loop hike in winter. It's always a beautiful walk along the Bow River and in winter you aren't likely to see the horses that use these trails daily in the summer. On the section of trail that leads back to the parking lot, look for depressions where the elk have bedded down for the night. This one is perfect for families.
Hoodoos Lookout hike
Distance: 10 km return with 305 m of elevation gain
Rating: Moderate
Time needed: 3 – 4 hours
Trailhead: Start at Surprise Corner off Tunnel Mountain Drive.
You'll barely have to hike at all if you park on Tunnel Mountain Road and walk the short trail up to the Hoodoos Viewpoint but I'm guessing you're looking for more than that.
Start the winter hike to the Hoodoos at Surprise Corner and enjoy a superb view of the Banff Springs Hotel before heading into the forest. The trail is south facing so with snow melting on and off during the winter, there's a good chance you'll need to put on icers.
The trail and the viewpoint offer excellent views of the Bow Valley, Tunnel Mountain and Mount Rundle. Don't forget to pack some extra layers as it can be blowy once you're out of the trees.
Johnston Canyon and the Inkpots winter hike
Distance: 1.2 km one way to the lower falls + 50 m elevation gain; 2.5 km one way to the upper falls + 120 m elevation gain and 5.7 km one way to the Ink Pots with 330 m elevation gain
Rating: Easy to moderate
Time needed: One hour round trip for the Lower Falls, 2 hours round trip for the Upper Falls and approximately 4 hours round trip to the Ink Pots
Trailhead: Johnston Canyon trailhead
Read: The Johnston Canyon Ice Walk in Banff National Park
A winter hike in Johnston Canyon never gets old. Its fun for all ages whether you turn back at the lower falls or go past the upper falls all the way to the Ink Pots. Sometimes the trail in winter is just snow packed and completely doable in winter boots with some traction. But more often there will be icy sections. To avoid a fall, be smart and pack your icers or microspikes. It's one of the most popular activities in Banff – and one where you can enjoy a guided tour – in the morning, afternoon or even at night!
The hike starts in the forest, but its not long before you're slip-sliding along catwalks and oohing and aahing at the scenery. If you decide you want to continue to the Ink Pots, I'd suggest you take a pair of snowshoes as it gets snowier the higher you go.
Stoney Mountain Lookout hike near Mt. Norquay
Distance: 4.8 km loop with a 205 m elevation gain
Rating: Moderate
Time needed: 2 hours
Trailhead: Mt. Norquay parking lot
Unless there is a huge dump of snow, you should be able to do the winter hike to Stoney Mountain Lookout with icers. Most of the hike is in the trees but in winter its very pretty. At the lookout, views are particularly good of the Bow Valley and Cascade Mountain.
The hike is easiest to do if you start at the trailhead just as you enter the Mt. Norquay parking lot – and chances are good that a parking attendant can point you in the right direction. You finish above the day lodge.
Johnston Lake winter hike
Distance: 3.1 km with minimal elevation gain
Rating: Easy
Time needed: One hour

Trailhead: The trail starts at the end of Johnson Lake Road, off of Lake Minnewanka Scenic Drive.
You can hike the Johnson Lake trail in either direction following the lakeside shoreline. It's less interesting on the east side as you're in the trees, albeit some of the oldest Douglas fir trees in Alberta, and underneath a powerline so I'd recommend knocking that section off first. The rest is pretty, especially at the far end of the lake where you will be sure to enjoy great views of both Mount Rundle and Cascade Mountain.
If you have time to spare and the lake is snow free, plan to skate. Be safety conscious and be sure you know that the ice is thick enough.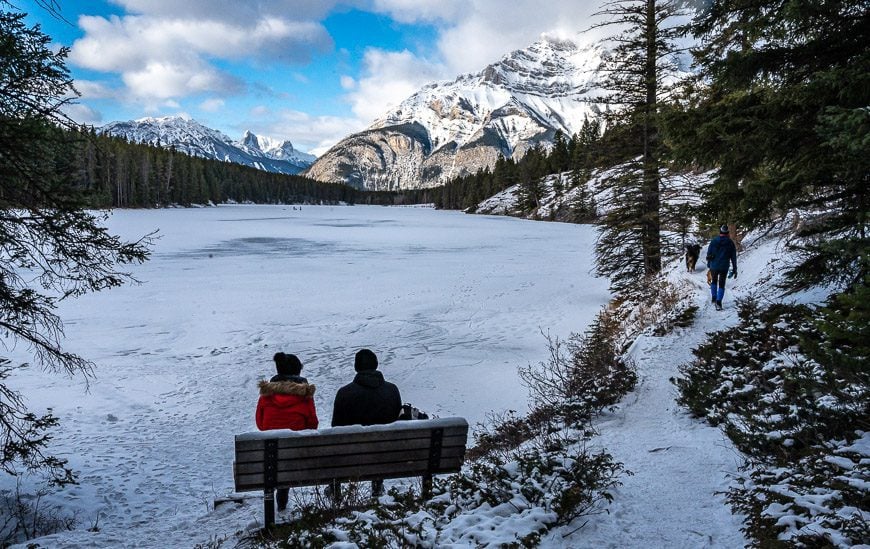 Two Jack Lake hike
Distance: 3.2 km return as an out and back hike
Rating: Easy
Time needed: One hour
Trailhead: Two Jack Lake Day Use parking area off Lake Minnewanka Scenic Dr.
It's an easy walk beside scenic Two Jack Lake through the woods and the Two Jack Lake Campsite to the outflow canal. Retrace your steps to return. If you time it right, you may be able to skate on Two Jack Lake before the snow accumulates. This ice thickness safety chart is a good guide.
Sulphur Mountain via Cosmic Ray Road hike
Distance: 16.5 km with 880 m elevation gain
Rating: Moderate – nothing technical on this hike
Time needed: 5 – 6 hours
Trailhead: Cave and Basin parking lot
Read: The Sulphur Mountain Hike in Banff National Park
There are two ways to hike up Sulphur Mountain, the popular route under the Banff Gondola and via the Cosmic Ray Road starting from the Cave and Basin area. In the winter the route under the gondola is adjacent to avalanche terrain so starting sometime in November through to April, there is some risk. You must stay on the trail and it gets very icy.
However, the hike up Cosmic Ray Road, though longer, is without the crowds. Unfortunately as of November 2021, its still closed (it was supposed to reopen in early summer) but keep an eye on Banff National Park trail reports, and when it reopens, I recommend it. Count on a long hike and a good workout but the payoff is terrific views for most of its length. There is also the option of taking the gondola down for half price.
From the Banff Gondola website, I quote: "One way tickets are subject to availability. Bow Valley residents can receive complementary one-way ticket at the summit; proof of residency required."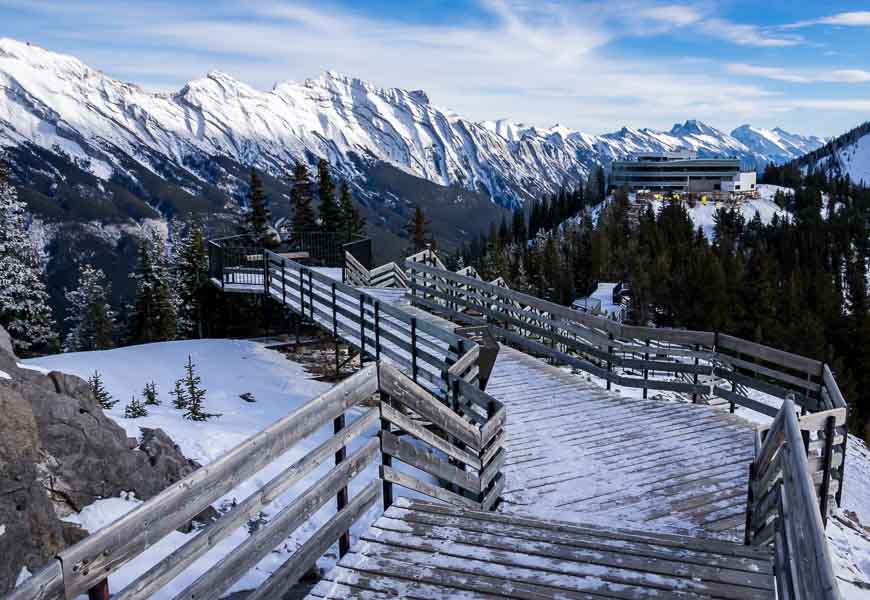 Stewart Canyon hike
Distance: 6.6 km round trip with 257 m of elevation gain
Rating: Easy
Time needed: 2 – 3 hours
Trailhead: Lake Minnewanka parking lot
From the usually busy Lake Minnewanka Day Use area, follow the Lake Minnewanka shoreline to the bridge over the Cascade River, spanning Stewart Canyon. Look for deer and big-horn sheep on the far side of the bridge. Turn left and follow the trail, that should be obvious, even with a bit of snow.
The trail parallels Stewart Canyon, offering peek-a-boo views. Near the end of the trail, descend to cross a washed-out area, probably from the 2013 floods though you might not notice it with snow. Head left and go down to the frozen river – but I wouldn't recommend walking on the ice. Enjoy the gorge views and retrace your steps.
Spray River Loop hike – one of the easier winter hikes in Banff
Distance: 11.2 km and 205 m elevation gain doing the full loop
Rating: Moderate only because of distance
Time needed: 3.0 – 4.5 hours
Trailhead: Drive 100 m past the Banff Springs Hotel parkade to a parking lot
Read: Spray River Loop Hike in Banff
The Spray River Loop trail is more enjoyable when done as a loop although an out and back to the bridge over the Spray River is also a popular choice. Expect some peek-a-boo views of Mt Rundle and turquoise-coloured Spray River as the trail goes up and down on either side of the river.
This is a multi-use trail that is shared by fat bikers, snowshoers, and cross-country skiers, depending on snow conditions.
Tunnel Mountain Hike
Distance: 5.8 km return from the lower trailhead with a 260 m elevation gain
Rating: Easy
Time needed: 90 minutes – 2 hours
Trailhead: In winter you'll need to use the Lower Tunnel Mountain trailhead located at 137 St Julien Road.
Read: The Tunnel Mountain Hike in Banff National Park
If you haven't done this popular hike you're in for a treat. Switchback up through trees to get stunning Bow Valley views including the Vermilion Lakes. Turn the corner and you can see how sprawling the Banff Springs Hotel is. (No wonder it takes so long to find your room!) Near the summit, you'll feel like you can reach out and touch Mt. Rundle. You'll also be able to see Sulphur and Cascade Mountains.
There's nothing hard about the hike though it can be slippery in places.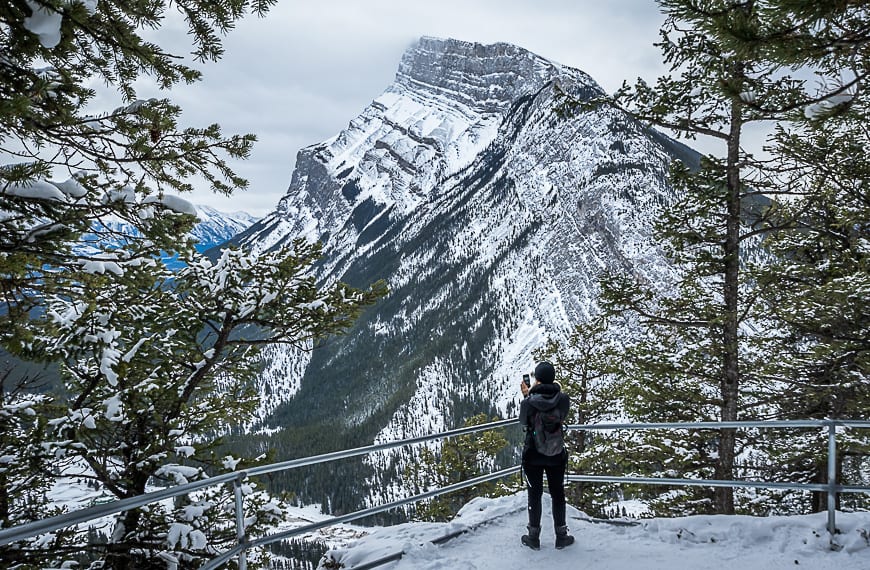 Hikes in Banff in winter – Fairview Lookout at Lake Louise
Distance: 2.4 km return with 165 m of elevation gain
Rating: Easy
Time needed: 1 hour
Trailhead: Park in the upper Lake Louise parking lot. Then head for the canoe rental building on Lake Louise where you'll find trail signs.
If you want a superb view of Lake Louise along with Fairmont Chateau Lake Louise with very little effort, this is an ideal short hike. The snow can get deep in winter so consider taking a pair of gaiters so your feet stay dry.
From the trailhead, ascend through trees for 300 m to meet a junction. Take the right trail for 1 km to reach the lookout above the lake. Retrace your steps and finish with something hot to drink in the lounge of the Fairmont.
Lake Louise Lakeshore hike
Distance: 4.0 km return with no elevation gain
Rating: Easy
Time needed: 1 – 1.5 hours depending on how many stops you make for photos
Trailhead: In front of the Fairmont Chateau Lake Louise
Head right on the lakeshore trail from the front of the Fairmont Chateau Lake Louise. Enjoy stunning views for the full length of the trail. When you get to the end of the lake, look up at the frozen waterfall to see if you can catch any ice climbers in action. Some people might want to continue towards the Plain of Six Glaciers Teahouse. But be warned that you end up in avalanche country in short order. The snow is deep too and not very suitable for a winter walk.
Mirror Lake hike
Distance: 5.4 km return with a 295 m elevation gain
Rating: Easy to moderate
Time needed: 90 minutes to 2 hours
Trailhead: Start at the Lake Agnes Trail just beyond the Fairmont Chateau Lake Louise
The hike to Mirror Lake follows the Lake Agnes Trail starting at Lake Louise. You'll be in the trees the whole way but there are peek-a-boo views. It's a gradual climb all the way to the lake. Unfortunately, the trail to the Lake Agnes Teahouse after Mirror Lake gets into Class II avalanche terrain. I wouldn't recommend it unless you're prepared with the know how and the right equipment. Always check the avalanche report.
Grotto Canyon hike near Canmore
Distance: 4.4 km return with 115 m of elevation gain
Rating: Easy and FUN
Time needed: 1.5 – 2 hours
Trailhead: The Grotto Canyon trailhead is located here off Highway 1A near the Baymag Mineral Processing Facility. From Calgary its about a one hour drive.
I had to include the Grotto Canyon Ice Walk even though its not in Banff. (But its close – just 20 minutes from the park gates.) Its so much fun for all but the youngest or those with bad balance. You do need icers to stay upright on this hike. The first part of the hike isn't very pretty but once you turn off into the canyon, after the Baymag Facility, the noise disappears and the fun starts.
Enjoy smooth sections of ice, a frozen waterfall and even an ice slide. Continue past the frozen waterfall on a well-defined trail that is usually snowy and rocky rather than icy to a large open area. You'll see what looks like a hoodoo with a cave. Enjoy the view but I'd recommend against the climb up to the cave.
This winter hike near Banff gets busy so be at the trailhead early or late in the day so you don't have trouble with parking.
Read: Ice Walks in Alberta – 3 Amazing Experiences
Where to stay in Banff
Why not spend a few days in Banff in winter, taking advantage of all that the town offers. Soak in the hot springs, snowshoe, cross-country ski, fat bike, hike, and then eat at one of the numerous excellent restaurants like the Sky Bistro at the top of the Banff Gondola.
Some of my favourite hotels in Banff include the Moose Hotel – great location, Buffalo Mountain Lodge – excellent restaurant and wood-burning fireplaces plus a huge outdoor hot tub and the Fairmont Banff Springs Hotel when I'm looking to splurge.
More reading on things to do in winter in Alberta
Click on the photo to bookmark to your Pinterest boards.