In August 2017, John and I had a date to ride the Banff Gondola and dine at the Sky Bistro. But the smoke was thick and the views non-existent so we nixed it. Fast forward to September 2020 and we finally made the trip up. I'm sorry it took us so long.
Now that I've finally ridden the Banff Gondola, I'd call it one of the best experiences to have in Banff – especially when combined with a sunset dinner at the Sky Bistro. Over the eight minutes it takes to be whisked up Sulphur Mountain, you're treated to superb views from the minute you get in the gondola. First it's the Banff townsite, Tunnel Mountain and the mountain valley that runs southeast along the Goat Creek Trail towards Ha Ling Peak. And once you reach the summit, you can expect to be wowed by awe-inspiring, panoramic views of up to six mountain ranges!
This post includes some affiliate links. If you make a purchase via one of these links, I will receive a small commission at no extra cost to you. Thank you very much for your support.
Why I think you'll love the Banff Gondola experience
I know some people will say you can find loads of gorgeous mountain view at numerous locations in Banff National Park that don't cost a cent. And that's true. Some views – like the one from the top of Fairview Mountain looking over Lake Louise have to be earned, but the reality is most people aren't like me. They don't want to climb thousands of feet for a view. They want it now. So unless you're a hardcore hiker who dislikes crowds, I think you'll love the Banff Gondola experience – especially so if you combine it with a sunset dinner at the Sky Bistro.
Where to get the very best views on Sulphur Mountain
From the observation decks at the top of the gondola along with the network of ridgetop boardwalk trails, you can enjoy scenic mountain views in literally every direction. But I'd recommend moving away from the gondola complex to get different perspectives and I think even better views.
Be sure to walk the one kilometre section of boardwalk (sometimes called the Banff Skywalk) to the summit ridge leading to Sanson's Peak Meteorological Observatory. Allow about 30 minutes return – more if you've never been to the mountains before or you're heavily into photography. Stop at the interpretive panels along the route so you can identify the mountains in the distance.
Also be sure to go to the deck on the fourth floor of the gondola complex to get 360° views.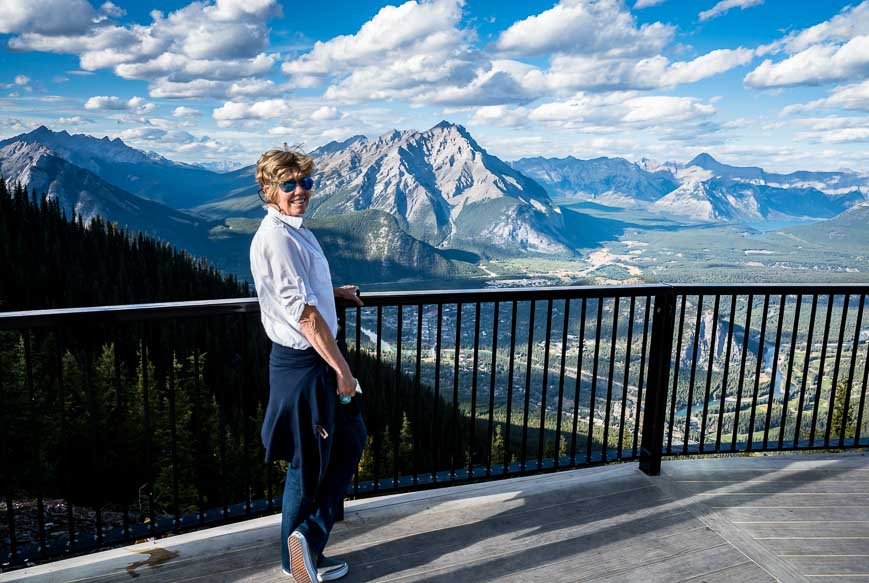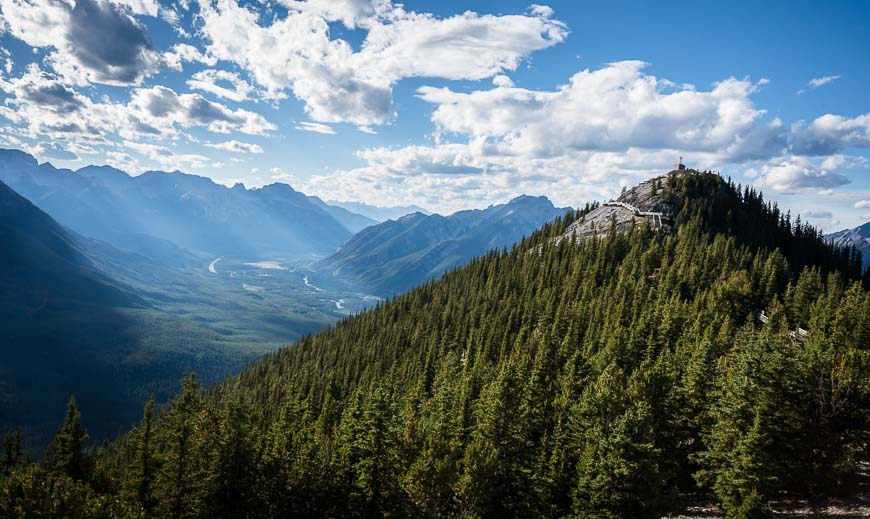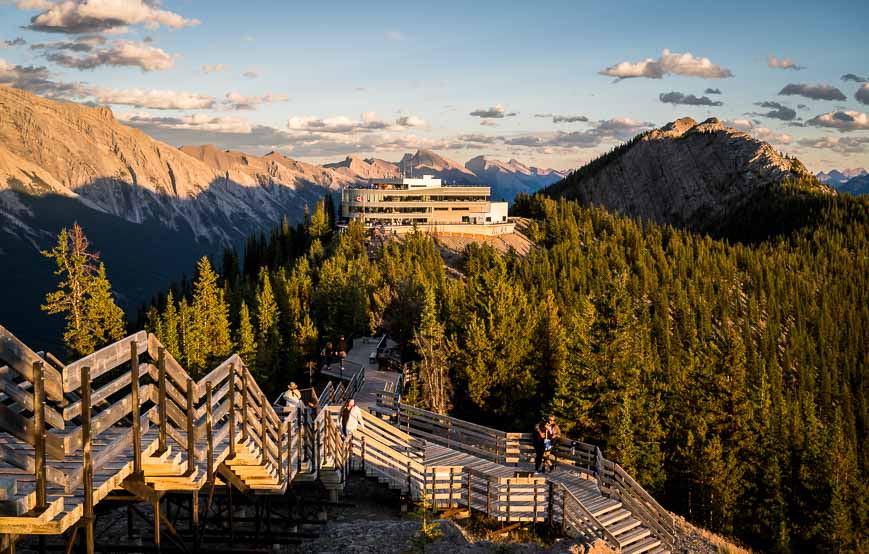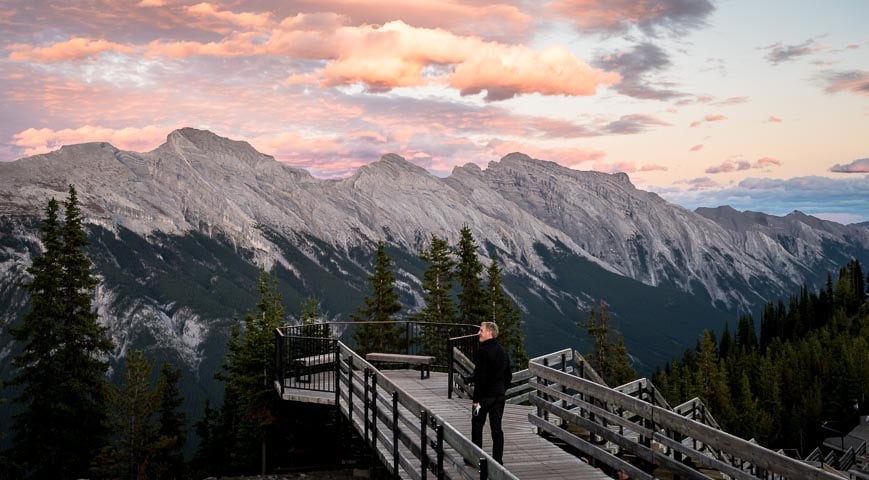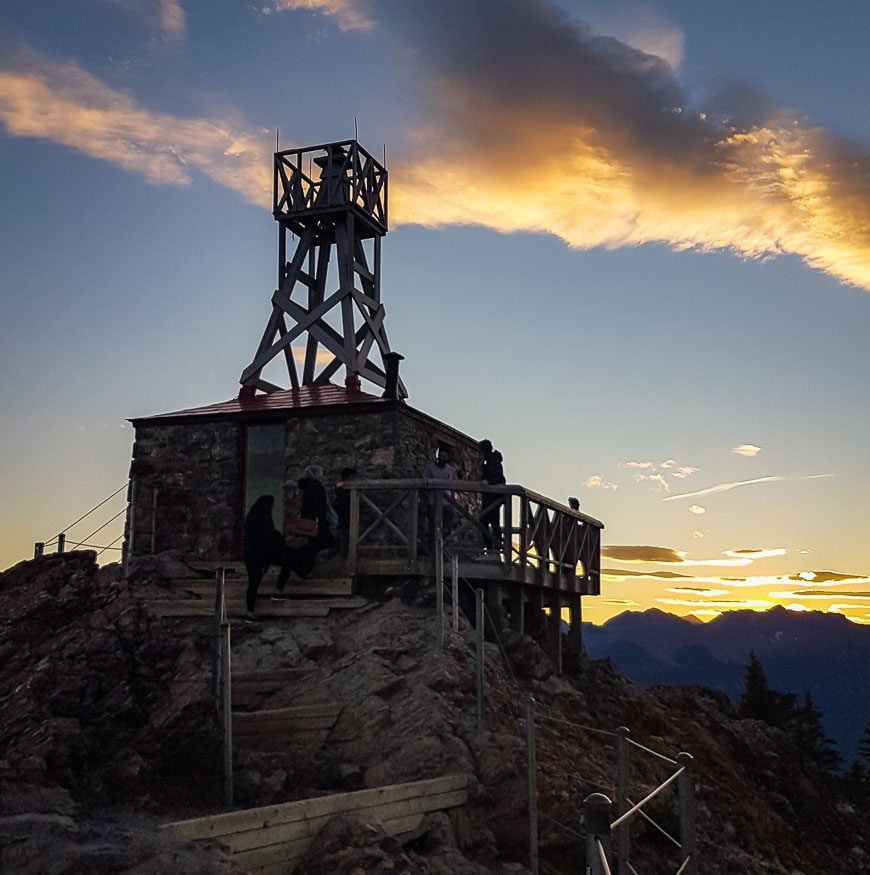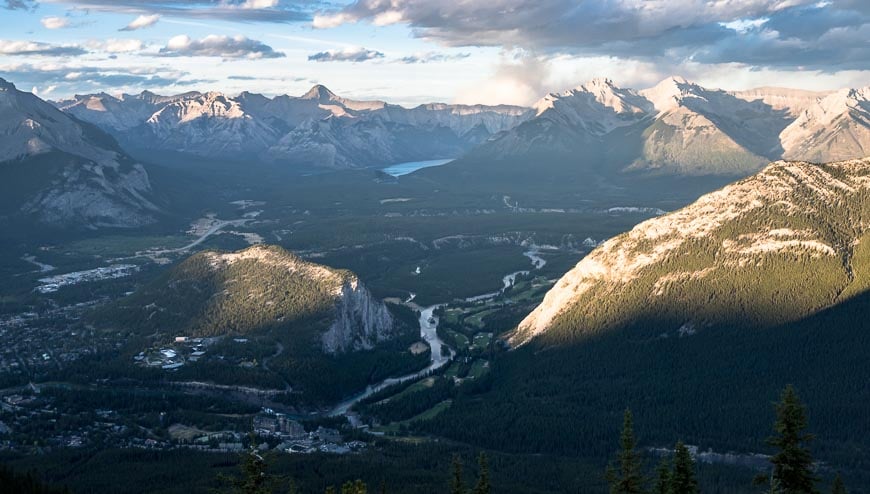 The South East Ridge Trail hike
When you're at the top of the Banff Gondola, walk around the complex to locate the trail that leads you down the mountain. Don't take it but continue over a concrete pad and look for the trail heading into the woods. You'll also see some signage a little ways down.
There is the option to hike the South East Ridge Trail along to Sulphur Mountain's true summit. Chances are you won't see another soul. It's only about 1.6 km each way so you can likely knock it off in about an hour return. This is the perfect hike for those that dislike crowds.
Sky Bistro Restaurant at the top of the Banff Gondola
If you're going to ride the gondola then in my humble opinion (at least if you're a couple) you need to turn it into a date night and enjoy a delicious dinner with a view. I'd been looking forward to our dinner here all week and it actually exceeded my expectations. I thought the food prices were reasonable (and even a little less than Calgary), the wait staff very friendly and the ambiance lovely.
While the window side seats offer the best views, there isn't a bad seat in the restaurant.
John and I lingered longer than normal over dinner, enjoying each bite, every sip of wine or beer and the drop-dead gorgeous mountain views. We started with an appetizer – a healthy, colourful salad for him and corn fritters with gorgonzola cream for me, because why not – as the next day we were off on a five day backpacking trip in the Tonquin Valley!
Dinner for me was a fantastic herb-brined supreme chicken with fingerling potatoes, tomato coulis, broccolini, and a kalamata tapenade. John practically licked his plate clean – whilst enjoying the Alberta Angus short rib, sweet pea purée and asparagus & pomegranate salad. We were going to share a dessert but I wanted the lemon curd tart and he wanted the strawberry angel food cake mixture. (I think mine was better.)
Their wine selection is heavy on BC wines – which is always fine by me. My glass of Black Hills Estate sauvignon blanc didn't last long. As for beers – John thoroughly enjoyed First Trax brown ale from the Fernie Brewing Co.
It really was a night to remember and one I'd be happy to repeat. You can make reservations here.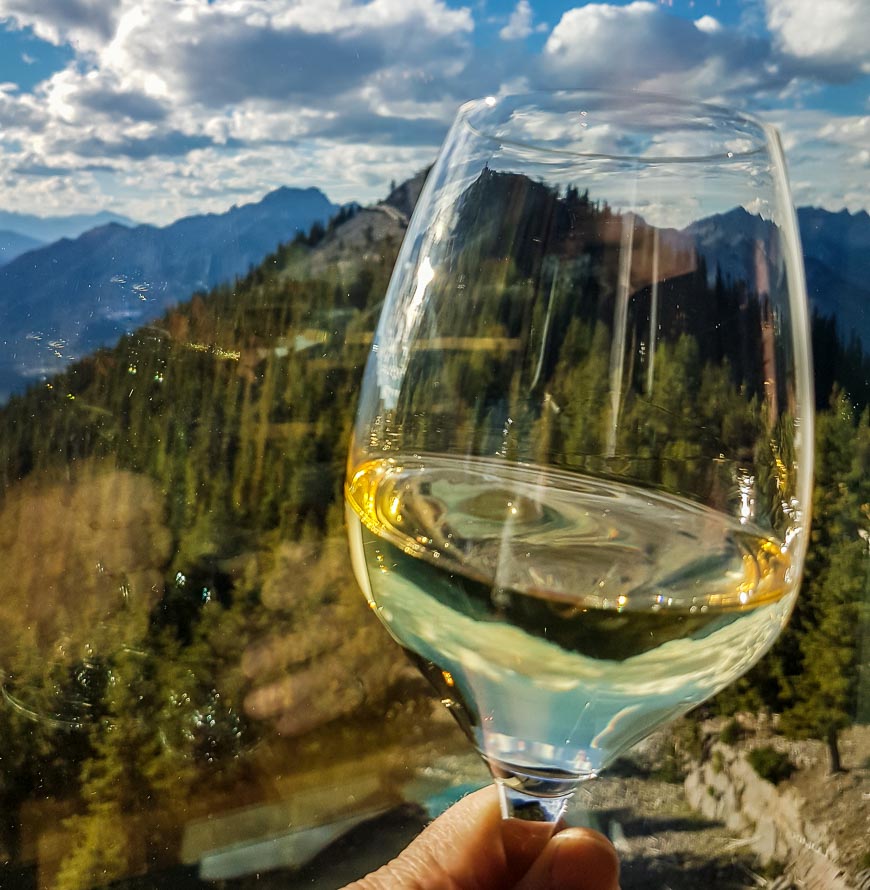 The hike up or down from the gondola
You can do the up and back hike up underneath the Banff Gondola though be prepared. Its 5.7 km one way with 660 m of elevation gain. Once on top you could certainly book a table at Sky Bistro for lunch or dinner.
If you only want to hike up, then there is the option to take the gondola down for half the price of regular admission. And while there is the option on your part to take the gondola up and hike down, you won't get a discounted ticket.
If you're interested in hiking the trail under the gondola in winter, go prepared as it's likely to be ice and snow covered. And there may be avalanche risks. I personally would avoid it but the Sulphur Mountain hike is a great choice the rest of the year.
Another option most people don't know about is the 8.1 km one way hike or snowshoe up Sulphur Mountain to the gondola via Cosmic Ray Road that starts at the Cave and Basin area. It's a wonderful shoulder season hike. If you hiked up, you could take the gondola down (for full price) and then a bus back to Banff or you could arrange a car shuttle.
Good to know before you go
Visit the gondola website for updates on opening hours for both the gondola and the restaurants.
I know if you pre-book a ticket you have no control over the type of day you're going to get. But if at all possible, choose a clear day so you can ooh and aah over all the mountain views. Check out the cool webcam with live views.
Allow a minimum of two hours at the top of the Banff Gondola so you're not rushed. An out and back walk to Sanson's Peak alone could take you 40 minutes if you're into photography.
There can be quite a temperature differential between the bottom and top of the Banff Gondola, even on hot summer days. Dress appropriately, don't forget the walking shoes and be sure to pack a few extra layers with you.
To avoid crowds plan to visit before 10 AM or after 6 PM.
The facilities are wheelchair accessible – and there are elevators in the complex at the top. Strollers however are not recommended. The boardwalk can only be explored on foot.
At the summit you can also take advantage of interactive interpretive exhibits, a multi-sensory theatre and the incredible 360-degree rooftop observation deck.
Don't even think of flying a drone unless you have a special permit.
Drive to the end of Mountain Avenue to reach the parking lot at the gondola. When parking is at a premium in summer and on weekends, consider taking ROAM transit – which makes numerous stops along Banff Avenue. The bus takes just 14 minutes from downtown Banff.
How much does it cost to ride the Banff Gondola and are there any deals?
A trip up the Banff Gondola comes with a steep price tag – by Canadian standards. If you were in Europe, I doubt you'd even blink.
The good news for locals is that there is an Alberta rate that gives you regular discounts. For everyone else you can save by booking online on days or at times with lower visitation rates.
Where to stay in Banff
If you're planning to have dinner at the Sky Bistro – with a glass or two of wine, it's a good idea to stay in Banff. You're spoiled for choice. The following are a few suggestions.
On this trip I stayed at the Elk + Avenue Hotel – a comfortable spot with updated rooms that's close to everything including a Good Earth Café.
I've also enjoyed stays at the Mount Royal Hotel (its got a hot-tub with a view) the Moose Hotel & Suites, Buffalo Mountain Lodge and the Fairmont Banff Springs Hotel – but that's a splurge.
Further reading on things to
do in Banff
A big thank you to the Banff Jasper Collection by Pursuit. John and I both loved the entire experience!
Click on the photo to bookmark to your Pinterest boards.