It's a fantastic hike to the summit of Ha Ling Peak – if you're looking for a great workout in the mountains that doesn't eat up the entire day. Ha Ling Peak is an imposing, inaccessible looking mountain from any vantage point in Canmore, but the reality once you're on the hiking trail is very different. There's a route up that doesn't require any technical ability – though it will be a good test of your physical conditioning.
The trailhead for the Ha Ling Peak hike is across from the Goat Creek parking lot, just south of Canmore off the Spray Lakes Road. It's easy to find and only about a 15-minute drive from Canmore's downtown.
Ha Ling Peak hike summary
You need a Kananaskis Conservation Pass to hike Ha Ling Peak.
Always check the Alberta Parks trail report. Good news. The Goat Creek trailhead reopened in February 2023.
The first 3.5 km of the Ha Ling Trail is maintained to the saddle. The final 400 m is on an unmaintained trail that is composed of loose rock.
The total elevation gain is 810 metres or 2,657 feet. The final 400 m climbs 103 m or 338 feet – so the grade is steep!
Allow three to five hours to do the return hike. It's a great half day hike. If it's a beautiful day, allow up to an hour on top to enjoy the view.
The hike up Ha Ling Peak can be done in winter if you have the skillset.
Ha Ling Peak elevation is 2,408 m or 7,900 feet.
Leashed dogs are allowed. If it's a hot day, take extra water and treats for them.
There are washrooms at the Goat Creek parking lot.
The Miner's Peak hike is a great add-on to the Ha Ling Peak hike. It's accessible from the saddle on Ha Ling. Look over and you'll often see people on it.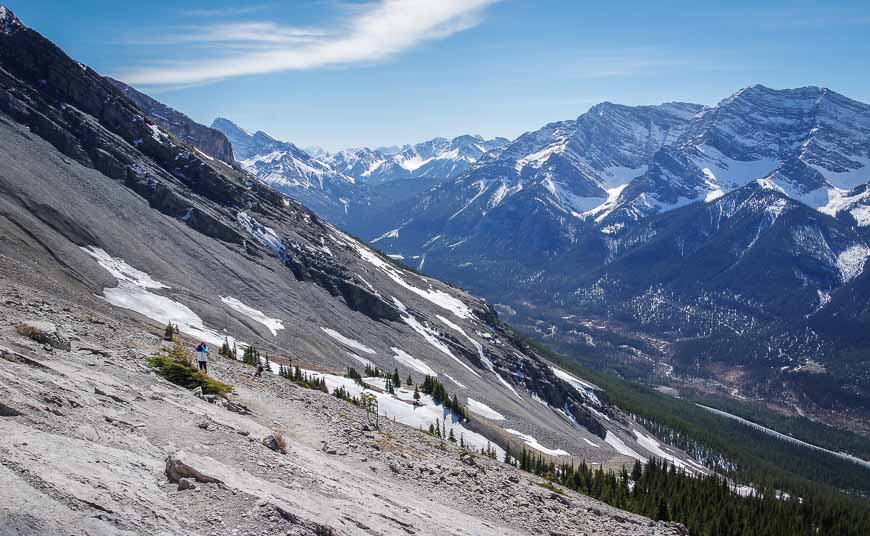 This post includes some affiliate links. If you make a purchase via one of these links, I may receive a small commission at no extra cost to you. Thank you very much for your support.
Alternative hikes to Ha Ling Peak
I love Ha Ling Peak for the workout I get and the fantastic views from the summit. Fortunately, there are lots of hikes near Canmore that offer a similar experience, but you might have to drive a little further. Other suggestions include:
Is Ha Ling Peak a difficult hike?
The Ha Ling Peak hike is not difficult in the sense that there are no fancy mountaineering moves required. But you may be sucking wind, especially if it's the first hike of the season. I was happy I'd been doing sets of stairs through the winter. Otherwise the 810 m (2,657 feet) elevation gain would have knocked the stuffing out of me. Even with a decent workout schedule my thigh muscles were telling me that they've been well used, especially on the summit push.
The hike up the peak is not a long one – just 3.5 km one way to the saddle from the parking lot and other 0.4 km to the summit for a total of 3.9 km one way. It took us just under two hours to get to the summit – and that included a few short stops, including one to put on "icers" in the snowy – icy – muddy section.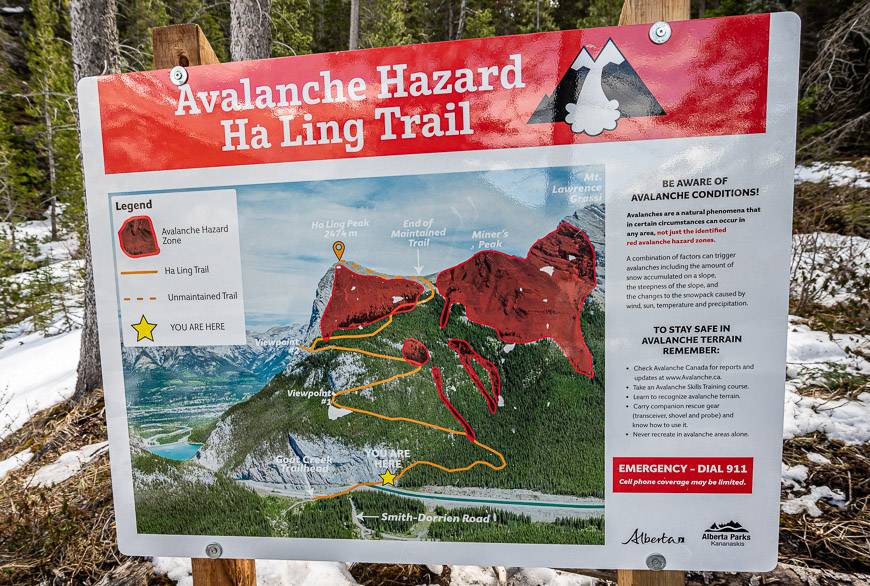 The first part of the Ha Ling Peak hike
Before they did the upgrade to the Ha Ling Trail, the first part of the hike reminded me a bit of Vancouver's Grouse Grind. You used to head up steeply over roots and through the trees with nary a view and no break on the grade for at least 30 minutes. Now the trail is wide – and in good shape with only the odd root to deal with.
But when it opens up at the first viewpoint, it's impressive. And the mountain views just get better and better the higher you go.
Once you hit the snow and ice – even in May, the grade moderates but without "icers" it can be a little challenging – though very doable since most people we saw didn't have more than hiking boots on. We were told on more than one occasion that we were very smart to have brought the right equipment.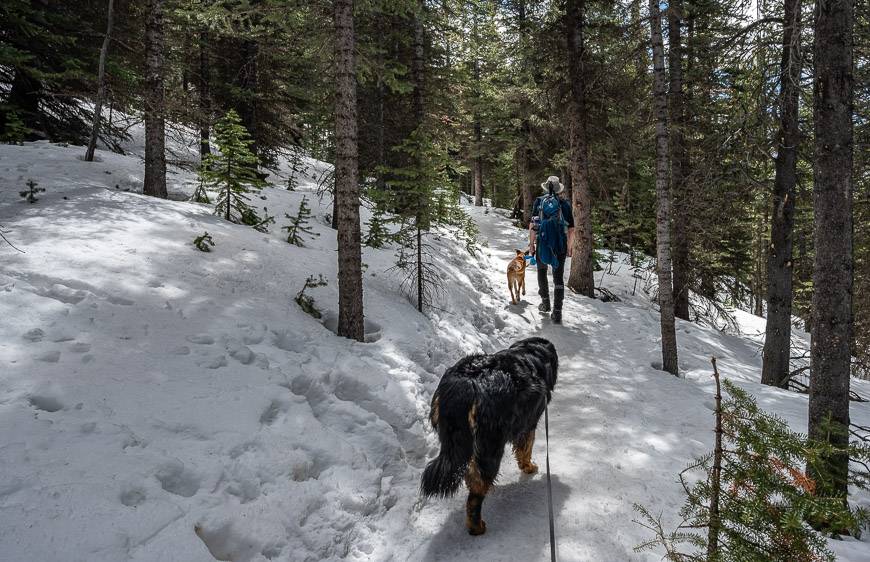 The second viewpoint on Ha Ling
Be sure to do the short spur at the second viewpoint to enjoy big in your face views of EEOR – a popular hike that also goes by the name as the east end of Rundle. You may be able to pick out people climbing the peak. For some, this may be a good place to turn around.
Be prepared for snow, ice, steep stairs, scree and rock – depending on the season
After the snow and ice you'll have some steep sets of stairs to deal with before getting into scree and rock. Be patient as the stairs are awkward for some, and if there is a lot of snow around, only one set of stairs typically gets used so you may have to wait a minute to go up or down.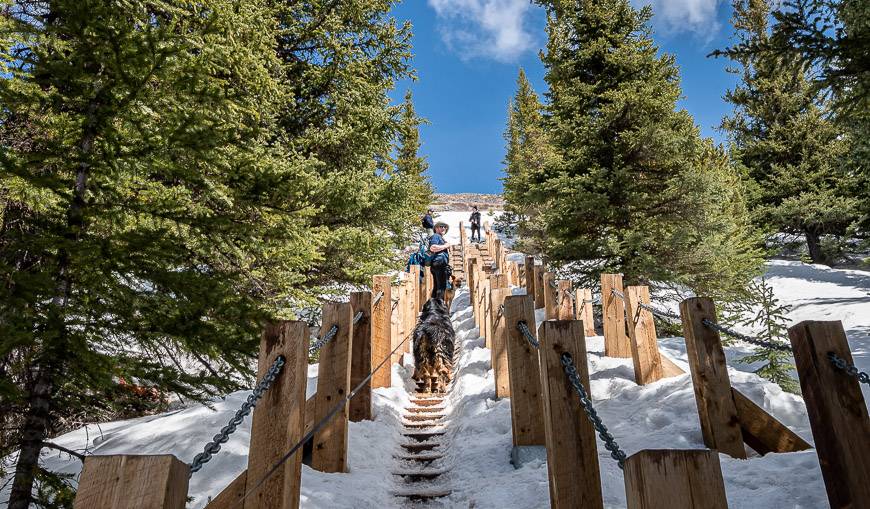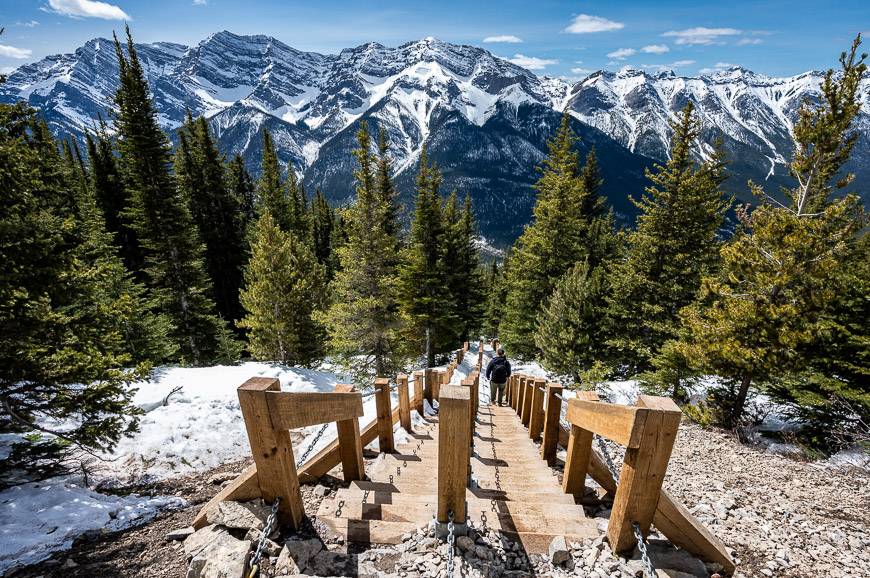 When you finish with the stairs you are into the rock and scree for another 400 metres. The trail is pretty obvious though there are several choices. Be careful where you place a foot so you don't dislodge any rocks. This section took us about 20 – 25 minutes to climb. I kept stopping just to take in the views.
On a warm Sunday in April, masses of people looked like ants on this part of the mountain. Be especially careful with so many people around that you don't dislodge any rocks – and if you do be sure to yell – ROCK.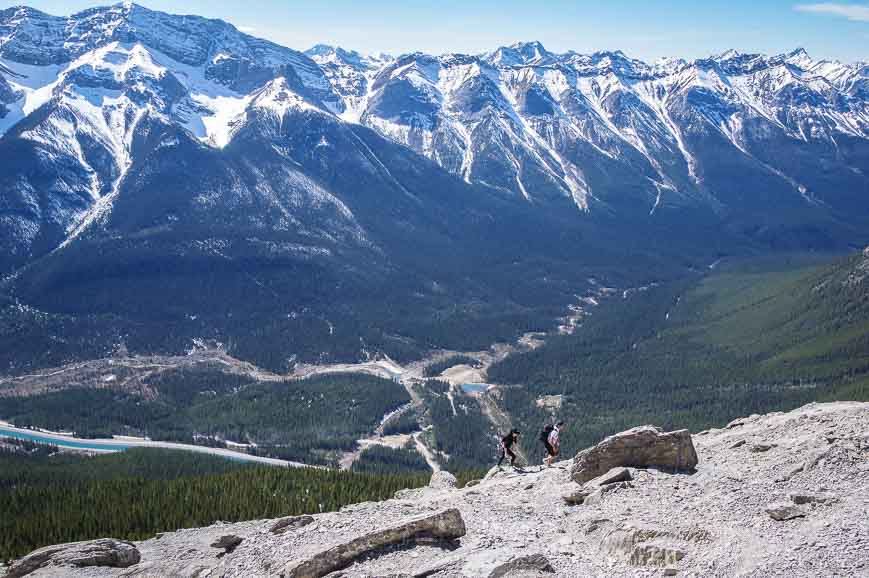 The summit of Ha Ling Peak
Although the top of Ha Ling is very airy, with some hair-raising drop-offs along the edge, you'll have no problem finding a safe place to sit. The views are spectacular no matter where you park yourself. Take heed of the signs asking you to avoid dislodging any rocks over the top as climbers could be on the mountain immediately below.
On my most recent ascent, my husband had to yell at a couple of novice hikers not to climb onto the snow cornice. Please don't do that. Instagram fame is not worth your safety.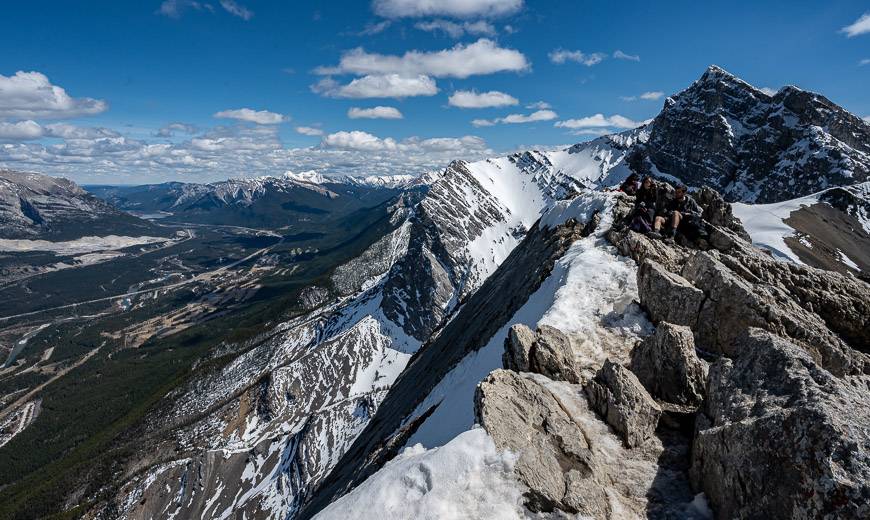 I'm never a fan of descents on scree so I go slowly. Sure footed people will dispatch with this part of the descent quickly. Once back in the trees I found it much easier to move quickly.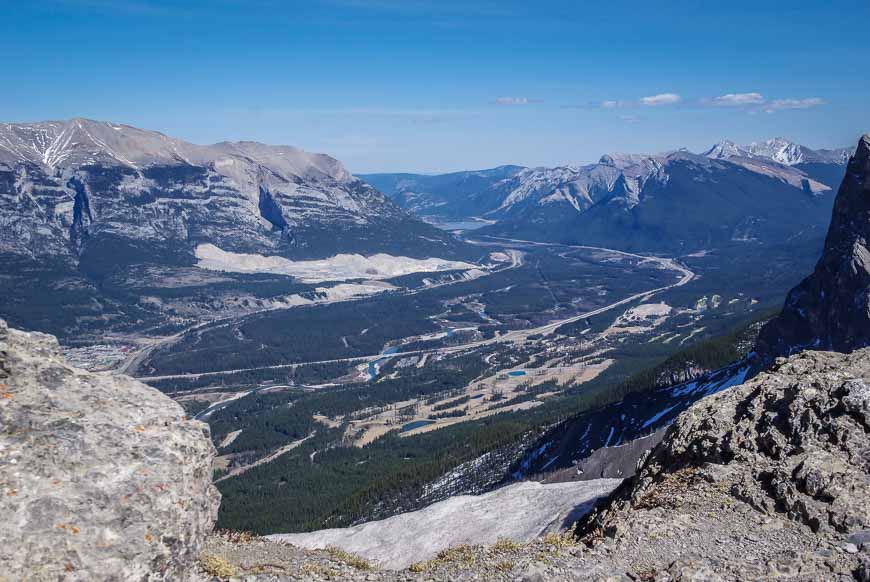 Finding the Ha Ling Peak trailhead
From downtown Canmore follow signs pointing to the Canmore Nordic Centre. Turn west off the Three Sisters Parkway onto Highway 742 – also called the Smith Dorrien Road. From the Canmore Nordic Centre it's a 10 minute, 5.3 km drive to the trailhead at the Goat Creek Day Use Area.
The parking lot is on the right (west) side of the road if you're driving up from Canmore. But to get to the actual trailhead you'll have to cross the Smith Dorrien Road and walk up the service road to the canal – a distance of about 50 m.
Cross the canal on the concrete bridge and look for the sign saying Ha Ling Peak. Start the hike by heading up into the woods. Take note of the avalanche areas – and if there is any snowpack, avoid altogether or go prepared with all the right avalanche gear.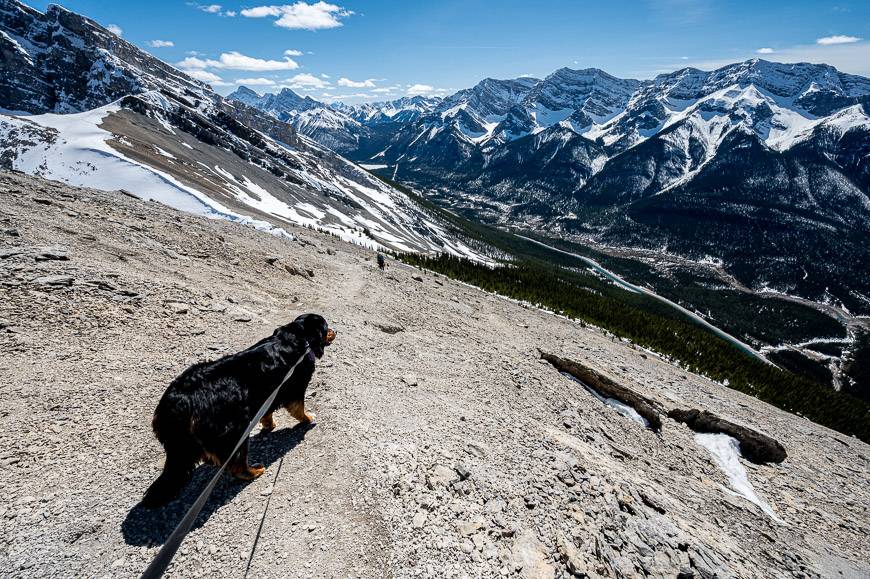 Things to take on the hike
Take lots of water on this hike, especially on a warm, sunny day. If you've brought your dog, carry extra water for them as well. Don't forget the sunscreen and some warm clothes for the top.
If it's early in the season and there is lingering snow, a pair of Yactrax or other icer devices will make both the ascent and descent easier.
I always like to have a paper map – not only for the hike but for future hikes so a copy of Gem Treks Canmore and Kananaskis Village would be useful. It's waterproof.
Hiking poles can help save your knees on the descent. A pair of collapsible lightweight poles are ideal.
Ha Ling Peak trail upgrades
The trail up Ha Ling Peak reopened in summer 2019 after 16 months of upgrades. The new trail is now longer with a slightly different shape that will make it safer for a larger number of hikers. Two viewpoints were added along with rails and cable ladders – where according to the Calgary Herald – "the grade couldn't be reduced."
A quieter, harder alternative to the Ha Ling

Peak hike
If you want a hike that sees a lot fewer people but starts from a trailhead across the road, do EEOR (East End of Rundle). It's a bigger workout with an elevation gain of 900 m (2,952 feet). Near the top there is a little scrambling – and not everyone will be comfortable here. Even if you get to the scrambling section and turn back, you can enjoy some truly outstanding views. You can see the trail in the photo below.
Other ideas for great spring mountain hikes
The bottom line is that Ha Ling is getting crazy busy, especially on sunny spring and summer weekends. If you're still keen to do it, consider early or late in the day or better yet on a weekday. That will take pressure off the parking lot too.
A great spring hike that will give you a workout is Mount Burke. Come late May, Castle Mountain Lookout is a good choice as is Heart Mountain.
Location map of the Ha Ling Peak hike
Where to stay near

Canmore

If you're into car-camping read: A Complete Guide to Camping in Kananaskis.

You'll find everything in Canmore from hostels to B&B's to high end accommodation. Here are a few suggestions across a range of price points.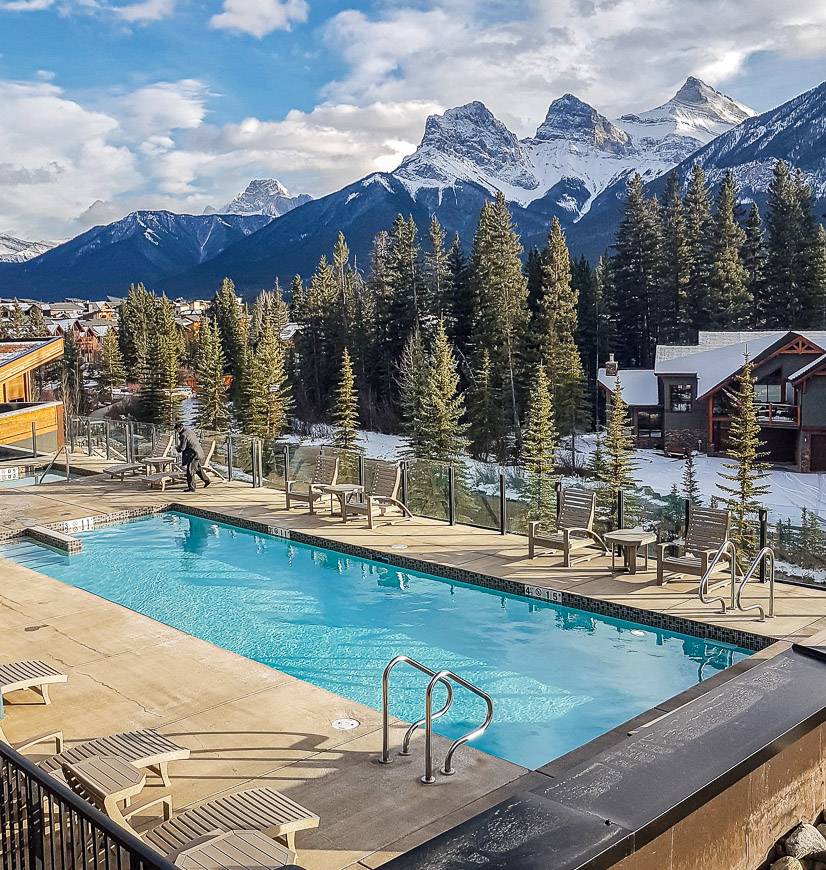 Click on the photo to bookmark to your Pinterest boards.