I think many of us get into a routine when it comes to going to the mountains. For me that means heading to either Banff National Park, Kananaskis Country south of Highway 40, or the Bragg Creek area. I had been on the lookout for a new early season mountain hike and discovered the Mount Burke hike – thanks once again to @mcc617 (Don McCready) on Instagram.
He posted a photo on March 19th along the ridge to Mount Burke and I was instantly hooked.
Fast forward to an unseasonably warm, windless mid-April day and I too have now done the hike up Mount Burke. It's completely doable with snow on the ground, providing you take a pair of icers with you and perhaps a set of poles. There is a narrow ridge that's easy enough to navigate if don't have a severe case of acrophobia, but I wouldn't want to attempt it on snow without the icers.
While there is a long stretch of hiking in the trees, the Mount Burke hike is a rewarding one to do. On a clear day expect to see far-reaching views from Mist Mountain to the prairies and the Great Divide. It's a real treat to be able to get up so high in spring when so many other mountain hikes are inaccessible.
Once the Cataract Creek Campground opens in mid-May, consider a weekend of hiking. Other nearby hikes include Raspberry Ridge, Hailstone Butte, Plateau Mountain, Junction Hill, and Grass Pass – Bull Creek Hills.
This post includes some affiliate links. If you make a qualifying purchase through one of these links, I will receive a small percentage of the sale at no extra cost to you. Thank you very much for your support.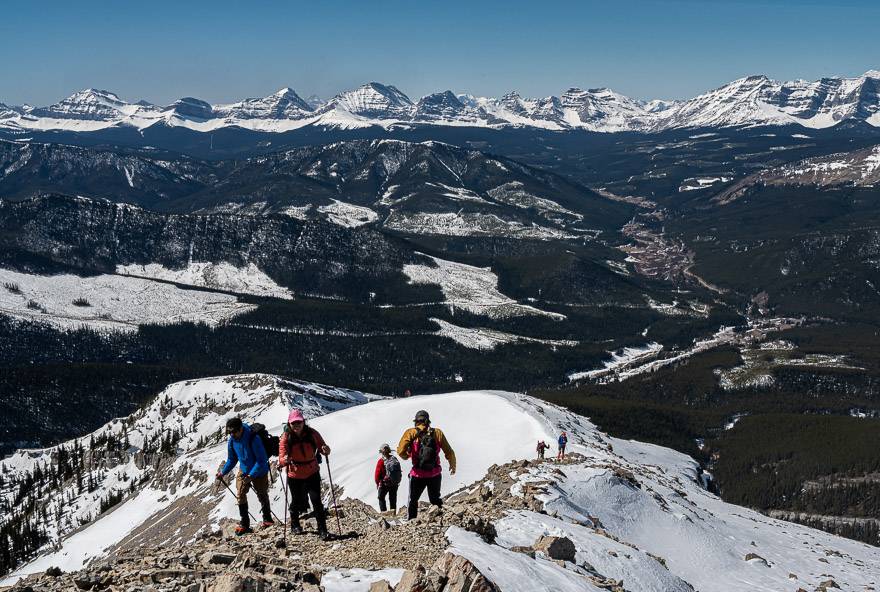 Mount Burke hike summary
Length of hike: 16.0 km round-trip plus 1.0 km return to the parking lot and back before May 15.
Elevation gain: 918 m (3,012 feet) round trip.
Level of difficulty: I'd rate the hike as moderate if you're a regular hiker, but hard if you're not used to so much elevation gain.
Mount Burke summit elevation: 2,541 metres or 8,333 feet.
Time needed: 5 – 7 hours – We did it in 5.5 hours, 3 hours up and 2.5 hours down.
Dogs allowed: Yes, on a leash. Pack an extra water bottle for them.
Map: Gem Trek Highwood and Cataract Creek, Kananaskis Country or Organic Maps if you want an offline hiking app.
Trailhead location: The Mount Burke hike trailhead is off Highway 940, south of Highwood Junction.
Permit: Be sure to purchase a Kananaskis Conservation Pass before you start to hike.
Best time to do the Mount Burke hike: Summer, fall and an excellent early season hike – like a longer but more scenic Prairie Mountain.
Beware: The ridge and summit are very exposed, so if thunderstorms are in the forecast, postpone the hike.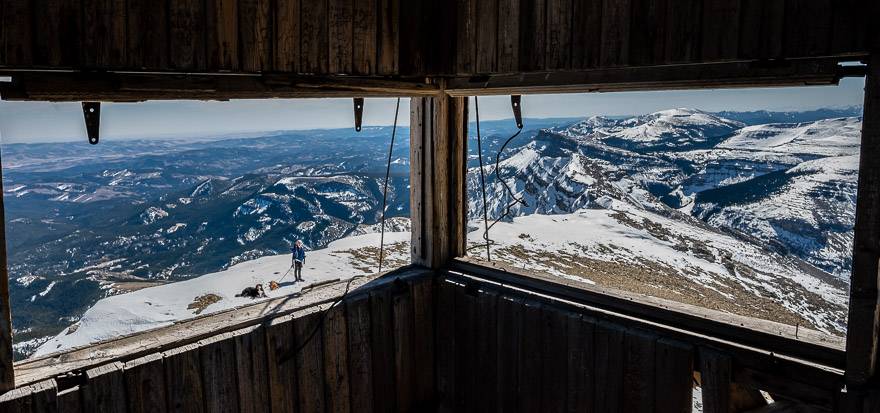 Mount Burke hike trailhead location
Don't always believe Google maps. After I saw Don's photo I googled the route – and it showed a driving time of 3 hours in each direction from Calgary, until a road opened on May 15th. I nixed any ideas of doing that hike until mid-May until I saw a post from Thomas Coldwell from Out and Across.
As it turns out, it's about a 1.75 – hour drive from Calgary, and considerably less if you live in the southern part of the city.
Simply make your way to Longview on the Cowboy Highway. Then go west on Highway 541 to reach the winter gates blocking the road up Highwood Pass (until June 15th). Turn left (south) at the Highway 541 – Highway 40 intersection onto Highway 940 – a dirt road.
Follow it for 14 km to the Cataract Creek Recreation Area. Park on the right in a large parking lot – until May 15th. After that, turn left and park in the Cataract Campground Day Use Area, about a half kilometre down the road.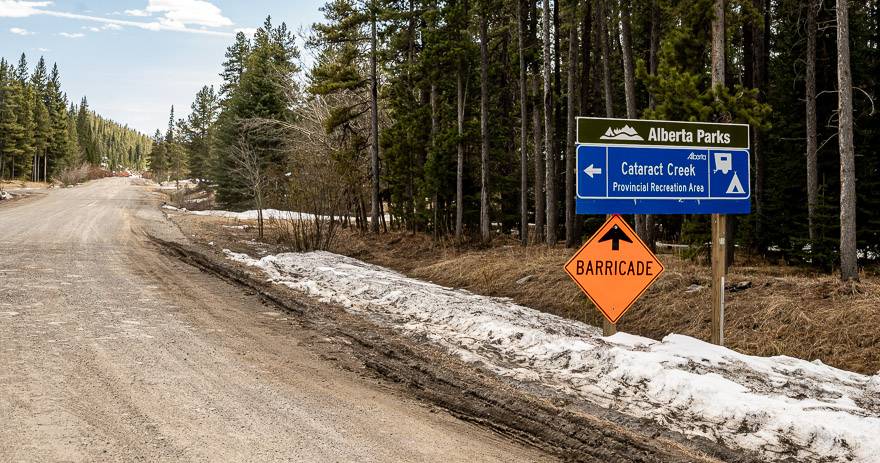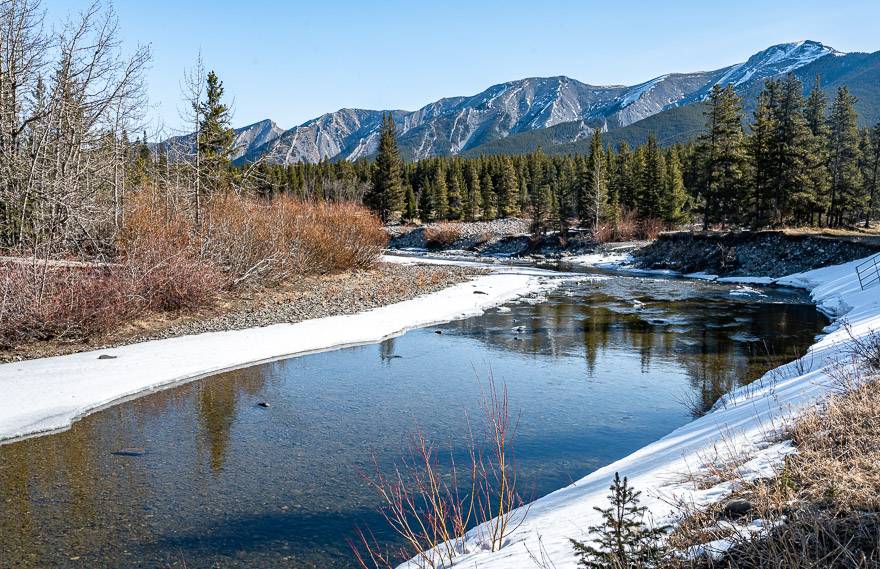 Best time to do the Mount Burke hike
You've got a long hiking window to do the hike. I know people who have done it in mid-March when it wasn't too cold and you should be able to do it into late October or early-November. Prime hiking season is May until September.
Mount Burke hike location map
Mount Burke hike route description
Walk along the access road towards the Cataract Creek Campground. About 100 m past the bridge look for the Mt. Burke sign pointing right. Hop on a trail through the grass and mud. Look way up – 918 m to be exact – and you can see your target.
After just a few minutes turn left into the woods (there was flagging in the trees and lots of footsteps) and climb steeply for a few minutes. There are some open views here – the last you'll see for a while.
We donned icers for the short but steep drop – which is next up – and kept them on until we got back to this point. The narrow trail goes straight up past skinny trees for the better part of half an hour. Arrive at an unsigned junction and go right.
The trail continues to climb through the trees, but at least there's the odd switchback to moderate the grade. When you finally pop out of the trees, the view explodes – and makes the hike completely worthwhile.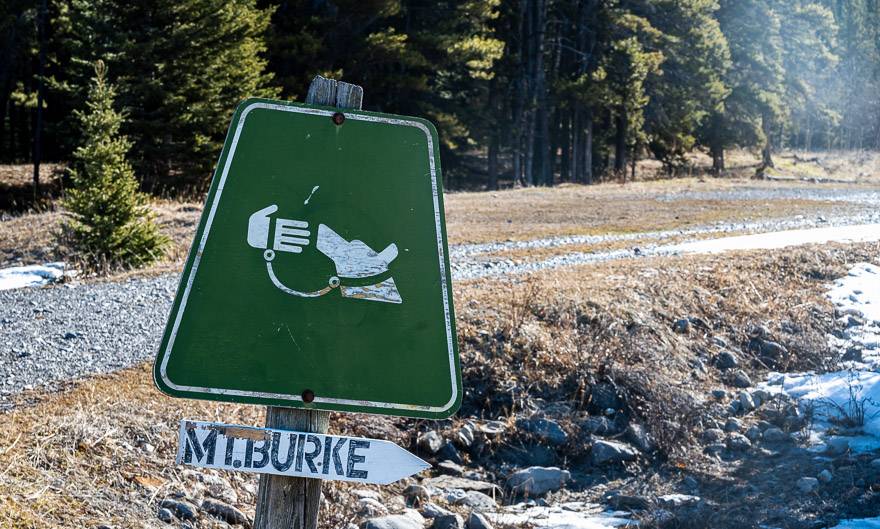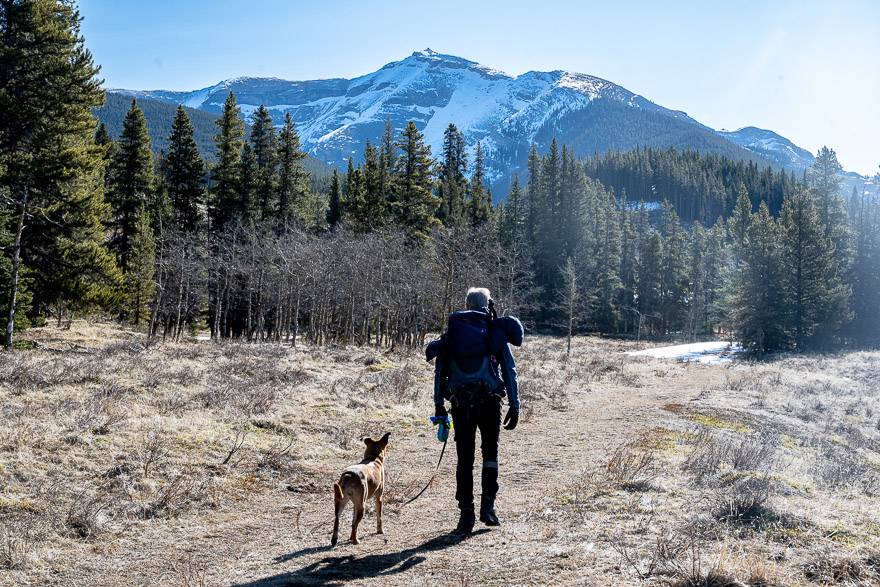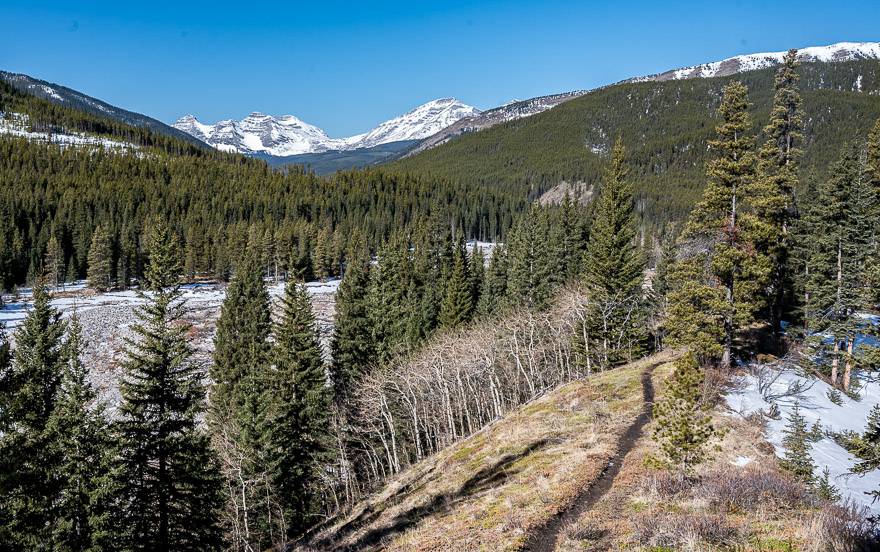 The hike above treeline
Reach treeline somewhere around two hours from leaving you car. You're at an elevation of 2,186 m – and your destination is at 2,541 m – another 355 m (1,165 feet) higher.
After topping out at the top of the first steep incline after leaving the trees, you'll see the rest of the route for the Mount Burke hike come into view.
There is a short stretch that might make many of you uncomfortable. It's narrow with drop-offs on either side. Imagine the poor horses trudging up to the lookout with heavy loads back in the day – looking at the narrow section they had to cross.
Just take it a step at a time and you'll be finished the section in a minute or two tops. The rest of the Mount Burke hike is straightforward, and you'll be on the summit in under 30 minutes.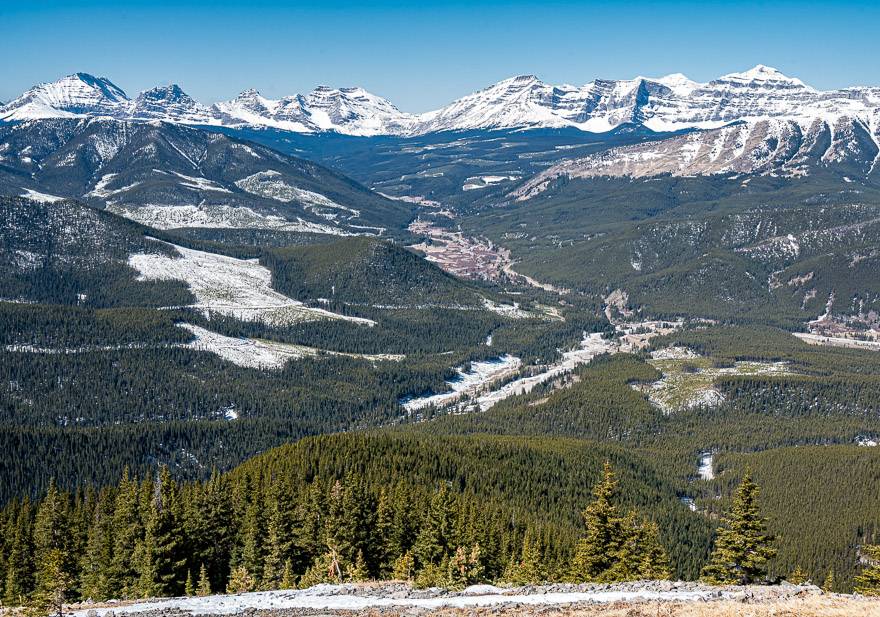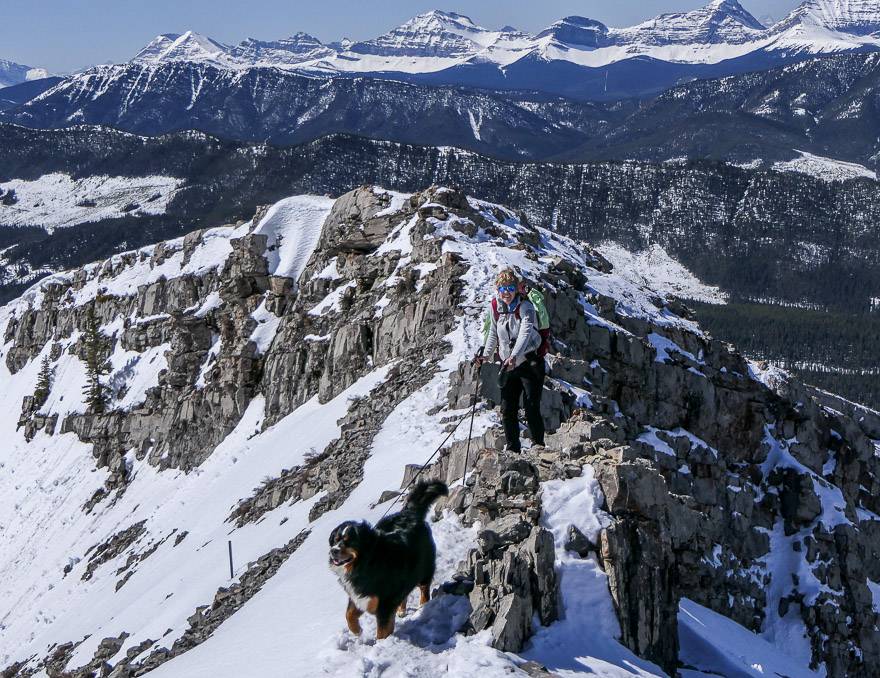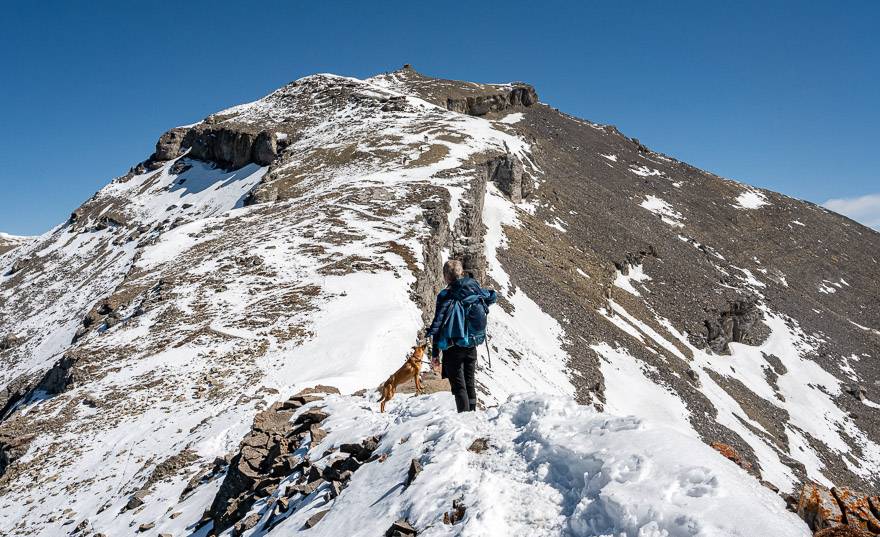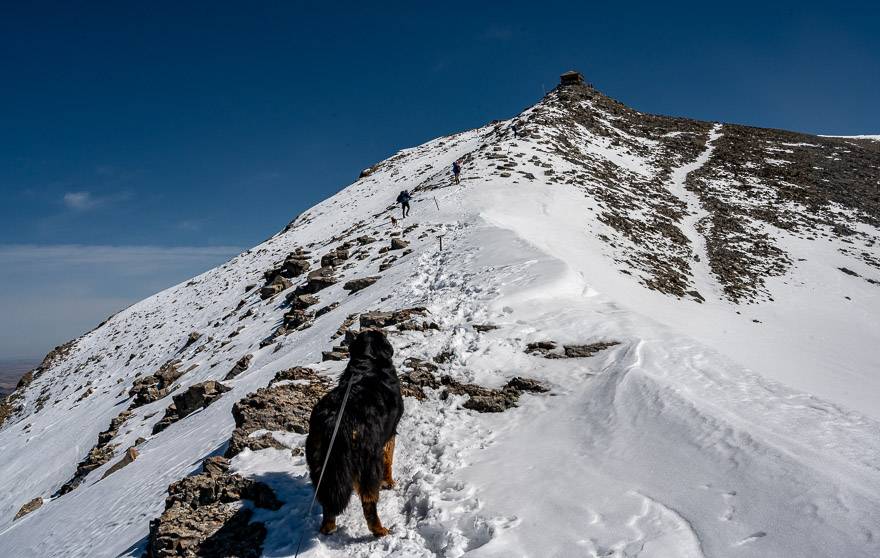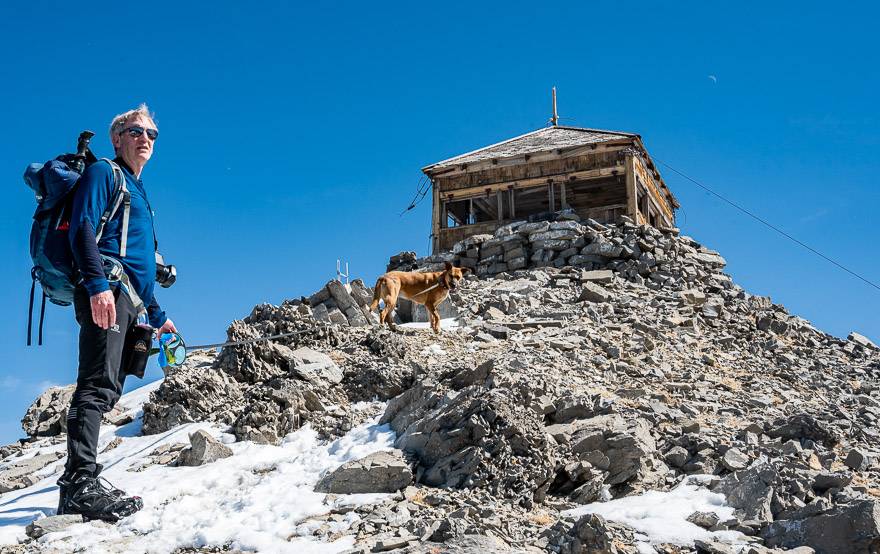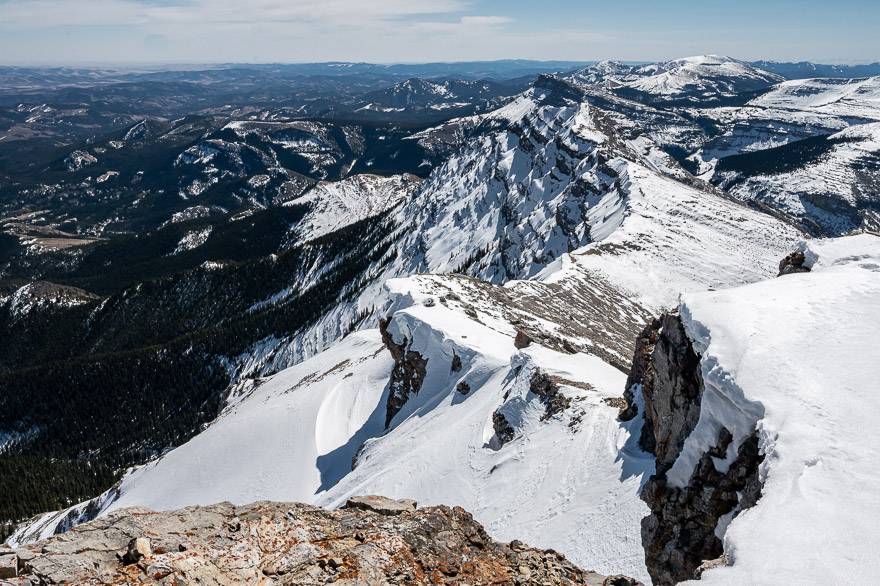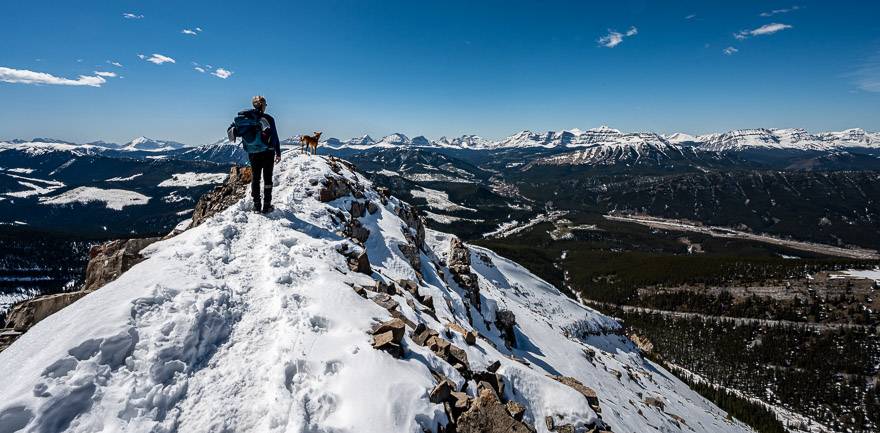 Useful items for the Mount Burke hike

Take the icers so you stay safe. Some people will want hiking poles as well. I like the lightweight collapsible ones.

It is usually very windy after treeline on the Mount Burke hike, so dress appropriately. A wind-proof fleece or down jacket is handy. So are mitts and a toque.

Don't forget a buff – to keep your hair in place, use as a neck warmer or any of another 15 uses.

Take high energy food on this hike as it will take you somewhere between 5 – 7 hours. I always carry a stash of protein bars.

Don't forget the bear spray. Keep it handy in a bear holster like this. Forget the bear bells. Your voice is better.
Further reading on hikes somewhat nearby
Click on the photo to bookmark to your Pinterest boards.