I have enjoyed exploring areas in Alberta this spring that are new to me – and as it turns out less well known and therefore less busy for hiking. As much as I love the workout and the views up Ha Ling Peak for instance, I prefer trails with far fewer people. Near the Highwood Junction area, there are a good handful of hikes that are all ideal in spring and fall when the mountains are still too snow-covered to safely ascend – at least for most people.
The Raspberry Ridge hike is my latest hike – and one I would highly recommend in spring. In summer I prefer to be higher in the mountains but this one fits the bill very well as a mid-May to late June kind of hike. The hike is accessed off Highway 940, south of Highwood Junction. The hike takes you up to a ridge that ends at a fire tower/ private residence that is off-limits to the public.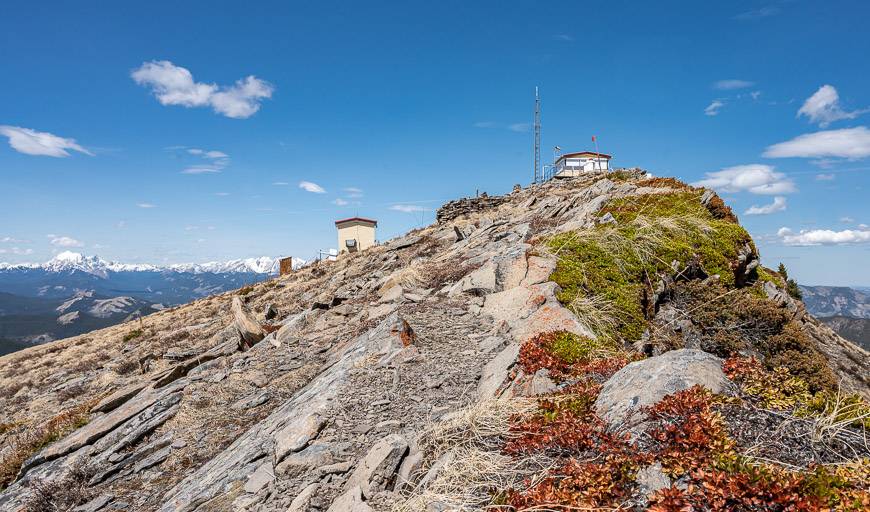 This post includes some affiliate links. If you make a qualifying purchase through one of these links, I will receive a small percentage of the sale at no extra cost to you. Thank you for your support.
Raspberry Ridge hike details
Raspberry Ridge is a 10 km round-trip hike with 653 m of elevation gain – if you take the steep shortcut up and down – which is what we did. There is the option to moderate the intensity of the climb via switchbacks – and that would make it an 11.8 km hike.
And according to the maps you could do it as a 13.6 km hike, avoiding the straight up and down steep section altogether. The advantage of the longer route is more time on the ridge. That would obviously be a distinct disadvantage in a storm. Be sure to keep an eye on the weather, especially as the chance of a lightening storm in the Alberta foothills is high. In fact, it gets top marks as one of four places in all of Canada where lightening strikes are common.
Finding the start of the trail
If you're planning to hike Raspberry Ridge before June 15th when the road over Highwood Pass is closed, you have one main choice in how to get to the trailhead.
Drive to Longview and turn west onto Highway 541. Take it to reach Highwood Junction and the intersection of Highway 40, 541 and 940. Turn left or south onto Highway 940 – a dirt road that was already extremely dusty. Follow it for 11.4 km to reach a large pullout on the west side of the highway beside a gate as pictured below. There are no garbage cans or facilities so be sure to pack out everything.
As of May 1, Highway 532 opens up. You can pick it up from Highway 22, just north of the Chain Lakes Reservoir. If you drive west, it will meet Highway 40 going south to the Crowsnest Pass and Highway 940 going north to the Raspberry Ridge trailhead. I have never driven it, but suspect it's a dirt road. It is closed annually from December 1 – April 30th.
Raspberry Ridge hike location map
If you want to camp nearby
The Cataract Creek Campground is only 1.7 km south of the Raspberry Ridge Trailhead. If you want to make a weekend of hiking in the area, this would be a good place to base yourself. There are more than 100 unserviced sites ($31/night) suitable for tents and some RVs.
Campsites are available on a first come-first served basis starting May 19, 2021 until September 6th, 2021. From the campground you can hike up Mt. Burke – a steep but very worthwhile hike with amazing views.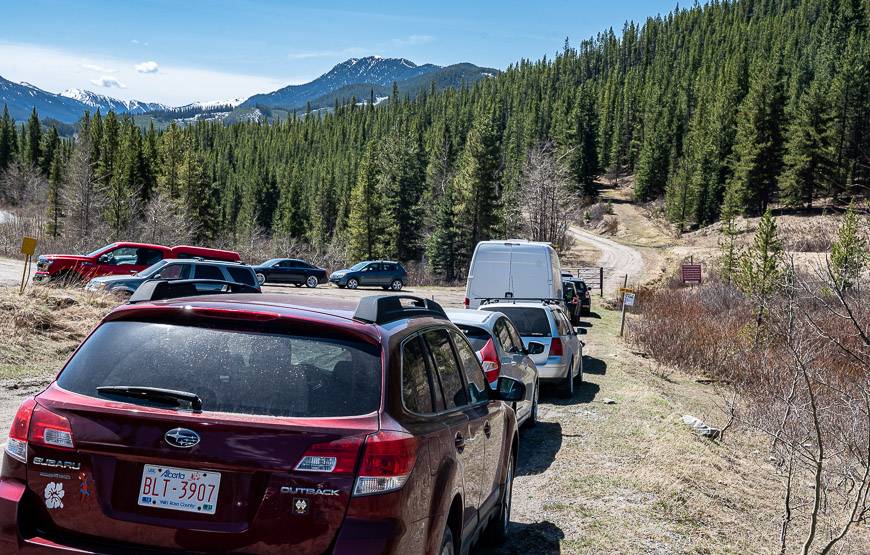 Raspberry Ridge hike description
Walk past the gate where there is a three-way intersection of sorts. You want the middle route up the grassy trail into the trees, immediately right of the road pictured above. There is another road that takes a hard right that you can't see in the photo but don't take it. Of course, there isn't a sign to be seen, but there is some flagging tape in the trees on both sides of the grassy trail you want to take.
Follow the trail past remnants of snow to a Y-junction. Go right as it curves west and then north through a section of pine trees that smells divine. Before you drop down to a stream gulley, you'll be able to see Raspberry Ridge and even the lookout on the skyline.
From the gulley, climb steeply for a minute and then continue on a gentle trail in an NNW direction. Look for a fork marked by a cairn about an hour into the hike. Go right and start climbing more steeply. In no time you reach a small promontory with excellent views across to the aptly named Plateau Mountain as well as Mt. Burke.
Continue on an upward trajectory with the odd switchback to mitigate the grade. To crest Raspberry Ridge in spring, you're going to have to climb through a short section of steep snow. People have boot-kicked steps and there are rocks to hold onto, so you'll be through it in 30 seconds. If it's too early in the season this may have to be your turnaround point.
Turn right on the ridge crest and follow it for about 5 minutes as it climbs gently to reach a sign saying Raspberry Ridge and a picnic table. We continued up a little further to find some rock slabs to sit on for lunch but were respectful of the fencing around the fire lookout itself.
If you climb to the edge, you'll get some amazing views down the length of the ridge. From our lunch spot it was easy to pick out the Mist Mountain massif to the NNW. Our total hiking time to our lunch stop was 1.75 hours – and that included too-numerous-to-count snow stops so the dogs could keep cool.
We retraced our steps to return and were back at the car in 1.5 hours. The photos below will give you a good idea of what to expect. We met probably a dozen people, and everyone was doing the route I have described.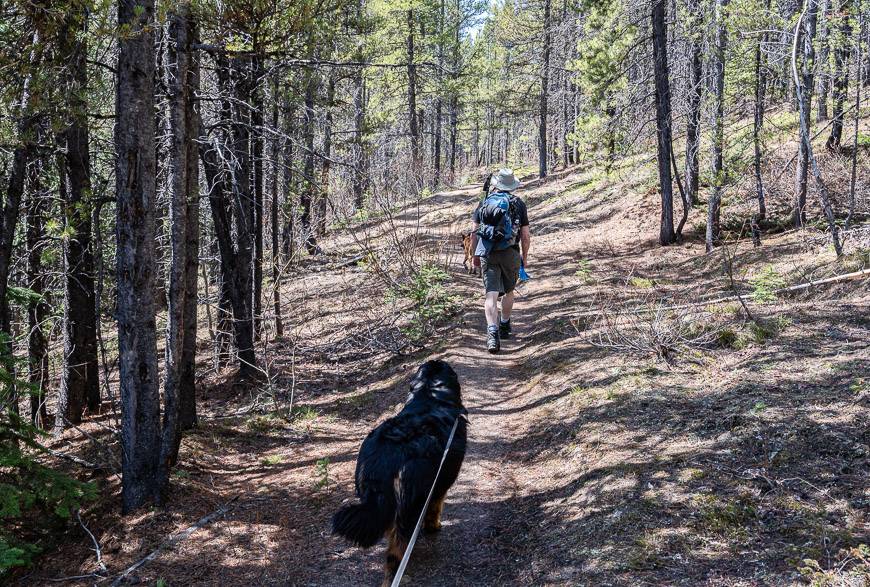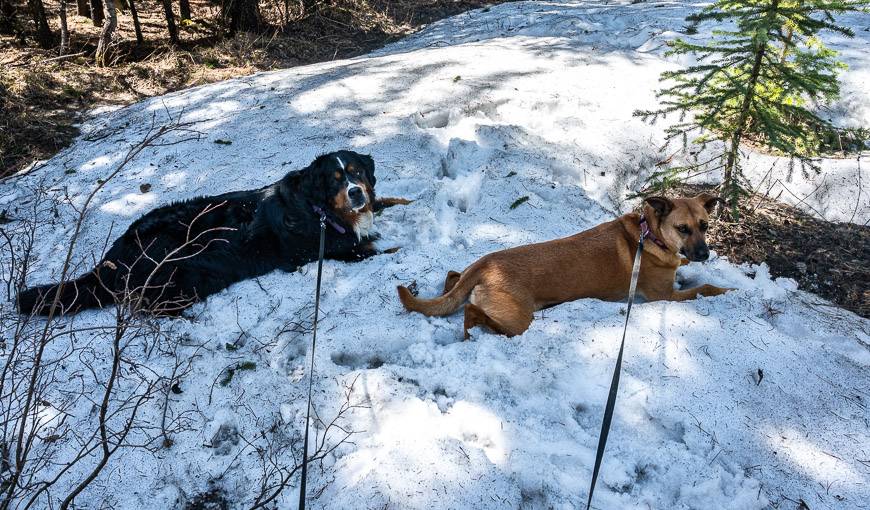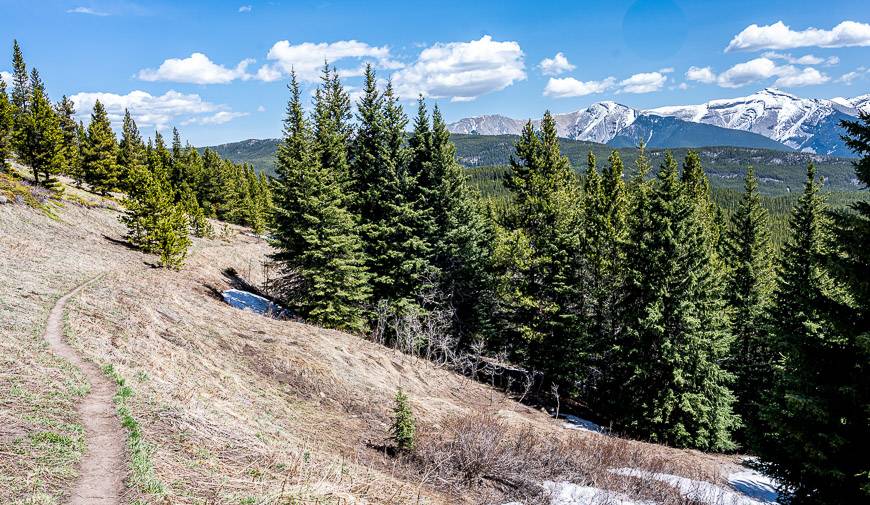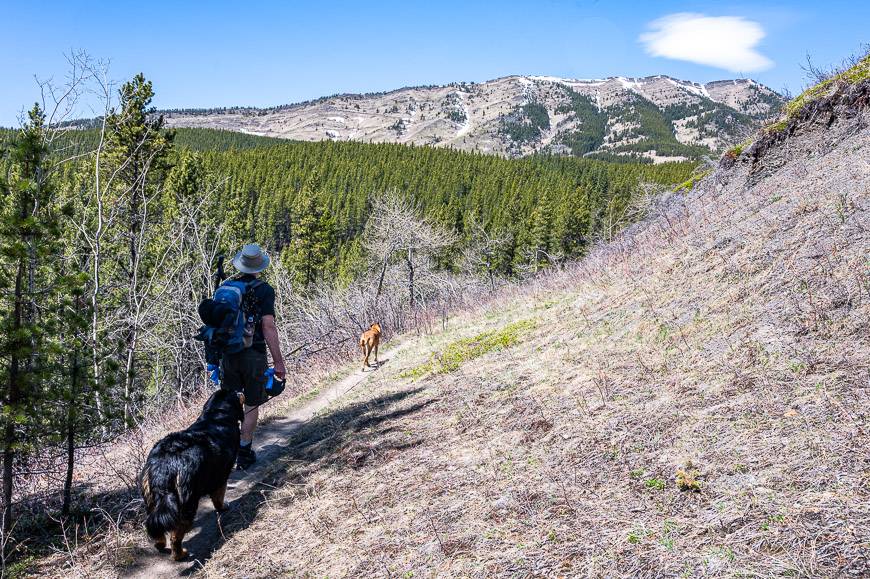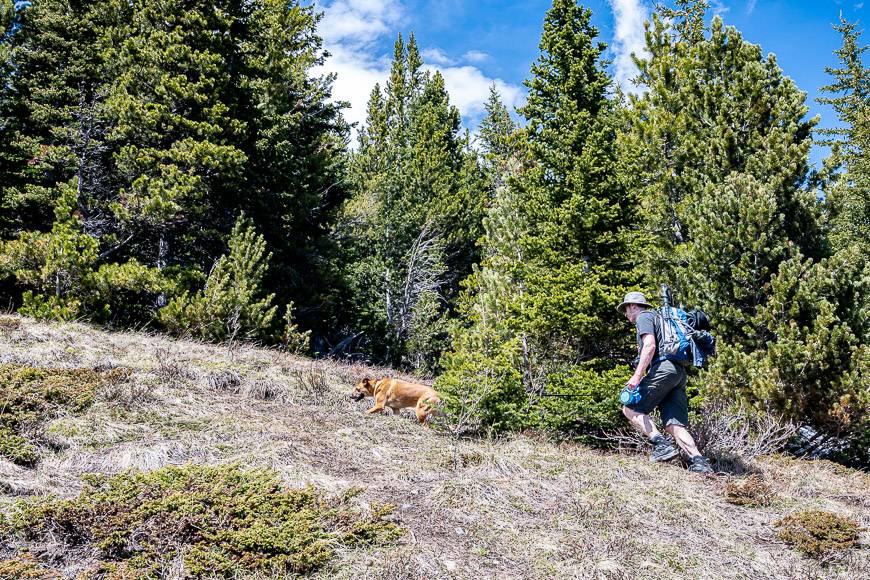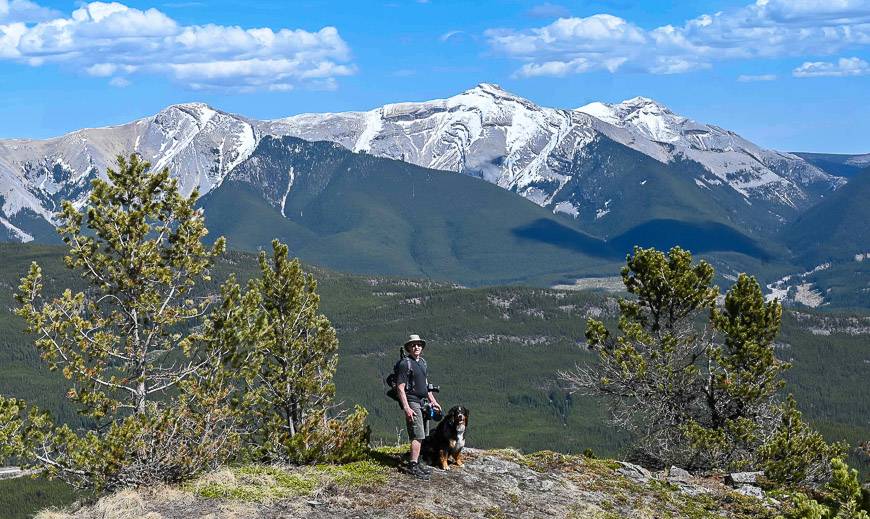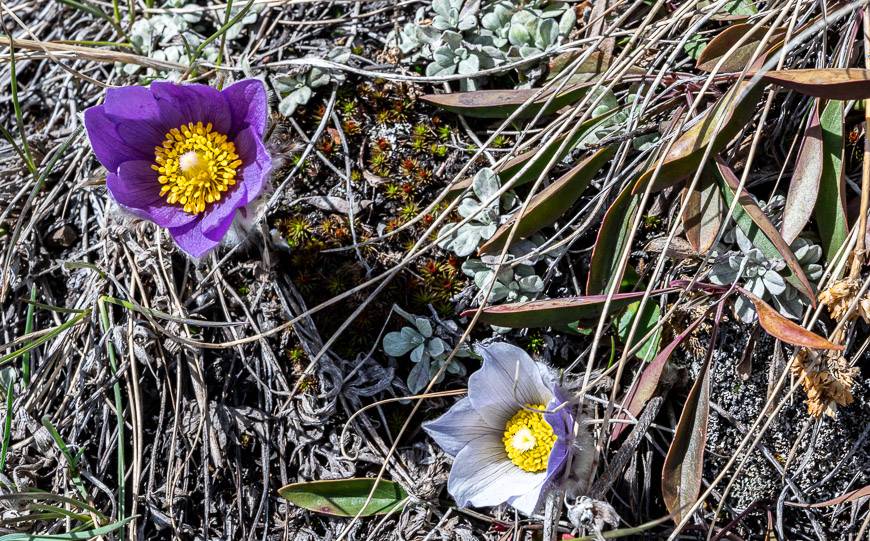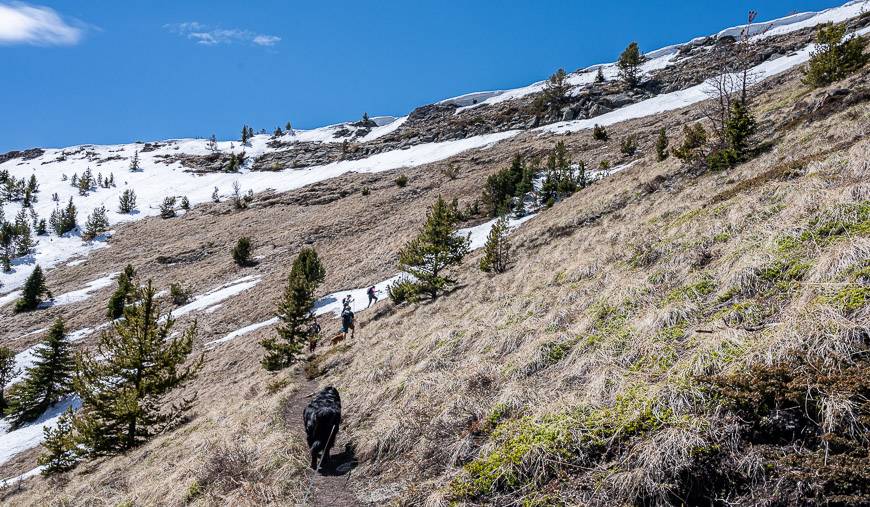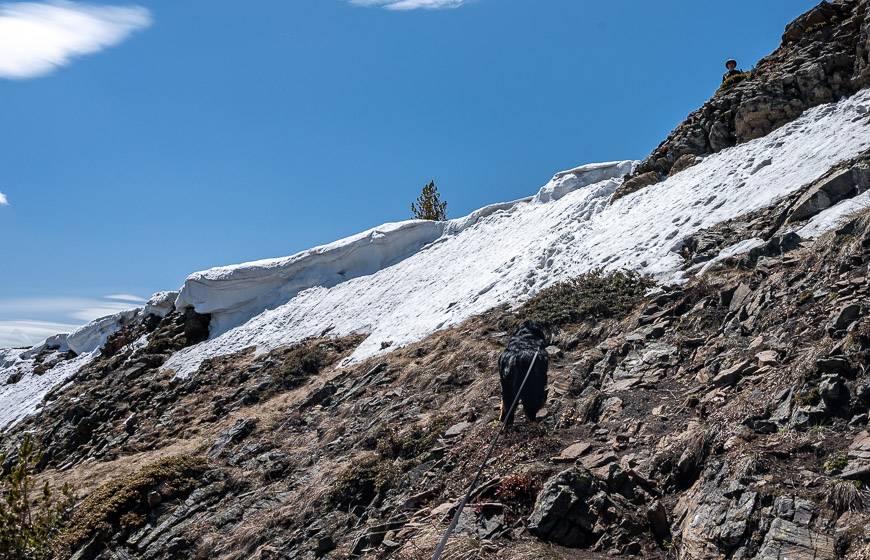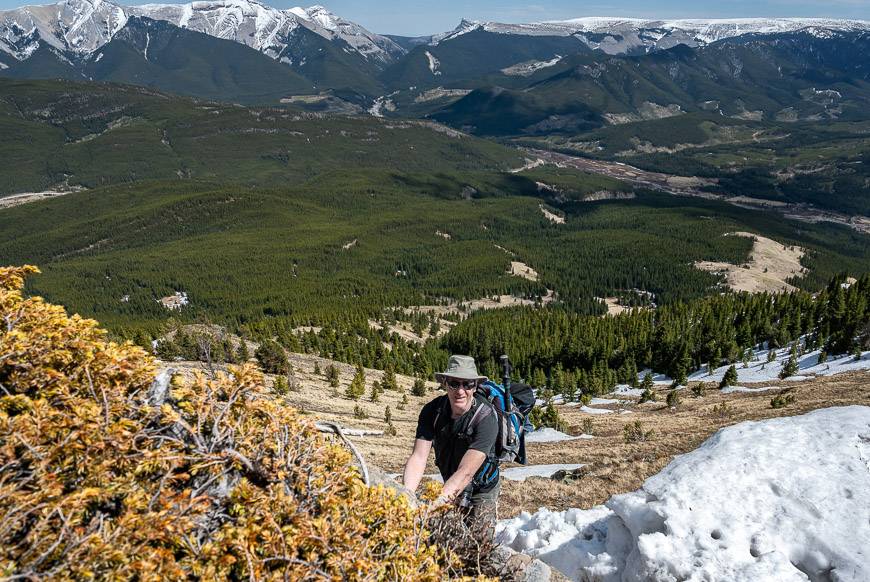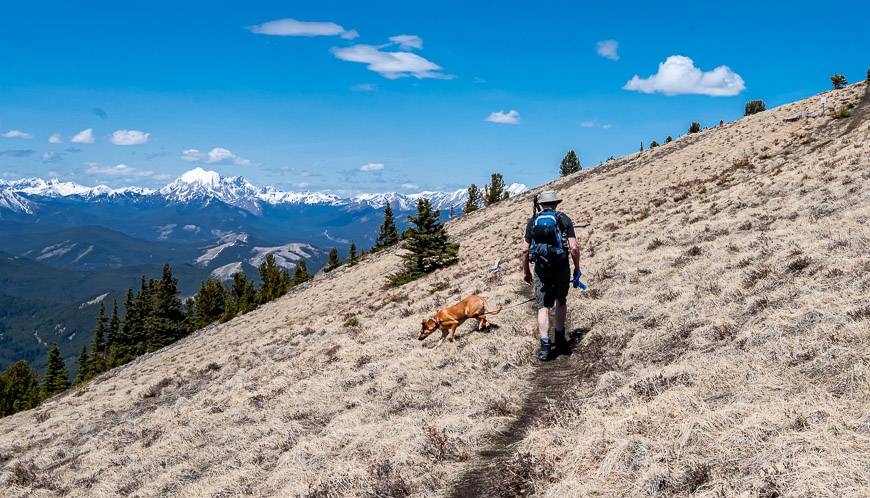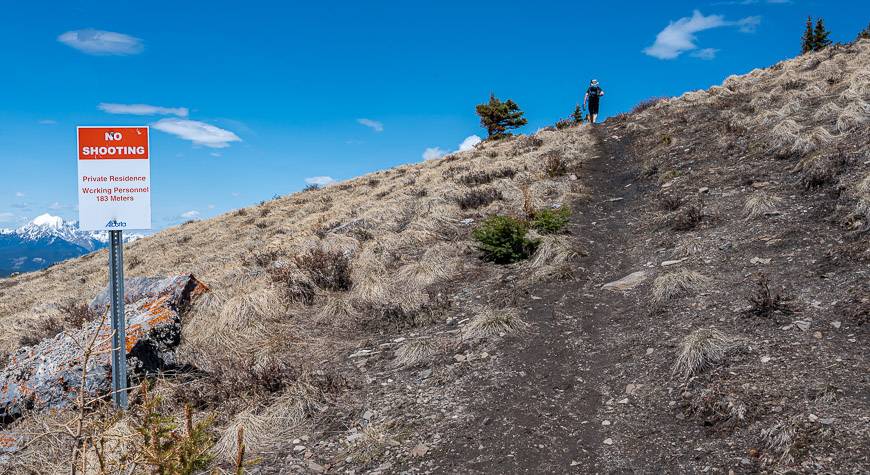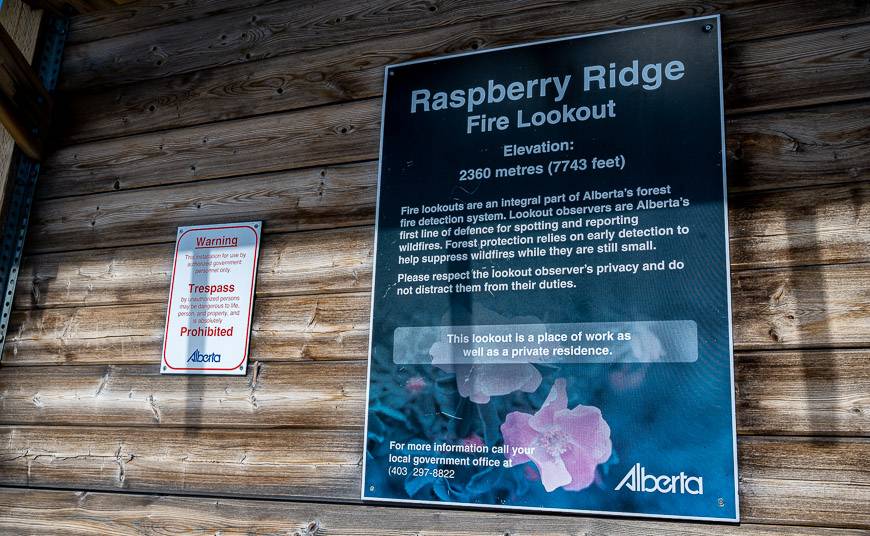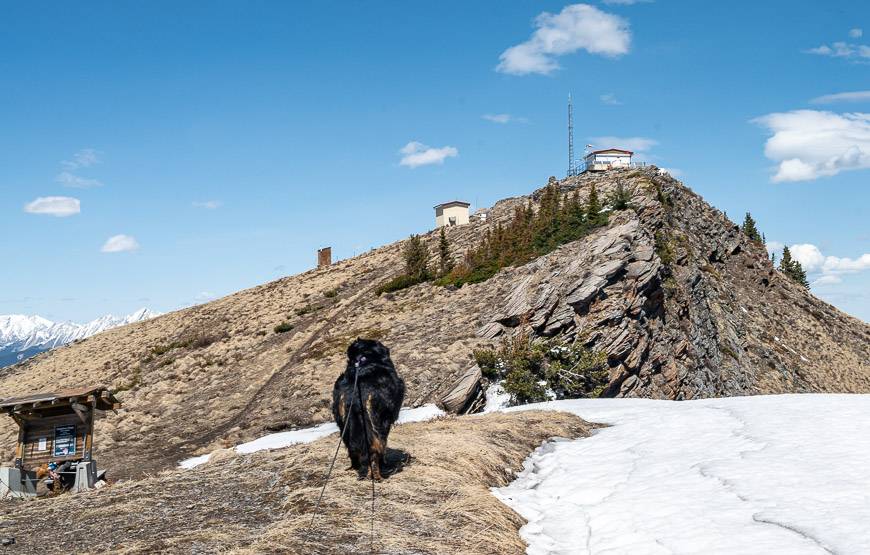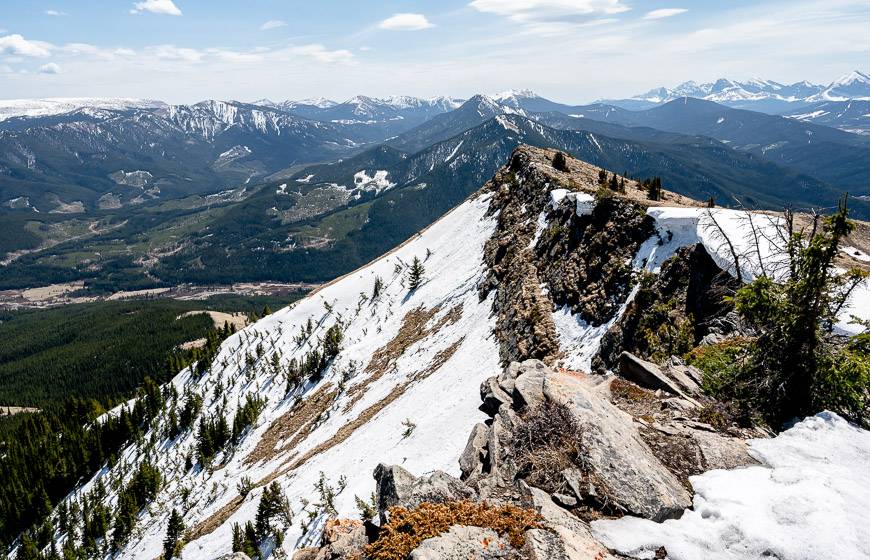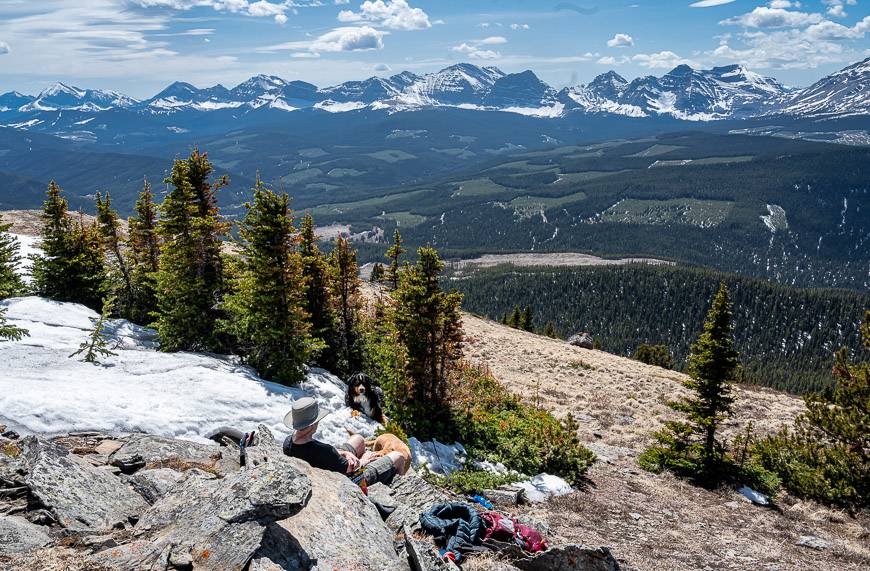 The descent from Raspberry Ridge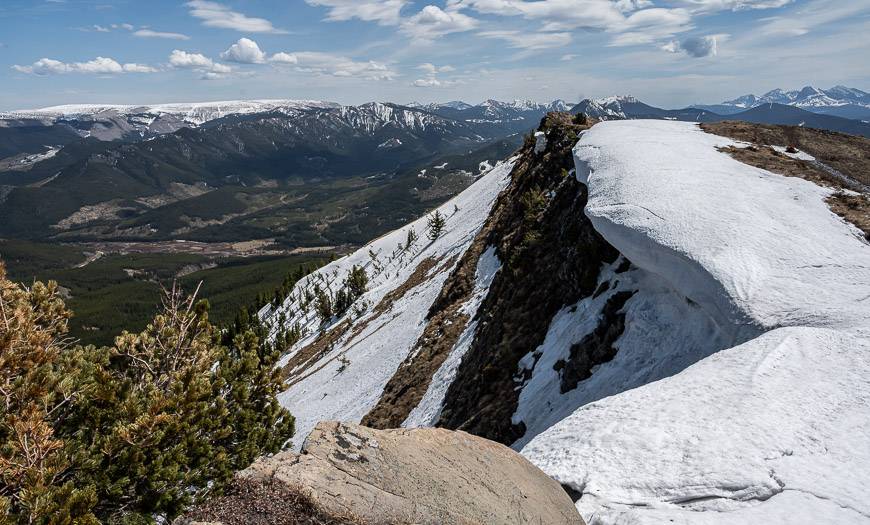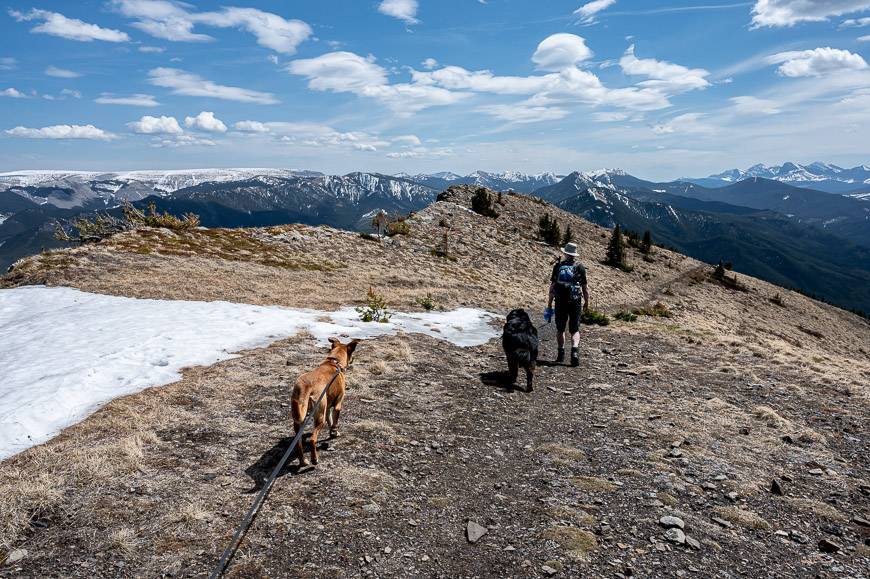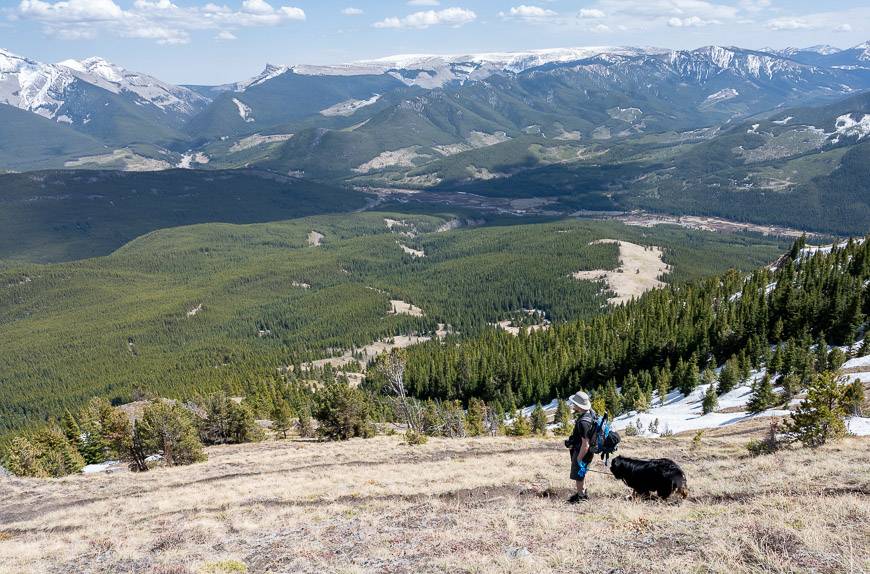 A few useful things for this hike
I recommend a copy of the Gem Treks – Highwood & Cataract Creek map. Pour over it from the comfort of your couch for lots of other hiking ideas.
This hike can get hot. Take lots of water, sunscreen and a sun hat with a brim.
Don't forget the bear spray in an easy to access holster.
For those wet days or if you want a comfortable seat at lunch time, pack an inflatable seat cushion.
Looking for more spring hikes?
Click on the photo to bookmark to your Pinterest boards.