The Mesa Butte hike is a short, easy hike that is ideal after a lazy morning of eating pancakes and drinking coffee or a pick me up after a long day at work. The hike is located near Millarville, Alberta in Mesa Butte Provincial Recreation Area. The trail starts directly across from the Mesa Butte Equestrian Campground.
Even though the Mesa Butte hike is a short one that you can knock off in 1 – 2 hours, it delivers when it comes to scenery. There's a lot of variety from pretty forested sections to meadows, an open section with great views, and a summit that is home to a picnic table and a large campfire pit with log benches all around it.
Mesa Butte hike summary
Distance: Approximately 4.7 km return
Elevation gain: 293 m or 961 feet
Level of difficulty: Easy and family-friendly
Time needed: Allow 1.5 – 2 hours.
Permit: You will need a Kananaskis Conservation Pass to do the Mesa Butte hike. Purchase a daily one for $15 per vehicle or pay $90 for a yearly pass, good for two vehicles at the same address.
Best time to hike: This is the perfect after work hike in spring and summer, but the hike can be done year round. Enjoy a picnic by the fire pit at the top of Mesa Butte summit.
Dogs: Yes on a leash.
Bears: Carry easy to access bear spray just in case.
Weather: Check the weather forecast before you go.
Please: Don't forget to follow the Leave no Trace principles and pack out whatever you pack in.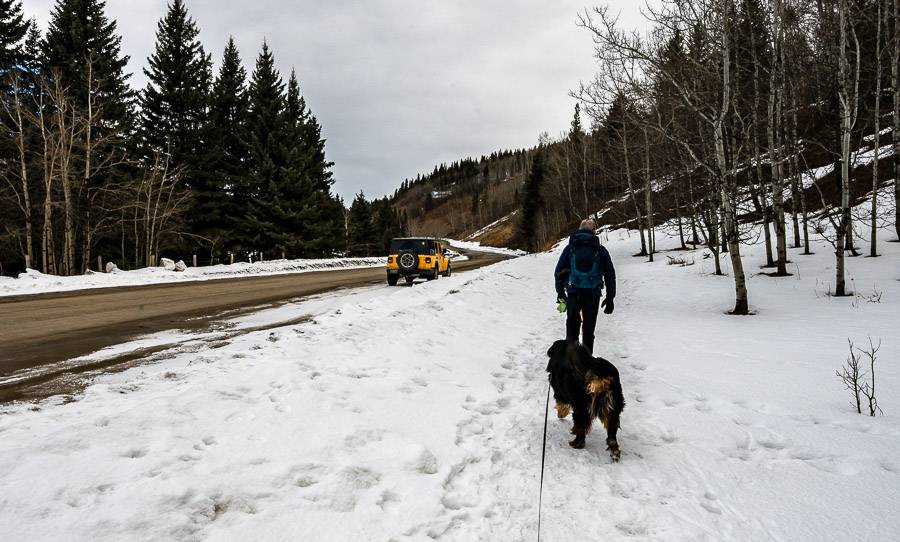 This post includes some affiliate links. If you make a qualifying purchase through one of these links, I will receive a small percentage of the sale at no extra cost to you. Thank you very much for your support.
Mesa Butte hike description
The approximate 4.7 km return hike up Mesa Butte gains just 293 m (961 feet) so it's a good early season hike if you haven't been out in the winter. There seems to be a warren of trails in the area, so try to pick the most used one.
Fortunately, once you've gained some elevation Mesa Butte comes into view, so it gets easier to navigate the higher you go.
To get to the trailhead walk parallel to the road, north of the equestrian campground for roughly 100 -150 m. Look for a trail heading up on your right. Although it's obvious, there is no signage.
Follow it to reach an intersection with the signed Curly Sand Trail. That trail heads southeast above and roughly parallel to the road for 3.0 km to reach a gas well. If the road gets closed to the equestrian campground in the winter, the Curly Sand trail would be the one to take to get to the first intersection and the trail up Mesa Butte.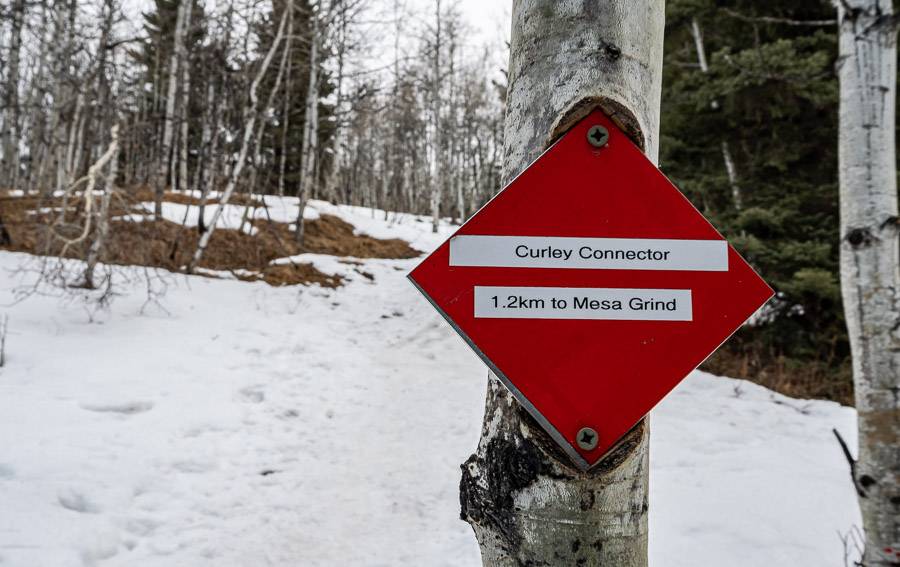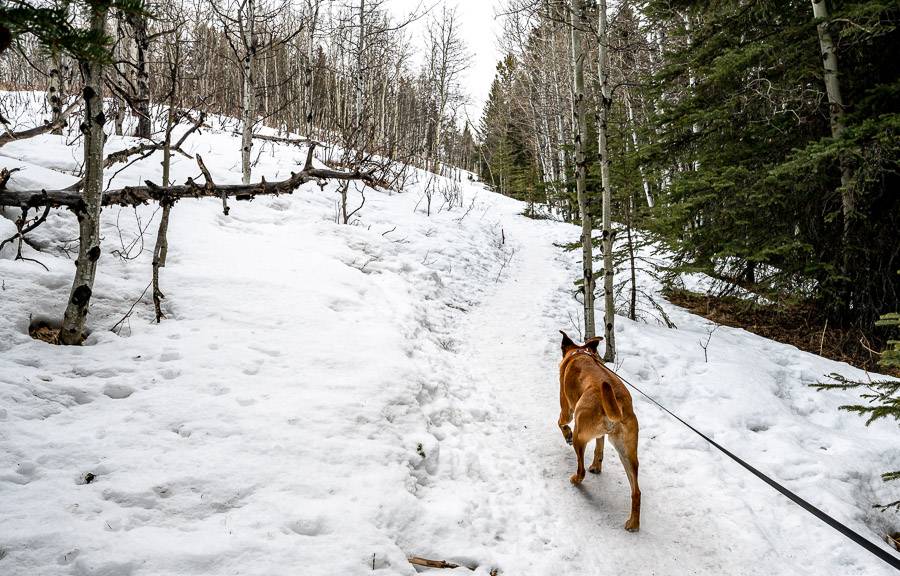 From the intersection, stay left and continue up through the trees to reach a meadow that is filled with wildflowers come the summer.
There seem to be several trails to the summit, but we just stuck to the main one. I did see signage off in the woods for the Mesa Grind trail but it didn't look as well used.
Enjoy the views from the summit. They exceeded all expectations, especially considering it's such a short hike. Although we didn't see any wildlife, we did see deer tracks and heard a couple of ravens.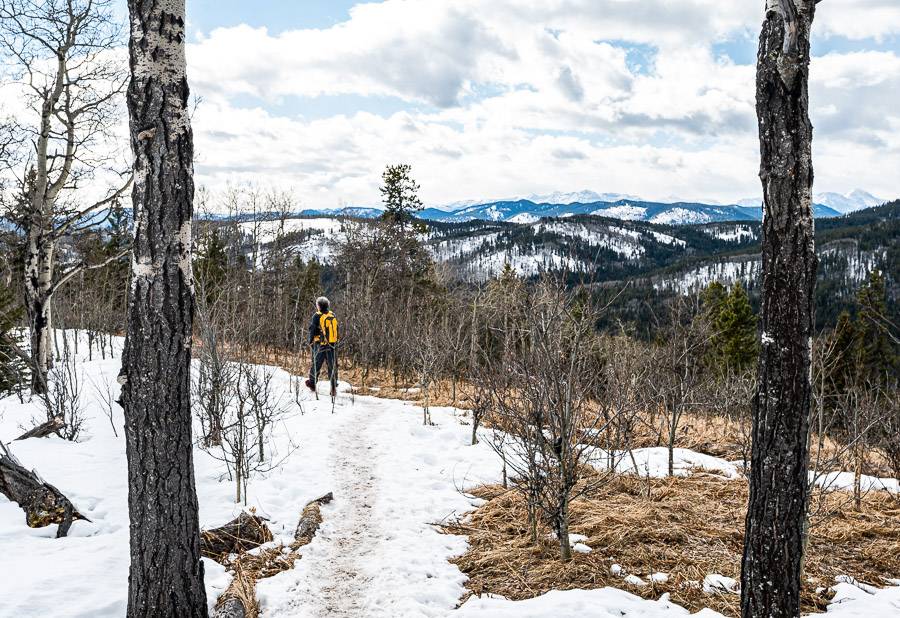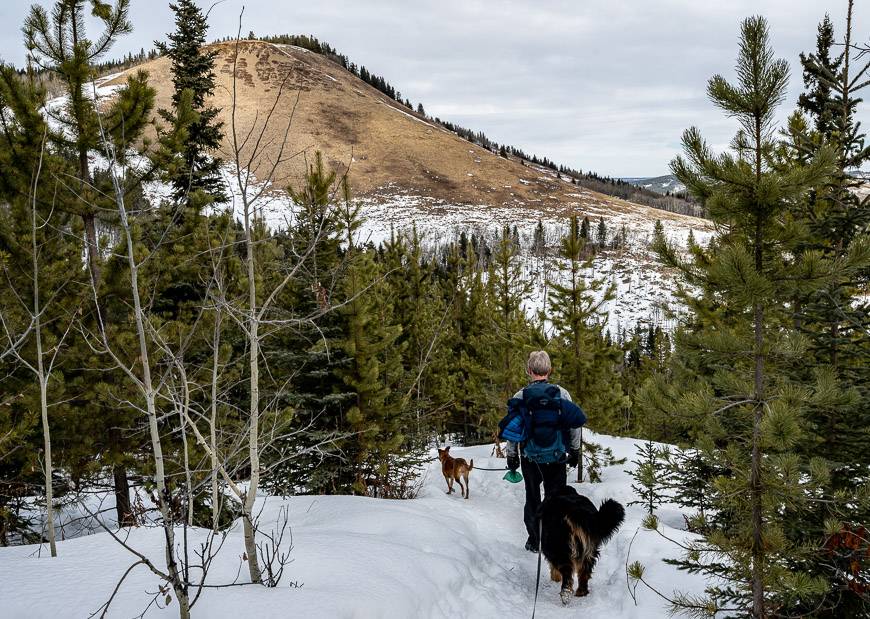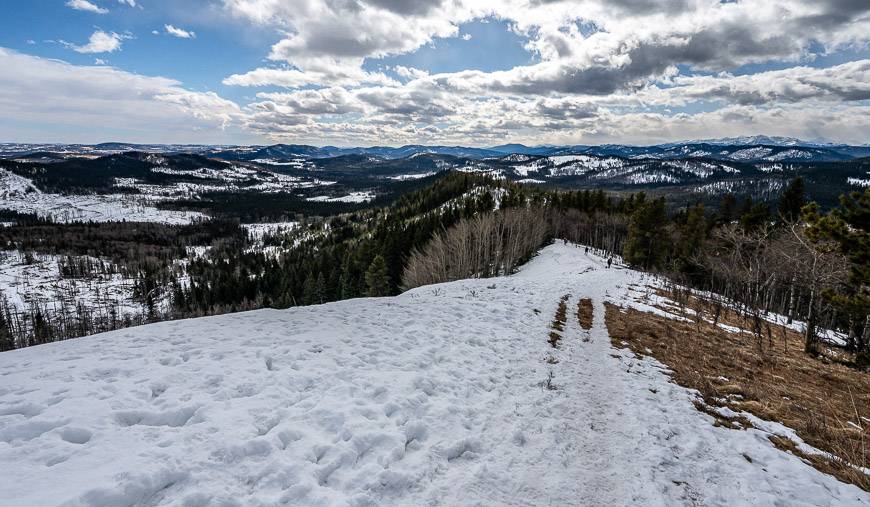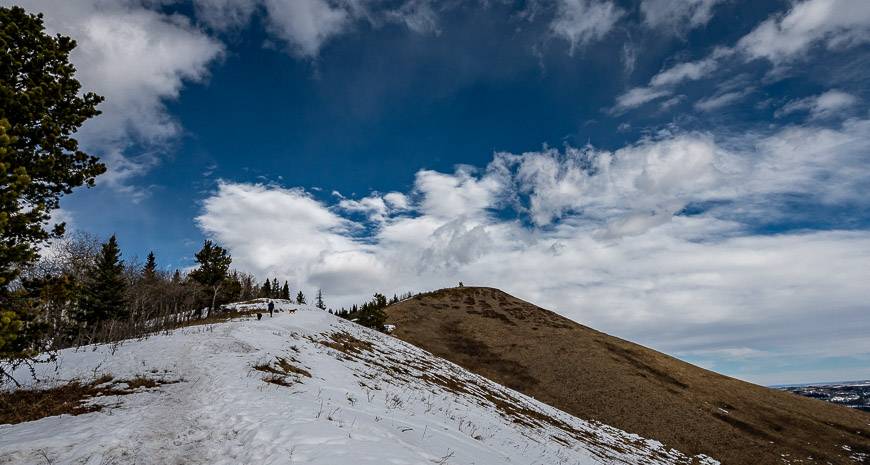 A fire pit at the summit of Mesa Butte
At the summit of Mesa Butte, there is a well-used fire pit with benches, a few camp pots and grilling tools along with a picnic table.
If there isn't a fire ban in place, it would be fun to roast a couple of hot dogs or enjoy some s'mores. Just be very sure the fire is out – and to do that you'll need to use either snow or water you've taken up with you.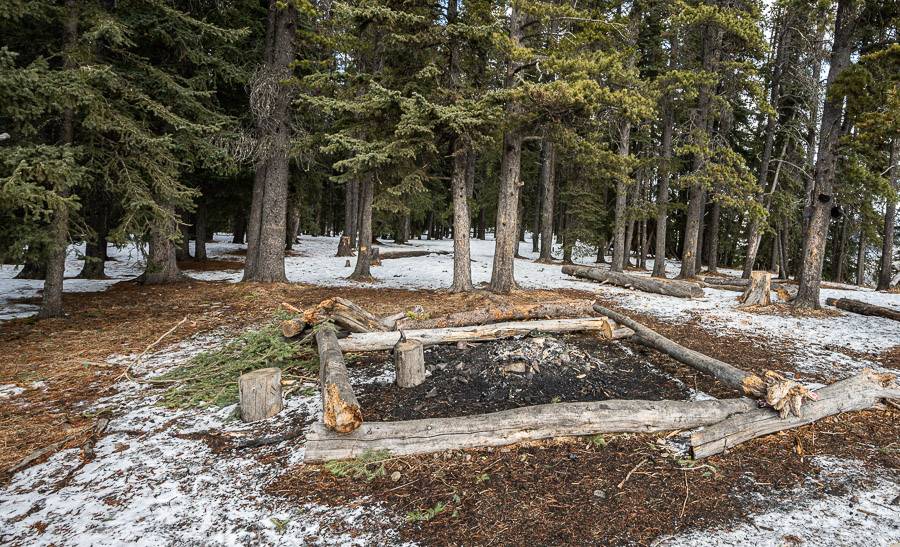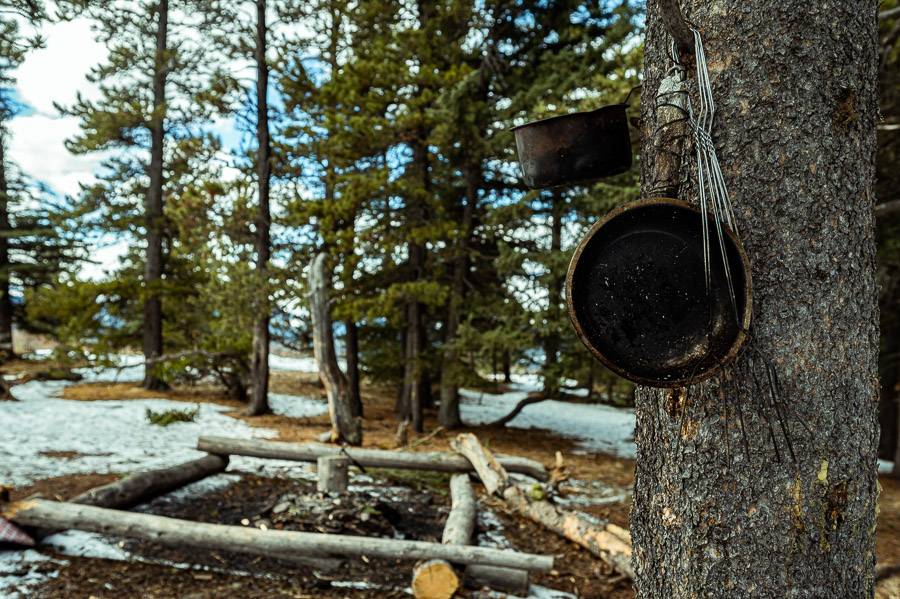 An alternate route down on the Mesa Butte hike
Instead of doing and up and back hike we decided to mix it up. From the firepit we continued through the woods and eventually dropped down to the Mesa Connector trail below Mesa Butte.
We didn't appreciate we were on a named trail until we saw a red diamond with the trail name on it. The connector trail took us back to a wooded area in the trees we had passed on the way up. From there we turned left and retraced our steps to the car.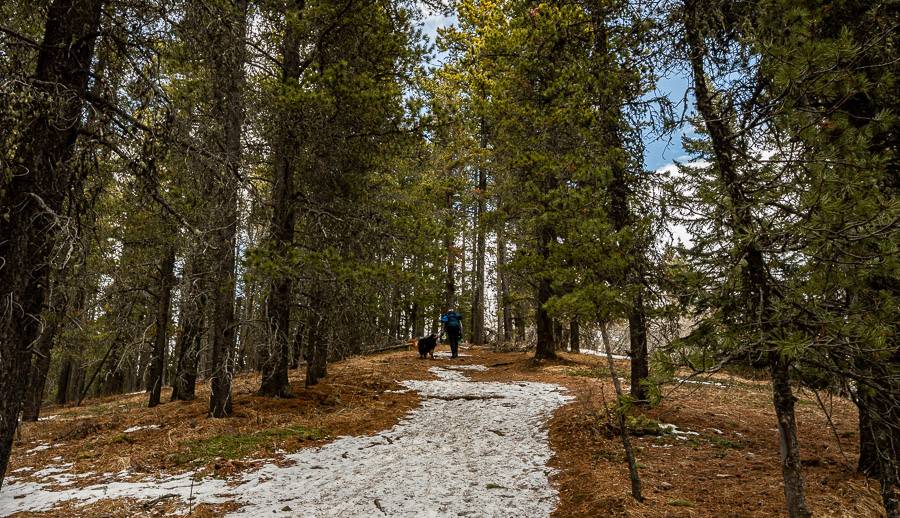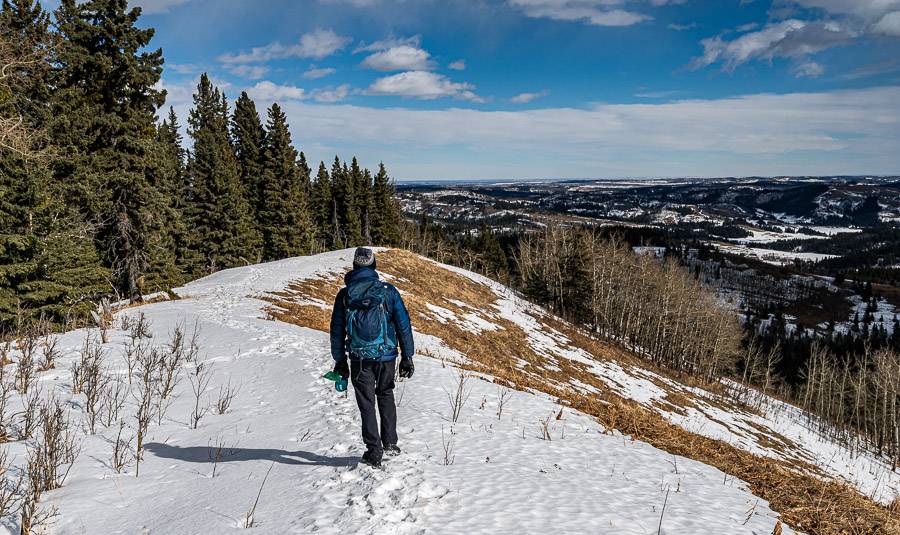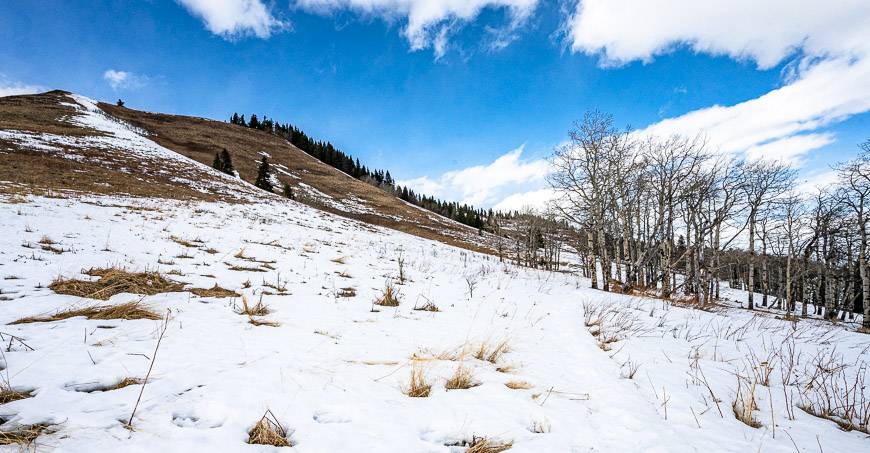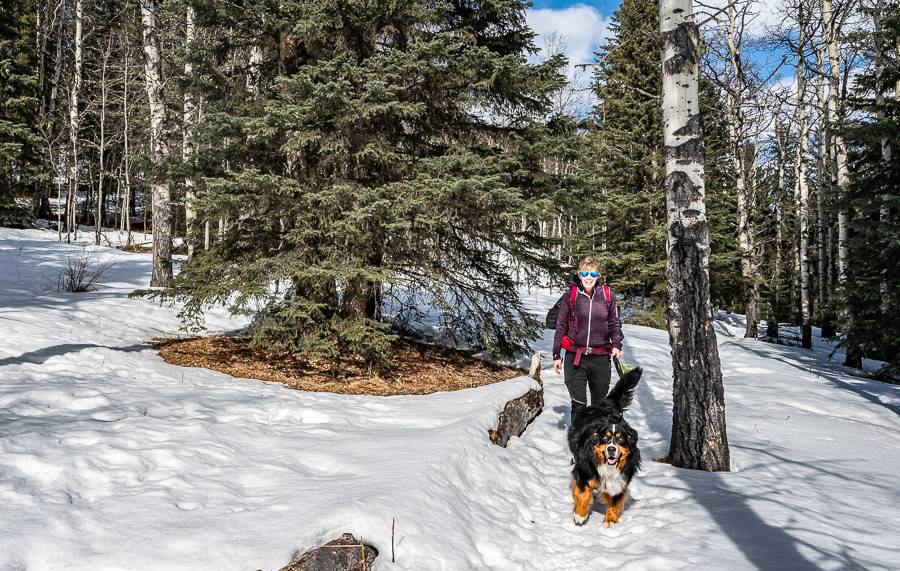 Finding the trailhead for the Mesa Butte hike
To get to the Mesa Butte trailhead from Calgary you have a couple of options. We took Highway 22X west to the intersection of Highway 22. From there, continue south on Highway 22 for about 16.3 km. Then turn right (west) onto Highway 549.
When you reach the intersection with Highway 762, zero your odometer. Continue for 8.3 km. The first 3.2 km is on pavement and the rest of it is dirt road. Once you reach the Mesa Butte Equestrian Campground, you're there. Park at the side of the road.
On the return for something different, we drove home via Bragg Creek. Go north on Highway 762. When you reach Highway 22 (the Cowboy Trail) turn left (west) and then right (north) to head into Bragg Creek.
From there you can continue to Calgary via Highway 8 or ultimately the Trans-Canada Highway. In Bragg Creek there are several places to get a drink and a snack – including the Cinnamon Spoon at the first four-way intersection you reach.
If you were to continue west on Highway 66, instead of turning towards Bragg Creek, you'd end up in Kananaskis Country – where you'll find loads of hiking trails, though many can only be accessed from May 15 – December 1st.
The Mesa Butte hike starts about 150 metres north of the Mesa Butte equestrian area pictured below on the right.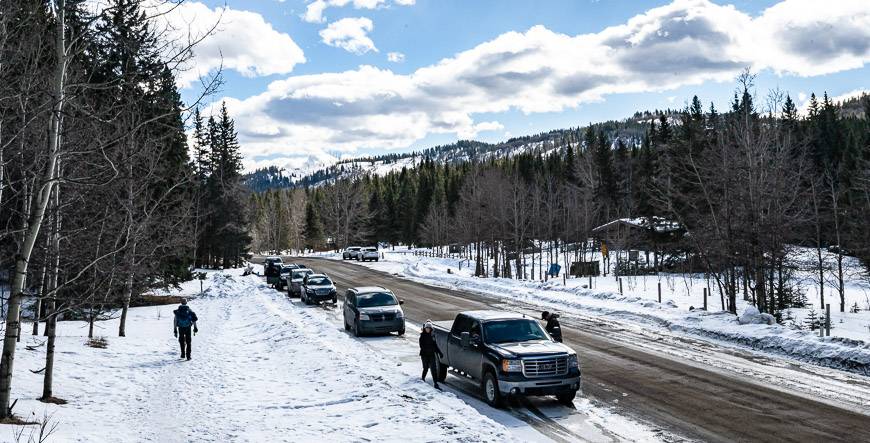 Don't forget icers in spring and winter
I can't believe how many people show up at the trailhead without icers. In winter and spring when the trail can be snowy and icy, a pair of icers can save you from a bad fall.
The Kahtoola EXOSpikes are ideal if you're into trail running or the weather is warmer and you just want to wear a pair of hikers, but if you want something a little more hard core try the Kahtoola MICROspikes. I'd also suggest a pair of hiking poles especially for the descent..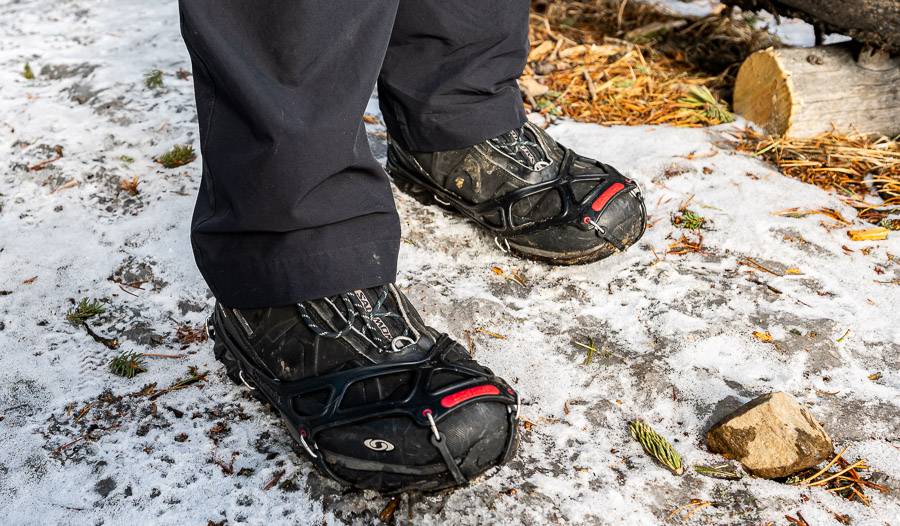 More ideas for hikes near Calgary
Click on the photo to bookmark to your Pinterest boards.