The Jura Creek hike near Canmore is a kid-friendly outing with an option to add a level of difficulty by doing a loop hike that includes a scramble of Doorjamb and Loder Peak. Another alternative once out of the canyon and past the false fault, is to walk up Jura Creek for many kilometres.
Near the end of Jura Creek, you can climb Morrowmount (in the summer or fall), a peak named for Patrick Morrow, the second Canadian to summit Mount Everest. That's approximately a 20 – 22 km return hike with a route description here.
I have only done the Jura Creek hike in winter. It might be a tad challenging in the slot canyon in spring with high runoff in the creek, but the rest of the year should be fair game.
In winter, families in particular would enjoy the Jura Creek trail, as there's a short section that's like a mini-ice walk. It's nothing like nearby Grotto Canyon, but there is a high fun factor for the younger crowd.
You might also like – 10 BEST Winter Hikes in Canmore & Nearby
This post includes some affiliate links. If you make a qualifying purchase through one of these links, I will receive a small percentage of the sale at no extra cost to you. Thank you very much for your support.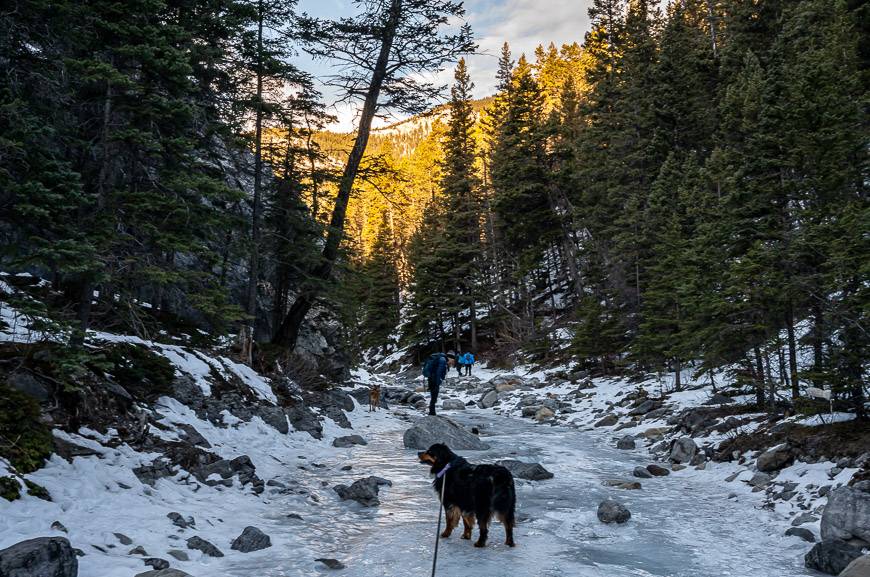 Jura Creek trail hike summary
Distance: 6.9 km round-trip. Most people just do the short 1 km hike up the slot canyon and miss the false fault.
Elevation gain: 301 metres or 988 feet – with a few short, steep sections
Time needed: Allow 90-minutes to three hours to hike, more if you do any of the add-on hikes or you're with kids.
Level of difficulty: Easy in winter. Enjoy a 150 – 200 metre slot canyon that's a lot of fun. Kids will love it.
Dogs: Allowed on a leash.
Be prepared: Be sure to take hand and toe warmers, especially if you're planning a long day out in winter. Dress in layers. Carry the 10 essentials. Take a thermos of something hot to drink and some high energy food. And tell someone where you're going.
Winter drive: Before you head to the Jura Creek trail, be sure to pack a snow shovel and store an emergency kit in your car. Read this post for more tips for a safe winter drive.
Summer hike: The Jura Creek trail can be hiked in summer (I haven't done it) but some scrambling is involved and you do need to be aware of water levels in the canyon.
Jura Creek hike route description
The Jura Creek hike is far less busy than both Grotto and Cougar Canyons. I prefer Grotto Canyon for the ice walk as it's much longer, but loved Jura Creek for the variety of experiences. Both are quick to access from Canmore and Calgary.
Look for the trailhead sign at the west side of the Jura Creek parking lot. There's a warren of trails in the area but pick anyone that heads west. You're aiming for Jura Creek.
Drop down to the creek bed and head north (or right) for the canyon sandwiched between Loder Peak to the east and Exshaw Mountain to the west. About 10 minutes and 800 metres later, arrive at the slot canyon entrance. It's narrow enough in places that adults can touch both walls standing in one place.
The slot canyon on the Jura Creek trail
Jura Creek's slot canyon is short, perhaps 150 – 200 m long, and way easier than the mile long slot canyon hike I did in Utah one year. Still, it's very cool and a definite highlight of the Jura Creek hike. You can be through it in a few minutes, but this is where you'll want to stop and take some photos.
After the slot canyon there's another fun section of frozen ice if there has been a cold spell. If you're coming for the ice walk, wait until mid-January unless it's been really cold for some time. Despite the short length of the ice walk, I'd still highly recommend a pair of icers and even hiking poles, if balance is an issue for you.
The ice walk on the Jura Creek hike will be the highlight for kids – and some adults too. Many families turn around just after the ice walk. If you do that, it will be about 3 km round-trip. But I recommend continuing up to the top of the false fault as it's another interesting feature on the Jura Creek hike.
The next section is a winter walk on a trail that climbs very gently up – through a forest. There are a few peek-a-boo views, but nothing to write home about. The final section is scenically and geologically interesting as you climb up the false fault through the black Exshaw formation to an intersection. It's a good place to have lunch at the top here before you retrace your steps.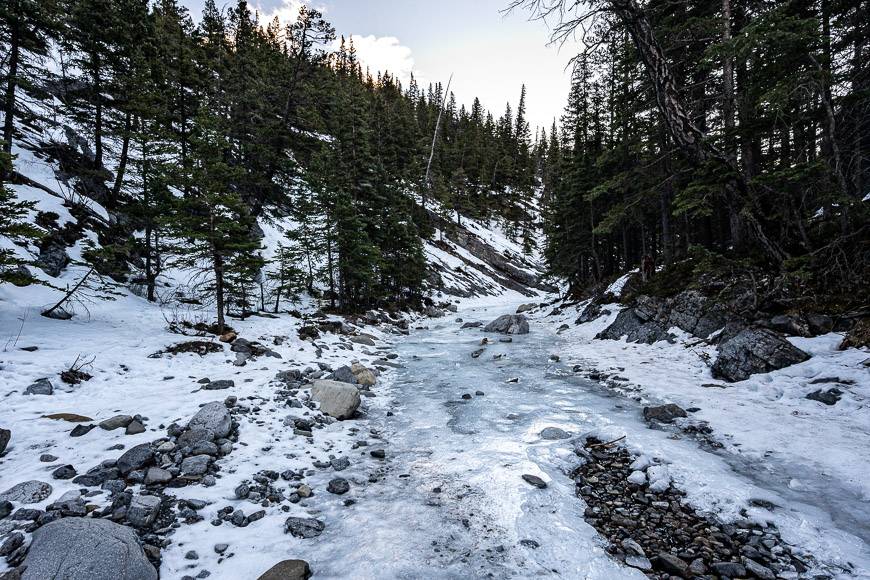 How steep is the Jura Creek trail?
You climb 301 metres to reach the top of the false fault. But most of the hike gently gains elevation. The final section up the false fault is the steepest, but it's also fun.
Options to extend your hike up Jura Creek
You can continue past the end of the canyon following Jura Creek through the valley for many kilometres. When we did this, the trail was quite wind-blown, so we ended up taking our icers off and hiking in our winter boots.
On other occasions, you might need snowshoes. Elevation gain is minimal. It's quite lovely walking in winter – especially as hardly anyone goes past the false fault. Count on a return hike of around 7 – 8 km if you continue up the creek.
At the top of the false fault, we met a group who were off to do a loop hike that included Loder Peak in January. Apparently, it's quite doable in winter, providing you don't mind a bit of scrambling. They figured it would be about a five-hour hike to loop back to the parking lot. It's on my list now for next summer.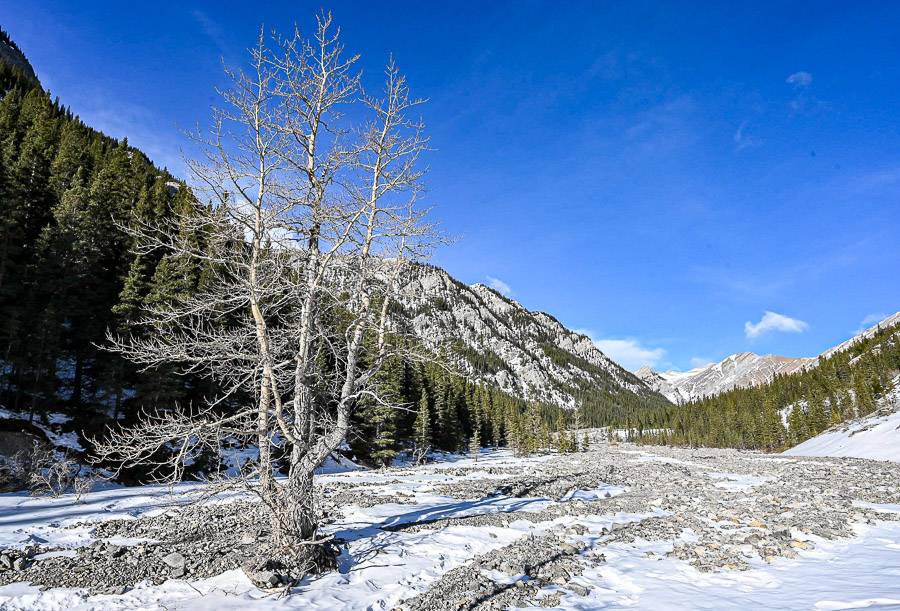 Where can you park?
You'll find parking for the Jura Creek hike east of Exshaw, but west of the Graymont Exshaw Plant on Highway 1A. The parking lot is on the north side of the highway. See the map below.
If you're driving from Calgary, get off the Trans-Canada at the Seebee exit (Highway 1X) and follow it to reach Highway 1A. Turn left at the intersection and follow Highway 1A for about 5.5 km. If you're coming from Canmore, get on Highway1. Pass the turnoff to the Grotto Canyon parking and continue for another 5.5 km to reach Jura Creek. There is signage on the highway.
Alberta Parks improved the parking here a few years ago adding a washroom and trailhead facility. There seems to be some spillover parking on the highway when it gets busy on sunny weekends. Be sure to follow posted signs or you'll end up with a ticket.
Jura Creek location map
Where to eat post Jura Creek hike
If you're hungry after the Jura Creek hike and don't mind heading back to Canmore, I highly recommend stopping at Rocky Mountain Bagel Company, Communitea or Rocky Mountain Flatbread.
Keen to to more winter hiking and snowshoeing in Alberta?
Check out some of these trails to get the happy hormones pumping.
Click on the photo to bookmark to your Pinterest boards.