Snowshoeing in Banff National Park is a fun, invigorating way to spend time outdoors in winter. It's hard to beat rosy cheeks and the glow you get after a few hours outdoors in Mother Nature. In Banff National Park, there are loads of trails to choose from – including some that will get your heart pounding for hours at a time. Don't worry though. There are plenty of easy, family-friendly options for those of you who just want to break up the day and get out for an hour or two.
No matter where you end up snowshoeing in Banff National Park, be sure to go prepared. That means taking the right clothing (no cotton) and extra layers if the temperature drops. Take a thermos or two of something hot to drink along with some high energy food. You can burn a lot of calories just trying to stay warm.
If it hasn't snowed in a while, I'd also recommend taking a pair of icers or microspikes as you may have to alternate between snowshoes and icers. And believe it or not, you should still carry bear spray. We met a fellow during the third week of November who ended up close to a BIG grizzly bear near the Cascade Ponds, off the Lake Minnewanka Road so taking bear spray is still a good idea.
Avalanche danger is one of the hazards in the backcountry. Most of these trails don't cross avalanche paths – and personally that's the way I like it. But people can inadvertently get off trail – in whiteout conditions for instance or take a trail with known avalanche danger. If that's the case you better know what you're doing. Before you go, check out this avalanche forecast for Banff National Park.
Also visit the Banff National Park website for an update on trail conditions.
When you go snowshoeing in Banff you can take your dog if its on a leash on most of the following trails. Exceptions would be Sunshine Village, perhaps Shadow Lake Lodge, and possibly Paradise Creek. Don't forget extra water and treats for them as well. Some dogs, like our rescue from Mexico, need booties and a coat below a certain temperature.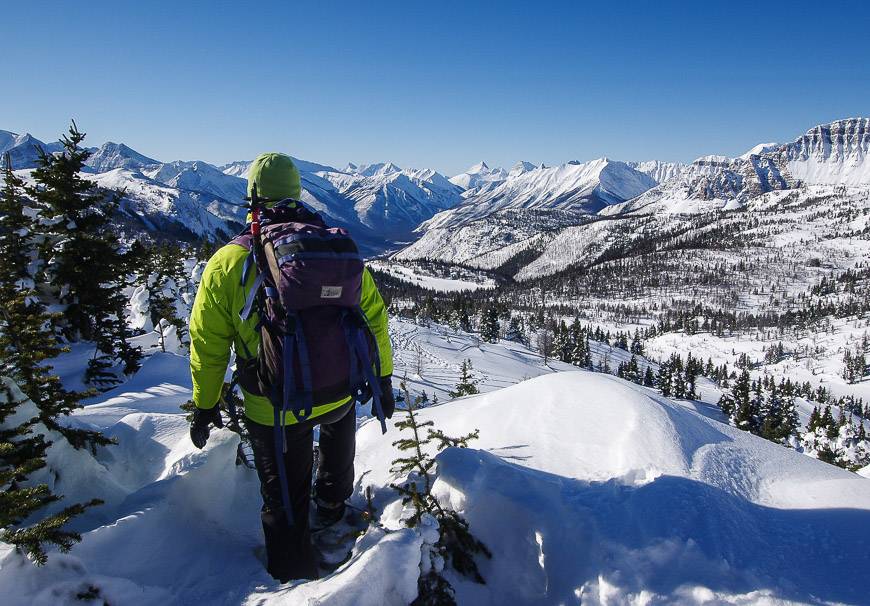 This post includes some affiliate links. If you make a qualifying purchase through one of these links, I may receive a small percentage of the sale at no extra cost to you. Thank you for your support.
Location map of where to go snowshoeing in Banff
Where to stay overnight in Banff
Banff offers the visitor a wide variety of accommodation options – across the spectrum of price points from inexpensive like the hostel to the expensive but lovely Banff Springs Hotel.
The Banff Alpine Centre Hostel is an affordable way to stay in Banff. Canalta Lodge is a nice hotel – and great for families in the more affordable category.
The Moose Hotel & Suites is my favourite Banff hotel close to the strip of stores.
The Dorothy Hotel is a new (2022) boutique motel offering simple accommodation.
And everyone knows the iconic, expensive but lovely Fairmont Banff Springs Hotel.
Snowshoeing in Banff to Taylor Lake
Distance and elevation gain: 12.6 km return, 585 m elevation gain
This is a great trail for snowshoeing if you're after a workout. It climbs most of the way to the lake, ending in a scenic hanging valley. Occasionally you'll see cross-country skiers on the trail. Give them room as it isn't a wide trail. Allow about 4 – 5 hours depending on how deep the snow is and how many breaks you take.
The parking lot is located 8 km west of Castle Junction on the west side of the Trans-Canada Highway. It's signed in either direction.
Note: The trail to O'Brien Lake or Panorama Ridge take you into avalanche terrain and should be avoided unless you're equipped to travel through avalanche country and savvy about what to do.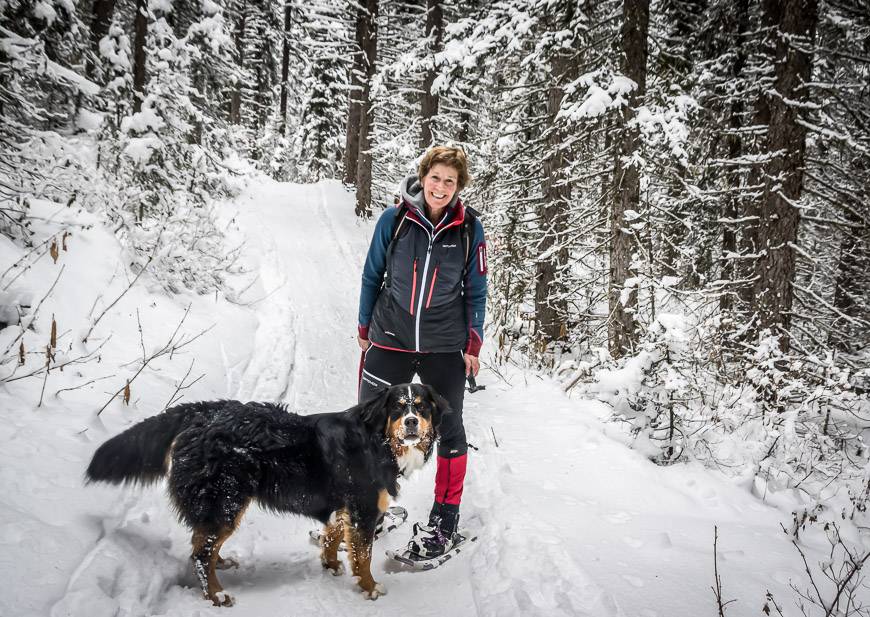 Stoney Lookout Loop snowshoe
Distance and elevation gain: 4.8 km loop with 205 m of elevation gain
The Upper Stoney loop snowshoe is a great one if you only have a few hours. Its got enough of an elevation gain that you feel like you've had a workout. Even though much of the loop is in the forest, it is pretty – and the view from Stoney Lookout is excellent, especially of Cascade Mountain and the Bow Valley.
Pick up the trail just as you enter the Mount Norquay ski area on the right. There is signage and the parking lot attendants seem to know where to point you. The loop deposits you by the ski lodge and then it's just a short walk back to the car.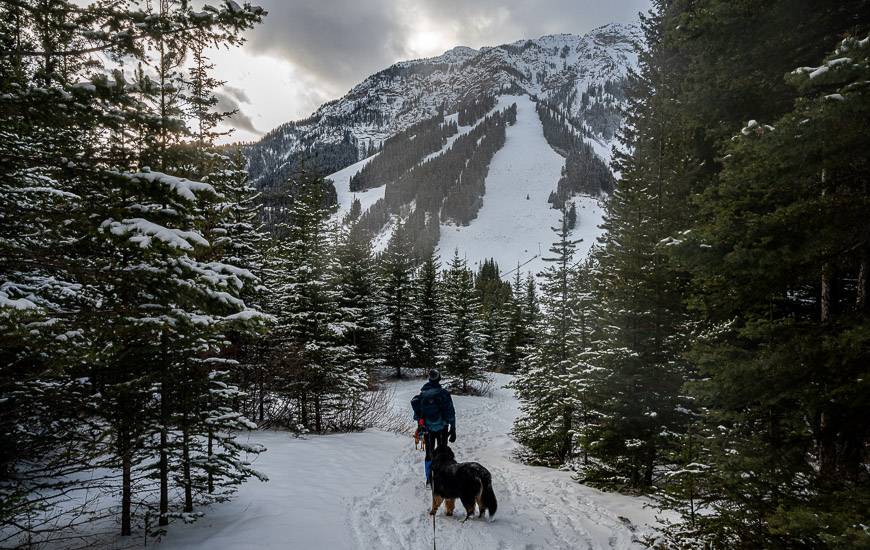 Snowshoeing to Bourgeau Lake
Distance and elevation gain: 14.8 km return with 765 m elevation gain if you go all the way to the lake
You won't find this snowshoe trail in many guides but it's a good one for a workout if you go as far as the first of the avalanche chutes, about 5.5 km in. We turned back before the lake, as there was just one avalanche zone too many too cross – and even though there wasn't a lot of snow, I didn't feel it was worth the risk. The trail climbs relentlessly to the lake so it's a good one for the workout. Views are spotty until you reach the lake.
If you do continue all the way to the lake, be sure you're prepared to travel in avalanche country!
The Bourgeau Lake trailhead is on the Trans-Canada Highway just 2.8 km west of the Sunshine Village turnoff and 44 km from the Lake Louise turnoff. It is signed in both directions on the highway.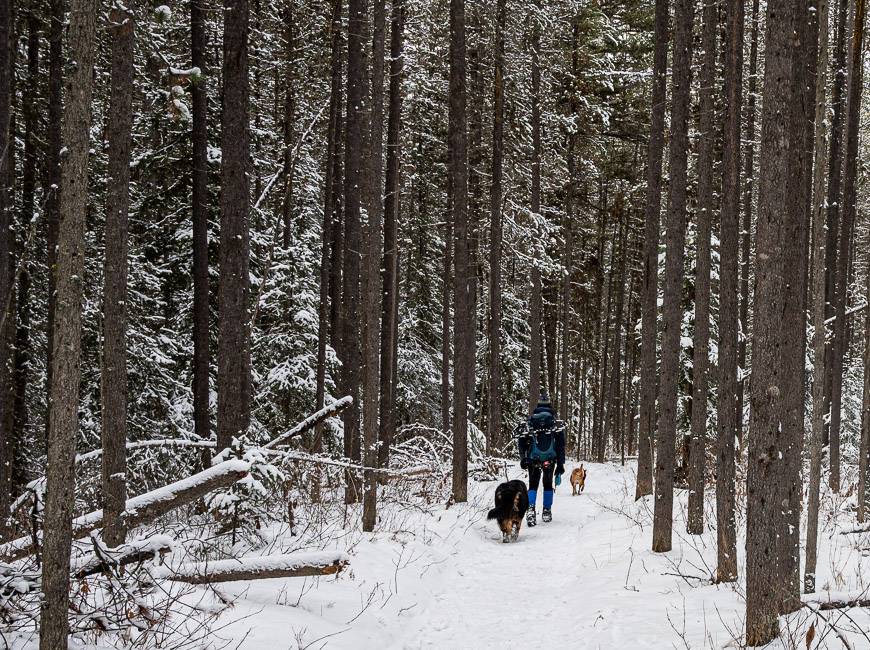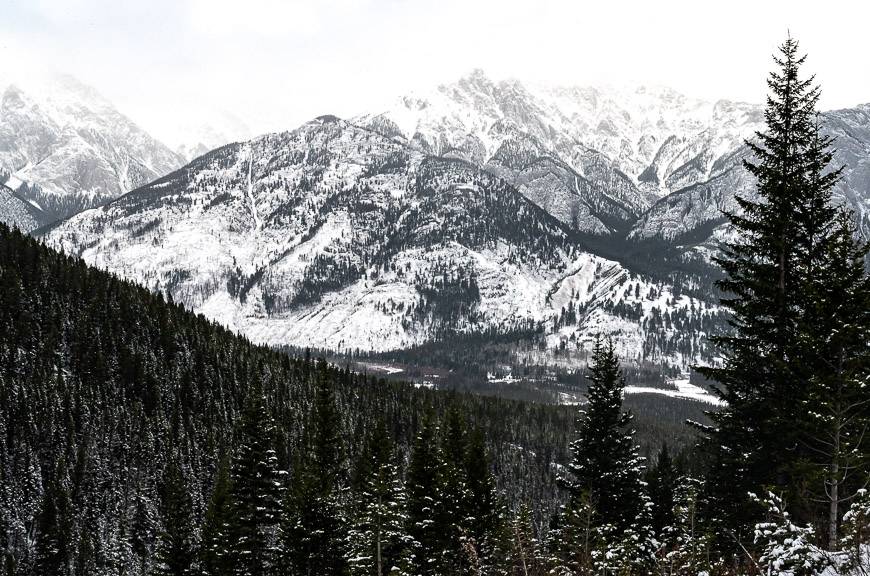 Boom Lake Trail snowshoeing
Distance and elevation gain: 10.2 km return with 175 m elevation gain; that doesn't include any snowshoeing on the lake itself
There is a cross-country ski trail to Boom Lake so there is no reason you couldn't follow it to the lake, as long as you stay out of the ski tracks. You're in the trees all the way to the lake, but once you arrive at the lake it's very pretty. There is a 600 m cliff rising above the southern shore along with some lovely frozen icefalls along the northern shore.
Only travel on the lake if it is safe to do so. According to the Weather Network, blue ice should be at least 15 cm thick to be safe to walk on – and 20 cm thick if there is a group of people. There are avalanche paths coming down to the lake which need to be avoided at all costs.
Boom Lake is on the north side of Highway 93, 7.2 km south of the Trans-Canada Highway – Castle Junction intersection.
You could also read about cross-country skiing to Boom Lake as it will give you an idea of what to expect.
Johnson Lake snowshoeing
Distance and elevation gain: 2.8 km loop with minimal elevation loss or gain
The trail starts from the Johnson Lake day-use area off the road up to Lake Minnewanka. Signage is excellent.
This is a popular trail for a snowshoe or winter walk. Head off in either direction following the lakeside shoreline. At the far end, enjoy superlative views of both Cascade and Rundle Mountains. The east side of the lake is mainly in the trees and underneath a powerline so it's not nearly as pretty.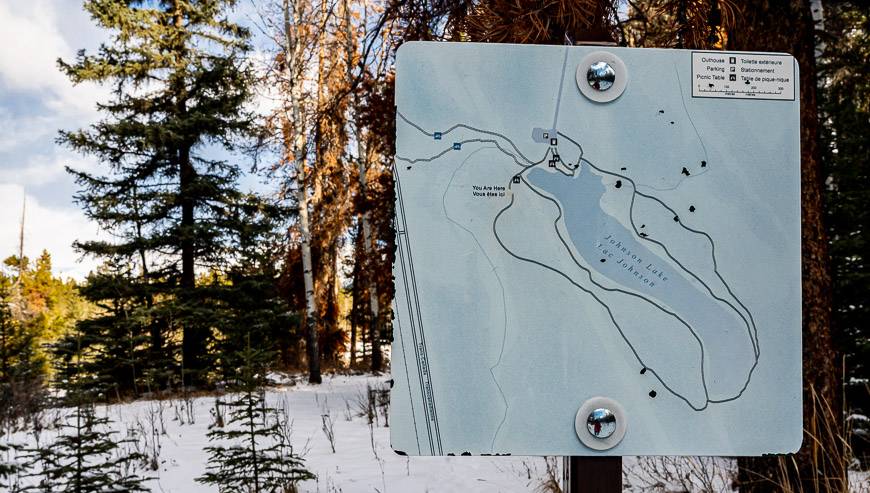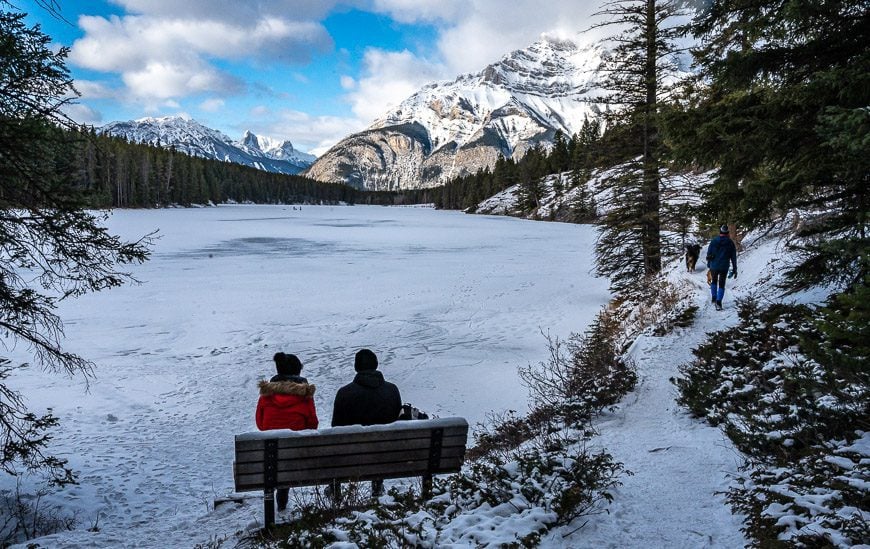 Ink Pots via Moose Meadows snowshoeing
Distance and elevation gain: 11.2 km return with 340 m elevation gain and 140 m elevation loss
If you visit the Ink Pots via the Moose Meadows trail, you won't have to fight the crowds on the Johnston Canyon Ice Walk. The trail climbs steadily through the forest with little in the way of views until you're almost at the Ink Pots. There you will find magnificently coloured mineral springs, no matter what the temperature.
The trailhead is located at the Moose Meadows parking lot, about 4.6 km southwest of Castle Junction on Highway 1A.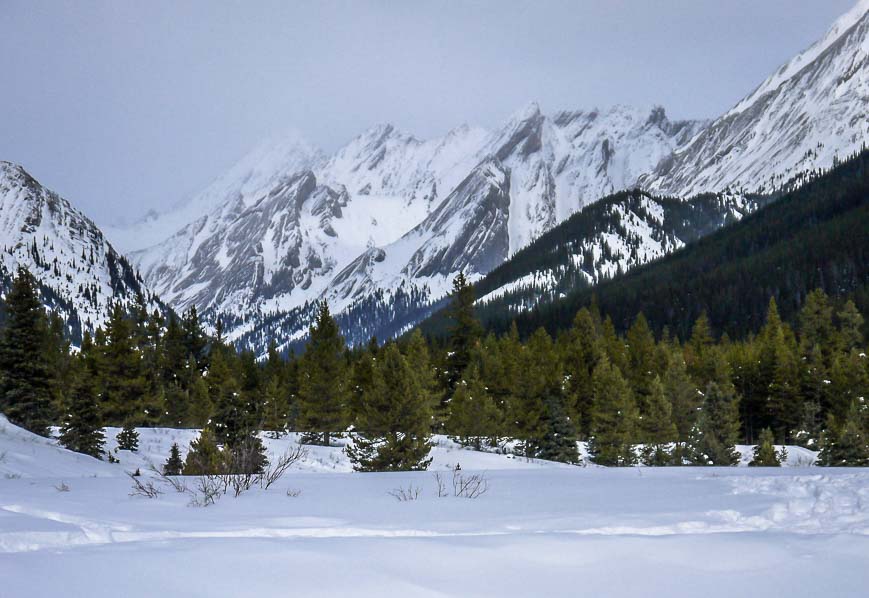 Snowshoeing in Banff up Sulphur Mountain via Cosmic Ray Road
Distance and elevation gain: 15.6 km return with 885 m of elevation gain
This is one of my favourite winter outings in Banff National Park. Not only do you get a good workout because of the distance, you get stellar views for most of its length.
The trail starts at the Cave and Basin National Historic Site, west of the visitor area. Pick up the Sundance Trail and follow it as it parallels the Bow River for 2.6 km. At that point look for signage and an intersection pointing to the Sulphur Mountain Summit. Take it and follow the long road until it reaches the boardwalk. From there you can climb up Sanson Peak.
The descent is way faster but there is the option to pay for a ride down on the Banff Gondola. Then you'd have to taxi, hitchhike or have pre-arranged a shuttle to get back to the Cave and Basin parking lot.
Read: Sulphur Mountain hike in Banff National Park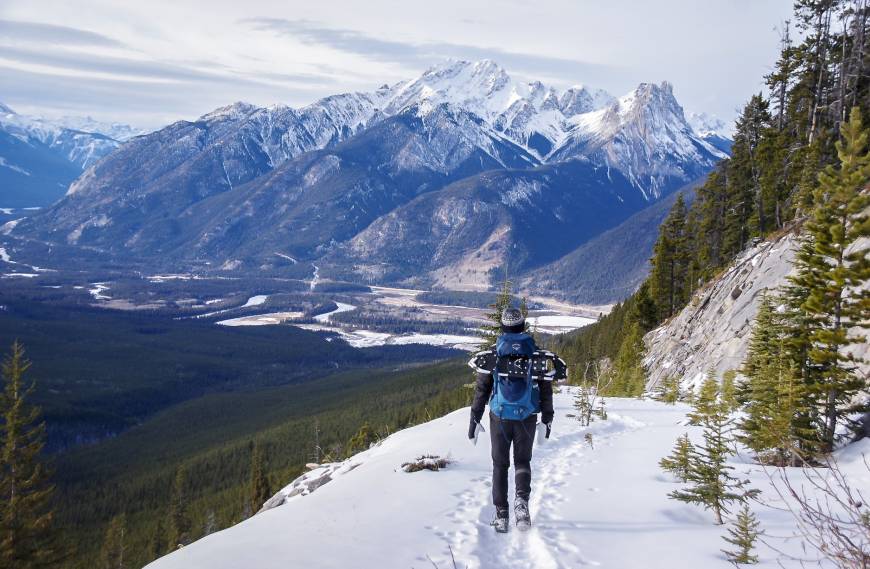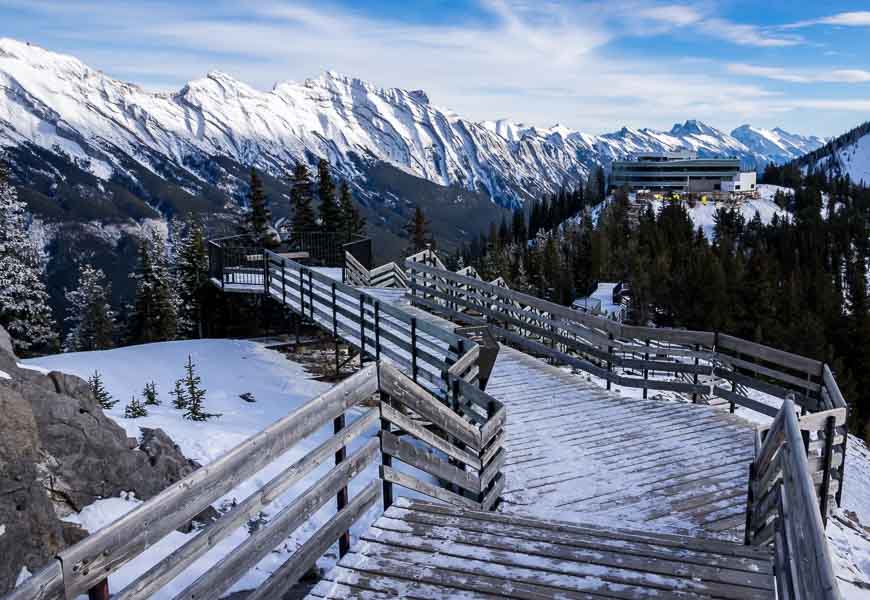 Snowshoeing in Banff on the Spray River Loop
Distance and elevation gain: 12 km for the full loop with 65 m of elevation gain
The Spray River loop is ideal if you want to get out for some easy exercise. Often, you'll be hiking, perhaps with cleats and not snowshoeing as the snow around here never stays around for long.
From the trailhead, located just past the Banff Springs Hotel, follow the Spray River for 5.7 km down to a bridge. You can either retrace your steps at this point or cross the bridge and follow the wide trail back along the river to another bridge. Cross it, climb a short hill, turn right and you're back at the trailhead.
Read: Hiking the Spray River Loop Trail, Banff National Park
Tunnel Mountain snowshoeing
Distance and elevation gain: 4.8 km return with 260 m of elevation gain
I think of Tunnel Mountain as a great place to go for a winter walk but after a big dump of fresh snow, it would also be a terrific outing on snowshoes. Its one of the must do trails in the park for the superlative views you get of Mt. Rundle, the Banff townsite, Mt Norquay and the Bow Valley. If you've never been to Banff before, a hike to the summit helps put all the landmarks in perspective.
Allow 90 minutes to 2 hours to do the round-trip hike or snowshoe.
You can walk to the trailhead from downtown Banff, but you can also drive there in about 5 minutes via Banff Avenue, Wolf Street, Grizzly and St. Julien Road (complete directions in my the Tunnel Mountain blog)
Read: The Tunnel Mountain Hike in Banff National Park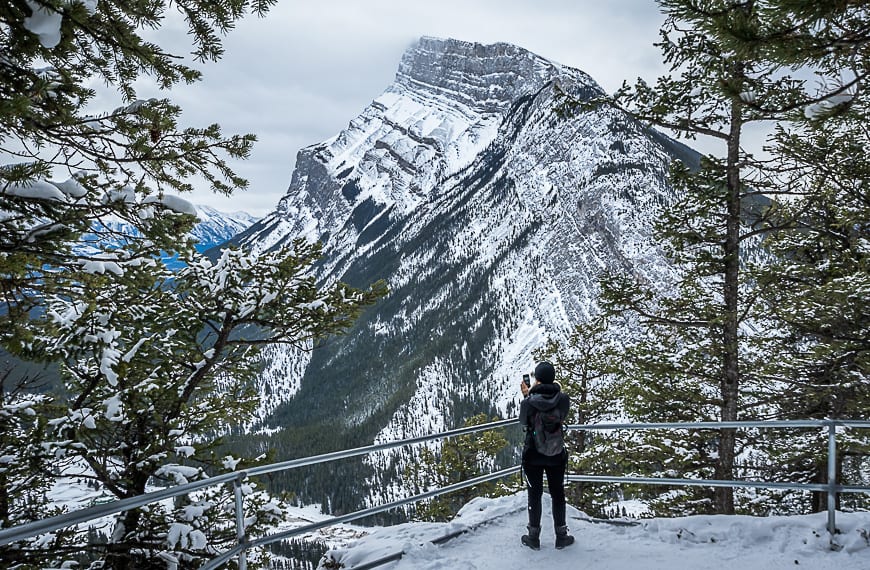 Surprise Corner to Hoodoos snowshoeing
Distance and elevation gain: 9.2 km return with 115 m elevation gain, 90 m elevation loss
You'll find the trailhead for this outing at Surprise Corner, located at the east end of Buffalo Street. Years ago, we combined this trail with a loop off of Tunnel Mountain Road, just past the Hoodoos Viewpoint and made a full day of it.
Some of the trail is in the trees but there are great long sections where you get some views of the Bow River. Around the Hoodoos Viewpoint the vistas are gorgeous. This is a sunny trail so its often icy. I think you'll find icers are a better choice than snowshoes unless there has been a fresh dump of snow.

Lake Louise Lakeshore snowshoeing
Distance and elevation gain: 4.0 km return with no elevation gain
From the front of the Fairmont Chateau Lake Louise, head right on the lakeshore trail. Views are beautiful for the full length of the trail. At the end of the lake look for ice climbers on the 100 m tall frozen waterfall.
Continuing past the end of the lake towards the Plain of Six Glaciers Teahouse takes you into avalanche country. Again, take the proper equipment and know how to safely travel in this terrain.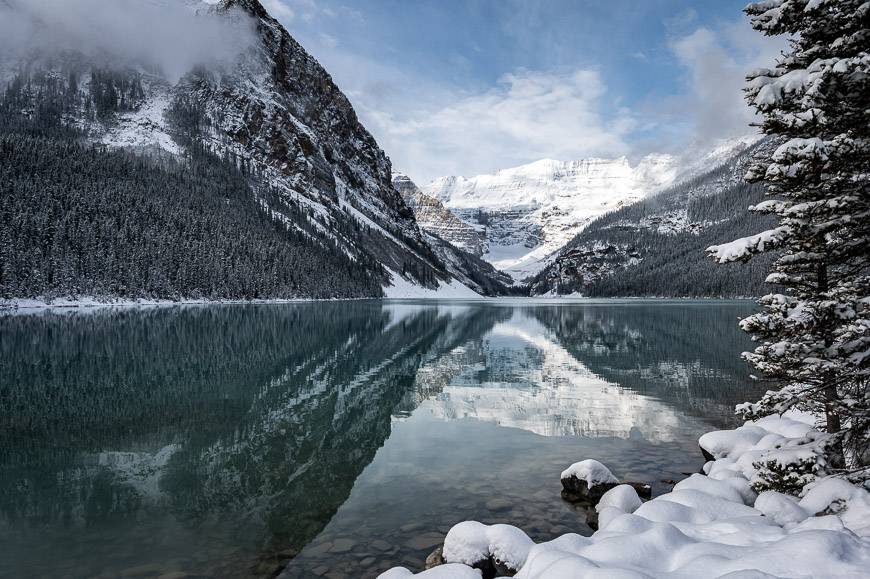 Mirror Lake snowshoeing
Distance and elevation gain: 5.4 km return with a 295 m elevation gain – via the Lake Agnes Trail
This is a popular trail to hike and snowshoe in winter with many people continuing past Mirror Lake to Agnes Lake.
But be warned. The trail beyond Mirror Lake is classified as challenging Class 2 terrain for avalanche exposure and travel. I did it one year not appreciating the massive snowfields above me that you can't see from the trail. Stupid! If you continue – and so many people do – you should have all the appropriate equipment and know-how in avalanche country. Dumb luck doesn't count for much.
The actual trail to Mirror Lake switchbacks through the trees – offering only a few views. But it's a good workout and Mirror Lake with the view of the Big Beehive pictured below is very pretty.
"Highline" Trail to Paradise Creek snowshoeing
Distance and elevation gain: 9 km return, 60 m elevation gain
This is one of the few snowshoe trails I haven't done in Banff National Park. It's on the top of my list when I know it's going to be a sunny day in Lake Louise this winter.
For a full route description until I've done this trail for myself, check out this post by 10 Adventures.
Options for
snowshoeing in Banff
that aren't mainstream
Snowshoeing at Sunshine Meadows
Distance and elevation gain: Variable depending on the tour
While it's possible to explore Sunshine Meadows on your own, there are some logistics involved just getting into the high country. You would have to pay for a ride up and down the gondola and Standish chairlift at a minimum – which in 2020-21 is $44 + GST per person
The other alternative is to enjoy a guided, fun winter outing with White Mountain Adventures. I've done a few outings with them and have always enjoyed the experience. Sunshine Meadows on a bluebird day is particularly beautiful but if you're in a winter snowstorm you can get turned around pretty quickly. For people who are navigationally challenged, go with a guide.
Read: The Sunshine Village Snowshoeing Experience
Snowshoeing in Banff from Shadow Lake Lodge
Most people cross-country ski up to Shadow Lake Lodge, but once you're up at the lodge there are is lots of opportunity for snowshoeing. Head out to Shadow Lake on a flat easy trail or make your way towards Gibbon or Ball Pass.
Take the Redearth Creek Trail to the lodge from the Redearth Creek parking area. You'll find it signed on the Trans-Canada Highway in either direction, located 20 km west of the Banff townsite or 10.5 km east of Castle Junction.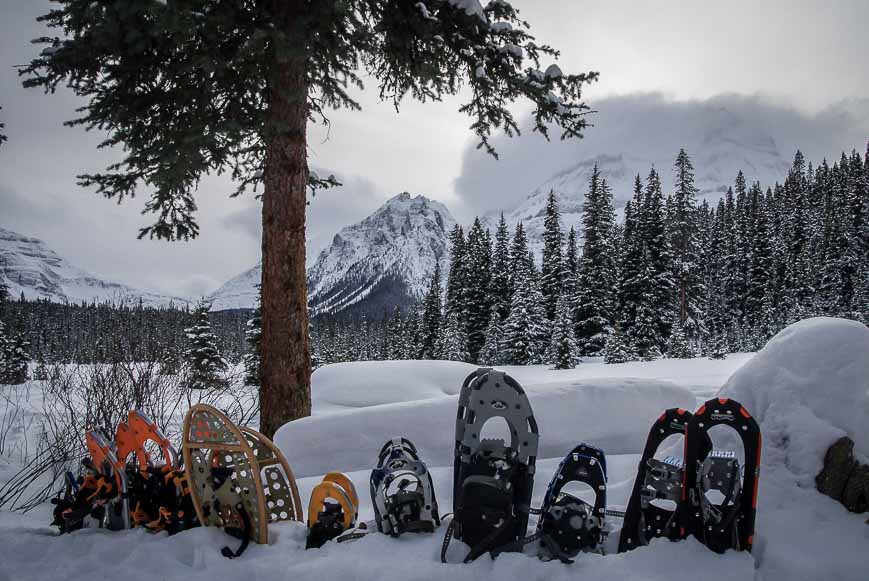 Have you been snowshoeing in Banff? Do you have any trails that you'd suggest?
A few things I'd recommend for these snowshoeing outings
You can rent snowshoes but it's so much easier to go on a last-minute outing if you have your own. Buy some somewhere, anywhere – as they are in short supply.
For more ideas on where to go snowshoeing in the Rockies, pick up a 2nd edition copy of Andrew Nugara's Snowshoeing in the Canadian Rockies.
I'd also recommend buying a good pair of icers like these ones from Kahtoola.
Poles are invaluable for balance. You can buy winter poles but I just use my collapsible hiking poles – and would suggest something like these ones.
Be sure to take some handwarmers, a thermos, some energy bars and an extra pair of warm socks.
Click on the photo to bookmark to your Pinterest boards.