The West Bragg Creek area is home to a fantastic network of hiking, biking, snowshoeing, and cross-country ski trails – tended largely by volunteers. I only seem to visit in winter for snowshoeing and skiing when I know West Bragg Creek has had a fresh dump of snow. It's less than an hour's drive from Calgary and ideal destination for full or even half day trips, if that's all the time you have.
From Highway 66 you can also access the Ranger Summit – Strange Brew Loop via the Snagmore and Sugar Daddy Trail but there's a lot of climbing involved – and you might be better off with a car shuttle. In that case, park one car at the Fullerton Day Use Area.
This post includes some affiliate links. If you make a qualifying purchase through one of these links, I may receive a small percentage of the sale at no extra cost to you. Thank you for your support.
Snowshoeing the West Bragg Creek trails summary
Trails: There are two main snowshoe loops at West Bragg Creek described below. One is short (Snowshoe Hare) and one longer (Ranger Summit – Strange Brew Loop) with a lot more elevation gain. Scroll to the bottom to see the trails on a map.
Weather: The weather can be very different in Bragg Creek than it is in Calgary. Check the weather forecast before you head out.
Go prepared: Carry the 10 essentials along with extra hand warmers, warm clothes and a thermos of something hot to drink.
Check road reports: Driving to Bragg Creek after a winter storm can be tricky. Read How to Survive a Winter Drive – if for no other reason than to remind yourself to pack a shovel and emergency car kit.
Trail conditions: Check the trail report before you go.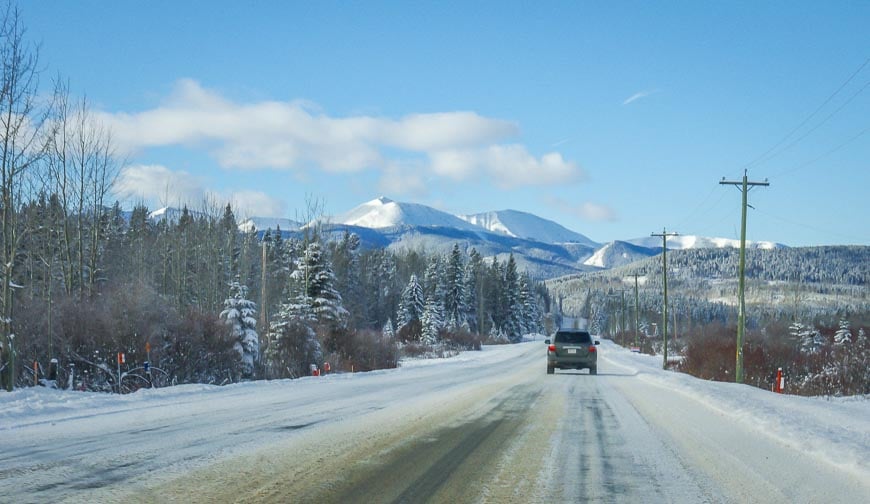 Ranger Summit – Strange Brew Snowshoe Loop
Distance: 10 km return
Elevation: 381 metres or 1,250 feet.
Difficulty: Moderate unless you're breaking trail after a fresh snowfall in which case I'd call it difficult.
Time needed: Three to four hours.
Dogs allowed: Not on this one, but if you start at Allen Bill Day Use Area you can take your dog and hike a good part of the loop plus the Fullerton Loop.
The snowshoe trails starts to the south of the closed road at the Bragg Creek Trailhead. For the first few hundred metres you share the trail with cross-country skiers. But then you take off into the woods on a snowshoeing trail and start climbing for the better part of four kilometres.
It's aerobic but at a moderate pace you're at the high point in just over an hour. Along the way we crossed a ski trail and met a lone skier who said he hadn't seen another soul in three hours. That's the beauty of this loop.
There's a spur trail, about 20 minutes past the summit, that takes you down towards the Elbow River and onto the Fullerton Loop. If we hadn't had such a late start, I know I would have liked to continue on it for many kilometres. But with the sun starting to go down by 3 PM in December, it wasn't the prudent thing to do.
I've done the loop many times now and I don't actually see many people on snowshoes. And yet this is one glorious trail especially after a fresh snowfall as you'll see in the photos.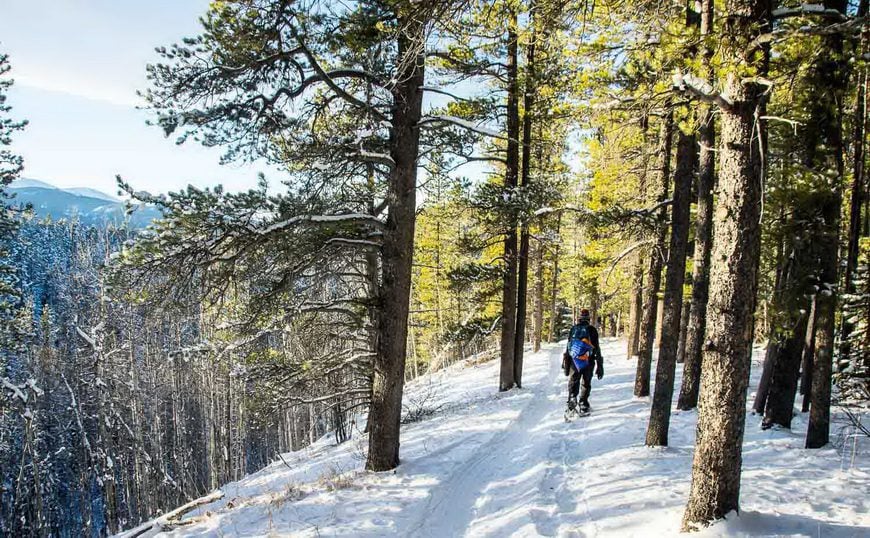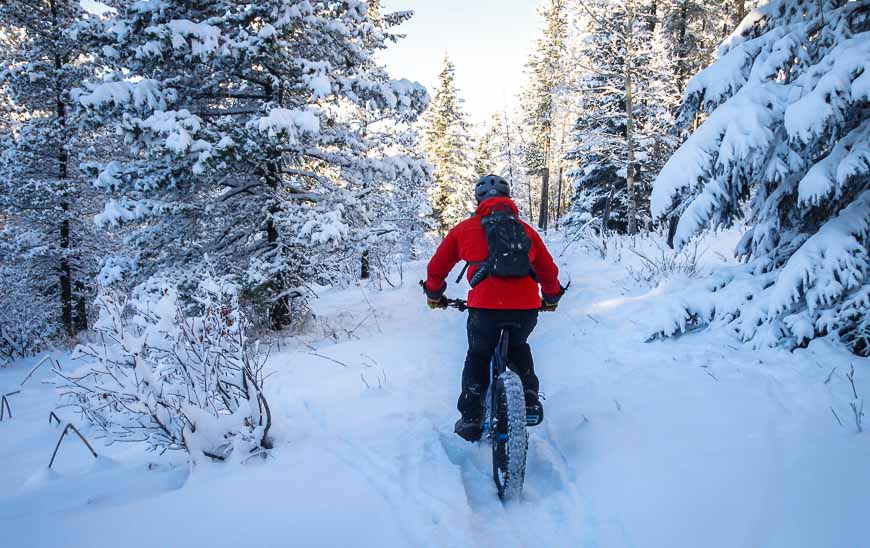 Snowshoe Hare Loop Trail
On our first trip to the West Bragg Creek area it took us some time to find a trail that catered to the snowshoeing crowd. But we found a loop – the 5.5 kilometre Snowshoe Hare Loop, an easy, dog-friendly loop you can knock off in a couple of hours.
The trail is sometimes so firmly packed down that you didn't actually need snowshoes.
The trail is an utter delight – especially if there's been a big dump of snow. Perhaps I should rephrase that. Sometimes if you snowshoe it in a clockwise direction, the first kilometre offers up the annoying buzz of wood chippers in the distance. But after that noise disappears, you're met with silence.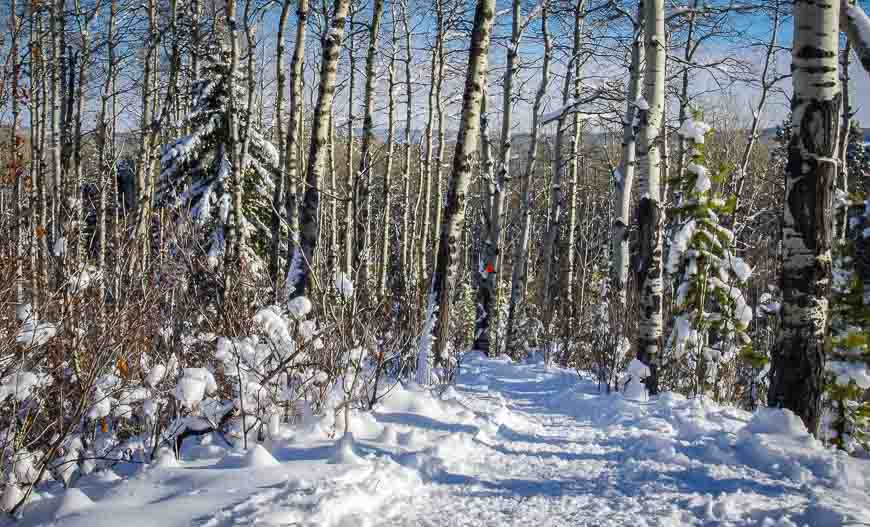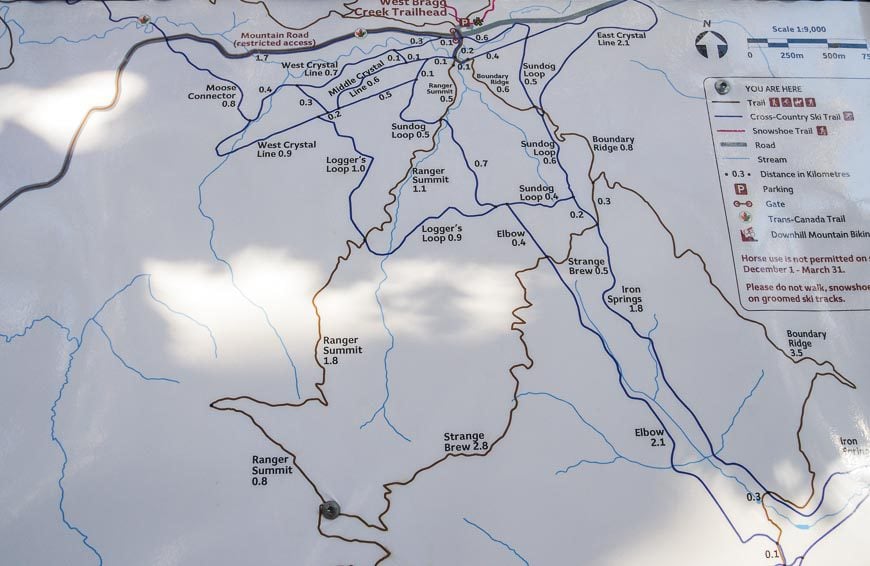 Tips for snowshoeing the Bragg Creek trails
There is a free public cellular hotspot immediately south of the Trails Centre at the West Bragg Creek Parking Lot, so you can now make both emergency and non-emergency calls.
Hungry after your snowshoeing outing and want to support the local community? Check out Cinnamon Spoon for coffees, sandwiches and baked goods.
The Heart comes recommended with its Phil & Sebastian coffee & espresso, kombucha, cold pressed juices, and plant-based fresh baking.
Guys Café and Bakery is another good choice.
What to wear snowshoeing on a really cold day (-20°C) in winter
Be smart and go prepared because if anything goes wrong on a very cold day in winter it won't be pretty. Take extra high energy food, along with lots of hot drinks. You might even want to bring a wide mouth thermos so you can enjoy some hearty soup.
Everyone should have a headlamp. Don't forget matches and fire starter too.
Consider bringing some extra clothes. My brother wasn't wearing gaiters so his socks got wet and it took hours for his feet to warm up. Another pair of dry socks would have made his day more comfortable. Never, ever wear cotton or you'll freeze.
If you want to sit down, it's way more comfortable and you won't lose as much heat if you have an insulated sitting pad like this one.
You might want to read – What to wear in Canada in winter on a -20C day.
Where is the parking lot and trailhead for the West Bragg Creek trails?
The West Bragg Creek trails – which are largely for cross-country skiers – can be found at the far end of West Bragg Creek Road – just 8.5 kilometres from the one major shopping area in Bragg Creek itself.
There's a big parking lot though by noon on a perfect blue sky Saturday, it can be overflowing. Fortunately there is loads of parking on the road – and it's all free.
Location map of the West Bragg Creek trails
Where can you stay in Bragg Creek?
If you want to enjoy a night or two without the hassle of the drive to Calgary, Cochrane or wherever you live, consider booking a stay at one of the following properties.
More reading on things to do in Alberta in winter
You might also enjoy the 2nd edition of Snowshoeing in the Canadian Rockies by Andrew Nugara.
Click on the photo to bookmark to your Pinterest boards.