As much as I love a winter hike in the mountains I don't always have the time to go. And on days when the driving is gnarly I'd rather opt for something closer. Fortunately in Calgary we're spoiled for choices – both within the city and close by.
I've chosen these seven easy winter walks near Calgary as examples of where you can go within a 40 minute drive of the city. Go outside and enjoy all our winter sunshine and fresh air.
Location map for easy winter walks near Calgary
Ann and Sandy Cross Conservation Area – one of the top winter walks near Calgary
The 4,800 acres that make up the Ann and Sandy Cross Conservation Area just south of Calgary can be accessed via over 20 kilometres of hiking trails that double as snowshoe trails in winter. (Cross-country skiing is not allowed.)
I love the property with its untouched rolling hills, stands of aspen and fabulous city and Rocky Mountain views. Recently I came out on a crisp Sunday by myself and enjoyed about a 9 km walk that included the Fescue and Paradise Trails. With plenty of hills you felt like you got a workout.
There are easier, family friendly options including the 2.2 km Mountain Lookout Trail.
The conservation area is located off of Highway 22x on 160th Street West. It's open from 4 AM – 11 PM. Don't bring your dog.
Note: As of 2020 it will cost $10 per vehicle to visit – seven days a week.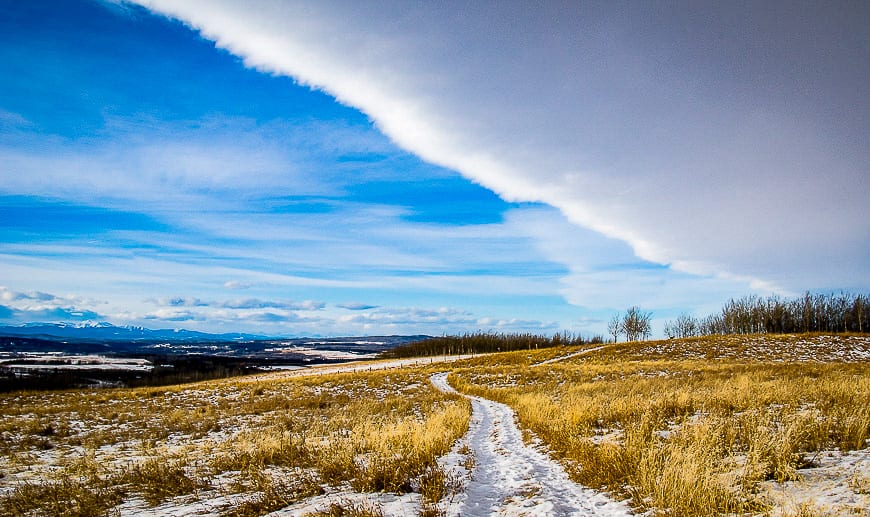 Nose Hill Park
Calgary's biggest municipal park is Nose Hill Park, located in the northwest part of the city. With over 11 square km, it can feel quite wild, despite being surrounded by a dozen neighbourhoods.
I love Nose Hill Park for the sense of space it imparts in a big city. From its high points you can watch planes landing at the airport, admire the skyscrapers of downtown Calgary and then look west and see the mountains.
Allow at least an hour, more if you're ambitious and want to explore a variety of the trails that traverse the park. Take your dog so it can romp in the off-leash sections. There isn't a lot of signage so take stock of where you start so you can find your way back to your car.
After a good dump of snow you can also enjoy the park on snowshoes and cross-country skis. Check out this map for the location of the parking spots.
Fish Creek Provincial Park
Down in the south end of the city sits Fish Creek Provincial Park, Canada's second largest urban park. This park is literally crisscrossed with trails – both paved and granular.
Before you go check out this map with all the trails marked to help you get your bearings. Choose to walk along Fish Creek or along the Bow River. Walk for an hour or walk for the whole day. The only downside to a winter visit – Annie's Café is closed.
Glenbow Ranch Provincial Park for winter hiking
Glenbow Ranch Provincial Park protects in excess of 1,300 hectares of rolling fescue grasslands along the banks of the Bow River. From the Visitor Centre (that's staffed on weekends) you can explore over 25 km of multi-use trails, many with superb Rocky Mountain views.
While there are lots of loop trails you can also do some long out and back hikes in winter. Go east on the Narrows and Bearspaw Trail combination and you'll end up at the city limits of Calgary. Head west on the Bowbend and McPherson Trails and you'll finish on the doorstep of a Cochrane neighbourhood.
The park is free to visit and there's lots of parking. The winds can howl in this area so dress warmly in winter. Dogs are permitted on a leash.
Drive to the park via Glenbow Road off of Highway 1A.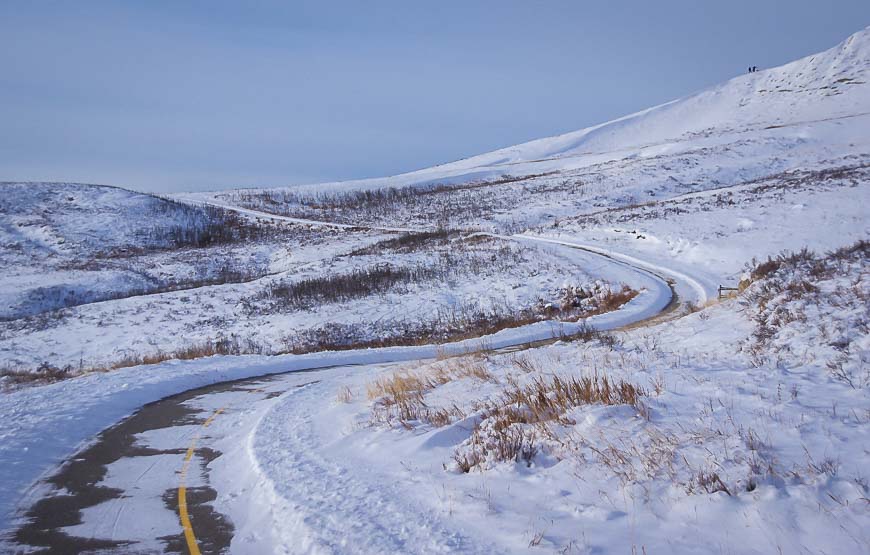 West Bragg Creek winter hikes
While the majority of people who head for the West Bragg Creek trail system plan to snowshoe or cross-country ski, it is possible to walk the dog-friendly 5.5 km Snowshoe Hare Loop.
If you're into snowshoeing you have a huge number of trails to choose from! The parking lot is a pretty 8.5 km drive from the shopping area in Bragg Creek. There is a warming hut and washrooms are available.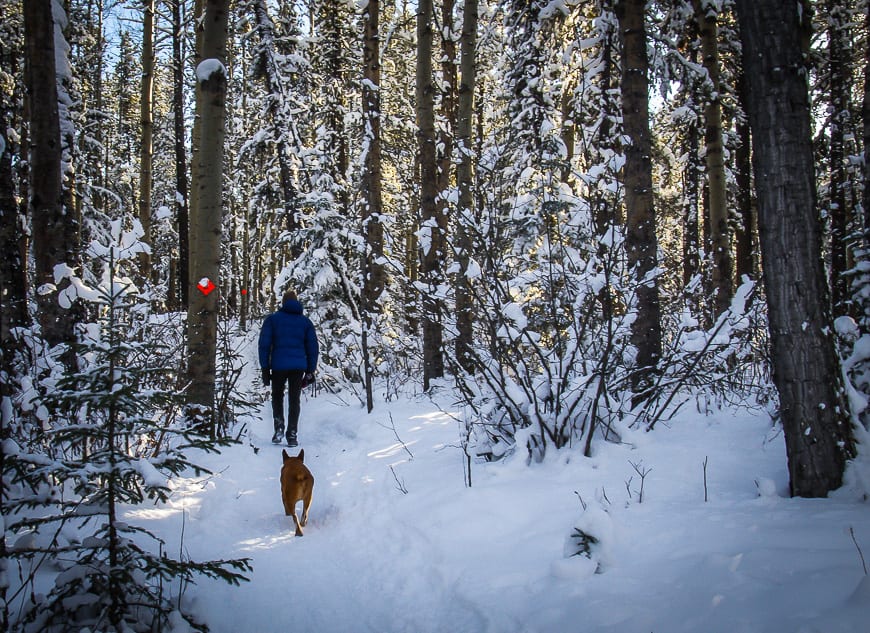 Two new additions to my winter walks near Calgary list
The Fullerton Loop hike
The Fullerton Loop hike is a family-friendly outing that will take you no more than half a day. It's approximately a 40 minute drive to the trailhead, depending on where you live in Calgary. Look for the Fullerton trailhead (signed) on Highway 66, 13.4 km past the four way intersection in Bragg Creek. Parking is free.
I usually hike it in a counter-clockwise direction so I can enjoy the views when I'm descending along the ridge. Late afternoon is a particularly pretty time to be up there.
All told it's 6.7 km round-trip to do the loop – with lots of permutations if you want to add mileage. Another loop like the Sugar Mama – Sugar Daddy Loop is a good choice if you're looking for a longer outing. I would recommend icers as there are usually icy patches in the shade. If its recently snowed, take snowshoes instead.
Read: The Fullerton Loop Hike in Kananaskis Country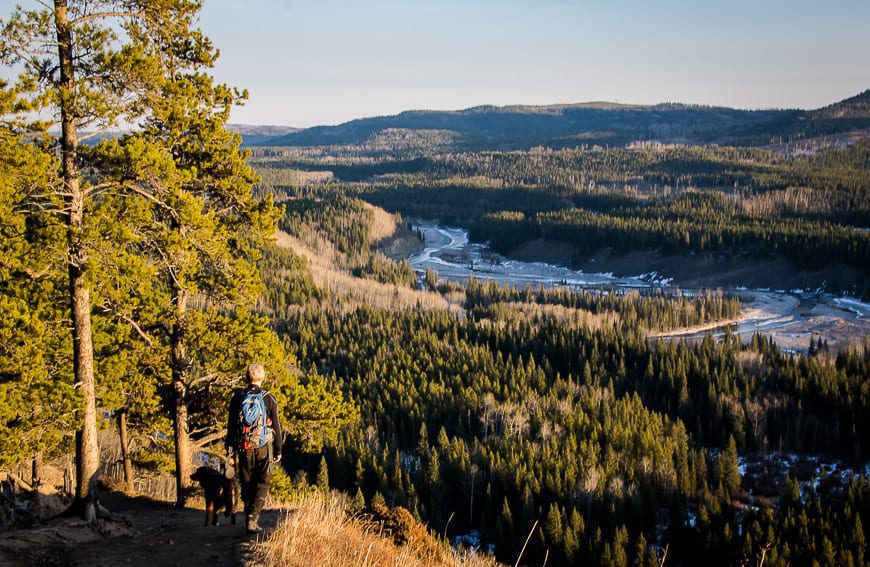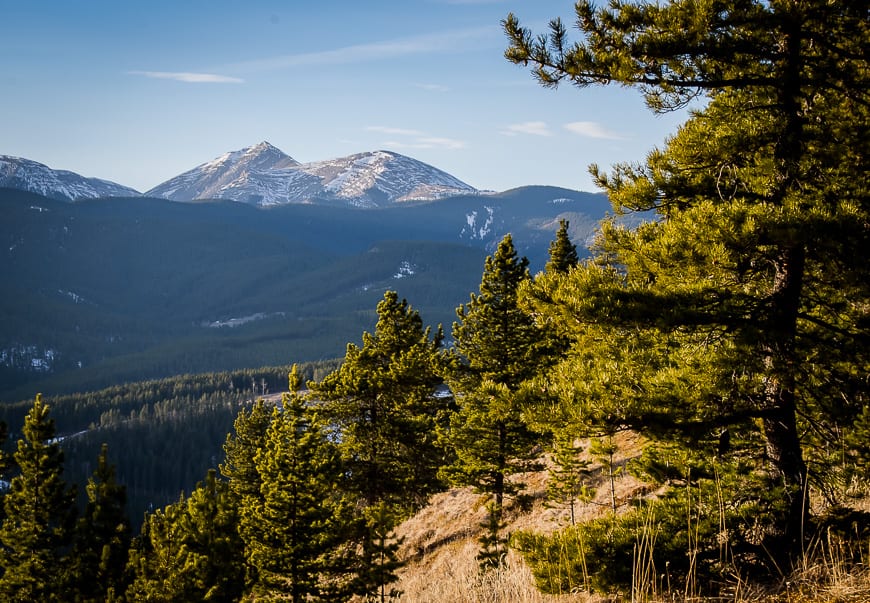 Go for an easy hike in Griffith Woods – a natural environment park
Griffith Woods Park sits on the banks of the Elbow River in southwest Calgary. It's mostly a natural park- and as such, there are areas where you will feel very far-removed from civilization. It's a wonderful place to explore and I can well imagine that in spring, the area would burst with wildflowers and birdsong.
The park is crisscrossed with trails on both paved and unpaved paths. The wider paths have excellent trail maps at every major intersection.
We tried to stay close to the Elbow River – as there were fewer people and it was so beautiful – especially on a sunny, January day. You can walk for kilometres doing loops or you could enjoy a quick hour getting some exercise with your dog.
The park is located here off the Discovery Ridge exit. There are numerous entrance points.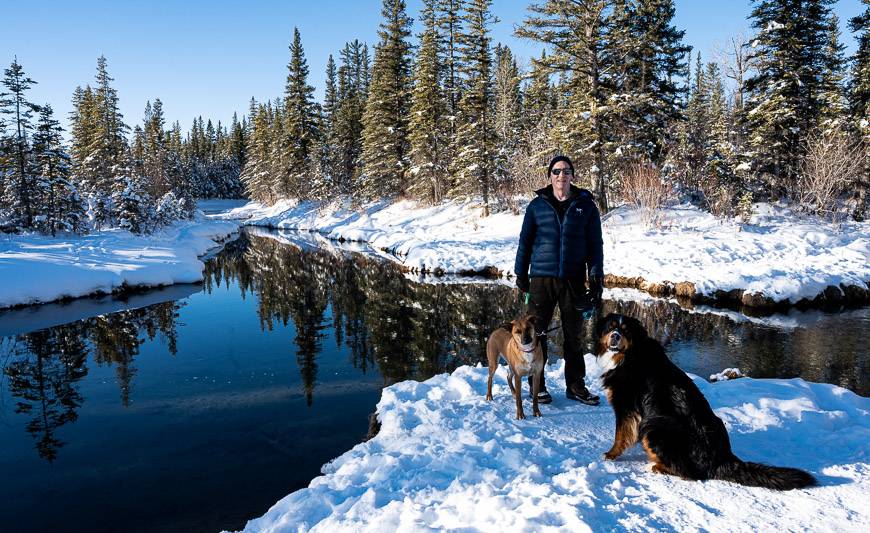 This post includes some affiliate links. If you make a qualifying purchase through one of these links, I may receive a small percentage of the sale at no extra cost to you. Thank you for your support.
No matter where you go for a walk near Calgary, always be prepared. It's amazing how quickly a storm can blow in. Keep a pack ready with a headlamp, energy bars or gels and extra clothing like a down sweater in it.
On the day of the walk add a thermos with something warm to drink. In our climate I'm inclined to always carry a pair of icers so I can handle any trail. My favourite icers are made by a Vancouver company called Hillsound. Buy a pair here. I think it's the best investment in winter gear you'll make. I would also highly recommend a pair of lightweight hiking poles like these ones.
Further reading on things to do in winter in Alberta
Click on the photo to bookmark to your Pinterest board.