There are numerous ice walks in Alberta – and they all provide unforgettable experiences. Enjoy a high fun factor as you slip slide along frozen rivers, stopping to admire icy waterfalls or beautiful ice formations. On one of the ice walks in Alberta you can slither into a cave and stand behind a curtain of frozen water. On another, you can enjoy the view down into a multi-hued canyon while standing on a cantilevered catwalk while on, yet another ice walk you can if you know where to look, find pictographs. No matter which ice walk you choose, you can be sure you'll finish the experience grinning from ear to ear.
Ice walks in Alberta summary
There are four ice walks in Alberta – Grotto Canyon near Canmore, Johnston Canyon in Banff National Park, Maligne Canyon in Jasper National Park and Star Creek Falls in Coleman in the Crowsnest Pass area.
The Jura Creek hike near Grotto Canyon offers a mini ice walk that will appeal to the younger crowd.
All ice walks in Alberta can be done with or without a guide. If you really want to learn about the natural history of the canyons and waterfalls, then a guided tour is the way to go.
Most of the ice walks in Alberta can be done between early December and late March. Grotto Canyon is best starting in January.
All of the ice walks in Alberta are family-friendly.
Allow a half day to do any one of the ice walks in Alberta. Get an early start to beat the crowds and avoid parking hassles.
To avoid a hard fall on ice, take a pair of icers or microspikes, and a hiking pole.
Dress warmly and pack a thermos with something hot to drink.
Another way to have fun on the ice is to visit the Abraham Lake bubbles near Nordegg.
This post includes some affiliate links. If you make a qualifying purchase through one of these links, I will receive a small percentage of the sale at no extra cost to you. Thank you very much for your support.
What to bring on ice walks in Alberta
If you do any of the ice walks in Alberta on your own, be smart. Take a pair of icers so you don't fall and bang your head. A hiking pole is very handy on the Grotto Canyon Ice Walk as there are long stretches of smooth ice that resemble a skating rink. And dress for the conditions. It can be chilly in the canyons as some sections don't get a lot of sun. A pair of handwarmers – especially the Hot Poc's could be a welcome addition too.
Guided ice walks in Alberta
Check out Get Your Guide and the ice walk tours they offer. If you don't have icers that won't be a problem as they provide them.
Johnston Canyon Ice Walk
Get Your Guide offers a morning and afternoon Johnston Canyon Ice Walk tour, in addition to an evening Johnston Canyon Ice Walk.
Grotto Canyon Ice Walk
On the Grotto Canyon Ice Walk hot chocolate and maple cookies are provided. Your guides will be sure to point out the ancient native pictographs that most people miss.
Maligne Canyon Ice Walk
In Jasper you can book a 3.5 hour guided tour – which I've done. Without a guide, there is no way I would have seen or entered the cave we passed pictured below.
Location map for the ice walks in Alberta
Johnston Canyon Ice Walk, Banff National Park
The Johnston Canyon Ice Walk is one of the classic winter activities in Banff. It's usually very busy unless you visit early or late in the day, but don't let that deter you. It's a memorable half day adventure, no matter when you go.
I've done the Johnston Canyon Ice Walk under a variety of conditions. Sometimes it's simply an easy walk up to the second set of falls while on other occasions, it's so icy and slippery that without a set of icers, it would be tough though fun going.
The Lower Falls are just 1.1 km up the canyon. While they're a worthy destination, I would encourage you to continue to the second set of falls, just 2.7 km from the trailhead to see the massive frozen waterfall – and sometimes, ice climbers in action.
The hike is never onerous. There are a couple of short, steep sections but over 2.7 km you only gain 120 m, so this is a very family-friendly outing. Allow 2 – 3 hours to do the return trip, depending on your hiking speed and how many stops you make.
From the Upper Falls you follow a less trodden trail to see the view above the falls. Energetic hikers and snowshoers can then pick up the trail to the Ink Pots and make a day of it. But you'll probably need snowshoes to do this.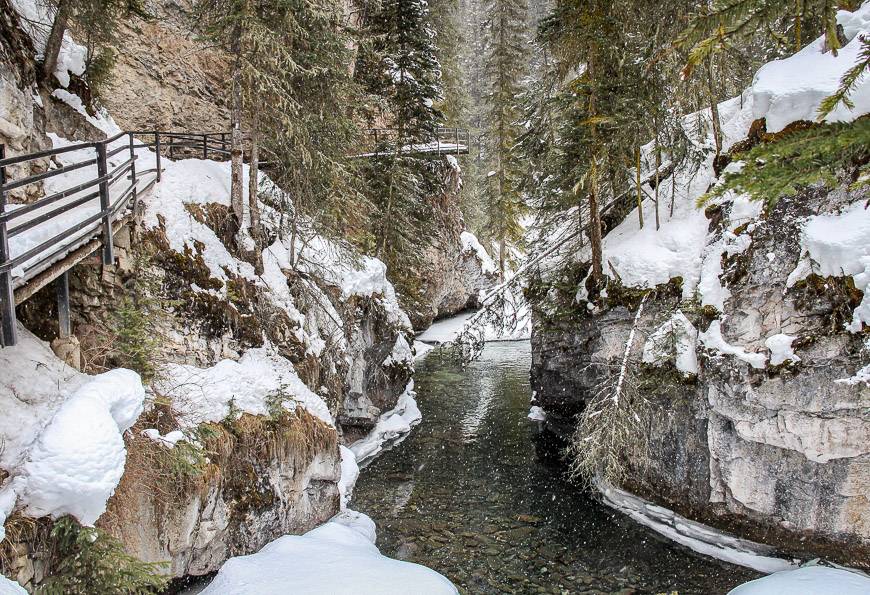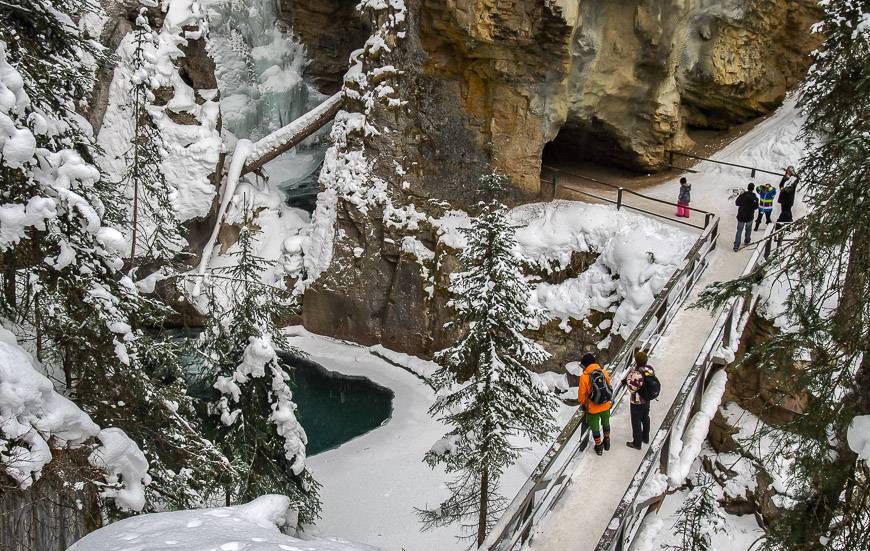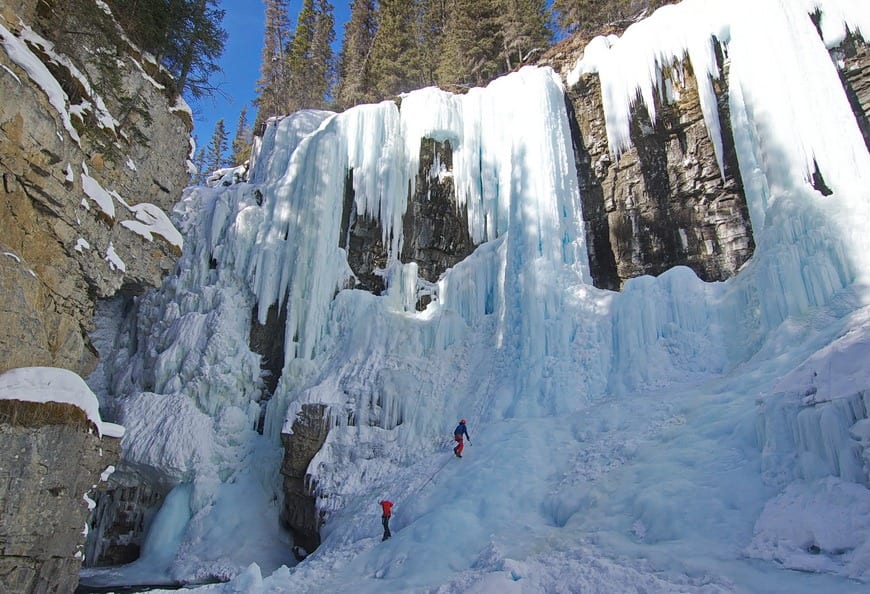 Maligne Canyon Ice Walk, Jasper National Park
It takes about 90 minutes to hike to the furthest reaches of Maligne Canyon. Along the route stop to admire man-sized icicles, slither headfirst into a cave and step behind a frozen waterfall to marvel at its ethereal beauty. And then if you're lucky catch some ice climbers in action at the end of the trail. Both kids and adults will love this easy adventure. When we did it, the kid on the tour said the highlight for her was going inside the cave. If you're not on a tour, I think you'd miss the cave entrance completely.
Maligne Canyon is a delight from start to finish. Accessed via a short drive up Maligne Road from Jasper, the ice walk can be done with or without a guide. This hike is amazing with a guide, as there is so much interesting geology that you would never learn about if you did it on your own.
No matter how you see the canyon, be sure to dress warmly, and take icers. There is a lot more ice to navigate on this walk than there is on the Johnston Canyon Ice Walk.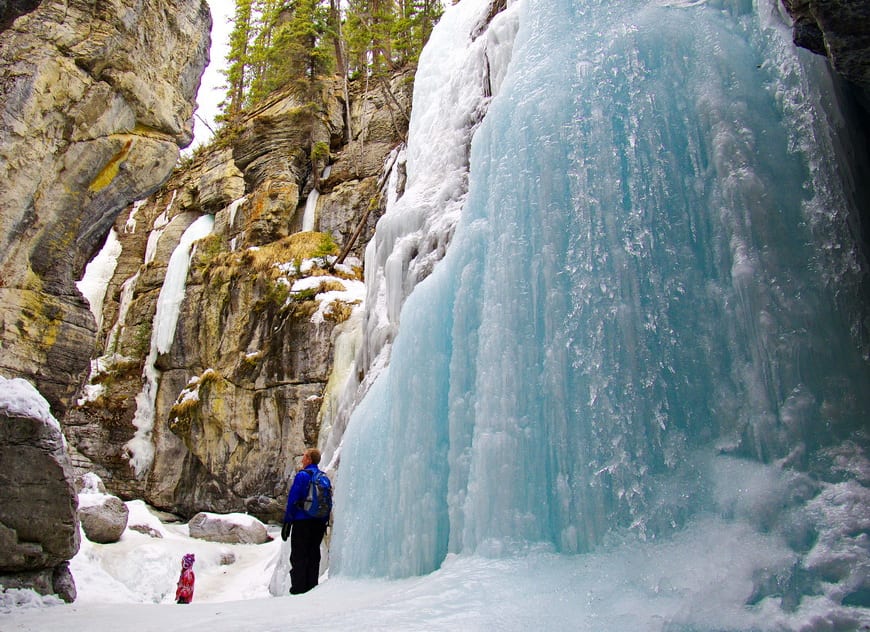 Grotto Canyon Ice Walk in Alberta
The trailhead for the Grotto Canyon Ice Walk is only about an hour's drive from Calgary. It's particularly busy if it's a sunny, not too cold kind of weekend.
If you do want to visit on a weekend, I highly recommend that you get to the trailhead by 9:15 AM to get a good parking spot. I'd also recommend backing into your parking spot so you can easily pull out when you're finished. And obey signs on the highway or you'll be going home with a ticket.
The start of the Grotto Canyon Ice Walk isn't that pretty. You'll see and hear the Baymag Mineral Processing Facility until you turn into the canyon, about a kilometre from the trailhead. Then it's a fun kilometre to reach the frozen waterfalls. Most of this section is icy and very pretty. Good skaters would probably love the short smooth sections!
Unfortunately, I hadn't thought to research the location of the Grotto Canyon pictographs before my ice walk but I did do some online searching after. According to the Mountain Nature and Culture Podcast, they are found at the narrowest point in the valley on the left hand rock face just before you reach the frozen waterfalls.
At the waterfalls, there's a rough ice slide that some kids were enjoying. Adults might find the sliding a little too hard on their rear ends.
Many people stop at the waterfalls but don't. Continue up through the pretty canyon for about 10 minutes to reach a valley. Up on your left, hoodoos and a cave are visible. The steep hike to the cave is easy enough to do, BUT it's tricky coming down. When I was there people were dislodging scree and rocks, so I wouldn't recommend it.
Allow two to three hours to do the ice walk. It's approximately 4.4 km return with 115 m of elevation gain.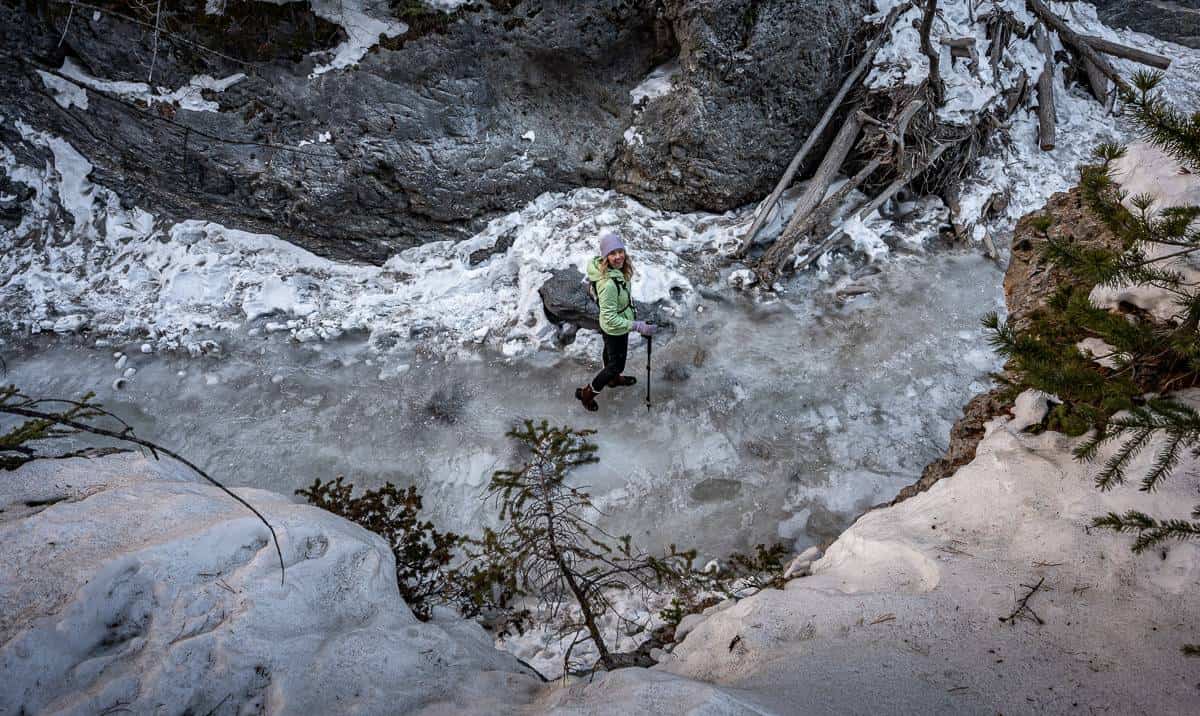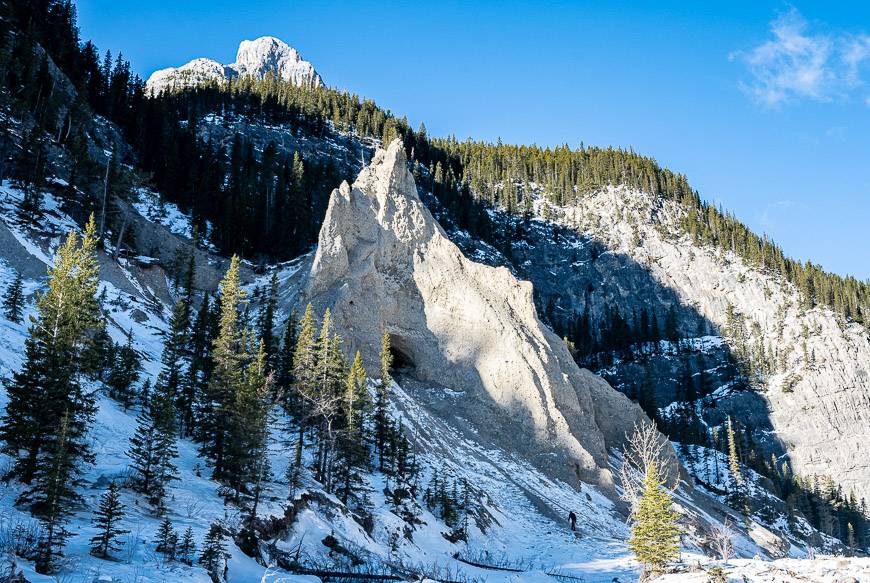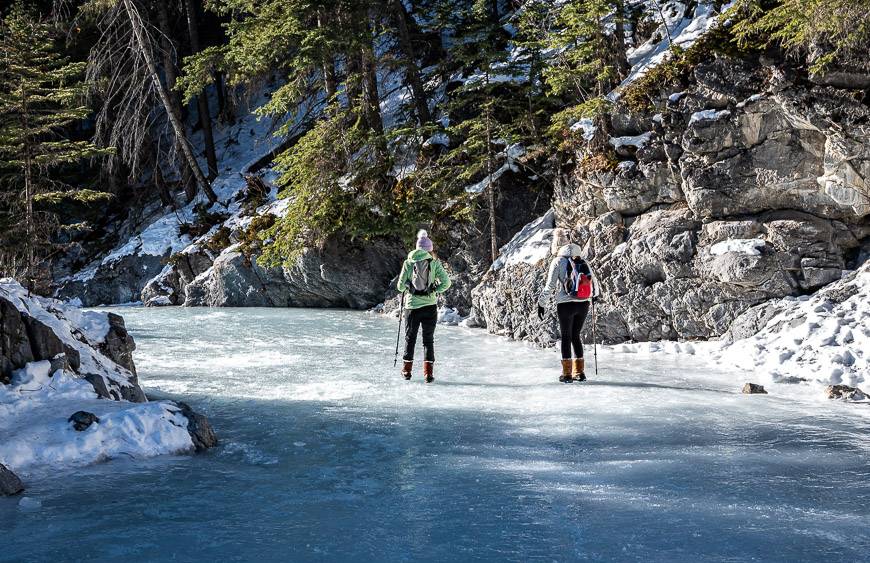 Star Creek Falls Ice Walk, Crowsnest Pass Area
For a short (just 1.8 km) but fun outdoor excursion check out Star Creek Falls Ice Walk near the town of Coleman. While you can do the ice walk on your own – you should know the trail is not well marked. If you go with a guide from Uplift Adventures, you will be taken on the safest route – and you'll get a fascinating lesson on the science of ice.
Final thoughts
All four ice walks in Alberta are super fun to do but I'd be hard pressed to pick a favourite. They're all so different! The ice walks in Alberta are a great introduction to hiking because of the high fun factor – and it's a treat this year in particular to be outdoors, smiling and having a good time.
Further reading on winter activities in Alberta
Click on the photo to bookmark to your Pinterest boards.