Just because it's cold outside and the ground is covered in snow doesn't mean you can't go hiking! In fact, one of the best things to do in Canmore in the winter is hiking. This cute mountain town is surrounded by trails that are just as accessible in the winter as the summer. And the best part? Some of the best winter hikes in Canmore are actually even more beautiful in the snow! Expect a winter wonderland with frozen waterfalls, snow covered peaks, and pine trees dusted with snow – it's stunning.
So without further ado, here are the 10 best winter hikes in Canmore and nearby. With this list, you can get out and about this winter and enjoy some incredible views right from the trails.
Best winter hikes in Canmore
Permit: Many of the Canmore winter hikes require that you have a Kananaskis Conservation Pass.
Don't forget: Carry the 10 hiking essentials – which includes extra food, water and clothing.
Weather: Check the Canmore weather forecast before you head out and be sure to read my 15 tips for a safe winter drive.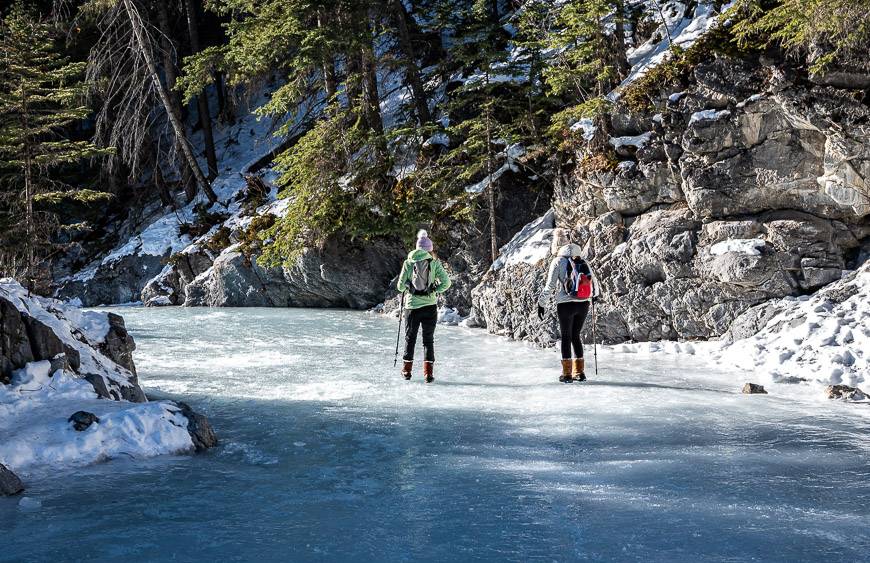 This post includes some affiliate links. If you make a qualifying purchase through one of these links, I will receive a small percentage of the sale at no extra cost to you. Thank you very much for your support.
Before you head out on a winter hike read 15 Winter Hiking Tips to Stay Warm and Safe.
Grotto Canyon hike
Distance: 4.4 km return, about 115 metres of elevation gain
Rating: Easy
Time needed: 1.5-2 hours
Trailhead: Off highway 1A about a 10-minute drive from Canmore
Grotto Canyon is a winter favorite in Canmore. This is likely the singular most popular winter hike in the area, and for good reason – it's so cool in the winter!
In the winter months, Grotto Canyon is one of those hikes that gets even better. Thanks to the water in the canyon freezing, you can actually walk right through the canyon! Sure, it is a little slippery, but with a good pair of ice cleats/crampons this is no problem.
Along the way you'll see frozen waterfalls, pictographs on the canyon walls, and even an inukshuk garden. The pictographs can be kind of hard to spot, your best bet to find them is to ask other hikers on the trails or go on a guided tour. These guided tours to Grotto Canyon are great if you don't have your own ice cleats since all gear is provided.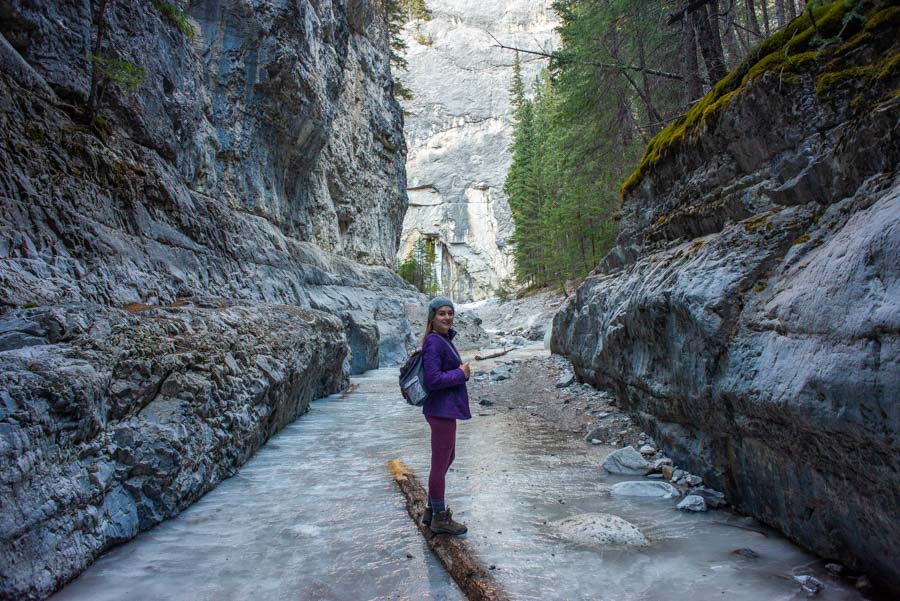 Jura Canyon winter hike
Distance: 2 to 7 km return depending on how far you go
Rating: Easy to Moderate
Time Needed: 1-3 hours
Trailhead: Off Highway 1A east of Exshaw
Like Grotto Canyon, Jura Canyon is another winter hike in Canmore that's more exciting in the cold weather when there's ice beneath your feet. Just be prepared with your ice cleats and you'll love this adventure
There are a couple of different ways to hike Jura Canyon. If you're just looking for a short easy trail, then you can simply hike to the first slot canyon. This is about 1 kilometre into the hike and where most people with kids go. The slot canyon is narrow and very neat to explore.
However, if you're up for it, you can continue further. You'll come across a short ice walk section and then, at the end, a second slot canyon. Here, have a little rest before turning back around.
One thing to note is that Jura Canyon isn't the most popular winter hike in Canmore, so the snow might not be all packed down. In this case, you might need to be prepared with snowshoes.
Grassi Lakes hike
Distance: 4 km return
Rating: Easy
Time Needed: 1-2 hours
Trailhead: Just off the Smith Dorrien Trail about a 15 minute drive from Canmore
Grassi Lakes is hands down one of the best easy winter hikes in Canmore, and therefore, also one of the most popular. The thing is, most people hike to Grassi Lakes in the summer and don't even think to visit in the winter. This is a shame because this spot is breathtaking in the winter, and it's much less busy.
In the winter months you'll have no problem getting a parking space at the Grassi Lakes Trailhead (which is not always true at other times of the year.) The trail will be peaceful as you make the gradual 300 metre incline up to the lakes.
The hike is short with little elevation gain, making it suitable for the whole family. With that said, when I hiked it last winter it was very icy and people were struggling to stay on their feet. My ice cleats came in super handy and made it to the top with ease.
Once you reach Grassi Lakes, you might be surprised to find that they aren't completely frozen. These lakes are naturally heated, which keeps them from freezing – and makes for a beautiful winter photo!
Ha Ling Peak winter hike
Distance: 7.8 km return with over 700 metres of elevation gain
Difficulty: Moderate
Time needed: 3-5 hours
Trailhead: Goat Creek parking lot on Smith Dorrien Trail, a 20-minute drive from Canmore
Ha Ling Peak is one of the best hikes in Canmore with amazing views. From the top, you'll have views over Canmore and the Bow Valley. The panoramic views make this hike extremely popular, but less so in the winter.
Ha Ling Peak is a steep hike since it gains about 750 metres in elevation over less than four-kilometres. Although the trail is well marked and easy to follow, it'll definitely have you out of breath from time to time.
Winter adds an extra level of difficulty to this already moderate-rated hiking trail. You'll definitely need a good pair of ice cleats and warm gear for when you reach the summit (it is often very windy up there!) Even in the spring and fall, be prepared for snow as you pass the treeline.
But one you make it to the top, all of the effort will be worth it as the views are out of the world!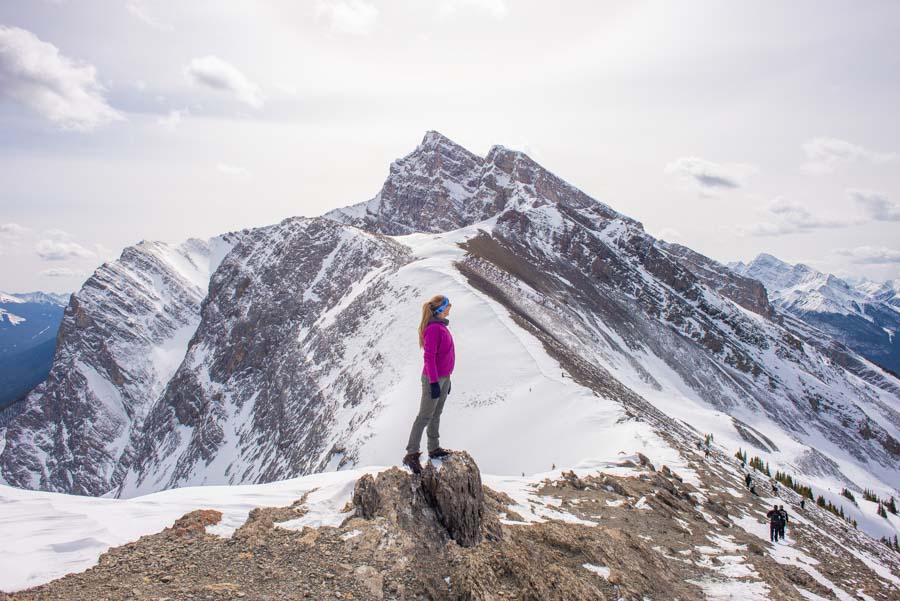 Canmore Hoodoos and Benchlands Trail hike
Distance: 3 km
Difficulty: Easy
Time Needed: About an hour
Trailhead: Benchlands Bike Park right in Canmore
This one might be less of a hike and more of a "walk", however I think that it's worth a mention because it really is beautiful. Plus, sometimes all you're looking for is a short hike to get out and stretch your legs, in that case, this hike is perfect.
You can start this hike from really anywhere in Canmore, or just drive and park at the Benchlands Bike Park along Benchlands Trail. From here, follow the path along the road up the hill. Follow it until you reach a fork, here, take the sharp left up the hill. It is a little steep, but gradual.
This path takes you up to a ledge overlooking Canmore – it's beautiful. Keep following the trail until the end of the cul de sac and look down the hill, you should see the Canmore hoodoos from here! You can walk down to the hoodoos to get a closer look, just be careful because it is really steep.
Troll Falls hike
Distance: 3.4 km
Difficulty: Easy
Time Needed: 1- 2 hours
Trailhead: Off Kananaskis Trail, 35 minutes from Canmore
Troll Falls is one of the easiest hikes in Kananaskis Country. Located only about a 35-minute drive from Canmore near Nakiska Ski Area, this is the single most popular winter hike in the area for families. The short out and back trail is mostly flat and leads to beautiful Troll Falls – which is completely frozen in the winter!
Although the trail you'll wind your way through the forest coming to a couple of mountain views before reaching the falls. There is a boardwalk and viewing platform to enjoy the falls here. You can also hike up to a viewpoint above the falls, however in the winter, it is particularly icy and slippery and you will definitely need a good pair of ice cleats, and maybe even poles to assist with your balance.
You return back the way you came.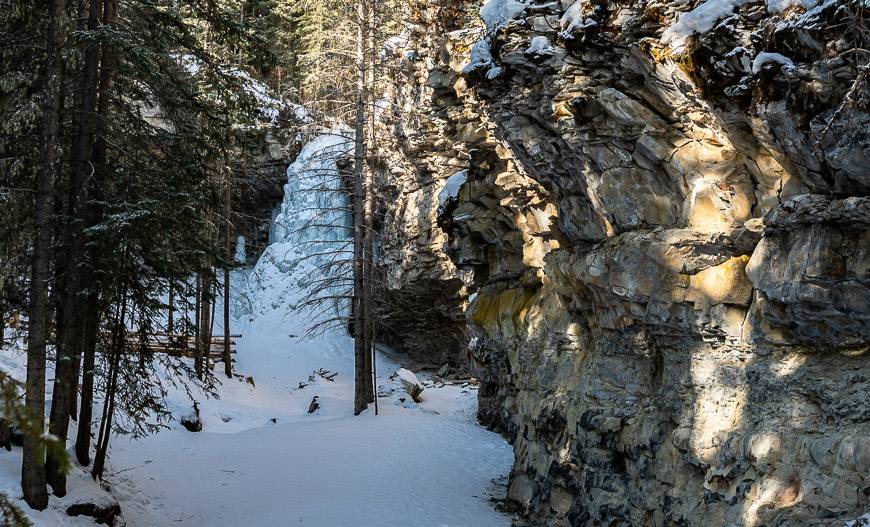 Bow River Loop winter hike – one of the easiest winter hikes in Canmore
Distance: 2 km
Difficulty: Easy
Time Needed: About an hour
Hiking trailhead: In Canmore downtown area near the Bow River Bridge
This easy loop track is not to be overlooked when you're looking for a beautiful winter hike right in the heart of Canmore. In fact, if you're staying in Canmore, you could probably walk to the trailhead right from your hotel! When I lived in Canmore I did this hike every morning after grabbing my morning coffee. It's the perfect place to enjoy an easy stroll with an amazing view!
The trail takes you alongside the Bow River before reaching the historic Engine Bridge where you'll cross the bridge and return along the other side of the river. Since it is a loop, you can actually start the trail from wherever you'd like and go in either direction. It is completely flat, and even in the winter, easy enough to do without ice cleats.
From the trail you'll enjoy views of the Three Sisters and the Bow River. There are various benches along the way to stop and relax as well.
This trail joins with the large trail system in Canmore, so you can do a little exploring if you're after a longer hike. There are signs around the trails so you know where to go, and the trails are also on Google Maps.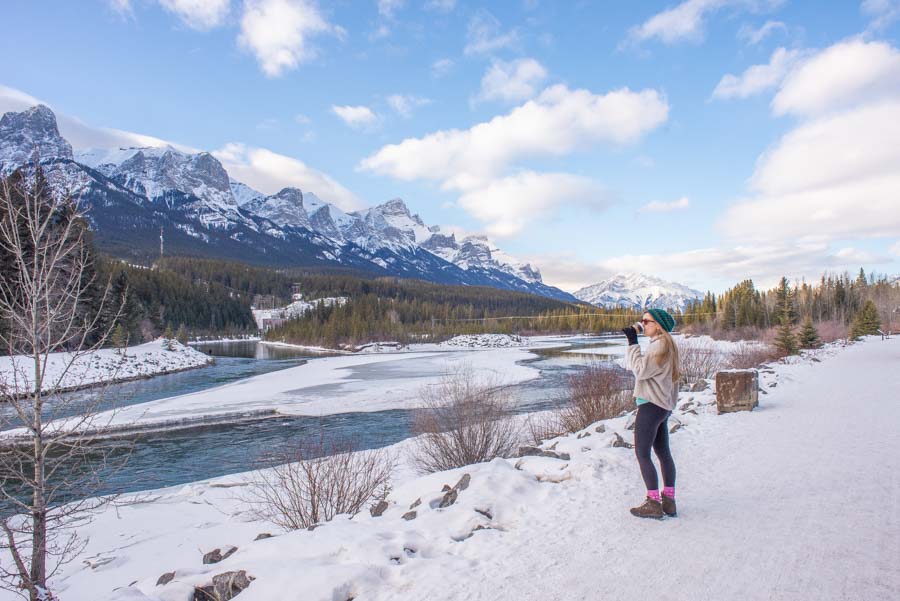 Rawson Lake winter hike
Distance: 8 km return, about 320 metres in elevation gain
Difficulty: Moderate
Time Needed: 3-4 hours
Trailhead: Upper Kananaskis Lake day use parking lot
Up for a little day trip? Then you certainly need to make your way from Canmore to Upper Kananaskis Lake where you explore one of my favorite places to visit in Alberta. After just over an hour's drive, you will reach the lake. Here, you will be blown away by the stunning vistas. But the best part is that this is just the beginning!
Head to the far left side of the parking lot (when you're facing the lake.) From here you can jump on the trail that goes around the lake in a clockwise direction though be wary and prepared for some places with avalanche danger. There is also a trail map here so you can see the direction for Rawson Lake.
The first part of this hike is flat as you walk beside Upper Kananaskis Lake. You'll get stunning views and even cross a bridge over a gorge with a small waterfall.
Eventually, you'll come to a fork in the trail; stay left to continue to Rawson Lake. This is where the incline begins! It is about 3 kilometres from here to reach the lake. All of the elevation gain happens here.
Rawson Lake is gorgeous with towering peaks as its backdrop. It also isn't typically busy in the winter months, so with luck you'll likely have the entire place to yourself. If it's a gorgeous sunny weekend, you will not.
Be prepared with ice cleats and snowshoes for this hike, as you will likely need them! Be sure to check recent trail conditions and avalanche reports before you go as well.
Quarry Lake Loop hike and on nearby trails – one of the popular winter hikes in Canmore
Distance: Various trails 1 km to 11 km in length
Difficulty: Easy to moderate
Time needed: 30 minutes to a couple of hours
Trailhead: Quarry Lake in Canmore
Quarry Lake is a small lake located in Canmore. In the winter many people come here to explore the variety of trail systems that start here.
For something short and easy, walk the loop trail around the lake. This is only about 1 km and flat. For something a little longer, walk to the Reservoir and back on part of the Powerline Trail. This is also fairly flat and should only be about 2 kilometres return (depending how long you walk along the Reservoir.)
You can also do the Highline Trail Loop from here. This is a 10.9 kilometre-long trail that starts from Quarry Lake. You'll hike up towards the Highline Trail and then loop back down near the Three Sisters Village.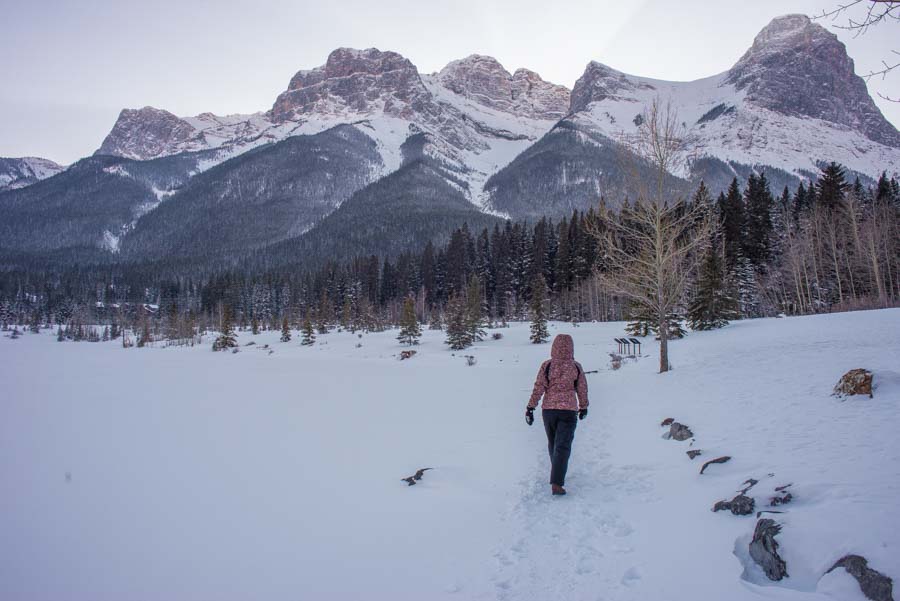 Johnston Canyon hike
Distance: 2.4 km return to the lower falls, 5 km return to the upper falls, 11.4 km return to the Ink Pots
Difficulty: Easy to moderate
Time needed: 1 hour to 4 hours depending on the hike you choose
Trailhead: Johnston Canyon trailhead, about a 45-minute drive from Canmore
Johnston Canyon is one of the best hikes in Banff National Park. But, it's actually not far from Canmore either at only a 45-minute-long drive.
Johnston Canyon is a wonderful hike for various reasons. First of all, it is stunning all year round. In the summer you can see the bright blue river beneath you as well as powerful falls. And in the winter, it becomes a frozen paradise where you can do an ice walk and marvel at icicles and frozen waterfalls. This makes it easily one of the best things to do in Banff.
Johnston Canyon is also great for all fitness levels since there are a couple different trails you can choose to do here. The shortest hike is only 1.2 km each way and takes you to the lower falls. This hike is super easy and only gains about 50 metres in elevation. For something a little harder, continue past the lower falls to the upper falls. In total, the hike to the upper falls is 2.5 km each way and gains 120 metres in elevation. And finally if you're up for the challenge, hike to the Inkpots. This is 5.7 km each way and gains 330 metres in elevation.
If you do choose to hike Johnston Canyon in the winter be prepared with the proper safety gear, otherwise, you can book this guided tour which includes it all along with an experienced guide to complete the icewalk.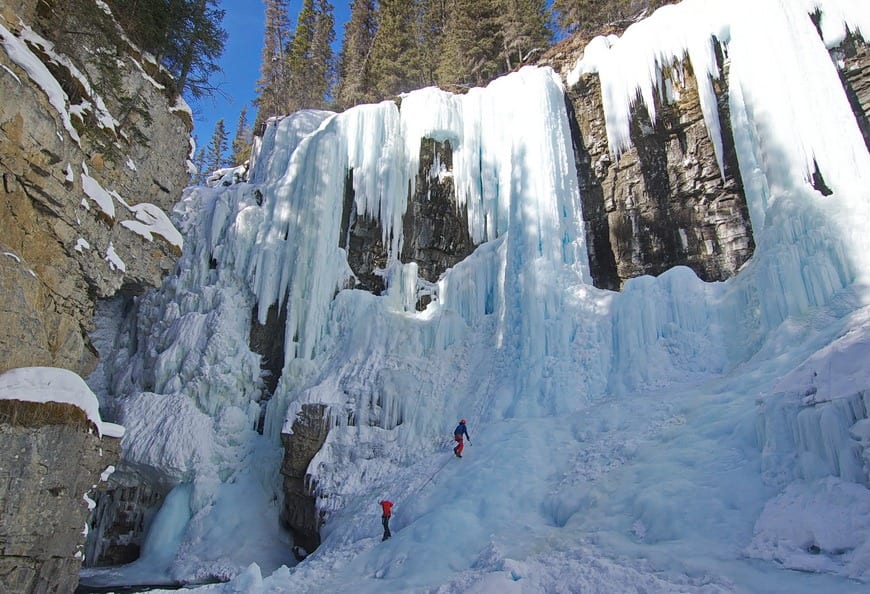 Conclusion
Canmore is an outdoor paradise – even in the winter! With fewer crowds, frozen waterfalls, and the beautiful snowy landscape everywhere you turn, it's no wonder Canmore is just as popular a winter destination as a summer one.
All you need to do is be prepared for the snow and ice and you'll be on your way to having fun on the best winter hikes in Canmore!
A few things you might want on these winter hikes in Canmore
While most people seem to use hiking apps, there's nothing like a paper map to get your bearings on a larger scale. The ones you'd want for these hikes include Gem Trek Kananaskis Lakes and Gem Trek Canmore and Kananaskis Village.
Pack a pair of microspikes so you're covered if you run into ice.
I always pack at least one collapsible hiking pole – in case I run into steep terrain. And in deep snow they can help you keep your balance.
Don't forget to pack a few energy and protein bars to keep you going.
Location map of the trailheads for winter hikes in Canmore
Click on the photo to bookmark to your Pinterest boards.