Abraham Lake in Alberta's David Thompson Country is the largest reservoir in the province. Water is backed up behind the Bighorn Dam (built in 1972) on the North Saskatchewan River. There is a fascinating phenomenon that happens every winter when methane gas bubbles derived from below get trapped in the ice on the lake. This creates wonderful patterns and effects in the ice.
The Abraham Lake bubbles are thought to be derived from decomposing organic material submerged when the reservoir was filling. There could also be a component derived from natural gas (of which Alberta has plenty) seeping through the rocks underlying Abraham Lake. Irrespective of the source, you can see successive layers of methane ice bubbles trapped as the ice thickens. This photogenic flourish is often captured on Instagram.
I wondered if it was worth the sometimes-harrowing winter drive along the Icefields Parkway to see the Abraham Lake bubbles. On a recent winter trip to Jasper when the driving was good, I decided that it was the perfect time to make the 30-minute detour from Saskatchewan River Crossing (an hour's drive north of Lake Louise), to see them.
If you've never done the drive on the David Thompson Highway (Highway 11) you're in for a treat. It's a beauty and on a winter weekday, traffic is non-existent.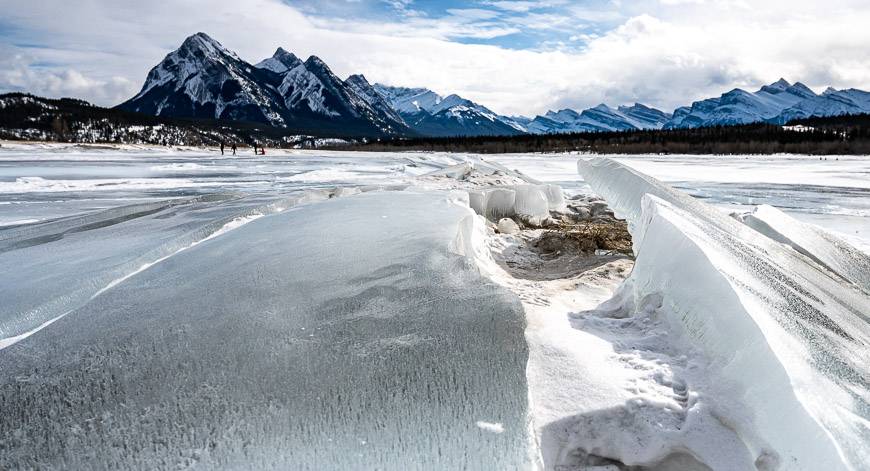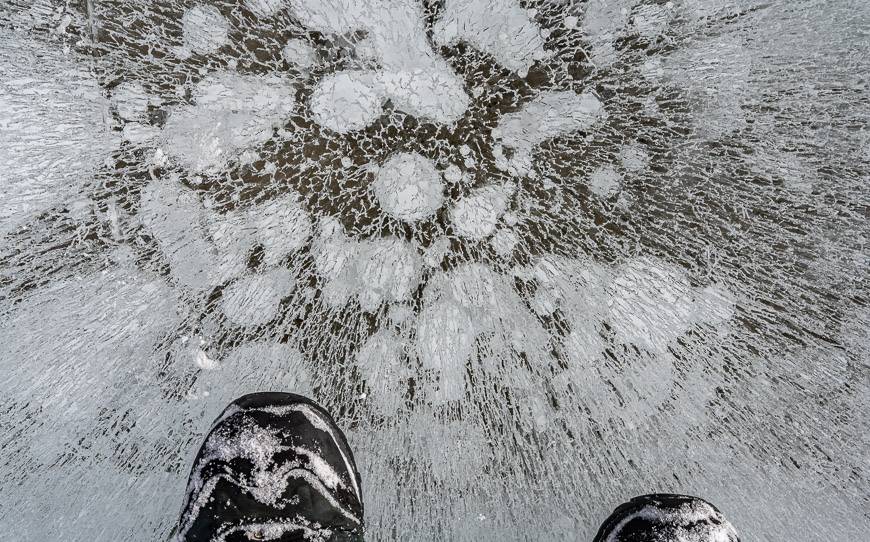 This post includes some affiliate links. If you make a qualifying purchase through one of these links, I will receive a small percentage of the sale at no extra cost to you. Thank you for your support.
Abraham Lake bubbles – is it worth the drive to see them?
Now that I've seen the ice bubbles, I would highly recommend a trip. But I'd do the trip a little differently.
Ideally, I'd stay in the Nordegg area (suggestions below) so I could catch sunrise or sunset. If that didn't work out, I'd aim for Lake Louise (since I live in Calgary) so the early morning or late afternoon drive would be shorter. If you were coming from Edmonton, I'd head for Jasper or Red Deer the night before.
On the day I visited, the temperature was close to 0°C, so even though I didn't wear a lot of warm clothes, I was comfortable. Still, I should have put some handwarmers in my pockets as the wind was biting. It didn't take long to get cold hands – with gloves coming off and going on every time I took a photo. You also burn through camera batteries quickly in the cold and handwarmers work well for keeping them warm.
I'd also bring a tripod next time, because the wind is so crazy that it can be hard to keep the camera still. I have heard of people's tripods (and cameras) going sailing! Exercise caution and consider bringing a weight for your tripod.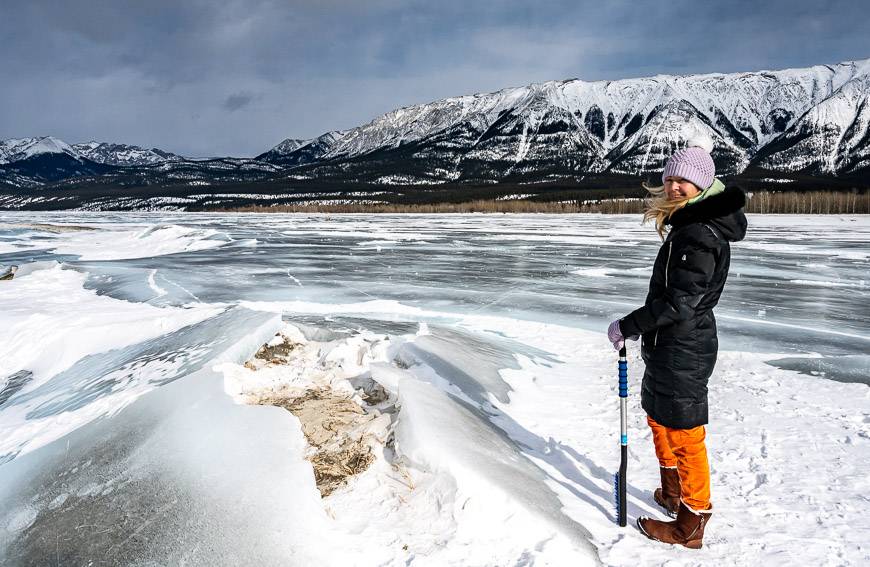 Where are the best viewpoints?
There are several spots where you can see the Abraham Lake ice bubbles. All the stops described are along Highway 11, also called the David Thompson Highway. The distance between Preacher's Point and Allstones is about 30 km.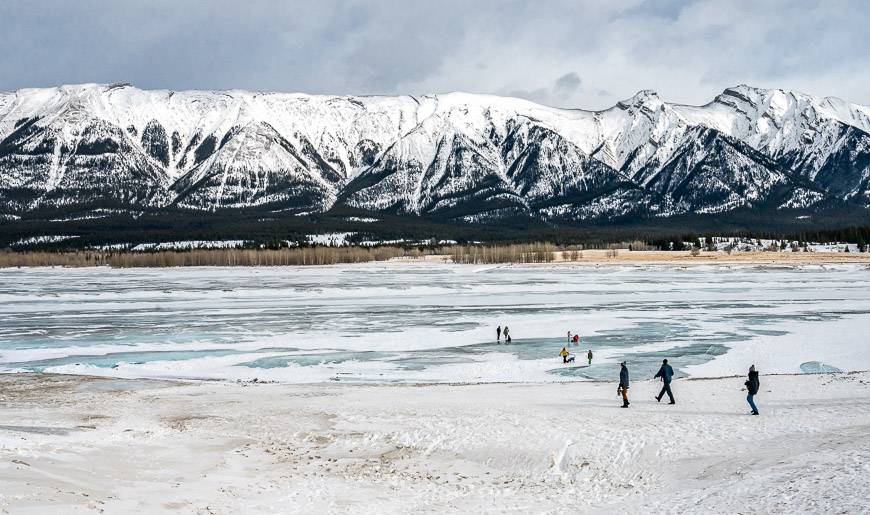 If you're driving from Saskatchewan River Crossing, Preacher's Point is the first stop you come to on Highway 11. It's a popular spot with a decent sized parking lot that I understand can get quite busy. The beauty of this place is that there are many shallow sections – so you can see the grass and rocks below the surface. I certainly could along with some massive pressure ridges. Beware of weak ice close to shore thanks to the North Saskatchewan River.
Cline Landing is east of Preacher's Point. It's a good place to visit early in the season. But because of its location, the winds can't clear the snow once the ice gets snow covered.
The Belly of Abraham is close to a newly constructed parking lot with a washroom. It's about 5-10 km west of Windy Point and a great spot to look for big, clear ice bubbles. This area is where you might want to go skating if the conditions are good.
Allstones Cove is the closest viewing spot to Nordegg. There's a trailhead and a trail down to the lake. Enjoy both a great view of Abraham Lake and some cool looking ice formations. It's recommended that you enjoy the ice formations from shore.
Windy Point offers a fantastic view of Mount Mitchener but avoid going on the ice between Windy Point and the dam as the slope down to the lake is very steep. It's not recommended.
Approximate location to access the Abraham Lake bubbles
How do you know if it's a good day to visit the ice bubbles?
The Abraham Lake bubbles are best visited from early January – once the ice is safe enough to walk on, until mid- late February, though some years if it's cold enough, the ice bubbles last into March. You'd definitely want to get a read on conditions before doing the drive to avoid disappointment. Visiting after a big snowstorm wouldn't be a good idea. On the other hand, if its been windy for days, the ice will have been swept clean.
If you're on Instagram you can try and get real time information by looking up hashtags like #explorealberta, #abrahamlake, #icebubbles, and #abrahamlakeicebubbles. Don't hesitate to comment on the photo and ask for an update on conditions. I find most people are helpful.
If you want to take the guesswork out of a visit, you can book a half or full day tour with Pursuit Adventures. Danielle, the owner says people always underestimate how long they're out on the ice. She tells me that some people feel like its been minutes, not hours that they've been out exploring. Book a few days in advance to avoid disappointment. She will be running tours, while conditions are good, into early March 2023.
What's the best time of day to see the Abraham Lake Ice Bubbles?
For the most dramatic photos of the Abraham Lake bubbles, aim to be at the lake for sunrise or sunset. At sunrise give yourself some extra time – as you'll be driving in the dark in winter, perhaps in an area you've never visited before. You'll want time to find the parking areas – and get set up. It can also be hard to gauge road conditions ahead of time.
Don't worry if you miss sunrise or sunset. Really anytime, but right after a snowfall, is still a spectacular time to visit.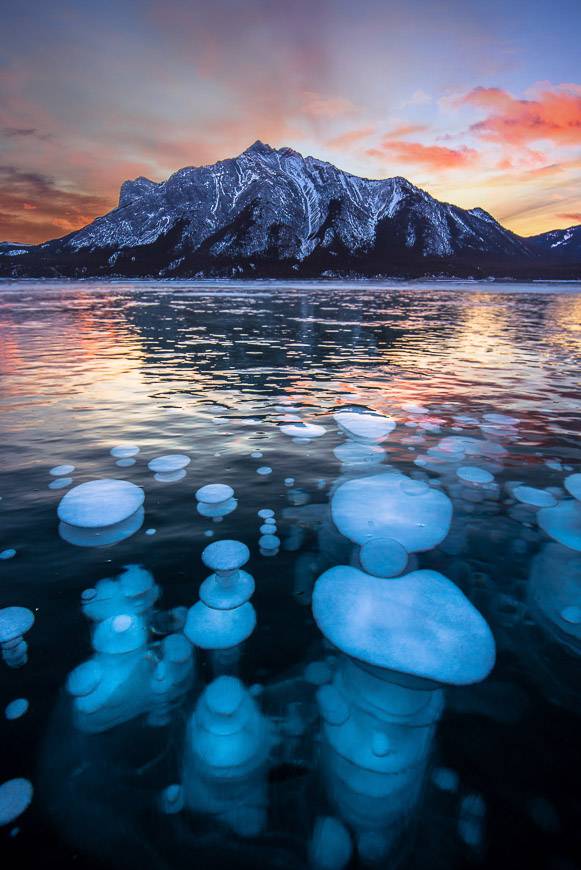 Safety on Abraham Lake
There's a lot of misinformation about safety when it comes to the Abraham Lake ice bubbles. For a detailed explanation check out this article on Abraham Lake ice safety.
The last thing you want to do on a winter visit to Abraham Lake is go for a swim. According to the Red Cross the ice needs to be at least 15 cm thick for walking alone and 20 cm thick for skating parties. The thicker and bluer the ice the better! Grey ice is the least safe as it indicates that there is water present.
You should also avoid any area that is close to a river or creek entering the lake. If you see moving water, beat a hasty retreat. In early winter and spring, be particularly careful of snowy sections that might be covering up thin ice. For safety's sake, stay close to shore.
Icers or microspikes come in handy, especially as the lake isn't flat – and there is a surprising amount of up and down on pressure ridges.
The David Thompson region is remote. You often won't get a cell signal; the weather can change in a heartbeat and the driving can be icy. Be sure to carry a well-stocked emergency kit in your car that includes blankets, extra food and drinks.
Don't forget to pack these things
Before you head to Abraham Lake, be sure you're prepared with warm, wind-proof clothing including a warm hat. I'd take an extra pair of winter socks, several hand warmers and toe warmers, icers or ice cleats – and even a pole if you worry about your balance.
For clothing I'd recommend a down jacket as an underlayer and a windproof top layer.
If you worry about being out of touch, consider getting a Garmin InReach Mini – but you better have a plan and know how to use it.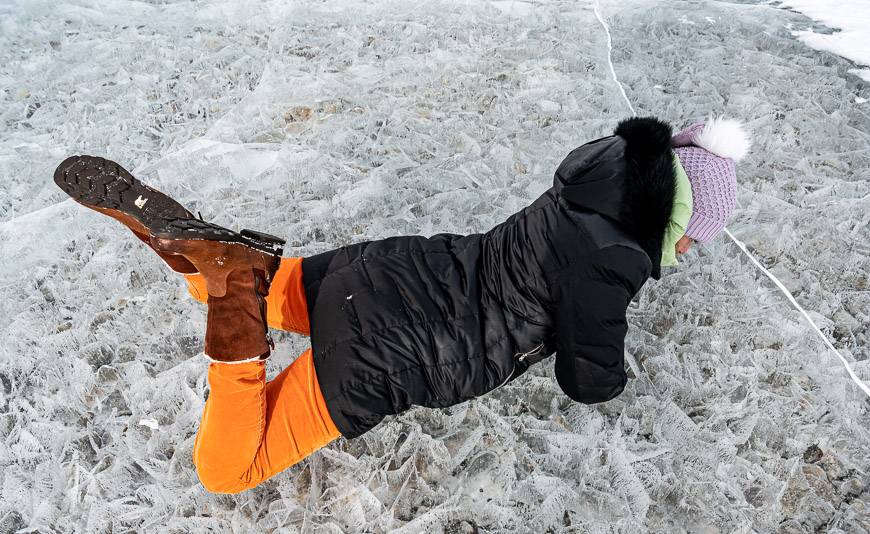 Finding Abraham Lake and the ice bubbles
If you're driving from Jasper or Banff, take the Icefield Parkway to get to Saskatchewan River Crossing. Head east on Highway 11 for about 32 km to reach Preacher's Point. Over the next 20 – 30 km there are numerous viewpoints and locations where you can access the ice.
If you're coming from Red Deer it's about a 2.25-hour drive on Highway 11 to reach Allstones Cove, roughly 200 km to the west. Drive another 30 km to reach Preacher's Point.
Where to stay the night before
For the best location, right on Abraham Lake book in at Arum Lodge – a simple but clean place I stayed at years ago in the summer.
In Nordegg, check out Expanse Cottages, about a 30-minute drive away.
Another option if you're driving from Rocky Mountain House is the very lovely Prairie Creek Inn, one of the Charming Inns of Alberta.
There are several excellent options in Lake Louise. It's about a 90-minute drive away.
At the higher end is the Fairmont Chateau Lake Louise.
Baker Creek Mountain Resort, just outside of Lake Louise would be a great choice if you want a quiet cabin by a frozen river with a fire pit experience.
The Lake Louise Inn would be a good mid-range choice and the Lake Louise Alpine Hostel would be an affordable option.
In Jasper, I highly recommend the Fairmont Jasper Park Lodge for a premium experience.
Pyramid Lake Resort, about a 10-minute drive out of town, would be a great choice. And in town, I'd suggest Bear Hill Lodge.
Where to get gas and food in the winter near Abraham Lake
Before you head to Abraham Lake, make sure you have a full tank of gas. Fill up in Lake Louise, Jasper, Nordegg or Rocky Mountain House. In the winter, you cannot get gas in Saskatchewan River Crossing.
Be sure to bring snacks along with hot and cold drinks with you. There are a couple of places to pick up food and drinks in Nordegg and lots of choice in Lake Louise Village and Jasper.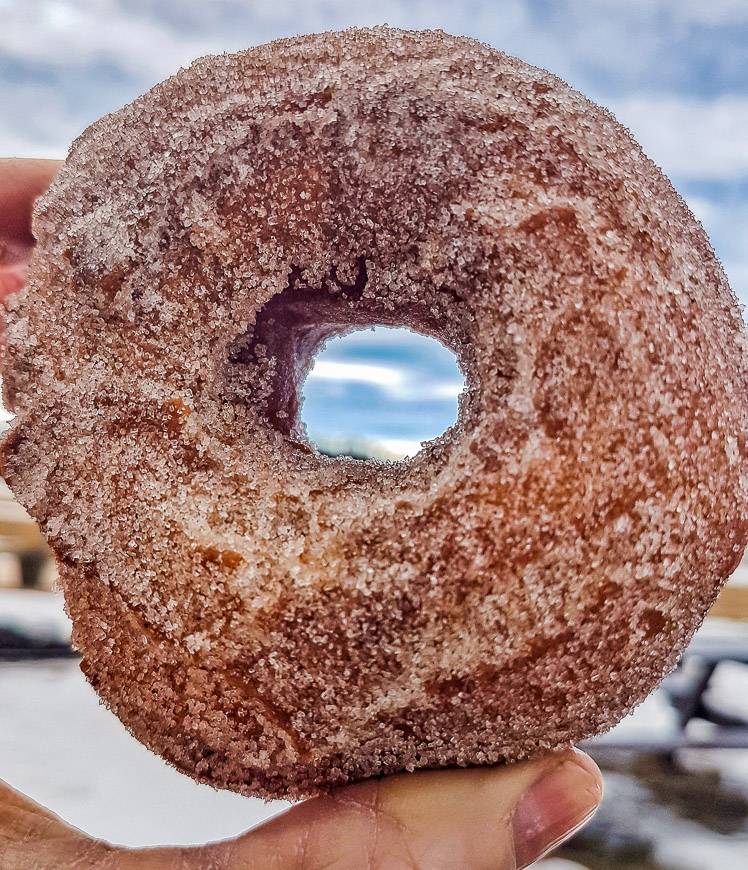 Further reading on things to do within 90 minutes of the Abraham Lake bubbles
Click on the photo to bookmark to your Pinterest boards.