The Maligne Canyon Ice Walk in Jasper National Park can be experienced from December until early April. We did it one year over an Easter weekend when it fell in April and thoroughly enjoyed every minute of this fascinating and very fun half day tour. Kids love the Maligne Canyon Ice Walk as much as the adults do! Don't leave them behind.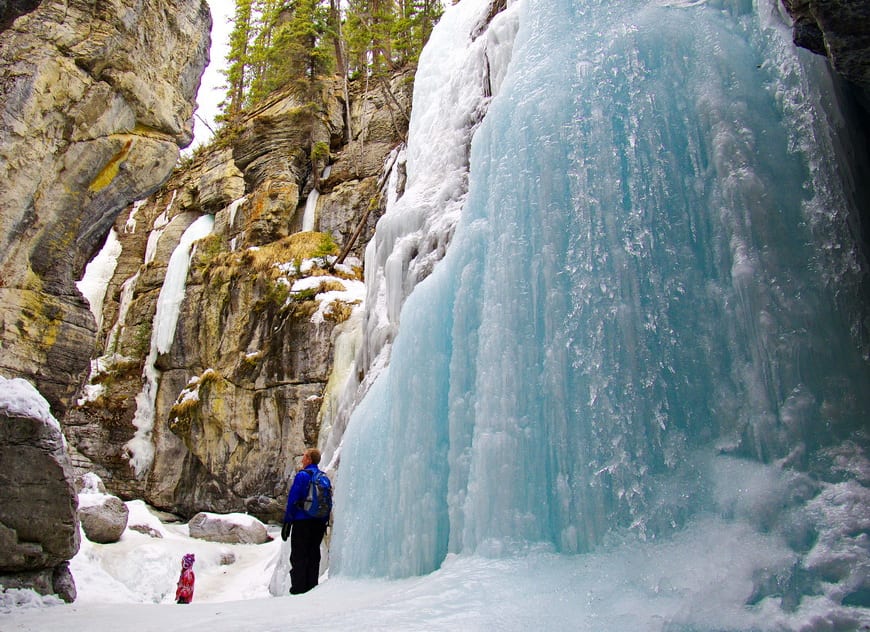 This post includes some affiliate links. If you make a qualifying purchase through one of these links, I may receive a small percentage of the sale at no extra cost to you. Thank you very much.
Maligne Canyon Ice Walk – book a tour for the full experience
We booked a tour, though I'm not normally a tour person. This one was incredibly worthwhile; without a tour guide we would likely have missed the caves (a highlight) and an understanding of what makes the Maligne Canyon ice walk so special – in fact unique in North America.
Reserve well in advance if you plan to do the ice walk (they often sell out on weekends) by clicking here. The company we went with offered three tours a day – including an evening tour. The price is around $70 for adults and $35 for children. It was worth every penny. They also provide the microspikes.
How our half day Maligne Canyon Ice Walk unfolded
Our group of eight started in Jasper by donning knee high waterproof boots in the tour office downtown. We were all given a pair of ice cleats which we put on once we arrived at Maligne Canyon, only a 10 minute drive away.
We started the ice walk by crossing a new bridge, put in place after high waters undermined the integrity of a long standing bridge.
And then Chris our guide – starts with the question – Why doesn't this section of the Maligne River ever freeze? Fortunately we have a kid in the group who is happy to throw out answers. A few adults make suggestions too. But no one gets the right answer.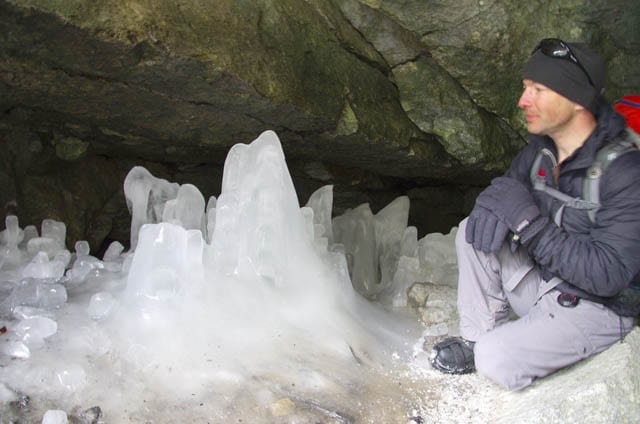 Why doesn't part of the Maligne Canyon ever freeze?
Maligne Canyon lies in what is known as karst terrain, characterized by an extensive underground system of caves and fissures formed in limestone rock. The water in the Maligne River that you see flowing through Maligne Canyon comes in part from nearby Medicine Lake.
The water supplying Medicine Lake itself is a combination of glacier melt (80%), snow melt (15%) and rainwater (5%). Medicine Lake drains like a bathtub – at the bottom – and through a network of caves and fissures some of the water reaches the Maligne River.
They know this because scientists put a harmless dye in Medicine Lake which in the summer reached the Maligne River in 12 hours. But when the temperatures drop, the Maligne River flow is curtailed and the dye in the winter takes 88 hours to flow underground from Medicine Lake to the Maligne River.
Also interesting is that some stretches of the river which are fed by these springs never freeze because the water is coming out of the ground at about 4°C (39°F).
The summer level of the Maligne River
In summer, the Maligne River level is much higher as evidenced by the line of moss showing the high water mark – well above head height.
Through the winter, the river level continues to drop and one can see long stretches of stranded ice well above the river bottom. This ice can be quite thick and can create long bridges that are strong enough to be walked upon.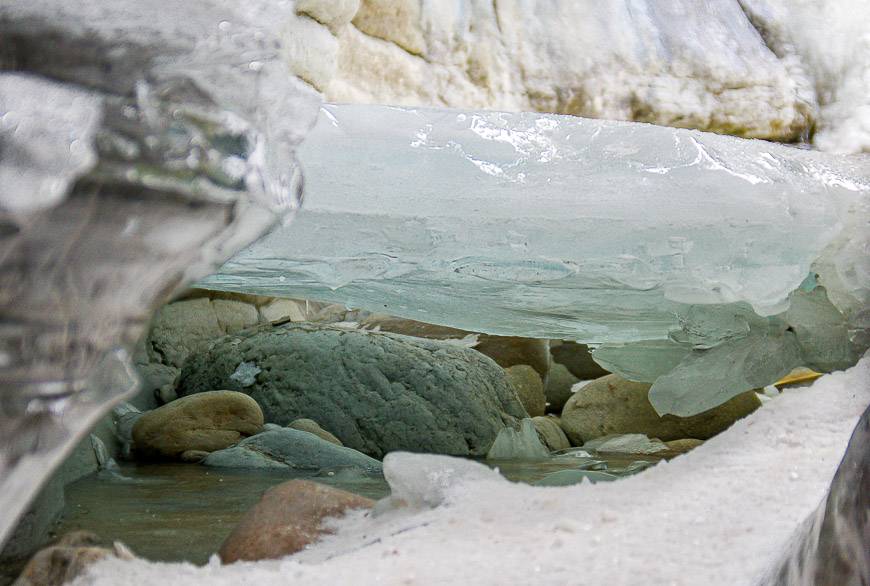 The Maligne Canyon Ice Walk is much more than just a hike
Chris leads us into a cave – one that he's explored to a point most mortals wouldn't consider – more than 300 m in from where we squatted. I'm not a cave lover but I have to say once inside it was pretty cool looking out through a layer of ice.
From there we continue walking up the canyon at a relaxed pace so there's plenty of time for photography.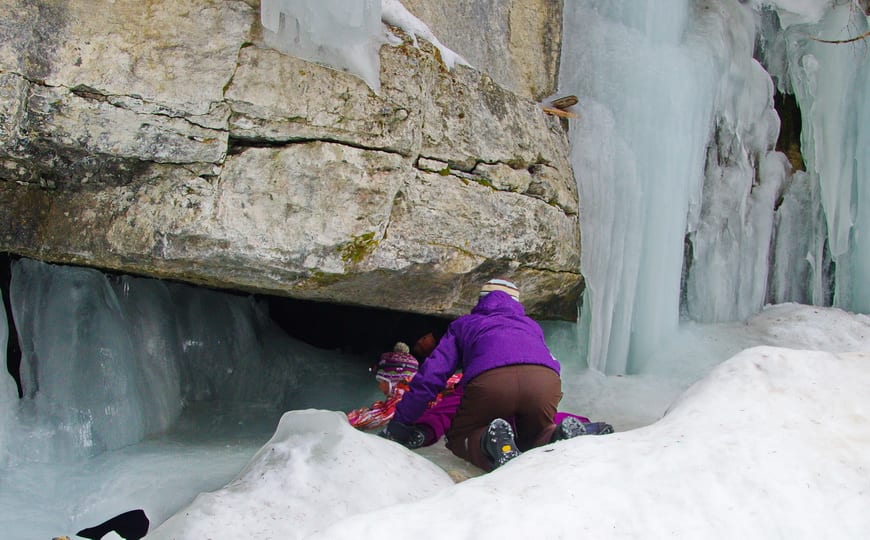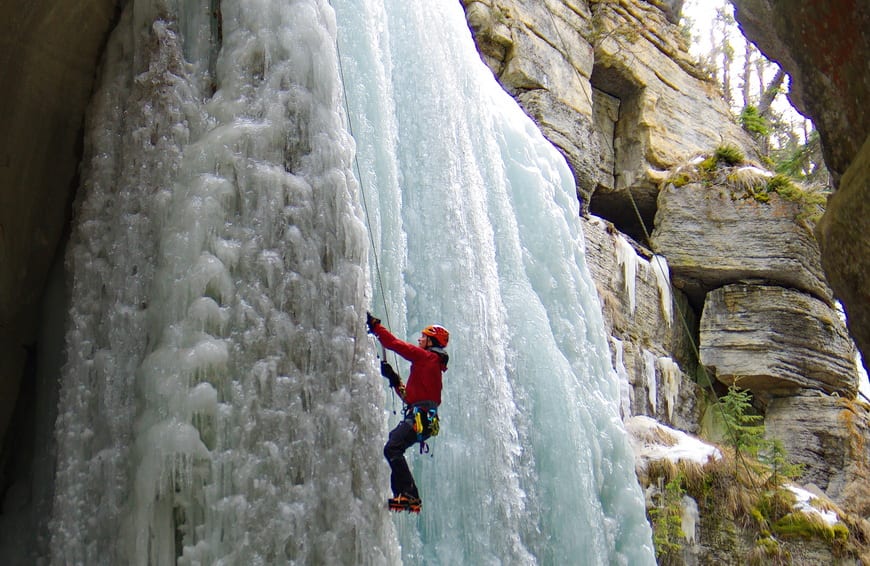 Get behind a frozen waterfall
Our last adventure in the canyon took us through a hole behind the frozen waterfall the climbers were on. It was an otherworldly view looking out through layers of ice. To get out we could easily slip through the hole we came in – but it was a lot more fun to slide down an icy ramp.
Time needed on the Maligne Canyon Ice Walk
The entire ice walk from start to finish in Jasper took three hours. It's easy and a first-class, fun family-friendly activity. The youngster on our trip said the highlight for her was going inside the cave.
Visit the Tourism Jasper website for lots of ideas no matter what the season.
Check out the Jasper National Park website for up to date information.
Where to stay in Jasper
I've stayed in a couple of dodgy hotels in Jasper, mostly because of bad luck – and no reservation. Plan ahead so you don't get caught.
Location map
More winter adventures in Alberta
Click on the photo to bookmark to your Pinterest boards.