If you love snowshoeing, then Jasper National Park is a terrific place to visit in winter. Enjoy kilometres of untracked trails, sublime mountain views, snowy meadows, quiet lakes, and a pretty good chance of seeing an elk. Winter is long in Jasper – and so is the season for snowshoeing, especially at higher elevation locations.
On the days when the snowpack is thin, hike the trails instead, with a pair of icers tucked in your pack should you need them. There's lots of snowshoeing in Jasper close to town – but there are numerous options in you're prepared to drive 15 minutes to 90 minutes.
If you're new to Jasper National Park and would prefer a guided experience, there are several companies offering tours. (See below.) Compared to Banff National Park, I found the snowshoe trails in Jasper quieter – probably because it's just that much more difficult to get to Jasper in the winter.
Described are five snowshoe trails in Jasper National Park – along with a few suggestions of others I would do on my next winter visit.
This post includes some affiliate links. If you make a qualifying purchase through one of these links, I will receive a small percentage of the sale at no extra cost to you. Thank you very much for your support.
Before you go snowshoeing in Jasper
Trail conditions: Check trail conditions in Jasper before you head out. You can also stop in at the Jasper National Park Visitor Centre at 500 Connaught Drive to get the latest conditions, personalized ideas on where to go snowshoeing in Jasper, and trail maps.
Weather: It's a good idea to have a look at the weather forecast before you head out snowshoeing in Jasper National Park.
Permits: Buy a Parks Canada pass online, at the entrance to the park or at the Visitor Centre in town.
Go prepared: Carry the 10 essentials along with extra hand warmers, warm clothes and a thermos of something hot to drink. Choose the right clothing and gear based on the weather.
Avalanche awareness: Avoid avalanche terrain unless you have the know how and equipment. Before you head out snowshoeing read up on the avalanche conditions.
Check road reports: Know how to survive a winter drive as the roads in this part of Alberta can be treacherous in winter. Be sure you have an emergency driving kit with extra clothing, food and water.
My favourite snowshoe trails in Jasper National Park
There are reportedly as many as 41 snowshoeing trails in Jasper, but many of these are short, in part of the extensive network that make up the Pyramid Bench area.
My top three picks for snowshoeing in Jasper National Park include:
Medicine Lake – Watchtower Canyon combination for the beauty of the canyon.
Pyramid Bench Trails for the variety and views
Valley of Five Lakes – because it's fast, easy and pretty.
Location map of snowshoe trails in Jasper National Park
Jasper snowshoe tours
There are several companies running snowshoe tours in Jasper.
Check out Sun Dog Tours, Walks and Talks Jasper, and Canadian Rockies Adventure Centre.
Top places to go snowshoeing in Jasper National Park
1. Beaver Lake
To access Beaver Lake drive to the Jacques Lake trailhead at the southeast end of Medicine Lake, about 35 minutes away from downtown Jasper. It's an easy snowshoe through the forest and across a bridge – with running water below – even after a week of -30°C temperatures.
The trail is wide, the grade is gentle as it's on an old fire road – so it's a perfect snowshoe for those who want a taste of the outdoors but don't want to do it for more than an hour or two. It's 4 km return to Beaver Lake, but there is the option to continue to Summit Lakes, a 10 km return outing. It's still a gentle trail, gaining just 77 m.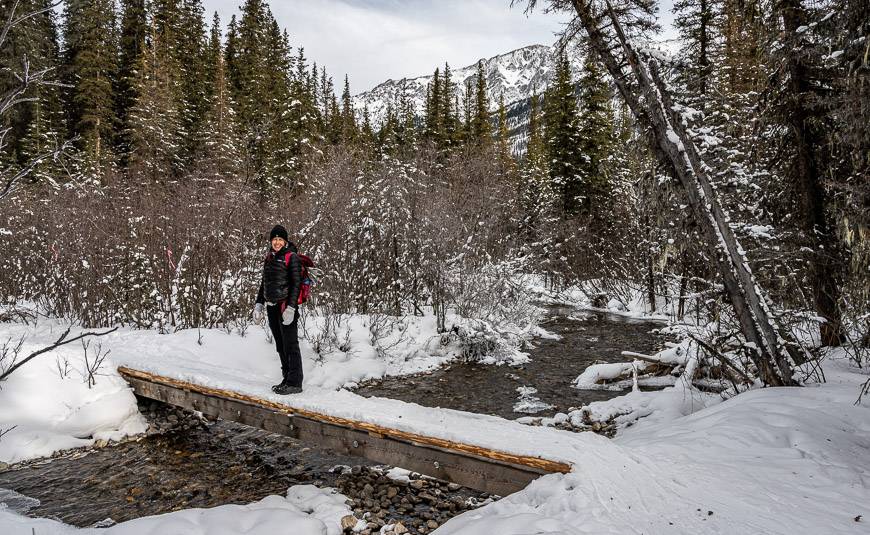 2. Medicine Lake – Watchtower Canyon
Head to Medicine Lake via Maligne Canyon Road. The area around the road sees more snow than Jasper as it's 325 metres higher, enough that it makes a difference.
Starting from the Medicine Lake North Viewpoint, you can snowshoe along the lakeshore, while enjoying some truly lovely mountain views. While it's a delightful outing, you can kick it up several notches by snowshoeing into and up Watchtower Canyon.
Snowshoe for about a kilometre along the southwest shore of Medicine Lake keeping your eyes peeled for a narrow opening in the trees, with a stream (probably frozen) running out of it. You may be able to hear running water. Snowshoe up Watchtower Canyon, probing with your pole for the stream, as you don't want to break through the ice and get a soaker. Follow the canyon up for roughly a kilometre to reach a large and very pretty frozen waterfall.
Retrace your steps to return to the lake. The total snowshoeing time is only 60 – 90 minutes but I recommend extra time by the waterfall. It's a good place for a cup of hot chocolate and a snack.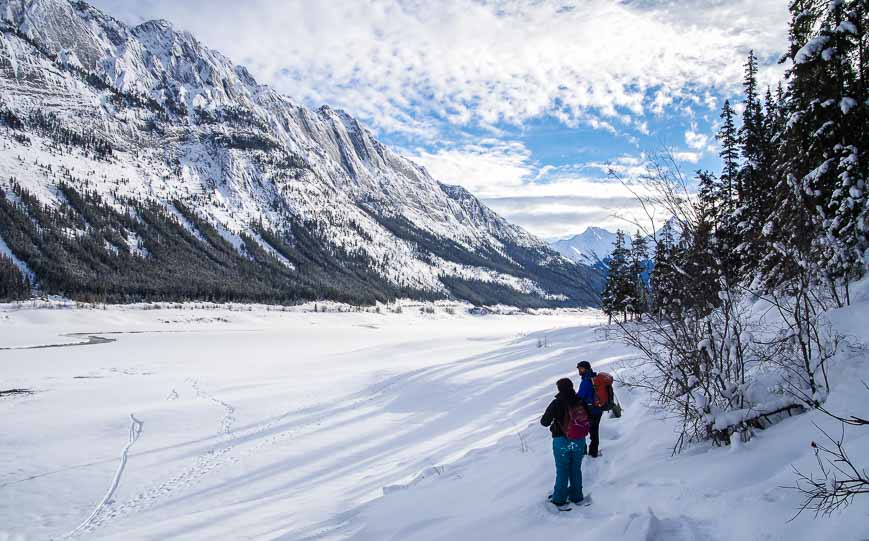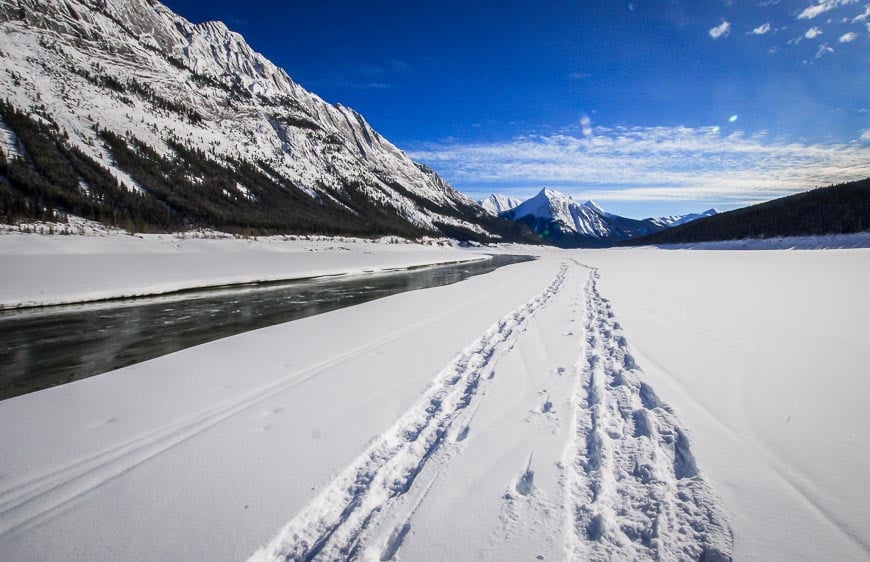 3. Snowshoe the Pyramid Bench Trails in Jasper
Drive 10 minutes up to Pyramid Lake and park near the Pyramid Lake Resort. You can pick up a trail map at the resort and then head off on a whole network of looping trails.
I spent a day snowshoeing approximately 20 km from the resort to Pyramid Island, up the trail towards the Pyramid Overlook, then onto 2i, 2h, 2b, 2j, 12 and 2 all the way back into the town of Jasper itself. I had great snow and quiet trails – some with massive trees that were totally unexpected. I loved the section along 2b and 2j with views over to the Athabasca River. My lunch spot offered a view of where the elk had spent the night.
There's so much variety near Pyramid and Patricia Lake, that I had fun just exploring. I would say though that 2b is the must do trail, as it offers a beautiful overlook. And it's interesting to see Pyramid Island in the winter.
Over a full day of snowshoeing during the week, I ran into one fellow and his dog on a bike. Maybe weekends are busier.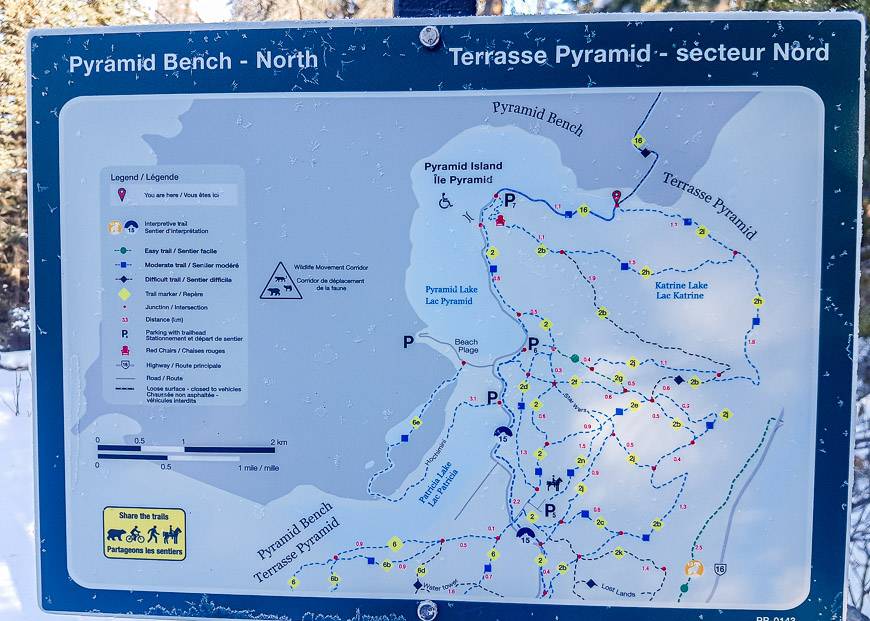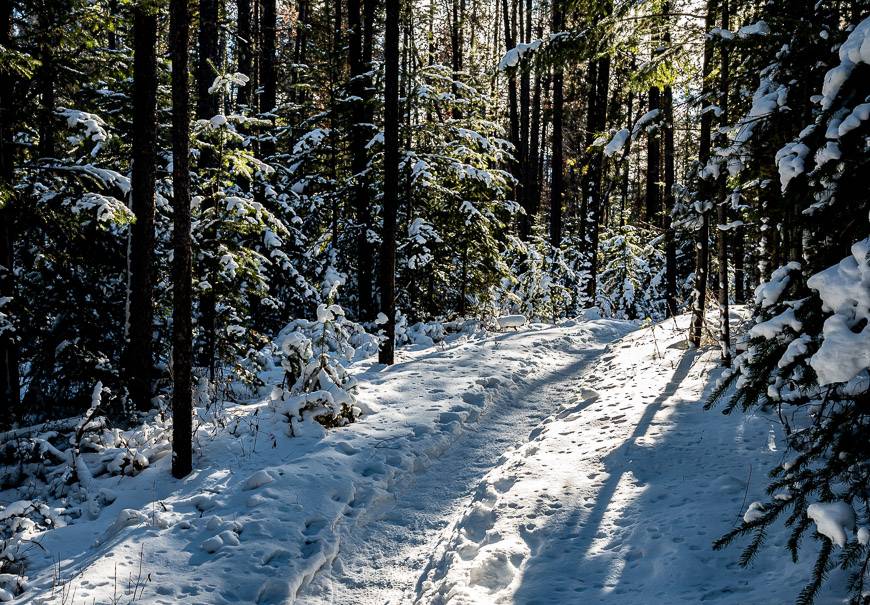 5. Valley of Five Lakes snowshoeing
The Valley of the Five Lakes snowshoe or winter hike is a gorgeous outing that will take you about 90 minutes. The 4.6 km loop trail takes you past five lakes, as the name would suggest, on a trail that has just a couple of steep sections.
Start by snowshoeing through a forest of lodgepole pine to reach a boardwalk over Wabasso Creek in a pretty setting. Head up a slope to a four-way intersection where there are some benches to take in the view. There are some dandy big trees around here, including one of the largest Douglas firs in Alberta.
Stay on trail 9a/9b. We went left on trail 9b, and saw the largest lake first, but you can go around the lakes in either direction. After a red chair moment, there is more delightful hiking on an undulating trail to return to the intersection. From there its a short 10 – 15 minutes to reach the car.
You'll find the signed trailhead on the Icefields Parkway, 2 km south of the toll booth on the parkway. It's a 10-minute drive from Jasper's downtown area.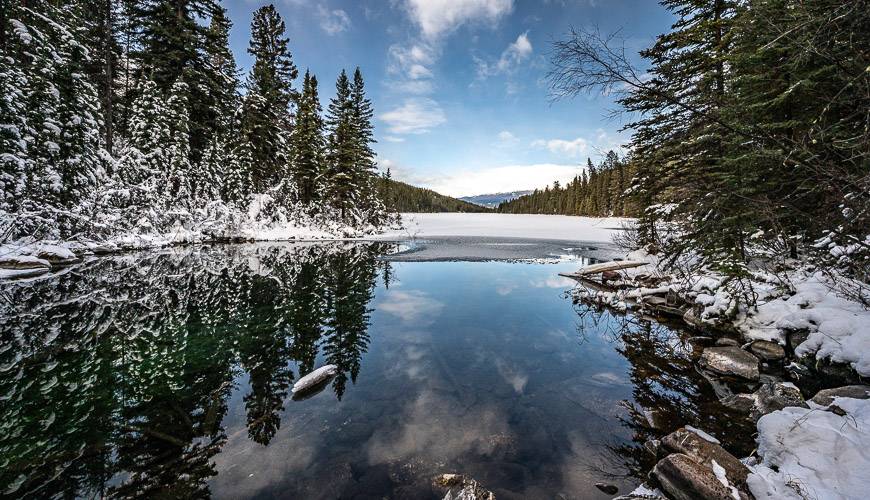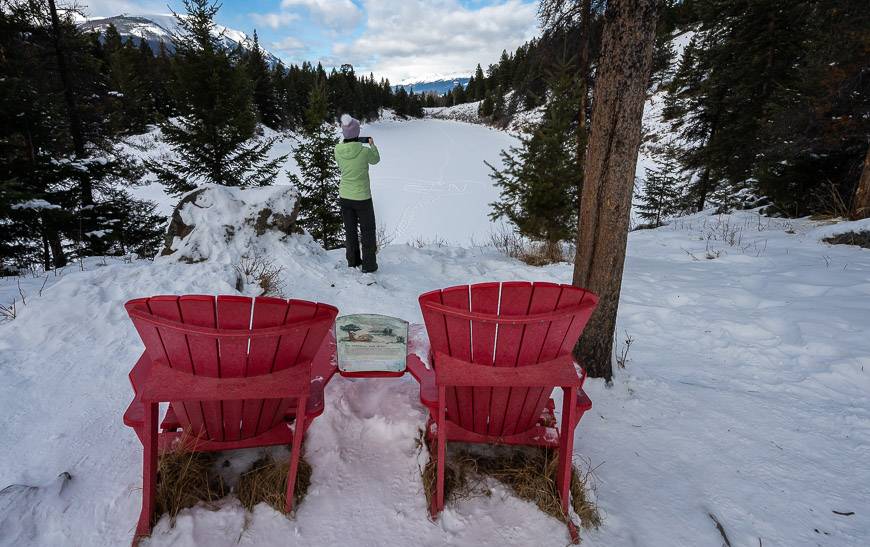 6. Lac Beauvert Loop
Start at the Fairmont Jasper Park Lodge and enjoy the easy 3.5 km loop around Lac Beauvert. Snowshoes can be rented at the lodge if you make a last-minute decision to do the loop. You can knock it off in an hour.
Looking for a longer outing? Continue on the trail to Old Fort Point and loop back on a trail on the north side of the Athabasca River. There are lots of trail maps around so you can figure out your route on the fly.
7. Maligne Canyon snowshoeing
After a fresh dump of snow, you could in theory snowshoe the upper trails around Maligne Canyon, though I think a walk with icers is the better way to go. Don't miss the Maligne Canyon Ice Walk experience in winter.
More suggestions for snowshoeing in Jasper National Park
1. Mary Schäffer Loop
This trail is named for the writer, photographer and naturalist who explored the Canadian Rockies in the early 20th century. In fact, there's a great book out describing her adventures called No Ordinary Woman: The Story of Mary Schäffer Warren.
The 3.2 km snowshoe loop takes you past the Maligne Lake Boat House on a trail to a scenic viewpoint where you can enjoy views down Maligne Lake.
2. Sunwapta Falls
Take the trail from the Sunwapta Falls parking lot down to the second set of falls – that isn't much visited. It's only 2.6 km return so you can do it in under an hour.
3. Moose Lake Loop
One reader suggested I do the Moose Lake loop – one of her favourite snowshoeing trails in Jasper. It seems there are two choices – a 2.6 km easy loop through forest, over an old landslide to Moose Lake. But you can lengthen the outing and do a 6 km loop that includes Upper Moose Loop and the viewpoint over Maligne Lake. Drive to the parking lot on the west shore of Maligne Lake, just past the Maligne Lake outlet. It's the same trailhead used for the Bald Hills hike.
4. Athabasca River Loop
Park at Athabasca Falls. Look for the snowshoe trail sign. Follow the trail clockwise, first for 2.5 km along the edge of the Athabasca River and then on a wide trail beside a meandering creek in the forest. Cross meadows with some pretty mountain views and finish on the Fryatt Trail and Geraldine Lake Road. It's 7.9 km in total, but with little to no elevation gain so it's rated as easy.
What to take snowshoeing in Jasper
If you don't have snowshoes you can certainly rent them in Jasper at Pure Outdoors or Jasper Source for Sports. Otherwise consider buying a pair of snowshoes as you'll use them for a decade or more. It's not like they wear out very quickly.
Consider carrying an InReach Mini in case you run into severe problems.
I'd also suggest taking a pair of icers or microspikes because some of the snowshoe trails don't always have a lot of snow cover at the beginning when you're at lower elevation.
Take a buff or neck warmer that you can pull up over your face if it gets cold. An inflatable seat cushion comes in handy at lunch time, especially on wet or snowy ground. Don't forget a thermos of something hot to drink along with some extra energy bars.
Where to stay in Jasper
My favourite hotel in Jasper is hands down the Fairmont Jasper Park Lodge. Located about 7 minutes outside of town, it offers loads of amenities and lots of activities either on their grounds or close by.
Another excellent choice is Bear Hill Lodge.
And for easy access to a beautiful outdoor skating rink and all the trails around Pyramid Lake, head for Pyramid Lake Resort. In 2023 it underwent a major renovation and now boasts one of the best restaurants in Canada.
Need more ideas for winter activities in Alberta?
Click on the photo to bookmark to your Pinterest boards.