There are loads of fun things to do in Hinton, Alberta, the gateway to Jasper National Park in winter. However it's probably not the first place that comes to mind when you think of where to go on a winter weekend in the province. Banff and Lake Louise are perennial winter favourites, but there's much to be said for finding less mainstream and more affordable towns to visit.
As I discovered over a couple of days, Hinton, Alberta has got a lot more to offer than being the last town before the national park. With a population of about 10,000, Hinton punches above its weight when it comes to things to do in winter. In fact you're spoiled for choice.
The area round Hinton is incredibly beautiful – with landscapes that will speak to outdoorsy people and nature lovers. In winter you'll easily find a weekend's worth of things to do in Hinton. The town has proved itself to be a great winter destination. With its proximity to Jasper National Park and three provincial parks, it beckons me in summer as well.
This post includes some affiliate links. If you make a qualifying purchase through one of these links, I will receive a small percentage of the sale at no extra cost to you. Thank you very much for your support.
My favourite things to do in Hinton, Alberta in winter
My top choices for things to do over a winter visit to Hinton are cross-country skiing at the Hinton Nordic Centre, snowshoeing in William A. Switzer Provincial Park, the Athabasca Lookout hike, a walk on the Beaver Boardwalk Trail and a skate on the oval.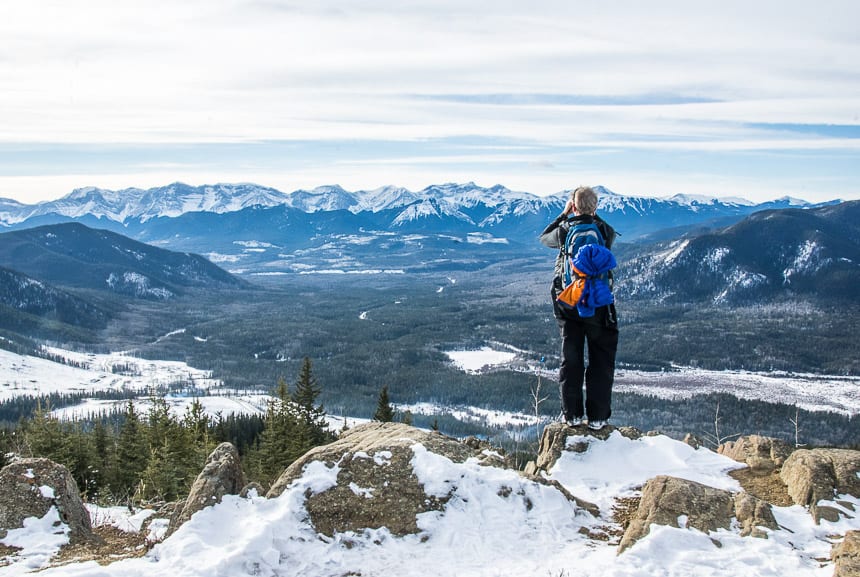 Where is Hinton, Alberta?
Hinton is a solid three hour drive west of Edmonton, and about a one hour drive northeast of Jasper. In winter, you really need to go prepared.
Read How to Survive a Winter Drive – and at the very least pack an emergency kit and a snow shovel.
Hinton, Alberta location map
Enjoy these 7 things to do in winter in Hinton, Alberta
Hinton, Alberta is close to a fantastic number of cross-country and snowshoe trails, both in town near the Beaver Boardwalk and outside of town in William A. Switzer Provincial Park.
Fat tire biking is gaining in popularity, probably on the back of their wildly popular mountain bike park. Ice fishing and snowmobiling round out what's available outdoors in winter.
February is a particularly good time to visit as the Winter Magic Festival takes place over several weeks. Below is my list of what I think are 7 fabulous thing to in winter in Hinton.
1. Go cross-country skiing at the Hinton Nordic Centre
The Hinton Nordic Centre in nearby William A. Switzer Provincial Park has approximately 35 kilometres of groomed trails along with one snowshoe trail that takes you to the cozy warming cabin pictured below. Skiing here is so beautiful that it is truly one of the exceptional things to do during winter in Hinton, Alberta.
There are trail maps at most of the major intersections so you can get your bearings. My only suggestion would be to pay attention to which trails are "one-way" so you don't have to backtrack.
Dog lovers can bring their four-legged friends and ski the K-9 loop. There's also a five kilometre telemark loop. You'll need $10 per person in cash to pay for usage of the trails.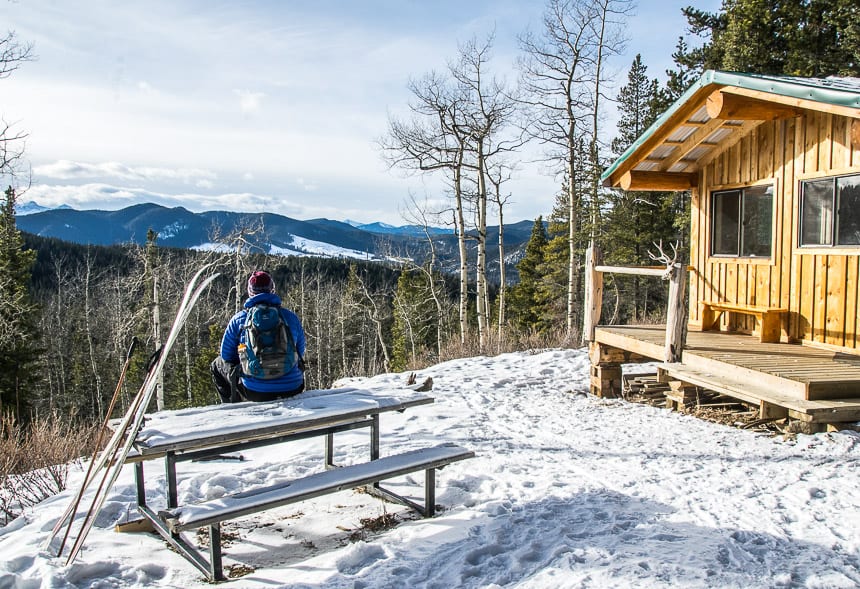 2. Visit William A. Switzer Provincial Park
If you continue north on Highway 40 past the Hinton Nordic Centre you'll reach the William A. Switzer Provincial Park Visitor Centre. Speak to the person on duty and get a map and up to date information on trail conditions for both snowshoeing and cross-country skiing.
There's plenty of both, around the Visitor Centre and a little to the north at some of the campgrounds. Snowshoes are available at the Visitor Centre. Snowshoeing here is one of the fun things to do in Hinton.
John and I skied the Jarvis Lake trails. Most are either flat or rolling – with no epic hills to worry about. There is the option to hook up with the Joachim Valley Trail and make it into a bigger day.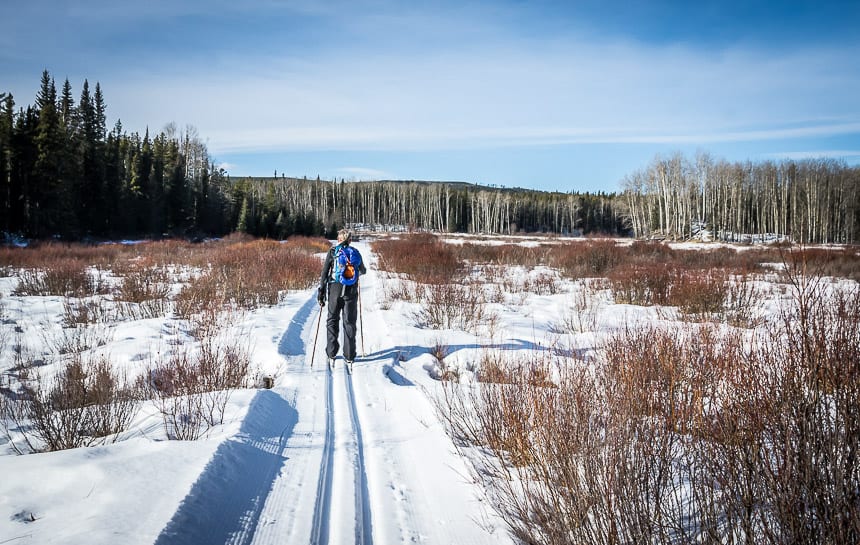 3. Skate on Kelley's Bathtub – a fun, family-oriented outdoorsy thing to do in Hinton
In front of the Visitor Centre, go skating on a cleared patch of ice on Kelley's Bathtub. There are shovels around if you're feeling inclined to remove more snow. Access to all trails in the park outside of the Hinton Nordic Centre is free.
4. Hike up the Athabasca Lookout Trail just outside of Hinton
Our next stop after skiing was a hike up the Athabasca Lookout Trail accessed off the road to the Hinton Nordic Centre. We were told by Cindy Ouellet, the Business & Information Supervisor for Alberta Northern Rockies that "you must take the time to do the hike up to the Athabasca Lookout." Our Maxwell Lake B&B host – Derek who was standing nearby concurred.
So despite being chilled from skiing we followed their advice and we were both happy we did. The views are exceptional at the top. It took us less than 20 minutes to get up and about 10 minutes to get back down to the parking lot.
5. Check out Hinton's Winter Magic Festival
Our final stop for the weekend was the 4 PM opening of the Winter Magic Festival in Hinton. In its 30th year, the two week festival aims "to break up the monotony of the cold weather and bring together residents and visitors alike to revel in the winter wonderland." You can download the full schedule here.
Hinton's winter festival opened at the skating oval adjacent to the Beaver Boardwalk – another must-visit area in town. The oval, the brainchild of Hans van Klaveren and volunteer extraordinaire, is fantastic. Over the years he has learned what to do to get the perfect ice surface – and that means many a cold night outside at 10 PM. The biggest trick he tells me – "only use metal shovels."
Mother Nature did not entirely cooperate with the opening of the winter festival. In a stiff wind, the lanterns decorated by school kids that lined the oval had a hard time remaining upright. Hopefully as day turned to night the wind abated.
Hinton's winter festival is on until late February. In total there are 15 events – with a mix of cultural and outdoor events. One weekend features a popular ice fishing fun day on Gregg Lake between 10 AM and 4 PM. Fishing equipment is available as are hotdogs and hot chocolate.
6. Take part in the Bonhomme Carnival
The Bonhomme Carnival is another not to be missed event on a Sunday in February at the Hinton Nordic Centre between noon and 4 PM. (Check their website for dates.) Entrance is free. There will be cross-country skiing, kicksledding and some traditional French Canadian cuisine including pure maple syrup on a stick.
7. Go skating on the Hinton Oval
Open when Mother Nature cooperates, the skating oval is on Maxwell Lake beside the Beaver Boardwalk. It's groomed and maintained by a dedicated group of volunteers.
Where to stay in Hinton
There are lots of chain hotels in Hinton along with a few B&B's. The Best Western Plus Hinton Inn & Suites is rated as fabulous.
If you're willing to drive just 19 minutes west towards Jasper, you could stay at the Overlander Mountain Inn – one of the Charming Inns of Alberta that overlooks the park. It also offers onsite dining along with an amazing wine list.
Further reading on things to do in winter in Alberta
Click on the photo to bookmark to your Pinterest boards.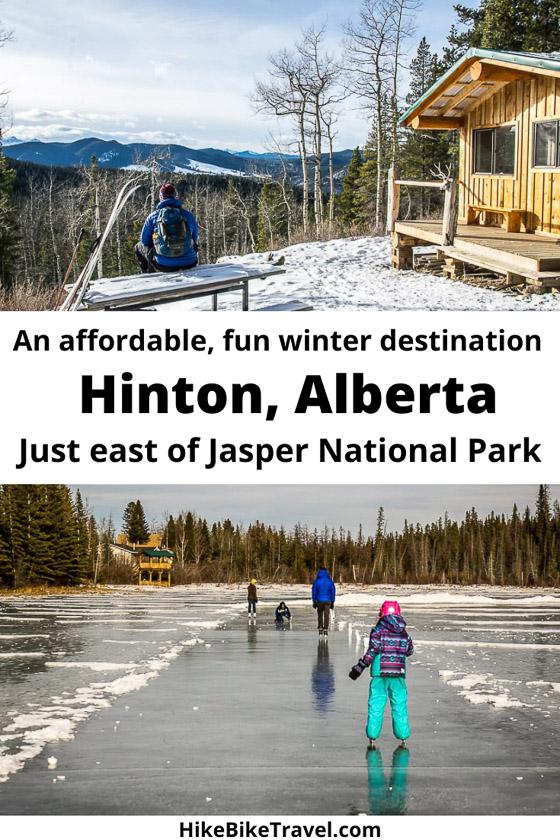 Thank you to Travel Alberta for making this post possible.